Where to Stay in Oslo Norway: Best Areas and Hotels
If you're wondering where to stay in Oslo, or where is the best area to stay in Oslo, you're in the right place. In this article, I will give an insight into the best places to stay in Oslo for first-time visitors, couples, families, backpackers, all budget travelers; read on as I show you the best of Oslo.
Norway is one of the most naturally beautiful countries in the world, and the capital city Oslo is full of fascinating history and myriad different cultures.
It's a wonderful place to visit, but it can be hard to know where to stay to get the most out of your trip – so we've put together this list of 'Where to stay in Oslo, Norway – best areas, neighborhoods, and hotels' as a handy guide.
Younger travellers interested in experiencing a more lively and vibrant Oslo should head towards up and coming neighbourhoods such as Grunnerlokka, Toyen and Gronland.
For a romantic getaway with plenty of chances for dreamy strolls and intimate dinners, make your way to Aker Brygge, and for a simple city break to take in all the best historical landmarks and museums, stick to Sentrum with its proximity and easy access to all the city has to offer.
Where to Stay in Oslo Norway – 7 Best Area to Stay in Oslo
So, Where is the best area to stay in Oslo? In this section, we'll help you to explore the 7 best areas to stay in Oslo are Sentrum, Aker Brygge, Frogner, Majorstuen, Bislett and St. Hanshaugen, Grunerlokka, Game Oslo; so you can choose the best destination for your Norwegian city adventure.
Where to Stay in Oslo Norway – 7 Best Areas and Neighborhoods to Stay in Oslo
7 Best Areas and Neighborhoods to Stay in Oslo Map
To see more detail of where to stay in oslo map, go to google map;
See Also: How Many Days in Oslo – 2 Days in Oslo Itinerary
1. Sentrum, Where to Stay in Oslo for Tourist Attractions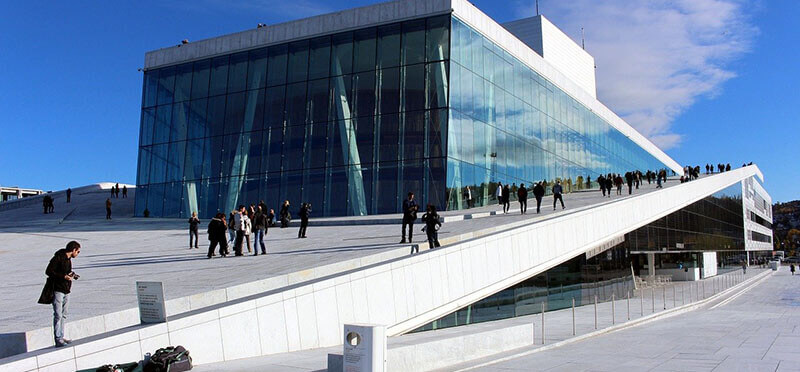 Sentrum literally means centre, and it is the city centre of Oslo Norway. Norway's central station is here, making it very convenient to get to.
The Oslo Opera House is here, and there is also an artificial beach and island being constructed near the opera house as a further tourist attraction.
You will also find landmarks such as the medieval Akershus Fortress, containing banquet halls and the Royal mausoleum, and Royal Palace, as well as attractions such as museums of History and architecture.
There are also plenty of child-friendly, quirky attractions such as the mini bottle gallery and Oslo reptile park.
The central location with easy access to public transport as well as the range of attractions makes Sentrum a great family location, and this bustling downtown area is filled with a great range of hotels.
YOU SHOULD STAY IN SENTRUM IF:
You enjoy a bustling downtown atmosphere
You want the best location for historical landmarks
You don't mind it being a popular tourist destination
BEST HOTELS IN SENTRUM:
Citybox Oslo: is the budget hotel, located just 250m from Oslo Central Station, 150m from Karl Johans gate shopping street. Oslo Opera House, Royal Palace and the nightlife of Aker Brygge are in within distance.
Radisson Blu Plaza Hotel, Oslo: has an excellent location, close to Oslo Rail central Station, situated in the real heart of Oslo. This 4-star hotel features with rooftop restaurant, a sauna, swimming pool and billiards. Many rooms offer magnificent views of the city centre and Oslo Fjord.
2. Aker Brygge, Where to Stay in Oslo for Couples, Foodies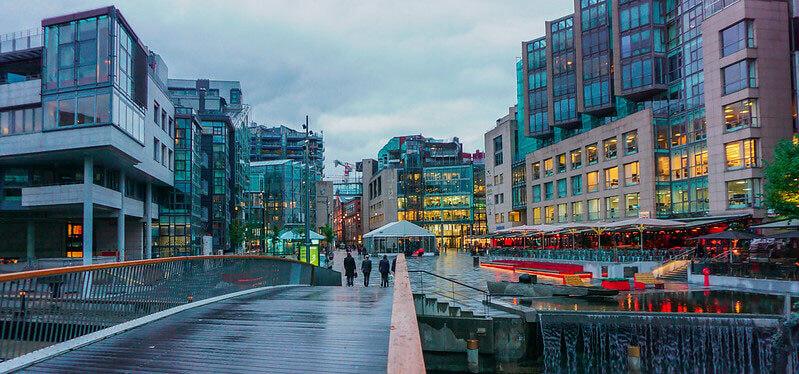 Aker Brygge is a well-known tourist destination, best known for its fine dining options, surrounded by cosy shopping alleys filled with clothing stores.
As well as fine dining, the area is dotted with many high-quality food trucks where you can pick up some lovely street food throughout the day or as you walk along the beautiful and bustling promenade.
This is a lovely neighbourhood to visit for couples, as the opportunities of strolls along the water and romantic meals in the evening are almost endless.
A great destination for a fun and lively date is the bar Lektern which serves drinks right out on the fjord, offering stunning views as well as delicious food and drink.
The architecture of the area is famously unique and beautiful – an attraction in and of itself – and there are many nationally and internationally renowned art galleries as well as many outdoor art installations.
YOU SHOULD STAY IN AKER BRYGGE IF:
You love trying lots of food
You fancy a little romance
You're looking to soak up some art and culture
BEST HOTELS IN ANKER BRYGGE:
Hotel Continental is a 5-star hotel, located in central of Oslo, just few steps to main street Karl Johan, National Theatre, and Royal Palace. Guests can enjoy fine dining at Restaurant Eik Annen Etage. The historic Theatercaféen has been the Oslo's most popular dining and meeting place for over 100 years.
The Thief is located just 5 minute walking to Aker Brygge, Location is excellent, gorgeous views and area to walk about. Lots of food options within a 5min walk, supermarket stone's throw away. Decor of the hotel is fantastic. The Thief Spa includes a Turkish hamam bath, sauna and swimming pool. Guests can also relax on the chic rooftop terrace and enjoy contemporary Norwegian cuisine at the Thief Food Bar.
3. Frogner, Where to Stay in Oslo for Walking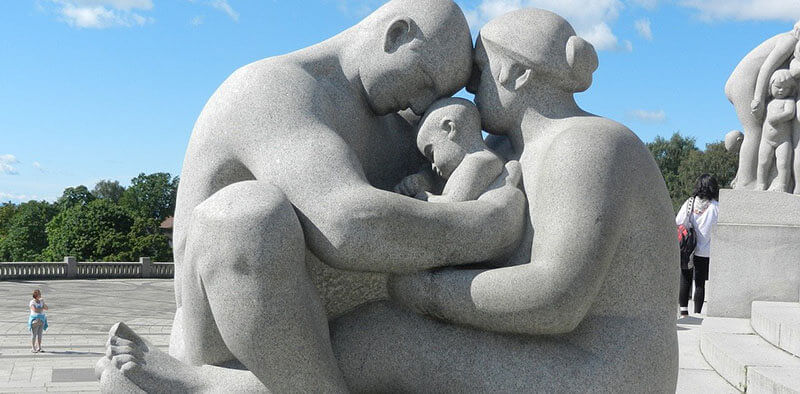 Stretching from the royal palace up to the luscious Frogner park, this region is the most affluent and upmarket area of Oslo, with some of the most expensive real estate in Norway.
It's only a short bus or tram ride away from the city centre and filled with lovely walking routes and a healthy choice of restaurants.
Frogner park itself covers almost half a million square metres, and is a wonderful picnic spot as well as being home to the fabulous Vigeland installation, the largest sculpture park in the world.
Frogner is a wonderful destination for solo travellers as there is lots to explore, and is fantastic for anyone looking to enjoy a cultural experience during their visit to Oslo.
Family-friendly group tours also run in the area, making Frogner a versatile destination.
YOU SHOULD STAY IN FROGNER IF:
You're looking for beautiful walks and picnics
You want easy access to the city centre
You like a choice of restaurants
BEST HOTELS IN FROGNER:
Saga Hotel Oslo: is a 4-start hotel, situated in the best rated area in Oslo, Frogner, within a walking distance to the Royal Palace, Briskeby Tram Stop, Vigeland Sculpture Park. Restaurants and trendy boutiques can be found on the fashionable Bogstadveien Street, a 3-minute walk away.
Thon Hotel Slottsparken: is a luxury hotel, located in the heart of Oslo, close to Royal Palace, Karl Johans Gate shopping street, National Gallery, and National Theatre.
4. Majorstuen, Where to Stay in Oslo for Nightlife
Near Majorstuen station is the cute and quirky Majorstuen transport museum, a wholesome family attraction.
Majorstuen neighbours Frogner, sitting on the northern side of the Vigeland Park. Close to the city centre and with one of the most major metro stations in the city, it's one of the most popular areas of Oslo.
It's also a fantastic neighbourhood for shopping, boasting the most popular retail street in Norway, Bogstadtsveien, which also leads straight to the beautiful Castle gardens.
Out in Oslo west, Majorstruen is also fantastic for nightlife which, combined with the great shopping, makes it a great location for a hen weekend or city break.
YOU SHOULD STAY IN MAJORSTUEN IF:
You're looking for fantastic nightlife
You need a bit of retail therapy
You want to explore the whole city easily
BEST HOTELS IN MAJORSTUEN:
Cochs Pensjonat is in fantastic location, close to everything, Karl Johans Gate shopping street, Homansbyen and Dalsbergstien Tram Stops, and Royal Palace. Guests at Cochs Pensjonat can enjoy breakfast for a discounted rate at Kaffebrenneriet and Espresso House, right outside the hotel.
Radisson Blu Scandinavia Hotel, Oslo is about 5 minutes' walk from Oslo's Royal Palace and National Gallery. It provides free WiFi, in addition to a wellness centre with an indoor swimming pool, well-equipped fitness area and saunas. The 21st-floor Summit Bar offers impressive city and Oslo Fjord views.
5. Bislett and St. Hanshaugen, Where to Stay in Oslo for Quiet Holiday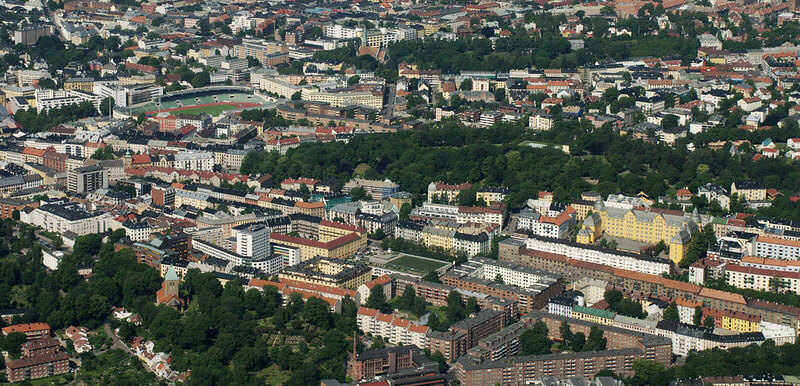 Slightly north of the city, Bislett and St Hanshaugen is a popular destination for young professionals to live in and, due to the large student population, it's a lively area.
With a booming restaurant and bar scene as well as lovely places to walk and explore, this a great destination perfect for first-time visitors and young couples looking for a mixture of nightlife and daytime activities.
St Hanshaugen is a charming and quiet neighbourhood north of Sentrum offering a fusion of old and new buildings, as well as an outdoor cinema which runs throughout the summer.
Hotels here are much thinner on the ground than elsewhere in the city, making this a tranquil base to retreat to after enjoying the bustling delights of the main city during the day.
YOU SHOULD STAY IN BISLETT AND ST. HANSHAUGEN IF:
You're looking for a peaceful base away from the bustling centre
You aren't set on staying in a hotel
You enjoy a less touristy atmosphere
BEST HOTELS IN OSLO – BISLETT AND ST.HANSHAUGEN:
Thon Hotel Munch is an eco-friendly, located in central Oslo, only 400 m from Karl Johans Gate shopping street; close to National Gallery and Royal Castle.
The Apartments Company – Bislett is located in the Bislett area of Oslo, these modern apartments include a fully equipped kitchen and free WiFi. Stensgata tram stop is just 100 m away. Close to Bogstadveien shopping street, Royal Palace and cafes, restaurants and grocery stores.
6. Grunerlokka, Where to Stay in Oslo for Music Lovers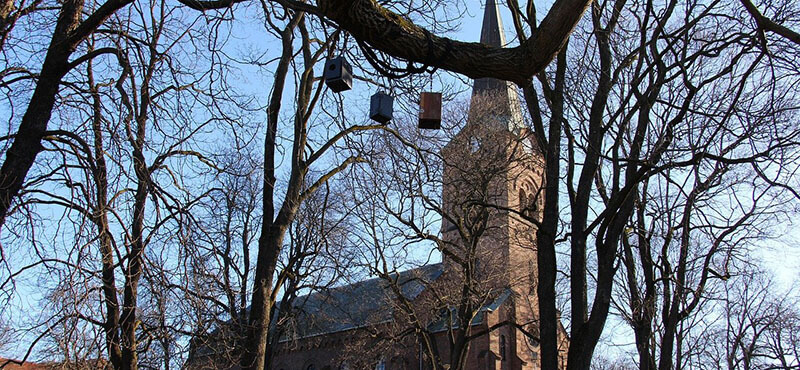 With its pretty tree-lined streets and selection of Independent art galleries, Grunnerlokka is an aesthetic and cultured option.
An up and coming neighbourhood and the best destination for those travelling on a budget, Grunerlokka is close enough to walk into the city centre but offers the best value accommodation for the great location.
For a little more money you can enjoy one of the city's many stylish converted loft apartments, or choose between the area's range of affordable hostels and hotels.
Full of cosy cafes and eateries, Grunerlokka is also great for foodies and those who enjoy the trendier things in life such as vintage shops and flea markets.
A walk along the river through Bla takes you through parks, food courts and the city's counterculture centre, a route taking you through the neighbourhood's industrial past.
Grunerlokka also has plenty to keep you entertained after dark; there is a huge selection of alternative theatre and music venues for a cultured and exciting evening.
The neighbourhood's very active music scene means that many cafes are open late into the night. While not the best district for partying, there is a lovely, relaxed nightlife to be had in this trendy area of Oslo.
YOU SHOULD STAY IN GRUNERLOKKA IF:
You love music and theatre
You enjoy laid back nightlife
You're looking for reasonably priced accommodation
BEST HOTELS IN GRUNERLOKKA:
Anker Hotel is a 15-minute walk from Oslo's busy main street, Karl Johans Gate. It offers a lobby bar with a small garden, free Wi-Fi and colourful rooms with flat-screen TVs.
PS:hotell is situated in the trendy Grünerløkka district, the eco-friendly PS:hotell is just 1 km away from Oslo city centre. The surrounding area is artistic and popular for nightlife entertainment, restaurants and bars. The National Academy of Operatic Art is a 6-minute walk away. The closest tram station is 550 m away from the hotel.
7. Gamle Oslo, Where to Stay in Oslo for the First Time Visitors
Gamle Oslo is a large district to the east of the city which includes the site of the sadly destroyed old medieval city.
The old town, making it a great destination for first-time visitors who want to get a real sense of the history of Oslo.
The area also includes a range of attractions from the Oslo botanical museum to the Ekeburgparken sculpture park and the Edvard Munch museum, as well as several beautiful parks.
Gamle includes a few smaller areas, including Tøyen and Grønland, two of Oslo's most exciting neighbourhoods, and where you'll find some of the best ethnic restaurants and shops.
YOU SHOULD STAY IN GAMLE OSLO IF:
You love soaking up history
You're a first time visitor
You enjoy trying food from different cultures
BEST HOTELS IN GAME OSLO:
Clarion Hotel Oslo is located in the bustling Barcode district of Oslo, this hotel offers a 24-hour front desk and room service for guests. Oslo Opera House and the new Munch Museum are Clarion Hotel Oslo's closest neighbours.
Forenom Aparthotel Oslo is situated in central Oslo, these self-catering apartments are only 500 m from Oslo Central St. It's within 5 minutes walk, guests can reach public transportation lines.
Read Also: When is the Best Time to Visit Norway?
Where To Stay In Oslo For Tourists?
Sentrum is one of the best areas to stay in Oslo for tourists because it is central with quick and easy access to famous attractions and landmarks, and public transport enabling easy travel to other regions of the city.
Aker Brygge is also a great choice for tourists as it offers a great selection of dining options, bars and cultural activities such as galleries, on top of beautiful architecture and interesting walking routes.
Best Place To Stay In Oslo For Nightlife?
To the west of the city centre, Grunnerlokka and Majorstuen are both great neighbourhoods for nightlife.
While the city centre and Majorstruen offer the traditional bustling city nightlife of clubs and bars, Grunnerlokka offers a quieter more cultured scene with late-night cafes and a variety of music and theatre venues.
Best Areas To Stay In Oslo On A Budget?
The area with the best value for money is the former worker's district Grunnerlokka, a young, vibrant and trendy neighbourhood close to the centre and full of great music and theatre venues.
It's within walking distance to the city centre, saving on the cost of public transport. Although more upmarket accommodation is available, there is a great selection of comfortable and affordable hostels and apartments in Grunnerlokka too, making it easy to find a balance between location and budget.
Gamle Oslo also offers lower-priced hotels as well as a wide range of restaurants and picturesque parks.
Where To Stay In Oslo City Centre?
Stay in Sentrum to properly enjoy Oslo's city centre; this area has most of the historical attractions, and it's where the central train station is so it's easy to get around the rest of the city whole keeping this vibrant area as your base.
Best Locations To Stay In Oslo For One Night?
Grunnerlokka is a fantastic neighbourhood for one night in Oslo as its thriving music and theatre scene and late-night cafes mean there is always something to do in the evening.
Grunnerlokka is also one of the more affordable areas in the city, offering a variety of accommodation from hotels to apartments, meaning you can enjoy your one-night stay in comfort without breaking the bank.
Best Neighborhoods To Stay Between Oslo And Bergen?
Peaceful Aurland is a good choice for a stopover of one or two days between Bergen and Oslo. With the dramatic natural landscape situated between the Naeroyfjord, a UNESCO world heritage site, this is a stunning destination is easily accessible throughout the year.
A particular attraction here is a medieval church, complete in 1202 in an early gothic style.
There are plenty of guided tours available in the area, ranging from 1 day to a week long, which can help you enjoy the area to its maximum and get the most out of your stay.
Is Oslo Safe At Night?
Norway as a country is one of the safest in the world, with extremely low crime rates even in large cities like Oslo. even walking alone at night is relatively safe, although the usual precautions should be taken as in any city.
Most crimes in Norway are related to burglary, but there is some risk of pickpocketers in crowded areas in the busy months.
Oslo is even very safe for female travellers – as with any large city, it is worth avoiding the area around the station late at night, but in general travelling and waling alone is a very ordinary thing to do and any risk to personal safety is very low.
Where Is The Best Place To Stay In Oslo?
It's hard to pick an overall best place to stay in Oslo, as each area of the city offers a different experience – from the grunge music scene of Grunnerlokka to the romantic fine dining of Frogner, Oslo is an eclectic city with something to offer any traveller.
For a historical city break, stay close to Sentrum and make sure to take a trip to Gamle. For a more vibrant experience, choose the trendier scene of Grunnerlokka.
Oslo is a city teeming with history and brimming with activities, from bustling nightlife to fascinating cultural destinations.
With affluent areas like Frogner offering stunning parks and spacious streets, and other up-and-coming neighbourhoods like Gronland offering a multicultural melting pot of restaurants and shops, Oslo has something for everyone.
---
---