The best areas to stay in Helsinki for first-timers are the neighborhood of Kluuvi, Kamppi, Kaartinkaupunki, Punavuori, Kallio, Etu-Töölö, Katajanokka, and Ruoholahti. These are very popular and safe districts for tourists that offer a wide variety of attractions and amenities.
In this post, I will help you to find where to stay in Helsinki for tourist, for nightlife, family, on a budget, and for one night.
Founded in the 16th century by King Gustavus Vasa of Sweden, Helsinki is the capital of Finland, on the north coast of the Gulf of Finland, facing the Baltic Sea. It turned into the capital of the Autonomous Grand Duchy of Finland in 1812 under Russian rule.
This Daughter of the Baltic has vibrant and modern architecture, incredible natural surroundings, artistic value, and bustling nightlife. A boat trip to the UNESCO World Heritage Site, Fortress of Sveaborg on the Suomenlinna Islands is a must when visiting Helsinki.
Kluuvi- City Center is the best area to stay in Helsinki for first-timers due to its prime location. If you stay here, you will be located in the middle of everything, within walking distance to Helsinki's top tourist attractions, as well as many restaurants, bars, and shops.
The Central Railway Station is the best place to stay in Helsinki for one night because this area has good public transport, easy to travel around and to the airport. To reach the city centre from Helsinki airport, you can use taxi, train or bus. Taking the Helsinki airport train is a good budget option. It cost €4.60 one-way on I and P. train line to reach the city centre.
Wherever you'll choose to stay, just know that the Helsinki city center is quite compact, walkable, and everything is at an accessible distance or easily reachable with public transportation using the many metro stations.
If this is your first visit, I recommend spending at least three days in Helsinki to explore the city. Three days is enough to get a feel of this fascinating Scandinavian ciy, to see the most famous attractions, and to experience the food and drink. If you have more days, you can enjoy the city in a slower pace, also take a day trips to Tallinn, or Suomenlinna.
🎬 To get an overall idea of where to stay in Helsinki, check out this short video:
Where to stay in Helsinki: Best areas to stay in Helsinki
1. Kluuvi- City centre, where to stay in Helsinki for first time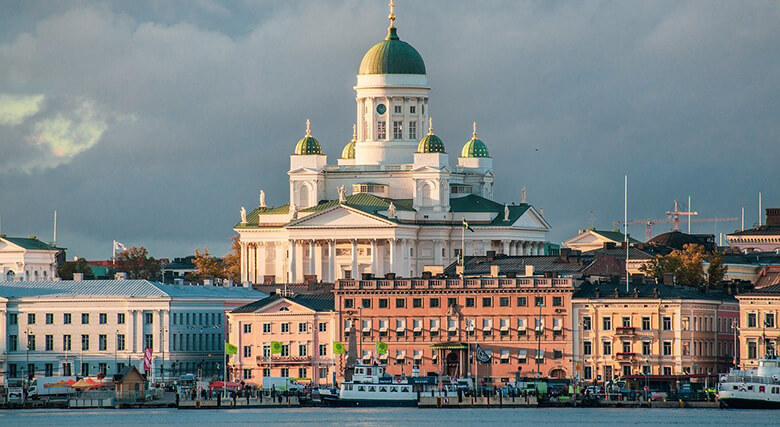 Kluuvi is the best place to stay in Helsinki for first-time travelers because it is the most convenient location. This hustling and bustling central district is located in the Helsinki city center, is the real heart of the city. Kluuvi is home to Helsinki Central Station, University of Helsinki and the famous Aleksanterinkatu shopping street.
The main square is an absolute must-see of the Helsinki city center. Rautatientori Square is not only defined by its impressive architecture but is also the place to be when it comes to city happenings, being summer or winter.
If you are traveling during wintertime, you may want to try the super fun ice skating rink! Forget everything you know about city ice skating rings. Here, you will be provided with high-quality skates, and once you've paid, there is no time limit! The square includes several nice cafes, where those in the group that doesn't love skating can just relax inside with a cup of hot tea.
You will love the lively Helsinki Central Station. Defined by its monumental and austere architecture style, the station is nothing less than impressive. Gigantic statues adorn the exterior of the Station, and nowadays they are wearing masks! Built over 100 years ago, it is now one of the main junctions and melting pots. You will be probably surprised to know that a train leaves every day for Saint Petersburg.
Speaking of Finnish Architecture, remember to pay a visit to the magnificent Helsinki Cathedral, one of the main attractions of the city itself. The church was originally named St. Nicholas' Cathedral, built in the mid-19th century, in honor of the Russian Tsar Nicholas I.
If you are fortunate enough to be traveling in good weather, then take a scenic stroll through the main district garden, The Kaisaniemi Park. For a dip into nature that can be appreciated even during wintertime, then visit the Kaisaniemi Botanic Garden. Its incredible glasshouse called Rainforest House will protect you from a beautiful tropical environment. For an impressive orchids collection, then visit the Palm House glasshouse.
Kluuvi is also one of Helsinki's cultural hubs, being the home of the University of Helsinki and its main on-campus library, the Kaisa House. These impressive and historical buildings can all be found around Senate Square. Another public library that is definitely worth a visit is the recently built Helsinki Central Library Oodi.
If you can't get enough of Finnish culture, then check out the many museums and landmarks including The Ateneum Art Museum, Helsinki City Museum, Kiasma Museum of Contemporary Art, and The Finlandia Hall.
If you are one for the arts, then you won't be disappointed by the Musiikkitalo, Helsinki Music Centre. Here you will have the chance to attend a concert by the Helsinki Philharmonic Orchestra, Finnish Radio Symphony Orchestra, or the Sibelius Academy.
For the foodies reading this guide, just at a walking distance from Kluuvi, in the Hakaniemi district, you will find the Hakaniemi Market Hall, the perfect spot to experience grocery shopping like a local! For a shopping experience, head to Stockmann Department Store and Kluuvi Shopping center.
Stay in Kluuvi if you are first-timers; you want to stay in central area with easy access to the important tourist attractions of the city; you want good nightlife and shopping;
Best places to stay in Helsinki in Kluuvi:
FIND MORE HOTELS IN KLUUVI
See more: 25 Best things to do in Helsinki, Finland
2. Kamppi, where to stay in Helsinki for nightlife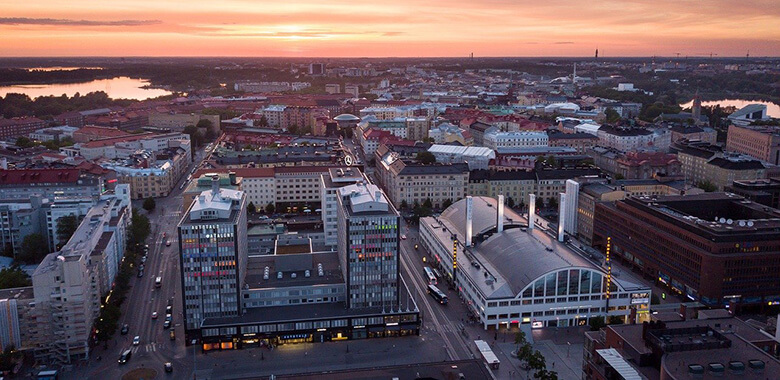 If you want a neighborhood with virbant nightlife, look no further than Kamppi. Kamppi is one of the liveliest areas in Helsinki with many contemporary bars and restaurants, and the largest shopping complex in the region, Kamppi Center.
Kamppi is part of the Design District and Central Business District of Helsinki. Home to numerous of attractions, many landmarks are located within a walking distance to each other and can be easily explore on foot.
Kamppi is also home to Lasipalatsi (Glass Palace) and Tennispalatsi (Tennis Palace) which were built in the 1930s for the Olympic Games. Now the building house HAM Helsinki Art Museum and the Amos REX art museum.
You can find cultural sights such as Kamppi Chapel, Helsinki Cathedral, the Old Church, Narinkkatori Market, Alexander Theatre and Natural Museum of Helsinki.
Kamppi Centre complex is perharp the busiest area in neighborhood which was completed in 2005. It has a shopping centre, a bus terminal, metro station, as well as restaurants, and bars.
At the far end of Bulevardi, you will find the Hietalahti market square which is famous for its outdoor flea market in summer months. The Hietalahti Market Hall is located right next to the square. You can find more shops and attractions in Fredrikinkatu street and Kalevankatu.
Also, for those who enjoy a fun night out, the night is the moment this area of the Helsinki city centre really comes to life and transforms. Pubs and clubs open and the area becomes the ideal party spot and destination of choice for the young and student population. Some of the best nightlife in Kamppi area Tavastia, Maxine, and Bruuveri.
Tavastia Club is an iconic rock club that has an incredibly rich and long history in the city and has hosted most of the best Finnish rock bands and artists in general. The location is small, the look is underground and the music is great.
If you are looking to dance all night, then hit the Maxine club on the weekend. The interiors are modern and fancy and include a big lounge and two dance floors. The club is mostly visited by 25+ years old party people. Maxine is situated on the sixth floor of Kamppi center and offers a great view of the city.
Mean while Bruuveri is a craft brewery and restaurant is the perfect pick for booth beer lovers and foodies. You will be pleasantly surprised with the interiors, defined by a refined and home-feely look.
With so many live music venues in the neighborhood, like Urho Kekkosen katu, or Rock and Roll Street, Kamppi is also the heart of the Finnish music scene. It's also home of many record companies and festival headquarters.
Kamppi is well connected via public transport and offers a great selection of accommodation options that suits all budget travelers from luxury 5-star hotels to budget hostels.
Stay in Kamppi if you want a party all night, shopping and sightseeing during the day; you want a central area;
Best places to stay Kamppi:
FIND MORE HOTELS IN KAMPPI
3. Punavuori, famous Design District, cool place to stay in Helsinki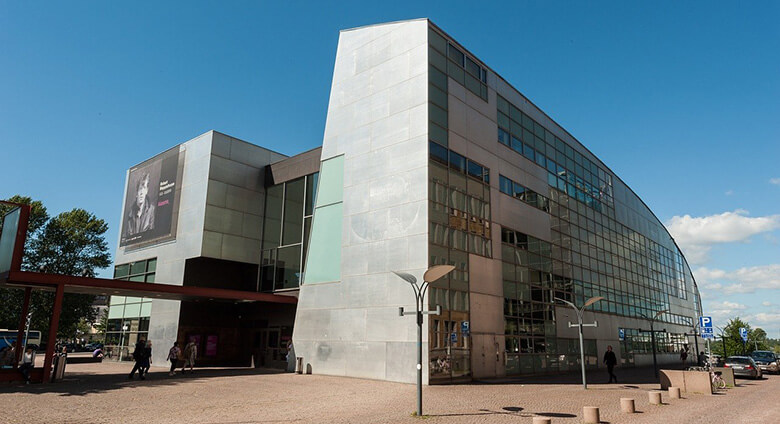 If you love art, then the hip, artsy, and trendy Punavuori is the perfect neighborhood for you. It is located in the southwest part of the city center and thanks to its position and great connections through public transportations, it can be a great base for an effortless visit to the city.
Punavuori, or Red Mountain, was named after the red rocks in the neighborhood in the 17th century. When it comes to the style and general vibe of this neighborhood, the keywords are artistic and stylish. Punavuori is a design district of the city, and for a reason.
The area was once mostly occupied by the city's factories. Nowadays, most of the industrial sites in Punavuori have now been converted into modern urban spaces where you can find many offices and apartments that has been transformed from the old industrial buildings.
This atmosphere is perfectly embodied in the oldest garden in town, Kaivopuisto, constructed in 1834, and since then largely loved for its beautiful colors and nature.
You could say that in the Design District of Punavuori, art is in the air. This area of the city is largely famous for the great number of museums and art galleries that it includes.
The Sinebrychoff Art Museum or "siffi" is your Museum of choice if you are interested in the artworks of the Old Masters´ works in Finland. It is one of the most popular museums among the tourists as well as one of the most loved by the locals.
Visit the Helsinki Contemporary museum if you are looking to witness some of the most relevant contemporary artworks from Finnish artists.
The city offers also a number of smaller art galleries such as the Exhibition Laboratory, Art Salon Piirto, Life Art, Photographic Gallery Hippolyte and Rööperin taidesalonki.Atelier Matti Pikkujämsä, Bukowskis and many more.
To fully appreciate your time in Punavouri, take your time wandering through the streets of the district and take in all its artistic and architectural beauty. When it comes to choosing the best outdoor activities available when visiting this district, first of all, try walking the Iso Roobertinkatu, or Roba, an impressive 500-meter-long pedestrian street that embodies the chic and fashionable style and upscale atmosphere of the district.
On a sunny day, we recommend taking a short walk through Sinebrychoff Park, one of the tourists' most loved gardens in the whole city center as well as a preferred meet-up place for the local young people and families.
Another popular destination within Punavuori is the Telakkaranta, once a shipyard dock and now a renovated and unique urban area. Moreover, for those among you interested in unique architecture, pay a visit to the Mikael Agricola Church by the popular designer Lars Sonck.
Best places to stay in Helsinki in Punavuori:
FIND MORE HOTELS IN PUNAVUORI
Read More:
4. Kallio, where to stay in Helsinki on a budget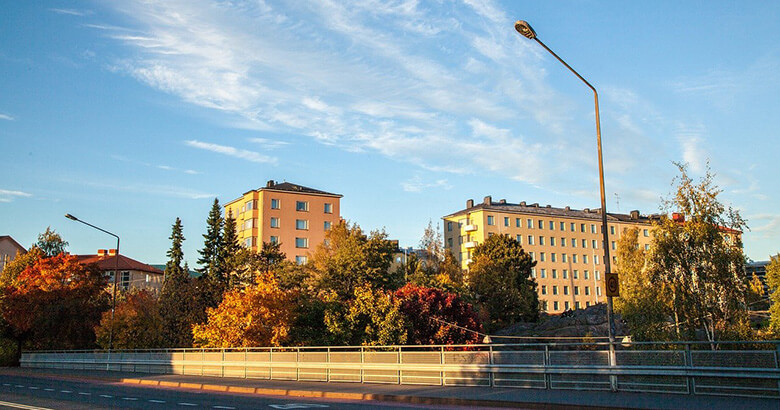 Located east of the Helsinki city center, Kallio is the district for the young and wild, with bustling cultural life, bohemian aura, and underground vibe. Nowadays, this area of Helsinki is home to the city's artistic and counterculture scene, mostly inhabited by artists, students, and tourists. It's the liberal, creative and diverse heart of the city and has plenty to offer.
In the past, the area was an working-class neighborhood, however, in the last decades, it has unfortunately undergone a rapid process of gentrification. Even if living here is not as affordable as it used to be, it still is the best place for a budget hotel!
One of the most prominent landmarks of Kallio is the Kallio Church which was built in 1912, and designed by architect Lars Sonck. There are also the Hakaniemi Market Square, Market Hall, Torkkelinmäki residential area on the highest point in Kallio.
There are so many outdoor activities that can be relaxing and fun. If you are in the mood for a walk in the park, try visiting the Kaisaniemi Botanic Garden or the Kaisaniemi Park.
For a short walk in the most artistic street in Kallio, visit the 100 meters long Suvilaht's Graffiti Wall. When visiting the city in the summer, you may want to stop for the annual Kallio Block Party in August.
For the music festival addicts out there: book a ticket for the Flow Festival, where music and art come together in a truly unique experience that appeals to both tourists and locals. Many internationally popular artists have performed here over the years, such as Björk or Iggy Pop.
Kallio also is the perfect spot to purchase unique and thoughtful gifts for friends and family back home, or even for you to remember the city. In fact, this area is rich in small boutiques, handmade tokens shops, and flea markets that those who go for retro and vintage will love.
In Kallio, art is everywhere you look. Even when going for a drink, this neighborhood nightlife will amaze you for its artistic and cultural vibe. On a Friday night, try for something different and have a drink with live music or even while attending a poetry reading.
After a long day of exploring the city, you can relax with the traditional Finnish experience at the Kotiharju and Arla traditional public saunas in Kallio. This typical sauna is both relaxing and designed to make everyone feel 100% comfortable and at ease. Just enjoy the natural steam and quaint wooden interiors to sit back and just unwind.
When it comes to where to eat in Kallio, it is safe to say there are plenty of bars and restaurants that serves local Finnish cuisine, Asian, middle eastern food.
Being located close to the eastern downtown area, Kallio has good public transit with two metro stations: Sörnäinen and Hakaniemi. With plenty of afforable hotels, hostels, guest houses, Kallio is ideal for budget travelers.
Best places to stay in Kallio:
FIND MORE HOTELS IN KALLIO
5. Etu-Töölö, lots of green spaces, good for nature lovers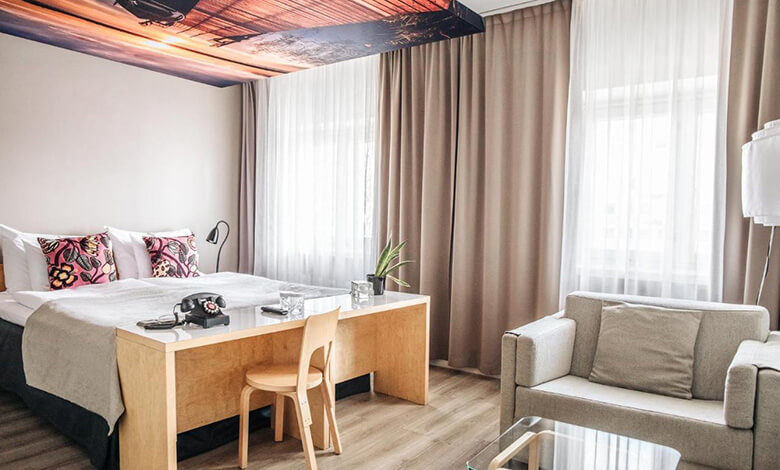 When visiting Helsinki, If you want to settle down in a quiet and elegant neighborhood, away from the fuss but still close to the city, then consider looking for a room or apartment in the Etu-Töölö district.
Etu-Töölö is a mostly residential neighborhood, characterized by a tranquil atmosphere loved by both locals and tourists. When you are traveling with your family, it is the best place to stay!
The architecture and urban landscape of this district will strike you for its uniform style that credits art nouveau, modernism, and classicism influences. Moreover, choosing Etu-Töölö as your base to visit the city can be extremely convenient because of the central location of this area.
Etu-Töölö hosts the national Parliament House, and apart from its clear political significance, this building is an example of monumental architecture that you want to include in your trip! Its style swings between Roman and Greek neoclassicism and the Kalvola red granite facade is nothing less than impressive.
If you are looking for a classic trip to the museum, then visit the National Museum of Finland. The museum showcases everything in the national history from prehistoric ages to the 19th century. However, the museum itself is a piece of the city's history, as well as an example of the traditional national-romantic architecture style.
Especially if you are traveling with kids, or if you are interested in discovering more about the Finnish natural surroundings, then pay a visit to the Natural History Museum. This museum offers a really interesting and innovative take on the natural history of the country, counting several captivating exhibitions such as the "History of Life", "World Nature" or "Story of the Bones".
The iconic caved into solid rock Temppeliaukio Church is an absolute must-see in Helsinki. This completely unique church includes an actual ice-age crevice functioning as an altar, and it is often used as a concert venue because of its great acoustics.
Art lovers will find places like Kunsthalle Helsinki, a beautiful art location in Helsinki, as well as the artists' home Lallukka to visit. Other landmarks are the Alvar Aalto-designed Finlandia Hall and Olympic Stadium.
For a tranquil day at the park, surrounded by stunning nature and the sound of the ocean, then visit the popular Töölönlahti Bay, and enjoy a break from the city's hustle and bustle, relaxing near the water with a drink or a coffee in hand. Another popular green space in Etu-Töölö is the Hesperianpuisto Park.
If you are traveling in the summer and are looking for an alternative way to spend the day in Helsinki, then try laying in the sun or bathing at the Hietaranta beach. For those who enjoy a more adventurous holiday, here you will also have the opportunity to engage in some water sports.
The Hesperian park connects to Hesperian esplanadi, a green promenade lined with horse chestnuts which finally leads to the Hietaranta Beach, the biggest sandy beach in downtown Helsinki and a popular summer destination for swimming, sunbathing, and outdoor sports.
Etu-Töölö has a good choices of cafés and restaurants, with some Japanese and Chinese family restaurant. If you stay in Etu-Töölö, you will find some good mid-range 4-star hotels that have comfortable rooms, roof-terrace with private hot tub and sauna.
Stay in Etu-Töölö if you are a nature lover and want to be surrounded with green space in a calm and relaxed atmosphere.
Best places to stay in Helsinki in Etu-Töölö:
FIND MORE HOTELS IN RTU-TOOLO
6. Kaartinkaupunki, where to stay in Helsinki for families
Located just south of the Helsinki City Centre and east of Punavuori, Kaartinkaupunki is a family-friendly district. This residential area is packed with many green spaces, parks, a market square, nice shops, and several office buildings. It was named after the old Russian army barracks in the Kasarmitori square.
For locals and tourists, the design district of Kaartinkaupunki is the place to find love in. This neighborhood is located in the heart of the Helsinki city center and is characterized by a romantic vibe and pleasant architecture style that will make you feel at home.
Among the must-see of the area, you can't miss out on a morning grocery shopping in the Market Square or Old Market Hall. If you are tired of bars and restaurants, between the Market Square and the Old Market Hall, you will find everything from fresh fruits and vegetables, to reasonably priced typical Finnish food, to fresh fish.
After purchasing everything you need for the perfect picnic in the park, walk to the iconic Esplanade Park (Esplanadi) for a lunch to remember! This iconic park is one of the main landmarks of Kaartinakaupunki and is a great attraction all year long. Even during wintertime, this park has so much to offer, just wear your thickest coat and enjoy the beautiful Christmas lights that illuminate the park around Christmas time!
A truly beloved landmark of this district is the Havis Amanda statue, along with a unique obelisk, The Stone of the Empress, the most ancient public memorial in the city.
For an incredible view over the city, ask for a guided tour and climb the 43m above the city tower of the Erottaja Rescue Station. Once you are there, you may also want to visit the Fire Museum!
Kaartinakapunki has plenty to offer when it comes to the fine arts. If you are in the mood for a show, the Svenska Teatern occasionally offers the possibility to attend plays in Swedish with English subtitles! Yet, If you are up for a more informal experience then take a walk through Pieni Roobertinkatu street and check out its many live music venues.
Kaartinakapunki also hosts the Museum of Finnish Architecture and the Design Museum. The two venues are located near each other, so, if you are interested in architecture, it is going to be easy to just pay a visit to both museums!
For an alternative trip to the museum, visit the Rikhardinkatu Library. This incredible public library includes more than just books. It hosts around 500 pieces of artwork and organizes several exhibitions along with poetry and music events.
Best places to stay in Kaartinkaupunki:
FIND MORE HOTELS IN KAARRTINAKAPUNTI
7. Katajanokka, upscale area on eastern shore of downtown Helsinki
Located on the East side of Helsinki is the residential and island of Katajanokka. It is linked to the mainland by four bridges and also within walking distance to Market Square. The area around the bridges and Katajanokka channel is called Kanavaranta. It has plenty of restaurants that serve some delicious seafood.
If you are planning to take the cruise to Stockholm or Estonia, Katajanokka is the best area to stay in Helsinki. The upscale neighborhood was once home to the former president of Finland, Mauno Koivisto, and composer Einojuhani Rautavaara.
The most prominent attraction on this island is perhaps the Uspenski Cathedral, the 19th-century Eastern Orthodox cathedral, designed by the Russian architect Alexey Gornostaev. It has golden cupolas and a red brick facade structure and is one of the biggest Orthodox Churches in Western Europe.
Katajanokka is also home to the Merikasarmi complex of the Foreign Ministry, the former district prison of Southern Finland which is home to the Best Western Premier Hotel; and the Finnish headquarters of Stora Enso, as well as Allas Sea Pool and saunas
You can also find Wanha Satama, a 19th-century warehouse, and the SkyWheel Helsinki, providing sweeping views of the harbor. Finnish icebreakers are located in the harbor of the island.
Best places to stay in Helsinki in Katajanokka:
FIND MORE HOTELS IN KATAJANOKKA
See more: Best areas to stay in Stockholm
8. Ruoholahti, for culture experience
Ruoholahti is a new neighborhood, located to the south of Helsinki city center, close to Lauttasaari island. The Ruoholahti neighborhood has been transformed into commercial and residential zones since the 1990s from an industrial port. It attracted numerous tech companies to move to this area.
Ruoholahti Channel has bike and pedestrian lanes. This neighborhood link the Lapinlahti district and Jätkäsaari through tunels and bridges.
Ruoholahti is home to a former Nokia cable factory, the Cable Factory. The Cable Factory is the biggest cultural center in Finland. It has 3 museums including the Hotel and Restaurant Museum, Theatre Museum, and the Finnish Museum of Photography.
It also has restaurants Hima & Sali, theatres, art schools, and galleries. Located next to the building is the Dance House Helsinki.
Best places to stay in Helsinki in Ruoholahti:
FIND MORE HOTELS IN RUOHOLAHTI
Where should I stay in Helsinki for the first time?
Kluuvi- City Center is the best area to stay in Helsinki for first-timers due to its close proximity to famous tourist attractions and a wide choice of accommodation. If you stay here, you will be located in the middle of action, within walking distance to sights, as well as many restaurants, bars, and shops.
What are the best areas to stay in Helsinki?
Kluuvi, Kamppi, Kaartinkaupunki, Punavuori, Kallio, Etu-Töölö, Katajanokka, and Ruoholahti are the best areas to stay in Helsinki for tourists because they are the most popular and safe neighborhoods for tourists that offer a wide variety of attractions and amenities.
Where to stay in Helsinki for one night?
The Central Railway Station is the best area to stay in Helsinki for one night because it is the most convenient location to see attractions and it has good public transport, easy to travel around and to the airport.
See more See more Scandinavian countries::
Overall, Kluuvi- City centre is the best area to stay in Helsinki for tourist, especially for first-timer because it has a central location with pleny of accommodation, shopping, dining, and nighlife options. Booking a hotel here, you will be located in the heart of action, within walking distance to the most famous tourist landmarks, as well as restaurants, bars, and shops.
Thank you for reading this guide about the best areas to stay in Helsinki, I hope that I could help you make the right decision about your time in the White City of the North! Now all you have to do is set the date, book your ticket and always remember to travel safely!