The best areas to stay in Quebec City for first-timers are the neighborhoods of Old Quebec, Vieux Port, Saint Roch, Saint-Jean-Baptiste, Beauport, Sainte-Foy, and Les Rivieres. These are popular and safe areas for tourists that offer a wide range of attractions and amenities.
In this post, we will be looking at where to stay in Quebec City without a car, for family, couple, and near Quebec International Airport.
With its quaint cobbled streets, historic buildings, and French language and culture, Quebec City offers a distinctly European atmosphere unlike anything else you can find west of the Atlantic. There is plenty for you to explore and discover, whether you are staying for a weekend or a week.
Old Quebec City is the best area to stay in Quebec City for first-timers due to its prime location. If you book a hotel here, you will be located in the heart of action, within walking distance to many famous tourist attractions, as well as restaurants, bars, and shop.
Old Quebec is also the best place to stay in Quebec without a car. You can easily explore Gare du Palais, Upper town, Lower town, Parlement, and the Fontain by foot, with funicular, or Ecolobus. There is also city bus to go outside of the city to Montmorency Fall.
Saint-Jean-Baptiste is a good area for lively nightlife, along with the student neighbourhood of Sainte-Foy. Meanwhile, If you want to stay close to the airport, then Sainte Foy or Les Rivieres are the best neighbourhoods to consider.
Quebec City is relatively compact. Wherever you stay, you will still be able to explore the rest of Quebec City with ease. This is even more true when you consider Quebec's excellent public transport system. The RTC bus network covers the whole city, so you will be able to get around easily even if you can't walk long distances.
8 Best Areas to Stay in Quebec City for tourists
1. Old Quebec, where to stay in Quebec City for first time
Old Quebec is the best area to stay in Quebec city for first-time travelers because it is the heart of the city. It's home to some of the best sightseeing, nightlife, christmas location in the city. With its well-connected transport system, it is also the best area in Quebec if you don't plan to hire a car.
Old Quebec has 2 areas: Upper Town and Lesser Town (Haute-Ville and Basse-Ville). You can visit attractions by foot or by riding the Funicular. You don't need a car to explore the Old Quebec neighborhood.
Established in the 1600s, Old Quebec, or Vieux Quebec as it's known in French, is the area to stay if you really want to get a feel for the history of Quebec City. The winding cobbled streets and lovely old buildings exude that charmingly French atmosphere that Quebec is known for.
The historic heart of the city is the delightful Place Royale. Recorded as the site of the first French settlement in North America, this little cobbled plaza is surrounded by cosy cafes and small shops. A perfect representation of the French roots of the city.
Perched atop a hill, Quebec City Old Quebec also offers lovely views of the surrounding city and the St Lawrence River. The best views can be enjoyed from Dufferin Terrace boardwalk, a long promenade overlooking the river and populated by vendors and street performers.
Running right below Terrasse Dufferin is the Quartier Petit Champlain. This lovely shopping area full of independent galleries, small boutiques, and intimate cafes is one of the most charming parts of the city.
As lovely as the Old Town is in summer, if you visit in winter when the city is covered in snow, Old Quebec truly appears like something straight out of a Christmas card.
Such lovely, historic surroundings and the quaint French atmosphere that permeates the area make Old Quebec the perfect destination for a romantic getaway. There are plenty of beautiful streets to wander, lined with fantastic restaurants, cafes, and bars.
Old Quebec is surrounded by the old city wall, making it the only walled city north of Mexico. This whole part of the city within the walls has been designated as a UNESCO World Heritage site.
The fortified walls are dotted with various towers and impressive gates. It takes a little over an hour to walk around the whole wall and it's definitely worth it to appreciate both the ancient structures and the wonderful view they offer of the surrounding area. You can even opt for a guided tour.
Within the city walls you will find tons more to see and do. If you are visiting Quebec City for a shorter trip and want plenty to see with minimal travel between the attractions, then Old Quebec is perfect. There's something new to discover around every corner.
The star of old Quebec is Quebec Citadel. The impressive fortress is still the official residence of the Canadian Monarch and the Canadian Governor General. The fortress remains an active military post even after almost three hundred years. Make sure to be in the area during the regular changing of the guard ceremonies.
Notre Dame de Quebec Basilica Cathedral is another must see in the Old Town. First constructed in 1647, the cathedral has been altered and expanded numerous times over the years, making it a great place to observe the various architectural fashions throughout the ages.
Just down the road from Notre Dame is the Fairmont Le Château Frontenac. The stunning, and massive, Frontenac Castle was built to encourage travellers to use the Canadian railway. It has certainly worked to draw attention, becoming the most photographed hotel in the world. It's certainly the most iconic of all the hotels in Quebec City.
If you have some extra time, you should definitely stop by the Morrin Centre. Built over two hundred years ago, the Morrin centre was originally used as a prison. Nowadays it is a centre of arts and culture, hosting frequent events, talks and programmes. You can even just take a tour of the old cells.
Between its numerous impressive attractions, charming atmosphere, and stunning views, it's hard to see a downside to staying in Quebec City Old Town. However, the main caveat is that it can be very expensive. You'll definitely have to double check your budget before deciding to stay here.
Stay in Old Quebec If you are visiting Quebec for the first time; you want to immerse yourself in the history of the city; you want to be able to get around all the sights without relying on a car or bus; sightseeing is your top priority; you are planning a romantic break.
Best places to stay in Old Quebec:
MORE HOTELS IN OLD QUEBEC
See more:
2. Vieux Port, where to stay in Quebec City for family
Literally meaning 'Old Port,' Vieux Port is another of Quebec's delightfully historic areas. The port sits directly below Old Quebec, offering those who choose to stay here super easy access to all the sights and attractions of the Old Town.
One of the main benefits to staying in Vieux Port rather than Old Quebec is that it is so much quieter than the Old Town in the evening. If you want to spend your days exploring the sights of the bustling tourist neighbourhood and then retreat to a more peaceful locale after dark, stay in Vieux Port.
In fact, Vieux Port is one of the best options for families for just that reason. You won't have to stress too much getting your kids between your hotel and the sights during the day. Meanwhile at night you don't have to worry that rowdy tourists or late night partiers will keep them awake with their noise.
Like the old town, you can enjoy the old-world atmosphere of cobbled streets and historic locations. The streets here are full of quirky antique shops and independent boutiques, where you are sure to find some unique souvenirs to take home.
Some of the old warehouses along the historic port have also been converted into cool dining and events venues. They contrast nicely with the older buildings to give Vieux Port a bit of a cooler edge.
Being a working port, it's particularly nice to dine by the waterfront, so you can watch the boats drift around the harbour as you eat. You also have the option of heading out on one of those boats to enjoy a relaxing cruise along the Saint Lawrence River.
Tour companies leave from the marina offering exciting trips out onto the water and insights into the various sights along the waterfronts of both Quebec City and neighbouring Lévis.
Vieux Port often hosts festivals, particularly through the summer months. From street food festivals to cultural celebrations or the circus, there is always something going on along the Old Port. One of the best is the annual fireworks festival, with stunning displays set off over the water.
There are also numerous fascinating museums in Vieux Port that you should take the time to visit. The Museum of Civilization documents both the native people of Quebec as well as the development of New France into the modern age.
The Naval Museum of Québec is located right by the waterfront. Displaying various artefacts and relics from throughout the harbour's history, it offers insights into workings of the port and the city through the centuries.
Stay in Vieux Port If you want to stay right at the heart of the city centre; you want a lovely, historic area, which is also quiet and relaxed at night; you are planning a family trip with children.
Best places to stay in Vieux Port:
MORE HOTELS IN VIEUX PORT
3. Saint Roch, hip and trendy neighborhood with boutique shopping
Just to the west of the old town you have the lively, residential neighbourhood of Quebec City Saint Roch. Saint Roch offers a modern alternative to the more traditional old town.
Rather than historic buildings, you can enjoy fashionable shopping districts, chic galleries and museums, and bustling nightlife.
Within a twenty-minute walk of Old Quebec, you will still be able to easily enjoy all the major tourist attractions and sights. Staying in Saint Roch allows you to enjoy the best of both historic sightseeing and contemporary entertainment and comfort.
You will also be able to avoid the higher rates of accommodation of the Old Town. Saint Roch is a reasonable alternative for those who want to keep close to the Old Town without paying through the nose for the privilege.
You will also be just far enough from the touristy historic centre to give it a more laid back, local vibe. Old Quebec can get pretty crowded with tourists, whilst Saint Roch offers you the opportunity to experience living like the locals do.
If you love coffee, you will definitely enjoy Saint Roch. The area is a hub of local micro-roasteries offering artisan blends of delicious coffee in cosy coffeeshops. It is little wonder that Saint Roch is popular with Quebec City's hipster crowd.
It is not just craft coffee that you can enjoy in Saint Roch though. The area is also home to several craft beer breweries. You can even book a tour that will lead you around a few of them, so you don't have to worry about picking just one to try.
The main tourist attraction in the area is the magnificent Église Catholique Saint-Roch, the largest cathedral in Quebec City. The imposing gothic cathedral is constructed of dark grey, exposed brick, creating a striking contrast against the modern buildings that surround it.
A slightly more understated attraction is Saint Roch's Martello Tower. Known as Martello Tower Four, the compact stone fortress is one of three left in Quebec.
Having begun construction in the late 18th century, Martello Tower Four is in pristine condition. Visitors can climb the walkway leading around the tower to take in views of the surrounding area.
Just around the corner from the cathedral is the lovely Jean-Paul L'Allier Garden. With sparkling fountains and colourful flower gardens, the Jean-Paul L'Allier Garden is a lovely place to enjoy a picnic on a summer's afternoon.
Stay in Saint Roch If you want a laid back neighbourhood within walking distance of the historic city centre; you want to keep close to the city centre without breaking your budget; you want to stay in a residential community where you can experience life like a local.
Best places to stay in Saint Roch:
MORE HOTELS IN SAINT ROCH
4. Saint-Jean-Baptiste, where to stay in Quebec for nightlife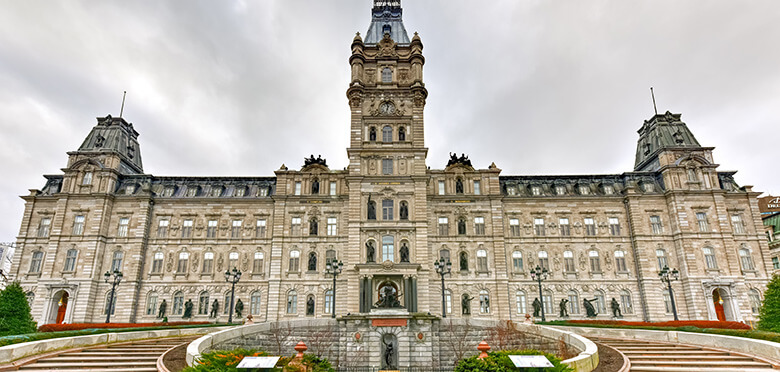 Another perfect balance of the historic attractions of Old Quebec and the trendier atmosphere of the modern city. Home to Quebec City's Central Business District, Saint Jean Baptiste is a popular nightlife and hospitality district catering to the workers and travelling businessmen that frequent the area.
If you want to hit the shops during your stay in Quebec City you should head to Rue Saint John. Rue St John is one of the main roads in the city and has been a hub of dining, shopping, and entertainment for decades.
It fell out of favour for a while, but recent revitalisation efforts have returned it to its fashionable status.
Saint Jean Baptiste is known to be chic and cool with plenty of bars and restaurants. It's great for foodies, with tons of first class dining options to choose from. It's also great for picking up fresh French pastries and desserts, with plenty of patisseries and cafes in the area.
If you really have a sweet tooth, you should definitely visit the Musée du Chocolat. In addition to tasting samples of various chocolates and learning about their production and development, you can also view incredible sculptures formed entirely out of chocolate.
It's also where you'll find Quebec City's theatre scene. Of the many theatres in the neighbourhood, the Grand Theatre de Quebec is the top billed. The striking glass building hosts numerous shows from plays to dance recitals and concerts.
Rounding out Saint Jean Baptiste's nightlife is Quebec's 'Gay Village.' Anyone looking for LGBTQ friendly nightlife and hospitality will find plenty to choose from here.
On the edge of Saint Jean Baptiste, close to the Old Town, is the magnificent Parliament Building. Built in the late 19th century, this is the seat of local governance and certainly lives up to that grandeur.
If you get the chance, you can take a guided tour of the interior, or just explore the grounds if you are short on time.
If you want to enjoy stunning panoramic views of Quebec, head to the Marie-Guyart Building, the tallest building in Quebec City. Ride the elevator to the Observatoire de la Capitale on the31st floor and try to spot all the major sights across town.
Stay in Saint Jean Baptiste If You want to keep close to the historic city centre whilst staying in a more modern, less touristy area; You want plenty of options for nightlife right on your doorstep; LGBTQ friendly nightlife is beneficial to you.
Best places to stay in Saint-Jean-Baptiste:
MORE HOTELS IN SAINT JEAN
5. Beauport, for outdoor activities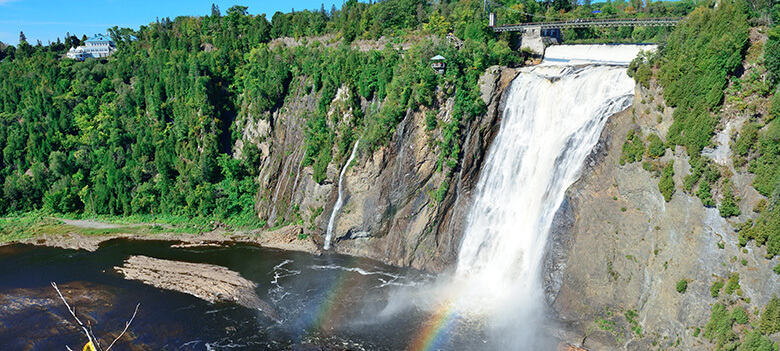 If you are looking for where to stay in Quebec City to have plenty of access to nature and adventurous activities, then Beauport is the neighbourhood for you. Right at the north of the city, Beauport edges out into the lush wilderness surrounding the city.
Beauport is well out of the city centre, so you won't be surrounded by droves of tourists. It has a much more local, relaxed atmosphere. Being less touristy does mean there are fewer hotels to choose from. However, what is available tends to be much more affordable than the city centre.
There are enough mid-range hotels to go around. Or stay at a cosy, family run bed and breakfast to really take in the local vibe and hospitality.
Most people who choose to stay in Beauport do so for the plethora of outdoor activities available around the area. In the summer months, there are various popular hiking trails leading through the surrounding forests and hills.
One of the most popular locations for visitors to go to is Montmorency Falls. The beautiful waterfall is surrounded by various viewing platforms. Alternatively, those daring enough can walk across the suspension bridge which crosses directly over the falls.
In the winter, the spray from Montmorency Falls freezes into a powdery snow that forms a lovely natural ice formation known as the "pain de sucre," or sugar loaf. Beauport is particularly popular in the winter as it is close to several ski resorts.
Beauport is also connected by bridge to the Island of Orleans. The scenic island is covered in forest and farmland and populated by local artisans and gourmet food producers. There are some excellent restaurants to be found here, serving super fresh food grown right there on the island.
If you don't have time to stop for dinner, you should still try to swing by the shops to pick up some delicious edible souvenirs.
Stay in Beauport If you want to stay somewhere close to nature with access to lots of adventurous activities; you want to stay somewhere quieter and more residential; you don't mind not being right in the city centre.
Best places to stay in Beauport:
MORE HOTELS IN BEAUPORT
6. Sainte-Foy, for local atmosphere
Sainte Foy is a sprawling suburb in the south of Quebec City. Removed from the bustling city centre, it offers a quieter, residential neighbourhood but is far from lacking in things to do. Sainte Foy is particularly popular with families, as there is plenty for kids to do in the area.
Sainte Foy is primarily known for being a hub of great shopping. Many of Quebec City's largest shopping centres are located here, so if you love spending your vacations indulging in some retail therapy, Sainte Foy has plenty to offer you.
Home to University Laval, the oldest university in Canada, Sainte Foy boasts a large student population.
Catering to their demand, you can find plenty of trendy bars and cafes throughout the neighbourhood. If you are looking for trendy nightlife, but a bit more laid back than that of the city centre, you will have plenty to choose from in Sainte Foy.
One of the primary attractions in Sainte Foy is the Aquarium of Quebec. Home to around ten thousand marine animals in both indoor and outdoor enclosures, there is plenty to see here making it a fantastic day out for the whole family.
There are even onsite restaurants and cafes to keep everyone refreshed.
Right next to the aquarium is the sprawling Parc de la Plage-Jacques-Cartier. The scenic riverside park offers various walking trails through trees and along beaches running along the north bank of the Saint Lawrence River.
The park provides plenty of space for kids to run about and burn off some energy in the fresh air. Further along to the west the park becomes Parc Nautique de Cap-Rouge. Here you can find an activity centre offering boats and kayaks for rent. On a warm day it's lovely to head out on the river.
The Sainte Foy area also encapsulates the Jean Lesage du Quebec International Airport. If you are hoping to stay close to the airport, this is the best neighbourhood to consider.
This is a great place to stay if you are stopping in Quebec city for a layover or if you have an early morning flight and don't want to be stressed about getting to the airport on time. There are plenty of hotels around the airport catering to all budgets.
Stay in Sainte Foy If A lively nightlife scene is a priority; you are travelling with children; you don't mind being a little further out from the city centre; you want to stay close to the airport.
Best places to stay in Sainte-Foy:
MORE HOTELS IN SAINT-FOY
7. Les Rivieres, a laid back, residential neighborhood in Quebec city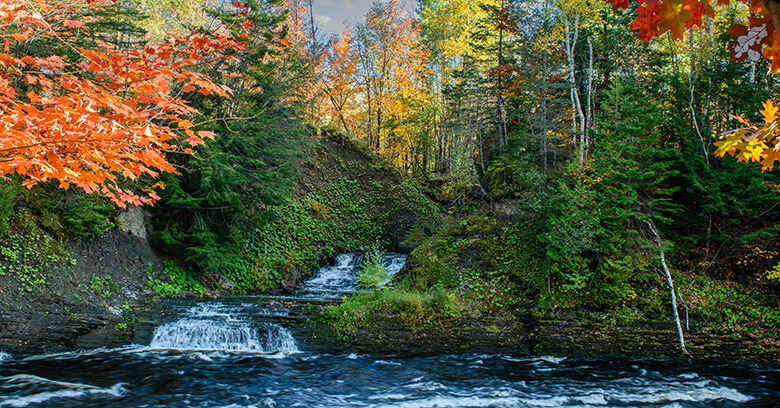 The massive suburb of Les Rivieres is ideal for anyone who wants a more laid back visit to Quebec City. Much more residential than other neighbourhoods close to the city centre, Les Rivieres offers the chance to really live like the locals.
The eastern tip of Les Rivieres is just a comfortable walk away from the beautiful city centre. Meanwhile, the rest of the area is well enough removed from the bustling Old Town that it stays far more peaceful and lacking in tourists.
Les Rivieres is up there as one of the very best places to stay in Quebec for families with children. There is plenty for kids of all ages to see and do here, from expansive open green spaces to play centres and amusement parks.
The Méga Parc amusement park in particular is a great place to go to keep the whole family entertained. It's full of rides and games to suit all ages. Being indoors, it's especially perfect for miserable winter days when you want to escape the frigid Canadian weather
If you would rather spend your time outdoors, there are plenty of places to do so in Les Rivieres. Escarpemont Parc is right next to MegaParc. The pretty, scenic park boasts beautiful trails winding through the trees and over streams. It's easy to forget you are in the middle of a city.
Chauveau Park is even bigger, offering several hiking routes wending through the woods. The Park is bisected by the St Charles river, where you can spot various species of fish and waterfowl. The many pretty bridges that cross the river offer particularly lovely views.
In addition to a skatepark and soccer pitch, the Sarbayä Adventure Centre is also located within Chauveau Park. The adventure centre offers various guided activities within the park, as well as an exciting assault course through the treetops.
Stay in Les Rivieres If You want a laid back, residential suburb where you can experience life like a local; Being right in the city centre is not a priority; You are travelling with children.
Best places to stay in Les Rivieres:
MORE HOTELS IN LES RIVIERES
8. Where to stay near Quebec International Airport
If you want to stay near QuebecCity Jean Lesage International Airport (YQB), here are some suggestions of the Quebec City Airport Hotels:
Luxury ($$$): Hôtel Le Bonne Entente This 5-star hotel provides a seasonal outdoor pool, a restaurant and a bar, a 24-hour front desk, tour desk, laundry services, and spa and wellness. It has rooms with a flat-screen cable TV, a work desk, coffee machine, safety deposit box, private bathrooms including a bathrobe, free toiletries and a hair dryer.
Mid-range ($$): Hotel Sepia This 4-star modern hotel offers free parking and is only 10 minutes' drive by car from Old Quebec. It features an on-site restaurant and free WiFi.
Budget ($): Hôtel Cofortel This 3-star hotel is within a short drive by car from Québec City Jean Lesage International Airport and Quebec city centre. It provides spacious rooms with soothing colours, a small fridge, coffee machine and flat-screen cable TV while the bathrooms provide toiletries and a hairdryer.
See more: Where to Stay in Ottawa
Where should I stay in Quebec City for the first time?
Old Quebec City, also known as old town, is the best area to stay in Quebec City for tourists, especially for first-timers. Booking hotel in this area, you will be within walking distance to the main attractions and historic sites. There is also plenty of things to do and see nearby.
Where are the best areas to stay in Quebec City?
Old Quebec, Vieux Port, Saint Roch, Saint-Jean-Baptiste, Beauport, Sainte-Foy, and Les Rivieres are some of the best areas to stay in Quebec City because these are the most popular neighborhoods in the city for tourists.
How many days should you stay in Quebec City?
I remcommend spend at least three day in Quebec City. This time will get you a sense of French Canadian culture. You can see many famous attractions. If you plan to visit Montreal, ten days is the perfect amount of time to visit both cities.
Québec City is beautiful, with a hilly old town that feels like a French seaside village. Montreal is much larger, more cosmopolitan, many more places to explore. Quebec old town much larger and more picturesque and Montreal's. Stay in Montreal if you want cosmopolitan urban feel, with amazing food and cafes, and shops. Quebec City is better to stay if you are first time visiting Quebec province and want to experience a charming old town.
Overall, Old Quebec City is the best area to stay in Quebec City for first-time travelers due to its prime location. If you stay here, you will be located in the heart of action, within walking distance to many famous tourist attractions, as well as restaurants, bars, and shop.
Don't stress too much if you are still struggling to pin down the where to stay in Quebec City. Remember that Quebec is a compact enough city that you can travel between all of its various neighbourhoods and districts with ease. Wherever you wind up staying, you won't have to miss anything.