Where to stay in Ottawa? Some of the best areas to stay in Ottawa for tourists and first-time visitors are Downtown, Sparks Street, ByWard Market, Centretown, The Glebe, Kanata, Gatineau, Nepean. These are popular and safe locations, offering a wide range of attractions and amenities.
In this post, I will help you to find the best areas to stay in Ottawa for tourists (include map), the advantage and disadvantage of each area, and the best hotels in Ottawa for all budget travelers.
Ottawa is the capital city of Canada. It is located in the eastern part of the country, in the province of Ontario, along the Ottawa River. As the capital, Ottawa plays a crucial role in the country's political, cultural, and economic landscape.
Although Ottawa itself is pretty small, when you add in the neighboring city of Gatineau, just on the other side of the Ottawa River, a trip to Ottawa allows you to explore two cities for the price of one. Between the two of them, there are tons for visitors to see and do, no matter how long you are staying.
Where to stay in Ottawa first time?
Downtown is the best overall place to stay in Ottawa for first-time visitors due to its prime location and wide range of accommodations for all budgets. Staying here puts you to be located within walking distance to many top sights, restaurants, bars, and shops.
You can also choose to stay in the nightlife hub around ByWard Market. If you are planning a romantic getaway, then the charming Glebe district is the top recommendation. Quiet and residential, Glebe has a quaint atmosphere that lends itself perfectly to a more intimate escape.
Hull or Gatineau is a quieter area with plenty of open space for kids to run about without getting lost in a crowd. When you want to go sightseeing, it is just a quick trip across one of several bridges spanning the Ottawa River, right into the city center.
Map of areas and neighborhoods in Ottawa:
How to get around Ottawa for tourist?
Getting to Ottawa is easy by air, train, bus, car. Ottawa Macdonald-Cartier International Airport is the main airport in Ottawa that has domestic and international flights. From the airport, you can take a taxi, rideshare service, or the OC Transpo bus (number 97) to reach the city center.
There are also Via Rail trains connecting Ottawa to Montreal and Toronto. The main train station is located just minutes east of downtown. If you prefer driving, you can reach the city by car from neighboring cities and provinces.
Getting around Ottawa is also easy by public transit, taxis, Uber, Lyft, cycling, walking, and by car. OC Transpo operates the city's public transit system, including buses and the O-Train (light rail). You can use single-ride tickets, day passes, or purchase a Presto card for ease of travel.
Downtown is compact and walkable, and many attractions are easily accessible on foot, so walking is a convenient way to explore the city center.
Best areas to Stay in Ottawa for tourists & first-timers:
1. Downtown Ottawa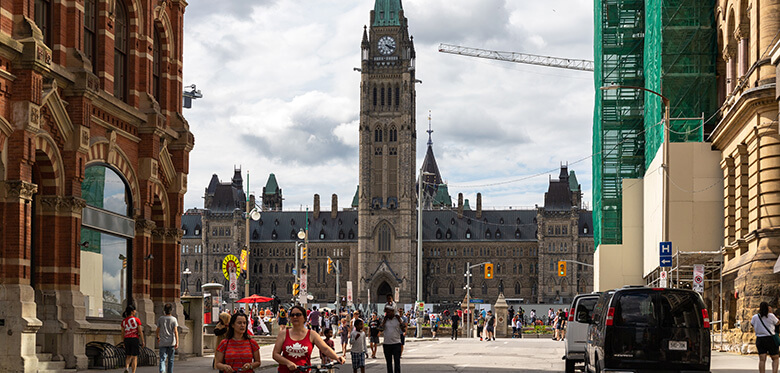 Downtown is the best overall area to stay in Ottawa for first-time travelers because it is the most central point of the city. If you stay here, you will be located right in the heart of the action, surrounded by top attractions, as well as many restaurants, bars, and shops.
With many of the most popular tourist spots right on your doorstep, Downtown is perfect for solo, couples, family, business travelers, first-time visitors, history buffs, and sightseeing. You will be able to get a feel for the city in no time and get straight into exploring all the famous attractions.
It is also perfect for anyone visiting Ottawa for a shorter visit. You won't have to waste time traveling between the sights and your hotel when they are all just around the corner from one another. Downtown also has plenty of shops, cafés, bars, restaurants, nightlife venues, especially around Bank Street, the main thoroughfare of the downtown area.
Many of the historical and cultural attractions in the Downtown area are located on or around Parliament Hill. The stunning Parliament Buildings are easily the most popular attraction in the city. There are three parliament buildings on Parliament Hill, with the majestic neo-Gothic House of Commons sitting at the center.
The dominant feature of the House of Commons is the soaring Peace Tower. Also known as the Tower of Victory, this is Ottawa's equivalent of Big Ben. In fact, the original clock was a gift from the UK and one of the cornerstones of the tower was laid by then Prince Edward.
The grand clock tower also boasts one of the best panoramic views in the city. Visitors can climb to the viewing platform just below the clock face and gaze out across the city and Ottawa River.
The grounds of Parliament Hill contain various statues and monuments to discover. The most notable of all is the Centennial Flame. Installed to commemorate the hundredth anniversary of the Canadian Confederacy, the flame has been burning since 1967.
Designed to resemble the sort of water fountains often found in parks, visitors can throw wishing coins into the monument. These coins are later collected and donated to people with disabilities.
Right next to the parliament buildings, between Parliament Hill and the Rideau Canal is the Bytown Museum. The little museum, housed within the oldest stone house in the city, is bursting with exhibits on the development of the local area throughout its history.
As you would expect from the central district of Canada's capital, there are plenty more museums to be enjoyed in this area, such as:
Right next door to that is the Supreme Court of Canada. Another beautiful, historic building, the Supreme Court also offers guided tours of its interior and even boasts an art gallery. That's far from the only art gallery in Downtown Ottawa though.
The City Hall Art Gallery houses two exhibition spaces, each with around five new installations every year. Artists from around the world can submit proposals for exhibitions every two years. This means even returning visitors will always have something new to enjoy.
If you prefer your art performed rather than mounted, you might want to visit the National Arts Centre. The hypermodern, glass building hosts a variety of shows from theatre to dance and music.
Confederation Park offers even more arts events amongst a packed schedule of other festivals.
BluesFest is an annual summer celebration of music. The world's largest Tulip Festival takes place here in spring. Meanwhile, Winterlude finishes off Ottawa's winter season with a line-up of ice skating, ice carving contests, and various other activities in February.
When there are no festivals taking place, Confederation Park is a lovely place to enjoy a scenic retreat from the urban jungle. There are plenty of sculptures and monuments to enjoy, including a fountain that was originally displayed in London's Trafalgar Square.
Being one of the top locations for both tourists and business travelers, Downtown is home to some of the best hotels in Ottawa. There are lots of 5-star and boutique hotels to choose from, although they come with a city center price tag.
Don't worry too much if you are on a budget though. The many hotels in the area do cover a broad spectrum of price ranges. You will be able to find some more affordable hotels and hostels, although they may be more basic than what you could get for the same price elsewhere in the city.
Stay In Downtown Ottawa If You are visiting Ottawa for the first time; Sightseeing in the city center is your top priority; You are planning a shorter trip.
Best places to stay in Ottawa Downtown for first-timers:
MORE HOTELS IN DOWTOWN
See more:
2. Sparks Street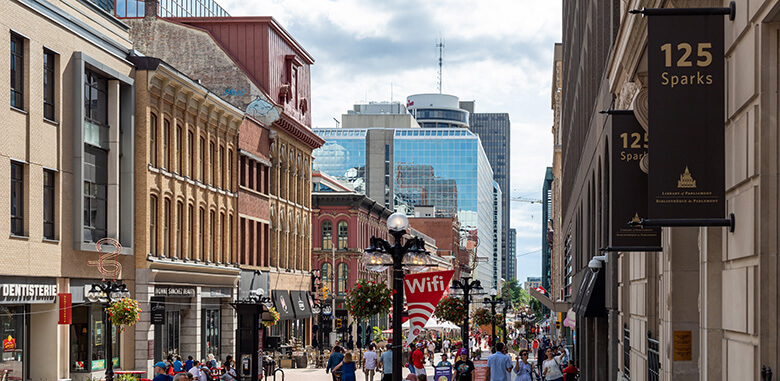 If you want to stay in a central location with plenty of shopping and dining opportunities, great nightlife, and lots of sightseeing, Sparks Street is the best area for you.
Sparks Street is a busy shopping locale running right through the center of the Downtown district. It is the heart of the city center's commercial and hospitality district, bursting at the seams with shops, cafes, and restaurants.
Sparks Street runs from the bottom of Parliament Hill right along to Bryson Park, passing by the vast majority of major sights and attractions in the Downtown area. You can't find a better location as far as convenience goes.
The National War Memorial is located at the eastern end of Sparks Street. Fitting, since the western end, leads out into the park surrounding the Canadian War Museum. The memorial is an impressive 70ft tall stone arch adorned with bronze statues.
Parliament Hill is just 50m north of Sparks Street, so you will have no trouble visiting and viewing that top landmark. Meanwhile, Confederation Park is just a five-minute walk southeast, which is perfect if you are visiting to attend one of the many festivals held there.
Travelers with mobility issues would particularly benefit from staying in or around Sparks Street. Being so close to so many top attractions, as well as shops and restaurants, means you won't have to worry about traveling too far from your hotel in order to enjoy everything the city has to offer.
It is also a completely pedestrian street, so you will be able to wander in peace, without worrying about crossing the road and dodging traffic. However, being so central and convenient, it does also get very crowded at times, which may make manoeuvring around difficult for some.
Many of the cafes and restaurants along Sparks Street have streetside seating, which is particularly lovely in the summer. Take a break from browsing the shops and museums to indulge in some tasty food and a spot of people watching.
You will also be able to enjoy performances by the variety of street artists that line Sparks Street. The bustling promenade is a popular area for a broad array of performers to put on a show. In fact, each year there is a whole festival dedicated to 'Living Statues.'
That's far from the only festival Sparks Street hosts. Sparks Street has a pretty packed schedule of festivals and events throughout the year. BuskerFest is another festival celebrating the area's community of street performers, shining a spotlight on the city's emerging musicians.
Foodies will enjoy the various food festivals held here too. PoutineFest is a particularly popular one, celebrating the most iconic of Canadian dishes. It's the perfect opportunity to try the national comfort food, with numerous vendors serving up their own twists on the meal.
If you're watching your carb intake, perhaps RibFest would be more up your alley.
In addition to eating a variety of delicious ribs, both vendors and attendees can enter contests. Vendors compete to win best-in-show titles for everything from meat quality to sauce tastiness. Attendees, meanwhile, can try their luck at the rib eating contest.
Being such a central location, this is one of the most popular places for tourists to stay when they visit Ottawa. There are plenty of hotels located around Sparks Street or along the roads leading off of it.
Most of them do have a higher price rate, however, being right at the center of the city. You won't have so much luck finding anything to suit lower budgets.
Stay in Sparks Street If you want to stay somewhere super central lots of sightseeing; you want to stay in a lively area bursting with shopping and hospitality; you have mobility issues and want to have everything from hospitality to attractions on your doorstep and easy to get to;
Best places to stay in Ottawa in Sparks Street for first-timers:
MORE HOTELS IN SPARKS STREET
3. ByWard Market
Bustling ByWard Market is a lively area, known for its rustic atmosphere during the daytime and brilliant nightlife after dark. In one of the more hipster districts of Ottawa, expect lots of cozy coffee shops and trendy bars.
One of the more historic areas of the city, ByWard Market retains much of its Victorian charm, lending it more of an old town atmosphere. In fact, the eponymous market is one of the oldest public markets in Canada still in operation.
The market has been running since 1826 and is still going strong, with a varied array of vendors and plenty of happy customers, both local and visiting. The covered market houses stalls selling everything from local produce and delicious street food to souvenirs and gifts.
Whilst you are in the food market, you absolutely need to hunt down a stall selling the delicious local Beavertail pastry. The sweet pastry comes in a variety of toppings (although I recommend the ever-iconic Canadian maple syrup for a really authentic treat) and is specifically shaped to look like a beaver's tail.
The area around ByWard Market is a haven for art lovers. The area is bursting with small, independent galleries and studios. It's perfect for getting familiar with the city's community of local artists.
There are also some larger galleries here. The National Gallery of Canada overlooks the Ottawa river, containing works from around the world but predominantly by Canadian and indigenous artists. With almost 100,000 pieces in its collection, there are tons for any art fan to appreciate here.
It's not just within the bounds of formal galleries that you can enjoy art in ByWard Market though. The area is also full of vibrant street art. Make sure to keep your eyes peeled and you are sure to spot some wonderful murals on a walk around the district.
Or maybe you love architecture, in which case you will adore the Notre Dame Cathedral Basilica. The magnificent 19th-century cathedral features two soaring spires that tower over the surrounding buildings.
After dark, this district becomes the center of Ottawa's nightlife. There are tons of bars and breweries, as well as a good selection of clubs. If having plenty to do in the evening is a priority, then you will definitely want to consider staying in the ByWard Market area.
This is also the center of Ottawa's LGBT community. You will find plenty of gay bars and LGBT-friendly venues in the area.
This district also runs along the Rideau Canal. The best place from which to appreciate the scenic waterway is lovely Major's Hill Park. The Park specifically overlooks the UNESCO World Heritage Locks, as well as the Rideau Falls, the curtain-like appearance of which gave the whole canal its name.
Stay In ByWard Market If Being surrounded by a vibrant nightlife scene is a priority; You want to stay in an area with a more historic vibe; You love art; LGBT friendly nightlife is a plus;
Best places to stay in ByWard Market for first-time visitors:
MORE HOTELS IN BYWARD MARKET
4. Centretown
If you are looking for a more laid-back, residential neighborhood, close to the city center, Centretown is the perfect area for you. It's also a great area for foodies with lots of tasty restaurants.
You will be surrounded by local pubs, bars, restaurants, shops, and cafes, where you can mingle with the locals and experience everyday Ottawan life. There is a high concentration of pubs on Elgin Street and Bank Street, the main commercial thoroughfares of Centretown.
This is the perfect option for anyone who wants the convenience of keeping close to top attractions whilst avoiding the heaving crowds of tourists. You get the best of both worlds and more affordable accommodation to boot.
Although it's outside of the city center, there are some pretty interesting museums in Centretown. The Canadian Museum of Nature displays fascinating exhibits on natural history in a lovely building resembling a grand castle.
The nearby Workers' History Museum offers a unique look at the lives and histories of workers throughout the region.
There are exhibitions and rotating events documenting the histories of various industries and occupations, allowing you insights into the daily lives of all kinds of Ottawan people.
The area is full of fantastic bars and restaurants. Whether you are after traditional Canadian cuisine or have a craving for something more exotic, you are sure to find a restaurant in Centretown to suit your preference.
To the west of Centretown is Ottawa's Chinatown. Marked by an ornate Chinese-style gate, Chinatown is a hub of East Asian cuisine. From the requisite Chinese to Japanese and Vietnamese, this is the place to go if you get a hankering for eastern food.
To the east, you have the leafy Golden Triangle. Known for being a more affluent neighborhood, the Triangle is nestled in the bend of the Rideau Canal. The area is full of high-end restaurants, catering to the many political halls and embassies that are located here.
Stay In Centretown If you want to be surrounded by an especially varied selection of restaurants; you want to keep close to the main attractions whilst avoiding the crowds of the city center; you want a relatively central location whilst also keeping accommodation costs down;
Best places to stay in Ottawa in Centretown:
MORE HOTELS IN CENTRETOWN
5. Glebe
The Glebe is a leafy, quiet, residential district about a mile south of the city center. Super local and bursting with independent cafes and restaurants, the Glebe offers the perfect opportunity to experience a quaint slice of everyday Ottawan life, right at the heart of the city.
Peaceful and laid back, The Glebe is a hub of cozy coffee shops and charming local restaurants. It's the ideal neighborhood for anyone who just wants to spend their vacation relaxing, rather than zooming around busy tourist attractions.
The quiet, understated atmosphere of The Glebe lends itself to a delightfully intimate vibe. If you are planning a romantic escape, The Glebe should be top of your list of places to consider, as it sits in a curve of the Rideau Canal.
In the summer, you can hire a small boat and head out onto the water. In the winter, the canal freezes over into the longest ice-rink in the world. You can hire skates from various points along the canal. Some companies even offer skating tours of the sights located along the canal banks.
The Rideau Canal leads around to Dow's Lake. The pretty lake is a particularly lovely place to go boating and boasts a small marina. Dow's Lake is surrounded by the Fletcher Wildlife Garden.
The lovely, expansive park is home to a botanical garden, manicured ornamental gardens, and the Canada Agriculture and Food Museum. Commissioner's Park, which curves around Dow's lake, is also the main stage for the city's annual Tulip Festival.
As lovely as The Glebe is, it is also just far enough from the city center that accommodation is generally cheaper than in the more touristy districts. If you don't want to sacrifice the quality of your accommodation for a lower price, then this is a fantastic option.
Being quite outside of the main tourist districts, there aren't that many typical hotels in The Glebe. There is, however, a great selection of charming, locally run bed and breakfasts. Perfect for a more personal touch.
Stay In The Glebe If you are traveling as a couple and planning a romantic getaway; you want a more peaceful, residential neighborhood; you are looking for a budget-friendly area to stay in Ottawa; you don't mind being a little further out from the city center;
Best place to stay in The Glebe: Ashbury House Bed & Breakfast
MORE HOTELS IN THE GLEBE
6. Kanata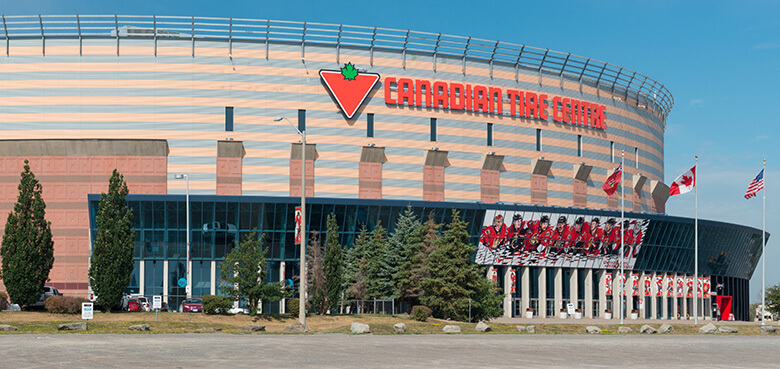 Kanata is a large suburb right at the western boundary of Ottawa. About 22km to the west of the city center, this is not the area to stay in if you are visiting Ottawa for the first time and want to spend your time exploring the sights and attractions of Downtown.
It will take around 40 minutes to travel to Downtown Ottawa by public transport, it's best to have a car to explore the area.
There are two main attributes that entice visitors to stay in Kanata, one of which is the various events stadiums, and arenas in the area. The Canadian Tyre Centre Arena is one of the most popular events venues in Ottawa.
Home to the Ottawa Senators ice-hockey team, the arena is primarily used for NHL hockey matches. The arena does also hosts various other sports matches, as well as concerts and other shows.
The other draw of Kanata is its proximity to beautiful countryside. It's a great base for hikers and mountain bikers who can head right into the South March Highlands Conservation Forest that surround the district.
Various trails lead out of Kanata and into the forested hills or along the Ottawa River. There are various interesting sites to discover, including a cold war bunker that has been converted into a museum.
Being so far out from the city center, there are far fewer tourists to bother you here. You will be able to enjoy the peace and solitude of the mountain trails, without bumping into noisy families around every turn.
Stay In Kanata If you are attending an event at the Canadian Tyre Centre; you want a good base from which to go hiking or biking in the surrounding national parks; you want to stay far away from droves of other tourists;
Best places to stay in Ottawa in Kanata for first-timers:
MORE HOTELS IN KANATA
7. Gatineau/Hull, Quebec
Gatineau is a great area to stay near Ottawa for families, history lovers, travelers interested in French Canadian culture, outdoor enthusiasts with plenty of budget accommodations, great nightlife, upscale French restaurants, cool cafés, brewpubs, and bistros.
Located on the north bank of the Ottawa River, Gatineau is technically a separate city. It's even in a different province, across the border in Quebec, rather than Ontario.
Connected to Ottawa by Alexandra bridge, which takes you right into the heart of ByWard Market, you're still right on the doorstep of Ottawa's iconic attractions though.
Even though it's super close to the city center, Gatineau is often overlooked by tourists, meaning it's much quieter and more affordable than other city center districts. You will be able to choose from some great hotels here at very reasonable price points.
Boasting a much more local atmosphere, Gatineau is perfect for more laid-back vacations spent experiencing local life. A hub of small bars and microbreweries makes this another great nightlife option for those who enjoy mingling with the locals.
The low costs, quieter streets, and proximity to downtown Ottawa make this a smart choice for families. There are plenty of lush parks for kids to play in and you won't have too much hassle shepherding them into the city for sightseeing excursions.
There are even plenty of family-friendly attractions to enjoy.The Canadian Children's Museum is just a short walk away, in neighboring Hull. The Canadian Museum of History is then in an adjacent building, so there's something for the whole family to enjoy in one compact complex.
Gatineau and Hull are also popular base locations for hikers and mountain-bikers. There are various trails leading out of the city into the hills and forests to the north. The trails offer plenty to be discovered, from waterfalls and lakes to ruins and grand country houses.
Gatineau Park is a convenient gateway into the greater wilderness. Spearing through the center of Hull, it offers a leafy retreat for those who just want to relax, as well as the start of the hiking trails leading out into the mountains.
There is also the lovely riverside park, Jacques Cartier Park, which is one of the main avenues for Winterlude, Canada's annual winter festival in February.
Other points of interest are Mosaiculture Gatineau, Casino Lac Leamy, the nightlife area of Rue Laval, and the shopping area of Eddy Street.
Gatineau/Hull offers cheaper accommodation options compared with the city center, you will find good value hotels here.
Stay In Gatineau/Hull, Quebec If you love spending time in the great outdoors; you want to stay close to the city center without breaking the bank; you are traveling with children;
Best places to stay in Gatineau/Hull for first-time tourists:
MORE HOTELS IN HULL
8. Nepean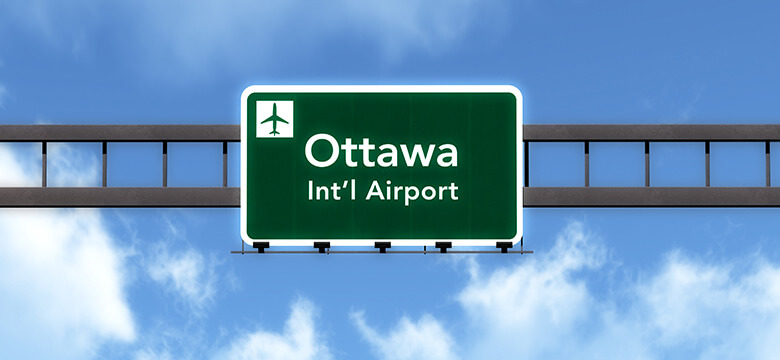 The sprawling district of Nepean is located on the southern outskirts of Ottawa. A few miles from the city center, Nepean is much quieter and more residential. The lack of other tourists, combined with the numerous parks and green spaces, makes this a perfect location for a really relaxing break.
Much less geared towards tourists, Nepean is mostly populated with small, local shops and restaurants. Business centers and industrial parks are common in the land around the airport.
The Ottawa International Airport is about 10km south of the city center. Even though it seems quite far removed from the city center, Ottawa's public transport system means you can still get into the Downtown areas easily and relatively quickly.
If you are only in Ottawa on a layover between flights, you will still be able to explore the inner city a bit from here. If you don't want to go to the effort of heading all the way into the city center, there is still plenty to explore in the immediate area too.
The Rideau River runs through Nepean, offering a lovely location to walk, particularly in the summer. There's even a small beach in Mooney's Bay park where you can swim. Alternatively, there are various parks and forests with extensive trails to explore.
Or you could simply spend your time visiting the local bars and cafes, mingling with the locals. This is one of the best places in the city to experience real, everyday life in Ottawa.
Stay In Nepean/Ottawa International Airport If you want a quiet neighborhood, away from the crowds of tourists around Downtown; you want to stay close to the airport;
Best places to stay in Ottawa in Nepean:
MORE HOTELS IN NEPEAN
Where should I stay in Ottawa for the first time?
Downtown is the best area to stay in Ottawa for first-timers due to its central location. If you stay here, you will be located in the heart of the city, within walking distance to the top attractions, as well as many restaurants, bars, and shops.
What are the best areas to stay in Ottawa?
Downtown, ByWard Market, Sparks Street, The Glebe, and Gatineau are some of the best areas to stay in Ottawa for tourists because they are the most popular and safe areas that offer a wide range of attractions and amenities.
Where to stay in Ottawa with family?
Some of the best areas in Ottawa for families are Downtown, Sparks Street, ByWard Market. These neighborhoods offer a wide range of family-friendly accommodations and attractions for children of all ages both young and older ones.
Where is the best area to stay in Ottawa for sightseeing?
The central locations of Downtown, ByWard Market, and Sparks Street are the best base places in Ottawa for sightseeing. They all offer proximity to major attractions, making them a great base to explore the city on foot and by public transportation.
See more:
Summary – Where to stay in Ottawa?
In conclusion, Downtown Ottawa, Sparks Street, ByWard Market, Centretown, The Glebe, Kanata, Gatineau/Hull, Nepean are the best places to stay in Ottawa for tourists. They are popular and safe locations, providing a wide range of accommodations for all budget travelers.
Overall, Downtown Ottawa is the best area to stay in Ottawa for first-timers due to its prime location. If you stay here, you will be located in the middle of action, within walking distance to major attractions, restaurants, bars, and shops.
Whether you want a busy sightseeing city break or a relaxing suburban vacation, there is sure to be a district of Ottawa that can deliver your perfect visit to Canada's capital city. We have plenty of recommendations on the best hotels and accommodation in Ottawa too, so you're just a few clicks away from planning your dream city adventure.