Here is my detailed guide to where to stay in Vancouver, Canada. This fascinating city on Canada's west coast is an impressive combination of natural and human-made delights.
Vancouver has something to offer you whether you love a bustling metropolis or prefer nature and the outdoors. I'll take you through all of the City's best destinations both on and off the tourist map and suggest some of the must-sees and must-dos so that you can best plan your visit.
Best Areas to Stay in Vancouver: Tips & Info
Vancouver is a relatively compact city surrounded by water. The city center occupies a peninsula that juts out into Vancouver Harbour and English Bay. Many of the best things to see and do can be found in this central part of the city, and the incredible urban wilderness of Stanley Park at the tip of the peninsula gives Vancouver much of its unique appeal.
Districts in the city center include Downtown, the upscale waterside districts of Coal Harbour and Waterfront. Then there's the cosmopolitan West End linking downtown with Stanley Park. Other central communities with lots of charm include Yaletown, Gastown and Chinatown.
But if you're not really a city person and you fancy staying somewhere a little removed from the center, then the districts of Kitsilano, Mount Pleasant, and Yale town are excellent alternatives.
Wherever you stay in central Vancouver, you will find it convenient to travel around by the city's excellent public transport network. The city has an efficient SkyTrain rail system, a comprehensive SeaBus passenger ferry service, and an extensive bus network. Ticket prices are very reasonable, and if you plan to do a lot of exploring, you should purchase one of the special tickets that allow unlimited travel on the network for the whole day.
FIND BEST HOTELS IN VANCOUVER
Where to Stay in Vancouver, Canada – 10 Best Areas to Stay in Vancouver
So let's get down to the details. What follows is a detailed description of the ten best places to stay in Vancouver. This city has got something to offer to all kinds of visitors on all budgets. You're sure to find a district that appeals to you whether you're looking to stay centrally or outside of the city, you want sophisticated luxury or budget charm. Whether you're traveling on your own or with a family, there's something for you here.
Best Areas to Stay in Vancouver Map
To see more detail of where to stay in Vancouver Map, go to google map;
1. Downtown, the best area to stay in Vancouver for first Time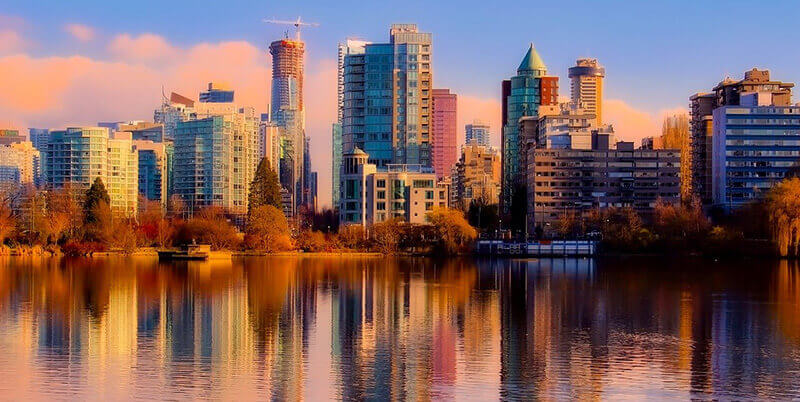 Vancouver's downtown area is the very center of the city. This area occupies a network of streets running from False Creek in the southwest up to Vancouver Harbour in the northeast. Downtown is by far the most central and convenient place to stay in the city, and if you're a first-time visitor, then you should probably look no further. The only drawback to this is that downtown isn't the cheapest place to stay in the city, and if you're a budget traveler, then read on; there are better options around.
Downtown Vancouver is the home of the city's financial district, so it's convenient if you're visiting on business. Also, this area is packed with shops and the streets around Granville mall are a shoppers dream.
Downtown Vancouver is also home to many restaurants reflecting the city's multicultural roots. So whether you want eastern delights at Thai House, Italian classics at Italian kitchen, or for that matter food from any nation you can think of, you're sure to find it here.
Many of Vancouver's cultural attractions are located in the downtown area. The Vancouver Art Gallery and the Bill Reid Gallery Of Northwest Coast Art have impressive collections including the celebrated jewelry of Bill Reid himself.
Culture lovers should check out the listings at the Vancouver Opera and the Vancouver Symphony Orchestra cultured entertainment at surprisingly reasonable prices.
Downtown Vancouver is also extremely convenient for exploring the other parts of the city since it connects with the ferry services around Vancouver Harbour at the SeaBus terminal. Vancouver's' excellent SkyTrain system also has several stations in the downtown area, and many bus services connect downtown with the rest of the city.
You Should Stay in this Area If:
You want excellent transport links.
You want a good, more expensive hotel.
You want to be close to the main attractions of the city.
You're here for business.
You want great nightlife.
FIND BEST HOTELS IN DOWNTOWN VANCOUVER
2. West End, where to stay in Vancouver on budget
Vancouver's West end is a thriving central city area with the distinction of being right next door to the fabulous Stanley Park. This park occupies over 1,000 acres of wilderness at the tip of the peninsula on which most of Vancouver is situated. It's an incredible urban park that gives Vancouver a lot of its open feel. After you visit Stanley Park, you'll wish that every city had somewhere like this.
Stanley Park is covered with footpaths, cycle routes and trails. The Seawall is the name for the perimeter path that circuits the park offering fabulous waterfront views. Pretty much everyone who visits Vancouver comes to the park, and you should too because it's one of the city's highlights. If you're not a runner, jogger, rollerblader, or the like, then you can still visit and jump on the free bus service that visits all the significant points of interest in the park.
If you're traveling with family, your kids will love the miniature railway, and the Vancouver Aquarium on the eastern fringes of the park has a fabulous collection of marine ecology.
Stanley Park has some excellent beaches too over on the western side, but if you want to swim, then I recommend you hop in the heated outdoor swimming pool at second Beach rather than braving the frigid waters of the sea.
So that was Stanley Park but what about the West end neighborhood next door? Well, it's a fabulously lively area that has some of the city's most exciting shopping around the Robson Street area. The West End is packed with great restaurants and cafes featuring many world cuisines and fusion food. The Davie Street area is the heart of Vancouver's LGBT community and is the location of Vancouver's August Gay Pride Parade and festival, a hugely popular and entertaining event.
Vancouver's West End has plenty of accommodation at slightly lower rates than Downtown. Budget travelers will find several hostels with dorm beds, but much of the accommodation here is in mid-range hotels. But don't forget to explore the possibilities for apartment rentals, which can be quite economical if you're traveling as a group or with family.
You Should Stay in this Area If:
You're traveling with family.
You want to be close to the nature and beaches of Stanley Park.
You want great dining and nightlife.
You want to visit Vancouver's LGBT hub of Davie Village.
For eclectic, non-chain shopping.
FIND BEST HOTELS IN WEST END
3. Coal Harbour, where to stay in Vancouver before or after a cruise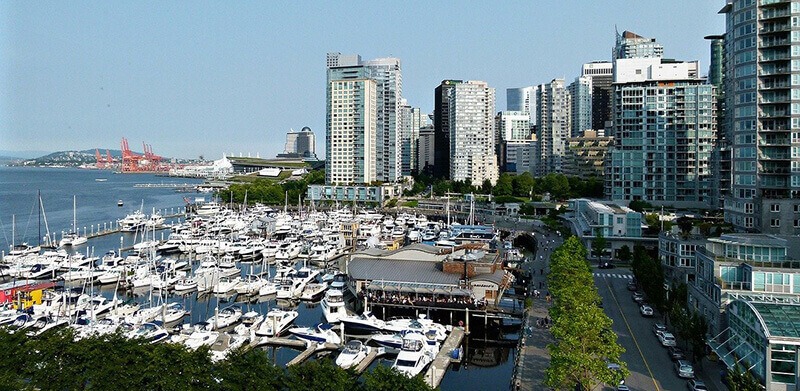 Coal Harbour is a district that occupies the North shore of Vancouver's peninsula. It is situated to the north of the city's West End and next to the top part of Stanley Park. It's conveniently placed for transport since the city's Waterfront area with its ferry terminals is just to the east.
Coal Harbour is one of the best places in Vancouver to stay if you're looking for a top-class hotel. This part of town has several prestigious international chain hotels that occupy gleaming towers overlooking the fabulous waterfront with views across Dead Man's Island and Stanley Park.
Coal Harbour is the home of Vancouver's cruise ship terminal, so it's a convenient place to stay if you're exploring the city before or after a cruise.
Coal Harbour is a prestigious and well-heeled area and home to wealthy urban-dwelling city residents. The hotels here are pretty expensive, and so are the restaurants and bars in this area, particularly the ones with waterfront locations where you'll pay a premium for the view. But if you want to have somewhere a little more affordable than the eclectic shops and restaurants of the West End aren't far away to the Southwest.
You Should Stay in this Area If:
You want a ritzy 5-star hotel with a great view of Coal Harbour.
You want to be next to the fabulous Stanley park.
You're not traveling on a budget.
You're taking a cruise ship.
FIND BEST HOTELS IN COAL HABOUR
4. Gastown, the coolest area to stay in Vancouver
If you want to stay in a part of Vancouver full of old-world character and charm, then look no further than Gastown. This city district has some of Vancouver's oldest architecture and you'll even find some cobbled streets here. But that doesn't mean that it is an old-fashioned place, quite the contrary. In recent times Gastown has been reinvigorated by a young and cool crowd and you'll find an impressively vibrant community here.
Gastown has enjoyable shopping, particularly if you like curios, antiques, and little art galleries. The chain stores are in other parts of the city, but here is where you'll find unique and interesting items, especially if you have the budget for it.
Gastown has decent accommodation for most budgets and types of travelers. There are hostels that cater to budget and independent travelers and some excellent boutique mid-to-upper range hotels too. Gastown is also an excellent place to look for apartment rentals if you don't need hotel comforts and instead prefer more freedom and space.
Gastown is a central Vancouver suburb located just east of the Waterfront District. Most of the central city's sights are within a reasonable walking distance, or a short SkyTrain or bus ride. Vancouver's Chinatown is just to the south with its wealth of dining options and vibrant culture.
Gastown has excellent dining and nightlife since it has one of the most popular night scenes in the city with a profusion of hip restaurants, cool bars, and happening nightclubs.
If you're staying in Gastown, you should remember that it is a revitalized city center neighborhood that still has some rundown and seedy spots. Just keep your city street smarts about you, and you will be okay.
You Should Stay in this Area If:
For great nightlife.
For attractive old buildings.
You want a hip and happening district.
You want good accommodation for all budgets.
FIND BEST HOTELS IN GASTOWN
5. Chinatown, where to stay in Vancouver for great Chinese food
Vancouver's large Chinatown District is the center for one of the largest Chinese and Asian communities in North America. It's a bright, bold, in-your-face part of the city that is lots of fun and has something to see on every corner.
As you'd expect, you'll find fabulous Chinese restaurants here, as well as foods from many other parts of the world. There are some pretty Chinese temples, and the Chinatown Night Market on Keefer Street is a fascinating place to explore in the summer months.
Chinatown has some great bars in addition to all of his restaurants. Many places here are microbreweries, so it's an excellent place to sample delicious homemade beers. Many bars open until the small hours and double up as nightclubs, playing music as diverse as country and hip hop. The lively district of Gastown borders Chinatown to the north and there's lots going on here too, so this part of central Vancouver is one of the best places to stay for nightlife.
Chinatown has some excellent hostels catering to backpackers and independent travelers, so if you're a budget traveler, it's one of the best places to stay in Vancouver.
As with Gastown, you need to remember that Chinatown is a central urban neighborhood with issues with prostitution, drug use, and the like. If you're staying here, especially on the eastern side of the district, then be aware of this. As long as you're comfortable with inner-city environments, then you'll be fine.
Chinatown doesn't have much in the way of green spaces since it's such a central district, but the exception is Andy Livingston Park on the south side.
Being so central Chinatown has excellent transport links with the rest of the city. The Stadium: Chinatown SkyTrain station is the quickest way to get into the downtown area of Vancouver.
You Should Stay in this Area If:
You love Chinese food.
You're visiting Vancouver for the Chinese new year.
You want a lively night scene.
You want to vibrant central city area.
You're traveling on a budget.
FIND BEST HOTELS IN VANCOUVER
6. Waterfront, one of the most convenient parts of Vancouver for transport
Vancouver's Waterfront area is on the northern side of Downtown. This is one of the most convenient parts of the city for transport, especially if you plan to get around by ferry since the Central Ferry Terminal is here. Waterfront is a good place if you want to explore Vancouver's North Shore.
Waterfront Station is the center of land-based transport in this part of Vancouver, and it is the nexus of two SkyTrain lines and the West Coast Express rail line. The station is an imposing red brick building that dates back to 1914.
The waterfront is one of the city's most central districts, and downtown is just to the South. The prestigious hotels and living of Coal Harbor are to the West and the exciting, sometimes seedy, neighborhoods of Gastown and Chinatown are to the east.
As with nearby Downtown, the waterfront hotels tend to be in the mid-to-expensive price range. If you are looking to stay in a place with sea views, you can expect to pay a premium for the privilege. This part of Vancouver doesn't have much in the way of private rentals either, so if you're looking for apartments, then you're better off in other parts of town.
You Should Stay in this Area If:
You want to be on the waterfront.
You want a great central location.
You want to be close to downtown
FIND BEST HOTELS IN VANCOUVER
7. Kitsilano, where to stay in Vancouver for families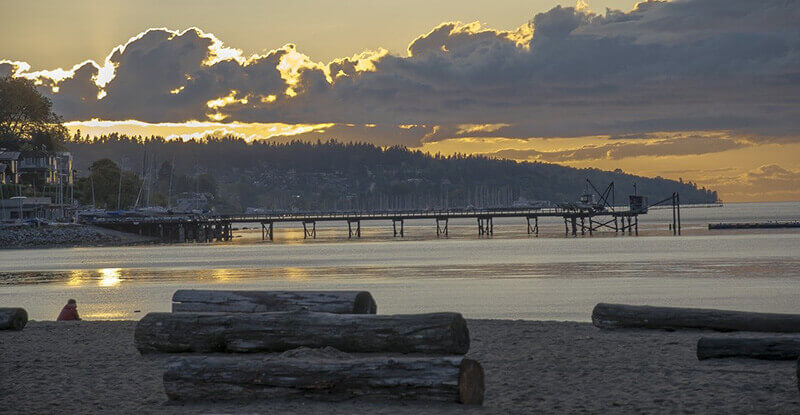 Kitsilano is a large suburban district of Vancouver located to the southwest of downtown across False Creek's waters.
It's an attractive suburb with a pretty beach at Vanier Park. There are some exciting things to see in this lovely waterfront park including the Museum Of Vancouver, the Vancouver Maritime Museum, and the HR MacMillan Space Center And Planetarium.
The Museum of Vancouver is the city's biggest museum. It has an enormous collection of exhibits that documents the history of the city from its ancient roots through to the present day. It's an excellent place to take the children since many of the exhibits are designed with youngsters in mind.
Vancouver's Maritime Museum is another popular visitor attraction, with an extensive collection of displays documenting Canadian maritime history.
The HR Macmillan Space Center And Planetarium is a perfect destination for anyone, especially children, interested in space, stars and the great beyond.
These museums aren't the only cultural attractions of Kitsilano since the area has long been a hotbed of artistic and musical creativity. Ever since the late 60s, this part of town has been home to Vancouver's musical and alternative community. These days it's a great place to see live bands, and especially in the summer months, there are lots of different music and art festivals so make sure you check the calendar before you travel to see what events you can take in while you're here.
Kitsilano has excellent dining that ranges from multicultural street food to classy and pricey restaurants like Tojo's Japanese delights or the award-winning West.
Kitsilano doesn't have a huge range of accommodation although there are some good B&Bs and a few hostels. One of the best ideas for staying in this area is renting a private apartment. Whatever you choose, you'll find that most places are in the budget or mid-range categories.
You Should Stay in this Area If:
You want an attractive waterfront suburb.
You're traveling with family.
You want an out of town suburb with good transport links to the city.
FIND BEST HOTELS IN KITSILANO
8. Yaletown, one of the best areas to stay in Vancouver for upscale nightlife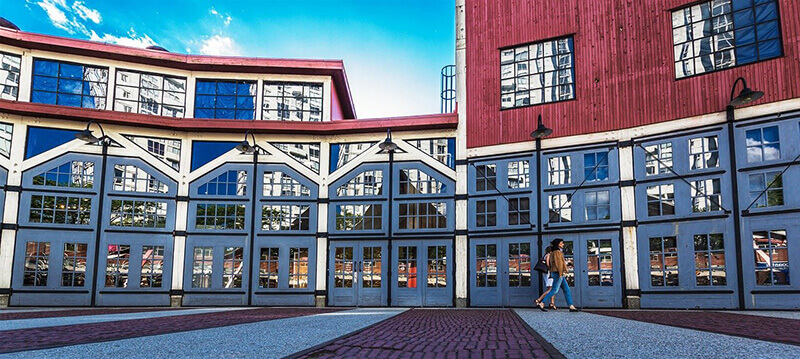 Yaletown is one of the most modern districts of central Vancouver. This old waterfront community used to be full of dilapidated warehouses and open space. All that changed as urban reclamation projects rejuvenated this part of town with modern apartments, shopping and dining centers, and renovated warehouses.
Yaletown is situated on the southern shore of False Creek and looks across the water to the tower blocks of downtown Vancouver. It's one of the most attractive views of the city. But despite being across the water, this District is well connected with the city center by the SkyTrain service. There are four SkyTrain stations here that can conveniently take you all around Vancouver. Also, Creek ferries operate a local ferry service.
There are a few things to see in this area including the Olympic village, the home of the competitors in the 2010 winter Olympics. Another intriguing destination is Science World, a museum full of kid-friendly activities related to the sciences.
The shopping in Yaletown reflects the wealthy young and upwardly mobile residents. You can find stores selling expensive designer wear and pricey home furnishings and decor items.
Yaletown has a couple of hostels but doesn't specialize in catering to budget travelers, and other parts of the city are better equipped if funds are tight. But the district has some excellent mid-range and more expensive hotels. These are prestigious modern hotels that provide chic and sophisticated accommodation to discerning travelers.
You Should Stay in this Area If:
You're looking for Vancouver's coolest district.
You want to stay close to downtown.
You want classy boutique hotels
You're looking for upscale nightlife.
FIND BEST HOTELS IN YALETOWN
9. Commercial Drive, a residential district of Vancouver
If you like cities, but the cut and thrust of downtown isn't for you, then you should consider staying in the charming Commercial Drive neighborhood. The name is actually a bit of a misnomer since Commercial Drive is pretty much the opposite of commercial, being a primarily residential district of Vancouver.
Commercial Drive is one of the cheapest areas of Vancouver to stay, so if you're traveling on a budget, it's a great choice. The low-key atmosphere and lower rent of this area have made it popular with local artists and it's now one of the centers of Vancouver's arty, party crowd.
Perhaps the biggest appeal of Commerical Drive is the sheer mixture of cultures and people you'll encounter here. There are restaurants and cafes representing the cuisines of most of Vancouver's immigrant communities. Commercial Drive is a fabulous place to enjoy economical and delicious international foods ranging from Japanese, Mexican, and Vietnamese to the Middle East and North Africa. It's a cultural melting pot without the grimy feel of some of the inner city suburbs.
Commercial Drive is on the eastern side of Vancouver and is a few kilometers out of the city center. Having said that, the excellent SkyTrain service has several stations serving the district and it's easy to get to downtown from here. They're also several bus routes connecting Commerical Drive with the other areas of the city.
Commercial Drive is home to the city's "Yeast Van" Brewery District. There are many breweries here, so if you're a beer fan, you can arrange tours to explore them on a beer crawl.
You Should Stay in this Area If:
You want to get away from the tourists.
You want an affordable budget destination.
You want a vibrant and varied community atmosphere.
You want to visit the city's brewery district.
FIND BEST HOTELS IN VANCOUVER
10. Mount Pleasant, where to stay in Vancouver for Bohemian atmosphere
Mount Pleasant is an attractive and suburban district on the south side of Vancouver heading out from the city into the suburbs.
If your idea of a great place to stay is a neighborhood that used to be run down but is well on the way to redevelopment and is home to a hip and a happening social scene, then you'll love Mount Pleasant. The area is full of local-friendly bars, restaurants and cafes.
Mount Pleasant doesn't offer much in the way of tourist activities or notable architecture, but that's kind of the appeal. An attractive feature of the neighborhood is Queen Elizabeth Park. This is a large urban hillside park with immaculately landscaped gardens that are a real breath of fresh air. While you're here, you should visit Bloedel Floral Conservatory, a botanical garden full of tropical plants.
An advantage of staying in mount pleasant is the proximity to Vancouver International Airport, a short drive to the south. If you are arriving or leaving by air and want to ensure a trouble-free transfer, then this is an excellent place to stay.
Mount Pleasant has a good mix of accommodation with some larger hotels mainly in the mid-range category and plenty of private apartment and home rentals.
You Should Stay in this Area If:
You want to stay in one of the coolest suburbs of Vancouver.
You want a Bohemian atmosphere.
You want an affordable multicultural suburb.
You don't mind traveling to the city by bus, train or ferry.
You want to stay close to Vancouver International Airport.
FIND BEST HOTELS IN VANCOUVER
Where To Stay In Vancouver On A Budget?
Vancouver's Chinatown and neighboring Gastown districts are a good choice of destination for budget travelers. These two districts, just to the east of the downtown area, have a good selection of hostels and budget hotels and b&bs.
Chinatown in particular, has lots of budget-friendly street food stalls, restaurants and bars. While parts of these downtown districts can be a bit seedy, they are colorful and exciting places to be, and since they're so close to the center of town, they're an excellent springboard to explore the rest of Vancouver on a budget.
Where To Stay In Vancouver With Family?
If you're traveling to Vancouver with family, why not stay in the city's West End? This is one of the most central districts of Vancouver but the unique layout of Vancouver means that it's also an excellent place for families because it's next to Stanley Park.
This enormous waterfront Park is a delight to explore with the family since there are beaches, warm water swimming pools, a miniature railway and a fabulous aquatic center.
The West End is a lively place full of restaurants and shops and it's right next to Downtown with its museums and galleries. It's the perfect base for a family stay in Vancouver offering a great mixture of open nature and urban sophistication.
Where To Stay In Vancouver For Cheap?
If you're looking for budget accommodation and you don't particularly want to stay near to the center of the city, then why not choose the Commercial Drive district? This area isn't really commercial at all. Instead, it's an up and coming multicultural neighborhood on the eastern side of the city which is full of character and charm.
Commercial Drive has excellent connections with central Vancouver via the SkyTrain network, and this is an economical way to get around. There's lots of budget accommodation here too and good value food from any number of nations is readily available. It's the perfect out of town choice for budget travelers.
Where To Stay In Vancouver Downtown?
If you want to stay somewhere central in Vancouver, and budget isn't an issue, then the Downtown district itself is perhaps the best choice. This grid of central streets houses the central business district of the city and its shopping and commercial center.
There are many good mid and upper-range hotels here, but not much accommodation for budget travelers.
If you're looking to stay downtown on a budget, then the nearby West Side is a cheap and cheerful base from which to explore the city. West Side is in a perfect spot since it's right between the urban excitement of downtown and the enormous open space of Stanley Park which you can explore for free at your leisure.
Where To Stay In Vancouver Before A Cruise?
If you visit Vancouver before departing on a cruise, then the Waterfront area is the most convenient place for you to stay. This central district of the city is located just north of the downtown area with all of its shopping and business activities. Your ship will depart the city from Canada Place Cruise Ship Terminal. The waterfront district has some excellent middle-upper range hotels, some with spectacular views across the water. There are also lots of restaurants and shops in the Harbor Center development.
Where To Stay In Vancouver As A Tourist?
The Downtown district of Vancouver is the most central and convenient place for tourists to stay when visiting the city. This is where you'll find the city's best collection of three, four, and five-star hotels, as well as an abundance of shops, restaurants and bars.
Downtown Vancouver has art galleries, museums and theaters so it's the cultural center of the city. From this central location, it's incredibly convenient to branch out and explore the Waterfront area to the north, the cosmopolitan West End, and beautiful Stanley Park.
Best Neighborhoods to Stay in Vancouver without a Car?
Vancouver has an excellent public transport system. Ferries, trains, and buses connect to all parts of the city. As long as you stay somewhere relatively central, you'll have no trouble getting around without a car.
The Downtown area of Vancouver is where most of the public transport services converge. Any of the districts in Vancouver's central peninsula offer excellent transport links for getting around the city.
Best Neighborhoods to Stay in Vancouver for One Night?
If you're only able to spend one night in Vancouver, then it makes sense to stay somewhere as central as possible to make the most of your brief time in the city. The best candidate here is Downtown itself. This epicenter of Vancouver is the shopping, cultural and business center of the city.
If you stay Downtown, you'll find plenty to see or do on your doorstep without having to rely on public transport. The only disadvantage with this part of town is that it isn't cheap. So if you're on a budget, then it's a good idea to stay somewhere like Chinatown or Gas town. These are suburbs just to the east of the city center that are fascinating in themselves and also convenient for getting around.
Best Neighborhoods to Stay in Vancouver with A Car?
While you don't really need a car to explore Vancouver, if you do have your own transport, then it allows you to stay in exciting parts of the city that are a little further out from the center.
Commercial Drive over on the eastern side of Vancouver is a very up-and-coming area with a vibrant social scene full of local restaurants, bars, and nightlife that is refreshingly untouristy.
Another excellent city district that lends itself to exploration by private vehicle is Mount Pleasant. This southern suburb is again a world away from the hectic city center and it's a lovely family-friendly part of Vancouver.
Conclusion
So by now, you will have answers to all of your questions about Vancouver. You know which are the best areas of the city and you can choose the one that suits your needs best. I hope that you have a marvelous visit to this superb destination!