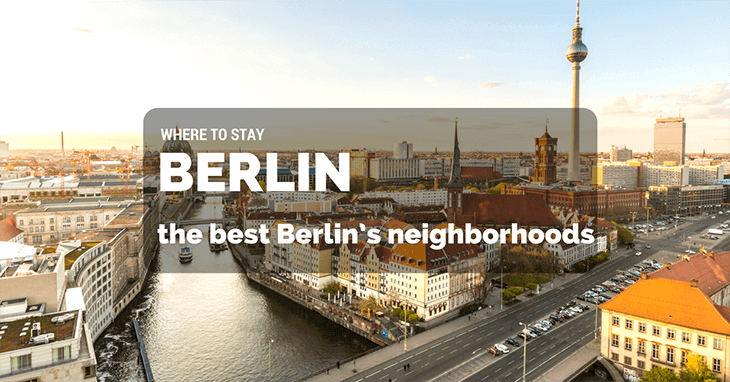 Where to stay in Berlin – the best Berlin's neighborhoods
Many people say that when travelling Germany, you only really need to see Berlin. If you make it there, deciding where to stay in Berlin is not as simple as just picking a hotel. This city is packed full of different energies and you will need to pick the perfect place to suit your personality! We had mentioned Berlin is one of our amazing stops in Europe, and we will help you out choose best area to stay in Berlin in this article.
The reason that Berlin is so intriguing lies in its history. Berlin has seen some interesting times! Since the 13th century it has been the center of many different empires; Berlin was once the capital of the Margraviate of Brandenburg (part of the Holy Roman Empire); then Prussia; then the German Empire, then the Weimar Republic (the system after their defeat in WWI) and then the Third Reich. After World War II the city became divided until finally in the 1990's Germany was reunified and took its place as the capital of Germany.
What a history, right? So, with all of this going on it's no wonder that Berlin is such a melting pot of cultures. It's become a mix of cultures, politics, media and science. As such, the city is vibrant and unique at every corner, with eight different districts, each vastly different from the other. Each district has its own museums, monuments and history. So, whichever district you choose, you won't be without activities to fill your days. Out of the eight different district, these are the 5 that you should stay in when visiting Berlin:
Where to stay in Berlin – the best Berlin's Neighborhoods
Neukölln
This district is often referred to as 'Little Istanbul' as it is heavily influenced by Turkish and Arabic culture. There is a fabulous Turkish market in the area and you are always sure to find an amazing kebab somewhere! For Germans, visiting Neukölln is like going on a mini holiday to a new country.
This also is seen as the cool, hip or bohemian part of the city. With new cafes, shops and bars popping up everywhere! There are lots of places to see in this area, such as the Neukölln opera house, the puppet theatre, Britz Garden and Britz Castle. There is also the 48h Neukölln Festival…a festival for all cultures and age groups where people can show off their artistic talent.
Kreuzburg
This is the most colourful of all districts! So if you're an artistic soul then this is the area for you. The streets are filled with art and there are myriad bars and pubs to check out. Warning: some describe this area as the 'punk' area of Berlin. Sometimes it can get a little 'dodgy', but the grungy punk vibe is part of the appeal really!
For a hotel with a history you should check out regenbogenfabrik (rainbow factory). It was scheduled for demolition in the 80's but the citizens refused to allow it. There may have been a squatter or two living there for many years before it was renovated. Accommodation here can be described as functional or semi – industrial as opposed to luxurious.
Friedrichshain and Lichtenberg
For the party animals these are the districts to be in! These areas can be quiet tourist heavy as they are home to the techno clubs! Along Revaler Strasse and Ostkreuz train station you will find myriad clubs and bars that will impress even the most avid club goer. Essentially, this is the area to stay if you are a night owl. Many clubs will be open from night until morning all days of the week. So, if you want to spend you holiday sleeping during the day and exploring at night, then this is your area!
It is also the only place in Berlin that still has a section of the Berlin Wall standing. Many tourists take the opportunity to walk along the remaining stretch of the wall, seeing what the artists in the area have created from it.
Schöneberg
If you want 'post-card-perfect' surroundings, find a spot to stay in schöneberg. This area has an eclectic mix of old and new architecture. The major draw in this area is the high end shopping and the beautiful town houses. Areas such as Goltzstrasse and Akazienstrasse are very grand indeed. If you Google this district you'll find lists and lists of café's to check out; many offering sweet treats and gluten free options! If shopping is your thing then you should also check out KaDeWe, a shopping center which sees 180,000 shoppers pass through its doors every day! Just like other areas of Berlin, there are plenty of Museums to see, but there is also a beautiful park to wander through! Schöneberg is also the area with the most prominent LBGTIQ community, located in an area of the district called Nollendorfplatz.
So whether you are a bohemian, an artistic type, a party animal, or a big spender; there is a district for you! Once you decide on your district you won't struggle to find accommodation in these areas to suit your needs. Feel free to get in touch with us if you need some help finding the perfect spot in Berlin!