Where to stay in Berlin for first-time visitors? The city is so huge that it's hard to know where the best area to stay is. Well, we've got your back. We're going to tell you about our best neighborhoods to stay in Berlin and why we love them! By the end of the post, you should know exactly the best areas for Christmas markets, nightlife, sightseeing, shopping, family, budget, and one night.
The reason that Berlin is so intriguing lies in its history. Berlin has seen some interesting times! Since the 13th-century it has been the center of many different empires;
Berlin was once the capital of the Margraviate of Brandenburg (part of the Holy Roman Empire); then Prussia; then the German Empire, then the Weimar Republic (the system after their defeat in WWI), and then the Third Reich. After World War II the city became divided until finally in the 1990s Germany was reunified and took its place as the capital of Germany.
What a history, right? So, with all of this going on it's no wonder that Berlin is such a melting pot of cultures. It's become a mix of cultures, politics, media and science.
As such, the city is vibrant and unique at every corner, with eight different districts, each vastly different from the other. Each district has its own museums, monuments and history. So, whichever district you choose, you won't be without activities to fill your days.
As with any holiday, choosing the best destination for you depends on having a clear idea of what you want from your holiday, and what your budget expectations are. One point worth considering is what else you want to do on your trip.
If you want to be close to all the main attractions, then staying in a central neighborhood like Mitte is the best area to stay in Berlin for sightseeing, whereas if you want to enjoy the shopping opportunities of Berlin then you should try Charlottenburg-Wilmersdorf or the quirky markets of Bergmannkiez.
You should also take into account the overall purpose of your trip; if you're looking for a quiet holiday away from tourists and busy city life then a tranquil nature-filled neighborhood like Tiergarten will be more up your street.
If you're looking for a romantic getaway for couples, then the unique atmosphere of Bergmannkiez with its quirky cafes and opportunities to explore would be perfect whereas the touristy streets of Mitte won't give you what you're looking for.
If you're looking for the best area to stay in Berlin for Christmas markets, then the central neighborhood of Mitte is the best place to stay in Berlin for Christmas markets in December. Staying near Hackescher Markt is a particularly good location for Christmas markets as you'll be within 15 minutes walk of four different markets.
If you're party animals and looking for the best place to stay in Berlin for nightlife, Friedrichshain and Lichtenberg are the colorful districts to be in, with plenty of clubs and bars.
There is no 'best place' to stay in Berlin; each neighborhood has its own personality, and Berlin's excellent public transport system makes it easy to get from one neighborhood to another. All you can do is have a clear idea of the atmosphere you want, and what you want to do.
>> CHECK BEST HOTEL DEALS IN BERLIN <<
See more: 2 Days In Berlin Itinerary
Where to Stay in Berlin: 12 Best Areas to Stay in Berlin
Berlin is a huge city five times the size of Paris and made up of twelve unique boroughs. Each neighborhood has a distinct character and history, and there is something for every kind of traveler in this vibrant city, from seasoned backpacker to first-time visitor.
1. Mitte, where to stay in Berlin for first time tourists, sightseeing
If you are visiting Berlin for the first time as a tourist and want to do lots of sightseeing, Mitte is your best bet. Mitte is within walking distance to famous landmarks, the best museums, best bars, restaurants, and shops in the city. It also has a convenient public transportation link that offers you easy access to other parts of the city by bus, subway, or train.
Mitte (means middle in German) is the heart of Berlin, with its origins in the 13th century. A cultural hub, the former capital of East Germany is now home to plentiful art galleries and a dazzling mixture of modern and traditional dining options – a necessary stop on any trip to Berlin, despite its touristy reputation.
This oldest and most historic part of Berlin has many famous cultural attractions such as the Brandenburg Gate, the Berlin Wall, Museum Island (Museumsinsel), Reichstag, City Hall (Rathaus), Alexanderplatz, Berliner Dom, DDR Museum, and Nikolaiviertel.
You can spend a day wandering from Museum Island to the Brandenburg Gate following the Under Den Linden boulevard. Museum Island lies on the River Spree, has 5 museums including the Bode Museum, Altes Museum, Alte Nationalgalerie (Old National Gallery), Pergamon Museum, and Neues Museum (New Museum).
To access all five museums over three consecutive days, you can save some money by buying a Berlin WelcomeCard. The 19th century Berlin Cathedral (Berliner Dom) is also an imposing landmark on Museum Island.
The Brandenburg Gate is the only surviving city gate of Berlin, a national symbol of peace and unity. Nearby are the important institutions of the German government, the Bundestag, and many embassies and ministries.
The 1.5 km long Unter den Linden avenue boasts restaurants, cafés and shops, and important landmarks such as the Schlossbrücke, the new Humboldt Forum, Humboldt University, the Staatsoper, the Neue Wache, and the Zeughaus.
To the south Brandenburg Gate is Germany's main Parliament building, Reichstag. The main attraction is the spectacular glass dome roof that gives you a sweeping view of Berlin.
Nearby, the Holocaust Memorial (Memorial to the Murdered Jews of Europe) has 2,711 gray concrete slabs or stelae. It is a massive Holocaust memorial designed by the New York architect Peter Eisenman.
For chocolate lovers, be sure to check out famous chocolatier Rausch Schokoladenhaus in Gendarmenmarkt Square. Gendarmenmarkt is one of the largest squares in Berlin and is surrounded by three historic buildings: the Konzerthaus, the French Cathedral, and the German Cathedral. It is a great place to taste German beer, do people-watching, and try traditional German cuisine like apple strudel and roast knuckle of pork.
Make sure to visit Berlin's eastern center, Alexanderplatz, an iconic public square, a meeting points of the S-Bahn, U-Bahn, regional trains, trams, and buses. This is a very well-connected area and more affordable hotels around. Alexanderplatz is one of the best places to stay in Berlin for shopping.
Nearby is the impressive landmark and famous Berlin's iconic TV tower (Berliner Fernsehturm). It is 368 meters in height, the tallest building in Germany, which offers breathtaking views of the whole city.
Next to the iconic Berliner Fernsehturm and impressive Rotes Rathaus lies the oldest residential area in the city, Nikolai Quarter (Nikolaiviertel). You can do sightseeing at the Nikolaikirche (St. Nicholas's Church), medieval-looking streets, and quaint houses.
For retail therapy and shopping, visit the lively Hackescher Höfe, Mall of Berlin, Haus Schwarzenberg in Hackescher Markt, and Friedrichstraße.
Friedrichstraße is the prime shopping street with international shop brands and high-end retailers. It also has the biggest theatres, music halls, fine dining options, and big brands hotels like Eurostars and Meliá. The cheaper accommodation can be found near Checkpoint Charlie.
Friedrichstraße Bahnhof is the best place to stay in Berlin for one night as it is within walking distance to tourist attractions, close to public transport, and has easy access to Brandenburg airport.
Fans of street art should visit Street Art Alley, Haus Schwarzenberg, which is located Rosenthaler Strasse, by Cinema Café and just off of Hackescher Mark. Hackescher Mark is a great place to stay if you're looking for where to stay in Berlin for Christmas Markets.
For nightlife, check out Oranienburger street, some of the famous clubs and bars like Bricks, Tresor, House of Weekend, Kit Kat Club, Mein Haus am See, Sage and Kitty Cheng.
You can find all types of accommodations in this area from cheap hostels for backpackers to high-end hotels, apartments, Bed & Breakfast. The price of the hotels in Mitte is more expensive than in other neighborhoods in Berlin, but it's worth paying because of its central location and close to the best attractions of Berlin.
Stay in Mitte if you're first time visiting Berlin and want to stay within walking distance to all the tourist sights and the most famous attractions in Berlin, you're looking for places to stay in Berlin for Christmas Markets, New Year's Eve;
Best Places to stay in Mitte:
🔍FIND BEST HOTELS IN MITTE
See More:
2. Friedrichshain, where to stay in Berlin for nightlife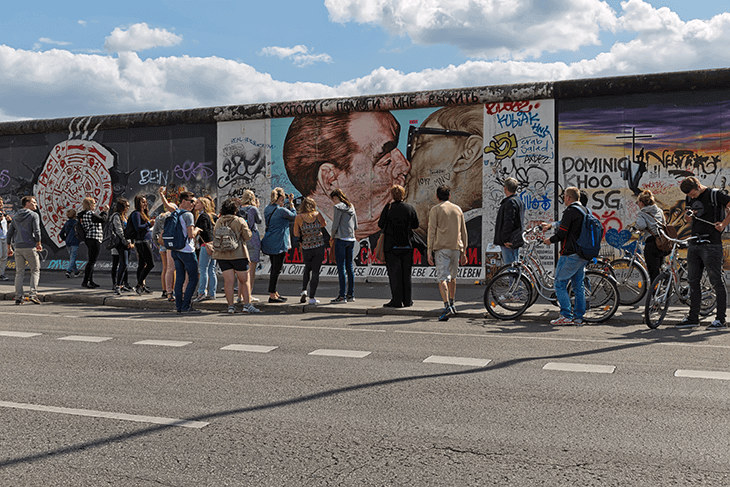 The edgy neighborhood of Friedrichshain is located inside the former East Berlin. It is a popular place to stay for young travelers with affordable prices, a youthful vibe, and an artsy population. For the party animals, Friedrichshain is the colorful district to be in! If you prefer quieter, head to the Lichtenberg district nearby.
These areas can be quite tourist-heavy as they are home to the techno clubs! Along Ostbahnhof and Revaler Straße/Simon-Dach-Straße area, you will find myriad clubs and bars that will impress even the most avid club-goer.
It is also the only place in Berlin that still has a section of the Berlin Wall standing. Many tourists take the opportunity to walk along the remaining stretch of the wall, seeing what the artists in the area have created from it.
Essentially, this is the area to stay if you are a night owl. Many clubs will be open from night until the morning all days of the week. So, if you want to spend your holiday sleeping during the day and exploring at night, then this is your area!
Friedrichshain was a working-class, industrial district during the GDR, and now become one of the trendiest and most attractive residential areas in Berlin with more families and creative people moving in.
Friedrichshain is well connected to the rest of the city by public transportation with the main train station Ostbahnhof station. You can also use metro (U1, U3, U5), trams and buses, sbahn (Warschauer Strasse station, Ostbahnhof station, Ostreuz station, and Frankfurter Alee station) to get here.
The 1.3km long with 105 paintings East Side Gallery is one of the most historical landmarks in Berlin and the world's largest open-air mural gallery.
Oberbaumbrücke bridge is the most beautiful of all Berlin bridges, a gateway from Friedrichshain when entering from Kreuzberg. The brick Gothic style architecture makes the structure one of the most vivid places in Berlin.
To hang out and enjoy the alternative atmosphere of Berlin, visit Holzmarkt 25 on the banks of the river Spree, with several bars and restaurants, cultural events, and flea markets.
RAW Tempel, a former train repair station is a multifunctional center in Berlin, famous for its street art all types like graffiti, murals, stencils, and stickers. Be sure to visit Urban Spree Gallery, ac contemporary art and urban culture.
The 2 kilometers long Karl-Marx-Allee is the main boulevard of Friedrichshain with Stalinist-era architecture. Betwwen Frankfurter Tor and Strausberger Platz, you will find the most impressive buildings. Stop by Computer Games Museum to learn more about the evolution of computer games.
You can relax in the green oasis of Volkspark Friedrichshain, the oldest public park in Berlin. You will find the fountain of fairy tales and two artificial mountains in the park.
The trendiest and coolest part of Friedrichshain is Boxhagener Kiez. It's filled with small shops and boutiques, cafes, bars, and restaurants in between Warschauer Strasse, Frankfurter Allee, and railway lines.
Accommodations here include hostels, guesthouses & hotels for all budget travelers. Many properties offer comfy and clean rooms with a shared outdoor terrace, a swimming pool, free wifi, on-site restaurants and bars, and within walking distance from tourist attractions and train stations.
Stay in Friedrichshain if you want to stay in the best area for nightlife, you are into trendy cafes, restaurants, markets, you're looking for an area to stay for a cultural trip.
Best places to stay in Berlin in Friedrichshain:
🔍FIND BEST HOTELS IN FRIEDRICHSHAIN
3. Kreuzberg, a central neighborhood with good nightlife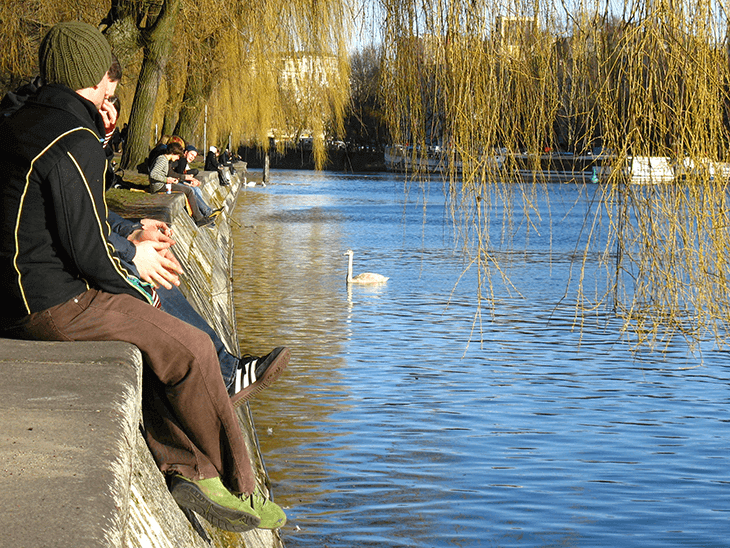 Located to the south of Mitte, Kreuzberg is similar to Friedrichshain in many ways but it was the part of West Berlin. Kreuzberg is considered the center of hip Berlin.
This is the most colorful of all districts! So if you're an artistic soul then this is the area for you. The streets are filled with art and there are myriad bars and pubs to check out. Warning: some describe this area as the 'punk' area of Berlin. Sometimes it can get a little 'dodgy', but the grungy punk vibe is part of the appeal really!
Not only great nightlife, Kreuzberg is also home to many historic and cultural attractions, museums, art galleries, parks, incredible dining, and good shopping opportunities. Some of the highlights are the Checkpoint Charlie, Jewish Museum, the Topography of Terror, and the shopping streets of Oranienstraße and Bergmannstraße.
The Checkpoint Charlie was the gate separating the American sector of West Berlin and East Berlin during the Cold War. The House of Checkpoint Charlie museum is also nearby.
The Jewish Museum with the Baroque Kollegienhaus and a Deconstructivist-style will show you more about the culture and history in Germany and Europe. The Berlinische Galerie is a modern art gallery, Willy-Brandt-Haus, Martin-Gropius-Bau are also worth a visit. Tempelhof Airport hosts festivals and exhibitions.
Kreuzberg has two distince parts: East Kreuzberg (SO36) and West Kreuzberg (SW 61). SO36 is home to a large Turkish population, with the famous street food of Markthalle Neun and the Turkish Markets at Maybachufe. SW 61 is more upmarket with many cafés, shops, and markets.
Wander along the leafy banks of the Landwehrkanal with shops, cafés and restaurants, and vibrant stretch, Maybachufer. You will find the lively Turkish Market on Fridays and Tuesdays, the Nowkölln Flowmarkt on every third Sunday of the month. The fortress-like Oberbaumbrucke bridge is also nearby.
For a hotel with a history, you should check out Regenbogenfabrik (rainbow factory). It was scheduled for demolition in the '80s but the citizens refused to allow it. There may have been a squatter or two living there for many years before it was renovated. Accommodation in Kreuzberg can be described as functional or semi-industrial as opposed to luxurious.
Stay in Kreuzberg if you want some great nightlife, you want an alternative vibe in the central neighborhood; you don't mind being noisy in the evening in some parts of Kreuzburg, you can travel to popular attractions.
Best places to stay in Kreuzberg:
🔍FIND BEST HOTELS IN KREUZBERG
4. Schöneberg, where to stay in Berlin for shopping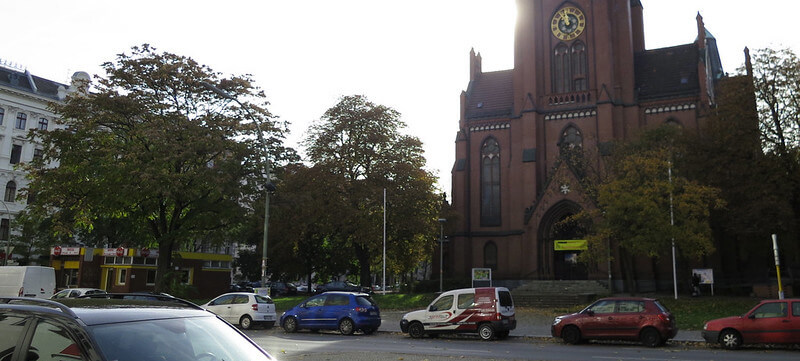 If you want post-card perfect surroundings, find a spot to stay in schöneberg. This area has an eclectic mix of old and new architecture. The major draw in this area is the high-end shopping and the beautiful townhouses. Areas such as Goltzstrasse and Akazienstrasse are very grand indeed.
If you Google this district, you'll find lists and lists of cafés to check out; many offering sweet treats and gluten-free options! If shopping is your thing then you should also check out KaDeWe (Kaufhaus des Westens) – at Wittenbergplatz, a shopping center that sees 180,000 shoppers pass through its doors every day!
Just like other areas of Berlin, there are plenty of Museums to see, but there is also a beautiful park to wander through! Schöneberg is also the area with the most prominent LBGTIQ community, located in an area of the district called Nollendorfplatz.
This quiet neighborhood is filled with live music venues, bars, quaint buildings, cafes, and is well connected to Kreuzberg. It is also home to the well-known bars David Bowie and Nick Cave.
West Berlin's former city hall, Rathaus Schöneberg, is also located in this district. This is the place where John F. Kennedy had his famous speech, I am a Berliner, in 1963.
Accommodations in Schöneberg are more high-end with a wide variety of international chain hotels. Most of the hotels offer modern rooms with free wifi, a fridge, air conditioning, a flat-screen satellite TV, a safe, a private bathroom, and close to attractions like KaDeWe department store and Kurfürstendamm shopping street.
Stay in Schöneberg if you are looking for gay, LBGTIQ community areas; you want good shopping; you want a central and convenient location, and you love to stay in the green area.
Where to stay in Schöneberg:
🔍FIND BEST HOTELS IN SCHONEBERG
5. Prenzlauer Berg, where to stay in Berlin for family

This residential neighborhood of Prenzlauer Berg (Prenzlberg by local) filled with boutique shops, wine bars, restaurants, and cobbled streets is a great place to stay – mostly because of its fantastic location. Close to Alexanderplatz and with great access to the U-Bahn, this is one of the best places in Berlin for accessing all the main attractions.
It's also one of the trendiest places to stay, seamlessly mixing history with modern touches. The areas around Helmholtzplatz and Kollwitzplatz are especially popular with cafes, bars, and restaurants.
Prenzlauer Berg is a great choice for families who want a relaxed and chilled out. It has many more green spaces than other neighborhoods in the city with tree-lined boulevards and parks. The Mauerpark is a former part of the Berlin Wall. it has graffiti and a Sunday flea market.
Main sights in this neighborhood include Danziger, Sredzkistrasse, Kulturbrauerei, and Berlin's former Jewish cemetery.
Jüdischer Friedhof (Jewish cemetery) was built in 1827, the final resting place for many renowned Jewish people. The Berlin Wall Memorial on Bernauer Straße will show you the history of this region, the original fortifications that historically divide east and West Berlin.
This little street, Husemannstraße, near Danzinger Straße was built during the Socialist era with the purpose of it becoming a museum to Old Berlin. Visit one of Berlin's hippest streets, Kastanienallee with hip fashion stores, shops, and restaurants.
You also have the Rykestrasse Synagogue, the largest synagogue in Germany; Water Tower, Oderberger Strasse, Kulturbraurei, Volkspark Friedrichshain, Gethsemane Church, MACHmit! Museum for Children.
This neighborhood also offers a variety of accommodation, so whether you're looking for a luxury hotel or a simple B&B there will be something here for you.
Stay in Prenzlauer Berg if You want to balance sightseeing with peace and quiet; You want to stay in a safe, family-friendly area with easy access to the city center and many nice cafes and restaurants; You enjoy mixing with the locals;
Best places to stay in Berlin in Prenzlauer Berg:
🔍FIND BEST HOTELS IN PRENZLAUER BERG
6. Charlottenburg-Wilmersdorf, where to stay in Berlin for luxury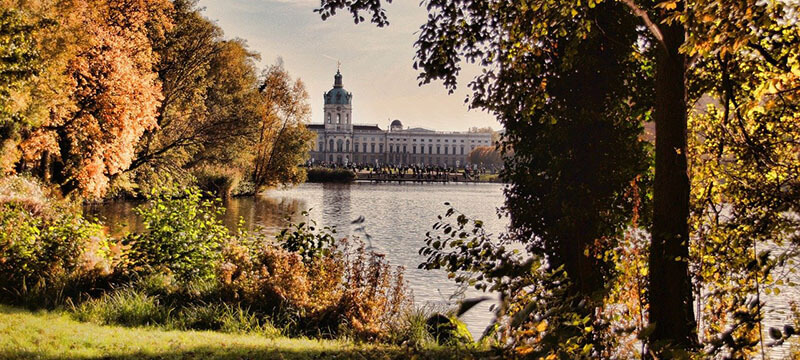 Covering the west of the city center and a few suburbs, Charlottenburg-Wilmersdorf is an affluent area. Full of history as the former center of West Berlin, Charlottenburg is home to the Charlottenburg Palace, the Olympic Stadium, and the Deutsche Oper Berlin.
Schloss Charlottenburg is the largest and most magnificent palace in Berlin. It was the royal summer residence for the first Queen consort in Prussia, Sophie Charlotte.
Charlottenburg-Wilmersdorf is an equally lovely spot to stay in Berlin for families or a glamorous cultural trip; the area is filled with family-friendly attractions such as museums, and also with opportunities to dress up and soak up the culture, such as the Deutsche Oper.
Other things to do in this area including the Kaiser Wilhelm Memorial Church, Berlin Zoo, the Scharf-Gerstenberg Collection, Theater des Westens, Museum Charlottenburg-Wilmersdorf, and Berlin Aquarium.
This area is also home to some of the best shopping in Berlin, so if you're looking for a little retail therapy then this is the spot for you, especially, the Kurfürstendamm shopping street. Kurfürstendamm street (Ku'damm) is the prime location for shopping in the capital of Germany. It has big hotel chains, fancy restaurants, luxury shopping retailer KaDeWe.
Stay in Charlottenburg-Wilmersdorf if you want to stay in an upmarket area; you want to visit cultural landmarks; you're looking for a family holiday; you enjoy shopping; you want good public transport.
Best Hotels in Charlottenburg-Wilmersdorf around the u-Bahn such as Charlottenburg, Kaiserdamm, Zoologischer Garten, and Ernst Reuter Platz, here are some lodging:
🔍FIND BEST HOTELS IN CHARLOTTENBURG – WILMERSDORF
7. Bergmannkiez, the best area to stay in Berlin for local vibe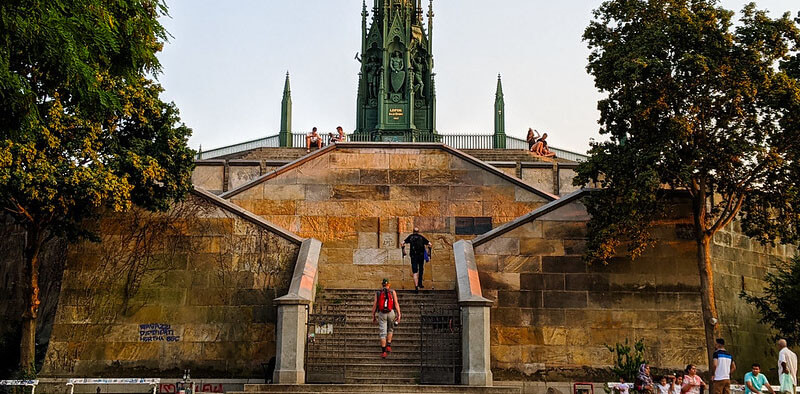 Offering a more local and authentic experience, the neighborhood of Bergmannkriez just west of Kreuzberg is full of charming independent shops and beautiful architecture. Although the area has become a little more upmarket than it used to be in recent years, it still holds on to its bohemian feel.
It's also home to the stunning Victoria Park, complete with a waterfall and beer garden. There is also the Marheineke market hall, host to a wonderful organic market at some times, and a flea market at others.
With its cobbled streets reminiscent of Paris or England, this charming little neighborhood is also as lively at night as it is during the day and is a great spot for backpackers, couples, and anyone who wants a laid-back, authentic atmosphere.
Stay in Bergmannkiez if you want to feel like a local; you love exploring markets; you prefer independent shops and dining options; you enjoy unusual street art; you're looking for a romantic destination.
Best places to stay near Bergmannkiez:
8. Neukolln, best area to stay in Berlin Turkish market
Located in South Berlin, Neukolln is a residential neighborhood with many residents of non-native Germans, and not very popular with tourists. If you want to explore the local life, Neukolln is a good choice. It is quickly gentrifying as students, ex-pats, and artists move into the district.
A hub for students and artists, the Neukolln district is often referred to as 'Little Istanbul' as it is heavily influenced by Turkish and Arabic culture. There is a fabulous Turkish market in the area and you are always sure to find an amazing kebab somewhere! For Germans, visiting Neukölln is like going on a mini-holiday to a new country.
Don't miss out on Richardplatz and Schillerkiez for the best cafe in Neukolln. Other highlight attractions are Tempelhof Field, a weekly Saturday market-Schillermarkt, and Klunkerkranich.
This also is seen as the cool, hip, or bohemian parts of the city. With new cafes, shops, and bars popping up everywhere! There are lots of places to see in this area, such as the Neukölln opera house, the puppet theatre, Britz Garden, and Britz Castle. There is also the 48h Neukölln Festival…a festival for all cultures and age groups where people can show off their artistic talent.
Neukölln is the best place to stay if you are into bohemian; you are traveling on a budget and looking for affordable accommodation; you don't mind traveling to the typical sights.
Best places to stay in Neukölln:
🔍FIND BEST HOTELS IN NEUKOLLN
9. Tiergarten, an open green space with higher end accommodation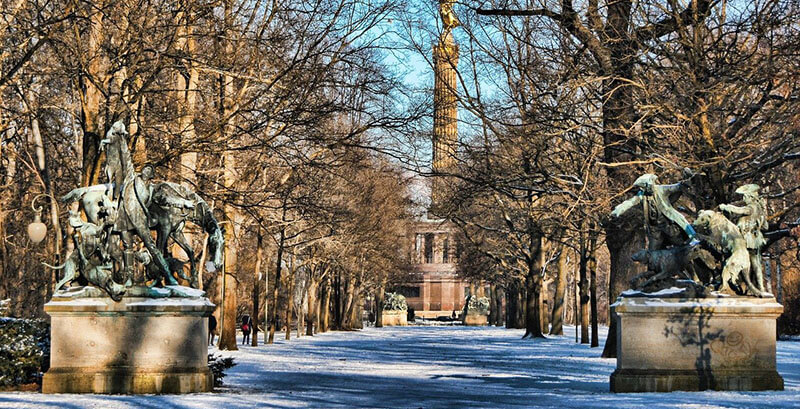 Berlin's most tranquil neighborhood, Tiergarten is the ideal destination for those who want to stay away from the noise of nightclubs and bars. Filled with leafy, treelined streets and old-world coffee shops, this is the most relaxing neighborhood to enjoy a slower pace of life.
The enormous Tiergarten park provides a complete retreat from the city and is home to some of its most famous landmarks, including Brandenburg Gate, Reichstag Building, Congress Hall, the moving Memorial to the Murdered Jews of Europe, Victory Column, Zoological Garden, Schloss Bellevue, Potsdamer Platz, Gemaldegalerie, and Bauhaus Archive.
Potsdamer Platz is home to the German Cinema Museum and Berlin Mall, the tallest office tower, and the largest shopping center in Berlin. Accommodation nearby big brand hotels like Marriott or Hyatt.
Tiergarten is ideal for older travelers, those looking for a relaxing break, or families wanting to stay away from the hustle and bustle of city nightlife.
Stay in Tiergarten if You're looking for peace and quiet; You want to soak up some history; You enjoy walks in nature; Looking for a place to stay in December.
Best places to stay in Tiergarten:
🔍FIND BEST HOTELS IN TIERGARTEN
10. Moabit, budget, central location in Berlin, good public transport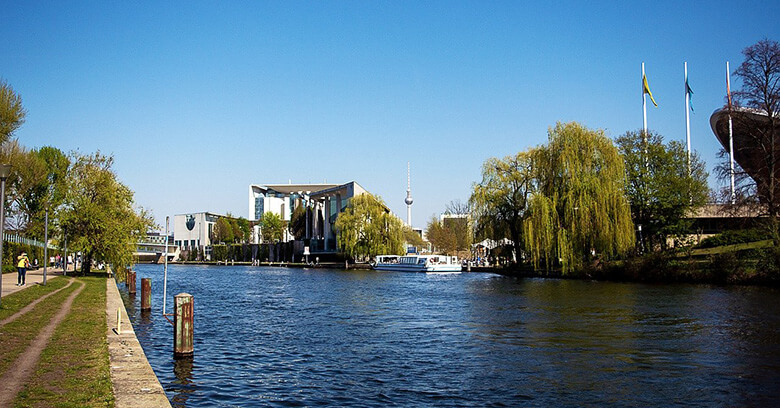 Moabit's proximity to the main train station in Berlin has resulted in its becoming a popular base for travelers spending time in the city before moving on. Its range of accommodation goes from that ideal for those on a budget to genuine luxury hotels. It is a busy district with commuter hours morning and evening especially so.
It is a multicultural area, and that is reflected in the cuisine that includes both Italian and Turkish. There are plenty of bars and restaurants while its attractions include galleries and museums, most notably Hamburger Bahnhof Museum für Gegenwart. It was the former railway terminus but now is a contemporary art gallery within the Berlin National Gallery.
Stay in Moabit if You are looking for a central location in Berlin with good transport connections; On a budget, you want accommodation you can afford; You are not affected by crowds.
Best places to stay in Moabit:
🔍FIND BEST HOTELS IN MOABIT
11. Wedding, best district to stay in Berlin for hippy feel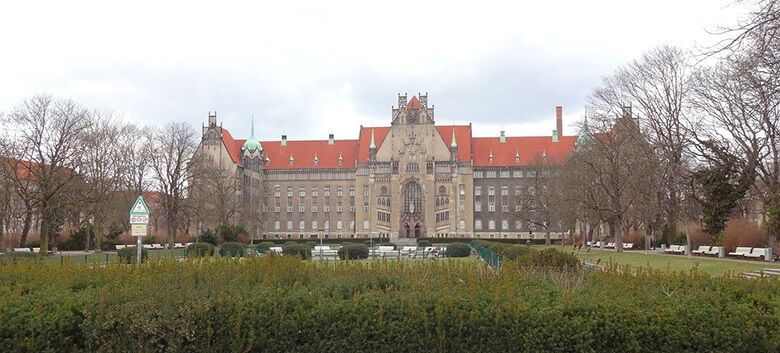 One of the areas in Berlin that is becoming increasingly popular is Wedding, up in the northwest. It has a hippy feel, a district where you may even be inspired to paint. Plenty of the locals do, and you can expect to see lots of good street art as you walk around.
There is more to Wedding than art. You can choose from a fine collection of restaurants, some vegan, and the cafes have a special atmosphere. Take breakfast in an old bus or visit a nightclub that was once a swimming pool. There is a lake where you can swim, while the Gothic Brunnenplatz, the Berlin Wall Trail and cycle paths are all there to fill in your time.
The available accommodation ranges from budget to mid-range and in summer, Wedding is getting increasingly busy due to its many attractions. The main city attractions are some distance away so you will need to use public transport.
Stay in Wedding if You want budget accommodation; Using public transport is no problem; You prefer a base in an area that has its own appeal.
Best places to stay in Wedding:
🔍FIND BEST HOTELS IN WEDDING
12. Where to stay near Berlin Airport
If you have a late arrival or early departure, staying near Berlin airport is a smart choice. I recommend staying in these hotels below.
Best places to stay in Berlin Brandenburg Airport (Berlin Schönefeld Airport):
Best places to stay near Berlin Tegel Airport:
Check out my virtual tour of the best places to stay in Berlin in this video or continue reading:
See more: Frequently Asked Questions about Best Places to Stay in Berlin
So whether you are a bohemian, an artistic type, a party animal, or a big spender; there is a district for you! Once you decide on your district you won't struggle to find accommodation in these areas to suit your needs. Feel free to get in touch with us if you need some help finding the best areas to stay in Berlin!