The best areas to stay in Hamburg for first time tourists are Altstadt, Neustadt, St. Pauli, Hafencity, Speicherstadt, St. Georg, Dammtor, Blankenese. In this article, I will give more detail about where to stay in Hamburg for first-timers, for nightlife, budget, stag do, shopping, and sightseeing.
The second-largest city in Germany after the capital city Berlin and 7th largest in the European Union, Hamburg lies on the River Elbe and features some of the most stunning areas in the country, outside of Bavaria. Hamburg is just 290 km from Berlin and has two artificial lakes, urban parks, canals, and bridges.
Not only famous for its Port of Hamburg, but it's also a major transportation hub and the most important cultural and commercial center in Europe. It is a major tourist destination and safe for tourist.
Altstadt, Neustadt, and Pauli are the most popular areas for tourists. Neustadt is the modern area, Altstadt is the cultural heart, and Pauli is famous for its red-light district.
Altstadt, also known as Hamburg Old Town, is the best area for tourist, especialy first-timer. Booking hotel in this area, you will be in a central location, close to main tourist attractions and well-connected to public transport. There are plenty of accommodation options, restaurants, bars, and shops within Old Town area.
If you're looking for the best place for nightlife, then St Pauli is probably the best choice. There area plenty of bars, clubs, and restaurants boasting music and entertainment from a range of tastes entertain customers late into the night. That said if you are middle eastern or part of the LGBT community, you may prefer St. Georg.
To book hotel, I recommend spending at least three days in Hamburg to explore the city. There days is enough to see the most famous attractions to get a sense of what this Hanseatic city has to offer. If you have more days, you can take a day trips to Lüneburg, Schwerin, Kiel, Lübeck, or Bremen which is 1.5 hr radius from Hamburg Hbf.
Where to Stay in Hamburg: 11 Best Areas to stay in Hamburg
1. Altstadt (Old Town), where to stay in Hamburg first time tourists
We begin in the city center of Hamburg, the city's commercial district, Altstadt. The Old Town part of the city is a location brimming with history and iconic locations.
For starters, it has a collection of 5 iconic churches for visitors to explore. The most famous of these, the church of St. Nikolai, serves as a towering memorial against war.
Then there is the fabulous collection of museums on offer, where visitors can learn about the art and history of the area first-hand. They also have a number of cultural institutions as well, such as theatres and convention centers.
Perhaps the most famous attraction in the city though is Hamburg Rathaus (City Hall). The acting city hall is an incredible Renaissance Revival building, situated in the Rathausmarkt square. One of the most iconic and historical buildings in the city, it is a must-see for anyone visiting Hamburg.
You can also find the Lutheran churches including St Petri, one of Hamburg's five main Christian churches; St Jacobi, which stands towering above the Mönckebergstrasse shopping street; and St. Catherine's.
The square in front of the Rathaus often hosts festivals and events as well, such as the city's main Christmas market. This means if you visit at the right time, you will be able to see the stunning building while enjoying the events and activities that are taking place in front of it.
For those who enjoy a little culture without all of the histories, this is also one of the best shopping areas in the city. Beautiful squares, such as Mönckebergstrasse and Spitalerstraße, are surrounded by a wide and diverse range of shops.
The historic center offers a wide range of accommodations from budget hostels to luxury hotels. The accommodations in the Old Town if slightly more expensive than the other part of the city but it's worth it when you're staying in the heart of the city within walking distance to the top attractions.
Stay in Altstadt if you are interested in the history of the city; you enjoy shopping; you are a fan of churches, museums, and galleries; you want to be in the center of the city close to the metro system and stations with easy access to the rest of the city; you're a tourist on sightseeing trips, you're visiting Hamburg to experience the Christmas markets.
Best places to stay in Hamburg city center:
🔍FIND BEST HOTELS IN ALTSTADT
See More:
2. Neustadt, central Hamburg, upmarket shopping
The second stop we will be making is in Neustadt (Hamburg New Town) a quarter that borders the Old Town of Altstadt. As you may expect from such an area, it features many similar sites and attractions to its neighbor.
The Gansemarkt square and baroque church St. Michaelis church are two of the most prominent and best-known attractions in the city and both can be found in Neustadt. This makes it an ideal destination for anyone wanting to visit those locations.
In many ways, Neustadt slightly lags behind Altstadt when it comes to popularity. However, there is one area it takes the lead in and that is upmarket shopping.
The Neuer Wall passage is an upmarket shopping street, that is essentially Hamburg's answer to the fabled Rodeo Drive in Beverly Hills. Then there is the Jungfernstieg, the city's most prominent boulevard.
These locations provide visitors with a diverse range of shops to choose from, ideal for those wanting to indulge in a little retail therapy, no matter what your personal taste may be.
Other attractions are the Alsterarkaden arcade, white arcades along the water; the oldest shopping arcade in Hamburg – Mellin Passage; and the state opera house Staatsoperther near the square of Gänsemarkt.
If you are intent on doing shopping during your time in the city, while still taking in plenty of its most famous sites, this should be a strong candidate for where you choose to stay.
Neustadt is a well-connected area with numerous metro stations, such as Stephansplatz and Gansemarkt in the northern end of the district, and Baumwall station to the south.
Stay in Neustadt if Shopping is one of the priorities on your trip, you want to be in the heart of the city, you want to see some of the most important and famous locations in Hamburg.
Best places to stay in Hamburg in Neustadt:
🔍FIND BEST HOTELS IN NEUSTATD
3. St. Pauli, best place to stay in Hamburg for nightlife
We're now going to head west to St. Pauli, located on the right bank of the Elbe River. One of the most popular destinations in Hamburg, St. Pauli is the undisputed king of nightlife in the city.
Hamburg is an unusually quiet city in terms of nightlife, with many places closing by 9 or 10 pm, even on Friday and Saturday nights. St. Pauli, however, does not seem to follow this trend.
Known for its famous and historic red-light district, the area, most specifically around the Reeperbahn portion of the district, features a wide range of wild and vibrant activities. A distinctly adult-oriented area, what's on offer here is vastly different to the majority of the city.
Bars, clubs, and restaurants boasting music and entertainment from a range of tastes entertain customers late into the night, offering a dramatic change of pace to the rest of Hamburg. The ideal way to get an overview of the Beatlesplatz square's many live music venues is by joining the annual Reeperbahn Festival in September.
It is also the location of Hamburg's "Chinatown"/ Chinesenviertel area. Home to many Asian people, there are plenty of shops and restaurants catering to those looking for some eastern cuisine or products.
Outside of the bars, clubs and restaurants, there are still a few other attractions on offer in the district. For starters, it is home to St. Pauli football club, who can usually be found playing in the second tier of German football. While by no means the most successful team in the city, they do have a passionate fanbase, even with that outside of Germany.
Besides that, St. Pauli is also home to several cultural attractions such as the Alter Elb Park, the 100-year-old Elbtunnel, the Museum für Hamburgische Geschichte, the Landgericht (Courthouse), and Planten un Blomen.
You can check out the Hans-Albers-Platz square, Große Freiheit square, and Hamburger Berg square.
St. Paul area is served by the main St. Pauli Station located on Budapester St, and other two stations with the Hamburg metro.
There is a Panoptikum wax museum and a few other cultural sites on offer here too, so you can explore the area's history as well. Although considering how close it is to the city center, you may be better off traveling in and enjoying the greater selection on offer there.
Stay in St. Pauli if Nightlife and budget is a priority on your visit, you come to Hamburg for a Stag Do or Hen Party, you want to be located near the center of the city but not actually in it, you are attending an FC St. Pauli football match, you want to visit the red-light district or take a trip to China Town, you want to visit Große Freiheit.
Best places to stay in St. Pauli:
🔍FIND BEST HOTELS IN ST. PAULI
4. Hafencity, the most interesting neighborhood in Hamburg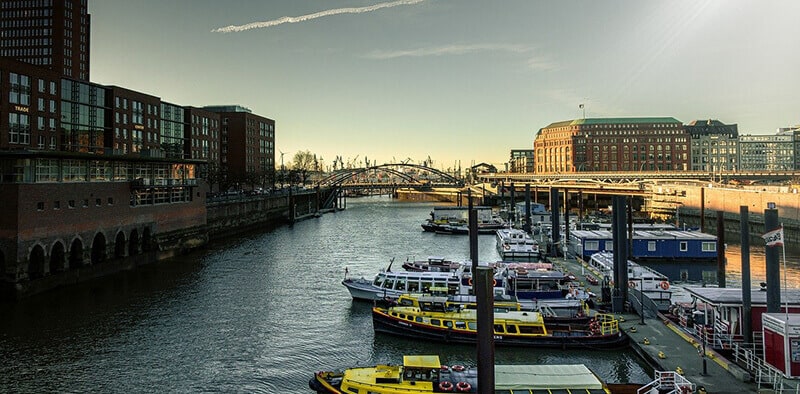 Our next destination is one of the most interesting districts in Hamburg, located to the south of the city center, home of the old port of Hamburg, on the Grasbrook island in the Elbe River, Hafencity. The former port of the city is now considered to be an urban regeneration project.
This means that new shops and hotels are constantly being built, in addition to private residences and office blocks. Offering a slightly slower pace to the center of the city, it gives visitors the chance to stay in a more relaxed environment, while being easily able to travel in when they choose to.
In addition to the prominent location, the blossoming neighborhood is an ideal place to stay for those on a budget. With an array of wonderful shops, bars and restaurants, in an area that hasn't yet established a reputation, you can make the most of some of the best value to be had in the city.
There are also a few noteworthy attractions in the area as well as the shops and bars. For starters, the old port is located here. This makes a great stop for anyone interested in traditional boats and you can even book tickets to sail on one.
Speaking of which, major cruises also dock here, making Hafencity a perfect location for anyone planning to take a cruise or stop in Hamburg while already on one.
The other notable attraction in the area is the Elbphilharmonie Concert Hall. First opened in 2017, it is one of the largest concert halls in the entire world. Whether you are visiting to attend an event or simply want to marvel at its architecture, it is well worth stopping to see while you're in the city.
Speicherstadt literally translates to "City Of Warehouses", so it is perhaps unsurprising that it is the 19th-century Hamburg's warehouse district. In fact, it is the largest warehouse district in the entire world where the buildings stand on timber-pile foundations.
While at first glance that may not sound like the ideal place to stay on a vacation, it has a lot more to offer than meets the eye. Designated as a UNESCO World Heritage Site in 2015, it was the first location in Hamburg to be awarded the distinction.
Situated on the bank of the Elbe river, it features stunning buildings that represent the history of the city. If you enjoy walking along rivers and taking in beautiful architecture, Speicherstadt is the best place in Hamburg to do so.
The Harbour City area of Hamburg is very photogenic, the Instagrammable building is called Wasserschloss (water castle) and is home to a restaurant and tea office. This famous shot of the Wasserschloss in Speicherstadt is taken from Poggenmühlen brücke (bridge) opposite the building.
Other attractions are the German Customs Museum, Hamburg Dungeon, the Maritime Museum, the Kunsthalle Hamburg museum, and Experimental art galleries.
Hafencity is served by Überseequartier station and Hafencity Universität station through the subway line U4.
This new district offers modern and luxury hotels, and many offer views of the river and the city, on-site restaurants, and bars, and close to many attractions such as the famous Speicherstadt with the Miniature Wonderland, Hamburg Dungeons, Landungsbrücken, and the famous Musical Halls.
Stay in Hafencity if you are attending an event at, or simply want to see, the Elbphilharmonie Hamburg, you are taking a cruise or stopping off while already own one, you want to stay on an island, you like river views, you want to sail on a traditional boat, you want to be located near the city center but not actually in it.
Best places to stay in Hafencity:
🔍FIND BEST HOTELS IN HAFENCITY
5. St. Georg, where to stay in Hamburg on budget
Next up we travel just to the north of the city center, to the vibrant neighborhood of St. Georg. Situated on the bank of Aussenalster lake, this is a location that provides some of the most stunning views in Hamburg.
Featuring some of the best value accommodation in the city, many visitors who are traveling on a budget will opt to stay here, as they will get so much more for their money.
Being just within walking distance along the shore of the lake from the city center, it offers visitors quick and pleasant access back into the heart of the city. This allows them to enjoy everything Altstadt has to offer, without having to pay the premium required to stay there.
Attractions including the cathedral of Mariendom, St Mary's Cathedral, the Deutsches Schauspielhaus church, Lohmühlen Park, Uçhisar Castle, and the MKG Museum.
Another reason it is popular among visitors is that it is Hamburg's major transport hub. The Hamburg Hauptbahnhof railway station and Hamburg Central Bus Station, both the largest of their kind in the city, are located here.
With regular long-distance buses and trains in and out of the city, this is the ideal spot for anyone traveling via either of those means who is worried about missing their train or having to drag their luggage all over the city.
Outside of this, there is a strong middle-eastern presence in the area, as well as a long-running LGBT gay district, affectionately nicknamed the gaybourhood. People from either of those communities who come to the city often choose to stay in St. Georg, as they can immediately feel at ease and at home.
St. Georg offers good budget accommodation just a 20-minute walk to the center of Hamburg with great transportation options.
Stay in St. Georg if you are traveling in or out of the city by train or bus and want to remain near the train station, you are traveling on a budget, you want to be just on the edge of the city center but not actually in it, you are part of the middle eastern or LGBT communities, you're coming to Hamburg for a weekend trips.
Best places to stay in St. Georg:
🔍FIND BEST HOTELS IN GEORG
6. Dammtor, for exploring the most beautiful parks
Our penultimate destination of Dammtor is technically a location outside of the traditional quarters of Hamburg. This is an area of the city where the attraction is different to what is found elsewhere, as the main selling point here is its fantastic parks.
The Moorweide and Gustav-Mahler-Park are both stunning locations, with wide-open spaces and beautiful statues. However, neither compare to the crown jewel of the region, Planten Un Blomen.
Featuring greenhouses, a Japanese garden and the old botanical garden, it is a location where you can marvel at natural wonders from around the world. You can even find prominent sculptures, such as the Kriegerdenkmal war memorial.
For the more active among you, the park also features a play area and regularly hosts water-light concerts, public theatre shows and live musical performances.
While it may not be as abundant with history and culture as the city center, anyone who prefers staying in a more open, natural area, while still being able to quickly travel in to see the sites, will be more than happy with what's on offer here.
Stay in Dammtor if you want to explore the city's most beautiful parks, you aren't worried about being out of the center of the city.
Best places to stay near Dammtor:
🔍FIND BEST HOTELS IN HAMBURG
7. Blankenese, for quiet holiday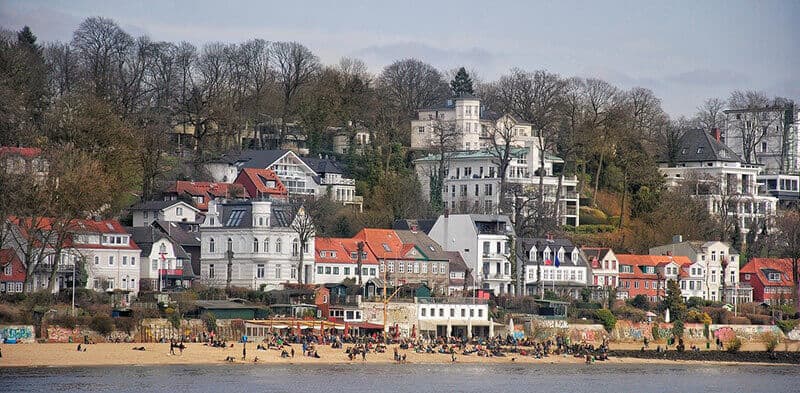 Our final destination of Blankenese is the first we will look at that is located far away from the city centre. It can be found on the bank of the Elbe River, at the westernmost point of the city.
Known primarily as a residential area, it also features a number of high-end, exclusive hotels. Historically a fishing village, it is now one of the most affluent areas in the city. Visitors who come here are generally looking for a more relaxed experience, hoping to enjoy strolling around, looking at some of the stunning views on offer.
Among the attractions in the area are a number of parks and lighthouses, offering fabulous destinations for walking enthusiasts. There are also two shipwrecks on the beach that are fabulous attractions to explore while you're there. Jenisch Park and Jenisch Haus are some of the highlights in Blankenese.
Outside of scenery, sports fans are also drawn to the area at certain times throughout the year. The most prominent sporting attraction is the EuroEyes CyClassics, the only German World Tour Race. Held annually for over 20 years, the streets of Blankenese are included in the course several times, while the Waseberg hill, considered to be the hardest part of the entire race, is also located here.
You can also visit the BallinStadt museum, which was the 'Gateway to the World' for about five million European emigrants in the 19th and 20th centuries; Tierpark Hagenbeck or Hamburg Zoo, the Tropen-Aquarium, and the Gluhwein Lounge.
If you happen to be visiting at the time of the race, it is a fantastic occasion to get caught up in. If not, this is still a great destination to come for a relaxing vacation.
Stay in Blankenese if you want to witness the EuroEyes CyClassics race, you enjoy walking in beautiful parks and on beaches, you love river views, you aren't worried about money.
Best places to stay in Blankenese :
🔍FIND BEST HOTELS IN BLANKENESE
8. Altona, with a beautiful harbor views
Altona is set away from Hamburg center, in the north-western corner of Hamburg. While technically a neighborhood of the city, it feels more like a separate village. Restaurants, Cafes, bars, and shops sell local food and wares, while the markets help to create a truly traditional vibe to the area.
The harbor features beautiful scenery for you to take a stroll in, while also boasting the historic architecture and a museum inside a converted submarine. This makes it a great destination whether you want to learn or kick back and relax.
Volkspark is a large urban park, one of the attractions, you also have the Elbe beach and riverwalk to the old port.
While quite detached from the main city, it does feature its own U-Bahn station, so getting around shouldn't be a problem during your stay. There are three main stations in this area including Reeperbahn Station, Konigstrasse Station, and Holstenstrasse Station.
A railway station, Hamburg-Altona Station was opened in 1844 and is older than Hamburg Central Station. It's a terminal for many long-distance trains, InterCityExpress (ICE) services to southern Germany.
Stay In Altona If you don't mind staying away from the city center, you want a great selection of local shops, bars, cafes, markets, and restaurants, you want to explore the beauty and history of its harbor; you're looking for a cheap area to stay in Hamburg with budget accommodations.
Best places to stay in Altona:
🔍FIND BEST HOTELS IN ALTONA
9. Sternschanze, a hip neighborhood in Hamburg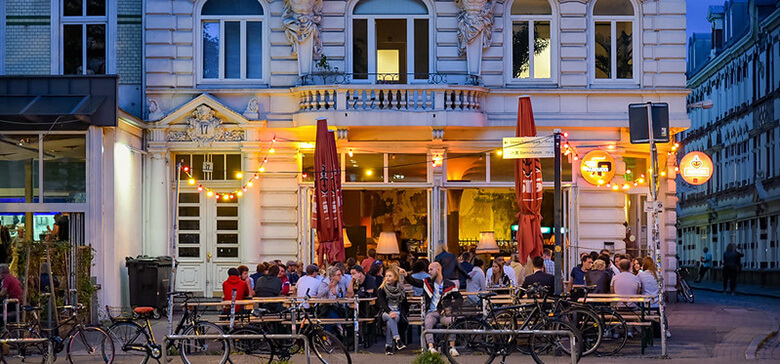 Also commonly known as both Schanzenviertel, or simply Schanze, Sternschanze is located immediately to the north of St. Pauli and continues the alternative atmosphere that you expect in that part of the city.
Bars, cafes, and restaurants play hip music and host live musicians on a regular basis, while the streets are filled with art and a lively environment. For more energetic visitors, facilities like a skate park and a climbing wall will give you options to get the adrenaline pumping.
Meanwhile, attractions like the Schanzenturm Water Tower, Schanzenkino open-air cinema, alternative culture, and political center, as well as a collection of designer shops, will keep regular tourists entertained as well.
Stay In Sternschanze If you want to stay in a hip neighborhood, known for its alternative culture, you are a fan of live music, you want to visit an open-air cinema or cultural center.
Best places to stay in Sternschanze:
🔍FIND BEST HOTELS IN STERNSCHANZE
10. Eppendorf, an upmarket residential area in Hamburg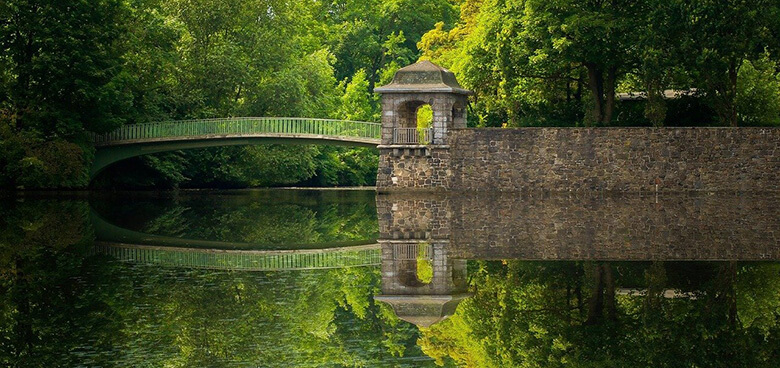 Eppendorf is located in the north of the city, just to the south of the airport. Primarily an upscale residential neighborhood, it is abundant with Art Nouveau architecture, giving it a chic and stylish feel.
A wonderful collection of parks makes it a great place to relax outdoors, as do the river and canals, which are popular for their water sports. Germany's oldest canoe club is still situated in the district, as is one of its oldest football clubs, SC Victoria.
Department stores, boutiques and delicatessens form the bulk of a fabulous range of shopping opportunities in the area.
A bi-weekly market adds another 200 stalls to that equation for you to explore, while those lucky enough to visit at the right time can even enjoy the Eppendorfer Landstrasse Street Festival, complete with more stalls, live music and street food.
Eppendorf is the best area to stay in Hamburg if you want to stay in a more residential neighborhood, you want to be near the airport, you are a fan of shopping or outdoor recreation, you are attending the Eppendorfer Landstrasse Street Festival.
Best places to stay in Hamburg in Eppendorf:
🔍FIND BEST HOTELS IN EPPENDORF
11. Wandsbek, a quiet area with cheap accommodations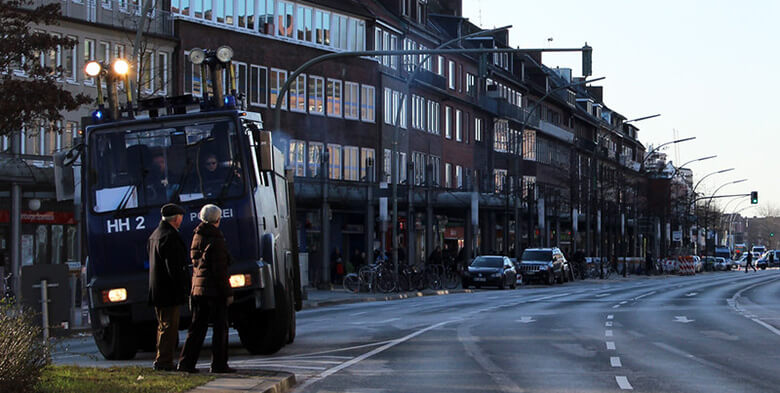 Wandsbek is another residential neighborhood, this time located in the east of the city. This is an area primarily suited for those interested in nature, as there is an abundance of parks, a river, a lake, and the city's oldest forest, where you can discover a wide range of plant and animal species.
While walkers, cyclists, and nature enthusiasts are the most common visitors, Wandsbek is also a great choice for shoppers too. Boasting the city's largest shopping mall, Alstertal-Einkaufzentrum, it offers an incredible range, no matter what you are looking for.
Being further out of the city center, it also offers much cheaper accommodation as well, so is a great choice for anyone traveling on a budget.
Wandsbek is the best area to stay in Hamburg If you are traveling on a budget, you are a fan of nature and outdoor recreation, you want to go shopping during your stay.
Best places to stay in Hamburg in Wandsbek:
🔍FIND BEST HOTELS IN WANDSBEK
Check out my virtual tour about the best places to stay in Hamburg in this video:
See more: Where to Stay in Munich
Hamburg is a wonderful city, especially around Christmas, and one which will give most visitors plenty to explore while they're there. While many of the attractions are located in close proximity to one another, there are still things spread around that will appeal to different groups of people.
Hopefully, this article has helped you determine where is the best area to stay in Hamburg for your particular group. Now all that's left is for you to go and start getting things booked, so you can experience it all for yourself.