In this guide, I will help you to find Where to stay in Lisbon first time, the best area to stay in Lisbon for first-time visitors (with a video and map). I'll also give you the list of best hotels in Lisbon for all budgets (including the hotel where I stayed) and safest place to stay in Lisbon.
Lisbon is a beautiful Portuguese capital city with a rich history, attracting tourists with its wonderful architecture and terrific weather. It is definity worth visiting.
Lisbon is a walkable city, you can easy to travel between major points of interest by foot, but it's also hilly (it's the city of the seven hills), so you can use bus, metro, and funicular.
Lisbon's downtown area has excellent public transport links like funicular railways, tram lines including the iconic Tram 28, you can easily explore the rest of the city.
🎬 You can watch this video about best areas in Lisbon, or continue reading:
Where to stay in Lisbon first time?
The best areas to stay in Lisbon for first-time tourists are Baixa, Alfama, Chiado, Avenida da Liberdade, Bairro Alto, and Belem. These are popular and central neighborhoods, offering plenty of accommodation options for all budgets.
Baixa is the overall best area to stay in Lisbon for first-time visitors due to its central location and proximity to major attractions such as Lisbon Cathedral, Rossio Square, and Arco da Rua Augusta. Staying here allows you to be located close to major sights, restaurants, bars, and shops.
In addition to Baixa, Chiado and Alfama are also popular neighborhoods to stay in Lisbon. Baixa is the best area for travelers seeking to stay in the most central and flat location, Chiado is the best place for visitors seeking a trendy, upscale neighborhood, and don't mind the hill.
Alfama is the best base for tourists seeking for a glimpse into the city's history and a more relaxed atmosphere. It is one of Lisbon's oldest neighborhoods and is famous for its narrow alleys, Fado music, and historic charm.
Belém, Cais do Sodré, Graça, Avenidas Novas, Baixa, and Chiado are some of the best areas to stay in Lisbon with family. These neighborhoods offer a wide range of family-friendly accommodations and attractions for children of all ages.
If this is your first visit, I recommend spending at least three to four days in Lisbon, which is enough to see the major sights, get the sense of Portuguese history, culture, and local gastronomy. If you have more days, you can take a day trip to Batalha, Fátima, Óbidos, or Nazaré.
Where did I stay in Lisbon?
When I first visited Lisbon, I stayed for 3 nights at the Lisbon Art Stay Apartments Baixa. I was a great hotel in a prime location, an easy walk from major sights such as Commerce Square, St. George's Castle, Rossio Square. My room was clean and spacious with a comfy bed. Breakfast was also great!
Map of the most popular areas and neighborhoods in Lisbon: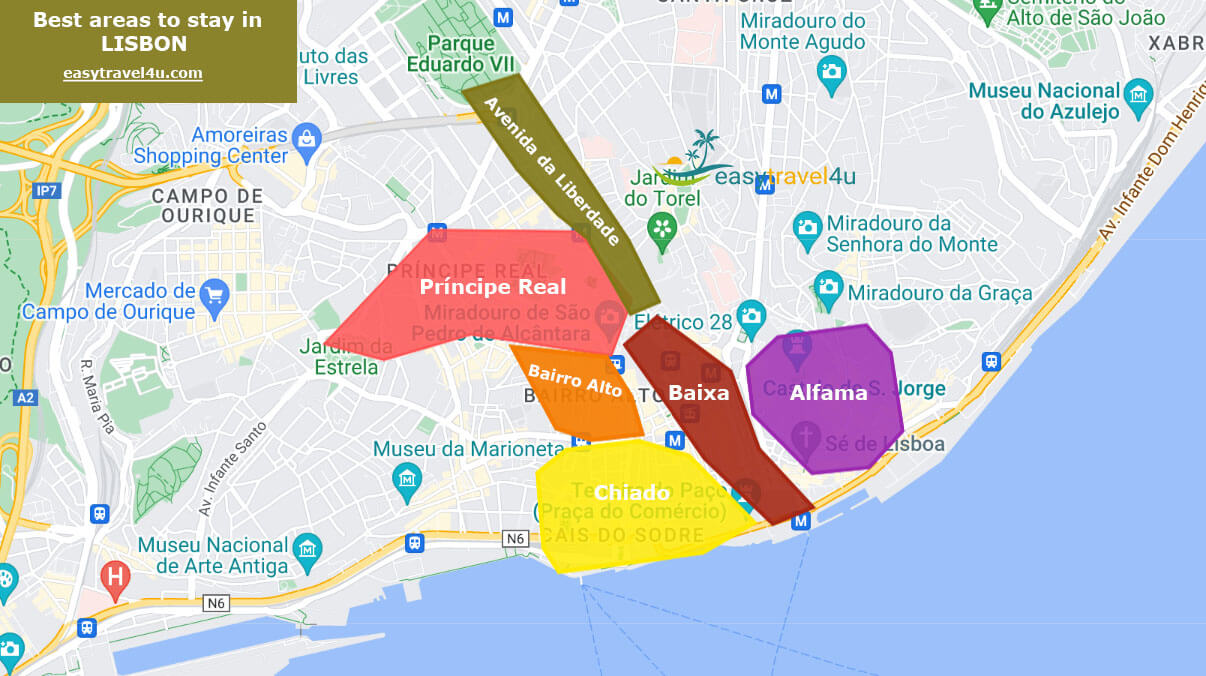 Best areas to stay in Lisbon for first-time tourists are:
1. Baixa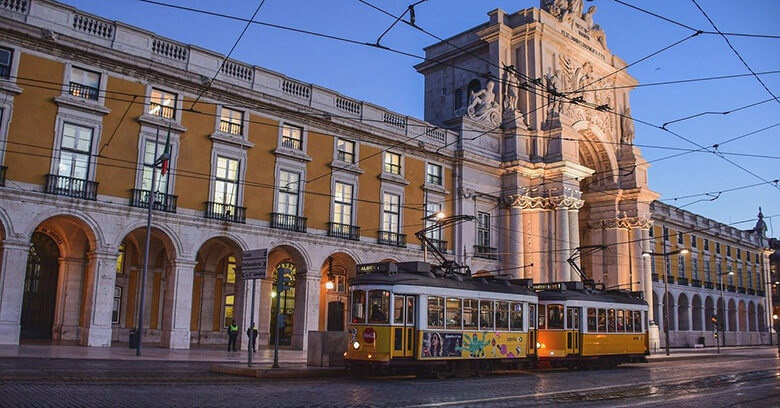 Baixa, also known as Lisbon's downtown, is the best overall area to stay in Lisbon for first-timers because it is the most central location to stay in Lisbon, located betwen popular tourist areas of Alfama and Chiado, and offers easy access to the nightlife hub of the city.
Stretching from banks of the Tejo Estuary to the Praça Marquês de Pombal, it is the tourist center of the city and is packed with historical attractions, plazas, grand avenues, trendy cafes, restaurants, bars, and shops.
After the Earthquake of 1755, this area was rebuilt by the Marquis of Pombal, with grid city layout. The streets flanked by neoclassical Pombaline style buildings. It has a high concentration of pedestrian streets with big sidewalk, so you can easily explore on foot.
If you are arriving by boat, you probably first see Lisbon's grandest square, Praça do Comércio, right at the waterfront. This Commerce Square was built on the former royal palace. The reconstruction added bronze statue of King José I and a triumphal arch.
The square is a popular meeting place, lined with a tourist office, chic restaurants and cafes. It overlooks the historic Cais das Colunas pier. The iconic stone towers of the pier is the perfect frame for photos against the backdrop of the Tagus River.
Baixa is home to the iconic Santa Justa Elevator. Initially built in 1902 as part of the public transport system to provide residents easy access between the uneven levels of the city, it now primarily serves as a tourist ride. It is a wrought-iron lift with a beautiful viewpoint at its top.
At the entrance of Praça do Comércio, you will find the Arco da Rua Augusta, which is a grand 19th century sculpted arch marks. Visitors can climb to a viewing platform in order to get a fantastic view of the historic streets, plaza, and nearby sea.
Another point of interest for residents and tourists is the bustling square of Rossio square, or Praça dom Pedro IV. it is considered the heart of Lisbon where you can find many cafes, restaurants, ginjinha bars, the famous sour-cherry liqueur.
The Rossio Train Station, in the north-west of the square, is a excellent example of Manueline architecture. It is the city's main station for the Lisboa-Sintra suburban railway
Short walk from Rossio lies the Praça Dos Restauradores, a large busy square with many iconic buildings like the 19th-century pink, baroque façade of the Palácio Foz, the Teatro Eden, and Condes Cinema buildings with Art Deco architectural style.
If you head to Liberty Avenue, you'll find Marquês de Pombal Square roundabout, in the heart of modern Lisbon. This is the monument to the Prime Minister, Marquis of Pombal.
Baixa is home to many popular shopping streets. Rua Garrett, for example, is home to many upscale stores and designer boutiques, open-air cafes and restaurants.
Another pedestrian shopping street is Rua Augusta, lined with popular shops, out door restaurants, and cafes. There is a lively yet relaxed atmosphere here that is perfect for a summer afternoon stroll.
You cannot miss the Liberty Avenue, one of the most popular luxury shopping streets in Europe, located within comfortable walking distance or a short metro ride from Baixa.
History buffs can visit the Money Museum, and MuDe – Design and Fashion Museum, which was first opened in 1999 with a collection of fashion of the great designers.
You can learn the history of Lisbon rom its early foundation to today in 60 minutes at the Lisboa Story Center, an interactive museum. It has lessions about the New World discoveries, the earthquake, and the vision of Pombal.
Being so centrally located, Baixa is a perfect location for exploring the whole city without a car. It has great public transport with metro stops of Baixa-Chiado, Terreiro do Paço, Restauradores, and Rossio train station.
Baixa is a fantastic area for families in Lisbon, offering a vibrant blend of historical charm and modern amenities. Its central location provides easy access to attractions, parks, family-friendly restaurants, and public transportation, ensuring an enjoyable and convenient stay for all ages.
The Baixa and downtown Lisbon are safe districts but you should be aware of pickpocket. Baixa offers a wide range of accommodations from fine hostels, guesthouses to luxury hotels. Be sure to choose rooms with soundproofing and away from the busy streets.
Stay in Baixa if it is your first time visiting Lisbon; you want a central location; you want easy access to public transportation; you want flat area to get around on foot; you have only one night in Lisbon; you travel as a family; you're couples.
Best places to stay in Lisbon in Baixa for first-timers:
luxury ($$$): Corpo Santo Lisbon Historical Hotel, 5-tar hotel located in the heart of Lisbon, easy access to major attractions and neighborhoods such as Dona Maria II National Theatre and Bairro Alto. Offering spacious rooms, it is a great base for families, couples, and solo travelers in Lisbon.
mid-range ($$): Hotel da Baixa, 4-star hotel, set in prime location in Lisbon's historic downtown area. It is within a short walk from Rossio Square and the famous Santa Justa Lift. You can enjoy free wifi, twin and family rooms, and daily buffet breakfast.
budget ($): Rossio Garden Hotel, 3-star boutique hotel located in central Lisbon historic centre, only 1 minute walk from Restauradores Metro Station. The hotel offers paid shuttle service to Lisbon International Airport.
🔍MORE HOTEL DEALS IN BAIXA
2. Chiado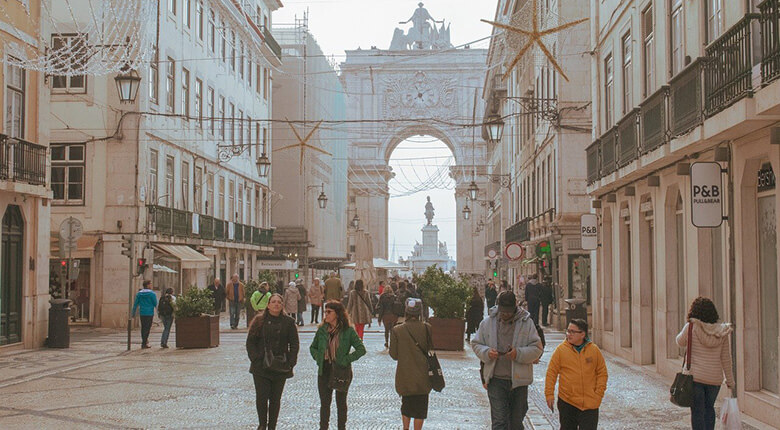 Chiado along with Avenida da Liberdade and Baixa is one of the safest neighborhood to stay in Lisbon. Located right next door to Baixa, Chiado is the lively neighborhood and is the the cultural hub of the city. It is more uphill, and more upmarket than its neighbor Baixa.
Many buildings in Chiado were first built in the 1700s, went through restoration in the 1990s, after destroyed in the fire in 1988. Portugal's literature such as Fernando Pessoa, Alexandre Herculano and Eça de Queirós often visited the cafés and bars in Chiado.
You can find an excellent cup of coffee at Brasileira do Chiado, a good chocolate croissant at the Bénard pastry, and books at the Livraria Bertrand world's oldest book store.
Chiado has a great nightlife with some of the city's best selection of bars and clubs. Many of the clubs here don't even open until late in the evening, so you know they will keep the party going until well into the early hours.
The vast majority of the clubs and bars are clustered in Lisbon's Red Light District, Rua Nova do Carvalho. The area has aptly been dubbed famous Pink Street due to the paving here literally having been painted bright pink, so it's easy to spot when you've arrived.
Chiado has plenty of sights and culture. The Carmo Convent (Convento do Carmo) is one of the major sights for anyone visiting Lisbon. The gothic medieval church was left in ruins by a 1755 earthquake but its grand remains have been converted into an archaeological museum.
Within walking distance of the convent are both the Museu do Chiado, the National Theatre of São Carlos -housed in a beautiful 18th-century building, as well as the Museu Arqueológico do Carmo, and Museo de Sao Roque.
Just beyond hipster Pink Street in Cais do Sodré is the more sedate waterfront area. The river's edge is lined with leafy urban parks and laid-back cafes where you can enjoy lunch overlooking the water.
The ferry terminal here is one of the best places to embark on river tours, with several companies offering sightseeing cruises along the river. Alternatively, if you are planning to take a ferry to one of the cities on the other side of the Tagus, this is where you'll likely be departing from.
Chiado also had a great food scene with street food at Mercado da Ribeiro; many traditional tascas around Rua Nova do Carvalho and Rua das Flores. Belcanto and Alma are both two Michelin-stars restaurants if you want fine dining.
Chiado in Lisbon is an ideal area for families due to its central location, charming atmosphere, and diverse range of activities. With its historic sites, cultural attractions, and family-friendly amenities, Chiado offers a memorable and enjoyable experience for all ages.
With the Baixa Chiado metro station in the neighborhood, you can easily travel around the city. The accommodation here ranging from budget-friendly apartments to high-end luxury hotels.
Stay in Chiado if you want to stay in a safe central neighborhood; you plan to take a ferry or river cruise; you are foodies; you are a first-timer;
Best Places to Stay in Lisbon in Chiado for first-time visitors:
luxury ($$$): Bairro Alto Hotel, 5-star boutique Hotel with beautiful views over the Tagus River. Great base for couples, a short walk from nearby boutique shops, galleries, picturesque streets and restaurants. You can enjoy hotel restaurant with an award-winning Chef.
mid-range ($$): Hotel Mundial , 4-star hotel boasts a terrace with stunning panoramic city and São Jorge Castle views. the rooftop bar offer sweeping views over Lisbon. You can easily travel to other part of the city with the famous Tram 28 and City Tours Hop on Hop off in front of the hotel.
budget ($): Casinha das Flores, picturesque guest house located in the heart of Lisbon. It boasts spacious rooms with free WiFi and air conditioning.
🔍MORE HOTEL DEALS IN CHIADO
See more:
3. Avenida da Liberdade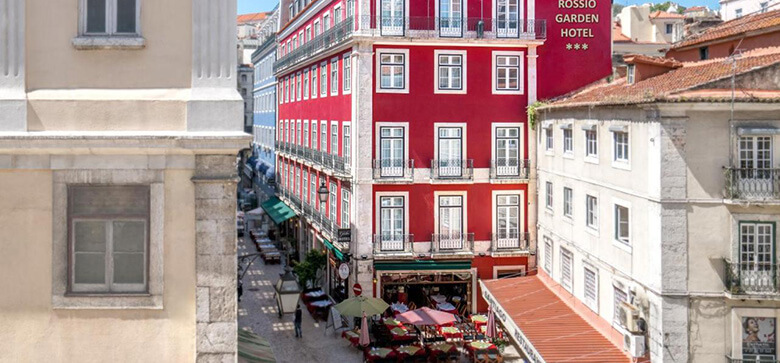 Avenida da Liberdade is one of the best places to stay in Lisbon for luxury because it is one of the most expensive shopping streets in the whole of Europe.
It is Lisbon's main boulevard, a mile-long strip of luxury boutique shops and big-name designer stores. It stretches from Praca dos Restauradores in the Baixa district all the way to Marquês de Pombal.
As such an expensive location, you know there will be some very prominent labels featured here. You can expect to browse the likes of Gucci, Louis Vuitton, and Burberry.
The length of the boulevard is lined with leafy promenades on either side of the busy road, so there is plenty of space for pedestrians. Meanwhile, the sidewalks are decorated with pretty mosaic tiling to add to the luxury aesthetic.
You won't need to worry about getting tired from wandering from boutique to boutique. Aside from the many benches along the promenades, there are plenty of chic cafes and fashionable restaurants to rest and enjoy delicious local and international cuisine.
You will find popular spots such as Hard Rock Café, Cervejaria Ribadouro, As Velhas, and many eatery within the JNcQUOI Fashion Clinic. In addition, there are several metro stations along the street so you can just hop on and get a lift back to the start.
It's not all shopping and cafes. There are several art galleries, monuments, museums such as the Monument to the Heroes of the Great War, Medeiros e Almeida Museum, National Sports Museum, and Cinemateca which is the Lisbon's film museum, along the boulevard.
Fans of cinema can also visit the Cinema São Jorge, Lisbon's popular cinema during since 1950. It hosts several film festivals including the IndieLisboa Independent Film Festival, and QueerLisboa, which is the gay and lesbian film festival in September.
You may even be able to attend an event at the 18th-century Foz Palace. Alternatively, keep your eyes peeled for the street performers who display their various talents along the promenades.
The southern end of Avenida da Liberdade connects into the Baixa district. With even more fantastic shopping streets within walking distance, this truly is a shopping addicts paradise.
The avenue segues into Baixa via Rossio Square. Rossio Square is a leafy plaza boasting several impressive monuments and fountains. Overlooked by the National Theatre and surrounded by cafes, it is a popular meeting point.
The other end of Avenida da Liberdade is marked by the Marquês de Pombal roundabout. The roundabout hosts a prominent monument to the Marquis of Pombal who was instrumental in the rebuilding of Lisbon after the 1755 earthquake.
The roundabout connects Avenida da Liberdade with the Parque Eduardo VII. This Edward VII Park consists of a long series of manicured lawns and lush gardens. It hosts some events such as Lisbon's Christmas Market and the Lisbon Book Fair.
You can also hop on the Lisbon's oldest funicular railway, Ascensor do Lavra, and head to the Torel Garden (Jardim do Torel), one of Lisbon's last hideaways. It offers nice views towards the town.
Avenida da Liberdade has biggest concentration of luxury hotels, but there are mid-range options. Avenida da Liberdade is one of the best locations for first-timers due to its close proximity to downtown and easy access to the rest of the city and the airport.
Stay in Avenida da Liberdade if you are planning a luxury vacation; you have a bigger budget to work with; this is your first visit; you want to stay close to downtown core area;
Best places to stay in Avenida da Liberdade for first-timers:
🔍MORE HOTEL DEALS IN AV. LIBERDADE
4. Alfama
Known as Lisbon's oldest neighborhood, Alfama exudes charm with its narrow streets, colorful buildings, and stunning views of the city. It's a great choice for couples who enjoy exploring historic areas and want to experience the local culture.
Alfama was built by the Moors in the 11th century, and survived the 1755 earthquake due to its sturdy bedrock foundation. The entire area has a distinct historic charm.
Full of steep, narrow cobbled lanes lined with traditional shops and quaint cafes set in beautiful old buildings, a stroll through this neighborhood is like stepping back in time.
Streching from the Tejo Estuary to the São Jorge Castle, Alfama is located right next to Baixa, on the opposite side from Chiado and Bairro Alto. It's a hub of historic buildings and traditional architecture. Alfama is home to many of Lisbon's major attractions and is often dubbed the Castle District due to its historic sites.
Castelo de São Jorge, or George's Castle as it is known in English, is one of the top attractions in the city. Built in the 11th century, it now largely lays in ruins, but visitors are free to tour around the grounds and attached museum.
George's Castle is located atop a hill at the center of the city. Anyone who makes the trip to the top is treated with a beautiful panoramic view of both the old town and modern Lisbon from its viewpoint called Miradouro do Castelo de São Jorge.
Another important landmark is the Lisbon Cathedral (Sé Cathedral). Having been damaged by earthquakes and repeatedly rebuilt since its initial founding in 1147, it stands as a monument to the many architectural fashions of Lisbon through the ages.
There is also the Igreja de Santo António de Lisboa, another interesting church, dedicated to Saint Anthony, the patron saint of Lisbon.
Be sure to visit the National Pantheon (Panteão Nacional), which was the former Church of Saint Engratia. It has the tombs of Portugal's major historic celebrities such as explorer Vasco de Gama and Fado legend Amelia Rodriguez.
To learn more about Azulejo tiles, visit the National Tile Museum of the Azulejo, built in the 1500s. Azulejo tiles are very popular, you can see them on cobblestone streets, walls, floors, ceilings, almost everywhere.
You can also check out the 16th-century Casa dos Bicos (house of spikes), the Museu do Teatro Romano, the huge Sáo Vicente de Fora, the Museu do Aljube Resistência e Liberdade, and Feira da Ladra (Thieves' market).
Alfama is located on a hill, with numerous fantastic viewpoints. The Miradouro de Santa Luzia, Miradouro das Portas do Sol, Miradouro da Graça, and Miradouro da Senhora do Monte are some of the most popular viewpoints in the area, offering stunning views over the city and the river.
In addition to historical sights and viewpoints, this area also offers authentic cuisine and traditional restaurants with fado shows. Fado music was born in Lisbon back in the 18th century.
Fado is a UNESCO Intangible Cultural Heritage. If you want to learn more about Portugal's traditional music, you can visit the Museu do Fado, where you can find a collection of discs, recordings, and a recreated guitar workshop.
Take a note that while in Alfama, you'll have to walk steep hills and cobblestone streets. But there is also tram no 28 passes through the area, if you don't want walking. There are also tuk tuk tour, electric bike tour, Segway tour, and street art tour.
Alfama is overall a safe district of Lisbon, but you should be aware of pickpockets and take care of your belonging as you would travel to any other famous tourist spots.
Alfama offers a delightful blend of history, culture, and family-friendly attractions. From its narrow streets and colorful houses to the scenic viewpoints and proximity to major sights, Alfama captures the essence of Lisbon, making it an ideal area for a memorable family stay.
It is not the most affordable part of the city. In keeping with the traditional atmosphere of the neighborhood, there are also plenty of boutique hotels and guesthouses to choose from for a more intimate feel.
Stay in Alfama if you are couples; you want to stay in Lisbon's historic center; you want to stay in the heart of the city's culture and history; you are visiting Lisbon for the first time;
Best places to stay in Alfama Lisbon for first-time visitors:
luxury ($$$): Santiago de Alfama, 5-star boutique hotel, and is a great place for couples, located in the historic centre of Lisbon just a short walk from the São Jorge Castle and offers stunningviews of the city. It also offers easy access to the Pombaline Downtown, Bairro Alto, and Chiado.
mid-range ($$): Solar do Castelo, 4-star eco-friendly hotel, great location for couples, located within the walls of St. Jorge's Castle in the historic Alfama neighbourhood.
mid-range ($$): Hotel Convento do Salvador, 3-star family-friendly hotel, located only a 6-minute walk from the iconic São Jorge Castle, the Sé Cathedral and the National Pantheon. With the famous Tram 28 stop right next to the hotel, it is within walking distance from a range of restaurants, bars, Fado Houses, museums and belvederes.
budget ($): Alfama – Lisbon Lounge Suites, modern apartments in the Alfama district, great place for both families and couples. Easy walk from São Jorge Castle and Portas do Sol viewpoint. You can take traditional Lisbon trams to Chiado district which is located right in the front of the hotel.
🔍MORE HOTEL DEALS IN ALFAMA
5. El Bairro Alto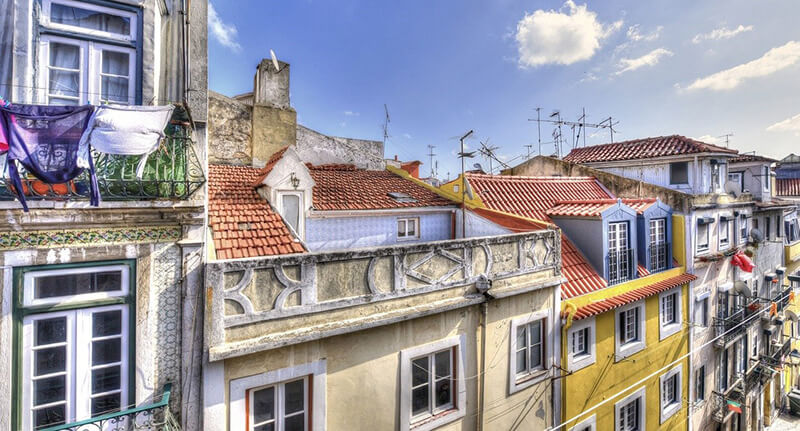 El Bairro Alto is a hilltop neighborhood and is one of the best locations to stay in Lisbon for first-timers due to its convenience as it located right next to the touristy Baixa district and Chiado.
Bairro Alto is nightlife hub and party zone of Lisbon. Home to Lisbon's best clubs, many nice restaurants, bars, and rooftop terraces. Bairro Alto is a sleepy area by day but transform into lively party area by night.
Bairro Alto is known for being popular with Lisbon's LGBTQ community. Gay bars are scattered throughout the neighborhood, particularly running down the center of the district. If you are looking for a great night out, you can easily hop between here and the red light district of Chiado.
Bairro Alto has a good art scene. The neighborhood is scattered with art galleries and street arts. You can enjoy browsing both intimate studios, as well as more contemporary art museums and showrooms.
The cobbled streets were lined with colorful facades even before local street artists began using spare walls as a canvas for their impressive murals.
Bairro Alto is home to numerous Portuguese tascas serving petiscos and codfish, as well as Middle Eastern restaurant, Korean-style barbecue, and Neapolitan pizzas, all kind of cusine from local traditional food to international dishes.
The Old Pharmacy is the former pharmacy, wine is the best medicine. The cabinets are filled with bottles. The choices are literally hundreds of wines, all Portuguese and served by the glass, along with cheeses and sausages.
Páginas Tantas is a bar with spacious interiors, relaxed with jazz and live music. Portas Largas is one of the most popular bars in Bairro Alto since the 1990s. It is a spacious old tavern with people standing outside the large doors.
Fans of unique public transport will enjoy riding Bairro Alto's iconic Bica Funicular cable car. Some of the avenues are so steep here that this innovative system is more effective than traditional trams or buses.
As one of Lisbon's older districts, Bairro Alto is home to many historic buildings. The Church of Sao Roque dates back to the 16th century and is one of the oldest surviving Jesuit churches.
Other attractions nearby are Carmo Convent ruins, Santa Catarina viewing point, and Elevador da Bica.
Bairro Alto is a quite safe area in Lisbon. But as the famous nightlife spot with high concentrations of bars and nightclubs, you should use common sense and avoid walking at night in the poorly lit areas.
Stay in El Bairro if you want vibrant nightlife; this is your first time visiting Lisbon; You want to stay in a quirky, bohemian neighborhood, Staying at the heart of the city is ideal; LGBTQ friendly nightlife is a plus.
Best Places to stay in Bairro Alto for first-time tourists:
luxury ($$$): The Lumiares Hotel & Spa in the bohemian and cultural heart district, with views of the River Tagus and the Castelo. Opposite the hotel is the Gloria Funicular tram, and the Miradouro de São Pedro de Alcântara, one of Lisbon's most famous viewpoints Lumi Rooftop.
mid-range ($$): Lisbon Serviced Apartments offers units with air conditioning, free wifi, a private bathroom. Close proximity to Ribeira Market, Commerce Square, Rossio, and Dona Maria II National Theatre.
budget ($): Casinha das Flores This guest house provides comfortable rooms with free WiFi, air conditioning, a private bathroom, satellite TV, and a wardrobe.
🔍MORE HOTEL DEALS IN BAIRRO ALTO
6. Príncipe Real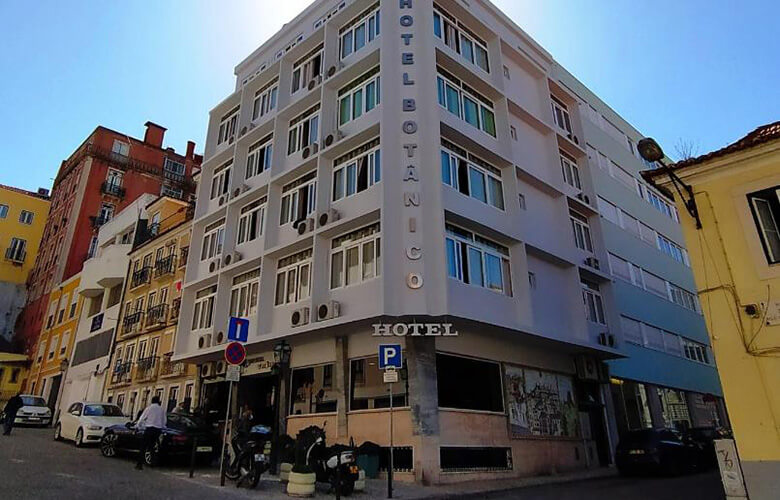 Principe Real is one of the best neighborhoods to stay in Lisbon for first-timers who love upscale and vintage atmosphere. It is is one of the edgier districts, with a uniquely artsy atmosphere, a favorite of the city's young and alternative crowd.
This Principe Real district is primarily a residential area, more exclusive and affluent with hip shops. It is one of the safe area to stay in Lisbon.
The streets here are lined with antique shops, innovative concept stores, bio markets, and hipster cafes. If you are looking for a more unique shopping experience in a vibrant and cutting-edge community, Príncipe Real may be the location for you.
Most of the antique shops and galleries are centered around Rua da Escola Politecnica and Rua Dom Pedro V. And charming leafy square and garden will be found in Rua de São Marçal.
AR-PAB and Isabel Lopes da Silvaa are good places to go for go antique shopping, while Solar for the ancient Portuguese art of tiles shopping.
Embaixada Palace is the 19th-century Moorish palace has been converted into a modern shopping mall celebrating local Portuguese designers such as Amélie au Théâtre, Organii Cosmética Biológica, and Organii Bebé. Ideal for picking up unique souvenirs like cork handbags, cork visas, cork table mats or just admiring the opulent interior.
Nearby, you can find the indoor market, Entre Tanto, the XVIII century Castilho Palace. Meanwhile, The National Museum of Natural History and Science is housed in a particularly grand building and hosts a wide range of exhibits. There's sure to be something to interest the whole family.
The palace is sandwiched between the historic Principe Real garden (Jardim do Príncipe Real) and the Botanical Garden of Lisbon (Jardim Botânico). Both are home to rare or significant plants and trees. All the leaf cover keeps the trails cool, perfect for walking on a hot summer afternoon.
Similar to Bairro Alto, Príncipe Real is a great destination for nightlife, where you can find funky bars, cool craft beer, wine, and cocktails. Príncipe Real is also well known for its LGBTQ-friendly nightlife. Gay bars line the streets in the south of the district between Príncipe Real and neighboring El Bairro Alto.
IThere are several metro stations in the neighborhood with lines connecting out well beyond the central Lisbon neighborhoods. The Baixa/Chiado on the blue and green lines and the Rato Station on the yellow line will connect you to the city centre and the Cais do Sodré.
Accommodations in Principe Real are mostly guesthouses, hostels, bed-and-breakfast, and self-catering apartments that suit all budgets for both short-term and longer-term stays.
Stay in Principe Real if you are looking for a more alternative, artsy neighborhood, you want somewhere close to the city centre but a little away from the more crowded shopping streets, LGBTQ-friendly nightlife, and hospitality is a plus; you are first-timers;
Best places to stay in Principe Real:
luxury ($$$): Memmo Príncipe Real – Design Hotels This five-star hotel boast an outdoor pool and lounge, with panoramic city views. You can enjoy the meal at the hotel's Café Principe Real Restaurant with Portuguese and international dishes.
midrange ($$): Casa do Jasmim by Shiadu This guest house is in the Misericordia district, at a short distance from Lisbon's main attractions. It offers rooms with a flat-screen TV, free WiFi, and a private bathroom with a shower.
budget ($): Flores Guest House This bed and breakfast centrally located in Lisbon, offers self-catering apartments and studios with a flat-screen TV, a coffee machine, and free wifi. Don't miss out Copenhagen Coffee Lab, Tease, Pão de Canela, Churrasqueira da Paz, Tasquinha dos Arcos, Dona Quitéria and Nannarella.
🔍MORE HOTEL DEALS IN PRINCIPE REAL
7. Lapa
Lapa and Estrela are a quiet residential areas. The nobility and the wealthy built their homes in the 18th century. Estrela is one of luxurious areas in Lisbon, with plenty of foreign embassies, palaces, grand mansions in its tree-lined streets.
Lapa and Estrela are well-connected public transport with bus, tram, and close to the Rato Station. There are plenty of links to the more popular tourist areas such as Chiado and Barrio Alto.
The Basílica da Estrela is one of the grandest buildings in Lisbon. Built-in the 18th-century, it boasts twin bell towers, a towering central dome, and the tomb of Queen Maria I. It is the meeting point for local in the neighborhood.
Across from the Basilica is the Mosteiro do Imaculado Coração de Maria convent. The convent is notable for housing Saint Jacinta before her death. The room in which she stayed has been preserved along with several of her belongings and clothes, and guests are welcome to pay respects.
Nearby stand the Jardim da Estrela garden, which is a beautiful public park with lakes, gazebo, terrace and playground. It's a popular spot for young people, families, with kids for picnics or parties in summer. Meanwhile, the cafes and food stalls that surround the park will provide plenty of options for refreshments.
Outside the park are a statue of Pedro Álvares Cabral, Casa Museu Amália Rodrigues which is the former home of the Queen of Fado, and English Cemetery which has the tomb of Henry Fielding, the English novelist and magistrate.
To the west of Lapa is the entrance to the Ponte 25 de Abril bridge. This 2-kilometer-long suspension bridge crosses the Tagus River over to neighboring Almada. The bridge is impressive in its own right, reminiscent of San Francisco's Golden Gate, so worth visiting even if you don't intend to cross.
This unique upper-class district is also home to Portugal's Parliament, the Palácio da Assembleia da República with a restored 19th century mansion, Sao Bento Palace, the official residence of Portugal's Prime Minister.
If you want to try some regional Portuguese cuisine, head to the lively indoor market, Mercado de Campo de Ourique. And if you like history, there are several museums nearby such as Museu Nacional de Arte Antiga, Museu da Marioneta, Oriente Museum, and Museu da Carris.
Lapa has many trendy restaurants including Senhor Vinho, one of the most renowned casas de fado in Lisbon, founded in 1975. Grab a steak meal at Café de São Bento, which offers one of the best steak in Lisbon, while Come Prima offers great pasta. Take a look at Lx Plant, which is a a venue filled with restaurants, bars, and design shops.
Stay in Lapa if You want a quieter area but still relatively close to the city centre; A less tourist-heavy neighborhood is ideal;
Best places to stay in Lisbon in Lapa:
Olissippo Lapa Palace – The Leading Hotels of the World This 19th-century, 5-star hotel offers an expansive spa, and indoor and outdoor pools, elegant rooms with a spacious seating area, satellite TV, and a marble bathroom.
Estrela Penthouse – Amazing Views This property is in Estrela of Lisbon, provides a terrace and amazing views over the city of Lisbon and the river Tagus. It's 50 meters away from tram 28 and 25 central stations (Estrela), as well as from Basilica da Estrela (Estrela Church) and Estrela Park.
Bela Vista – Lissabon Altstadt Located within a short walk from the grandiose baroque Basilica Estrela, the famous Jardim da Estrela, Museum of Ancient Art with its fine view of the harbor and docks. It has units with a sofa, a seating area, a flat-screen TV, a well-fitted kitchen with a dining area, a safety deposit box, and a private bathroom with a hairdryer
🔍MORE HOTEL DEALS IN LAPA
8. Belem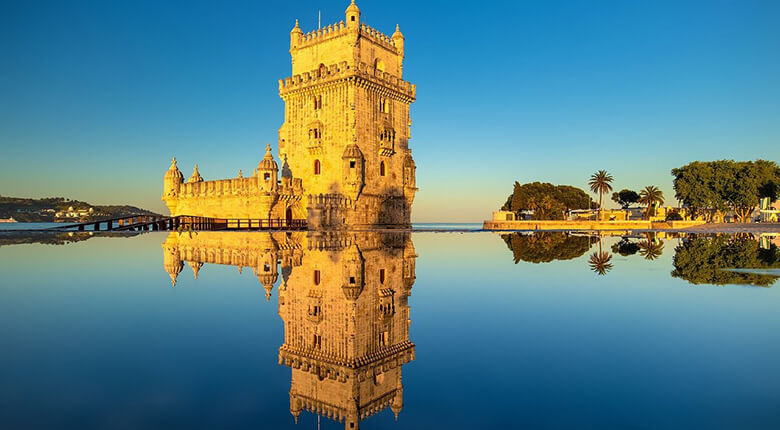 Belém is a top choice for families in Lisbon due to its historical charm, picturesque waterfront, and family-friendly attractions like the Belém Tower and Jerónimos Monastery. With ample green spaces, delicious pastries, and easy access to transportation, it offers a delightful experience for all ages.
Belem is a historic riverside area located further west along the banks of the Tagus river. Close to where the river joins the Atlantic, Belem has a rich maritime and fishing history. That heritage is reflected in the abundance of fresh seafood served by the local restaurants.
Belém is far from the city centre, but easily reachable by taking tram number 15 in the Cais do Sodré station. Many Portugal's explorers set sail from here to all over the world and brought back riches and their many discoveries.
Whilst Belem might be quite a distance from the city centre, the local train station provides easy access right into the heart of Lisbon. You can enjoy the local charm of the quieter streets whilst knowing that the vibrant tourist neighborhoods are just a few minutes away.
Of course, there is plenty to see and do in Belem itself. Once a significant port, Belem is home to many historical structures well worth visiting. A wander around the quiet streets will reveal beautiful architecture and fascinating buildings around every corner.
Jerónimos Monastery, is the grandest of these old buildings. The opulent Gothic building dates back to the 16th-century. Its intricate carving work is excellently preserved.
The monastery is home to Museu de Marinha, a navy museum displaying exhibits related to Belem's maritime history, as well as National Archaeological Museum hosting displays on a broader range of topics.
Along the waterfront, we have the UNESCO World Heritage Site, 16th century Belém Tower, hat has Portuguese Manueline architecture. Once part of the city's defensive fortifications, visitors can now climb to the tower's roof terrace to enjoy unobstructed views over the river.
The adjacent eye-catching Monument to the Overseas Combatants was created to commemorate soldiers killed during the colonial war. Further along the river, between the town's two marinas, is Belem Lighthouse. The lighthouse is surrounded by public parks from which to enjoy views of both the lighthouse and the river.
Families and kids can spend a fun day explore museums in this museum district. There are Coach Museum, Berardo Collection Museum, Discoveries Monument, Museum of Art, Architecture, & Technology – MAAT, and the Popular Art Museum has works by artists from across Portugal.
Other highlight attractions including the Padrão dos Descobrimentos, Igreja Santa Maria de Belém, Jardim da Praça do Império, Palácio Nacional de Belém, Jardim Botânico Tropical, Garden of Afonso de Albuquerque, and Centro Cultural de Belém.
You can charter a boat for a day along Tagus river. There are speedboats and catamarans to sailboats and luxury yachts.
Belem offers several beautiful parks and gardens where families can unwind and enjoy some quality time together. The vast expanse of the Belem Gardens provides ample space for picnics, leisurely walks, and outdoor activities. The Tropical Botanical Garden, situated near the Belem Palace, is another picturesque spot that showcases a diverse range of plant species.
Belem has many seafood restaurants, bars with river views, and fine dining options like Feitoria Michelin-starred dining. Pastéis de Belém is a must-try pastry shop with the famous original Pastel de Nata custard tart.
Stay in Belem if you are families; you are looking for sightseeing; you love history and preserved historical buildings and structures, you prefer to stay in a more local area; this is your first visit;
Best places to stay in Belem for the first time:
luxury ($$$): NAU Palacio do Governador, 5-star hotel located in Belem district, within east walk from the Belem Cultural Centre and the Belem Tower. With the public transport stops nearby, you can easily reach downtown Lisbon.
luxury ($$$): Altis Belem Hotel & Spa – Design Hotels, 5-starwaterfront hotel, located next to the Tagus River. It has a Michelin Star restaurant, indoor and outdoor pools, a spa, and a rooftop deck.
mid-range ($$): Geronimo Guest House Belém, a family-friendly sustainable guest house in Belem Lisbon, located within walking distance from iconic Jeronimos Monastery. It is also just a few steps away from the famous and old Pastéis de Belém for a great meal.
budget ($): Famous Crows Lisbon Suites, affordable guest house located beside the famous Pastéis de Belém, within easy walking distance to plenty of traditional Portuguese restaurants. It is a great base for families as it has family rooms that can accommodate up to 7 members.
🔍MORE HOTEL DEALS IN BELEM
9. Park of Nations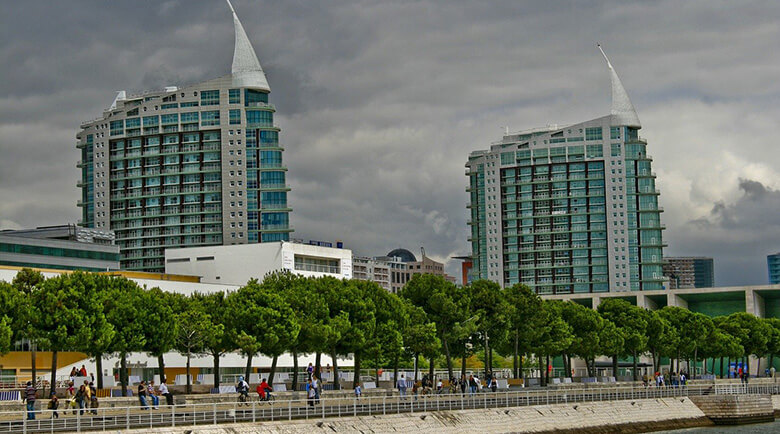 Built for the Lisbon World Exhibition in 1998, the Park of Nations district, or Parque das Nações in local langues, is one of the most distinctly modern regions of Lisbon. With many business hotels, restaurants and bars for business travellers, this area is good base for those travel on business.
As a modern neighborhood, built for leisure to impress foreign visitors, comfort, fun, and aesthetic appeal are some of the most prominent qualities. In addition to leisure complexes and exhibition centers, the area is known for its many garden squares and public parks.
The Water Garden, or Jardim das Águas is particularly lovely. Consisting of a variety of water-based art installations, fountains, and pools, it's both beautiful, and a handy opportunity to cool down in the mist from the fountains.
The centerpiece of the Park of Nations is the marina. The waterfront is lined with trendy cafes, fashionable restaurants, and lively bars. You can happily spend your afternoons relaxing with a cocktail, watching the boats drift around the marina.
Families and kids will want to visit the Oceanário de Lisboa, or Lisbon Oceanarium, home to over 450 species of fish and ocean mammals. Designed by US architect Peter Chermayeff, it is one of the largest in the world.
Another kid-friendly attraction is the a science and technology museum, Knowledge Pavilion, or Pavilhão do Conhecimento Ciência Viva. It has interactive exhibits, cafes, and kid's playground.
You can also find the Vasco da Gama Tower which is the tallest building in Lisbon with about 140 m hight and a nautical sail shape. its viewing platform offers a great view over the river and Vasco da Gama Bridge.
If you are looking for places close to the airport, Park of Nations is a good option. Lisbon Airport is just a 10 minutes metro ride away, so you won't have to worry about being late for your flight.
Park of Nations is served by Gare do Oriente station and well-connected transport with the other parts of the city by trams and buses. You can ride the teleferico cable car, rental bikes, and a minitrain to get around the park.
Other places of interest are the MEO Arena with UFO shape, and the Lisbon Casino which opened in 2006, and has couple of hotels and clubs.
Stay in the Park of Nations if you want to stay closer to the airport; you are a business traveller;
Best places to stay in Park of Nations for first-time visitors:
luxury ($$$): MYRIAD by SANA Hotels, 5-star majestic sail-shaped hotel next to to the Tagus River. It is one of the best places to stay in Lisbon for families and couples, offering modern rooms and suites, with stunning views of the river or Parque das Nações. You can enjoy fine dining at its on-site Michelin-starred restaurant at the top of the tower.
mid-range ($$): Tivoli Oriente Hotel, 4-star hotel, with the views of the Tagus River. It is located close to the Vasco da Gama Shopping Centre and Estação do Oriente Station. It is also only 5- minute drive from Lisbon International Airport.
budget ($): Ikonik Lisboa, 3-star budget friendly place in Lisbon for couples and solo travelers, located within easy walk from Lisbon Oceanarium and Gare do Oriente.
🔍MORE HOTEL DEALS IN NATIONS PARK
10. Avenidas Novas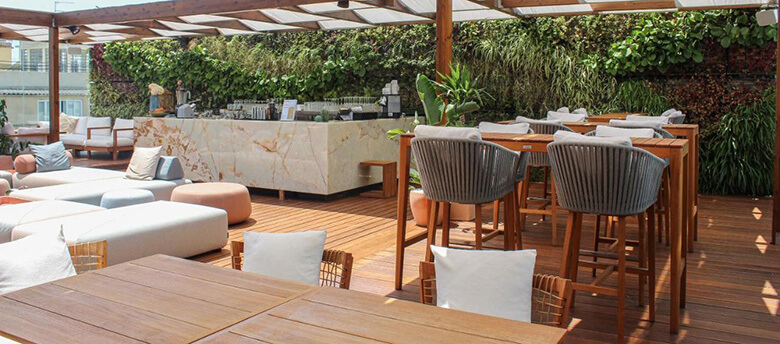 Avenidas Novas (New Avenues) is the one of the main business and commercial centers of Lisbon. It's a quite large district that stretches from the end of Avenida da Liberdade to the Campo Pequeno bullring.
Avenida da República is the main avenue, similar with Champs De Elysees boulevard in Paris, packed with modern buildings and luxury shops. On this street, you can find the main square, Praça Duque de Saldanha. The square boasts a monument to the Duke of Saldanha and near by the palatial Versailles, which is one of the most beautiful cafés in the city.
Avenidas Novas has vibrant communities including ex-pats, Universidade Nova de Lisboa's students, businessmen around Lisbon's Financial Center, Praça Duque de Saldanha, and Picoas Center.
Avenidas Novas is a particularly modern district at the heart of the city center. Despite having been founded in the early 20th-century as Lisbon was expanding, much of that earlier architecture has disappeared due to modernization initiatives.
The area is primarily dominated by modern office blocks, contemporary shopping centers, and amenities catered towards the local corporate worker population. You will find small shopping centers like Monumental, the Centro Comercial do Campo Pequeno, and Atrium Saldanha.
The neighborhood is also home to some museums like Calouste Gulbenkian Museum in Gulbenkian Garden, as well as Anastácio Gonçalves Museum, and Bordalo Pinheiro Museum.
Other places of interest are the Fonte Luminosa, 18th-century Pimenta Palace, Campo Pequeno Arena which is Lisbon's bullfighting arena, and small church of Igreja de São Sebastião da Pedreira.
The central location is what makes Avenidas so popular. It is surrounded by some of the best tourist districts in the city. The regions of Principe Real, Avenida de Liberdade, Baixa, and Alfama are all within a short walk of Avenidas Novas.
You can easily reach Avenidas Novas with the metro, the bus, the city's trams, funiculars and trains. It's free with the Lisboa Card.
Avenidas Novas has plenty of options for accommodation. If you are working on a budget but still want to keep close to the popular area, Avenidas Novas is definitely an area you should be considering. You will find a variety of contemporary, modern hotels at very reasonable rates.
Stay in Avenidas Novas if good central location with easy access to various tourist districts is ideal; You prefer to stay in a more modern and contemporary location; you want to stay in a safe neighborhood;
Best places to stay in Avenidas Novas for first-timers:
🔍MORE HOTEL DEALS IN NOVAS
🎬 You can watch this video about best areas in Lisbon in my youtube channel.
Where should I stay in Lisbon for the first time?
Baixa is the best overall area to stay in Lisbon for first timers due to its central location, excellent connections to public transportation, and wide variety of tourist amenities. Staying here offers easy access to major attractions, as well as many restaurants, bars, and shops.
What are the best areas to stay in Lisbon, Portugal?
Baixa, Alfama, Chiado, Avenida da Liberdade, or Bairro Alto are the best areas to stay in Lisbon because they are the most convenient location for tourists to see attractions.
What are the safest areas to stay in Lisbon?
Lisbon is a safe city for tourists. Avenida da Liberdade, Chiado, and Baixa are the safest areas to stay in Lisbon. These are the main tourist areas with plenty of things to do and see within walking distance from your hotel.
See more:
In conclusion, Baixa, Alfama, Chiado, Avenida da Liberdade, Bairro Alto, Príncipe Real, Lapa, Belem, Park of Nations, and Avenidas Novas are some of the best places to stay in Lisbon Portugal for tourists and first-time travelers. They offers a wide range of hotel options for all budget travelers.
Personally, I recommend Baixa/Chiado is the best area for first time visitors due to their central location, proximity to major attractions, and a blend of historic and modern amenities.