Where to stay in Algarve first time, without a car? for families, couples, honeymoon, and nightlife? In this guide, we will be looking at the best areas to stay in Algarve (include map and video) and the best hotels the Algarve for all budgets.
The Algarve region in Portugal offers a variety of beautiful areas to stay, each with its own unique charm and attractions. From the sun-soaked beaches of Lagos to the historic charm of Faro's Old Town, explore unforgettable destinations like Albufeira, Vilamoura, and Tavira. Immerse yourself in this coastal paradise and create lasting memories.
Where to stay in the Algarve?
The best areas to stay in Algarve for first-time tourists are Lagos, Faro, Albufeira, Portimão, Lagoa, Olhao, Aljezur, Silves, Alcoutim, Loule, Tavira, Carvoeiro, Sagres, Quarteira, and Vilamoura. These are the most beautiful towns and popular destinations in the Algarve for tourists.
Faro, Albufeira, Lagos, Vilamoura, and Portimao are the best places to stay in the Algarve without a car. They offer a mix of beautiful beaches, attractions, amenities, and good public transportation connections, allowing you to explore the region even if you don't have a car.
If you are looking for best areas for families, look into the towns of Albufeira, Lagos, Portimao, Tavira, Sagres, Faro because they provide family-friendly beaches, various accommodation options, and numerous entertainment activities for families.
The best areas to stay in Algarve for couples are Albufeira, with its vibrant nightlife and stunning beaches, Lagos, offering a mix of history and scenic beauty, and Vilamoura, renowned for its upscale resorts and world-class golf courses.
If this is your first visit, I recommend spending at least a week in Algarve to see the most famous tourist attractions, and have a good feel of the city. There are so many historical sites, beautiful beaches, and stunning landscapes to explore in the region.
Map of areas and towns in Algarve: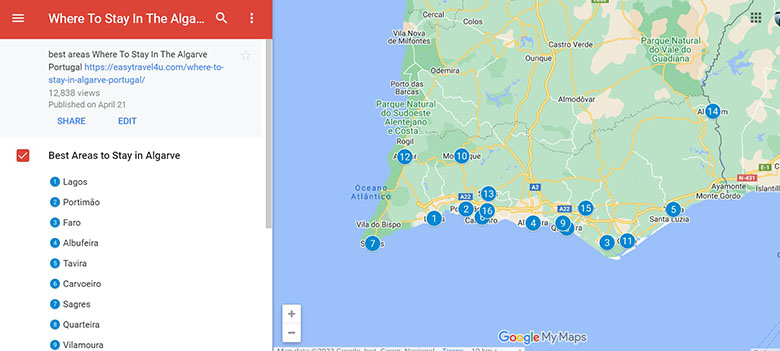 Best areas to stay in Algarve for first-time tourists are:
1. Lagos
Lagos is the best overall area to stay in the Algarve because it is a very popular resort in the Algarve that provides a plethora of natural beauty, picturesque cliff beaches, buzzing nightlife, rich history, and excellent tourist facilities.
Lagos is possibly the most famous destination in the Algarve for couples. With its picturesque beaches, charming Old Town, and romantic atmosphere, Lagos offers an idyllic setting for couples seeking a memorable getaway.
Lagos is divided into four areas include the historic Old Town, the marina, Meia Praia, and Porto de Mós. You can easily spend morning explore the historic center, and the rest of the day to explore the beaches and the popular Ponta da Piedade.
The town center is compact and easily walkable, allowing you to explore its historic sites on foot. There is good public transportation connections, making it a convenient base to stay in the region without a car.
Lagos is located on the south-western coast of the region, Lagos was the launching point for a number of expeditions to Africa in the 15th century. It also led to it earning the dubious distinction of having Europe's first slave market, built in 1444.
Lago has an extensive history which you can find at monuments, museums, and a historic fortress that dotted around the cobbled streets of the old town.
There are the Igreja de Santo António church, the ancient Moorish city walls, and the 17th-century Forte da Ponta da Bandeira. The ancient city walls are well preserved despite the damage caused by the 1755 earthquake which destroyed much of the town.
The Old Lagos is also home to Saint Gonçalo's gate, and European's first slave market called Mercado de Escravos.
While it has an abundance of historical significance, particularly of the maritime variety, its coastal location also makes it home to a number of beautiful beaches and coves. This makes it a fabulous option whether you're after culture, relaxation, or a combination of the two. The best beaches near Lagos are:
Ponta da Piedade, the most beautiful Lagos beach with majestic rock formations, sea arches, caves, ochre cliffs and crystal-clear green water. be sure to visit the charming Ponta da Piedade Lighthouse.
Praia do Camilo-Camilo's Beach, one of the most breath-taking beaches in all of Europe with charming rock formations, turquoise water, and white sand.
Porto de Mós Beach-Praia de Porto de Mós, best Lagos beach for surfing
Dona Ana Beach-Praia Dona Ana, one of the most beautiful beaches in the world
Student's Beach-Praia dos Estudantes, a tiny sandy beach is nestled among rock formations
Pinhão's Beach-Praia do Pinhão , a lovely beach with crystal-clear water, yellow and orange towering cliffs and amber sand
Batata Beach-Praia da Batata, Potato Beach, small, calm and brilliant blue sea
Praia Grande, surrounded by tall orange-yellow cliffs, has light golden sand, crystal-clear turquoise water, grottoes and caves
The beaches around Lagos such as Praia Dona Ana and Meia Praia are particularly popular choices for families, offering clean sands, calm waters, and picturesque surroundings. There are activities such as kayaking, taking an ethical dolphin spotting tour, or even surfing in Sagres.
You can experience local daily life at the Lagos Municipal Market, located opposite the Lagos marina. It is where local fishermen selling their fresh catches. Apart from seafood, the market als have local fruit, vegetables, and butcher shops.
There are many restaurants in the city to try local Portuguese food. Take a look at the Casinha do Petisco for an authentic cataplana, seafood, and meat plates.
Its accommodation is just as diverse as everything else in the region, featuring both resorts, apartments, and private villas that vary in price to make it an area accessible to all budgets and interests.
Stay in Lagos if you're couples, families, history buffs, or beach lovers; you want a mixture of sightseeing and relaxation; You travel without a car;
Best places to stay in Lagos Portugal for first-timers:
luxury ($$$): Boavista Golf & Spa – Bela Colina Village Located in Lagos' outskirts, this 5-star resort has modern villas and apartments with a balcony and kitchen. It provides 18-hole golf courses, indoor heated pool, a sauna, a steam room, a fitness centre, and free car parking.
mid-range ($$): Belmar Spa & Beach Resort This beautiful, beachfront, 4-star hotel, offers stunning views of Porto de Mos beach, ideal for couples and families. It's within a short drive by car from Dona Ana Beach, Ponta da Piedade Lighthouse, and Lagos Castle. There is free private car parking, indoor swimming pool, sauna, Turkish bath, and fitness centre.
budget ($): Carvi Beach Hotel This stylish hotel i located on Dona Ana beach, where the rooms overlook the Atlantic Ocean, within a 10-minute drive by car away from Lagos Train Station and the Boavista Golf Course. The location is particularly like by couples.
🔍FIND BEST HOTELS IN LAGOS
2. Portimão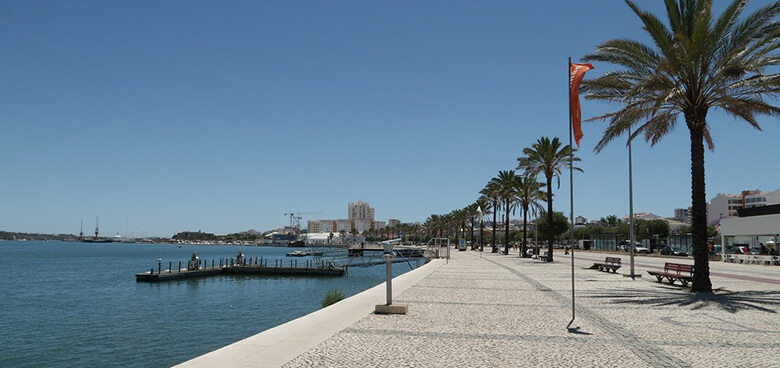 Portimao is a popular destination in the Algarve that is famous for the Praia da Rocha beach, lively nightlife, and shopping scene. It is the largest city in the western Algarve and is historically known for its fishing and boat building industries.
Portimão is one of the best bases to stay in Algarve without a car because it has a well-developed public transportation network, home to the Portimão Railway Station, offering easy access nearby attractions and beaches using buses and trains.
Perhaps its most popular draw for visitors though is as a shopping district. Everything from traditional streets to major shopping plazas is filled with all manner of shops, bars, and restaurants.
In the town the shops are centred on the pedestrianized streets of Rua Diogo Tomé and Rua da Portades da São João. Portimao Retail Park and Portimão Retail Centre are also good spots for a bit of retail therapy.
Portimao is home to many beautiful beaches, include:
Praia da Rocha, the golden sand beach with a good variety of water sports activities
Praia de Alvor, a windswept sands and rocky outcrops beach
Praia do Alemão, the famous beach for its many rock formations
Praia do Vau, a quiet beach but still close to centre
Praia dos Careanos, a wild, golden-sand beach
Praia dos Três Castelos, an urban beach with breathtaking rock formations
Praia dos Três Irmãos, the most beautiful beach near Portimao
Even though the main reason for people to come to this city is Portimão beaches, but there are so many other cultural attractions, churches, museums to see in Portimão that you'll be amazed.
To learn abou the history of Portimão's fishing and the sardine canning industry, take a look at the Museu de Portimão, known as the sardine museum by locals. It is located along the waterfront area and is housed in the former sardine canning factory.
Another popular place to visit is the Megalithic Monuments of Alcalar, which was found in the late 19th century and were declared as National Monuments. Alcalar has many types of funerary temples and tombs.
There are also interesting landmarks such as the Portimão's Mercado Municipal, Church of Nossa Senhora da Conceição, the Church of Our Lady of the Conception, the Fort of Santa Catarina, and the Convent of Saint Francis.
Portimão offers a wide range of accommodations for all budgets from backpacker hostels to luxury resorts. There are cheaper accommodations in the outskirt of Portimão.
Stay In Portimao If you are traveling by train or want good public transport; you prioritize shopping; you are a fan of history and culture; you don't need to be right by the beach.
Best places to stay in the Algarve in Portimao for firts-time visitors:
Luxury ($$$): Algarve Casino Hotel This 5-star beachfront hotel offers stunning views of the Atlantic Ocean and the golden sands of Praia da Rocha beach. It's within walking distance from Portimão Marina, and 3km from Alto Golf Course.
Midrange ($$): Morgado Golf & Country Club This 4-star hotel offers charming views of the Monchique Mountain and is surrounded by golf courses, an ideal place for golf enthusiasts. There are 2 outdoor pools, sun deck, 2 children pools, sun terrace and sun loungers.
Budget ($): Clube Vilarosa Located within walking distance from Praia da Rocha; It's 3km from the Pestana Golf Academy, an ideal place for Golf enthusiasts; also close to Slide & Splash Water Park, the International Algarve Racetrack, Algarve Casino, Museu de Portimão, and Praia Grande Beach.
🔍FIND BEST HOTELS IN PORTIMAO
See more: Where to stay in Algarve without a car
3. Faro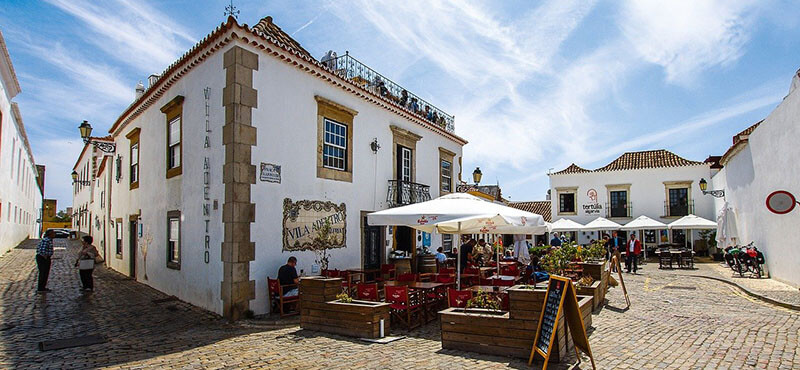 Faro is one of the best places to stay in Algarve for first-time tourists because it is the capital and the largest city in the Algarve. One of the most densely populated regions in The Algarve, Faro is everything you would want from a traditional European tourist hotspot.
Faro is the major transportation hub of the Algarve, with an international airport and a train station that connects it to other cities in Portugal and beyond. This makes it one of the best places to stay in Algarve without a car.
Faro is a popular day trips fro sightseeing from central Algarve, especially from Albufeira, Quarteira, and Vilamoura. If you don't stay here, you can spend a day to explore the area.
Featuring beautiful beaches, sea views, and bars, restaurants, and hotels aplenty, it's perfect for families, especially those with children, and anyone looking for a relaxing vacation in the sun.
For those looking for a little more to explore, there are fantastic locations in the city, as well as hills, valleys, rivers, and lagoons in the surrounding areas to spend your days roaming through the natural landscape in the brilliant sunshine.
Spend your day by strolling around Old Town which is located within Faro's ancient city walls. It's full of cobbled streets, medieval buildings, museums, cathedrals, churches, and ruins, and whitewashed houses. Rows of orange trees along the pedestrian-friendly promenades, leading to little squares and hidden patios.
You will find some famous landmarks are the 13th century Roman Catholic Faro Cathedral, the Capella dos Ossos bizarre bone chapel, beautiful Arco da Vila gateway, Muralhas de Faro, Igreja do Carmo, and Cicade Velha.
If you are interested in the town's history, drop by the Faro Maritime Museum, located at the north end of Faro Marina, where you can views some of the city's interesting fishing equipments.
Within a short from Faro lies the Roman Ruins of Milreu, where you can find well-preserved Roman structures, with a brick temple, Roman baths, and a museum.
If you have time, take a visit to the 18th-century eye-catching palace called Palacio de Estoi. It is used as a luxury hotel, but you can visit the building's first floor and French style gardens to enjoy its architecture and art.
The huge natural park, Ria Formosa Natural Park is also an amazing place to visit to explore the fauna and flora, tiny islands, lagoons of the Algarve coast. Spanning 60 km between Ancão and Manta Rota, you can go for fresh sea food at Culatra, visit Ilha do Farol, or take a boat tour along the park to visit towns along its length.
Some of the best beaches near Faro including Praia de Faro, Praia da Barreta, Cabo de Santa Maria, Praia da Ilha Deserta, Praia do Farol, Praia da Ilha da Culatra. The beach's activities are sunbathing, swimming, and water sport such as surfing.
If you like golf, you can head to Quinta do Lago which is a 20-minute drive by car down the road from Faro city. You will be pleased with the choice of 3 championship golf courses.
Faro offers a vibrant nightlife with numerous nightclubs and bars, especially along Rua Conselheiro Bivar historic street. Grab a beer, enjoy tapas, and listen to its live music are one of the best things to do to enjoy its lively nightlife vibe.
The capital city of the Algarve has a great selection of accommodation with many family-run guesthouses, townhouses, apartments, villas, beach houses. Many hotels can be found around Jardim Manuel Bivar plaza.
Stay in Faro if you love the nightlife; you are first-timer; you travel without a car; you want access to good value accommodation, you want to be close to the airport; you are a family with children.
Best places to stay in the Algarve in Faro for first-timers:
luxury ($$$): 3HB Faro This 5-star hotel is located in the heart of Faro. it offers a 24-hour front desk, family rooms, infinity pool and outdoor fireplace, as well as daily buffet breakfast. This hotel offers a paid airport shuttle service.
mid-range ($$): AP Eva Senses This beautiful, 4-star hotel is centrally located in Faro directly in front of a fabulous Faro Marina. It's within easy walking distance from the Faro Train Station, Cathedral of Faro. It offers spacious rooms with minibar and free wifi. You can enjoy local food at Harune Restaurant and pool bar.
budget ($): Hotel 3K Faro Aeroporto Located in Faro, this pleasant, affordable hotel, located just 700 yards from the airport. It's also in close proximity to Faro Beach, Faro Train Station, and Forum Algarve Shopping Centre. There is 24-hour front desk, a garden and a terrace.
🔍FIND BEST HOTELS IN FARO
4. Albufeira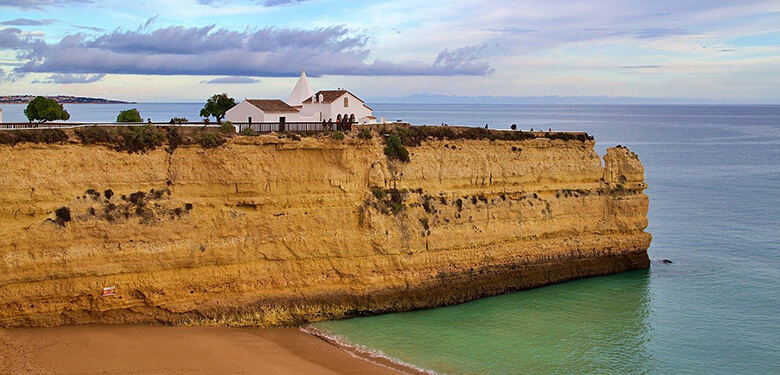 Albufeira is one of the best base to stay in the Algarve for nightlife because it is the liveliest and most energetic of all of the resort towns in the Algarve.
Located in the western part of the Algarve, the party capital of the Algarve, it is a traditional fishing village that has been converted into one of the most popular resort towns in the Algarve.
An abundance of bars, clubs, and restaurants make it an ideal stop for anyone prioritizing nightlife, while activities like water sports will keep your days just as active.
Beautiful beaches provide the opportunity to relax on the sand, topping up your tan or watching the kids play in the water. Boating excursions to explore caves, watch dolphins, or do diving tours also provide a wonderful opportunity for a family day out together.
Some of the best beaches in Albufeira include:
Praia dos Pescadores (fisherman's beach), a sandy spot famous with groups, families, and solo travelers,
Praia da Oura, a golden-sand beach is renowned for its water sports and nightlife,
Praia de São Rafae, famous for its distinctive rocky landscape,
Praia Olhos da Água, a good spot for swimming and seashells picking,
Praia da Falésia, a white sandy beach.
You also have Praia da Coelha, Praia dos Arrifes, Praia da Vila Joya (Xiringuitos), Praia do Castelo, and Praia de Santa Eulália.
In addition to the beaches, Albufeira is home to an interesting old town section. Beautiful, cobbled streets with traditional white-washed houses, and traditional bars and restaurants give you a chance to explore the area's more authentic side.
The main square area, the Jardim Público de Albufeira is the heart of the old town. Nearby, you will find historical sites like the Sant'Ana Church, Igreja de Sao Sebastiao, Clock Tower Albufeira, and the Museum of Sacred Art.
There are also many shops and cafes along Avenida da Liberdade. Or if you want party, check out Candido dos Reis, known as Bar Street by locals, which also filled with gift shops and kiosks.
Albufeira is centrally located in the Algarve, and well-connected to public transportation, including buses and trains, making it one of the best areas in the Algarve without a car.
The east of Albufeira is the Strip Albufeira and Montechoro (New Town). The Strip is a popular place for groups of friends, stag and hen parties, and stretches from the northern end of Albufeira down to the golden beach of Praia da Oura. It is filled with modern hotels, shops, restaurants, bars, and nightclubs.
The west of Albufeira is the vivid Albufeira Marina complex where you can take dolphin watching trips, boat tours to Benagil cave, speed boat tours, and party boats.
Another must-see in Albufeira if you traveling with kids is the Zoomarine. It's a wonderful family marine theme park with dolphins and seals, pirate shows, water slides, and a beach!
Albufeira offers a wide range of accommodation options from budget hostels to luxury hotels. With everything combined, Albufeira is a diverse location, suitable for all visitors from families with children to couples on a romantic trip, and party animals.
Stay In Albufeira If You want lively nightlife; you travel with family, first-timers, and couples; you don't plan to hire a car;
Best places to stay in Albufeira for first-time tourists:
luxury ($$$): Sao Rafael Atlantico This ultra-modern 5-star hotel is only a 10-minute drive by car from Albufeira, overlooking the ocean. It features 2 indoor heated pools, an à la carte restaurant, sunbath decking lounges, an extensive spa, aprivate car parking, and free wifi.
midrange ($$): PortoBay Falesia This 4-star hotel offers direct access to the white sandy Falésia Beach, features a lagoon-style pool with Atlantic views, elegant rooms, and a wellness center. It's within walking distance from the eateries and bars of Olhos de Agua, 3km from the Pine Cliffs Golf Course, and the Balaia Golf Course.
budget ($): Alfagar Village This 3-star hotel with direct access to Santa Eulália Beach; it's a 5-minute drive by car from the lively shopping streets of Areias de São João. The hotel offer an on-site restaurant, swimming pool, garden, and car parking.
🔍FIND BEST HOTELS IN ALBUFEIRA
See more:
5. Tavira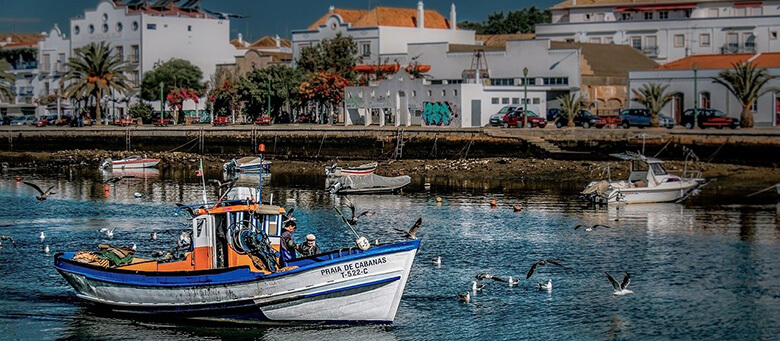 Tavira is an an excellent choice for a family vacation in the Algarve because it offers a perfect blend of natural beauty, cultural heritage, outdoor activities, and family-friendly amenities.
It's a beautiful, tranquil town, set on the banks of the slow-moving Rio Gilão river, and only 30 minute drive by car from the capital Faro, on the eastern part of the Algarve.
Tavira is a walkable town and well-connected to public transport. The bus terminal is conveniently located close town's main square called Praça da República. There is also trains on Rua da Liberdade and in the Porta Nova area.
Tavira has rich history and culture with deep-rooted Moorish influences. Tavira's historic center is mazes of cobbled streets weave in and out of traditional churches and azulejos tiled houses, many containing local shops and restaurants.
The beautiful Tavira Castle is a fabulous example of Moorish architecture, giving you a great view of the area's past. There is also a picturesque Roman bridge, Mercado da Ribeira, and Rua Borda d'Água da Assêca for shopping and dining.
The quiet beach is often filled with various species of birds, allowing you to relax and enjoy the wildlife at the same time. Meanwhile, for those looking for more of an adventure, the Ria Formosa Natural Park lies just off the coast and is a perfect choice for a day trip.
The best beaches in Tavira include:
Praia do Barril, a Blue Flag beach, also a quiet, sandy beach, good for jogging, bird watching
Praia de Tavira, the best beaches for families with wide range of watersport activities
Praia de Santa Luzia or Praira da Terra Estreita, known for its scenic fishing village
Praia de Cabanas, located opposite of the Cabanas Village
Praia dos Tesos, a small beach within the Parque Natural da Ria Formosa
Tavira doesn't have much nightlife, it is the combination of culture and beaches holiday. Due to its relax and quiet atmostphere, Tavira its one of the best bases to stay in the Algarve for a family and couple. In addition, the beaches are safe for children, and many waterparks nearby for kids to play.
Tavira offers a wide range of accommodation from fashionable Portuguese guest houses to resort-style hotels, and apartment complexes.
Stay In Tavira If you travel with family; you prefer a small, quiet, traditional town;
Best places to stay in the Algarve in Tavira for first-timers:
mid-range ($$$): AP Maria Nova Lounge Located in a quiet hillside location, within walking distance of Tavira's bustling town centre, this 4-star hotel has indoor and outdoor pools, private car parking. You can enjoy international food at the on-site Restaurante Balsa By São Sebastian.
budget ($): Residencial Mares This guest house is set in front of Gilão River within Ria Formosa Natural Park, within walking distance from many Tavira's historical sites such as the Roman Bridge of Tavira. The boat service that stops in front of the hotel can take you to the beach of Tavira Island's coastline. There is family rooms, superior double or twin room with river view.
🔍FIND BEST HOTELS IN TAVIRA
🔍FIND BEST HOTELS IN LOULE
6. Carvoeiro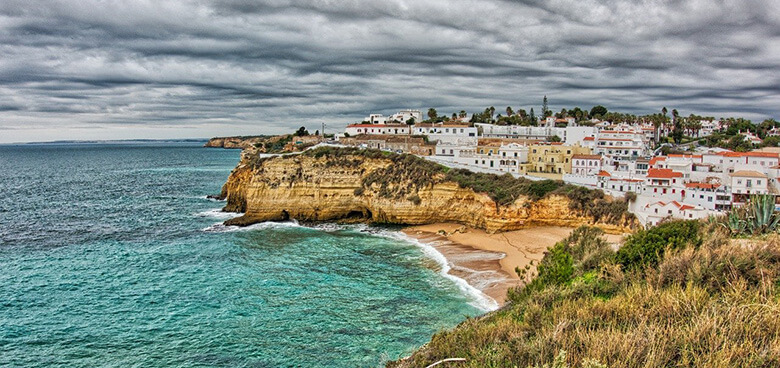 Carvoeiro is a family-friendly resort town with a much more relaxed atmosphere than you might usually expect to find. Set in a traditional Mediterranean village, it perfectly combines authentic scenery, stunning beaches, and plentiful amenities.
It's also a fabulous choice for those who prefer to remain active while they are away. Hiking trails lead off into the cliffs and stunning natural scenery. Meanwhile, waterparks and excursions like scuba diving, kayaking, and paddleboarding will help thrill-seekers get their blood pumping.
With traditional restaurants, accommodation to suit all budgets, and even historic attractions like the Alfanzina Lighthouse, Carvoeiro has something to offer for anyone seeking a Portuguese break, away from the mobs of tourists.
Some of the best beaches near Carvoeiro include:
Carvalho Beach, a sandy cove beach
Vale de Centeanes Beach, a golden sand beach enclosed by sheer cliffs
Vale de Covo Beach, a small, secluded beach, overlooks charming sea caves
Praia do Carvoeiro, an urban beach, small and beautiful
Vale de Centianes Beach, a sandy beach with large rock back drop
Praia de Benagil, is known for for its sea cave nearby, the Benagil Cave
In addition to a calming beach holiday, Carvoeiro is also a great location for active hikers to explore the scenic Seven Hanging Valleys Trail (Sete Vales Suspensos) hiking route. It is a walker's paradise, with a coastal boardwalk stretching from the center to rock formations of Algar Seco.
Getting to Carvoeiro can be difficult by public transport, as car is one of the best way to explore the area. It is the most comfortable way to explore the beaches and its surroundings.
As a popular tourist destination, Carvoeiro has a wide variety of accommodation for all budget raning from luxury to budget options.
Stay In Carvoeiro If you are traveling on a budget, you prefer a quieter location, you want to keep active during your stay.
Best places to stay in Algarve in Carvoeiro:
Luxury ($$$): Tivoli Carvoeiro This 5-star hotel is set in the charming town of Carvoeiro, with lovely views of Vale Covo. It's 5km from Vale de Milho Golf Course, Praia da Marinha, and Slide & Splash Water Park.
Mid-range ($$): Castelo Guest House This guest house is nestled on a cliff above Carvoeiro Beach, with panoramic views of the Atlantic Ocean and Carvoeiro fishing village. Close to Vale da Pinta Golf Course, Zoo Marine Park, Estombar-Lagoa Train Station, and Via do Infante.
Budget ($): Villa Welwitshia This guest house is quietly set apart from the bustle of Carvoeiro fishing town, within walking distance from Carvoeiro Beach and limestone cliffs.
🔍FIND BEST HOTELS IN CARVOEIRO
7. Sagres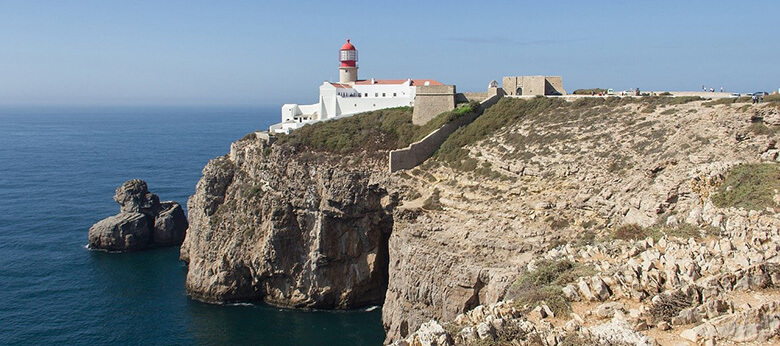 Sagres is a wild and wonderful location in the west of the Algarve. Beautiful cliffs, sandy beaches, deserted roads, and hiking trails make it the perfect choice for those seeking a more natural experience.
The rough waters attract surfers from all over the continent who are looking for an exhilarating experience. Meanwhile, the quiet beaches are ideal for anyone wanting to relax in the sand or water, without being bothered or surrounded by other people.
Sagres is a popular surfing destination in the Algarve with lots of surfing sport. The town has surfing equipment to rent, as well as a surf school. Some of the best beaches in Sagres include:
Praia da Mareta: good for surfing, sighseeing and within walking distance from the town
Praia do Martinhal, a beautiful sandy beach, good for families
Praia do Tonel, good spot for surfing
Praia da Baleeira, located next to fishing habour
Sagres is the location of the Surf Festival, each mid-August, offfering live music and plenty of activities. So, if you in the village at these times, don't forget to check them out.
In addition to surfing, you can explore Sagres Fortress, the 16th century Igreja de Nossa Senhora da Graça Church, São Vicente Cape's cliffs, as well as Baleeira Harbour.
There are plenty of hostels, guest houses and campervan parks. While there aren't many tourist attractions to speak of, fishing trips and a local national park should provide more than enough to keep you occupied throughout your stay.
Stay In Sagres If you love surfing; you aren't worried about traditional tourist amenities, you are a surfer, you want a remote, natural location, you are happy staying in a hostel, guest house or campervan.
Best places to stay in Sagres:
Luxury: Martinhal Sagres Beach Family Resort Hotel This 5-star resort is located 3km from the historic fishing port of Sagre. It offers s boutique-style rooms and villas, the main swimming pool with a stylish wooden terrace, tennis courts, and 3 restaurants.
Midrange; Memmo Baleeira – Design Hotels Set in the green surroundings of the Costa Vicentina Natural Park, with breathtaking Atlantic Ocean views, within walking distance from the historical centre of Sagres, Tonel Beach, and Martinhal Beach, also close to the Fortress of Sagres.
Budget: Mareta Beach – Boutique Bed & Breakfast Situated in the Southwest Algarve and Vicentine Coast Natural Park, Close to Fortress of Sagres, Beliche Beach Surf Spot, Beliche Fortress, and Cape Saint Vincent.
🔍FIND BEST HOTELS IN SAGRES
8. Quarteira
Quarteira is one of the most upmarket destinations in the Algarve, perfect for someone seeking a luxury vacation. Located between exclusive Vale do Lobo and Vilamoura, Quarteira was a small fishing village and one of the first resorts to be developed along the Algarve coast.
Quarteira is also conveniently located in between popular Faro and Albufeira. It is home to many quality restaurants, lively bars, giving you plenty of choice for where to eat out or spend a wild night in the town.
Shops selling designer wares surround a pleasant beachfront promenade of traditional market stalls, ensuring shoppers of all tastes are catered to. The beach promenade is filled with palm trees, and is a popular place fro walking, running, and cycling.
The local fruits markets and fish markets can be found at the western end of the promenade. You can buy local vegetables and fruits here, as well as fresh seafood.
You can find a gypsy market every Wednesday with many stalls selling souvenirs and handcraft. It is recommended to go early because it can be full later and you can practice your bargain skill here.
The fabulous beaches are ideal whether you want to relax and top up your tan or take part in more energetic activity. Praia da Quarteira Beach are always crowded with people in summer, while Praia de Trafal starting from the Carcavai river.
Quarteira is also home to the Aquashow, the largest water park in the Algarve. It is a great place to spend a fun day out with your kids.
There are even golf resorts and regular festivals in the area, making Quarteira the perfect choice if you're seeking a destination where there is always something going on.
The Fisherman's Festival is held in May where you can enjoy typical fish and seafood dishes, and listen to the live music and performances.
Stay In Quarteira If you want to stay in a luxurious area, you are a fan of golf or festivals, you want a choice of world-class dining, drinking, and shopping establishments.
Best places to stay in Quarteira for first-time visitors:
Dom Jose Beach Hotel (Plus) Located directly on Quarteira's beach, with magnificent views of the Atlantic ocean. It's 3km from the golf courses of Vila Sol and Vale do Lobo Ocean. Also close to a golden-sand beach – Forte Novo Beach, a beach party – Vilamoura Beach, Almargem Beach, Praia da Lagoa, Loule Velho Beach, and Praia da Falésia beach.
Aquashow Park Hotel this 4-star hotel is set near the Aquashow Outdoor Water Park, within a short ride from the blue-flag Quarteira Beach and the renowned golf courses of Vilamoura. Also close
🔍FIND BEST HOTELS IN QUARTEIRA
9. Vilamoura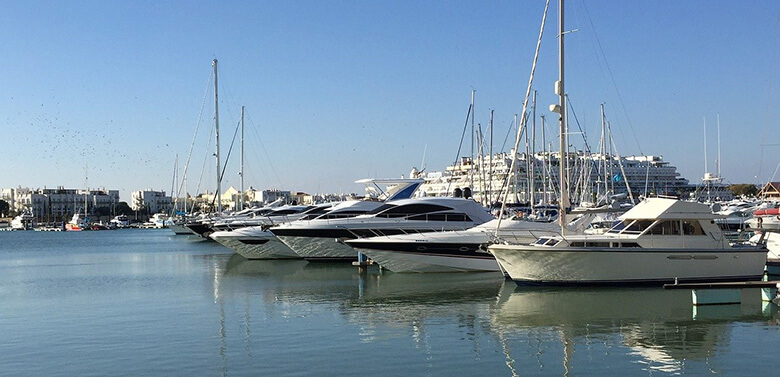 Vilamoura is a popular destination in the Algarve that known for its luxurious resorts, beautiful beaches, and vibrant atmosphere. While having a car can provide more flexibility for exploring the wider area, Vilamoura itself can be a great place to stay even without a car.
Vilamoura is well-connected through public transportation to other towns and cities in the Algarve region. The Linha Verde (Green Line) runs every 30 minutes around Vilamoura and Quarteira. From March to October, Vilamoura has a tourist train that starts at Praia da Marina.
Vilamoura is another exclusive area. Designed as a golf resort, it features multiple golf courses, gourmet restaurants, and five-star resorts. In fact, Vilamoura is probably the most exclusive resort in the Algarve.
A stunning marina complex filled with multi-million dollar yachts gives you an idea of the area's clientele. Combined with some of the best beaches, bars, and nightclubs in the country, this is truly where the rich and famous come to the party.
That doesn't mean you can't enjoy a little culture during your stay too though. The Roman Cerro Da Vila ruins, a quaint fishing harbor and some nearby historic towns and villages give you choices if you don't want your entire stay to revolve around drinking, partying and golfing.
Stay In Vilamoura If you want a choice of world-class bars, restaurants, golf courses and resorts; you want the best beaches; you don't plan to bring a car;
Best places to stay in Vilamoura for first-timers:
Luxury: Tivoli Marina Vilamoura This 5-star hotel offers views of the Atlantic Ocean on one side and Vilamoura Marina on the other. Close to the Roman Ruins Cerro da Vila, Pinhal Golf Course, Água Moments, and Falésia Beach – Rocha Baixinha.
Midrange: Dom Pedro Vilamoura Located within easy walking distance from Vilamoura Beach, Vilamoura Casino, and Vilamoura's lively marina. Also close to renowned Falésia Beach, Vila Sol Golf Course, Millennium Golf Course, The Old Course Golf Club, and Laguna Golf Course.
Budget: Prado Villas Located within a 5minute drive by car from the Vilamoura beach and Vilamoura's centre. it's within walking distance from several restaurants serving authentic regional cuisine.
🔍FIND BEST HOTELS IN VILAMOURA
10. Alvor
Located just a short way from Portimao, Alvor is a much quieter, more relaxed location. Surrounded by marshlands, wildlife, a beach, and a nature reserve, it is a great place to enjoy the natural beauty of the Algarve, whether you want to relax or explore.
Meanwhile, in the town itself, you will find plenty of quaint local shops, bars, and restaurants. Nestled amongst the winding cobbled streets and with small fishing boats docking in the river, it gives you a chance to experience the authentic side of the region.
Considering the efficient public transport links to the larger towns nearby, Alvor is a great place for anyone wanting to experience the bright lights of the big city, without actually having to stay in one.
Some of the best beaches in Alvor:
Praia dos Três Irmãos, famous for its stunning rock formations and the many hidden caves
Praia de Alvor, a beautiful long golden sandy beach, good for walking
Praia Do Submarino, a beautiful beach with amazing rock formations
Ria de Alvor, good for kayaking or paddle boarding, kite-surfing, jogging, and bike ride.
Stay In Alvor If you prefer a much quieter, more rural location, you want to stay near a large city but not in it.
Best places to stay in the Algarve in Alvor for first-time visitors:
🔍FIND BEST HOTELS IN ALVOR
11. Monchique
Monchique is a small charming town, located half an hour from Portimão and about an hour from Faro airport.
Surrounded by the mountain range Serra de Monchiqu, forests and hiking trails, it is known as the greenest town in the Algarve and is ideal for those who want to get out and explore the nature of the region.
As the highest point in the Algarve, Monchique can provide some absolutely stunning views. Meanwhile, hot springs and wellness resorts in the area make it a great place to unwind and pamper yourself, in a scenic, secluded location, away from prying eyes.
The town center can be explore on foot. You can view traditional Algarve architecture houses, visit Largo de São Sebastião, or walk through the Urban Park.
The town is also home a 16th century Monchique's Main Church, Santo António Gallery with exhibitions and concerts, and many shops selling traditional handicraft.
Monchique is well-connected to touristy areas of Portimão and Lagos. You can easy access to the beaches of Praia da Rocha, Praia do Benagil, and Meia Praia.
Stay In Monchique If you want to explore the natural beauty of the Algarve, you want to see stunning views from the region's highest point, you want to pamper yourself at a spa or hot spring.
Best places to stay in the Algarve in Monchique:
🔍FIND BEST HOTELS IN MONCHIQUE
12. Olhao
The community of Olhao is one of the Algarve's main fishing ports, located just a 20-minute drive by car from Faro. The first canning factory was established here with canned tuna and sardines becoming the main source of income of the Algarve.
Olhao is a working town, the restaurants and bars here are packed with local Portuguese. So if you want to experience local life, Olhao is a great base in the Algarve.
As opposed to beaches, the coastal area here is dominated by the Nature Park Of Ria Formosa. Covering 71 square miles, the park is home to numerous habits and species of animals, including a wide variety of birds. It also has many other natural attractions like sand dunes, ponds, and forests.
While nature is certainly the main draw of the area, there are other offerings if that isn't your thing. There are a variety of churches, markets, and a vibrant fishing community that still make this an interesting place to stay if you're looking for a different type of vacation.
You will find the daily red-brick fish market, the Mercados de Olhão, on the waterfront to buy fresh fish just caught from the sea; the Moorish feel of the old quarter with whitewashed houses, and the interesting church of Nossa Senhora do Rosário.
If you visit Olhoa on the second week of August the Jardim Patrao Joaquim Lopes host a festival of food and folk music, the Festival do Marisco. Being one of the biggest fishing port in the Algarve, Olhao is a great place to try fresh seafood such as grilled sardines and steaming shellfish.
Another location that has generally more affordable accommodations with guest houses, bed & breakfast, and self-catering appartments.
Stay in Olhao if you love nature, you aren't too worried about the price, you book your trips well in advance, you aren't worried about normal tourist amenities.
Best Places to Stay in Algarve near Olhao:
luxury ($$$): Real Marina Hotel & Spa is a fabulous, 5-star resort, overlooking both a marina and Ria Formosa Nature Park. The sandy beaches of the islands of Armona, Culatra, and Farol can be reached by ferries within 15 minutes.
mid-range ($$): Hotel Cidade de Olhão is located in the city center and features air-conditioned rooms with modern décor, soundproofing, a private bathroom, and a balcony. The ferry boat to the barrier islands Armona and Culatra of the Ria Formosa Natural Park has located a 10-minute walk away.
budget ($): OlhãOmirante Boutique Guesthouse is a traditional guesthouse, located just 1km from Culatra Island. It provides beautiful rooms all boast a private bathroom, seating area and microwave.
🔍FIND BEST HOTELS IN OLHAO
13. Aljezur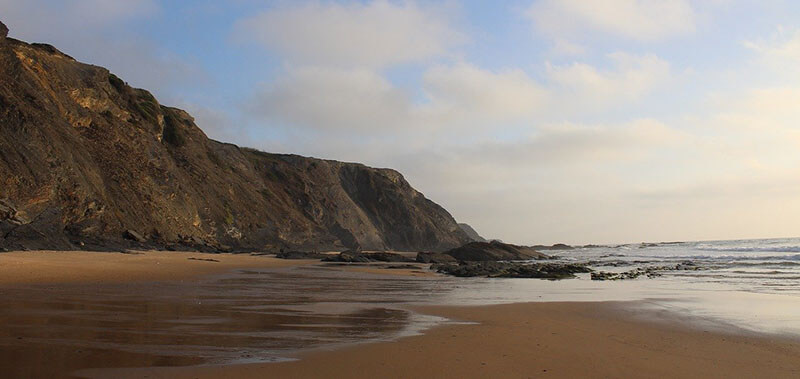 Aljezur is a small town with whitewashed buildings, colored windows, castles atop hills, old churches, and charming views of the ocean. It is located thirty kilometers north of Lagos and is close to some fine surfing beaches on the Atlantic Coast of the Algarve.
The landscape takes yet another turn here, this time to lush green fields and hills. It also features the Southwest Alantejo And Vincentine Coast Natural Park, which stretches from the hills to the golden sandy beaches on the coast.
The main beaches near Aljezur are Praia da Arrifana (good for surfers), Praia do Monte Clérigo, Praia da Amoreira, Praia da Pedra da Agulha, and Praia de Vale Figueiras.
Beyond the natural sights, there are also attractions with historical importance, such as the 10th century Aljezur Moorish Castle, The Church Of Carrapateira, and the 10th-century forts of Ponta Da Atalaia and Ponta Do Castelo.
If you love art and history, make sure to check out The Municipal Museum, Casa-Museu Pinto Jose Cercas, Municipal Art Gallery, and Museu Antoniano.
This combination of scenery and attractions makes it a perfect destination for those who like variety in their vacations.
The accommodation in the area is very reasonably priced, however, there is only a small number of hotels so booking well in advance is essential. Bars and restaurants in the area are also limited, so be prepared for a more local, traditional experience.
Stay in Aljezur if you love surfing; you don't like touristy areas, you like good value accommodation, you like to contribute to the local community;
Best Places to Stay near Aljezur:
Utopia Guest House is a beautiful property, where the comfortable rooms are uniquely decorated in soft colors with stone and wood details. It's located within Southwest Alentejo and Costa Vicentina Natural Park, close to Arrifana Beach, Portimão, and Sagres.
Herdade Quinta Natura Turismo Rural is a beautiful, unique destination, located on 19 acres of land surrounded by beaches, coves, rivers, footpaths and nature parks.
Herdade Monte Do Sol provides beautiful, private villas, located within a nature park, featuring traditional architecture and décor. With a private kitchen, terrace and a number of modern amenities, they are the ideal choice for those looking for a little privacy.
🔍FIND BEST HOTELS IN ALJEZUR
14. Silves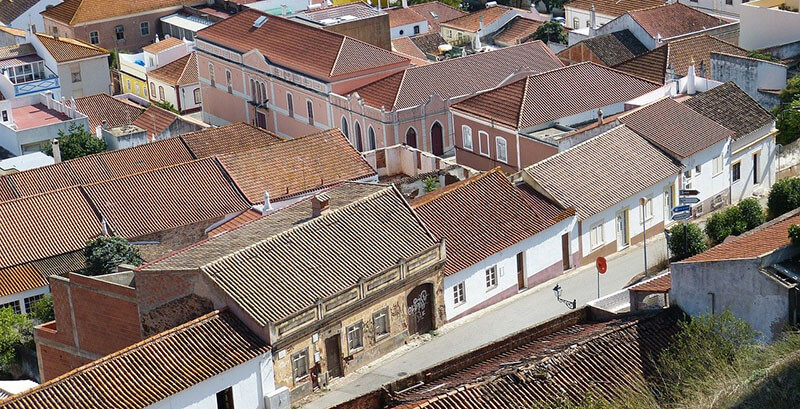 From the current capital to the original, Silves served as the capital when the region was known as the Kingdom Of The Algarve. It was an important trade center during Moorish era.
With most of the region covering land away from the coast, this is a destination much better suited for those looking for history and culture than it is for people desiring a beach vacation.
Its skyline is dominated by the Castle Of Silves, an 8th sandstone fortification that is considered a national monument, which features some of the region's most well-preserved history.
There's also the Cathedral Of Silves, which was originally built as a mosque until the region was conquered in the late 12th-century and it was converted. Featuring beautiful architecture and rich history that will be a memorable visit for any culture buffs.
Beyond these, there are also a number of churches, museums, and even a Medieval bridge above the Rio Arade to keep you occupied for days.
You can take a stroll along its cobbled streets in the historic center, enjoy a drink at its open-air cafes and restaurants. Make sure to bring comfortable walking shoes because the old town is hilly.
It is a great place to experience authentic local life and dishes. If you love wine, you take take a wine tour to Quinta do Francês winery to learn about wine making processes and do wine tasting.
Silves hosts the medieval festival annual on August, where you can see a medieval market place with medieval costumes, traditional food and drinks. It is an unique experience not to miss if you are in town in August.
Despite what you would normally expect in this sort of area, prices on accommodation are still very good, including some very nice private villas in the area. This makes Silves a perfect destination for those often priced out of these sorts of trips.
Stay in Silves if you're interested in history, you love culture, you aren't worried about tourist shops and entertainment, you're looking for good value accommodation, you aren't bothered by beaches.
Best places to stay in the Algarve in Silves for first-timers:
Ponte Romana is a quaint guest house offering twin and double rooms, all boasting cable TV and a private bathroom. This area is good for hiking and golfing. Within walking distance from Misericórdia Church and Castle of Silves.
Vila Sodré Guest House is a traditional villa, offering double and triple rooms, located 10 minutes from both the beach and the mountains. It's close to Carvoeiro beach, Ferragudo beach, Rocha beach, and Silves Train Statio.
Mosaiko Suites boasts bright, spacious, allergy-free suites with vibrant décor, close to top attractions like Misericórdia Church, City Doors, Castle of Silves and Municipal Museum of Archaeology.
🔍FIND BEST HOTELS IN SILVES
15. Alcoutim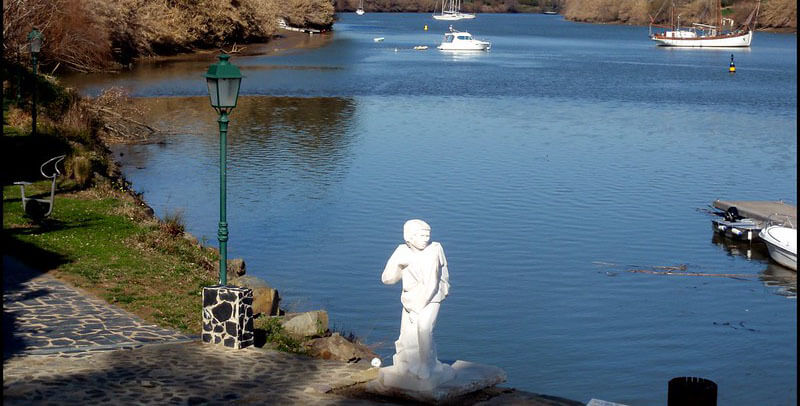 Alcoutim is the Algarve's least densely populated region, featuring a population of around only 3000 people (the lowest in the Algarve), spread out over almost 360 square miles (the fourth biggest).
It is a remote area that is located in the north-eastern region of the Algarve, on the Guadiana River, on the Spanish border.
This makes it a perfect place to travel for those looking to get out and experience the country. Featuring beautiful green hills and forests, the area's main attractions include the spectacular Guadiana River and the 13th century Castle Of Alcoutim.
There are also numerous of churches include the 16th century Church of Nossa Senhora da Conceição and the 14th century Church of Igreja Matriz de Alcoutim.
You can take a stroll along its old streets, take a boat ride along Guadiana river, take a ferry to its neighboring Spanish town of Sanlúcar de Guadiana, or enjoy a drink at one of its riverfront cafes.
The town is also home to a river beach called Praia Fluvial do Pego Fundo which is very popular with locals. There is evena beach bar and beach facilites such as toilet, showers, and umbrellas for rent.
Much like our previous entry, hotels and amenities are extremely limited but what is available is incredibly reasonably priced.
Stay in Alcoutim if you like rivers, you want to keep away from crowds and tourist spots, you like traditional accommodation, you want good value accommodation, you enjoy remote areas with limited people.
Best Places to Stay near Alcoutim: Hotel D'Alcoutim is a small, pleasant hotel, where all rooms feature a private bathroom, desk, flat screen TV and air-conditioning. Close to Nossa Senhora da Conceição Church, Santo António Chapel, and Alcoutim Castle.
🔍FIND BEST HOTELS IN ALCOUTIM
16. Loule
Loule is an authentic Portuguese market town, located about 15 kilometers north of Faro, the most populous region in the entire Algarve. It is one of the best places to stay in the Algarve fro the authentic Portuguese atmosphere.
The main draw of this town is probably the famous municipal market, Mercado de Loulé in the central Praca da Republica. The largest covered market in southern Portugal, with stalls selling a variety of stalls ranging from fresh produce to local handicrafts.
On Saturday, the town becomes more lively when two additional markets are held in the town: a farmers' market and a vibrant gypsy market.
Around the market, you will find busy shopping streets and plazas. There is also the Castle of Loulé – an ancient castle, Church of St. Clemente – a Gothic church, and traditional tradesmen's houses within a maze of alleys of the historic center (the Cidade Velha).
There is even the stunning festival of Noite Branca, to mark the end of summer each year, that if you are lucky enough to be there for is quite a sight to behold.
As with everything in the city, its bars, restaurants, and hotels also feature a wide range, from low cost to luxurious high-end establishments, to make sure everyone is accommodated. You can try very good traditional local food at A Tia Bia and A Quinta restaurants.
Loule is also located within a short distance from popular beaches of Praia da Quinta do Lago, Praia de Vilamoura, Praia de Quarteira, and Praia de Vale do Lobo.
If you love hiking, head to Trilho da Fonte Benémola (walking trail), which is only few minutes drive from Loule. Here you can do picnic with your friends and families.
These facts make it a perfect location for families, those traveling with children or people who just love vibrant nightlife.
Stay in Loule if you like authentic Portuguese atmosphere;
Best Places to Stay in the Algarve near Loule:
Loule Jardim Hotel is a quaint hotel, situated on a quiet square overlooking a park. Within walking distance from Loulé Municipal Market, also close to Train Station Loule and Vilamoura Marina.
Dom Fernando II is a traditional guest house, boasting spacious, sunny, air-conditioned rooms, located in the old market. Each room features traditional furniture, as well as a private bathroom and LCD TV, to combine culture with modern convenience.
Loulé Coreto Guesthouse is a beautiful property, located just 350 yards from Loule Municipal Market. The rooms are all air-conditioned and stylishly decorated, featuring amenities like a private bathroom and flat-screen cable TV, while some even offer city views.
17. Lagoa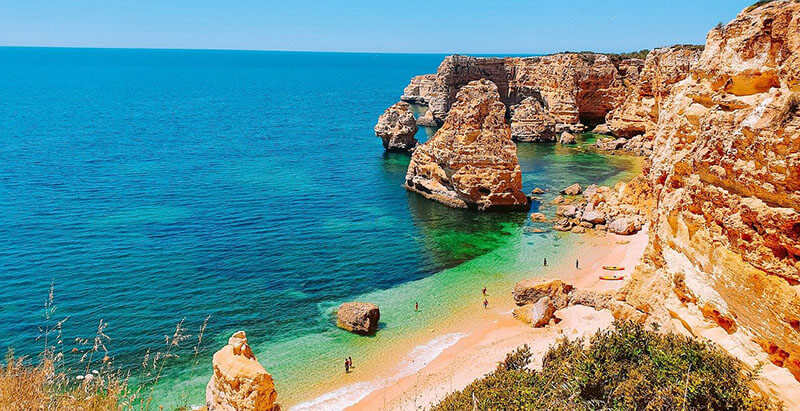 Located 10 minutes inland from the popular beach resort towns of Ferragudo and Carvoeiro, Lagoa is a residential area with a few tourists in the summer months. It is a hill town that used to rise above a lagoon (lagoa), and an important wine-producing area.
The charming old city center of whitewashed houses, cobbled streets, and where you find some of the cultural attractions like the main parish church, dedicated to Our Lady of the Light, and the 18th-Century St. Joseph's Convent.
Lagoa is within a short drive by car from Praia de Benagil, Praia da Marina, and Praia de Albandeira which are some of the best beaches on the Algarve with their honey-colored limestone cliffs and crystal clear water.
In addition, Lagoa is only a 5 minutes drive by car from the popular waterpark Slide & Splash. It is one of the Algarve's biggest water parks featuring a choice of water flumes, chutes, pools, and aquatic fun that should appeal to all ages.
Stay in Lagoa if you love wines; you love beaches, you want less touristy; you're traveling with kids;
Best Places to stay in the Algarve Near Lagoa:
Lagoa Hotel is a stylish, 4-star hotel, surrounded by stunning gardens. An outdoor pool, sun terrace, shared lounge, and free wifi, while there is also a restaurant offering a choice of buffet and continental breakfasts each morning.
Casa Jardim Oasis is a quiet bed & breakfast that also has a private apartment and terrace available to rent as well. All guests receive a complimentary breakfast each morning, as well as access to site-wide Wi-Fi and a shared lounge and pool.
Vacaciones en el paraíso is a private guest house featuring rooms that are simple yet clean and comfortable. You can easily reach many beaches nearby Carvoeiro beach, Portimão, and Rocha Beach.
🔍FIND BEST HOTELS IN LAGOA
Where to stay in the Algarve without a car?
If you travel without a car, I suggest to book hotels at Albufeira, Lagos, Faro, Vilamoura, or Portimao because they are the most popular tourist destination in the Algarve, with plenty of things to do and see within walking distance or easy access by public transport.
The easiest way to get around Algarve is by car. You can bring your own car or rent the car at the airport. There is two main road in Algarve: the national road N125 and the highway A22.
But if you travel without a car, it is possible to get around the Algarve with the combination of train, bus, boat, taxi, uber. Traveling by train is cheap and fun.
The trains in Portugal are operated by Comboios de Portugal (CP). The train connecting the whole Algarve, it pass through Lagos, Portimão, Albufeira, Loulé, Faro, Olhão, Tavira. You can get special discount during summer season.
You can also travel by bus. There are three bus company operated in Algarve include Próximo, Eva, and Frota Azul Algarve. There the bus 16 that take you from Faro airport to Faro. It is about 30 minute and cost € 2.25.
Taxi and Uber are also comfortable way to move around the Algarve. All taxi have meters and you can catch them by to go to a rank or call a taxi to pick you up.
See more:
The Winter season is a low tourist season in Algarve, it will be quiet in smaller towns around December and January. The big resort towns like Albufeira, Lagos, Portimão are the best areas to stay in Algarve in winter.
Once part of the historical United Kingdom of Portugal, Brazil, and the Algarve, it became part of the newly founded Portuguese Republic in 1910 and remains the southern-most region in mainland Portugal.
In conclusion, Lagos, Faro, Albufeira, Portimão, Lagoa, Olhao, Aljezur, Silves, Alcoutim, Loule, Tavira, Carvoeiro, Sagres, Quarteira, and Vilamoura are the best places to stay in Algarve for tourists and first-time travelers.
Deciding on where to stay can definitely be challenging, as there really isn't any bad areas, but hopefully this guide on where to stay in the Algarve, Portugal- the best areas, will have helped you narrow it down and find the right place for you.