Where To Stay In Algarve Portugal: Best Areas and Hotels
Wondering where to stay in Algarve for couples, families, nightlife, or without a car? We'll help you find the best areas and town to stay in Algarve in this guide.
While it's often exciting to seek out new, less popular destinations for a vacation, there are times when you want a tried and true option. A location that has a reputation for providing vacations full of beautiful beaches, fantastic weather, historic sights and welcoming culture. Well, if that's what you're looking for, the Algarve ticks all the boxes and I'm going to help you decide exactly how to plan your perfect trip there.
Where To Stay In Algarve Portugal – The 8 Best Area & Town
Once part of the historical United Kingdom of Portugal, Brazil, and the Algarve, it became part of the newly founded Portuguese Republic in 1910 and remains the southern-most region in mainland Portugal.
Covering an area of just under 2000 square miles, that's home to almost half a million people, the Algarve is divided into 16 municipalities.
With such a rich history, diverse culture, and seemingly endless collection of natural beauty spots, including beaches, forests, and nature reserves, choosing where to stay when visiting the Algarve could be difficult.
That's why the aim of today's article is to help you narrow your search. In fact, we'll be having it, as we narrow down the 16 municipalities into the 8 best areas.
Where to Stay in The Algarve Map
To see more detail on where to stay in Algarve, go to Google Map
1. Faro, Where To Stay In Algarve for Nightlife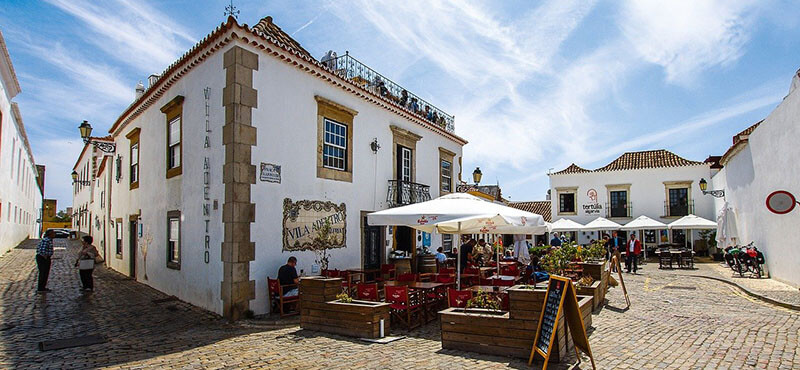 We begin in the capital of The Algarve, Faro. One of the most densely populated regions in The Algarve, Faro is everything you would want from a traditional European tourist hotspot.
The location of the Algarve's international airport, it is the main hub for visitors to it and the surrounding areas.
Featuring beautiful beaches, coastal views, and bars, restaurants, and hotels aplenty, it's perfect for families, especially those with children, and anyone looking for a relaxing vacation in the sun. It also has the vibrant nightlife and wide range of accommodation you would expect from such a location.
For those looking for a little more to explore, there are fantastic locations in the city, such as Estoi Palace and Faro City Hall, as well as hills, valleys, rivers, and lagoons in the surrounding areas to spend your days roaming through the natural landscape in the brilliant sunshine.
YOU SHOULD STAY IN FARO IF:
You love nightlife
You want to be in the thick of things
You like traditional tourist luxuries
You want access to good value accommodation
You want to be close to the airport
You are traveling as a family/with children
Best Hotels in Faro
2. Silves, Where To Stay In Algarve for Culture & History Lovers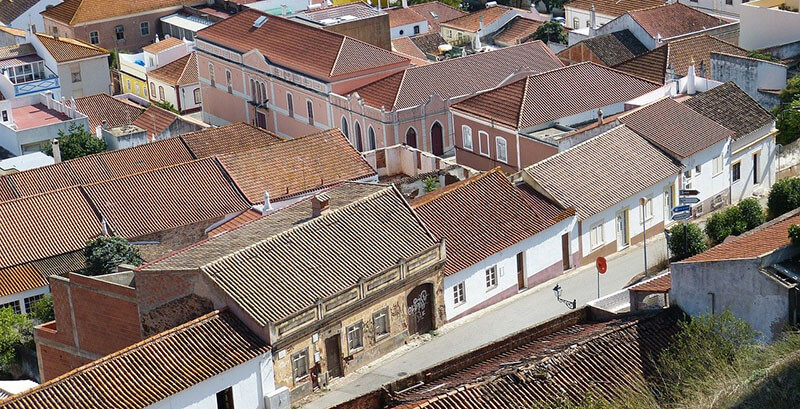 From the current capital to the original, Silves served as the capital when the region was known as the Kingdom Of The Algarve.
With most of the region covering land away from the coast, this is a destination much better suited for those looking for history and culture than it is for people desiring a beach vacation.
Its skyline is dominated by the Castle Of Silves, an 8th century sandstone fortification that is considered a national monument, which features some of the region's most well-preserved history.
There's also the Cathedral Of Silves, which was originally built as a mosque until the region was conquered in the late 12th century and it was converted. Featuring beautiful architecture and rich history that will be a memorable visit for any culture buffs.
Beyond these, there are also a number of churches, museums, and even a Medieval bridge to keep you occupied for days.
Despite what you would normally expect in this sort of area, prices on accommodation are still very good, including some very nice private villas in the area. This makes Silves a perfect destination for those often priced out of these sorts of trips.
YOU SHOULD STAY IN SILVES IF:
You're interested in history
You love culture
You aren't worried about tourist shops and entertainment
You're looking for good value accommodation
You aren't bothered by beaches
Best Hotels in Silves
Ponte Romana is a quaint guest house offering twin and double rooms, all boasting cable TV and a private bathroom. Wi-Fi is available throughout the property and there is even a bar, restaurant, swimming pool, terrace and cash machine on site, to make your stay as comfortable and convenient as possible.
Vila Sodré Guest House is a traditional villa, offering double and triple rooms, located 10 minutes from both the beach and the mountains. One of its main selling points is the gastronomy on offer, as a variety of Portuguese cuisine and a family wine cellar stocking local vintages are both on available for guests to sample during their stay.
Mosaiko Suites boasts bright, spacious, allergy free suites with vibrant décor, all of which are air-conditioned and offer a private bathroom, satellite TV and a number of kitchen appliances. A bar is present on site and a continental breakfast is served each morning, while a shared kitchen is also available for guests who prefer to prepare their own meals.
3. Lagos, Where To Stay In Algarve for Sightseeing
Possibly the most famous destination in the Algarve, Lagos is located on the south-western coast of the region.
Its location made it a perfect port and was the launching point for a number of expeditions to Africa in the 15th century. It also led to it earning the dubious distinction of having Europe's first slave market, built in 1444.
While it has an abundance of historical significance, particularly of the maritime variety, its coastal location also makes it home to a number of beautiful beaches and coves. This makes it a fabulous option whether you're after culture, relaxation, or a combination of the two.
Its accommodation is just as diverse as everything else in the region, featuring both hotels and private villas that vary in price to make it an area accessible to all budgets and interests.
YOU SHOULD STAY IN LAGOS IF YOU:
Enjoy beautiful beaches
Love history
Want a mixture of sightseeing and relaxation
Like secluded coves
Best Hotels near Lagos
4. Lagoa – Best Area to Stay in Algarve for Nice Beaches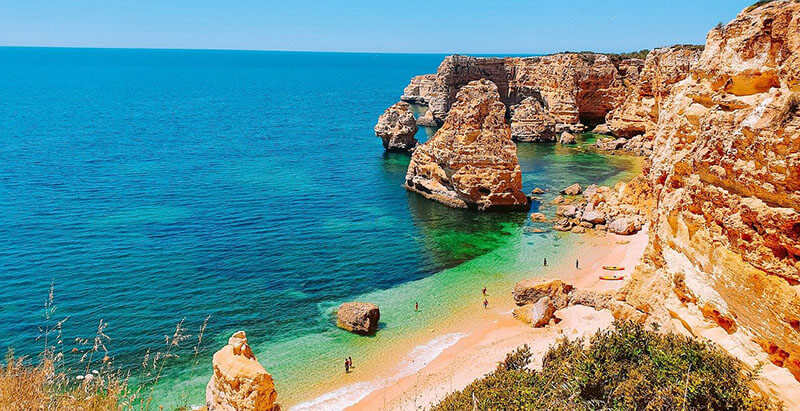 Almost identical in name to our previous entry, the two regions are separated by the municipality of Portimao.
While it doesn't boast quite the same bounty of historical features as its similarly named counterpart, what it lacks in that department it more than makes up for with its beaches.
With the largest collection of beaches in the Algarve, featuring more than 25, some of which are world-renowned, such as Marinha Beach. If it's a beach vacation you're looking for this is undoubtedly the spot for you.
If you don't want to spend your entire trip lazing on the golden sands, there's still a good number of sights to see along this beautiful coastal region, including lighthouses, churches, convents, castles, and forts.
While the area is a little pricier than the others we've looked at so far, there are still a handful or so of more affordable accommodations available, but as you might expect those fill up pretty fast.
YOU SHOULD STAY IN LAGOA:
You love beaches
You like coastal views
You aren't that concerned about price.
You aren't too worried about culture and history
Best Hotels Near Lagoa
Lagoa Hotel is a stylish, 4-star hotel, surrounded by stunning gardens. An outdoor swimming pool, sun terrace, shared lounge and site wide Wi-Fi provide a number of options to keep guests occupied, while there is also a restaurant offering a choice of buffet and continental breakfasts each morning.
Casa Jardim Oasis is a quiet bed & breakfast that also has a private apartment and terrace available to rent as well. All guests receive a complimentary breakfast each morning, as well as access to site wide Wi-Fi and a shared lounge and pool. All units feature their own private bathroom.
Vacaciones en el paraísois is a private guest house featuring rooms that are simple yet clean and comfortable. All the rooms are twin bedrooms that have access to a shared bathroom, while all guests also receive access to Wi-Fi and free on-site parking.
5. Olhao – Best Area to Stay in Algarve for Nature Exploring
Further along, the southern coast lies in the community of Olhao. As opposed to beaches, the coastal area here is dominated by the Nature Park Of Ria Formosa.
Covering 71 square miles, the park is home to numerous habits and species of animals, including a wide variety of birds. It also has many other natural attractions like sand dunes, ponds, and forests.
While nature is certainly the main draw of the area, there are other offerings if that isn't your thing. There are a variety of churches, markets, and a vibrant fishing community that still make this an interesting place to stay if you're looking for a different type of vacation.
Another location that has generally more expensive accommodation with a small number of affordable options, the region as a whole is still developing when it comes to being a tourist destination, so get booked up relatively quickly.
YOU SHOULD STAY IN OLHAO IF:
You love nature
You aren't too worried about the price
You book your trips well in advance
You aren't worried about normal tourist amenities
Best Hotels Near Olhao
Real Marina Hotel & Spa is a fabulous, 5-star resort, overlooking both a marina and Ria Formosa Nature Park. The stylish rooms feature traditional furniture with modern décor and amenities, such as a mini bar and flat screen cable TV. With a range of 2 pools, 2 restaurants, 2 bars, a gym, aerobics room and a spa boasting a hot tub, sauna, Turkish bath and 10 treatment rooms, this is a destination where you will be able to treat and pamper yourself, no matter how you prefer to do so.
Hotel Cidade de Olhão is located in the city centre and features air-conditioned rooms with modern décor, soundproofing, a private bathroom and a balcony. For larger groups there are even studios available that include a kitchen and living room as well. A sun terrace, bar and swimming pool will help to keep your whole party relaxed and entertained, while Wi-Fi is available across the site.
OlhãOmirante Boutique Guesthouse is a traditional guesthouse, where the beautiful rooms all boast a private bathroom, seating area and microwave. An on-site bar and terrace are present to help you relax, while Wi-Fi is available site wide, and a shuttle is offered to take guests to and from the hotel.
6. Aljezur, Where To Stay In Algarve to See Historical Sites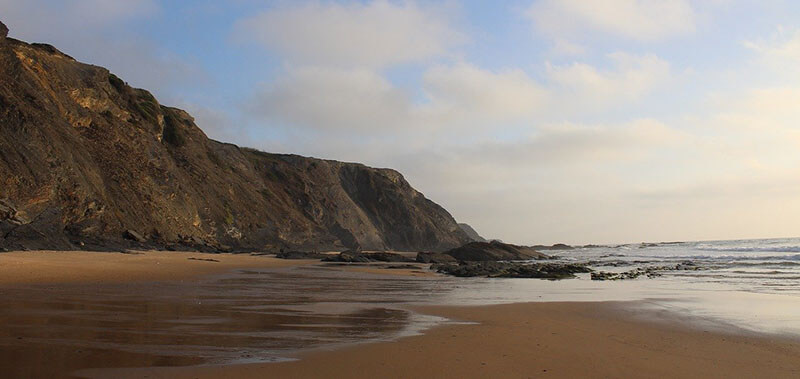 From the southern coast to the western, we move to the region of Aljezur. The landscape takes yet another turn here, this time to lush green fields and hills. It also features the Southwest Alantejo And Vincentine Coast Natural Park, which stretches from the hills to the golden sandy beaches on the coast.
Beyond the natural sights, there are also attractions with historical importance, such as Aljezur's Castle, The Church Of Carrapateira, and the 10th century forts of Ponta Da Atalaia and Ponta Do Castelo.
This combination of scenery and attractions makes it a perfect destination for those who like variety in their vacations.
The accommodation in the area is very reasonably priced, however, there is only a small number of hotels so booking well in advance is essential. Bars and restaurants in the area are also limited, so be prepared for a more local, traditional experience.
YOU SHOULD STAY IN ALJEZUR IF:
You don't like touristy areas
You like good value accommodation
You like to contribute to the local community
You like a variety of landscapes to explore
You aren't worried about traditional tourist amenities
You like historical locations
Best Hotels Near Aljezur
Utopia Guest House is a beautiful property, where the comfortable rooms are uniquely decorated in soft colours with stone and wood details. 2 swimming pools, 2 shared living rooms, a tennis court and a large garden are available for guests to enjoy, as is sitewide Wi-Fi and a daily buffet breakfast.
Herdade Quinta Natura Turismo Rural is a beautiful, unique destination, located on 19 acres of land surrounded by beaches, coves, rivers, footpaths and nature parks. The property features just 4, individually decorated suites, to create an exclusive feeling, which extends to the communal areas of the property like the bar, dining room, kitchen, terrace and lounge.
Herdade Monte Do Sol provides beautiful, private villas, located within a nature park, featuring traditional architecture and décor. With a private kitchen, terrace and a number of modern amenities, they are the ideal choice for those looking for a little privacy. That said, a communal pool, BBQ, bar and buffet are all available for you to use if you choose.
7. Alcoutim, Where To Stay In Algarve Near Rivers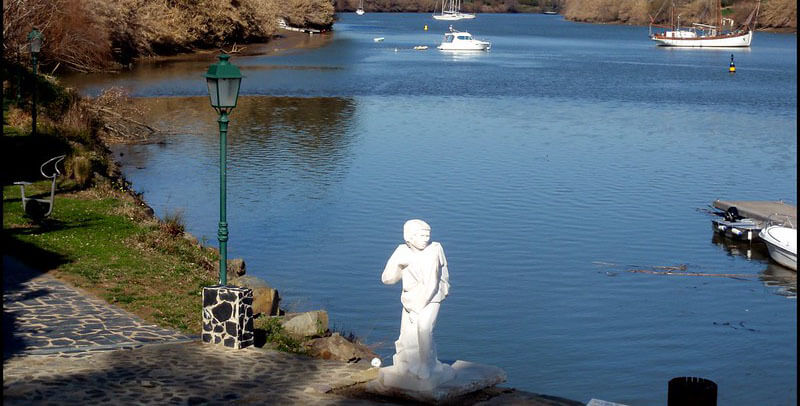 After several coastal destinations, we now move inland, to the north-eastern region of the Algarve, Alcoutim.
Located on the Spanish border, Alcoutim is the Algarve's least densely populated region, featuring a population of around only 3000 people (the lowest in the Algarve), spread out over almost 360 square miles (the fourth biggest).
This makes it a perfect place to travel for those looking to get out and experience the country. Featuring beautiful green hills and forests, the area's main attractions include the spectacular Guadiana River and the 13th century Castle Of Alcoutim.
Much like our previous entry, hotels and amenities are extremely limited but what is available is incredibly reasonably priced.
YOU SHOULD STAY IN ALCOUTIM IF:
You like rivers
You want to keep away from crowds and tourist spots
You like traditional accommodation
You want good value accommodation
You enjoy remote areas with limited people
Best Hotels Near Alcoutim
Hotel D'Alcoutim is a small, pleasant hotel, where all rooms feature a private bathroom, desk, flat screen TV and air-conditioning. A continental breakfast is served each morning, while a restaurant, bar, pool, lounge and free Wi-Fi and parking are all available for your comfort and convenience.
8. Loule, Where To Stay In Algarve for Family
For our last location, we move from the least populated area to the largest, most populous region in the entire Algarve, Loule.
Featuring everything from sandy beaches and beautiful greenery with abundant wildlife to bustling cities and historic monuments, the region of Loule is a popular destination as it's one that has something to offer for everyone.
There is even the stunning festival of Noite Branca, to mark the end of summer each year, that if you are lucky enough to be there for is quite a sight to behold.
As with everything in the city, its bars, restaurants, and hotels also feature a wide range, from low cost to luxurious high-end establishments, to make sure everyone is accommodated for.
These facts make it a perfect location for families, those traveling with children or people who just love vibrant nightlife.
YOU SHOULD STAY IN LOULE IF:
You love beautiful beaches
You aren't worried about crowds
You are traveling with children
You like a vibrant nightlife
Best Hotels Near Loule
Loule Jardim Hotel is a quaint hotel, situated on a quiet square overlooking a park. With air-conditioned rooms decorated in neutral colours and a rooftop pool, sun terrace, bar and lounge, it is a great choice for those who want to relax without breaking the bank. Free Wi-Fi, parking and a Mediterranean breakfast are all also available, to help make your stay as enjoyable as possible.
Dom Fernando II is a traditional guest house, boasting spacious, sunny, air-conditioned rooms, located in the old market. Each room features traditional furniture, as well as a private bathroom and LCD TV, to combine culture with modern convenience. Meanwhile, the on-site restaurant provides a continental breakfast each morning, before switching to a menu that consists largely of fresh, locally caught fish.
Loulé Coreto Guesthouse is a beautiful property, located just 350 yards from Loule Municipal Market. The rooms are all air-conditioned and stylishly decorated, featuring amenities like a private bathroom and flat screen cable TV, while some even offer city views. A welcome kit with water and local cookies is provided upon arrival, while free tea and coffee making facilities are on offer 24/7 in the lounge and Wi-Fi is available across the entire property.
Where To Stay In The Algarve: Tips & Info
So, that's our list of where to stay in the Algarve, Portugal – the 8 best areas. The question now, becomes how do you further narrow your search to make sure you get the best area for you?
Well for starters, allow me to give you a few tips on things to consider when trying to home in on that perfect vacation destination.
Do you like tourist resorts?
Do you have children?
Do you like beaches?
How important is nightlife?
Do you like festivals?
Are you interested in the history of the area?
Do you want to experience the local culture?
Do you like remote areas?
How do you feel about crowds?
Are you interested in nature?
If you take these 10 points into consideration, it should make narrowing down the 10 locations much easier.
Where To Stay In The Algarve For Couples?
If you're looking for a romantic trip to the Algarve there are plenty of great destinations, but perhaps none are better suited than Lagos.
The area features a good combination of historical sites and relaxing beaches to give a nice blend to your trip. Its main selling point for couples though is the variety of secluded coves and lagoons it provides.
Perfect for allowing you to enjoy the beautiful climate and surroundings, without interruptions from any prying eyes.
Best Places To Stay In The Algarve For Families/With A Baby/Toddler?
If you're traveling as a family, especially with small children, you have to be much pickier about your requirements.
You generally need to be around somewhat built up areas so there are facilities nearby in case of an emergency. However, at the same time, you generally don't want to be dealing with huge crowds.
When it comes to the Algarve, that makes Lagoa the perfect destination. A popular tourist area, it has plenty of amenities near by to have you prepared for any eventualities but the number of beaches in the area is so numerous you will always have the option of slightly quieter, more chilled out locations to enjoy.
Best Areas To Stay In The Algarve In February?
The Carnival Of Loule is the biggest and most famous festival in the entire Algarve and takes place in Loule every February.
Spread over 3 days, the festival features stalls, dancing, and parades with extravagant floats throughout the main street of the city.
There is also a masked ball, where guests must dress in that year's chosen theme in order to be granted entry.
If you want to travel to the Algarve to get over those winter blues in February, Loule is the place to go.
Where To Stay In The Algarve In March?
If you're looking for a unique experience on a trip, then a visit to the small town of Alcoutim in March will have you covered.
Home to the Contraband Festival, Alcoutim pays tribute to the pirate history of the region.
Lasting for three days, the festival features a variety of shows celebrating the art, culture, and history of the region and gives you a glimpse of how people in this part of the world lived years ago.
Best Locations To Stay In The Algarve In April?
April can be a strange time to take a trip, as the changing seasons can often make the weather you'll get a little more uncertain. However, if you're planning a trip to the Algarve at that time of year then Aljezur is a perfect destination.
Its vibrant green landscapes will give you beautiful views, as the new spring flowers begin to appear in the fields and forests.
Then in the nearby nature reserve, you're likely to see some young animals from the first breeding season of the new year. A very different yet enjoyable and memorable vacation for sure.
Where To Stay In The Algarve In November?
A less common time to take a vacation, you will usually be looking for something other than a beach break if you choose to take your trip at this time of year. As such, Olhao would be my choice of destination in the Algarve at this time.
Featuring a combination of diverse landscapes and historical locations, this somewhat exclusive location will allow you to gain a true sense of what the area has been and is still like, away from the buzzing groups of tourists you would otherwise be likely to find.
Where To Stay In The Algarve In December?
If you're looking for a Christmas getaway to the Algarve, then Silves is the perfect destination.
For starters, this is a region that's the main draw is history and culture, so the cooler winter weather won't be an issue like it would for a beach vacation.
Then there's also its location near to the town of Guia. This small rural village hosts a two-week long Christmas themed street festival. With numerous exhibitions, activities, and a wonderful market, Guia transforms into the most festive location in the entire Algarve.
As an added bonus, this unique event also costs absolutely nothing to take part in.
Best Areas To Stay In The Algarve Without A Car?
If you're taking a vacation without a car, you'll generally be looking for a location that is close to the airport, has good public transport links, and has a variety of attractions and amenities in close proximity to one another.
When it comes to the Algarve, that perfectly describes the capital city of Faro. It's the location of the airport, has a wide range of tourist hotspots, and has transport links connecting it to the airport as well as other regions of the Algarve and beyond.
Best Towns To Stay In The Algarve For Nightlife?
Similarly to the previous entry, if nightlife is your priority then Faro should be your destination of choice.
Featuring numerous bars, clubs, and restaurants, in one of the busiest and most popular destinations in the region, you can almost guarantee a great night out on the town.
Not only that, the variety means you could have a different experience every night of your trip, so there's no worry about getting too much of a good thing.
How Long To Stay In The Algarve?
The Algarve is one of those locations that just has so much going on that it's hard to narrow down how long to stay.
There are so many historical sites, beautiful beaches, and stunning landscapes that it's impossible to give you an exact answer, as it depends on what you're looking to get out of it.
All I can say though is that to even begin to feel like you've gotten your moneys worth from a trip to the Algarve, you need to spend at least a week there.
Conclusion
There's a reason the Algarve is such a famous and popular destination.
It's vibrant history, gorgeous beaches and exciting culture make it a perfect destination for almost everyone. Whether you want to relax on a beach, go sightseeing, or party the night away, you'll find a location to do just that.
Deciding on where to stay can definitely be challenging, as there really isn't any bad areas, but hopefully this guide on where to stay in the Algarve, Portugal- the 8 best areas, will have helped you narrow it down and find the right place for you.
---
---