Where to Stay in Madeira first time? without a car, for couples, hiking, walking, nightlife, and beaches? In this guide, we will be looking at the best areas to Stay in Madeira (include video and map) and the best hotels in Madeira for all budget travelers.
Located off the coast of mainland Portugal, in the North Atlantic Ocean, 490 miles off the coast of Morocco in Africa, Madeira island is a volcanic archipelago. It has beautiful beaches, natural lava pools, and extraordinary hiking trails.
Where to stay in Madeira?
The best areas to stay in Madeira for tourists and first-timers are Funchal, Machico, Ponta Do Sol, Ribeira Brava, Santa Cruz, Calheta, and Sao Vicente. These are Madeira's most beautiful places that offers a wide variety of tourist attractions and amenities.
Funchal is the overall best area to stay in Madeira without a car because it is the capital and the transport hub of the island. It has by far the most to offer in terms of attractions and nightlife, is located near both a beach resort and the harbor, as well as is extremely close to the airport.
If you want the sunniest place on the island then consider base yourself in Ponta Do Sol, while anyone seeking slightly cooler temperatures will prefer Machico. If you want to stay near the airport, staying in Santa Cruz or opting for Santana if history is your thing.
If you are looking for the best place for hiking, I'd have to suggest staying in Calheta. Known for featuring several of the most stunning trails on the island, this will give you a range of choices, all with stunning views, so you can take a different hike every day of your stay if you wish.
Map of areas and towns in Madeira: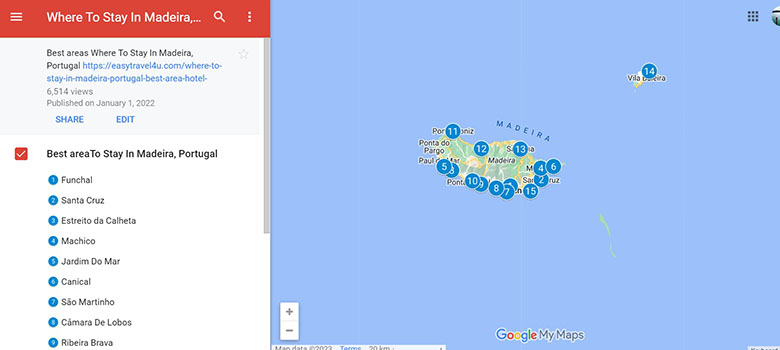 🎬 To get an overall idea of Madeira, check out this video, or continue reading:
The Best areas to stay in Madeira for tourists are:
1. Funchal
Funchai stands out as the perfect destination for first-time tourists, couples, and families of all ages. With its diverse attractions, stunning natural landscapes, vibrant cultural heritage, and an array of activities, Funchai offers an unforgettable experience that caters to everyone's interests and preferences.
With its well-connected to public transportation, Funchal is also the best area to stay in Madeira without a car. You can get to almost everywhere by bus, plus the airport is very close.
Located in the south of the island, Funchal is the capital and most populous city on the island. It is the historic center of the island, which was first settled in the early 15th century and was named after the Portuguese word for fennel (funcho), which grew in abundance in the area.
The historic center and the waterfront area are some of the highlight areas in Funchal, along with the hilltop district of Monte, and the São Martinho. The historic center encompasses Tiago fort, São Lourenço fort, the Se Cathedral, the main shopping street of Avenida Arriaga, and the Old Town.
The old town (also known as Zona Velha) is characterized by narrow cobblestone streets which are lined with old buildings, several historical attractions, and some of the best restaurants and cafés on the island.
In this city's oldest neighborhood, you will find famous attractions like:
Forte de São Tiago
the Cable Car Station to Monte
Farmer's Market (Mercado dos Lavradores)
Madeira Story Centre
The Bordal (Embroidery) Factory
Jesuit College of Funchal
the Feira da Largartixa (Flea Market).
When strolling around the area, especially on Rua Santa Marta, you will encounter many painted doors, which were painted by Portuguese and international artists in The Art of Open Doors program.
From the old town, you can take the cable car right which is at the waterfront to Monte Palace and its Tropical Garden. Monte Palace Tropical Garden is one of the most beautiful gardens in the world.
Here you can also find Igreja De Nossa Senhora Do Monte (Our Lady Of Monte Church) and the Monte Palace Museum. On the way back to Funchal, you must take a 10-minute toboggan ride in Madeira's wicker sledges (Monte Baskets Cars). It is a thrilling experience and unique in the world!
Funchal has plenty of parks and gardens, Madeira Botanical Garden is one of the most beautiful. It is home to a fascinating collection of a wide variety of plants and the Museum of Natural History.
If you are a history buff, you will want to visit some of the interesting museums like Universe of Memories, Frederico de Freitas House Museum, Museum of Photography, Contemporary Art Museum, The Museum of Electricity, and Palácio de São Lourenço Military Museum, Adegas São Francisco wine cellars and museum.
For those of you that don't want to fill your days with history and culture, or simply want some variety in your trip, there is also a wide range of shops, as well as marinas and beach resorts in the surrounding areas.
In fact, perhaps the biggest draw to Funchal is the big city feel it offers. With high-end Madeira hotels, restaurants, and bars, this is an ideal location for those looking to enjoy a city break in the glorious weather, which remains warm throughout the year.
Younger visitors and party animals are drawn in by the nightlife, with bars open as late as 4 am and clubs running all the way to 7 am. No matter whether you prefer your nights wild or sophisticated, Funchal will have something to offer.
You even have a number of famous festivals and seasonal events taking place, from wine festivals and firework displays to the Christmas market.
Madeira is famous for its wine, the wine cellars of Blandy's Wine Lodge will give you the opportunity to explore 200 years of Madeira wine history. It is in a 17th-century Franciscan monastery.
Funchal offers a wide range selection of accommodations for all budgets from backpackers hostels to luxury hotels.
Stay in Funchal Madeira if you are first-timer; you travel without a car; you want a wide range of bars, hotels, and restaurants, and the nightlife is an essential part of your trip.
Best Places to stay in Madeira in Funchal for first-timers:
luxury ($$$): Savoy Palace This is a five star hotel, located in the heart of Funchai. There is outdoor swimming pool, fitness centre, free car parking, and a 24-hour front desk. Guest rooms has air conditioning, a flat-screen TV, safety deposit box, a coffee machine. You will be close to Marina do Funchal, Madeira Casino and Mar Avenue.
mid-range ($$): Quinta Da Penha De Franca This charming guesthouse has 2 outdoor seawater pools, one of which is heated in winter period. You can enjoy food at its two on-site restaurants Joe's Casa de Jantar and Penha França Mar Restaurant. It is only a very short walk from Cristiano Ronaldo's Museum and the Madeira Congress.
budget ($): Santa Maria Hostel Located in Funchal old town, this boutique hostel has an restaurant with both international and local food. There is airport shuttle with fee to Madeira International Airport.
🔍FIND HOTEL DEALS IN FUNCHAL
See more:
2. Santa Cruz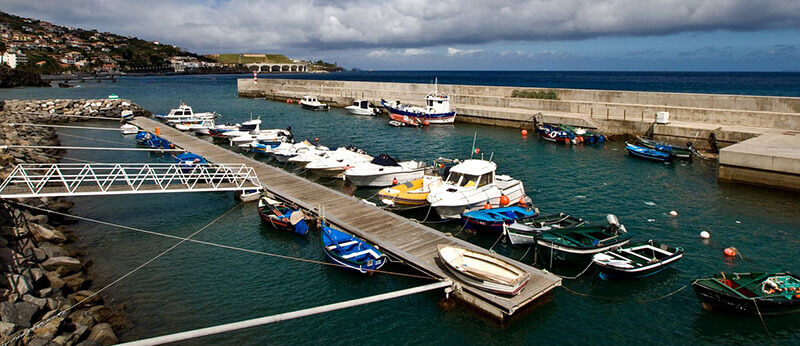 Located on the eastern coast, Santa Cruz is one of the most populous towns on Madeira, it has traditionally been a farming and fishing town, like many on the island. This began to draw a small number of tourists to sample the fresh food and fish on offer in the area, which in turn helped to develop a unique form of tourism.
The locals began producing a mass of traditional wicker baskets and embroidery to sell as souvenirs to people traveling in the region, which gradually grew the numbers of people coming to purchase these iconic gifts.
However, it was when the Cristiano Ronaldo International Airport in the area expanded in 2002 that tourism exploded in the area. Named after iconic footballer Cristiano Ronaldo, a native of the island, this brought a huge influx of tourists to the area, leading to a boom in infrastructure to support this new industry.
Bars, shops, restaurants, beach resorts, and even a golf club, Santo da Serra Golf Club, were constructed, to ensure people continued to visit the area and spend their money. That has allowed it to become a very well-versed destination, with attractions to keep guests entertained morning, noon, and night.
The Madeira Theme Park is a great place for families and kids to spend a fun day out. The water park has a restaurant, fabulous water slides, a fast and a slow river, a black hole among other attractions.
In the main square, you will find a beautiful public garden Jardim Municipal and the Church of São Salvador. This church was originally a small chapel with a Gothic-Manueline style and a Gothic portal. Other interesting churches and chapels are São Pedro Chapel, Chapel of Santa Isabel, Santo Amaro Chapel.
Head to the waterfront area, you can visit the beautiful, 19th century Quinta do Revoredo, House of Culture with a beautiful seaside garden with several dragon trees and a delightful view.
Santa Cruz is also home to some beautiful beaches such as the pebble beach of Praia das Palmeiras, Machico beach, and Prainha Beach.
The Blue Flag beach, Praia das Palmeiras beach is perfect for a family day for its attractions for all ages. It is a pebble beach with crystal clear waters, two swimming pools, one for adults and one for children. It also has good beach facilities like changing rooms, showers, bathrooms, bathrooms, and a first aid station.
Another great place for swimming is the Bathing Complex Ribeira da Boaventura that also has children swimming pools. This complex also includes a small bay between the pools and the nautical area, allowing access to the ocean.
From days golfing and swimming, to walking trips exploring the history and culture of the town, as well as bars and beaches to simply laze your days away, Santa Cruz is the perfect choice to meet your needs, all without ever having to move too far away from the airport.
Stay in Santa Cruz if you are a family with kids or business travelers; you want near the airport, you like tourist amenities and conveniences;
Best Places to Stay in Madeira in Santa Cruz for first-timers:
luxury ($$$): Albatroz Beach & Yacht Club This exclusive, 5-star resort hotel has a freshwater pools, a championship golf course, a tennis court, a car parking, an on-site restaurant that serves both local and Mediterranean cuisine. There are airport shuttles to Madeira Airport, and family rooms.
mid-range ($): Santa Cruz Village Hotel Located in Santa Cruz, this superb, 4-star hotel is one of the most popular in the city. Its outdoor pool, games room, as well as a free private parking if you travel with a car. All rooms are equipped with a balcony, a shower, a private bathroom.
budget ($): Hotel Solar Bom Jesus This stylish hotel features an outdoor swimming pool, a fitness center, a garden, and a sun terrace, free car parking, and an onsite bar. It offers guests rooms with air-conditioned, a desk, a safety deposit box, a flat-screen TV, a private bathroom with a bidet, bed linen, and towels.
🔍FIND HOTEL DEALS IN SANTA CRUZ
3. Calheta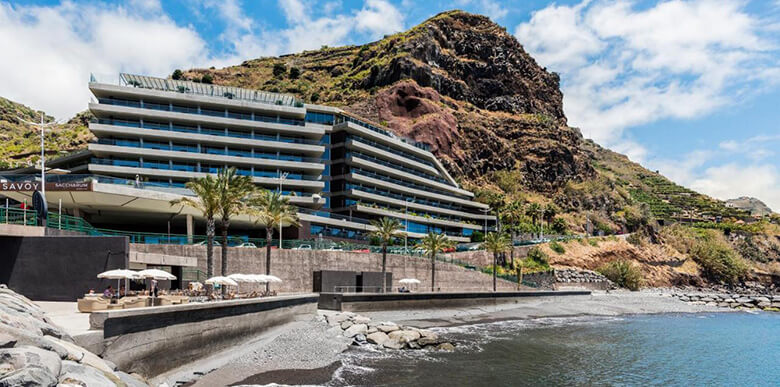 Located on the southwest coast, the sunny side of the island, Calheta, also known as Estreito da Calheta is nestled below high volcanic cliffs. it's a great place to stay in Madeira if you want to chase the sun, beautiful sandy beaches, and hiking trails.
You will find the beautiful, sandy beach at Calheta village, with its waters almost completely surrounded by rocky outcrops. This makes the town a perfect choice for anyone who wants to spend their days lying on the soft sand in a quiet location or swimming in calm waters, which are especially well suited to those who enjoy the water but aren't such strong swimmers.
Calheta beach is a man-made yellow sand beach. It was opened in 2004 and was made of imported sand from Morocco. It's surrounded by bars, toilets, public bathrooms with showers, and a wide variety of watersport activities such as windsurfing, canoeing, and catamaran rental services.
Calheta´s Marina is a meeting and socializing point for locals, filled with restaurants and snack bars.
Calheta is also known for its numerous, stunning hiking trails, up into the hills behind the area. This makes it the perfect choice for anyone who wants to explore the natural beauty of the island, both inland and by the coast.
So, while it doesn't feature quite the same high temperatures year-round as our previous location, it does offer more value for the hikers and sunbathers out there.
Not far from Estreito da Calheta, you can find Jardim do Mar, the best surfing area in Madeira. If you looking for good water sports activities, Jardim do Mar is must visit place.
Calheta is also the center of banana plantations, vineyards, and sugar-cane production on the island. You can learn more about its history in the Museum of Calheta cane sugar factory.
Other points of interest are the Old Sugar Cane Mill, Calheta's parish church, 15th-century chapel Loreto, Capela dos Reis Magos (Chapel of the Three Kings) in Lombo dos Reis, and a modern art center of Casa das Artes.
There are also 25 Fontes (25 waterfalls) at Rabaçal which is just 10 km north of Calheta. Las Levadas de Rabaçal is also amazing place to hike.
Stay in Calheta if you are looking for the best place for beaches and hiking; you want a quiet, traditional location, you want to go hiking on some of the island's most stunning trails; you like outdoor activities;
Best places to stay in Madeira in Estreito da Calheta:
Saccharum – Resort & Spa – Savoy Signature This luxurious, 5-star, beachfront resort is located within easy walking distance from Calheta Marina and Calheta Beach, Paul do Mar Beach is just 6km away. It features a rooftop infinity pool, conference rooms, a buffet restaurant, an à la carte restaurant, summer terraces, barbecue facilities, and four bars.
Calheta Beach – All-inclusive – Savoy Signature This fabulous, 4-star, beachfront hotel offers guests a choice of the ocean, indoor and outdoor pools. Volcanic caves of São Vicente, Porto Moniz Natural Swimming Pools, and Girao Cape are a short drive by car.
Rochão Village This guest house has rooms with air conditioning, a flat-screen TV with cable channels, a kettle, a shower, a hairdryer, and a wardrobe, and a private bathroom with free toiletries.
🔍FIND HOTEL DEALS IN CALHETA
4. Machico
Located on the east coast of the island, 22 km from Funchal, the pretty fishing town of Machico is set in a fertile valley at the mouth of the Machico river.
Close to the airport, well-connected public transport, lovely sandy beaches, and nature, it is a great place to explore the east coast of Madeira.
The area features the third largest population on the island and has many tourist bars, hotels, and restaurants, so you will comfortably be able to find a vibrant experience waiting for you if that's what you're after.
It is also known to feature the mildest temperatures on Madeira. While this doesn't make it the obvious choice for those whose primary goal is working on their tan during the trip, it does make it well suited for anyone looking to enjoy the beauty and culture of the island, without pouring with sweat throughout.
That said, the area does still feature a beautiful beach, and while the temperatures may not be scorching, they are certainly pleasant, making it a good option to take a swim or have fun on the sand for a while.
Praia de Machico has golden sand imported from Morocco, and also the location that Tristão Vaz Teixeira and João Gonçalves Zarco, Madeira's discoverers, first landed in 1419 to claim it for Portugal.
With numerous nature walks or "Levada's" in the area like Levada dos Maroços and Vereda do Larano, as well as the beautiful harbor and scenic views across to Porto Santo, it also makes it an ideal spot for anyone looking to enjoy a laid-back stroll around the island, taking in its beauty and culture as you go.
Machico county also has a couple of viewpoints from which you can take in a sweeping view of Madeira. Pico do Facho and Portela Viewpoint at the end of PR10 has wonderful views over the Machico valley, the Desertas Islands, and Ponta de São Lourenço.
Some of the attractions are Igreja Matriz de Machico (the Mother Church of Machico), the Solar do Ribeirinho, Museu da Baleia, Miradouro da Portela, Levada do Castelejo, Praia da Ribeira de Natal, and Santo da Serra Golf Course.
If you base in Machico, don't forget to check in a beautiful small fishing village further east, Caniçal, with a natural black sand beach and a popular area for walkers and hikers. And in Caniçal, you can also explore the Whale Museum.
Stay in Machico if you prefer milder temperatures, you want to play a round of golf, you enjoy going for walks, you want to enjoy a meal or drink while sitting by the harbor, you want to take in the beautiful coastal views and those of Porto Santo.
Best places to Stay in Madeira in Machico:
🔍FIND HOTEL DEALS IN MACHICO
5. Jardim Do Mar
Located on the western coast of Madeira, Jardim Do Mar (garden of the sea) is a quaint village. Traditional red and white houses are surrounded by colorful plants in hanging baskets and gardens, with a mosaic-covered promenade completing its picturesque appeal.
Jardim do Mar is the best spot for surfing in Madeira. The village offers other interesting alternatives to those who enjoy sports, such as hiking, swimming, and sailing.
In the surrounding areas, you have beaches, vineyards, banana plantations, and stunning, historic churches. Small paths take the tourist across beautiful landscapes, overlooking the nearby Paul do Mar village.
Jardim do Mar has several small rocky beaches, Portinho, Enseada, and Ponta Jardim; and some interesting attractions like the Parish Church of Nossa Senhora do Rosário, the Chapel of Nossa Senhora da Piedade.
This makes it ideal whether you want to relax or go on a sightseeing adventure. While hotels aren't abundant, there are plenty of private guesthouses and apartments available.
Perhaps its biggest draw though is the reputation it has among the surfing community. With its incredible currents offering up fabulous waves, surfers visit the area in their droves, with multiple competitions having been held here throughout the years.
Stay In Jardim Do Mar If you are looking to go surfing, you want to stay in a quiet, picturesque village, you prefer guest houses or apartments to hotels.
🔍FIND HOTEL DEALS IN JARDIM DO MAR
6. Canical
Canical is a small village on the east side of Madeira that is said to be the oldest on the entire island. A location that hasn't embraced tourism, it is the perfect place to get an authentic experience of the region.
Historic churches and museums will let you learn about the culture and customs of the island. The Church of Caniçal and the Chapel of Our Lady of Mercy, the Church of St. Sebastião, and the Whale Museum of Madeira are some of the highlight attractions.
Meanwhile, numerous hiking trails lead off into the stunning surrounding landscapes, helping you experience the area's natural side, either on your own or as part of a guided tour. The most popular routes are the Vereda da Ponta de São Lourenço and the Levada do Caniçal.
The Ponta de São Lourenço and its islets are one of the largest natural reserves on Madeira, a good spot for kayaking or snorkeling. Follow the route from the beautiful Baía d 'Abra to Cais do Sardinha, and visit the Reception House that supports nature watchers along the way.
Another walking route from the viewpoint of Pico do Facho to Ribeira Natal beach. Pico do Facho is a great point to watch planes landing and taking off from the nearby airport, and has a superb view over Machico valley.
You can also hike up to the viewpoint of Ponta do Rosto, a good spot for sunrise with magnificent views on the cliffs of Ponta de São Lourenço.
For those who simply want to relax, a gorgeous Prainha beach with black sand will be a unique experience for many. There is also the pools of Caniçal, or the bathing complex of Ribeira de Natal.
Then there is the great selection of local, family-run restaurants, where you can take the opportunity to indulge in some local delicacies.
If you visit Caniçal in September, you can take part in the Feast of Our Lady of Mercy with thousands of pilgrims in procession, by boat, to the symbolic Chapel of Our Lady of Mercy to pick up the image of Our Lady to the Caniçal church.
Stay In Canical If you want to stay in one of Madeira's oldest villages, you want to experience a black sand beach, you want to try some local delicacies, you don't like crowds or built-up areas.
🔍FIND HOTEL DEALS IN CANICAL
7. Ponta Do Sol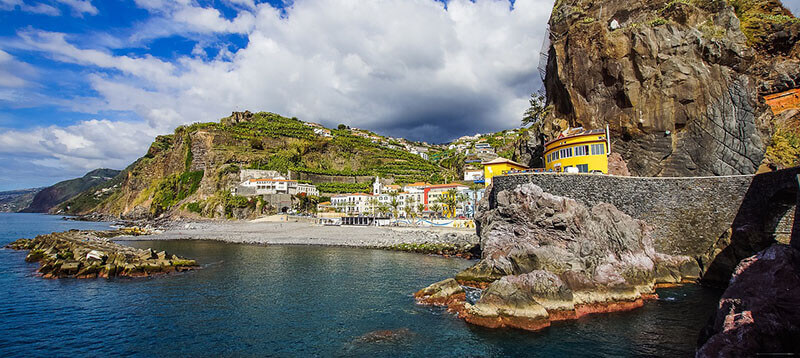 The region of Ponta Do Sol has a name that literally translates to "sun point", due to being the part of the island that traditionally receives the most sun throughout the year. While that may seem ideal for anyone after a beach vacation, particularly outside of the height of summer, you may want to hold on for a second.
While the area does feature warm, crystal clear waters, perfect for swimming, the beaches in the region are pebbled, as opposed to sandy, meaning they aren't ideal for those looking to sunbathe. the beaches are Ponta do Sol, Lugar de Baixo, Anjos, and Madalena do Mar.
The area is instead best known for its fishing and farming industries with sugarcane and banana production, cultivating a great range of fresh produce and trading it, both around the island, as well as using its beautiful port to send the goods further afield.
This has slowly drawn visitors to the area, who are looking to experience a cultured view of the island and see a working village in full effect. This, as often happens, has cultivated a small tourist element in the area, with a number of resorts, restaurants and bars springing up throughout it.
You can explore Paul do Serra (Madeira's highest plateau), the Lugar de Baixo Palace, the church of Nossa Senhora da Luz, Parque Infante D. Henrique, the Subtropical Floriculture Centre, Cultural Centre John Dos Passos, and the Water Clock.
The bridge leading to the Ponta do Sol Pier, Ponta do Sol bridge is a photogenic spot.
Around Ponto Do Sol, you can visit Cascata dos Anjos (Angels Waterfall) Madeira's only free car wash; village of Madalena do Mar with the Banana Route along its banana plantations; Ribeira Brava, one of the oldest towns in madeira;
If you like hiking and walking, have a look at tracks like Levada do Moinho (PR7), Levada Nova, and Rabaçal.
So, while this is certainly not the sort of place to come for a fast-paced, high octane vacation, it is an ideal choice for anyone seeking a more refined, exclusive trip, where you can take in some of the islands most stunning views, enjoy some of the freshest food you are ever likely to taste, or swim, dive and snorkel in its beautiful, warm water.
Stay in Ponta Do Sol if you want a destination that is warm year-round, you prefer a quiet, traditional location; you want a slower pace to your vacation.
Best Place to Stay In Madeira in Ponto Do Sol:
🔍FIND HOTEL DEALS IN PONTA DO SOL
8. Camara De Lobos
Located on the west coast, five kilometers from Funchal, the traditional fishing village of Camara De Lobos. Believed to be the location the first visitors to the island landed on, its name translates to "Sealion Chamber", due to the quantity of them they discovered in the area.
Despite featuring the largest population anywhere on the island outside of Funchal, Camara De Lobos has still managed to remain relatively traditional, as the fishing and fruit farming town it has always been known to be.
Banana plantations, cherry tree orchards, and vineyards are in abundance here, with a large proportion of the island's legendary wine originating in this location.
Being on the edge of such a tourist-heavy area, it has allowed that element to slowly filter across and become just prevalent enough that the town can capitalize on the industry, without having to lose its identity.
Surrounded by a gorgeous bay on the coast of Madeira and the Cabo Girao, the highest sea cliff in Europe, to the rear, the beauty of the town is almost unmatched anywhere on the island.
There are some cultural attractions such as Igreja Matriz de São Sebastião church, Capela de Nossa Senhora da Conceição chapel, and Museu de Imprensa da Madeira.
There are also natuaral attractions include Pico da Torre viewpoint, Curral das Freiras (Valley of the Nuns), Boca dos Namorados, Boca da Corrida, Levada do Norte, and Eira do Serrado.
For anyone looking to sample fresh wines, fruits, seafood, and local poncha, a mix of lemon juice, honey and sugarcane spirit; and take in some breath-taking views, there simply isn't a better place to do it on Madeira than right here.
Stay in Camara De Lobos if you want to experience a traditional Madeiran fishing village, you want to sample fresh fruit, wine and seafood, you want to be near to tourist conveniences, you want to take in the breathtaking views.
Best places to Stay in Madeira in Camara De Lobos:
🔍FIND HOTEL DEALS IN CAMARA DE LOBOS
9. Ribeira Brava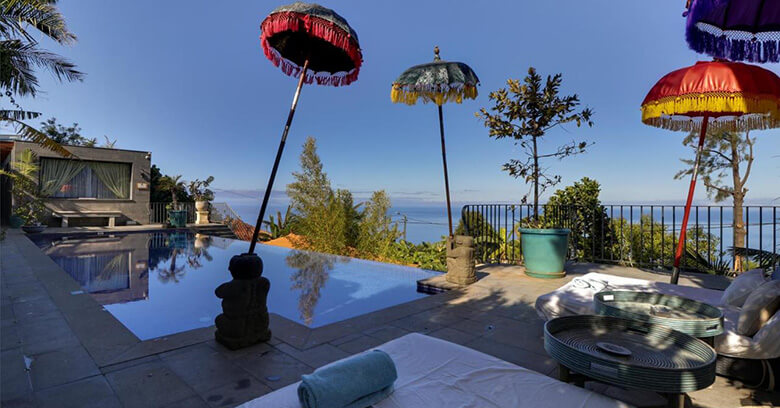 Located on the southwest coast of the island, Ribeira Brava (Wild River) is a destination that gained its name from the river that once flowed through the hills, which translates to an angry or wild river.
A small, seaside town, this is an ideal location for anyone searching for a chilled-out, relaxing destination. Featuring a stunning bay, that only looks better when viewed from the hills above, you can spend your days walking along the ocean, relaxing in the sand beaches of the Ribeira Brava beach complex or Calhau da Lapa.
There is the fantastic range of bars, cafes, restaurants and shops that are dotted throughout the region.
In recent years, the area has also begun to develop, in order to be able to cater more for tourists. This means hotels and resorts, as well as entertainment facilities, such as sports complexes and stadiums such as Madeira Sports Centre, offering a well-rounded range of options during your stay.
Offering the combination of a relaxed small town with more touristic features, yet not having developed the massive crowds, Ribeira Brava is a fantastic choice for people looking for a little bit of everything during their vacation.
This is only furthered by the fact that the capital city of Funchal is only a 20-minute drive by car, further increasing what's available to you during your stay.
Attractions near Ribeira Brava include the fifteenth century Igreja de São Bento Church, the Ethnographic Museum of Madeira, the lighthouse, the Encumeada viewpoint, and the Fort of São Bento.
As an added note, if you happen to be lucky enough to visit the area in the month of June, you will get to witness the St. Peters day festival. This is a time of the year when the streets are filled with music, dancing, and performances, giving you a unique view of the local culture.
Stay in Ribeira Brava if you prefer a more relaxed, small-town location, you want to be situated near the capital city, you enjoy the black sand beaches, you enjoy sports, you want to experience the breathtaking views of the bay.
Best Places to Stay in Madeira in Ribeira Brava:
🔍FIND HOTEL DEALS IN RIBEIRA BRAVA
10. Canico
Located on the southeast coast of Madeira, Canico is your stereotypical Mediterranean resort town, only with fewer crowds.
Beautiful beaches are surrounded by hotels, shops, bars, and restaurants, providing all the convenience you could want, without getting too overcrowded.
The beach itself offers numerous water sports and excursions, perfect for those who want to have an exciting day in the ocean. Beyond the Praia do Garajau beach, there are also the beache of Praia dos Reis Magos.
If you like diving, there are several diving center in Canico including Mero, Atalaia and Madeira Diving Center. It also provides PADI certificates if you want.
Meanwhile, the Caniço Promenade runs all the way to a marine reserve, allowing you to combine shopping and natural beauty in a single afternoon. The Noites da Promenade do Caniço festival take place in September each year on the promenade.
There is also the Garajau Partial Natural Reserve, which is a marine park with a wide range of flora and fauna such as the Epinephelus guaza and Atlantic manta rays (manta birostris). The Cristo Rei Viewpoint with the statue Miradouro Cristo Rei do Garajau, is also must-see.
There's even plenty to keep culture vultures happy as well. Between the winding cobbled streets, historic monuments, traditional buildings, and regular festivals, there are plenty of sights and sounds to help you experience the authentic life of this part of Madeira.
If you are interested in cultural attrations, you can visit Matriz do Caniço Church with both Baroque and Rococo style; the 11th-century Nossa Senhora da Consolação Chapel, Mãe de Deus Chapel, Igreja de São Salvador, and the 18th-century small fortress of Forte dos Reis Magos.
You also have attractions like Palheiro Gardens, Palheiro Golf, Aquaparque, Quinta da Boa Vista, the small village of Camacha, the hiking trail of Levada da Serra do Faial.
Accommodations in Canico are mostly modern 3-star and 4-star hotels and apartments.
Stay In Canico If you like resorts but without the crowds, you are a fan of water sports and activities, you are attending one of the festivals held here.
Best places to stay in Madeira in Canico:
🔍FIND HOTEL DEALS IN CANICO
11. Porto Moniz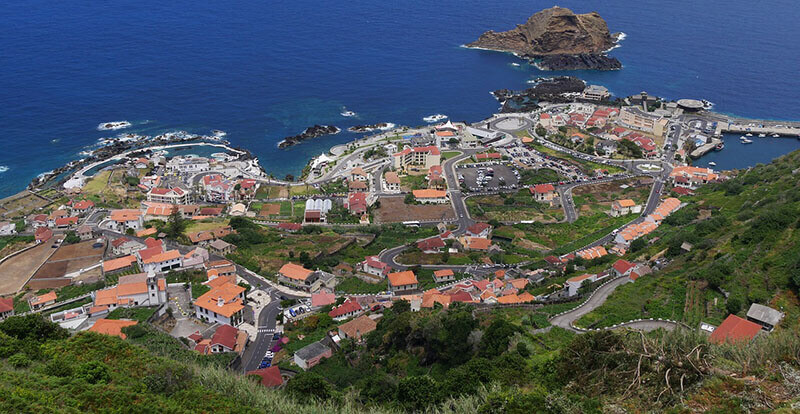 Located on the very north-western point of Madeira, Porto Moniz is famed for its natural swimming pools. The unique lava pools are filled by the rising tide and give warm and safe waters for bathing.
A relatively small settlement, it has gained quite the following over the years for its natural pools. Lava has formed craters that have filled with seawater, making for a unique experience of being able to swim and relax in the crystal-clear waters, without having to worry about depth or the tide.
Frankly, it's even just cool to be able to say you've swum in a pool created by a volcano and many visitors will visit just to be able to have that experience and make that claim. You can find three natural swimming pools filled with saltwater, and one natural black sand beach in the Porto Moniz region.
The lido pools, Piscinas Naturais do Porto Moniz, are safer for swimming with lifeguard supervision. It's best suited for families with children.
The Piscinas Naturais do Aquario is located near the aquarium and the islet of Ilhéu Mole The pools are completely unaltered, you should take care of black basalt rocks which are are sharp and slippery.
Other places for swimming are the Praia da Ribeira da Janela, Praia da Laje in the village of Seixal, Praia do Porto do Seixal, the Piscinas do Clube Naval do Seixal, Calhau das Achadas da Cruz, and Poças das Lesmas.
The pools aren't the only attractions here though, as there are a few other features that many visitors find enjoyable.
First off, there is the stunning forest and waterfall in the valley to the rear of the village. These locations are perfect for people to spend their days ambling through the woods, taking in the stunning natural sights, in the fabulously warm weather.
Then there is also the wine-making and fishing industries that prop up the area's economy. You can grab a meal with the freshest seafood and sample some of the legendary Madeiran wine, right from its source.
Families with children can visit Porto Moniz Aquarium called Aquario da Madeira. It has 12 tanks hold marine creatures.
The aquarium is located in the Forte de São João Baptista de Porto Moniz. It was built from the local basalt stone in 1730 to protect against pirate attacks.
There are several view points (Miradouro) offers stunning views of Porto Moniz. You will see:
the Pico Viewpoint and the Parque de Merendas Viewpoint with the views of the Ribeira da Janela valley,
the Miradouro da Santa with the views of the town, the island, the cliffs and plantations,
the Ribeira da Janela Viewpoint with views of Seixal, São Vicente, and Ponta Delgada.
Miradouro do Teleférico das Achadas da Cruz from the cable cars
Levada da Ribeira da Janela has the views of waterfalls
Stay in Porto Moniz if Great want to experience swimming in pools made of lava, you enjoy walking in forests, you want to see a stunning waterfall, you want to taste fresh wine and seafood.
Best places to Stay in Madeira in Porto Moniz:
🔍FIND HOTEL DEALS IN PORTO MONIZ
12. Sao Vicente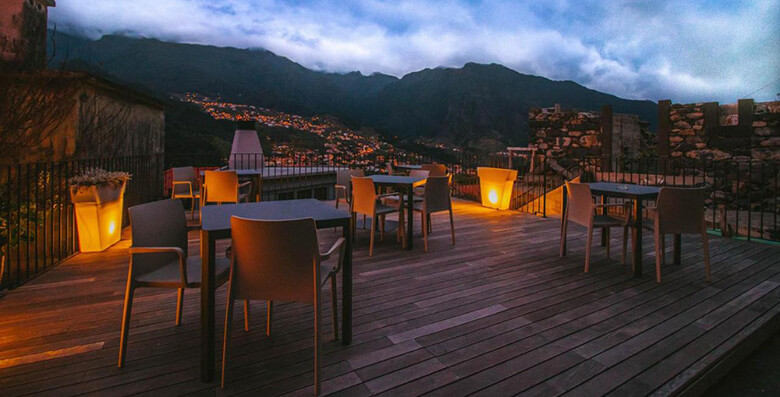 Located on the north coast of the island, between Santana and Porto Moniz, the coastal town of São Vicente is famous for its volcanic caves, the church that poses prominently atop a basalt rock at the mouth of the river.
A picturesque seaside town, the appeal to this area is one that revolves less around beaches and tourism, instead of being more focused on the history, culture, and natural beauty of the island.
Lavish 13th-century manor houses are dotted around this vibrant destination, showing clear depictions of the type of thriving area Sao Vicente has been in the past. There's even a beautiful chapel to demonstrate the religious history of the town.
In the center of the town stands the 17th century São Vicente's main church, dedicated to Saint Vincent. There is also small symbolic chapel down the valley and in Pico da Cova with a 14 metre high Chapel tower and a clock built in 1942.
Now filled largely with the local, working-class people, it gives you a chance to fully embrace their culture, spend time in their traditional bars and restaurants, and see how it has progressed and changed over the years.
The area is also incredibly beautiful, with an abundance of greenery and vegetation meaning it relies less on beaches and coastal views than some other parts of the island.
Attractions nearby you can explore are the Bathing Complex of Ponta Delgada, the Laurel Forest, and the Indigenous Garden.
Admittedly, Sao Vicente is more of an acquired taste than a few of the other destinations we've looked at, but it certainly has a charm all of its own and is ideal for those looking for that cultured, historic, traditional vibe on their trip.
Stay in Sao Vicente if you want to take in the culture of the area, you prefer greener, more natural areas, you are interested in the historic manor houses located here.
Best places to Stay in Madeira in Sao Vicente:
🔍FIND HOTEL DEALS IN SAO VICENTE
13. Sao Martinho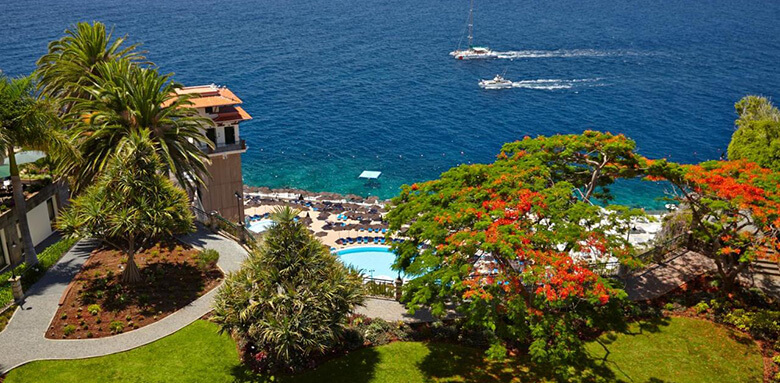 Located just to the southwest of the city of Funchal, but still, in the Funchal Municipality, Sao Martinho makes up the coastal part of the city's metropolitan area.
São Martinho is centered around the black sand and pebbles beach of Praia Formosa and the Complexo Balnear do Lido, Lido Bathing Complex. This is the area where the majority of the big hotels of the Autonomous Region of Madeira are based.
The waterfront area offers a wide range of bars and restaurants and for those who like to shop, you will find two of the largest shopping centers on the island, the Madeira Shopping and Forum Madeira.
There is also the small chapel of Igreja de Sao Martinho, also known as the Church of St. Martin. Construction originally started on the church in 1883, to replace the previous church, which was now deemed too small for the area. However, lack of funds halted progress for almost 25 years, until a local parishioner bequeathed his substantial fortune to the church upon his death.
It has now become an iconic landmark on the island which, while beautiful in its own right, combines with its hilltop location to provide an out-of-this-world vista. If you visit at the right time of year, it even hosts the fabulous St Martins Day festival, which really helps to bring both the church and the area as a whole to life.
The other popular attraction here is the stunning harbor, which is considered to be one of the most spectacular in the entire world. The main port on the island and one of the most popular among European cruise tours, large ships can be seen sailing in and out on a daily basis.
Whether you fancy taking a cruise yourself, are docking on the island while already on one, or simply enjoy sipping a drink in a bar and watching the boats float across the waves, this is a fantastic option for you to choose.
You will also find Salir do Porto with its famous massive sand dune where you can surf and sandboard. If you stroll along its boardwalks, you can encounter many local wildlife and birds, and the Tornada river to Praia de Salir.
Stay in Sao Martinho if you want a range of clubs, bars, shops, restaurants, and hotels, you are planning to take a cruise or making a stop while already on one, you want to visit the Church of St Martin or attend its festival.
Best places to stay in Madeira Sao in Martinho:
🔍FIND HOTEL DEALS IN SAO MARTINHO
14. Santana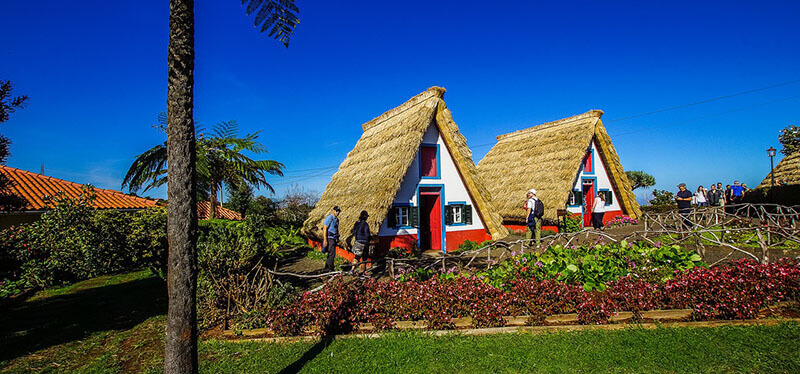 Located on the North Coast of Madeira Island, the whole municipality of Santana is designated as a UNESCO Biosphere Reserve. It contains six parishes including Santana, São Roque do Faial, Faial, Ilha, São Jorge and Arco de São Jorge.
The town of Santana is famous for its traditional, timber-and-thatch palheiros houses. The village was named after St Anne, the mother of the Virgin Mary. In the in the center of Santana stands a baroque style, sixteenth century Chapel of Santa Ana (Santana Parish Church).
For years, people visited to see the traditional homes of the island. White buildings, with red doors, blue-trimmed windows, and sloping, triangular, straw-covered roofs. These dwellings had long been inhabited by local farmers and fishermen, giving visitors the opportunity to see how they have lived over the years, first-hand.
Santana is also famous for its arts and crafts, especially bordado da Madeira which is a type of embroidery. You can grab tablecloths, place mats, and tea towels at souvenir shops.
As the number of visitors grew, the area took advantage of it and created a number of hotels, bars, restaurants, and shops in the area, to ensure the visitors were well catered for. However, in October 2004 those efforts went into overdrive, with the creation of the Madeira Theme Park in the area.
Covering over 7 acres, Madeira Theme Park has been designed to show visitors the culture, history, and traditions of both Madeira, as well as the neighboring island of Porto Santo. Exhibits have been designed to show off the history of the area, with artifacts relating to the culture and daily lives of the local people included in many.
Another scenic beauty spot is the Natural Reserve of Rocha do Navio, which is set between Ponta de São Jorge and Ponta do Clérigo. You can visit by cable car or through Miradouro da Rocha do Navio.
You will see Queimadas, the beginning of Madeira splendid levada walks in the direction of Caldeirão Verde, known as the Green Cauldron. There are also pedestrian trails of Vereda do Pico Ruivo, Levada do Rei.
This intentionally historical draw, combined with the tourist conveniences on offer, makes Santana a totally unique experience and one that is perfectly suited to people looking for a vacation that includes both of those elements.
Stay in Santana if you are interested in learning about the culture and history of the island; you like beautiful scenery; you want to see genuine historical artifacts and buildings, first-hand.
Best places to Stay in Madeira in Santana:
🔍FIND HOTEL DEALS IN SANTANA
15. Porto Santo
The second largest island of the Madeira archipelago, Porto Santo (the Golden island by the islanders) may seem a little strange, as it isn't actually located on Madeira. Instead, it is a small island just off its coast.
It was discovered by Portuguese navigators, João Gonçalves Zarco and Tristão Vaz Teixeira in 1418.
The reason I'm including it is to provide an out-of-the-box type of choice for you, as well as because it's a popular excursion for people staying on Madeira. With daily flights and ferries to the island, it makes for one of the longer, more unique options available.
Located 27-miles off the coast, the island is known as a tourist paradise. It features high-end resorts, beautiful sandy beaches, a wide variety of bars, shops, and restaurants, as well as even having its own 27-hole golf course Porto Santo Golf, small chapels and churches.
In the island's capital, Vila Baleira, you will find Largo do Pelourinho, the Infante Gardens, palm tree and bougainvillea lined streets, Chapel of the Holy Spirit, and the 17th century Church of Nossa Senhora da Piedade.
You can also take a stroll around its two short walks with beautiful views of the island on Vereda Pico Branco & Terra Chã, and Vereda do Pico do Castelo.
Fans of museums will find Christopher Columbus House on the Northwest side near the coast, and the Museu Cardina to learn more about the history of trade and agriculture from the island.
The 9 km long beach of soft golden sand is a paradise for the bathers. Praia da Fontinha and Praia do Penedo are probably the most visited ones on the Southern side of the island, however, you also have Praia do Cabeço, Praia das Pedras Pretas, Praia da Calheta, and Madeira Island Beaches.
There are plenty of activities for outdoor lovers such as diving, windsurfing, kite surfing, water skiing, mountain biking, or play golf at the Porto Santo Golf.
Families with children can spend a fun day at Quinta das Palmeiras (Palm Tree Farm). It has a mini-zoo and mini-botanical garden. You can also check out the Fonte da Areia islet, the Morenos picnic spot, or dive at Zimbralinho cove.
Porto Santo hosts few festivals during the year such as Festas de São João (Midsummer Festival) and Festa das Vindimas (Grape Harvest Festival).
Despite all of this, due to its remote location, it attracts considerably fewer visitors than you would normally find in such a place. This gives it an air of exclusivity, where you can come to enjoy all of the tourist luxuries you could imagine, all while still being able to relax is a serene destination, without being surrounded by mobs of people.
Stay in Porto Santo if you want a quiet and isolated beach resort, you like traditional tourist amenities, you fancy playing some golf, you are ok with not staying on the main island of Madeira, you want an exclusive destination.
Best places to Stay in Madeira in Porto Santo:
🔍FIND HOTEL DEALS IN PORTO SANTO
Where should I stay in Madeira for the first time?
Funchal is the best area to stay in Madeira for first-timers because it is the capital city of Madeira and it offers the widest range of accommodation options. If you stay here, you will be located in the middle of everything, within easy access to major sights, as well as many restaurants, bars, and shops.
What are the best areas to stay in Madeira?
Funchal, Machico, Ponta Do Sol, Ribeira Brava, Santa Cruz, Calheta, and Sao Vicente are the best areas to stay in Madeira because they are the most popular neighborhoods for tourists that offer a wide range of attractions and amenities.
See more: Frequently Asked Questions about Best Places to Stay in Madeira
Where to stay in Madeira Without a Car?
Funchal is the best area to stay in Madeira without a car. With its excellent public transportation, diverse range of accommodations, stunning coastal views, and proximity to attractions and amenities, Funchal ensures a convenient and memorable stay in Madeira.
When booking accommodation, make sure to check its proximity to bus stops or other public transportation options to ensure convenient access to attractions and other parts of Madeira.
The most convenient way to get around Madeira is by car. When you traveling with a group, it's best to rent a car. There are many rental agencies available around the island. Driving on the hand side and you need to be a confident driver to drive a car as the road can be steep and narrow.
If you dont plan to hire a car, don't worryy, there is so many other public transport options such as Cable car, taxi, and buses.
The cable car lines run between Funchal and Monte. It is great way to enjoy the stunning view across the island. You can also catch a Toboggans down hill from Monte. It is a must try tourist mode of transport.
You can also travel by bus. Bus routes are dotted around the island. They are reliable and affordable. There are three main companies that offer services around the island: Horarios (yellow and silver buses), SAM (green and white buses), and Rodoeste (white buses with red stripes). They all stop in Funchal.
Another way of exploring Madeira is by foot. There are lots of walking and hiking trail around the island.
See More:
In conclusion, Funchal, Machico, Ponta Do Sol, Ribeira Brava, Santa Cruz, Calheta, and Sao Vicente are the best places to stay in Madeira for tourists and first-time travelers.
Overall, Funchal is the best area to stay in Madeira for first-timers and car-free travelers because it is the capital of Madeira, home to some of the best hotel, dining, an nightlife. Staying here allows you to be located in the heart of action, close to many restaurant, shops, and bars.