Where you stay in Costa Rica can make or break your experience there. So before you book your trip to this amazing destination, read on for the best areas to stay in Costa Rica!
Costa Rica is one of the southernmost countries in Central America. Considered to offer the highest quality of life and greatest levels of development in the region, it is rapidly developing a reputation as a tourist destination.
With beautiful beaches, towering volcanoes, incredible national parks and nature reserves, as well as wonderful towns and cities, Costa Rica is a place that truly offers something for everyone.
More about Caribbean seas destinations: Where to stay in Jamaica, Where to Stay in Puerto Rico
Before we begin, I want to give you some tips and info. These will be things that you need to consider if you want to make sure you select the perfect place to stay in Costa Rica.
Firstly, anyone wanting to stay in a busy, built up area will want to opt for the capital city, San Jose. It features the abundance of facilities and amenities those seeking the upmost convenience will desire.
On the other hand, those looking for a remote, traditional experience will prefer Montezuma. Ideal for backpackers or those on a budget, you can live amongst local villagers and get a true sense of authentic Costa Rican life.
If an idyllic beach vacation is what you're after, perhaps look at somewhere along the Papagayo Gulf. However, if you want a distinctly Afro-Caribbean feel to things, then you have to go for Cahuita.
There will be those who want to explore Panama as well as Costa Rica during their stay, for whom I would recommend Puerto Viejo. Meanwhile, others will be more interested in scaling volcanos or exploring national parks, where La Fortuna and Jaco are great choices, respectively.
If you keep these and similar issues in mind while reading, it will make choosing where to stay in Costa Rica as straightforward as possible.
📌 16 Best Areas To Stay In Costa Rica
So, now you know exactly what to look for, I'm going to show you what I feel are the 16 best areas to stay in Costa Rica. This will hopefully give you everything you need, to make sure your trip goes as smoothly as possible.
1. 💖San José, where to stay in Costa Rica to see everything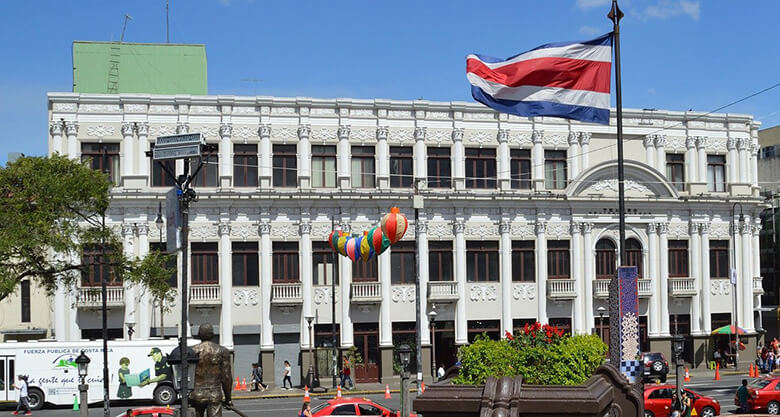 San José is the largest, most populous and capital city of both the Costa Rica San Jose province and Costa Rica as a whole. It is named in honour of Joseph Of Nazareth and is located at the very heart of the country. Among all Latin American cities, San José consistently ranks among the safest.
It is known to offer a high quality of life, incredible environmental performance, and is filled with recognised institutions and public services. This makes San Jose equally ideal whether you want to stay in an eco-friendly hotel or one of the finest Costa Rica resorts available.
Downtown San Jose is the most popular area of the city for visitors. Amenities like shops, bars, restaurants and hotels are abundant, allowing you to stay how you choose no matter your taste or budget. Meanwhile, the list of attractions present in the city are just as extensive.
For those who love live performance art, San Jose has a great collection of theatres and auditoriums, such as The Melico Salazar Theater and The National Theater Of Costa Rica. Both host world class dramatic performances, while the latter is considered the most historic building in San Jose.
San Jose also has a fabulous collection of museums on offer. The Children's Museum, The Museum Of Contemporary Art & Design, The Museum Of Costa Rican Art, The Museum Of Jade, The Museum Of Pre-Colombian Gold, and The National Museum Of Costa Rica are just some of the options.
There's even plenty of choice for people who want to spend their time outdoors while in San Jose as well. The Simón Bolívar Zoo and the Culture Square plaza allow you to take a stroll and learn about the animals, history and architecture of San Jose.
Meanwhile, there is a collection of parks that includes Central Park, La Sabana Metropolitan Park, Morazán Park, Peace Park, Okayama Park, and The National Park. This is perfect for those days when you want to roam about, relaxing without a care in the world.
Despite all it has to offer, one of the main reasons many people choose to stay in San Jose though is simply convenience. San Jose airport is the largest international airport in the country, as well as one of only two, the other being Liberia International airport in Costa Rica's northwest corner.
This makes San Jose an ideal place to stay in Costa Rica for anyone wanting to remain near the airport. This is especially helpful for anyone worried about missing their flight, stopping on a layover, or who simply wants to avoid dragging their luggage all over the city.
Stay In San Jose If you want to stay in Costa Rica's capital city; you want to stay near San Jose International Airport; you are on a layover or short stop; you are a fan of museums, theatres, parks, or plazas; you want all the amenities and accommodation options you could dream of nearby.
Best places to stay in San Jose:
Best luxury hotel: Barceló San José This 5-star modern hotel is located in a quiet area of San José, offers an outdoor pool, tennis court, 3 restaurants, an on-site bar, a spa with a fitness center, hot tub, a shuttle to and from the airport which must be booked 24 hours in advance. It provides air-conditioned rooms with carpeted floors, flat-screen TV, views of the city or mountains, and a coffee-maker and minibar.
Best mid-range hotel: Auténtico Hotel This 4-star hotel features elegant and simple rooms with air conditioning, a cable TV, a coffee machine, a private bathroom with a hairdryer, and free toiletries. Close proximity to Costa Rican Art Museum, Metropolitan Cathedral, National Theater of Costa Rica, Pre-Colombian Gold Museum, and Juan Santamaría International Airport.
Best budget hotel: Fleur de Lys This 3-star hotel has a terrace, gardens, buffet breakfast, a restaurant, and free wifi. The rooms are decorated with local artwork, a cable TV, free WiFi, and a private bathroom.
🔍CHECK BEST HOTEL DEALS IN SAN JOSE
🎬Check my virtual tour of the best places to stay in Costa Rica in this video:
2. Cahuita, where to stay in costa rica to see wildlife, best beaches
Cahuita is located on the east coast of Costa Rica, on the Caribbean Sea. As a result, it has a distinctly Afro-Caribbean feel to it that isn't present elsewhere in the country. This is particularly obvious in its cuisine, which boasts a range of grilled chicken and desert crepes filled with local fruit and chocolate.
Its collection of stunning beaches gives you a range of places to relax and have fun in your own tropical paradise. The cream of the crop is a picturesque black sand beach, known as Playa Negra. While it's located just outside of town, it is more than worth the trip.
Many of the beaches are quite secluded, giving you plenty of peace and privacy. However, this is often because they aren't accessible by road, so you will need to either walk or rent a 4×4 to reach them.
Other things in the area that regularly draw visitors are natural attractions, such as Cahuita National Park and the Jairo Mora Sandoval Gandoca-Manzanillo Mixed Wildlife Refuge.
Combined, they cover over 130 square miles, where you can walk, swim and snorkel, to see all manner of wildlife. Crocodiles, monkeys, tapirs, caimans, snakes, lobsters, butterflies, tamanduas, pacas, coatis, racoons, sloths, agoutis, turtles, whales, and all manner of fish and birds are just some of the species you may stumble across.
Stay In Cahuita If you want to visit one of the wildlife parks in the area; you want a great choice of beaches, including those with black sand; you want an area with a distinct Afro-Caribbean vibe.
🔍CHECK BEST HOTEL DEALS IN CAHUITA
3. Puerto Viejo, best area to stay in Costa Rica for surfing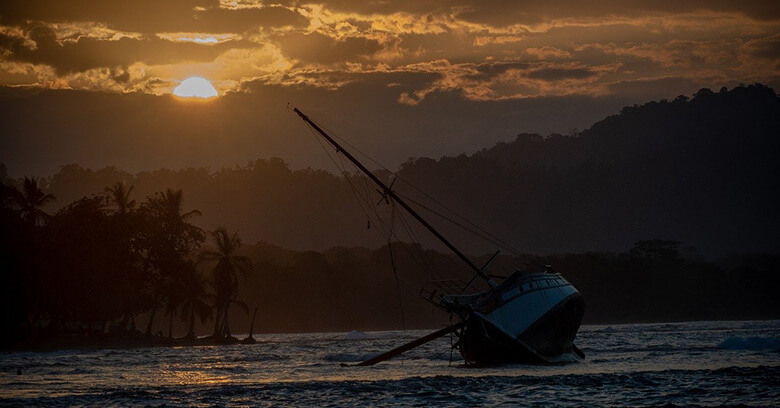 Puerto Viejo can refer to one of two places in Costa Rica, Puerto Viejo De Sarapiqui in the northeast, and Puerto Viejo De Talamanca, in the very south-eastern corner of Costa Rica. It is the latter of the two we are going to be looking at.
A popular tourist town, its numerous beaches provide the perfect destination for those looking for a relaxing beach destination. Surrounded by amenities like bars, shops and restaurants, you will never be too far from civilisation, but the sheer quantity means they never get too overcrowded.
The beaches are particularly popular with surfers, as they are recognised as the location of the biggest, most powerful waves in Costa Rica, known as the Salsa Brava. This allows the most skilled riders to come and test themselves against the powers of the ocean.
For those who aren't as skilled on a board but still want to stay active, perhaps learning how to kayak will be the best way to brighten up your trip. There is also a Jaguar Rescue Centre close by if you would prefer a more nature-based experience.
Locals have pushed back against many re-development plans, keeping the town relatively traditional, despite its growing reputation. That said, you will still be able to find a modern hotel or two if that's what you are looking for.
Located near the Panamanian border, Puerto Viejo is also a great choice for those looking at where to stay in Costa Rica to allow them to visit both countries, as the border towns provide little to no accommodation options.
Make sure to check the fine print on your travel insurance if you do decide to cross the border though, to make sure it covers you for more than one country.
Stay In Puerto Viejo If you are an experienced surfer; you are looking for where to stay in Costa Rica to be able to visit Panama as well; you want a selection of incredible beaches.
🔍CHECK BEST HOTEL DEALS IN PUERTO VIEJO
4. Monteverde, best area to stay in Costa Rica for ecotourism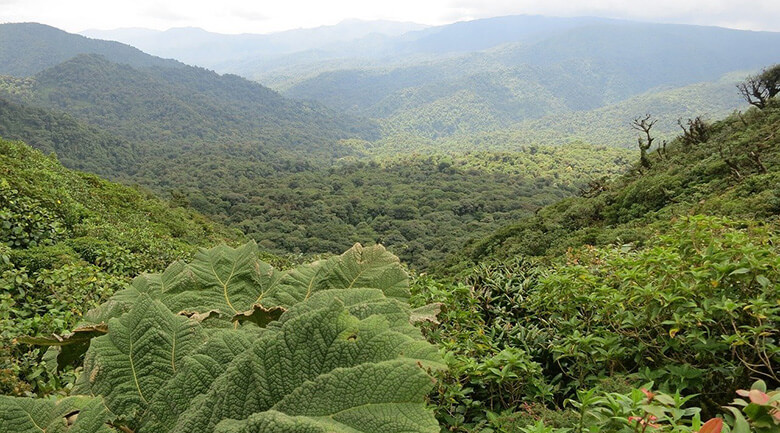 Located in the Puntarenas, Monteverde is fast becoming one of the most popular ecotourism destinations in Costa Rica. Deemed one of the "seven natural wonders of Costa Rica", it is the area's tourist hub.
The primary reason for this is that Monteverde is home to the Monteverde Cloud Forest Biological Reserve. Covering 26,000 acres, National Geographic has labelled it the "jewel in the crown of cloud forest reserves".
Split into 6 sperate zones, 90% of which are made up of virgin forest, the area contains more than 2,500 species of plants, 400 species of birds, 100 species of mammals, 120 species of reptiles and amphibians, and thousands of different types of insects.
Both scientists and tourists can freely roam the reserve, studying and enjoying the wonders on display. A bus service runs 5 times per day from Monteverde town, so those without access to a car need not worry about missing out.
The trails running through the reserve are well maintained, with many featuring suspension bridges and ziplines, allowing you to get a different perspective on what you're seeing. Horseback rides are also possible, although these will need to be booked well in advance.
The Monteverde Nature Centre features an information centre, serpentarium, frog pond, bat jungle, and lush gardens filled with butterflies for you to enjoy. Meanwhile, a lodge containing a restaurant and gift shop is present for you to refuel and purchase mementos of the day.
In addition to the Monteverde Biological Reserve, a number of other wildlife activities are also present in the area, such as the Curi-Cancha Reserve.
As a result, Monteverde itself has an ever-increasing number of hotels, shops, bars, and restaurants, to deal with the growing demand. This means you should always be able to find what you are looking for, no matter your budget or taste.
Stay In Monteverde If you want to visit the Monteverde Cloud Forest Biological Reserve; you are interested in ecotourism; you aren't worried about beaches or the big city; you are a fan of nature.
🔍CHECK BEST HOTEL DEALS IN MONTEVERDE
5. Puerto Jimenez, where to stay in Costa Rica nightlife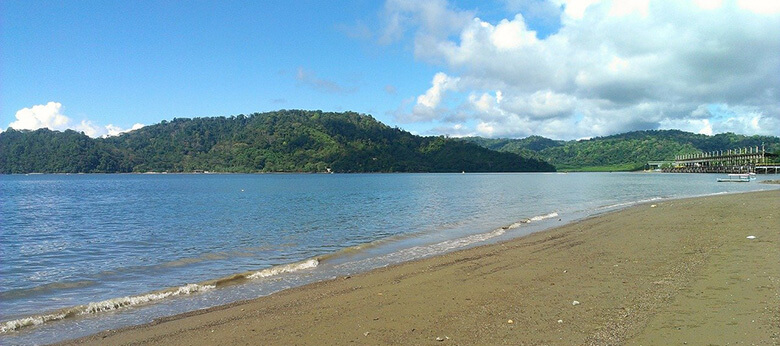 Puerto Jimenez is the largest town on the Osa peninsula in the Puntarenas province. It has developed a reputation as an incredibly popular tourist town, due to a range of amenities that caters to people with all manner of interests and budgets.
Accommodation options range from hostels to fabulous Costa Rica hotels of varying prices. Surrounding them, a wide selection of stores offers wares and foods, both traditional and modern.
A supermarket and bakery are two of the best places to get your culinary needs taken care of, while stores selling clothes, shoes and various other products surround attractions like art galleries, where you can take in some of the local style and culture.
Puerto Jimenez is also known for its amazing nightlife scene. Bars, restaurants, and clubs are plentiful in the town, giving you choices whether you want a more civilised evening of fine wine and dining, or if you prefer to drink, dance, and party the nights away until the early hours.
Perhaps the most popular reason people come to Puerto Jimenez during their stay in Costa Rica though, is actually located just outside the town. The location I am referring to is Corcovado National Park.
Covering 164 square miles of land and sea, it is the largest park of any kind in Costa Rica and covers roughly a third of the Osa peninsula. National Geographic has even referred to it as "the most biologically intense place on Earth in terms of biodiversity".
Featuring the largest old-growth forest on the American Pacific coastline, as well as one of the largest lowland tropical forests in the world, the scenery is unlike almost anything else you will witness, no matter where you travel.
Home to an incredible collection of wildlife, fans of nature could spend days wandering through the trees, seeing new and exciting species of animals, and treating themselves to a Costa Rica vacation they will never forget.
Stay In Puerto Jiminez If You want to visit the largest, most biologically diverse national park in Costa Rica; Nightlife is important to you; You want a great selection of hotels that suit various price ranges; You want access to both modern and more traditional shopping.
🔍CHECK BEST HOTEL DEALS IN PUERTO JIMINEZ
6. Drake Bay, where to stay in Costa Rica for best beaches
Also known as Bahia Drake, Drake Bay is located just a short way from Puerto Jimenez, in the Corcovado National Park we just looked at. Historically, it is believed to have been used as a hideaway for legendary sailor Sir Francis Drake.
Until very recently it was inaccessible by land. Even now, it is tough to reach the bay, although those who do are certainly in for a treat.
Beautiful, secluded beaches are surrounded by dense tropical greenery. Whales, dolphins, and manatees use the shoreline for breeding periodically throughout the year, making it perfect for both relaxing in peace and quiet or taking in the incredible wildlife.
The town itself is quaint and features small grocery stores and gift shops, as well as a collection of local bars and restaurants. This provides the opportunity to truly immerse yourself in the traditional way of life, shopping and dining amongst the residents.
You won't find any large chain hotels or resorts here, but a private guest house is an option for those who want to spend the entirety of their stay in Costa Rica in this fabulous location.
Stay In Drake Bay If you want to stay in a small, traditional village, in a secluded area; you want to be surrounded by beautiful beaches and landscapes; you want the chance to see the breeding habits of the marine life.
🔍CHECK BEST HOTEL DEALS IN DRAKE BAY
7. La Fortuna, where to stay in costa rica near volcano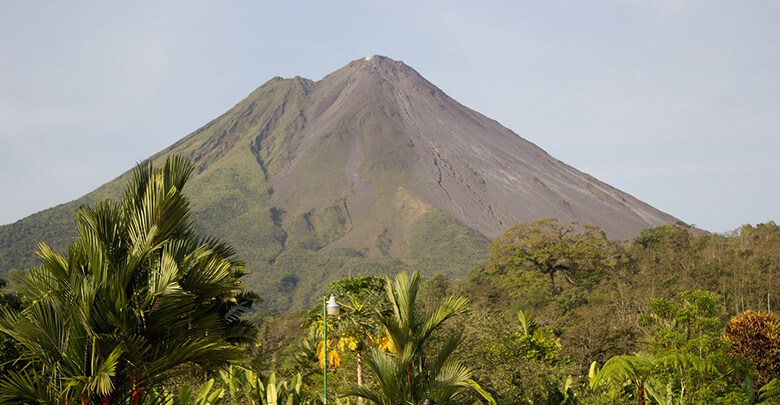 Located in the north central section of Costa Rica, in the Alajuela province, La Fortuna is one of the most regularly visited tourist destinations in Costa Rica. As a result, all-inclusive resort hotels have begun to spring up, catering to the vast influx of visitors.
Bars and restaurants, both local and those designed to cater to tourists, are abundant, providing plenty of choice when it comes to where to eat or drink. Meanwhile, shops selling groceries, local goods, and essentials cater to your every need throughout your stay.
A collection of attractions like a chocolate museum, sloth watching trail, and tour of a coffee plantation also provides the option to see and learn a little more about the culture of the area.
The number one reason many people stay here is because La Fortuna is unquestionably where to stay in Costa Rica for those visiting Arenal National Park. Covering almost 47 square miles, it is the home of the famous Arenal Volcano.
The Arenal Volcano stands at least 5,358 feet high and is the most active in all of Costa Rica. In addition to the Arenal Volcano, you also have the Chato Volcano as well, an inactive volcano that features a lagoon in its crater.
At the base of the Chato Volcano there is a number of hot springs visitors can relax in, while the La Catarata De La Fortuna and the Arenal River flow here as well.
Activities such as horseback riding, white-water rafting, kayaking, paddle-boarding, ziplining, mountain biking, dirt biking, and ATV-ing will keep thrill-seekers occupied, while hanging bridges and a sky tram allow those looking for a slower pace to take in the beauty as well.
The park is also known for its incredible collection of more than 850 different species of birds, as well as other animals such as deer, snakes, jaguars, monkeys, and coatis.
When you combine this with the variety of plant life on offer as well, it makes Arenal National Park a must visit attraction for anyone who loves nature and beautiful landscapes.
Stay In La Fortuna If you want to visit Arenal Volcano National Park or see the Arenal Volcano; you want to take part in exhilarating activities, such as horseback riding; you are a fan of nature; you want to stay in an all-inclusive resort; you want both local and modern attractions and amenities.
🔍CHECK BEST HOTEL DEALS IN LA FORTUNA
8. Santa Teresa, quiet place in Costa Rica with traditional tourist resort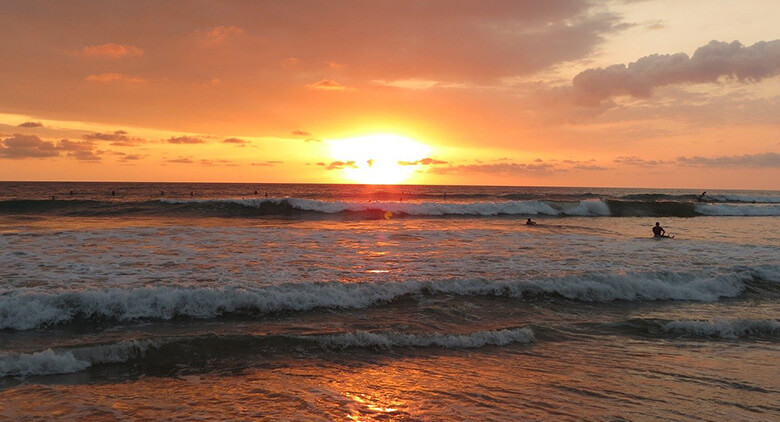 Santa Teresa is a small area on the southern tip of the Osa peninsula. Traditionally a fishing village, it has evolved over the past few decades to accommodate the tourists who have come to relax on its stunning selection of beaches.
Facilities like surf clubs, high-end resorts, and various bars, shops and restaurants now provide all the amenities you could need throughout your stay. There are even yoga retreats, where you can spend your days practicing poses or relaxing in a tranquil garden.
This makes Santa Teresa the perfect place to stay in Costa Rica for those who want a traditional tourist resort, but would rather it be just a little bit quieter.
It hasn't abandoned its roots entirely though. Outside of tourism, fishing is still one of Santa Teresa's main sources of revenue. This means the local restaurants serve some of the best, freshest seafood you will find anywhere in Costa Rica.
Stay In Santa Teresa If you are a fan of fresh seafood; you want a tourist resort without so many people; you want a great choice of beaches.
🔍CHECK BEST HOTEL DEALS IN SANTA TERESA
9. Tamarindo, for wildlife, best beaches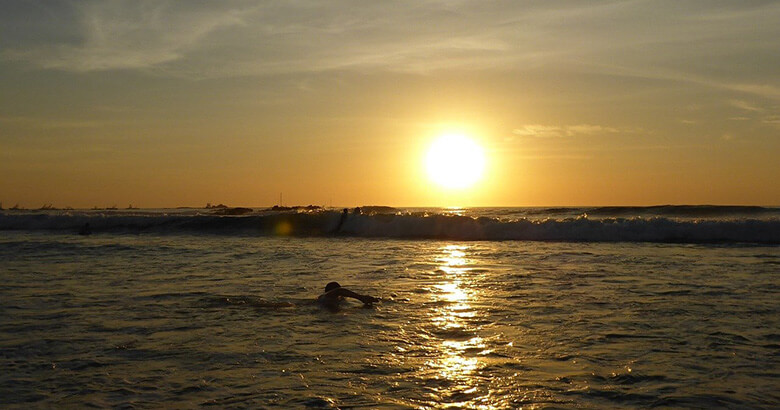 Tamarindo is a beach town located in the north-west of Costa Rica, in the Guanacaste province. A selection of fabulous beaches that includes Playa Tamarindo and Playa Langosta are ideal for those seeking a beach vacation in a slightly quieter destination.
While Playa Langosta is located just outside town, Tamarindo Beach is the heart and soul of the area. Known for its strong surf, Tamarindo Beach attracts people from all over who want to test their board skills against the waves.
Just a short way north, you will find the other most popular attraction in the area, Las Baulas National Park. A marine conservation area, it is particularly known as the nesting grounds of the endangered leatherback sea turtle.
Over half the park is underwater, with some spots perfect for activities such as scuba diving. Meanwhile, the sections on land contain fabulous white sand beaches and forests that are home to almost 200 species of different birds and mammals.
This makes it an ideal destination for anyone who is interested in wildlife.
A more expensive part of Costa Rica, Tamarindo Beach is surrounded by luxury accommodations, such as private villas, so is better suited to those with money to spare than it is budget travellers.
Stay In Tamarindo If you want to relax or go surfing on Tamarindo Beach; you aren't worried about money; you want to visit Las Baulas National Park; you are an experienced surfer.
🔍CHECK BEST HOTEL DEALS IN TAMARINDO
10. Playa Conchal, where to stay in costa rica on the beach
Located just a short way north of Tamarindo, Conchal Beach is a beautiful, white sand and shell beach. Stretching for 4 kilometres, it is located in a beautiful, curved harbour, with crystal clear waters perfect for snorkelling in.
With no major towns nearby, Conchal Beach remains a little less busy than some of the other options along the coast. This makes it the perfect place to treat yourself to an idyllic getaway.
Stay in the best hotel money can buy, relax at a beach club, eat the best food, drink the finest wine, do whatever it takes to truly unwind.
There's even a number of sites commonly used as photo opportunities, such as Thirsty Rock and Punta Sabana. This is where amateur photographers can test their skills and everyday tourists can get a shot to remind them of their trip for years to come.
Stay In Playa Conchal If you want to spend days relaxing on Conchal Beach; you love beautiful, coastal scenery; you don't want to be located near a major town.
🔍CHECK BEST HOTEL DEALS IN PLAY CONCHAL
11. Manuel Antonio, best beaches for couples, honeymoon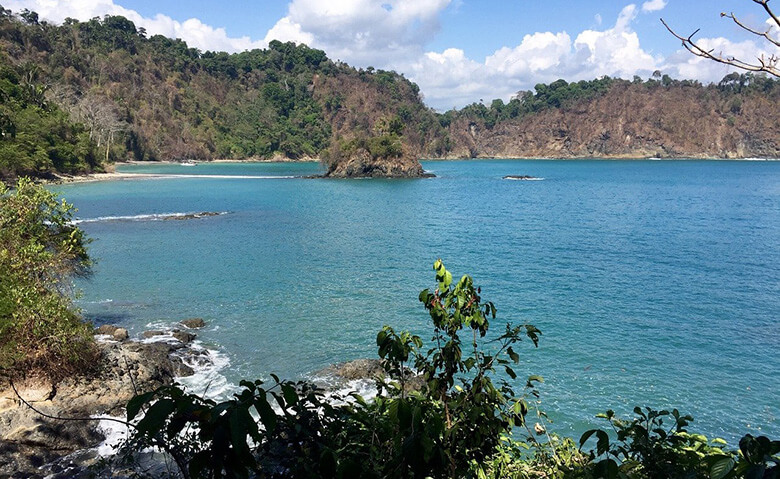 Manuel Antonio is located on Costa Rica's Pacific coast, in the Puntarenas province. It is an incredibly popular resort destination that's ideal for anyone who prioritises the great outdoors while visiting Costa Rica.
Known as a beach town, some of the best Costa Rica resorts are surrounded by beautiful beaches, such as Biesanz Beach, Espadilla Beach, and Playitas Beach. With soft golden sands meeting crystal clear waters, it is equally ideal for topping up your tan or having some fun in the Pacific Ocean.
Shopping malls, bars, restaurants, and some of the best Costa Rica hotels you'll find only add to the relaxing nature of Manuel Antonio. There are even plenty of attractions in Manuel Antonio to both relax and entertain you as well.
Beautiful hot springs allow you to spend a day pampering yourself, truly unwinding. While there aren't any natural hot spring in the area, these man-made hot springs do the job just as well and you wouldn't know the difference.
Meanwhile, ATV tours, water sports, and ziplining are all available for those who prefer to get their blood pumping during their stay in Costa Rica, just make sure you've got your travel insurance premiums paid up.
Manuel Antonio isn't all about tourist attractions and lazing on the beach though. Anyone who has rented their own car during their stay in Costa Rica will find a wonderful choice of national parks surrounding the town.
Bordering the town is Manuel Antonio National Park, part of the central Pacific coast conservation area. Covering just over 7 square miles, you will find lush rainforest, stunning beaches and towering mountains, that make up what is ranked among the 12 most beautiful national parks on earth.
It is home to almost 300 species of birds and animals, including sloths, monkeys, iguanas, basilisks, coatis, snakes, bats, and, occasionally, whales. This makes Manuel Antonio National Park the perfect stop for nature lovers of all kinds.
Meanwhile, about an hour south down the Pacific coast you also have Marino Ballena National Park. A protected marine wildlife area, dense greenery hides pristine beaches, where you can spend a romantic getaway watching whales and dolphins play in the Pacific Ocean.
Stay In Manuel Antonio If you want to spend time relaxing on beautiful beaches or in hot springs; you like a choice of both tourist and secluded beaches; you want to explore national parks; you want a great range of amenities, facilities and attractions within walking distance.
🔍CHECK BEST HOTEL DEALS IN MANUEL ANTONIO
12. Papagayo Gulf, where to stay in costa rica for couples, romantic
The Gulf Of Papagayo is a large expanse of water along the north-eastern shore of Costa Rica. The region as a whole has been developed into a tourist hotspot by the Costa Rican government, with resorts and amenities lining the shores for miles.
Some of the most popular include areas such as Playa Del Coco, Playa Hermosa, and Playa Panama. These all feature an abundance of high-end resorts, restaurants, bars, shops, and activities, to keep all manner of tourists happy.
It is also the best place to stay in Costa Rica for anyone seeking an adults-only hotel for a romantic getaway, as it features a number of the best that the country has to offer.
Don't worry if you want something a little calmer though. The area was chosen for the project as the waters are home to all manner of marine life, including a number of orcas. This makes it just as fitting for anyone hoping to catch a glimpse of the wildlife in its natural habitat.
Stay In Papagayo Gulf If you want to stay in an adults-only hotel; you want a specifically designed tourist area; you are interested in marine wildlife.
🔍CHECK BEST HOTEL DEALS IN PAPAGAYO GULF
13. Nosara, best place to stay for yoga retreat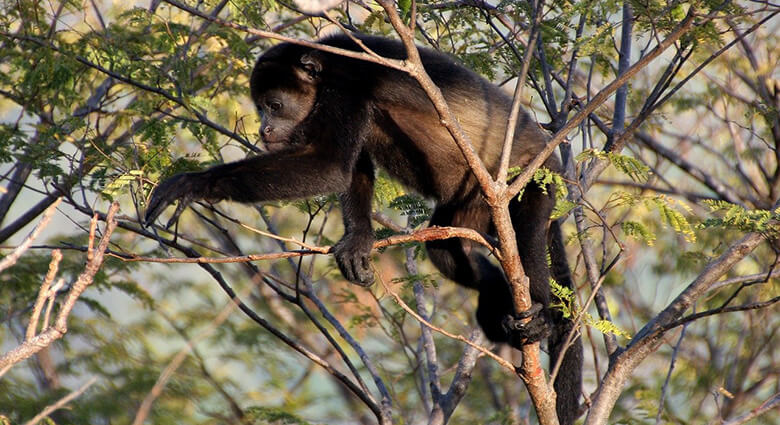 Nosara is located in the west of Costa Rica, in the Guanacaste province. With very few paved roads, this collection of small villages makes up one of the most rural, traditional areas in the country, where fishing and agriculture remain their primary source of income.
Beaches remain largely untouched or developed, as Ostional Wildlife Refuge covers much of the shore, protecting the breeding grounds of sea turtles. However, they are still popular with those seeking a relaxing vacation, as well as surfers looking to make the most of the powerful waves.
It is also incredibly popular with yoga practitioners too. A number of world class yoga establishments have set up in the area, making the most of the secluded destination, to bring a true sense of peace to their retreats.
The facilities in the towns are basic but should provide everything you need, from restaurants and bars to a market and pharmacy. While cars aren't used much here, bike, golf cart, and ATV rentals are a cheap, popular way to get around. You can even hire a tuk tuk taxi if you really want a unique adventure.
Stay In Nosara If you are attending a yoga retreat; you want to see nesting sea turtles; you don't plan to rent a car; you want quiet, secluded beaches to surf or relax on.
🔍CHECK BEST HOTEL DEALS IN NOSARA
14. Jaco, for nightlife and surfing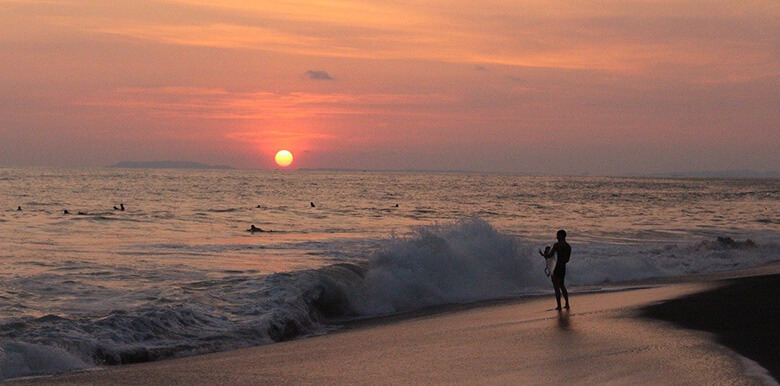 Jaco is a small town in western Costa Rica, in the Puntarenas province. Its rocky, black sand beaches are a huge hit with surfers, as they are quiet and feature tall, powerful waves. Meanwhile, its vibrant nightlife scene provides options, no matter how you like to spend your evenings.
Perhaps the most popular reason people stay in Jaco though, is because it is considered a gateway to the area's national parks.
Manuel Antonio National Park to the south is considered one of the most beautiful in the world, while Carara National park to the north is full of birds and crocodiles to marvel at. There's even a path though the rainforest to the Bijagual Waterfall, providing you a picturesque adventure like a scene straight out of a movie.
Stay In Jaco If You are a fan of national parks; You like surfing or relaxing on quiet beaches; Nightlife is a priority.
🔍CHECK BEST HOTEL DEALS IN JACO
15. Montezuma, where to stay in costa rica off the beaten path
Our penultimate destination of Montezuma is located in the southeast of the Nicoya peninsula, in Puntarenas province. A remote fishing village, it has gained a level of notoriety among tourists for its secluded location and traditional feel.
Backpackers and travellers on a budget often like to stay among the locals here and make the most of the lower prices on offer. With the village surrounded by rivers, waterfalls, and beaches, it allows you to immerse yourself in this picturesque tropical paradise.
While there isn't a great deal of attractions in the area, besides the village itself, the one that does draw a large number of people is the Cabo Blanco Nature Reserve.
Covering 7,560 acres of land and sea, more than 140 different species of trees have been identified, as have a range of animals including monkeys, coatis, deer, margays, coyotes, crabs, orcas, molluscs, and a huge range of birds and fish.
The San Miguel Biological Station located here contains libraries, laboratories, and classrooms, helping to educate people on the flora and fauna present in the reserve.
Stay In Montezuma If you want to stay in a remote, traditional village; you are backpacking or travelling on a budget; you like beaches, rivers and waterfalls; you wan to explore a fabulous nature reserve.
🔍CHECK BEST HOTEL DEALS IN MONTEZUMA
16. Poas, where to stay in costa rica near volcano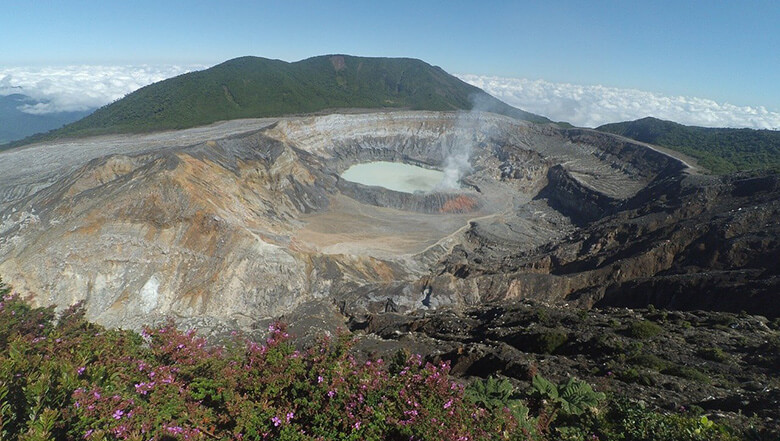 Our final destination of Poas is located a short way to the northwest of San Jose and is almost exclusively known for being the location of Poas Volcano National Park. Covering 25 square miles, the park is the home of the Poas Volcano.
Standing 8,885 feet tall, the Poas Volcano is still highly active. However, during periods of lower activity, visitors have the opportunity to walk right to the edge of the main crater, giving them a truly memorable experience.
Two crater lakes make for incredible viewing as well, located high up near the summit. Lake Botos, the lower of the two, is cold, clear, and surrounded by a cloud forest. Meanwhile, the higher of the two, Laguna Caliente, is one of the world's most acidic lakes.
The area surrounding the volcano consists of a conservation area, containing some of the most beautiful flora and fauna in the country. Animals like coyotes, marmots, rabbits, and a wide range of bird species nestle amongst the greenery, taking you on a real-life tropical adventure.
There is little in the way of accommodation around Poas, so those wanting to explore the volcano or park while enjoying some traditional vacation luxuries may want to stay in San Jose. However, for the slightly more adventurous, camping in Costa Rica's wilds is an opportunity not to be passed up.
Stay In Poas If you want to see an active volcano, with beautiful lakes in its craters; you want to explore a conservation area filled with stunning plants and animals; you are a fan of camping; you want Costa Rica's largest city not too far away.
🔍CHECK BEST HOTEL DEALS IN POAS
FAQs on the best areas to stay in Costa Rica
So, that's our list of the 16 best areas to stay in Costa Rica. By now, most of you will have decided where to stay in Costa Rica to get the most out of your trip. That said, I'm sure there will be others who are still undecided.
That's why I'll now answer some of the most frequently asked questions people have about Costa Rica, to try and help you decide as well.
What Is The Best Area In Costa Rica To Stay?
Central Costa Rica is the best area to stay for the majority of people, as it features a great collection of cities, national parks, and attractions. However, those looking for a beach vacation may want to lean towards an area near the Osa peninsula.
Where Should I Stay In Costa Rica For The First Time?
Those visiting Costa Rica for the first time will be best suited staying in San Jose. It has plenty of attractions and amenities, is centrally located so you can visit other areas, and being the site of the country's main airport means you will avoid wasting time.
What Town Should I Stay In Costa Rica?
For those looking for a city break, I would recommend staying in San Jose, as it has the best hotel, attraction and amenity selection in Costa Rica. However, those looking for a beach vacation will be better off with Manuel Antonio and its great selection of sandy shores.
Costa Rica truly is a fabulous country, filled with some of the most beautiful natural locations on earth. This article should have given you everything you need to decide where to stay in Costa Rica to ensure you have the vacation of a lifetime.
All that's left is to go and start getting everything booked. That way, you can look forward to jetting off on your own Central American adventure as soon as possible.