Where to stay in Jamaica first time? for couples, singles, family, aldults, all-inclusive? This blog post is going to help you decide the best areas to stay in Jamaica for first-time tourists (include map and video), the best hotels in Jamaica for all budgets, and the safest places.
Jamaica is an island country located in the Caribbean Sea, situated to the south of Cuba and west of Hispaniola (the island that comprises Haiti and the Dominican Republic). It is the third-largest island in the Caribbean with Kingston the capital and largest city of Jamaica.
Jamaica is known for its stunning natural beauty, with lush rainforests, mountains, and beautiful beaches. The Blue Mountains, located in eastern Jamaica, are the highest mountains on the island and home to the famous Blue Mountain coffee.
Jamaica's economy is diverse and includes industries such as tourism, agriculture, mining, manufacturing, and services. Tourism is a significant contributor to the country's economy, with visitors attracted to its beaches, music, and culture.
Jamaica is renowned for its rich cultural heritage, including reggae music, which was popularized worldwide by musicians like Bob Marley. Rastafarianism, a religious and cultural movement, originated in Jamaica and has had a significant influence on the country's culture.
Jamaica gained independence from British colonial rule on August 6, 1962, and it is a member of the Commonwealth of Nations. Prior to independence, it was a British colony.
Jamaican cuisine is famous for its bold and flavorful dishes. Some popular Jamaican dishes include jerk chicken, ackee and saltfish, patties, rice and peas, and various tropical fruits like mangoes, pineapples, and coconuts.
Jamaica is a popular tourist destination, known for its beautiful beaches, vibrant music scene, and cultural attractions. Tourists often visit cities like Kingston, Montego Bay, and Ocho Rios, as well as natural wonders like Dunn's River Falls and the Martha Brae River.
Where to stay in Jamaica first time?
The best areas to stay in Jamaica for first-time tourists are Negril, Montego Bay, Ocho Rios, Treasure Beach, Kingston, Runaway Bay, Port Antonio, Mandeville. These areas are very popular and safe for tourist that offers a wide variety of attractions and amenities.
If you're thinking about where to stay, you're probably weighing up Negril, Montego Bay, and Ocho Rios. These towns are some of the most beautiful places to stay in Jamaica and safe for tourists:
Negril, a small beach town with relaxing and laid back beach vibe.
Montego Bay, a busy city with better shopping and more lively nightlife.
Ocho Rios, the best place to stay in Jamaica for family because it has lots of attractions and outdoor activities to keep the whole family entertained.
Negril is the best area to stay in Jamaica for first-timer visitors. It is one of the most beautiful towns in Jamaica and is home to the famous Seven Mile Beach, beautiful sunsets, and picturesque cliffs. It offers a wide range of accommodation from all inclusives to guarded campgrounds.
For those planning a budget trip who want plenty of affordable options to choose from, Kingston is a good place to look. With fewer beaches there is less demand for accommodation, so the rates are generally lower than at the resort towns.
Map of the best areas to stay in Jamaica: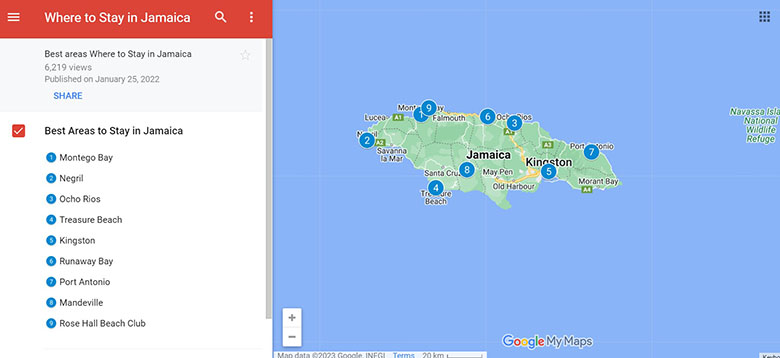 Check out my youtube shorts of best places to stay in Jamaica here:
Is Jamaica Safe to Visit?
Jamaica is a safe place to visit as long as you use your common sense. Ocho Rios, Negril, and Port Antonio are some of the safest places to stay in Jamaica. Many resorts have 24-hour security guards, but robberies can occur, you should use hotel safety, lock windows and doors and report suspicious activity.
Here are some tips to consider to ensure a safe trip:
Research Your Destination:
Before traveling to Jamaica, research the specific areas you plan to visit. Some areas may have higher crime rates than others, so it's essential to be informed.
Stay in Safe Areas:
Choose accommodations in safe and well-known tourist areas. Resorts and hotels in popular tourist destinations often have security measures in place.
Exercise Caution at Night:
Avoid walking alone at night, especially in less populated areas or poorly lit streets. It's a good idea to take taxis or use reliable transportation options after dark.
Be Mindful of Your Belongings:
Petty theft can occur in crowded tourist areas, so keep an eye on your belongings and use hotel safes to store valuables.
Follow Local Advice:
Listen to the advice of local authorities and your hotel staff regarding safety precautions and potential risks in the area.
Avoid Risky Activities:
While Jamaica offers various adventurous activities like hiking and water sports, ensure that you choose reputable operators and follow safety guidelines.
Respect Local Laws and Customs:
Familiarize yourself with Jamaican laws and customs, including drug regulations. Some activities that may be legal or tolerated in other countries can result in severe penalties in Jamaica.
Stay Informed:
Keep up to date with local news and developments, especially if there are any safety or security concerns in the region.
Travel Insurance:
Consider purchasing travel insurance that covers potential risks, including medical emergencies and trip cancellations.
While there are safety concerns in some areas of Jamaica, many tourists visit the country without incident. By taking common-sense precautions and staying informed, you can enjoy your visit to Jamaica safely.
Best areas to stay in Jamaica for first-time visitors are:
1. Negril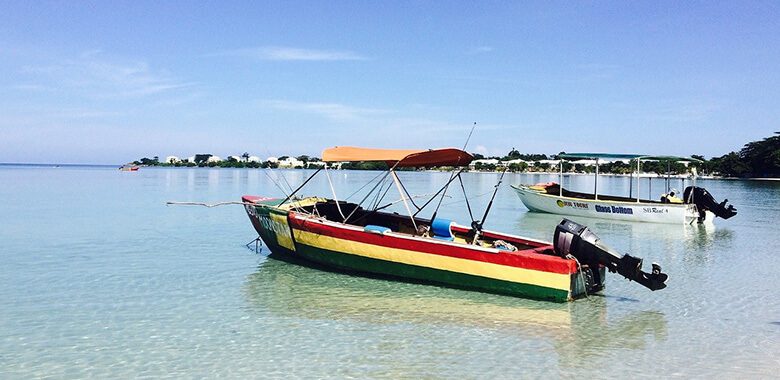 Located on the Western tip of Jamaica and close to MBJ Sangster International Airport, Negril (Capital of Casual) is where you will find many of the best beaches in all of Jamaica, crystal clear waters, and spectacular rugged cliffs.
Considering that Jamaica is known for its fabulous beaches, that is really saying something. Coral Beach and Norman Manley Beach are both within the town, whilst various others are just a short journey away.
Seven Mile Beach is the best known that stretches from Bloody Bay to Long Bay and the Negril Cliffs. Believed by many to be the number one beach on the island, and frequently voted one of the best in the world, Seven Mile Beach is just a couple of kilometers north of Negril.
Seven Mile Beach is also notorious for being one of the most popular party beaches in Jamaica. It's filled with seafood restaurants and bars, shops, hotels. Head here after dark if you want to enjoy the exciting nightlife that's not confined to the indoors. The thriving open-air parties make this a popular location for singles to meet and mingle.
Located along the east coast of Jamaica, the beaches here offer some of the best sunsets on the island. There are plenty of bars and restaurants lining the waterfront, so you can enjoy watching the sun dip below the ocean horizon, as you enjoy delicious Jamaican delicacies, and listen to live reggae.
Negril is also home to Rick's Cafe. It is located on a tall cliff in the West End. Visit the cafe in the afternoon, and enjoy watching people cliff jump. There is a booze cruise catamaran that sets sail to Rick's cafe with an open bar, and lots of rum and Red Stripe beers.
Other top things to do in Negril is take a parasailing tour, glass bottom boat tours, snorkelling, scuba diving, and deep sea fishing, to see beautiful reefs and swim with colorful marine life. Lots of spot to enjoy water sports such as Negril Reef, Booby Bay Island, Half Moon Beach, Pristine Cove, and Joseph's Cave.
A few kilometers north of Negril is the Kool Runnings Waterpark. With various slides and pools to play in, the whole family can enjoy an afternoon splashing about. There are even some drier activities available, including paintballing and go-karting.
Just a short way south of Negril is Barney's Flower and Hummingbird Garden. This vibrant botanical garden is home to various exotic plant species and beautiful hummingbirds. Any nature lover will enjoy spending an afternoon here.
If you are interested in picking up some unique local souvenirs, the Negril craft market is a good place to stop. The complex of colorful huts boasts stalls selling a variety of traditional goods to take home. There is also Times Square Mall and Rutland Point Market to shop.
Jamaica is famous for its waterfalls, you can easy take a day trip from Negril. It is very well worth to take a day trip to Mayfield waterfall, YS waterfall, and Dunn's River Falls, which is the most impressive set of waterfalls in Jamaica.
Negril is mostly safe for tourist, but as in any tourist area, you should practice common sense, and stick to touristy areas, such as West End.
There is a wide range of accommodation on offer in Negril, ranging from self-catering apartments, charming guest houses, to seafront bungalows, adults-only hotels, and all-inclusive resorts.
Couples on a romantic getaway, wedding, or honeymoon, are recommended to book a boutique hotels on the cliffside of Negril that is surrounded by lush gardens and offers spectacular sunset views. It is a quiet side of Negril, away from the busy beaches and hectic nightlife.
Stay In Negril If you are looking area for first-time tourists and singles; you want to enjoy some of the best sunsets in Jamaica; you want a relaxing and laid back beach vacation;
Best places to stay in jamaica in Negril for first-timers:
luxury ($$$): Ocean Cliff Hotel Negril Limited Locatedin Negril, this 5-star hotel has an on-site restaurant, free private car parking, an outdoor swimming pool and a bar. You can enjoy continental or a à la carte breakfast each morning. There is 24-hour security and safety deposit box.
mid-range ($$): Catcha Falling Star This 4-star hotel is standing atop the beautiful cliffs of Negril's West End. You can enjoy Caribbean food at the on-site Ivan's Bar. The hotel has a secure and private cove for swimming, diving and sunbathing.
budget ($): Travellers Beach Resort This three star resort is located on Negril's 7-Mile Beach within a short drive by car from Orange Bay and West End. It has air conditioned rooms and the bungalows with fans. it has 24-hour security and CCTV in common areas.
>> 🔍CHECK BEST HOTEL IN NEGRIL <<
See more: Safest Areas to stay in Jamaica for tourists
2. Montego Bay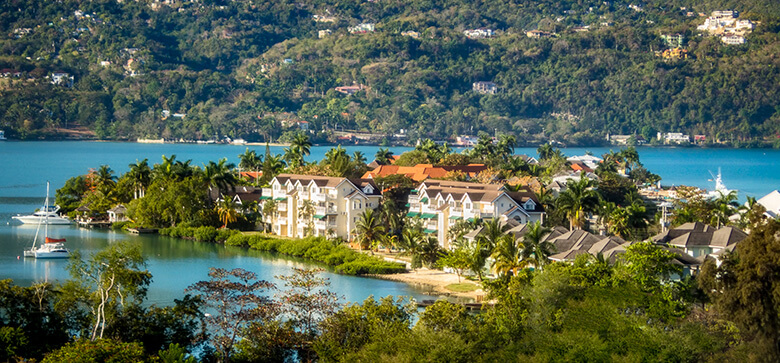 Montego Bay along with Negril is the best place to stay in Jamaica for first time tourist. If you want a more tourist style area with more nigthlife and shopping, Montego is better than Negril. Montego Bay, known as MoBay by locals, is a major resort town on Jamaica's northern coast.
As the second-largest city in Jamaica, it is home to one of Jamaica's busier international airports, Sir Donald Sangster International Airport (MBJ). If you fly into Jamaica here, you'll have a fantastic view of the ocean as you land. There is no better introduction to a tropical paradise.
If you are visiting Jamaica for a shorter trip, or just want to keep close to the airport, this is a great location. You will have plenty of attractions, conveniences, and comfortable beaches to take advantage of within a short distance of your accommodation.
Montego Bay is a lively city, famous for its vibrant nightlife and plentiful shopping streets. Many of the shopping centers here even offer tourists duty-free purchases, an added bonus.
The Hip Strip, or Gloucester Avenue, is one of the notorious party areas. Here you will find numerous beachside bars and nightclubs, shops, cafés, and entertainment venues keeping the area lively late into the night. With its west-facing coastline, it's also a fantastic place to enjoy dinner and drinks with a beautiful view of the sunset over the ocean.
If you want to take in some of the histories of the area, you can visit the remains of Fort Montego. Once an 18th-century British fort, you can explore what is left of the structure and remaining cannons.
You can learn the history of Jamaica during the 1800s at Sam Sharpe Square. Originally named Charles Square but in 1976 renamed in honor of a Jamaican National Hero, and anti-slavery activist, Sam Sharpe. The cobblestone town square has several heritage structures: the Sam Sharpe Monument, the Civic Centre, the Freedom Monument, a cast-iron fountain, and the Cage which is served as a jail for drunks, vagrants, and runaway slaves.
Montego Bay is also home to Montego Bay Cultural Centre, where you can find National Gallery and the National Museum, there is plenty to take in here.
Montego Bay offers plenty of shopping opportunities here with multiple shopping centers and shopping plazas, particularly close to the coastline. You can head to the Harbour Street Craft and Cultural Village. This is a vibrant market where you can browse stalls housed in colorful chalets. It is a great place to pick up local arts and craft items to take home as gifts or souvenirs.
The city has plenty of comfortable beaches for you to enjoy:
Doctor's Cave Beach is particularly popular. It's paid entry, which makes it feel exclusive, whilst keeping the crowds to a reasonable level. The beach has clear waters, soft white sand, and a beachfront restaurant and bar.
Dead End Beach and Tropical Bliss Beach, both right next to the Sangster Airport runway. You will get some fantastic views of the planes as they take off and land.
Families and children will love a huge amusement park, Aqua Sol Theme Park on Walter Fletcher beach which offers kid-friendly activities such as go-karting, watersports, water sliding. 876 Beach Club is another option with live music and entertainment, a large floating water park, a restaurant, bar, a shared lounge, and a garden in The Rock.
There is also protected sea water, Montego Bay Marine Park which is great for snorkeling and scuba diving. The park include coral reefs and mangroves in the area, as well as waters of Doctor's Cave Beach, Aquasol Beach, Cornwall Beach, Dead End Beach.
Another point of interest is the Jamaican Georgian plantation house, Rose Hall Great House, built in 1770. Annie Palmer (the White Witch of Rose Hall) is the former owner who killed three of her husbands and slaves. You can experience a variety of equestrian activities, riding, jumping, polo lessons, and thrilling beach rides at its Half Moon Equestrian Centre.
Golf enthusiasts will love to play at an 18 holes Cinnamon Hill Golf Course, once a sugar plantation in the rolling hills with beautiful views of the Caribbean Sea.
Montpelier Jungle Outpost is located on Montpelier Estate, a large estate rich in history that dates back to the 18th century. You can hike to see Montpelier waterfall and Jamaica's fourth longest river.
There are also zip lines and canopy tours through the jungle or river tube or kayaks down the Great River that split the two parishes of St. James and Hanover.
If you are interested in cave exploration, hiking, and learning about the Tainos, Jamaica's very first inhabitants, then Bunker's Hill Cultural Experience is a must-try!
Montego Bay is safe for tourist, but I recommend to stay alert, and be aware of pickpocketing and petty theft. All-inclusive hotels and resorts in Montego Bay are safeguarded.
There is a wide range of accommodation available in Montego Bay ranging from budget guest house to waterfront villas, adults-only, 5-star all-inclusive resorts. There are even some right up close to the beach that offer very reasonable rates.
Stay In Montego Bay If you love great nightlife and shopping; you're first time visiting Jamaica, you're traveling as a couple;
Best places to stay in Jamaica in Montego Bay for first-time visitors:
luxury ($$$): S Hotel Jamaica – Boutique All Inclusive This 5-star hotel offers a private beach area, a buffet breakfast, a 24-hour front desk, swimming pools, sky pools, bars, room service, and free WiFi, and an on-site restaurant that serves the Caribbean dishes.
mid-range ($$): The Blue Orchid This bed and breakfast has units with air conditioning and a flat-screen TV, a fully equipped private bathroom with a shower, and free toiletries.
budget ($): Mynt Retreat Bed & Breakfast This hotel offers air-conditioned rooms with a flat-screen TV with cable channels, desks, and closet, tea and coffee makers and some of them have a balcony.
>>🔍 CHECK BEST HOTEL DEALS IN MONTEGO BAY <<
3. Ocho Rios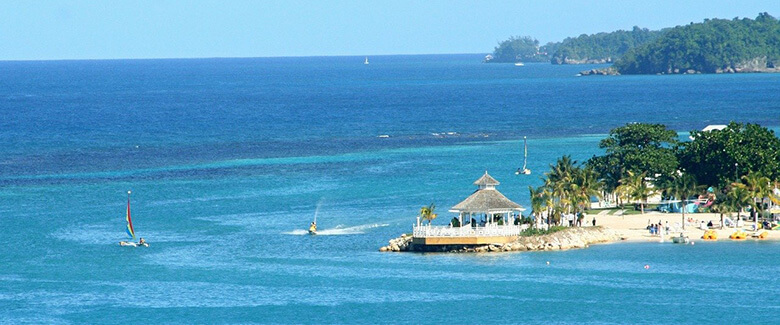 Ocho Rios along with Negril is the best place for families, but it's has more adventure and family activities, as well as eco-tourism expedition. Ocho Rios is a former fishing village and has now become one of the most popular tourist destinations on the island. It is home to an abundance of all-inclusive resorts and family-friendly hotels.
Aside from being the most popular resort town on the island, Ocho Rios is also the most popular cruise ship port in Jamaica. As such, it can get very crowded, especially in peak season.
There are many beaches in and around Ocho Rios to enjoy, include:
Ocho Rios Beach and Mahogany Beach, offering water sports and beach bars, these offer both convenience and comfort.
Reggae Beach, a laid-back beach. With reggae music drifting through the air, and tiki bars to relax by, this beach has more of that typical Jamaican vibe.
James Bond Beach, just a few kilometers to the east. The beach was a location in Doctor No and many of the accommodations and businesses in the local area lean into that legacy.
Lazing on the beach isn't all there is to do here though, as there are plenty of activities to get involved in, in and around the town. Turtle River Park makes for a fun family day out. With seven acres of gardens to explore, containing ponds filled with colorful fish and turtles, it is a lovely place to spend an afternoon.
You can continue the fun at neighboring Turtle River Gardens. The gardens are home to even more tropical wildlife. Through the gardens, you can reach Konoko Falls. Climb to the top of this lovely waterfall to enjoy beautiful views of the town and bay.
A few kilometers to the west of Ocho Rios are Dunn's River Falls. Dunn's River Falls are one of the most popular attractions in Jamaica, with the idea being to actually climb the waterfall itself. Guides are available to help those willing to try the climb. I definitely recommend it as it is an unforgettable and unique experience.
Dolphin Cove is another unique natural attraction that is definitely not to be missed. Here you have the opportunity to swim with wild dolphins and stingrays in their natural habitat. It is an absolute must for nature lovers.
A few kilometers inland of Ocho Rios is The Blue Hole, or Island Gully Falls. This network of waterfalls forms a beautiful lagoon that has become one of Jamaica's most popular tourist destinations. You can enjoy a refreshing swim in the crystal clear pools. The daring can even jump from the top of the falls.
The is also rain forest adventure park, Mystic Mountain, where you can take a chair lift from sea level to the summit. There are numerous ofkid-friendly attractions such as simulated Jamaican bobsled ride, a zip line, a water slide, a live butterfly habitat and hummingbird garden.
You can visit the village of Nine Mile, which is hometown of famous reggae singer and songwriter, Bob Marley. The Bob Marley Nine Mile Tour will take you to the village and Bob Marley Mausoleum.
Other places of interest are the Cranbrook Rainforest Gardens and River Head Adventure Trail with its in 40 landscaped acres, beautiful torch flower, and peacocks. The White River Valley is also well worth a visit. Meanwhile, You can go bamboo rafting along Martha Brae River from Rafter's Village.
Like all tourist areas in Jamaica, Ocho Rios is generall safe for visitors, but you should practice common sense as you travel to any city. Ocho Rios offers plenty of all-inclusive hotels and resorts, as well as villas, guesthouses, b&B, and apartments.
Stay In Ocho Rios If you are traveling with family; you want plenty of activities within a short distance of your accommodation; you are hoping to stay in an all-inclusive resort.
Best places to stay in Jamaica in Ocho Rios for first-timers:
>>🔍 CHECK BEST HOTELS IN OSCHO RIOS <<
4. Treasure Beach
Treasure Beach is an area still largely undiscovered by the larger tourist crowds. The beaches here are typically quieter than elsewhere in Jamaica. It's perfect if you really want to get away and relax in the peaceful and laid-back atmosphere Jamaica is known for.
Being located along the west-facing coast, the beaches here are perfect for enjoying the sunsets. There are plenty of bars and restaurants along the seafront to enjoy the view from. Between the quieter atmosphere and beautiful sunsets, this is a great location for a romantic getaway.
With fewer tourists to cater to, the atmosphere around Treasure Beach has a much more local feel. The beaches and streets are lined with family-run bars and restaurants serving home-cooked, local cuisine. If you want the chance to experience what an authentic Jamaican town feels like, Treasure Bay is a good choice.
There are plenty of beautiful beaches to choose from along the Treasure Beach area. The area actually stretches along three separate bays. Billy Bay in the north, Pedro Bay in the south, and Frenchman's Bay in the middle.
Billy's Bay Natural History Museum in the north of the region is a great little spot to visit if you want to learn more about the wildlife and conservation efforts in the area. Jamaica has a thriving population of exotic wildlife, including turtles and dolphins, and the museum takes great pride in providing information about them.
Alternatively, if you want to learn more about the local arts and culture, the Caijan Art Gallery and the Mud Palace Gallery are two great places to visit. You can not only browse various works and artifacts on display but also buy locally made crafts as unique souvenirs.
Being a quieter destination than many of the more popular beach resorts around Jamaica, the rates for accommodation here are pretty reasonable. There is a good selection of more luxury villas and hotels. However, most of the options here are very budget-friendly. This is not the best place to look for all-inclusive resorts. That market has really made its way into the area yet.
Stay In Treasure Beach If you want somewhere with an authentic Jamaican atmosphere; you are looking for a quieter area; you want to be able to enjoy watching the sunset over the ocean.
Best places to stay in Treasure Beach for first-time tourists:
>>🔍 CHECK BEST HOTELS IN TREASURE BEACH <<
5. Kingston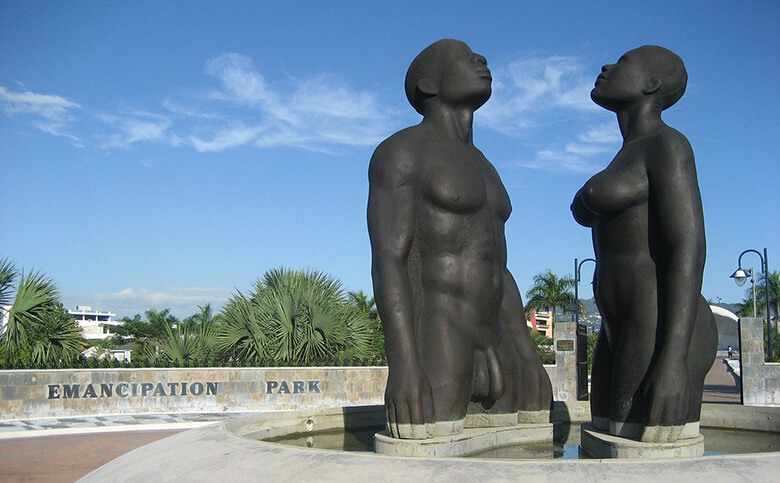 The largest town on the island and Jamaica's capital city, Kingston is often not the first place people consider when planning a Caribbean vacation. A bustling port town, commercial and cultural center of the island, there are fewer comfortable beaches to relax on than in other towns across the island.
That's not to say there are no beaches at all, however. Although you will have to head a few kilometers outside of the city to find ones comfortable to swim from. Hellshire Bay is where you will find most of the beaches frequented by Kingston residents. Sugarman Beach and Hellshire Beach are both popular for the local food vendors selling delicious fresh fish.
Fort Clarence Beach is a particularly lovely beach to visit. Like the others in the area, Fort Clarence Beach is serviced by several beach bars and seafood restaurants, and vendors.
You can also enjoy riding a horse along the sand, or around the nearby Great Salt Pond.
Visitors can also swim with wild turtles. The beach here is a turtle nesting ground, so it is common to find them drifting about in the waves. It's a good spot to go scuba diving or snorkeling to see more of the local wildlife.
Less of a tourist trap than the resort towns along the north coast, Kingston has a much more typically local feel. Rather than being surrounded by mostly other tourists, you will really get to interact with the Jamaican people here.
One of the perks of staying in a city is being able to take advantage of the many tourist attractions, monuments, and museums, such as:
The Bob Marley Museum, located in the musician's old house. Visitors can take guided tours to learn more about the reggae icon's life. The colorful walls painted with various murals of Bob Marley are impossible to miss.
The Peter Tosh Museum or the Music Museum to learn about Jamaica's reggae legacy.
The Trench Town Culture Yard Museum, you can take tours of where Marley and other reggae musicians once lived and worked.
Other highlights in the area include Devon House, a heritage site from the 1800s uniquely blending Georgian and Caribbean architecture. The National Gallery of Jamaica is just a short walk away too. National Heroes Park is a landmark at the center of the downtown area. Part memorial park, part burial ground, you can find monuments to various Jamaican figures.
If you want to escape the urban landscape, the Blue Mountains National Park is just to the north. There are numerous hiking routes leading through the area for you to explore. Guides are also available if you are not comfortable going alone. They will be able to take you to all the best spots.
There are various waterfalls to discover in the Blue Mountains. The Falling Edge Waterfalls are at the edge of the park, close to Kingston, and easy to get to. Meanwhile, Fish Dunn Falls are deeper into the park, but generally quieter and well worth the trip.
If you are not a fan of hiking, you can cycle through the Blue Mountains instead. Either hire a bike yourself or take a guided cycling tour. Whatever you choose, you should definitely head to Blue Mountain Peak to appreciate the stunning views.
Since Kingston typically has fewer tourists, the lower demand for accommodation keeps the prices lower than elsewhere on the island. If you are looking for where to stay in Jamaica on a budget, this would be a great location to consider.
You Should Stay In Kingston If You want more opportunities to interact with the locals; Beaches are not your priority; You are working with a smaller budget; You are interested in Jamaica's musical legacy.
Best places to stay in Jamaica in Kingston for first-timers:
>> 🔍CHECK BEST HOTELS IN KINGSTON <<
6. Runaway Bay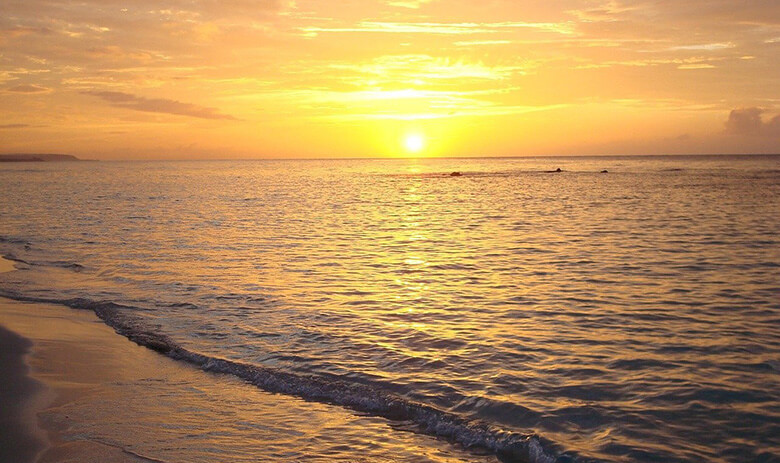 Runaway Bay is a little town along the north coast. Established around an 18th-century plantation, the area gets its name from being a popular route for people fleeing enslavement.
A quiet, local town, this is a great place to avoid the worst of the tourist crowds. Don't worry though, there are still plenty of comforts and amenities to ensure you have everything you need for your vacation.
If having convenient access to a comfortable beach right nearby is a priority, you are in luck with Runaway Bay. Cardiff Hall Beach is right at the heart of Runaway Bay. The soft white sand and numerous beach bars ensure you will be able to completely relax.
The beach is well known for having a brilliant coral reef nearby. As such, it is very popular with scuba divers and snorkellers. Shops throughout the town sell basic snorkeling equipment if you don't have your own. I definitely recommend exploring the coral to meet all the exotic fish that live there.
If you want to go scuba diving too, there are shops and schools nearby ready to give you the chance. Whether you are experienced or looking to try scuba diving for the first time, the reef here is a fantastic underwater world for you to explore.
A few kilometers west of Runaway Bay is another popular attraction, the Green Grotto Caves. This underground complex of caverns spans almost 2 kilometers. The highlight of the Green Grotto Cave, and what makes them such a popular attraction, is the eponymous grotto.
Guided tours will lead you through the tunnels to a beautiful underwater lagoon. Despite being twelve metres underground, large holes in the roof of the caves allow brilliant sunlight to filter down in several parts.
Aside from their natural beauty, the caves have a significant human history. Pottery and other artifacts have been recovered, dating back to the indigenous peoples who once lived here. More recently, the caves have been used as a hiding place for runaway slaves.
If you are interested in the legacy of Bob Marley, and have the time, his birthplace and burial site are in a small village just a few kilometres from Runaway Bay. The village is called Nine Mile. A chapel near his birthplace has been converted into a museum and you can also visit his mausoleum.
There are plenty of options for accommodation to choose from in Runaway Bay. If you are trying to keep costs down, there is a wide variety of budget and mid-range hotels, apartments, and cottages throughout the town.
If you have a bigger budget to spend, you can enjoy your pick of private villas and studios. There are even some all-inclusive spa resorts if you really plan to want for nothing on your vacation.
Stay In Runaway Bay If you enjoy snorkeling and scuba diving; you would appreciate the chance to explore a coral reef; you are looking for a quieter, local town; you would like to visit the birth and burial place of reggae legend, Bob Marley.
Best places to stay in Jamaica in Runaway Bay:
>>🔍 CHECK BEST HOTELS IN RUNAWAY BAY <<
7. Port Antonio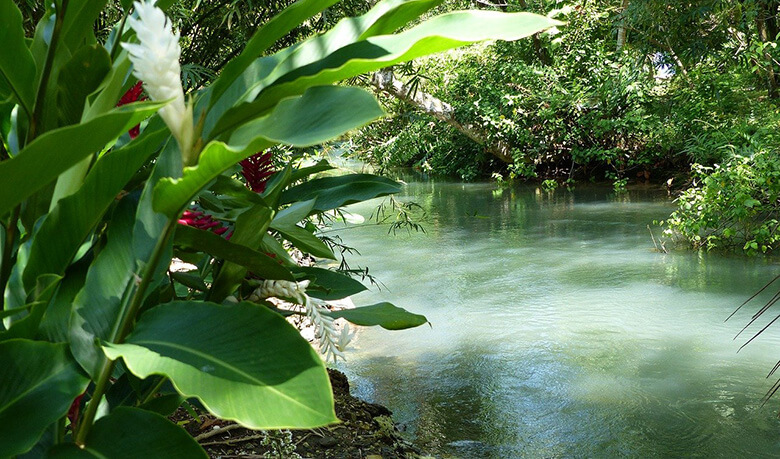 Port Antonio is a small city along the northeast coast of Jamaica. Quieter than other cities on the island, with less of an overly touristy atmosphere. Port Antonio is a great place to stay in Jamaica for those planning a relaxing getaway in a laid-back town.
Aside from relaxed, local restaurants and waterfront bars, there are also some interesting landmarks within Port Antonio city to discover. Folly Point is home to both the Folly Ruins and the Folly Lighthouse and is just a short walk around the East Harbour.
The Folly Ruins are what remains of an unfinished mansion. Abandoned before its completion due to problems with its construction being deemed bad omens, it is now a fun bit of urban decay to explore.
Along the East Harbour, you can also find the Port Antonio Craft Market. With various stalls selling a range of traditional and locally made items, friendly vendors, and an onsite bar, it is a fantastic place to relax and pick up some quirky gifts and souvenirs.
Surrounded by beautiful jungles and just a short way from Blue Mountain National Park, Port Antonio is particularly popular with people who enjoy adventuring in the great outdoors. There are plenty of hiking trails and natural landmarks to explore in the nearby area.
One of the best-known natural wonders in the area is the Blue Lagoon, a couple of kilometers to the east of Port Antonio. The sheltered bay is renowned for its stunning blue waters, which are a popular spot for snorkeling or just enjoying swimming.
If you prefer to stay dry, various companies offer boat and raft rides out into the lagoon. If you enjoy surfing, you will appreciate being just a few kilometers from Boston Bay Beach. It is a popular destination for the island's surfer crowd to hit the waves, with its soft, white sand and lively waters.
The nearby area is home to several excellent jerk chicken restaurants. Work up an appetite in the water, then head to try one of Jamaica's most famous delicacies.
Heading further inland, there are various waterfalls and rivers to discover, or why not climb to the peak of one of the surrounding hills and mountains to take in a spectacular view over the bay.
There is a varied mix of hotels and accommodation to be found here. The area is popular with wealthy travelers for its relaxed charm, so you can find plenty of higher-end hotels and private villas throughout Port Antonio and the neighboring bays.
However, there are also a good number of very low cost, affordable hotels, and cottages too. As such, this is another good area to consider if you are working with a smaller budget.
You Should Stay In Port Antonio If you want to avoid the worst of the tourist hustle and bustle of busier resort towns; you enjoy surfing; you enjoy hiking and other outdoor activities; you want to stay somewhere with a laid back atmosphere.
Best places to stay Jamaica in Port Antonio:
>>🔍 CHECK BEST HOTELS IN PORT ANTONIA <<
8. Mandeville
Mandeville is a bit of a wild card as far as places to stay in Jamaica go. For an island known as a destination for laid-back beach holidays, a tiny inland city would probably not be most travelers' first choice.
If you are looking for somewhere to experience authentic Jamaican life, away from the affectations of the tourism industry, this is a great choice. With fewer foreign visitors to cater to, Mandeville really has that laid-back vibe that Jamaica is known for.
There are plenty of local restaurants to try here. Catering to the local population, you can trust that you will be trying authentic Jamaican cuisine. This is one of the best places on the island to try the traditional delicacies as you know they won't be altered to appeal to the preferences of tourists.
In the evenings, head to the local bars where you can mingle with the locals. They will be your best resource for finding all the best restaurants and hidden landmarks that even the guidebooks don't know about. If you like your nightlife a little livelier, there are several nightclubs around the city center.
There aren't many attractions to be found here. As such, Mandeville is best visited by those intending to hire a car for their vacation. Mandeville makes a good home base from which to explore the rest of Jamaica.
Considering Mandeville is very much not your typical tourist town, there are fewer options for accommodation than elsewhere in Jamaica. What is here, however, is very good value.
You can score some fantastic rooms or apartments for excellent prices. If you are working with a smaller budget, but still want an accommodation that feels like luxury, this is an area worth looking at.
Stay In Mandeville If You want to experience life in an authentic Jamaican city; Staying away from crowds of tourists is a plus; Being close to the Beach and the sea is not a priority; You have a smaller budget to work with.
Best places to stay in Jamaica in Mandeville:
>> 🔍CHECK BEST HOTELS IN MANDEVILLE <<
Check out my virtual tour about the best places to stay in Jamaica in this video:
Where should I stay in Jamaica for the first time?
Negril is the best area to stay in Jamaica for first-timers because it is one of the most beautiful towns in Jamaica and it is home to the famous Seven Mile Beach, beautiful sunsets, picturesque cliffs, good nightlife, as well as wide range of accommodations including all-inclusive resorts.
Where is the safest place to stay in Jamaica?
The safest place to stay in Jamaica is the tourist areas such as Negril, Montego Bay, and Ocho Rios. But as in any tourist area, you should stay alert, use common sense, and book a hotel of resort with 24-hour security.
How many days in Jamaica is enough?
Well, it really depends on what you want to do and see in Jamaica. But generally speaking, I'd recommend spending at least 5-7 days there to get a good taste of the culture, food, and beautiful scenery.
Is Montego Bay or Negril better?
Choosing between Montego Bay and Negril in Jamaica depends on your preferences. Montego Bay offers more nightlife and shopping, while Negril boasts beautiful beaches and a more laid-back vibe.
Is it better to stay in Montego Bay or Kingston?
When deciding between Montego Bay and Kingston, it depends on what you want from your Jamaican experience. Montego Bay is a tourist hub with beautiful beaches, while Kingston offers more culture and history.
Is Ochos Rios or Negril better?
Choosing between Ochos Rios and Negril depends on your preferences. Ochos Rios has more activities and attractions, while Negril offers a more laid-back atmosphere with beautiful beaches.
See more: Where to Stay in Costa Rica
In conclusion, Negril, Montego Bay, Ocho Rios, Treasure Beach, Kingston, Runaway Bay, Port Antonio, and Mandeville are the best places to stay in Jamaica for tourists. They offers plenty of things to do and see for all visitors.
By now you should be feeling more familiar with the various areas of the island and what Jamaica has to offer and have a better idea of where is best for you to spend your Jamaican vacation.
With that decision out of the way, it is time to get on with finding your perfect hotel. We have plenty of recommendations for that too. Whether you are looking for a family friendly hotel, a private villa, or an all-inclusive with a private beach, Jamaica has a fantastic range of accommodation to choose from.