Do you know where to stay in Puerto Rico? If not, look no further. This blog will tell you all about the best areas to stay in Puerto Rico and what benefits they offer. Let's get started!
Puerto Rico is an island in the Caribbean Sea, just off the coast of the Virgin Islands, that is an unincorporated territory of the United States. With beautiful beaches, fabulous cities, and incredible national parks, Puerto Rico is an utterly amazing place, with something to offer for everyone.
Before we begin, I want to give you some tips and info. These will be things you need to consider to ensure you select the best place to stay in Puerto Rico.
For example, those prioritizing history should stay in Old San Juan. Not only does it offer a rich range of attractions, but it is also conveniently near a major airport and all manner of amenities.
Those who want to explore the entire archipelago during their visit will want to stay in Fajardo, as it is located on the east coast and boasts a beautiful marina.
Cabo Rojo has the greatest selection of beaches with 127, so will appeal to all types of beach lovers. However, if you value quality over quantity, Isla Verde is considered to have some of the best beaches on the main island of Puerto Rico.
Dorado and Ponce both offer a great choice of golf courses, so are suitable for players of all abilities. Meanwhile, Rincon is better suited for those interested in surfing competitions.
There will even be those who prefer to spend the majority of their trip away from the mainland, exploring the wilds. In that case, both Culebra Island and Vieques Island have plenty to offer.
If you keep these and similar issues in mind while reading, it will make choosing where to stay in Puerto Rico as straightforward as possible.
📌Where To Stay In Puerto Rico: 15 Best Areas To Stay In Puerto Rico
So, now you know exactly what to look for, I'm going to show you what I feel are the 15 best areas to stay in Puerto Rico. This will hopefully give you everything you need, to make sure your trip goes as smoothly as possible.
1. Old San Juan, best area to stay in Puerto Rico for sightseeing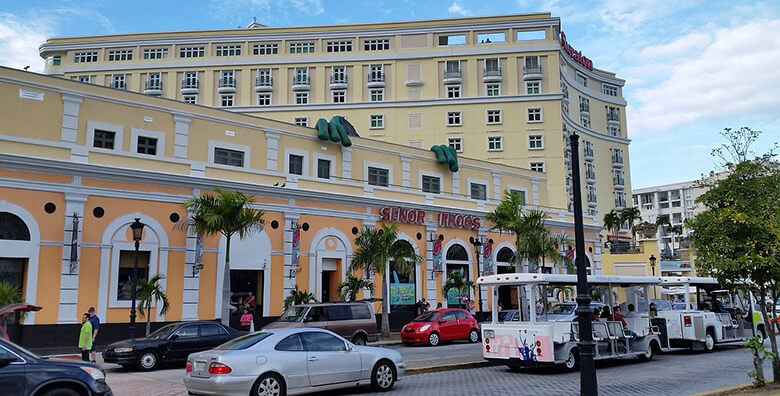 We begin our search on the main island, in the capital city of Puerto Rico, Old San Juan. The third oldest city under the jurisdiction of the United States, it is filled with a rich history dating back to the early 1500's, so you can really explore the island's past.
The majority of the buildings in Old San Juan have a distinctly Spanish architectural style, allowing you to immerse yourself in the culture of the area. This is a large part of the reason that Old San Juan is considered the main cultural tourist attraction in Puerto Rico.
The oldest executive mansion still in use in the Americas, La Fortaleza, and the El Palacio De Santa Catalina; Fort San Cristóbal and Fort San Felipe Del Morro are the most historical buildings in Old San Juan which make up part of the San Juan Historical Site.
The Cathedral Of San Juan Bautista is a perfect example of the religious history of San Juan. With stunning architecture and artwork, as well as containing the grave of Spanish explorer Juan Ponce De Leon, it perfectly combines Puerto Rico's history and culture.
Other buildings of interest in Old San Juan include City Hall, the Diputación Provincial and Real Intendencia buildings, Casa Blanca, Casa Rosa, the San Jose Church, the Hotel El Convento, the Teatro Tapia, Paseo de la Princesa, and the Ballajá Barracks, which now contains the Ballajá Museum.
Beautiful, cobbled streets weave throughout San Juan, linking the buildings of Old San Juan with other attractions like the Maria Magdalena De Pazzis Cemetery.
There are even a number of beautiful squares in Old San Juan, such as the Plaza De Armas. These allow you to sit back and enjoy a meal or a drink while taking in the beautiful architecture and culture Old San Juan has to offer.
Old San Juan also comes with the benefit of being located close to the modern part of San Juan, connected by beautiful bridges and a causeway. Downtown San Juan features a great collection of the best restaurants, bars, shops, and accommodation options in Puerto Rico. 
If you're looking for the best area for families close to Old San Juan, look into Condado. Condado has a lot of restaurants and bars, a lagoon, beachfront resorts with outdoor pools, on-site casinos, an outdoor terrace, and plenty of family entertainment for kids.
There is even a great collection of hostels and lower-cost accommodation. This means it is the best town for budget travelers to stay in Puerto Rico to save money.
You put all of this together and it makes Old San Juan one of the very best places to stay in Puerto Rico for all manner of different travelers.
Stay In Old San Juan If you want to stay in the busiest city, on the main island; you want to be near San Juan Airport; you are interested in Puerto Rico's historical landmarks and within walking distance to the attractions; you want plenty of bars, restaurants and good nightlife.
Best places to stay in San Juan:
🔍FIND BEST HOTELS IN OLD SAN JUAN
See more: Do You Need a Passport To Go To Puerto Rico?
2. Santurce (San Juan), where to stay in Puerto Rico for nightlife
Our next destination of Santurce is actually a subdistrict or barrios of San Juan. The largest, most populous barrios in the city, it is one of the most densely populated areas on the island.
It is well known as a cultural hotspot, with vibrant art, cuisine, fashion, film, music, and textiles industries abundant in the area. This makes it the perfect place to stay in Puerto Rico for those after a thriving nightlife scene, or the ability to sample some of the best Puerto Rican cuisine.
For those looking to delve deeper into the arts of Puerto Rico, the Ballets De San Juan and Luis A. Ferré Performing Arts Centre are both fabulous places to take in the local style. The same can also be said of some of the fabulous architecture in the area.
Meanwhile, a collection of museums that includes the Museum Of Art Of Puerto Rico, Puerto Rico Museum Of Contemporary Art, and the Galería Casa Jefferson, is ideal for history buffs wanting to learn more about Puerto Rico's past.
There is also a great collection of both churches and synagogues located throughout Santurce. This provides a great example of the religious diversity in the city.
A great number of beach areas are located along the coast, which Santurce shares with 6 different bodies of water. This ensures you will be able to find the type of beach you are looking for, whether you want relaxing days sunbathing, or something a little more energetic.
As its tourist reputation continues to grow, amenities and accommodation options are constantly springing up. This further adds to the well-rounded nature of this part of Puerto Rico.
Stay In Santurce If You want to stay in one of the neighborhoods within greater San Juan; Nightlife is important to you; You are interested in art, architecture, or history; You want a great selection of amenities and facilities; You want to stay somewhere with access to both a beach and a city.
Best places to stay in San Juan:
🔍FIND BEST HOTELS IN SANTURCE
3. Isla Verde, where to stay in Puerto Rico for couples
Isla Verde is located immediately to the east of San Juan. A slightly quieter, more residential area, it is a fantastic location for anyone who wants easy access to the city, while staying in an area that offers more peace and space.
Isla Verde is particularly known for having some of the best beaches on the northern coast of Puerto Rico, including Isla Verde Beach and Carolina Public Beach. These feature water sports facilities and are surrounded by beach resorts, ensuring you are never too far from anything you need.
For those who want a slightly calmer beach experience, Isla Verde Beach also boasts facilities like a beach bar and rentable chairs and umbrellas. This ensures even those looking for a relaxing day topping up their tan will have just as much fun.
You also have Luis Munoz Marin International Airport, better known as San Juan Airport, the largest international airport in Puerto Rico. This makes Isla Verde ideal for anyone wanting to stay near the airport to avoid missing a flight, wasting time, or having to drag their luggage all over Puerto Rico.
Stay In Isla Verde If you want to stay near the main airport in Puerto Rico and the Old San Juan; you want to stay in a luxurious beach resort and spend a lot of time at the beach;
Best places to stay in Isla Verde:
🔍FIND BEST HOTELS IN ISLA VERDE
4. Rio Grande, where to stay in puerto rico for outdoor activities
Located further east along the northern coast from Isla Verde, Rio Grande is a secluded beach town in a coastal valley. Well off the beaten path, its Coco Beach is a perfect place for a romantic getaway.
Some of the finest Puerto Rico Hotels and resorts provide all the luxury you could ask for during your stay. Meanwhile, the secluded location gives you the freedom to truly relax, away from prying eyes.
Local shops, bars, and restaurants make up the bulk of the amenities in the town. They should have everything you need to complete your relaxing vacation, while also helping to immerse you in the spirit of your destination.
Annual festivals, like Rio Grande Carnival in July, Las Picuas Festival in September, and the Stuffed Potato Festival in April, provide plenty of seasonal attractions, depending on the time of your visit.
However, perhaps the most popular attraction is the El Yunque National Forest, the only tropical rainforest in the United States National Forest System. While the forest is divided among many barrios, Rio Grande contains the largest portion, which is located just a short drive away.
Covering more than 28,000 acres, the forest is split into four different sections, each with its own tree and plant life. A variety of animals and birds live within the forest for you to discover, while there are also a number of man-made watchtowers to look at and get a better view from.
The El Portal Rainforest Centre can teach you more about the plants and animals that call the forest home. There are also exhibits, classrooms, laboratories and even a theatre, where you can learn about rainforests and the current state of them today throughout the world.
Stay In the Rio Grande If you are an adventure lover who wants to do a lot of outdoor activities; you want to stay in a luxury beach resort; you want to explore El Yunque National Forest and stay close to the beach cities of Fajardo and Luquillo.
Best places to stay in the Rio Grande:
🔍FIND BEST HOTELS IN RIO GRANDE
5. Luquillo, best area to stay in Puerto Rico for authentic experience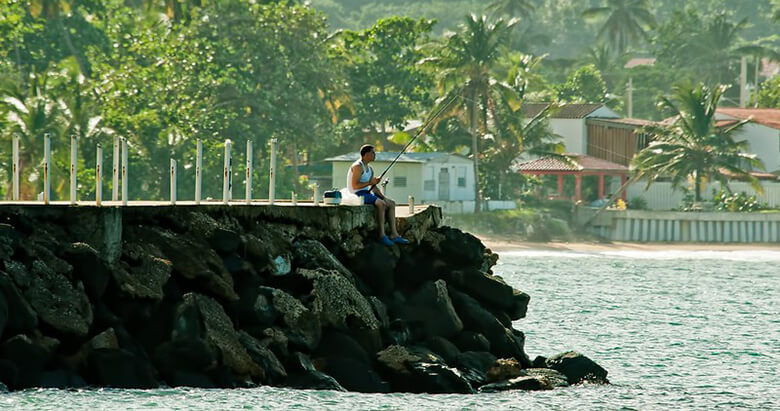 Immediately to the east of Rio Grande, the town of Luquillo sits at the beginning of the Northeast Ecological Corridor. A protected area helping to maintain forests, wetlands, beaches, corals, and the habitats of rare or endangered species of animals, it is an incredible place for those interested in wildlife or conservation.
The town itself is a small, picturesque destination, with a beautiful square and local businesses, creating a truly authentic feeling. Throughout the year they hold festivals designed to promote their wares, as well as to boost their conservation efforts.
The Leatherback Turtle Festival in April, Festival De Zangueros in June, Coconut Festival in September, and Traditional Cooking Festival in December are all wonderful experiences, assisting very worthy causes.
Perhaps the most noteworthy and entertaining festival though, is the Fiestas Patronales De San Jose held in March. This is when the towns people celebrate their patron saint, with parades, games, artisans, rides, live entertainment and foods from the region.
Like many parts of Porto Rico, Luquillo has a great selection of beaches. With 14 available you have plenty to choose from. Some are backed by beautiful coconut tree groves, others by restaurants, and some even have monuments for you to discover.
This ensures you have plenty of choice throughout your stay in Puerto Rico, no matter what type of beach you like.
Public transport is almost non-existent in the town, so you may need a rental car or taxi to get around. However, many of the beaches are just a short walk apart, so you won't need to worry if you just want to relax.
Stay In Luquillo If you want to attend one of the festivals; you want a great choice of beaches; you want to stay in an ecological preservation corridor; you want to explore a national forest.
Best places to stay in Luquillo:
🔍FIND BEST HOTELS IN LUQUILLO
6. Fajardo, where to stay in Puerto Rico for island hoping and beaches
Fajardo is yet again located further east along the coast, this time on the very north-eastern point of the island. It is perhaps the most popular destination in all of Puerto Rico for those in the boating community.
Surrounded by islets and other islands in the Puerto Rico archipelago, it is a fabulous destination for those who want to do a bit of island hopping. The Puerto Del Rey Marina is an ideal spot to park your yacht or book a tour out on the water to really make the most of your stay in Puerto Rico.
A collection of 46 beaches also offers some of the greatest choices anywhere in Puerto Rico. Whether you simply want to relax and top up your tan or get involved with activities like snorkeling and scuba diving, you are guaranteed to find a beach to meet your needs.
These beaches are surrounded by some of the best restaurants and hotels on the island. After a long day in the ocean, what better way to unwind than with some fresh seafood and a night sleeping in luxurious accommodation.
Attractions like a lighthouse, Las Cabezas de San Juan Nature Reserve, cathedral, bioluminescent lagoon bay and a U.S. Customs House perfectly compliment the beautiful town square, ports, national parks, and reserves that surround the area. Meanwhile, its own airport makes Fajardo incredibly easy to access.
Stay In Fajardo If you are interested in sailing around the archipelago; you want an incredible choice of beaches; you are a fan of fresh seafood; you want to be near a small airport; you want to visit Culebra Island and Vieques Island.
Best places to stay in Puerto Rico in Fajardo:
🔍FIND BEST HOTELS IN FAJARDO
7. Culebra Island, where to stay in Puerto Rico best beaches
Culebra Island is one of the smaller islands in Puerto Rico's archipelago, located to the east of Fajardo, off the coast of the main island. Its name translates to "snake island" and it is the least populous municipality in Puerto Rico.
It is a popular destination for both foreigners and main island Puerto Ricans alike, due to its incredible collection of beaches, including Playa Flamenco, Playa Tamarindo, Las Vacas Beach, Brava Beach, Larga Beach, Punta Soldado Beach, Resaca Beach, Tortuga Beach, and Zoni Beach.
Playa Flamenco, also known as Flamenco Beach, is perhaps the most popular option, having previously been ranked as the 3rd best beach in the world. A sandy beach backed by tree-covered hills, it is perfect for those seeking an idyllic tropical getaway.
While the beaches are the main attractions on Culebra Island, it is also known as a hotspot for animal lovers and wildlife enthusiasts. You can see sea turtles while scuba diving.
The most well-known area is the Culebra National Wildlife Refuge, which covers roughly 6 square kilometers. An important area for the nesting of 13 species of bird and 3 species of sea turtle, it is a great opportunity to see some unique animals. 
There is even a selection of festivals held throughout the year, such as the Windsurfing Competition in February, the Fishing Tournament in March, and the Craft Festivities in November. Undoubtedly the biggest and most important festival though is the Patron Saint Festival in July.
Also known as the Fiestas Patronales De Nuestra Senora Del Carmen, it is a religious and cultural celebration in honor of Mary, mother of Jesus. Parades, games, artisans, rides, live entertainment, and Puerto Rican Delicacies give a fabulous insight into the local way of life for those lucky enough to be present when it is taking place.
Stay In Culebra Island If you want to spend some time relaxing on Flamenco Beach; you plan to spend the majority of your trip on a beach; you are interested in wildlife; you want easy access to Vieques island and Culebrita island.
Best places to stay in Culebra:
🔍FIND BEST HOTELS IN CULEBRA
8. Vieques Island, with beautiful white sandy beaches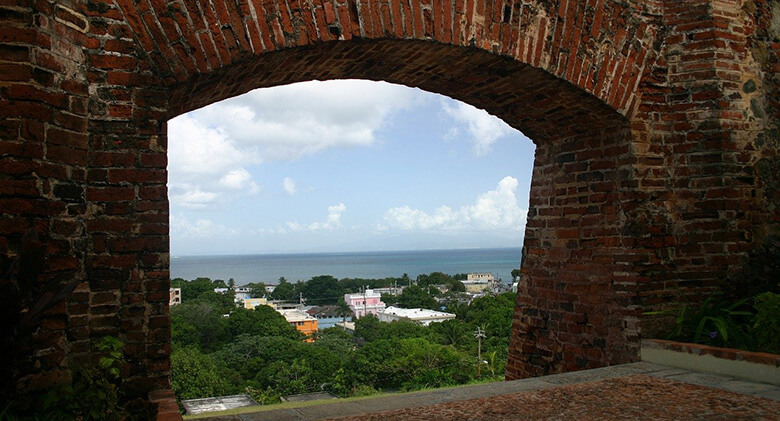 Located just to the south of Culebra Island, Vieques Island is another small island in the Caribbean Sea, that is a former US naval base. Much like its neighbor, it features some of the highest-rated beaches in the area, such as Mosquito Bay Beach, with beautiful white sands and bright blue waters.
Its most popular attraction is undoubtedly Mosquito Bioluminescent Bay, one of the 5 listed National Natural Landmarks located in Puerto Rico. Recognized as the brightest bioluminescent bay in the world, visitors have the unique opportunity to swim or kayak in an area of true natural beauty.
Opening out onto Mosquito Bay Beach, you can even sit back and relax on the sand, taking in the view at the same time. This makes it an ideal, picturesque spot for those lazy beach days spent topping up your tan.
The other popular attraction on the island is Vieques Island National Wildlife Refuge. Filled with beaches, lagoons, and forests, as well as rare and endangered animals, it makes a great way to relax and unwind, surrounded by nature as opposed to people.
There is even a number of festivals held here too, such as the Three Kings Festival in January, the Vieques Cultural Festival in June, and the Festival De La Arepa in August and September. These are wonderful experiences if you happen to be visiting at the right time.
Stay In Vieques Island If you are interested in visiting a national wildlife refuge; you want to attend one of the festivals; you want to see the brightest bioluminescent bay in the world; you want to spend a lot of time relaxing on a beach.
Best places to stay in Puerto Rico in Vieques:
🔍FIND BEST HOTELS IN VIEQUES
9. Isabela, best area in Puerto Rico for local culture and nature beauty
Named after Isabella I of Castille, Isabela is situated in the northwesternmost corner of the island. Its location allows it to provide a combination of all the natural features that Puerto Rico is known for.
A collection of 12 wonderful beaches is spread out along the shore, providing different activities and relaxation opportunities, so there is sure to be something for everyone. Some of the best beaches are Jobos Beach, Montones Beach, and Cueva de las Golondrinas. Meanwhile, lakes and rivers flow throughout the area, providing swimming options for those who prefer freshwater.
A dense portion of rainforest allows you to explore the wilder, yet equally beautiful side of the island, looking at incredible selections on plant and animal life. For the more physically fit, you also have the Cordillera Mountains to climb, to witness some of the most stunning views on the island. Guajataca Forest is also a great place to hike.
Caves and archaeological sites even provide a different type of entertainment. You can trek to some of those already found, like the San Antonio De La Tuna Ruins, or hope to stumble across something new and turn your vacation into a scene out of an Indiana Jones movie.
With an incredible 14 festivals held throughout the year and numerous attractions like the Guajataca Tunnel, Bewitched Well, San Antonio De La Tuna Museum, and the Photo Museum Of Isabela, there is always something to keep you occupied, no matter when you visit.
Stay In Isabela If you want to see all the different sides of Puerto Rico; you are interested in archaeology or nature; you like tourist-friendly areas but not very touristy to experience the local culture.
Best places to stay in Isabela:
🔍FIND BEST HOTELS IN ISABELA
10. Rincon, where to stay in Puerto Rico for surfing
Rincon is a municipality, located in a valley on the west coast of the main island. It is best known for its wonderful collection of 53 Caribbean and surfing style beaches. Rincon Town Beach Plaza, Sandy Beach, Marias, Domes, Pools Beach, and Tres Palmas are just some of the popular options here.
Domes beach was even the site of the 1968 World Surfing Championships. Since then, top level surfers have regularly visited, either participating in competitions or honing their skills.
Surfing isn't the only water sport popular in Rincon though. As the tourist industry blossomed with the surf competitions, companies set up shop offering all types of activities. Now, everything from snorkeling and scuba diving to jet ski and boat rides is available.
Meanwhile, an incredible collection of bars and restaurants lines the seafront, catering to all manner of tastes and budgets. This gives you the chance to unwind with a drink or meal of an evening, while watching some of the most beautiful sunsets you will find anywhere in Puerto Rico.
While the majority of the attractions here revolve around the water, there are some options on land too, to help you break your trip up a little. One such example is the Punta Higuero Lighthouse.
Originally built in 1892, the historic lighthouse was rebuilt 30 years later. Having now stood in its current condition for 100 years, it is a fabulous place to take in some of the histories of the area with one of its most impressive feats of engineering. 
Stay In Rincon If you're an experienced surfer, or you want to watch or participate in a surfing competition; you love beautiful sunsets, historic lighthouses, or water sports.
Best places to stay in Puerto Rico in Rincon:
🔍FIND BEST HOTELS IN RINCON
11. Ponce, a central location south of Puerto Rico with lots of things to do
Ponce is the second-largest city in Puerto Rico, behind only San Juan. Surrounded by 14 rivers, the highest point in Puerto Rico, and other mountains, parks, and forests, it creates an incredible balance between the natural and man-made sides of the area.
In recent years, the city has experienced incredible growth, especially in the downtown area. High-end hotel resorts, bars, restaurants, and shops cater to your every need, both day and night.
Speaking of which, Ponce has some of the most vibrant nightlife in Puerto Rico, perfect for when you want to let loose after long days lazing on beaches or roaming the streets, shopping till you drop.
They have even opened the Costa Caribe Golf & Country Club, featuring a 27-hole, PGA Championship golf course. Whether you want to play around or enjoy a drink in more sophisticated surroundings, the option is there if you can afford it.
The densest collection of attractions is located downtown, with iconic buildings and coastal sights present in abundance. One of the most popular attractions in the area is the Parque de Bombas. 
A former historic fire station, it is considered by many to be the most recognized landmark on the island. Now converted into a museum listed on the National Register Of Historic Places, it is a great way to learn about the history of the emergency services in Puerto Rico.
Stay In Ponce If you are history lovers want to visit the Parque De Bombas museum; you aren't worried about money; you want to play some golf during your stay; you are interested in exploring rivers, mountains, and national parks.
🔍FIND BEST HOTELS IN PONCE
12. Mayaguez, best place in Puerto Rico close to tourist attractions
Mayaguez is located on the western coast of Puerto Rico. While less visited than many of the areas in the north or the east, Mayaguez has one of the best collections of tourist attractions anywhere in Puerto Rico.
Firstly, it is the origin of many Puerto Rican delicacies and plays a vital role in the gastronomy of the island. Deserts, seafood, and fried foods were created and produced in abundance, as were alcoholic beverages, such as wine, beer, and rum. At one point they even had their own brand of cola.
Then, there is the collection of festivals that takes place in the town. With more than one a month, celebrating everything from sports and saints to family and carnivals, you are almost guaranteed to find a unique experience waiting for you, whatever time of year you choose to visit.
A collection of 13 beaches offers plenty of options for when you want to relax, no matter whether you prefer to spend days lazing in the sand or get out on the water. Or perhaps you are a sports fan, in which case why not watch a game of one of the many sporting teams located here?
They even have plentiful landmarks for you to spend your days roaming around discovering, some of which are just beautiful, while others are educational as well.
Speaking of education, Mayaguez is also the location of one of the main campuses of the University Of Puerto Rico. This makes it a great destination if you are thinking of becoming, or are visiting, a student at the university.
Stay In Mayaguez If you are interested in the gastronomy of Puerto Rico; you love festivals and sports; you are, or are visiting, a student at the Mayaguez campus of the University Of Puerto Rico; you want a good choice of beaches.
Best places to stay in Mayaguez:
🔍FIND BEST HOTELS IN MAYAGUEZ
13. Cabo Rojo, best areas in Puerto Rico for beautiful sunset
Located on the south-west coast of the island, Cabo Rojo has one of the best selections of beaches in all of Puerto Rico, with an incredible 127 to choose from, including the most famous, Playa Sucia. As a result, tourist facilities have begun exploding in the town in recent years.
Hotels and marinas are particularly popular developments, as they provide visitors with places to stay and a way to get out and enjoy the ocean. However, as one of the fastest developing parts of Puerto Rico, environmentalists are worrying its growth will harm the local community.
Despite the growth, the area known as Puerto Real still remains a traditional fishing village. This not only allows you to get an authentic feel of what the area is traditionally like, it also features a number of restaurants serving the freshest, highest quality seafood around.
Known to offer some of the most incredible sunsets you'll find anywhere in Puerto Rico, you'll also find the oldest salt mines in the Americas located here, as well as a collection of caves and lagoons.
Some of the most popular attractions include the San Miguel Arcángel Church and the Los Morrillos Lighthouse. These are both historic locations that demonstrate the best of the history, engineering, and architecture of the town. You also have Joyuda and Pink Salt Likes.
On the outskirts of the town, there is two protected areas, the Cabo Rojo National Wildlife Refuge and the Boquerón State Forest. Featuring beautiful scenery, these lands play home to a number of endangered species of bird, making it a great place to visit for bird watchers and nature lovers alike.
Stay In Cabo Rojo If you are a fan of fresh, high-quality seafood; you want to experience a traditional fishing village or an amazing sunset; you love modern hotels and marinas; you want to explore caves, lagoons, and salt mines; you are interested in bird watching or nature.
Best places to stay in Puerto Rico in Cabo Rojo:
🔍FIND BEST HOTELS IN CABO ROJO
14. Arecib, great area for history and nature lovers
Arecibo is the largest municipality in Puerto Rico by area, located to the west of San Juan. It is best known for the Arecibo Observatory, which houses the Arecibo Telescope, the largest radio telescope in the world until July 2016.
Besides the observatory, the town has a number of other iconic, historic buildings. There is the 18th century Cathedral Of Saint Phillip The Apostle, the Punta Los Morrillos Lighthouse, and even the stunning City Hall building.
There is even the Birth Of The New World Statue. A monument depicting Christopher Columbus, it is the work of Russian sculptor Zurab Tsereteli and, at 295 feet tall, is the tallest statue in the Americas.
The Arecibo Harbour is a beautiful marina where you can watch boats on the water. Alternatively, a small collection of beaches may be more to the liking of those looking to relax. Sports fans may even want to unwind by watching the local basketball team play a game.
Outside the town, forest reserves, lakes, and archaeological sites provide you with plenty of history and natural beauty to explore. There is even a museum of art and history located within the town, which may help you to learn more about what you are seeing.
Stay In Arecibo If you want to see the tallest statue in the Americas or the former largest telescope on Earth; you are a fan of basketball; you enjoy history and nature in equal measure.
🔍FIND BEST HOTELS IN ARECIBO
Check out my virtual tour about the best places to stay in Puerto Rico in this video or continue reading:
More about the Caribbean Sea destinations:
15. Dorado, an upscale residential area in Puerto Rico
Dorado is an upmarket, largely residential part of Puerto Rico, located on the north shore, just to the west of San Juan. It began from an area that was originally purchased by the Rockefeller family, where they built a huge private vacation compound.
Over the years, it has been repeatedly sold and developed into the Dorado Beach resort. Large, expensive, chain hotels, have made it a popular getaway for the rich and famous. A number of Golf resorts have also been constructed, making it somewhat of a golf haven for both amateurs and pros.
Numerous festivals are held throughout the year, all boasting different customs, purposes and styles of celebration. With only 4 months not having their own festival, there is a good chance there will be something for you to get involved in during your stay.
A collection of 24 beaches gives you plenty of places to relax and enjoy the sand and water, many of which are popular with surfers. In terms of attractions, the downtown area has a reasonable selection of landmarks and places of interest to keep you entertained.
The Museum Casa Del Rey features exhibits and artefacts dating back to the Spanish colonization of Puerto Rico, so is perfect for history buffs. The Sanctuary Of Christ Of The Reconciliation church also offers artefacts of a similar age, style, and interest.
The Distinguished Doradenos Plaza is a fabulous place to sit back and take in some of the stunning local architecture. Meanwhile, the Juan Boria Theater has been recently renovated, so is a fabulous place to take in the area's style of performing arts.
Stay In Dorado If you are looking for a golfing trip and aren't worried about money; you prefer quieter, more exclusive destinations; you want a good range of beaches and historical attractions.
🔍FIND BEST HOTELS IN DORADO
Puerto Rico is a fabulous place, perfect for anyone seeking a tropical getaway, surrounded by history, culture, and natural beauty. This article should have given you everything you need to decide where to stay in Puerto Rico to have a perfect vacation, based on your own wants and needs.
All that's left is to get look at some hotel recommendations in the area you have decided on and get everything booked, so you can start looking forward to your own adventure in Puerto Rico.