Where to stay in Panama City first time? for familes, couples, and on a budget? In this guide, I will help you to decide the best areas to stay in Panama City for tourists (include map and video), the best hotels in Panama City for all budgets, and the safe places to stay in Panama City.
Located between Costa Rica and Colombia, halfway between the Caribbean Sea and the Pacific Ocean, The Republic of Panama is the southernmost country in Central America.
Panama City is the capital and largest city in the state of Panama. Panama City is famous for its Panama Canal and the UNESCO World Heritage Site – Panama Old Town.
The city is lively with a rich architectural heritage, landmarks, culture, and history. This metropolis is a bridge between two worlds of North America and Latin America. In Panama City, the modern is intertwined with the historical, and this acts as a magnet for thousands of tourists each year.
The emblem of the city is the huge skyscrapers and the beautiful parks around them. The American influence on urban culture is palpable and evident in all aspects of life in Panama City.
Where to stay in Panama City First time?
The best areas to stay in Panama City for first-time tourists are Casco Viejo, Obarrio & El Cangrejo, Marbella, San Francisco, Bella Vista, and Calidonia. These are beautiful and popular neighborhoods that provides a wide variety of attractions and amenities.
Casco Viejo is the overall best area for first-time visitors due to its central locations, wide range of accommodations for all budget, and proximity to major attractions. Staying here allows you to be located within walking distance from many major sights, restaurants, bars, and shops.
I recommend to spend at least 3-4 days in Panama City, which allows you to explore the historic Casco Viejo, Panama Canal, and modern city attractions. Additionally, you can take excursions to nearby natural wonders like rainforests and islands for a well-rounded experience.
Map of areas and neighborhoods in Panama City: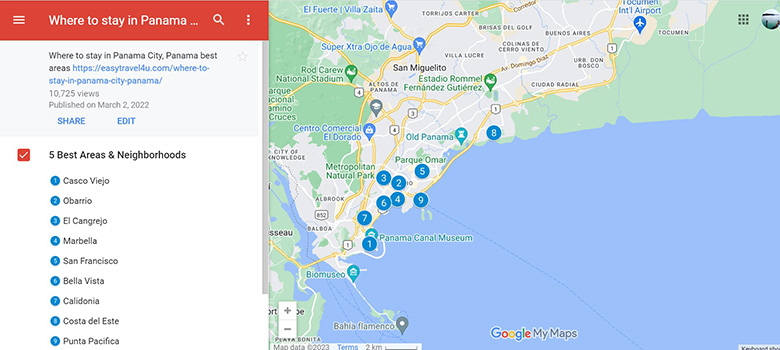 Is Panama City safe for tourists?
Panama City is generally considered safe for tourists. However, like any other destination, it's essential to exercise caution and take common-sense precautions to ensure your safety while traveling.
Here are some safety tips for visiting Panama City:
Stay in Safe Areas:
Choose accommodations in well-established and safe neighborhoods, such as Punta Pacifica, Obarrio, or Bella Vista.
Avoid Certain Areas:
While many parts of Panama City are safe, there are some neighborhoods with higher crime rates, such as El Chorrillo and some parts of San Miguelito. It's best to avoid these areas, especially at night.
Use Reliable Transportation:
Stick to registered taxi services or rideshare apps like Uber for transportation, as they are generally safer than hailing a random taxi on the street.
Keep Valuables Secure:
Petty theft can be a concern in crowded areas, so protect your belongings, and be mindful of your surroundings.
Be Cautious at Night:
Avoid walking alone at night, especially in less populated or poorly lit areas.
Beware of Scams:
Be cautious of scams and pickpocketing, especially in touristy areas. Don't accept unsolicited offers of assistance or engage in street gambling games.
Stay Informed:
Keep updated on the local news and any travel advisories issued by your country's embassy or consulate.
Learn Basic Spanish Phrases:
While many Panamanians speak English, learning some basic Spanish phrases can be helpful for communication and navigating the city.
Use ATMs Wisely:
Use ATMs located in well-lit, secure areas, and be discreet when withdrawing cash.
Respect Local Laws and Customs:
Familiarize yourself with Panama's laws and customs, and show respect for the local culture and traditions.
Best areas to stay in Panama City for first-time tourists are:
1. Casco Viejo /Old Quarter
Panama City's historic district, Casco Viejo, also known as Old quarter, San Felipe, or Casco Antiguo, is one of the most famous and beautiful neighborhoods in Panama City popular as the Old Town.
The foundations of the Panamanian capital were built in this area during the Spanish colonial rule. The unique architecture, the historical and cultural atmosphere take the breath away of every tourist.
Casco Viejo is under the auspices of UNESCO a World Heritage site and has been restored to its old form. Established in 1673 by the Spanish, after the Pirate Henry Morgan attacked and destroyed the original Pacific settlement (Panama Viejo) in 1671.
You can visit the ruins of the original Panama City where you can find Old Panama Cathedral, City Hall, churches, abbeys, convents, and learn more about its history at the Museo De Panama Viejo.
The Old Town of Panama City has vibrant plazas and charming brick-paved streets surrounded by colorful colonial buildings.
It also offers an incredibly large selection of restaurants, cafes, rooftop bars, pubs, shops, and museums, especially the areas around Plaza de la Independencia, Plaza Bolivar, and Avenida Central.
You can walk through narrow cobblestone streets and explore some attractions such as the Metropolitan Cathedral, the Church of San Jose with its well-known golden altar, and Plaza Mayor.
Be sure to visit Plaza de Francia (France Square), which was designed as a tribute to the French effort to build Panama Canal. Nearby stands the dungeon, French Embassy, the National Culture Institute.
The France Square is also home to Conjunto Monumental de Las Bóvedas, a monument that was part of Panama City's colonial fortification and defense against pirate attacks built in the 18th century.
Plaza Francia leads to Paseo de Las Bovedas, which is a trellised promenade, a great place to relax, enjoy the breeze of the ocean, and the charming views of the city's modern skyline.
Nearby, the Paseo Esteban Huertas offers very good views of the Bridge of the Americas, the Amador Causeway, the Bay of Panama, and all the ships lining up to enter the canal.
Panama Canal is the star attraction of Panama, one of the 7 Wonders of the Modern World. It is an 80 km artificial waterway connecting from Panama City on the Pacific coast to Colon on the Caribbean coast.
To learn about its history, you can visit the Canal Museum (Museo del Canal), or if you want to watch the transit at the canal, you can check out Miraflores Locks, Gatun Locks, Pedro Miguel Locks, and Agua Clara Locks.
History buffs will also find the Museo de la Mola where you can learn about the indigenous Guna culture. The Museum of Contemporary Art (MAC Panama) and the History Museum of Panama are also interesting!
For photo ops, head to the stone archway at Arco Chato, which is the remains of the Santo Domingo church built by Dominican friars. It has three points and is 50 feet long by 35 feet high.
The El Teatro Nacional or the National Theatre of Panama is also a must-see. It's located on the site of a monastery that dates back to the 1700s. You can view beautiful ceiling frescoes painted by Robert Lewis.
You can visit the Amador Causeway, a 6 kilometer stretch of road that extends out into the Pacific Ocean where the Panama Canal meets the Pacific sea. it is where you can catch ferries to Pearl Islands and Taboga Island.
Amador is also home to the Punta Culebra Nature Center managed by the Smithsonian Tropical Research Institute, and the famous Biomuseo, or Museum of Bio-Diversity at Panama, which was designed by Frank Gehry.
Within a short drive from the city center, you can visit the 55,000 acres Soberania National Park. Here, you can find a variety of hiking trails like Pipeline Road, Plantation Road trail, Camino de Cruces, and El Charco Trail. It's a great spot for wildlife enthusiasts.
Apart from sightseeing, there are great shopping, dining, and nightlife scene. You can buy local crafts, you can try some of Panama's best dishes, grab a drink, enjoy the sunset and the city's skyline at one of its amazing rooftop bars and clubs.
Places where you can stay range from luxury and mid-range hotels to beautiful villas and apartments, but mainly small boutique hotels and guesthouses. Many boutique hotels, apartments, rooftop bars, and restaurants are located in restored Spanish colonial buildings.
Stay in Casco Viejo if you are visiting Panama city for the first time; you want to stay in a safe area; you are looking for a place for one night, you prefer a place with many cultural attractions, and want to stay in a central location.
Best places to stay in Panama City in Casco Viejo:
luxury: Central Hotel Panama Casco Viejo This 5-star hotel has an outdoor pool and spa center, a sauna, a fitness center, and an on-site restaurant. It's within easy walking distance from the Presidential Palace and Canal Museum of Panama.
mid-range: Magnolia Inn Located in the historic district, within walking distance from a variety of restaurants, bars, shops, and convenience stores. Also close to attractions such as The National Theatre, Presidential Palace, Canal Museum of Panama, Ancon Hill, Maracana Stadium, Bridge of the Americas, and Panama Viejo Cathedral.
budget: Hotel Casa Panama is a beautiful, unique hotel, featuring traditional stone architecture both inside and out. The rooms are all air-conditioned, pet friendly, and boast a private bathroom, while an outdoor pool, terrace, bar, and restaurant complete the attractions that make this an ideal location for anyone seeking a rustic style without having to sacrifice luxuries to achieve it.
🔍FIND BEST HOTELS IN CASCO VIEJO
If you are already settled with the accommodations in Panama City, I suggest reading 21 Best things to Do in Panama City to know more about what are the best things to do and see in Panama City for your next visit!
2. Obarrio & El Cangrejo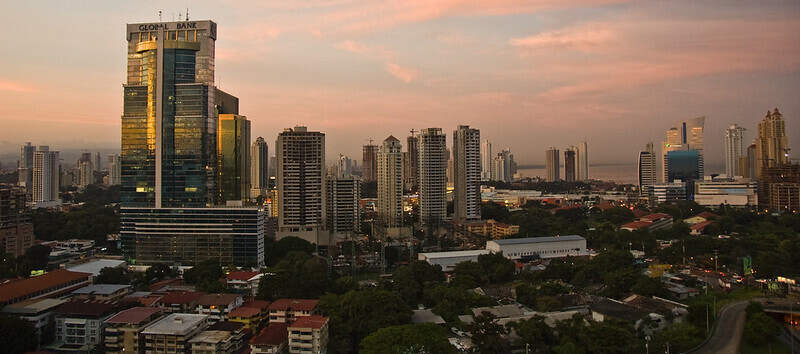 The budget-friendly of Obarrio area is located in the central part of Panama City in the heart of the city's financial district. It is the most popular spot among tourists and the second landmark paradise after the Old Town.
Obarrio is located on the other side of El Cangrejo, at the interesection of two popular streets, Via Argentina and Via España.
Since it's home to many businesses and companies, such as the famous screw-shaped F&F Tower, Obarrio is favourite location of savvy millennials and business professionals.
This is completely adapted to the needs of visitors and offers great opportunities for any kind of tourism. If you are a fan of heritage architecture and historical landmarks, there is a lot to see in Obarrio.
If you are a family or a couple, you must know that Obarrio is considered one of the safest neighborhoods in the Panama City. If you are on a street food tour here, the restaurants will impress you deeply with their cuisine.
The places where you can stay are reasonably priced and range from hostels, boutique hotels, budget places. The nightlife in Obаrrio boils to the max.
The diverse and vibrant neighborhood of El Camgrejo is a residential ares with many middle-class Panamanians. El Cangrejo is one of the most walkable neighborhoods in Panama City with a charming and friendly vibe.
El Cangrejo was established in the 1950s and was the first Jewish quarter. You will find Albert Einstein's huge sculpted head in front of the entrance to New York Bagel Café, great palce to pose a photo!
There are plenty of shops, restaurants, bars, and cafés rest along Panama City's restaurant row, Via Argentina, and Via Veneto where you can find famous Veneto Hotel and Casino.
In Via Argentina, you can have a drink at one of its rooftop bars in the popular The Roof, which is in the Best Western Plus Panama Zen Hotel. Good to views of the cityscape in sunset time
The Andres Bello Park, also know called Parque Andres Bello in Spanish, nearby is a great place to relax and spend time with friends and family outdoors.
You will have attractions such as El Trapiche, Parroquia Santuario Nacional del Corazón de María, Mordida del Burro.
Seafood lovers must-try restaurants and cafe-like Restaurant Makoto, Café Madero for classic breakfast, Café Unido Marabella, La Locanda, Anthanasiou Obarrio, and Slabon Café-Bistro.
Stay in Obarrio & El Cangrejo if you're looking for the safest areas to stay in Panama; you are looking for a place with tourist attractions of different types, you prefer a communicative place with a lot of social spots, you want a place near the center of Panama, you don't mind the noise and the influx of tourists.
Best places to stay in Obarrio and El Cangrejo:
luxury ($$$): Riu Plaza Panamá This is a five star hotel that have an outdoor pool with hot tub, private car parking, as well as spacious guest rooms. You can enjot food and drink at one of its many restaurants the Sushi Lounge, Arts Restaurant, Studio 50, Capital Take Away and the Ibiza Lounge.
mid-range ($$): Best Western Plus Panama Zen Hotel Located just a short drive by car from Balboa Avenue and the Corredor Su, this 4-star hotel has an infinity pool and a bar in the rooftop terrace. It has modern rooms with a minibar, TV, a coffee maker, safety box, and private bathroom.
budget ($): Hotel Milan Panama This 3-star hotel is located in a very nice and safe area, El Cangrejo, 2 km from Metropolitan National Park. It has 24-hour front desk, on-site car parking, as well as modern rooms that are fully equipped.
🔍FIND BEST HOTELS IN OBARRIO
3. Marbella
Located between Obarrio and Punta Paitilla, the quiet residential district, Marbella, is popular with ex-pat. Marbella district is where you will find many foreign embassies, international banks, and luxury hotels.
Not surprisingly, it is also home to luxury condos, quality restaurants, and the best shopping but still has colonial-style architecture. This seaside district is ideal for luxury travelers.
Within walking distance to Marbella you will find Avenida Balboa, Cinta Costera, Megapolis Convention Centre, the beautiful hiking and bicycling park along Panama Bay.
Avenida Balboa is more than 3 km road running along the Pacific. It is named after Vasco Núñez de Balboa, a Spanish explorer, and conquistador who cross the Isthmus to the Pacific Ocean in 1513.
This avenue is an important financial district for Panama and Central America. You can find the Arts Tower, Rivage, YOOPanama, Bisca Financial Center, Torre Waters, and Torre Megapolis.
Its famous Balboa Boutiques Panama Strip Mall is great place to look for fashion stores, beauty salons, and spas.
The nightlife is good, but you can expect to spend plenty of money during a single night there. You will only meet well-heeled people here, although at the northern end of Marbella near Fifth Avenue, things are a little different and there is some reasonably -priced accommodation. However, it makes sense to look elsewhere if you are on a budget because of other daily costs.
If you are looking for all-inclusive accommodation, that is in the immediate waterfront area. The views come at a price. The manicured gardens and the walkways that also permit cyclists are pleasant places to spend a little time.
Best places to stay in Panama City in Marbella for first-timers:
luxury ($$$): Hilton Panama centraly located close to Canal Museum of Panama, Presidential Palace, Metropolitan National Park, and Ancon Hill, this 5-star hotel offers modern guest rooms with flat-screen TV, air conditioning, as well as private bathrooms and free toiletries
mid-range ($$): Princess Hotel Panamá This 4-star hotel is located in the World Trade Centre, 3 km from Panama Bay Beach and Panama City Centre. Its modern-décor rooms provides a work desk, laptop safe and flat-screen TV. They also have a minibar, and city and pool views.
budget ($): Nomada Container Hotel Panama City Located close to Rod Carew National Stadium, Bridge of the Americas, Ancon Hill, and Canal Museum of Panama, this apartment hotel offers air conditioned rooms with a seating and a flat-screen TV.
🔍FIND BEST HOTELS IN MARBELLA
4. San Francisco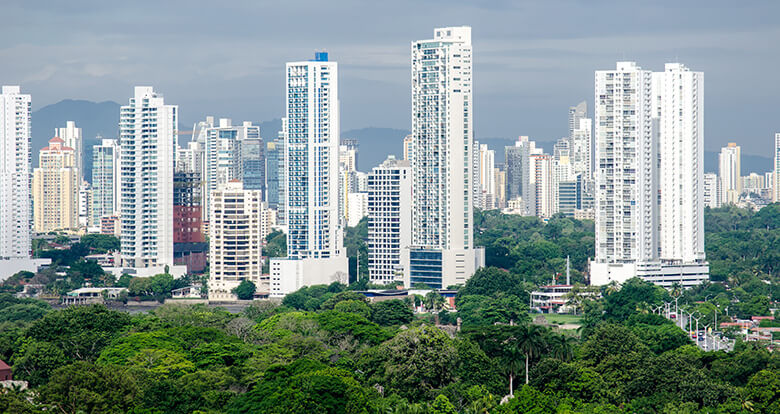 The a chic metropolis area of San Francisco is located east of central Panama City and is one of the most communicative neighborhoods. If you are a fan of nightlife or a street food tourist then this is your place.
The area is full of bars, nightclubs, cafes, and many places for social activities. San Francisco meets the needs of every tourist. You have a great choice of where to stay and in what conditions.
San Francisco to fill with gastronomic corridors, after UNESCO named Panama City a City of Creativity in 2017, specifically highlighting the city's gastronomy culture.
The restaurants offer a wide selection of traditional cuisine as well as world-famous dishes, and new Panamanian cuisine. The prices will surprise you and will be affordable for every tourist in your pocket.
There are many food trucks in the San Francisco neighborhood, it's fun to grab a meal with your family and friends at some of the places like Esa Flaca Rica at the end of Avenida Los Fundadores, Antiburger, Pig Backside, and the Smoke Truck.
You must try some of the Panama food such as the Geisha coffee, organic chocolate, local craft beers, and ceviche.
If you want to shop, head to the Multiplaza Mall, one of the best shopping centers in Panama City. It's also home to the Cinepolis movie theater.
You can also check out Omar Torrijos Park, the biggest park in the city. It is a natural retreat for visitors of all ages. It hosts many free events throughout the year, such as free Zumba, yoga classes, and meditation groups.
San Francisco is also home to the Atlapa Convention Center, where most major events like Fashion Week Panama, food festivals, and concerts take place.
Stay in San Francisco if You are looking for a place for nightlife; If you are a street food tourist; You want services at affordable prices; You do not mind the small selection of attractions.
Best places to stay in San Francisco for first-time visitors:
luxury ($$$): Ramada Plaza by Wyndham Panama Punta Pacifica This 4-star hotel is located within 10 minute walk from MultiPlaza Pacific Shopping Centre. It has an outdoor pool and a spa and wellness centre. Guest can enjoy air-conditioned rooms with a flat-screen TV and a minibar, iPod docking station, seating area and a coffee maker.
mid-range ($$): Aloft Panama Located next to Atlapa Convention Centre, this hotel has on-site gym, outdoor pool, and 24h front desk. Rooms and suites are come with a fridge, private bathroom, a safety deposit box and ironing facilities.
budget ($): SERENADE Lodging Rooms Located in San Francisco neighborhood, this apartment offers a laundry service, business facilities, and buffet breakfast. Easily access Multiplaza, Atlapa Convention Center, and Sheraton casino.
🔍FIND BEST HOTELS IN PANAMA CITY
5. Bella Vista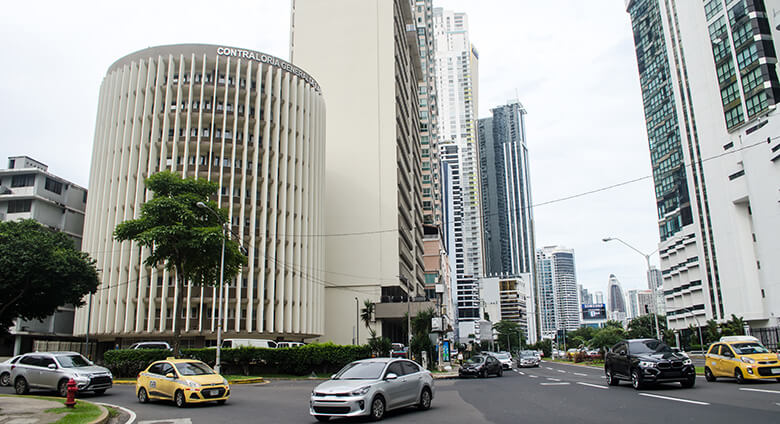 Located on the far end of Panama's scenic Avenida Balboa, ''Beautiful view'' as this translates from Spanish is an apt name for this district. Bella Vista is sometimes referred to as the Zona Rosa as it has plenty of trendy restaurants east of Avenida Frederico Boyd.
Bella Vista is close to Cinta Costera which is a 4km long coastal that connects the Old Quarter, Casco Viejo with the notable skyline of Punta Paitilla. You can also easily reach the Miramar Hotel, the Panama Yacht Club, and the MultiCentro Shopping Mall.
It is an area that is regularly featured when you see promotional photographs of Panama City. It features high-rises and luxury condos which were funded with foreign money in the first decade of this century.
Panama City is a busy place. It is difficult to get around the city, such as the volume of traffic. It makes sense to stay within walking distance of the things you want to see and do.
Bella Vista has several budget hotels to choose from with plenty of choice for eating. They include fast food places as well as high-quality restaurants.
Public transport is good if slow while there are bars, shops, and casinos so day and night have plenty of alternatives. If you are unfamiliar with Panama City, Bella Vista could be a good choice for your base.
Best places to stay in Panama City in Bella Vista:
luxury ($$$): Global Hotel Panama Located close to Panama Old City Centre, theRey Supermarket, Balboa Seafront Boulevard, and Metropolitan Park, this hotel has and outdoor swimming pool and a fitness centre. There is an on-site restaurant, luggage storage and free car parking.
mid-range ($$): Tryp by Wyndham Panama Centro This 4-star hotel offers an outdoor pool, fitness center and a rooftop with city views. It's short drive from Multiplaza and the Albrook Mall, and Metro station of El Carmen.
budget ($): Hotel Milan Panama Located 2 km from Metropolitan National Park at El Cangrejo, this 3-star hotel offers a restaurant, bar and free WiFi, and free private parking.
🔍FIND BEST HOTELS IN BELLA VISTA
6. Calidonia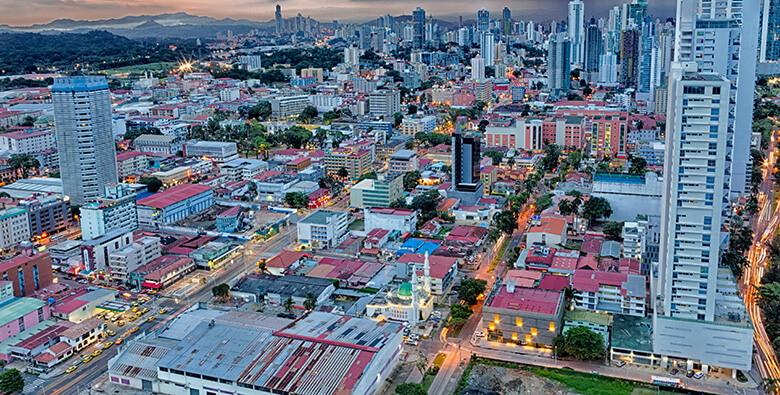 In years gone by, Calidonia was the district where you would only find sailors and merchant seamen going through the Panama Canal. Things have changed but Calidonia remains an important neighborhood in the city with an international flavor still present. It is earmarked for urban renewal with increased walkways to increase its appeal.
Calidonia is a very popular area has many hotels. Conviently location close to 2 metro stations including 5 de mayo and Justo A. ​​and near one of the best part of panama city, the Casco Viejo district and Cinta Costera.
Parts are ultra-modern with good shopping while other areas still have the architectural style of half a century ago. Multiplaza Pacific Mall is a popular shopping area in Panama City.
Simple accommodation is available but simple and includes air-conditioning and demand for cleanliness and quiet. That makes Calidonia attractive to all kinds of budget travelers.
The local cuisine is good, making Calidonia popular with more than backpackers. Indeed, there is some quality accommodation here as well in the southern end near Avenida Balboa and Uruguay Street
This neighborhood has a coastline that appeals to the locals who number around 20,000. Visitors should enjoy this part of Calidonia as well. But keep in mind, this area can be dangerous at night time!
Best places to stay in Panama city in Calidonia:
🔍FIND BEST HOTELS IN CALIDONIA
7. Tocumen Airport Area
Situated 17 km northeast of Panama City, Panama Tocumen airport is a hub between South America, the Caribbean, and North America. It serves both domestic and international flights.
It's the hub for Copa Airlines. It has direct flights to Boston, San Francisco, Chicago, Montreal, Toronto, Madrid, and Paris.
It is difficult to predict how long it would take you to get from the airport to the centre of the city. The traffic can be busy so maybe staying near the airport makes sense if you are a worrier. You will not miss your plane that way.
The immediate neighborhood around the airport has plenty of accommodation so it may be something plenty of tourists consider. It includes luxury resorts, apartments for long-term leases, boutique hotels, and budget places. Prices are highest nearest to the airport but cheaper on the direct flight path.
There are plenty of residential and industrial pockets around the airport as well. Shops, restaurants, and clubs cater to residents as well as visitors. If you choose this as your base, at least your trip into the centre and back out should not produce a problem if the traffic is very heavy.
Best places to stay near Panama Tocumen airport:
Crowne Plaza Airport, an IHG Hotel This 4-star hotel provides accommodation in Tocumen just a 200 m from Tocumen International Airport while a free shuttle service from the airport is offered as well as free internet access throughout the property.
Riande Aeropuerto Hotel Casino this modern 4-star hotel is a 5-minute drive from Tocumen International Airport, offers free shuttle service to and from the hotel. Guests can enjoy the spacious outdoor pool and tropical gardens.
Courtyard by Marriott Panama Metromall offers a lobby bar and a restaurant which offers buffet and à la carte cuisine. Just steps from the lobby, the Metromall offers over 260 shops, cafés, restaurants, and bars. The financial heart of Panama City is around a 20-minute drive away, while the Panama Canal is within a 30-minute drive.
🔍FIND BEST HOTELS IN TOCUMEN
8. Costa del Este
Located in close proximity to both the vibrant city center and Tocumen International Airport, Costa del Este is the only urban-planned neighborhood in Panama City.
Costa del Este is like the Wellington, Florida, of Panama. It has palm trees, broad avenues, ample good sidewalks, and ocean views.
There are new strip malls with shops, cafes, cool lunch spots. You can also find an Industrial Park, and a Business Park. The bayside promenade, the Paseo del Mar is a great place for walking and cycling.
For shopping, you can check the Atrio Mall which hosts a movie theater and the Town Center. The neighborhood is also close to Multiplaza and The Atlapa convention center.
You will have many opportunities to take part in many fairs, festivals, and shows.
With a 10 minute drive by car, you will find the new luxury development of Santa Maria. It is home to the 18 holes Championship Nicklaus Design golf course and luxury resort of Marriott's The Luxury Collection.
Costa del Este has a good nightlife with plenty of dinner and drinks options. You will find gastro bar Bottle Alley, pub, and microbrewery Rana Dorada.
Best places to stay in Panama City in Costa del Este:
luxury ($$$): The Santa Maria, a Luxury Collection Hotel & Golf Resort, Panama City this 5-star hotel has guest rooms with air conditioning, a seating area, a flat-screen TV, a safety deposit box and a private bathroom. There is an on-site restaurant, free private parking, free bikes and an outdoor swimming pool.
luxury ($$$): The Westin Panama Located only 3 km from Old Panama City and 5 minutes' drive from Plaza Costa del Este Shopping Centre, this 5-star hotel provides air conditioning rooms with a safety box, a desk, TV, coffee maker.
🔍FIND BEST HOTELS IN COSTA DEL ESTE
9. Punta Pacifica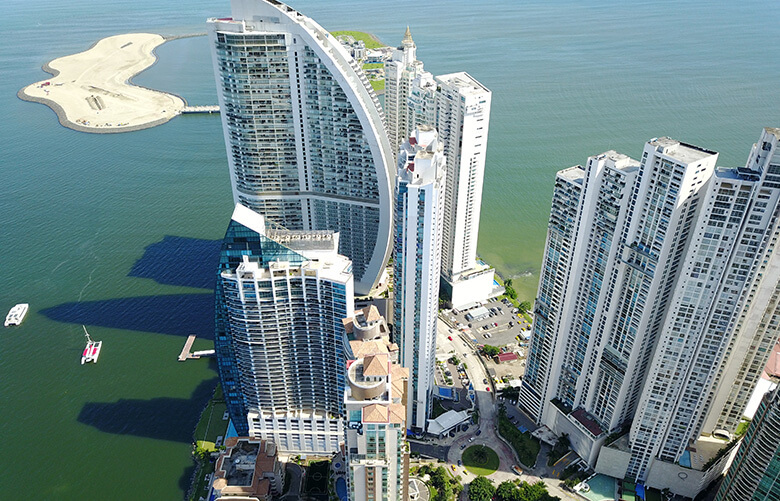 Located on the edge of the Pacific Ocean, Punta Pacifica is a luxury neighborhood with high-end shops, restaurants, and a world-class, John Hopkins-affiliated hospital.
Punta Pacifica is home to the Trump Ocean Club, which is the tallest building in Central America. It housed a five-star JW Marriott-brand hotel, luxury restaurants, and an entertainment venue.
Trump Ocean Club even runs its own ferry service to Saboga Island. If you want to try some luck with gambling, you will find two casinos inside the Trump International Hotel & Tower.
There is a bridge connecting Panama City to the Ocean Reef Islands at the tip of Punta Pacifica. Like Dubai, It contains two artificial islands with luxury condo residences.
You can visit the trendy area of Punta Paitilla, where you can find Avenida Italia, a great street for shopping and fine dining.
There are also shopping opportunities at the Multicentro Mall, on Avenida Balboa. The Multiplaza shopping center is also a great place for a movie, for a meal, and more shopping.
For a fun and memorable experience, check out the Escape Room game center, take a Panama Metro, or book a sailing trip at Marina Flamingo. You can find good-priced Airbnbs, a nice condo, and a hotel with a beautiful sea view.
Best places to stay in Panama City in Punta Pacifica for first-timers:
luxury ($$$): JW Marriott Panama Located in Panama Bay in Punta Pacífica, this five-star hotel offers spacious rooms with ocean views. There are family rooms, infinity pools, 3 restaurants and bars.
mid-range ($$): Residence Inn by Marriott Panama City This 3-star hotel is located inside the Pacific Center Complex. it has buffet and American breakfast, business centre, as well as a snack bar.
🔍FIND BEST HOTELS IN PUNTA PACIFICA
🎬 Check out my virtual tour about the best places to stay in Panama city:
Where to stay in Panama city for the first time?
Casco Viejo-Old Quarter is the best area to stay in Panama City for first-timers due to its proximity to the city's famous tourist attractions and many choices in accommodations.
What is the safe place to stay in Panama City?
The safest place to stay in Panama City is the tourist area. You can consider to book hotel in Casco Viejo, Obarrio, El Cangrejo, and Marbella which are safe neighborhoods with plenty of things to do days and nights.
How many days is enough for Panama City?
It really depends on what you want to see and do. I'd say at least 3-4 days to explore the historic Casco Viejo, the modern skyline, and nearby attractions like the Panama Canal. But if you have more time, there's plenty more to discover!
See more: Best areas to stay in Costa Rica
Although considered a safe city, visitors should be careful. As in any metropolis, pickpockets are part of the urban life of Panama City, especially after dark. Public transport is safe, but you must be careful with stops and bus stations because there is a hangout for petty thieves. Avoid taking taxis from the street as it is preferable to order, taxi call machines are on almost every section.
But, Panama is considered safer than Costa Rica and is more preferred by visitors. Apart from petty theft and pickpocketing, the Panamanian capital has no other alarming signs of danger for tourists.
Summary – Where to stay in Panama City?
In conclusion, Casco Viejo, Obarrio & El Cangrejo, Marbella, San Francisco, Bella Vista, and Calidonia are the best places to stay in Panama City for tourists and first-time travelers. They provide central safe locations with a wide range of accommodation options for all budgets.
Overall, Casco Viejo is the best area for first-timers due to its prime locations. If you stay here, you will be located within walking distance from many major sights such as Metropolitan Cathedral and Palacio de Las Garza, as well as many restaurants, bars, and shops.