Where to stay in Panama City? There are lots of hotels to choose from and many people want to know where the best areas to stay in Panama City are. The following blog post will answer that question for you, so keep reading!
Panama City is the capital and largest city in the state of Panama and is located halfway between the Caribbean Sea and the Pacific Ocean.
The city is lively with a rich architectural heritage, landmarks, culture, and history. This metropolis is a bridge between two worlds of North America and Latin America. In Panama City, the modern is intertwined with the historical, and this acts as a magnet for thousands of tourists each year.
The emblem of the city is the huge skyscrapers and the beautiful parks around them. The American influence on urban culture is palpable and evident in all aspects of life in Panama City.
🔍FIND BEST HOTELS IN PANAMA CITY
📌Where to stay in Panama City: 9 Best Areas & Neighborhoods
The Panamanian capital is an economic and financial center with thousands of businesses from around the world. According to surveys from 2018 and 2019, Panama City is among the best places for business and register financial companies.
Challenging is the most accurate word to describe the process of finding the best place for you. For your convenience, this guide presents 5 of the best areas where you can stay.
Where to stay in Panama City, Panama Map
To see more detail of the map best areas to stay in Panama City, go to Google Map.
1. Casco Viejo – The Old Quarter, where to stay in Panama for first time
Casco Viejo is one of the most famous and beautiful neighborhoods in Panama City popular as the Old Town. The foundations of the Panamanian capital were built in this area during the Spanish colonial rule. The unique architecture, the historical places, and the cultural atmosphere take the breath away of every tourist.
Casco Viejo is under the auspices of UNESCO and has been restored to its old form. The Old Town of Panama City has an incredibly large selection of restaurants, cafes, shops, and museums.
A big attraction is the local markets where you can find real treasures. Places where you can stay range from luxury and mid-range hotels to beautiful villas and apartments.
Other attractions such as the Museo del Canal Interoceanico de Panama, the Teatro Amador, Metropolitan Cathedral, Museum of Contemporary Art (MAC Panama), and Museo Panama Viejo, Arco Chato, and Casco Viejo Plaza de la Independencia.
Stay in Casco Viejoy if you are looking for a place for one night, you prefer a place with many cultural attractions, you don't mind the noise and the crowds of tourists.
Best places to stay in Casco Viejo:
Best luxury hotel: American Trade Hotel is an exquisite, 5-star hotel, set in a grand building on stunning grounds. With facilities like a restaurant, jazz bar, gym, outdoor swimming pool and both indoor and outdoor banquet facilities, it is ideal for those who seek the finer things in life. Rooms are all air-conditioned and feature luxuries on par with the rest of the site, such as iPod docks, robes and slippers.
Best mid-range hotel: Magnolia Inn Located in the historic district, within walking distance from a variety of restaurants, bars, shops and convenience stores. Also close to attractions such as The National Theatre, Presidential Palace, Canal Museum of Panama, Ancon Hill, Maracana Stadium, Bridge of the Americas, and Panama Viejo Cathedral.
Best budget hotel: Hotel Casa Panama is a beautiful, unique hotel, featuring traditional stone architecture both inside and out. The rooms are all air-conditioned, pet friendly and boast a private bathroom, while an outdoor pool, terrace, bar and restaurant complete the attractions that make this an ideal location for anyone seeking a rustic style without having to sacrifice luxuries to achieve it.
Las Clementinas is a fabulous guesthouse, featuring charming suites styled with a contemporary décor, all boasting a private kitchen, bathroom and living area, as well as Wi-Fi, a flat screen cable TV and stunning views of the city. With a beautiful terrace, bar and restaurant, this is somewhere that you can make yourself completely at home, while still being able to kick back and let someone else do the hard work when you don't feel like doing it yourself.
🔍FIND BEST HOTELS IN CASCO VIEJO
🎬 Check out my virtual tour about the best places to stay in Panama city or continue reading:
2. Obarrio & El Cangrejo, best places to stay in Panama city for budget travelers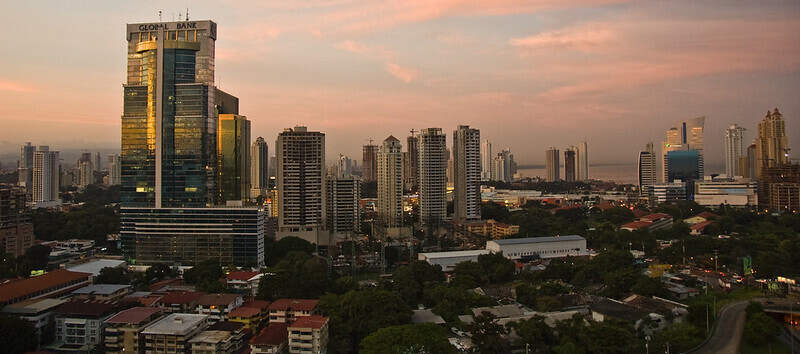 The Obarrio area is located in the central part of Panama City and is the most popular spot among tourists. It is the second landmark paradise after the Old Town.
This is completely adapted to the needs of visitors and offers great opportunities for any kind of tourism. If you are a fan of heritage architecture and historical landmarks, there is a lot to see in Obarrio.
If you are a family or a couple, you must know that area is considered one of the safest in the Panamanian capital. If you are on a street food tour here, the restaurants will impress you deeply with their cuisine.
The places where you can stay are reasonably priced and range from hostels, boutique hotels, budget places. The nightlife in Obаrrio boils to the max.
You will have attractions such as Parroquia Santuario Nacional del Corazón de María, and restaurants and cafe like Restaurant Makoto, Café Madero, Café Unido Marabella, La Locanda, Anthanasiou Obarrio, and Slabon Café-Bistro.
Stay in Obarrio & El Cangrejo if you are looking for a place with tourist attractions of different types, you prefer a communicative place with a lot of social spots, you want a place near the center of Panama, you don't mind the noise and the influx of tourists.
Best places to stay in Obarrio:
W Panama is a uniquely beautiful, 5-star hotel, with the décor throughout inspired by local art, fashion, culture and cuisine. A range of 2 restaurants, 4 bars and the choice of American, buffet and continental breakfasts will please all the foodies out there, while an outdoor pool, sun terrace and fitness centre ensure you'll never be bored. Rooms are all air-conditioned and feature a private bathroom and flat-screen TV, while some even have their own balcony or a view of the city.
AC Hotel by Marriott Panama City is a stylish, modern, 4-star hotel, where guests can enjoy air-conditioned rooms that all feature Wi-Fi and a private balcony. A buffet breakfast is provided each morning, and a bar and restaurant are also available to take care of your culinary needs. Meanwhile, the terrace, lounge, swimming pool and gym should provide everything you need to stay active. If not, speak to the multilingual 24-hour front desk and they may have a suggestion to help you out.
Sortis Hotel, Spa & Casino, Autograph Collection is a fabulous, 5-star casino resort, ideal for visitors wanting to completely let loose and enjoy themselves while they're away. In addition to the casino, it boasts an outdoor pool, spa, fitness centre and bar, so should be able to keep you entertained no matter what you're in to. The rooms themselves are all stylishly decorated and feature air-conditioning, a seating area with cable TV and a coffee maker, a private, modern bathroom and stunning views of the city, while the apartments even come with a fully equipped kitchen.
🔍FIND BEST HOTELS IN OBARRIO
3. Marbella, where to stay in Panama City for Luxury
If money is not a problem, this waterfront neighbourhood could be the place you are suited to in Panama City. This district is where you will find many foreign embassies, international banks, and luxury hotels. Not surprisingly, it is also home to luxury condos, quality restaurants, and the best shopping.
Check out Balboa Boutiques Panama Strip Mall for fashion stores, beauty salons, and spas. It's also within walking distance to Panama Bay.
The nightlife is good, but you can expect to spend plenty of money during a single night there. You will only meet well-heeled people here, although at the northern end of Marbella near Fifth Avenue, things are a little different and there is some reasonably -priced accommodation. However, it makes sense to look elsewhere if you are on a budget because of other daily costs.
If you are looking for all-inclusive accommodation, that is in the immediate waterfront area. The views come at a price. The manicured gardens, and the walkways that also permit cyclists are pleasant places to spend a little time.
Best places to stay in Marbella:
Best luxury hotel: Hilton Panama This 5-star hotel offers a flat-screen TV, air conditioning and cable channels. Located close to Canal Museum of Panama, Presidential Palace, Metropolitan National Park, and Ancon Hill.
Best mid-range hotel: Princess Hotel Panamá This 4-star hotel is located in the World Trade Centre, 3 km from Panama Bay Beach and Panama City Centre. It offers modern-décor rooms offer air conditioning, free wifi, and an on-site restaurant that serves international and Andean cuisine. It is 10 minutes' drive from Panama Viejo Town and 24 km from the Panama Canal. Marcos A. Gelabert International Airport is 30 minutes' drive away.
best budget hotel: Nomada Container Hotel Panama City Located 8 km from Rod Carew National Stadium and 8 km from Bridge of the Americas in the centre of Panama City, Ancon Hill is 9 km from the accommodation, while Canal Museum of Panama is 6 km from the property.
🔍FIND BEST HOTELS IN MARBELLA
4. 💖Panama City Center, the best area to stay in Panama city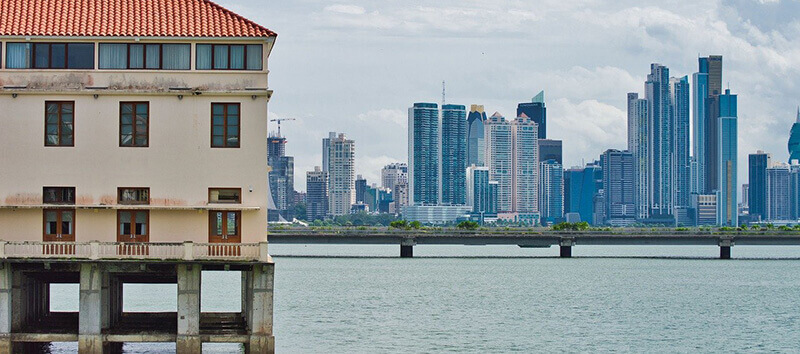 Panama City Center is the heart of the metropolis and a place of the most famous social spots. The area has all the important units needed by every tourist. The city center is the safest place in the Panamanian capital and an area of many business centers and institutions.
The skyscrapers form a unique panoramic view and are surrounded by beautiful parks. The area is intertwining between modern and traditional, and this is evidenced by the many landmarks located here.
Panama City Center is rich in restaurants, nightclubs, and shops. Accommodation ranges from luxury branded hotels to mid-range places to stay. The prices are affordable and are suitable for all types of tourists.
Stay in Panama City Center if you prefer a communicative place with a lot of social spots, you are looking for a place close to landmarks and architecture, you are a tourist, family, couple, nightlife fan, shopping tourist, budget traveler, you don't mind the noise, car traffic and crowds of people.
Best Hotels in Panama City Center:
Plaza Paitilla Inn is a beautiful, 4-star hotel, offering stunning, panoramic views of Panama Bay. With modern, luxuriously decorated rooms featuring floor to ceiling windows, a lounge bar and an outdoor pool and sun terrace, there perhaps isn't a better place in the city to take in the scenery. That's all without even mentioning things like the fabulous on-site gym and fitness centre.
The Executive Hotel is a fabulous, 4-star hotel, boasting a sleek and stylish modern design. The spacious rooms are all air-conditioned and feature luxuries like a flat screen TV, mini bar and balcony. The fabulous on-site restaurant serves a range of international cuisine, while a bar and gym are also available for guests to enjoy.
Global Hotel Panama is a luxurious, 5-star hotel, featuring grand décor and a range of amenities like a bar, restaurant, pool and free parking. The beautiful rooms are all ornately styled and boast the highest quality furnishings, combined with ultramodern amenities and breath-taking views.
Blu Hostel is an ideal choice for anyone travelling on a budget. With a range of simple yet stylish private rooms, as well as a choice of shared dormitories, you can ensure you get the type of accommodation you want at a price you can afford. A multilingual front desk makes it suitable for guests from all over the world, while a terrace, free Wi-Fi and on-site parking make your stay as convenient as possible.
🔍FIND BEST HOTELS IN PANAMA CITY
5. The Canal Area

The Canal area is the most important and widely known place in Panama City. Here is part of the world-famous Panama Canal, an emblem of the whole country.
To miss this part of the Panamanian capital is like going to the Vatican and not seeing the Pope. The canal is the main trade route in the bay. Tourist attractions are not missing, and here you can find information about them throughout the neighborhood.
Amador Alley offers visitors a unique sea view of the port and sailing ships. The main attraction here is a cruise to Miraflores and across the Panama Canal.
The places where you can stay are limited and are mostly small hotels and apartments at budget prices with few exceptions. On the promenade, you will find great restaurants with traditional Panamanian cuisine.
Stay in Canal Area if You prefer a place with beautiful views, You prefer a place near the sea, Looking for a place with interesting tourist attractions, You don't mind the crowds of tourists, You do not mind the high prices of some hotels.
🔍FIND BEST HOTELS IN PANAMA CITY
6. San Francisco, where to stay in Panama City for nightlife
San Francisco is located east of central Panama City and one of the most communicative neighborhoods. If you are a fan of nightlife or a street food tourist then this is your place.
The area is full of bars, nightclubs, cafes, and many places for social activities. San Francisco meets the needs of every tourist. You have a great choice of where to stay and in what conditions.
The restaurants offer a wide selection of traditional cuisine as well as world-famous dishes. The prices will surprise you and will be affordable for every tourist pocket.
You can also check out Omar Torrijos Park, and some cafes and restaurants such as Anti-burger, The Smoke Truck, Pig Backside, Taco T, Istmo Brew Pub, or Esa Flaca Rica.
Stay in San Francisco if You are looking for a place for nightlife; If you are a street food tourist; You want services at affordable prices; You do not mind the small selection of attractions.
Best places to stay in San Francisco:
🔍FIND BEST HOTELS IN PANAMA CITY
7. Bella Vista
''Beautiful view'' as this translates from Spanish is an apt name for this district close to the Old Quarter, Casco Viejo. It is an area that regularly features when you see promotional photographs of Panama City. It features high-rises and luxury condos which were funded with foreign money in the first decade of this century.
Panama City is a busy place. It is difficult to get around the city, such is the volume of traffic. It makes sense to stay within walking distance of the things you want to see and do. Bella Vista has several budget hotels to choose from with plenty of choice for eating. They include fast food places as well as high quality restaurants.
Public transport is good if slow while there are bars, shops, and casinos so day and night have plenty of alternatives. If you are unfamiliar with Panama City, Bella Vista could be a good choice for your base.
Best places to stay in Bella Vista:
Best luxury hotel: Global Hotel Panama Located just is located 10 minutes' drive from Panama Old City Centre, you can find theRey Supermarket 500 m away and other restaurant options within 400 m. It is 2 km from Balboa Seafront Boulevard and 4.4 km from the Metropolitan Park. Tocumen International Airport is 20 minutes' drive away.
Best mid-range hotel: Tryp by Wyndham Panama Centro This 4-star hotel offers an outdoor pool, fitness center and a rooftop with city views. Shopping is available at the Multiplaza and the Albrook Mall, which are both a 10-minute drive from the hotel. Panama Canal is 12 km away from the hotel and Panama Bay is 10 minutes' drive away. Hotel is conveniently located just 250 m from Metro station of El Carmen.
Best budget hotel: Hotel Milan Panama Located 2 km from Metropolitan National Park in Panama City at El Cangrejo, this 3-star hotel offers a restaurant, bar and free WiFi, and free private parking.
🔍FIND BEST HOTELS IN BELLA VISTA
8. Calidonia
In years gone by, Calidonia was the district where you would only find sailors and merchant seamen going through the Panama Canal. Things have changed but Calidonia remains an important neighbourhood in the city with an international flavour still present. It is earmarked for urban renewal with increased walkways to increase its appeal.
Parts are ultra-modern with good shopping while other areas still have the architectural style of half a century ago. Simple accommodation is available but simple and includes air-conditioning and a demand for cleanliness and quiet. That makes Calidonia attractive to all kinds of budget travellers.
The local cuisine is good, making Calidonia popular with more than backpackers. Indeed, there is some quality accommodation here as well in the southern end near Balboa Avenue. This neighbourhood has a coastline that appeals to the locals who number around 20,000. Visitors should enjoy this part of Calidonia as well.
🔍FIND BEST HOTELS IN CALIDONIA
9. Tocumen Airport Area
It is difficult to predict how long it would take you to get from the airport to the centre of the city. The traffic can be busy so maybe staying near the airport makes sense if you are a worrier. You will not miss your plane that way.
The immediate neighbourhood around the airport has plenty of accommodation so it may be something plenty of tourists consider. It includes luxury resorts, apartments for long term leases, boutique hotels and budget places. Prices are highest nearest to the airport but cheaper on the direct flight path.
There are plenty of residential and industrial pockets around the airport as well. Shops, restaurants, and clubs, cater for residents as well as visitors. If you choose this as your base, at least your trip into the centre and back out should not produce a problem if the traffic is very heavy.
Best hotels to stay near Tocumen airport:
Crowne Plaza Airport, an IHG Hotel This 4-star hotel provides accommodation in Tocumen just a 200 m from Tocumen International Airport while a free shuttle service from the airport is offered as well as free internet access throughout the property.
Riande Aeropuerto Hotel Casino this modern 4-star hotel is 5-minute drive from Tocumen International Airport, offers free shuttle service to and from the hotel. Guests can enjoy the spacious outdoor pool and tropical gardens.
Courtyard by Marriott Panama Metromall offers a lobby bar and a restaurant which offers buffet and à la carte cuisine. Just steps from the lobby, the Metromall offers over 260 shops, cafés, restaurants and bars. The financial heart of Panama City is around a 20-minute drive away, while the Panama Canal is within a 30-minute drive.
🔍FIND BEST HOTELS IN TOCUMEN
Panama City – Panama vs. Panama City – Florida vs Panama City Beach?
Panama City and Panama City Beach are in Florida and separated from Panama City, Panama, by the Caribbean Sea. Panama City, Panama is more famous, larger, and with more history compared to the other two cities.
The city boasts a beautiful center, culture, and attractions. Besides the economic and business center of Panama, Panama City also has several marinas and that open a range of water tourism. Panama City Beach is still gaining tourism popularity, but mostly the beaches are the most visited places in the city.
Panama City is more visited by Panama Beach but is in the background compared to Panama City, Panama. Although all three cities are notable for their attractions, they are often called only the name Panama.
This can lead to confusion, especially since they are in two completely different countries. Panama City has the advantage of being the capital among the other two cities, and this cannot be ignored.
Is It Worth Visiting Panama City?
If you are wondering whether to visit Panama City, the answer is an absolute Yes. The city wins the hearts of its visitors with its unusual places and impressive sights.
The capital of Panama is a bridge between two cultures and two continents of North and Latin America. The city is littered with skyscrapers as a guess at how well developed it is economically.
The locals are friendly, and most of them speak very good English. Large shopping malls, entertainment venues, beaches, and heritage architecture are on every corner. Definitely worth visiting Panama City.
Is Panama City Dangerous For Tourists?
Although considered a safe city, visitors should be careful. As in any metropolis, pickpockets are part of the urban life of Panama City, especially after dark.
Public transport is safe, but you must be careful with stops and bus stations because there is a hangout for petty thieves. Avoid taking taxis from the street as it is preferable to order, taxi call machines are on almost every section.
Panama City has not been the target of terrorist attacks so far. All necessary security measures are imposed, especially for malls and entertainment venues. The locals are always friendly and kind and will be happy to help or guide you if you get lost.
What Is The Best Month To Visit Panama?
The best time for your vacation in Panama is the first half of the year when the climate is dry and tropical. In particular, the most favorable months are between January and May.
After mid-May, the rainy season enters the archipelago. The average annual temperature in Panama is principally 32 degrees.
The Pacific climate and the Caribbean breeze predispose to short rains almost every day and a definite humid period until November. In the second half of the year, Panama is more socially active and then hosts festivals, fiestas, events, and customs.
Is Panama Safer Than Costa Rica?
The high crime rate in Costa Rica has a negative effect on the tourist flow in the country. It is quite possible to become a victim of crime in broad daylight.
Panama and Costa Rica are affected by drug trafficking because of their proximity to Colombia. Authorities in both countries have identified areas where it is not desirable to travel for this reason.
However, Panama is considered safer than Costa Rica and is more preferred by visitors. Apart from petty theft and pickpocketing, the Panamanian capital has no other alarming signs of danger for tourists.
See more: Best areas to stay in Costa Rica
Where To Stay In Panama City For Your First Time?
If you are looking for the best place in Panama City to stay for the first time, then Casco Viejo is right for you. It is one of the most beautiful neighborhoods of Panama City and is full of sights, great colonial architecture, and amazing street art.
Also known as the Historic Spring of Panama City, definitely Casco Viejo has many things to see and do. The places to stay range from low class to luxurious and every tourist can find a comfortable place at affordable prices. Your first visit to Panama City will certainly be great if you choose this area to stay.
Where To Stay In Panama City Backpacker?
The Panamanian capital has great conditions for all kinds of tourism, including backpacks. The best place for backpackers in Panama City is the Obarrio neighborhood.
It is located in the city center near many tourist attractions. It is perfectly suitable if you want to stay overnight or you are on a budget.
Obarrio is considered one of the safest and most famous areas for visitors. The area has a large selection of public transport, sights, restaurants, and places for nightlife. Besides, the hotels, hostels, and places to stay at completely affordable prices abound in Obarrio.
Does Panama Have Good Beaches?
The Caribbean coast and the Pacific Ocean give Panama City unique beaches. The promenades are long and wide and captivate tourists with amazing panoramic views. The beaches are long striped and are fantastic for surfing, water sports, swimming, and relaxation.
In the first half of the year, when the weather is dry and tropical, the waters are calm and ideal for vacation. In the second half of the year, during the rainy season, the sea is stormier and catches the eye of surfers.
Panama City differs from the usual tropical destinations mostly by its spirit brought to the historical landmarks. The strategic location of the city will still bring it dividends, mostly of a tourist nature.