If you're traveling to Santorini Greece, you're probably thinking of How many days in Santorini is enough. In this article, I will give you an insight into the best place to stay in Santorini and how long should you spend in Santorini.
The blinding azure of the ocean, the white-washed buildings, the blue-domed churches, the hills, the greenery, the chilled-out vibe – welcome to Santorini, one of your destinations for your Europe routes! The newest craze is island hopping, and if you're hopping your way around the Greek islands, you're in for a treat when you land on this eye-wateringly beautiful island.
How long should you spend Santorini to see the sights, well, three days in Santorini is generally the rule of thumb, however you can throw in beach days between sightseeing, and you could extend this to a week – the choice is yours.
How many days do you need Santorini?
It depends on the activities you plan to do and your personal preferences. Some people may be satisfied with just a few days, while others may want to stay for a week or more to fully experience the island's beauty and culture. It's ultimately up to you to decide how many days you want to stay in Santorini.
Is 2 days in Santorini enough?
Two days in Santorini may be enough to see some of the main attractions and get a taste of the island's culture, but it may not be enough time to fully experience all that Santorini has to offer.
It is a beautiful and unique destination with a rich history and stunning natural beauty, so it is worth considering spending more time there to fully immerse yourself in its culture and history.
Is 4 days in Santorini too long?
Some people may find four days to be the perfect amount of time to explore the island and experience all it has to offer, while others may feel that it is too long and prefer to spend less time there. It is ultimately up to you to decide if four days in Santorini is the right amount of time for your trip.
Is 5 days too long in Santorini?
5 days may be sufficient if you want to relax and take in the island's beautiful beaches and sunsets. However, if you want to explore the island's ancient ruins and visit multiple towns and villages, 5 days may not be enough time. It's best to plan your activities and determine how much time you need based on your interests and priorities.
Where to stay in Santori?
If you plan to visit Santorini very soon, you will want to settle with your accommodations first. Have look at these hotels that I've choosen for you:
Lilium Santorini Villa This 5-star accommodation is located along the rim of the Caldera, it offers a pool with hydromassage facilities. Rooms overlook the Aegean Sea and the volcano, and free wifi. The restaurant serves creative Mediterranean dishes, prepared with fresh ingredients and carefully presented by the hotel's chef. The bar serves exotic cocktails by the poolside.
Anteliz Suites This 4-star hotel provides an outdoor swimming pool with an open-air hydromassage tub. Its air-conditioned rooms feature a free plasma TV and free WiFi access. Breakfast is served daily at the sun terrace by the pool.
Loizos Stylish Residences This apartment is just 20 m from the famous Caldera-volcano-and-sunset viewpoint in Fira, Loizos Apartments offers accommodation coupled with pool facilities, close to the centre of Fira.
What to Do & See in Santorini in 3 Days
There are plenty of things to do and see in Santorini, here are some things you can do in Santorini:
Oia
Oia is a charming west coast town packed with traditional white buildings that spill over the cliffside and look out over Santorini's caldera bay.
Oia is one of the best places to see the sunset on Santorini.
Here you can find beautiful blue-domed churches and narrow streets with plenty of tourist shops, restaurants, cafes.
This town boasts an incredible number of hotels, you can stay in boutique hotels formed from the tiered cliffside houses, but remember it's very steep!
Apart from the amazing sunset sense, you can find cultural attractions such as the Maritime Museum, Byzantine Museum of music instruments.
There are numerous blue domes churches in Oia including the churches of Agios Spiridonas (Saint Spyridon) and Anasteseos (the Church of the Resurrection). Great spot to take a photo!
Oia is also home to the famous Panagia Platsani Church (Virgin Mary Platsani) which is a Greek Orthodox church. It was reconstructed after an earthquake in 1956 on the site of the original church within the walls of the Venetian Castle of Oia.
Other interesting places to visit are the Castle of Agios Nikolaos and Captains' Houses.
From Oia, you can easily visit cave houses in Ammoudi Bay, Armeni Bay, or hike to Imerovigli and Fira.
Fira
Fira is the capital city of Santorini where you can find plenty of restaurants, hotels, shops, nightlife, and amazing caldera views.
Fira is well-connected transport, close to Firostefani, Imerovigli, the international airport, and the main port in Santorini, Athinios port.
Fira is one of four main towns in Santorini's West Coast that look over the spectacular volcanic, island-filled caldera. There are fantastic, beautiful, and very exclusive places to stay on the cliffside that look out over this stunning view.
If you are interested in history and culture, you can visit the Folklore Museum, the Megaro Gyzi Museum, the Archaeological Museum, the Museum of Prehistoric Thera, Santozeum, and the Bellonio Cultural Center.
Fira is also home to several religious sites including the Orthodox Metropolitan Cathedral, Catholic Cathedral of Saint John the Baptist, and the Catholic Church of St. Stylianos.
Akrotiri
Akrotiri is famous for its ancient Minoan ruins. Similar to the Roman ruins of Pompeii, a volcanic explosion destroyed this ancient settlement.
Akrotiri also looks out over the volcanic caldera bay enjoying the super views characteristic of Santorini.
You can find some restaurants and tavernas. If you are a history lover who is happy to stay in quiet and evocative surroundings, Akrotiri close to the Red beach is a great destination.
Museum of Prehistoric Thera
Museum of Prehistoric Thera is situated in Fira. it displays finds from various excavations including Akrotiri Minoan site and the Ancient Thera.
Ancient Thera
Ancient Thera is located on n the top of Mesa Vouno Mountain, between the two well-known beaches of Perissa and Kamari.
It is the second most important archaeological site in Santorini after Ancient Akrotiri.
Perissa Beach
Located at the foot of Mesa Vouno Mountain, Perissa Beach has black lava sand, dark blue, crystal clear waters.
This black pebble beach is one of the longest and most famous beaches in Santorini. It is popular among backpackers and party animals!
Nea Kameni
Palea Kameni (Old Burnt Island) and Nea Kameni or the volcano (Young Burnt Island) are two small islands in the center of the Santorini caldera.
They are the youngest volcanic land in the Eastern Mediterranean. There are charter boats from Old Fira Port with sunset tours for those who like volcanos and have decent walking boots.
Imerovigli
Located just a 20-minute walk north capital of Fira, Imerovigli has a fabulous sunset view of caldera bay.
Here, you will find the Venetian fortress of Skaros, Church of Panagia Theoskepasti, Ekklisia Theoskepasti hiking trail, Santorini Wine Museum, and the Art Space Winery.
Skaros Rock
Located in front of the village of Imerovigli, Skaros Rock is a large rock promontory on the Aegean island of Santorini.
It was fortified in the 13th century by the Byzantine Empire. If you like hiking with views of rugged coastlines, this is a great place for you!
Fira to Oia Hike
It is under 10.5km (6.5 miles) with some cobblestone parts and some dirt parts. It will take from two hours to whole days to do this track.
Wine Tour in Santorini
You can take a tour to explore the most legendary wineries and traditional cellars of Santorini.
You can learn about Santorini's ancient vineyard and how the volcanic soils influence its wine-making.
Megalochori
Located on the central west of Santorini, it is a great place for wine lovers where you can find three of the most important wineries: Boutari Winery, Gavalas Winery, and Antoniou Winery,
You can learn about the production and history of wine-making and try unique volcanic wine varieties.
There are also taverns, restaurants around Megalochori Square, the chapel of Agios Nikolaos, Symposion by La Ponta, Thermi beach, and Plaka beach.
Pyrgos
Is set on the highest spot of Santorini with fabulous views of Santorini. The surrounding countryside is peppered with vineyards, some of which offer tours to learn about Greece's classic retina wine production.
Profitis Ilias Monastery
Located on the summit of Mount Profitis Ilias, between Pyrgos and Kamari villages, Profitis Ilias Monastery is one of the oldest of Santorini as it was built in 1712.
It is a great place for trekking and enjoying an amazing view of the impressive mountainous landscape around
Amoudi Bay
Amoudi Bay is located below Oia where you can find delicious seafood restaurants and picturesque white buildings built into the blood-red slope of the caldera cliff.
It can be easily accessed from Oia on foot. You can walk down the 300 steps and reach the bay in about 15 minutes.
So, what can you do for three days on this stunning, sun-drenched island?
Day 1: Coastal walking from Fira to Oia, or Oia to Fira
The Fira Trail is not the easiest walk in the world, but it's certainly the hardest either, and it will give you photos to cherish forever. This is a full day's job, and takes around three hours one way – you could then get the bus back in the reverse direction!
Take your time and pass by those famous white-washed buildings, blue-domed churches, pink flowers, and stunning high coastal views.
Locals will be more than happy to chat to you as you go, and there are plentiful stop-offs along the way. This is a great way to experience the slow pace of life on Santorini, and see the cultural side of things too, away from mass tourism.
Day 2: Get your feet (and everything else) wet at Amoudi Bay
You're on a beautiful Greek Island, the sun is beating down, and the weather is hot! Of course, you want to cool down, and the perfect place (and way) to do this is by heading to the amazing site of Amoudi Bay.
This is somewhere you will see people sunbathing on the rocks, and even diving into the crystal clear water below! Put simply, this is an area of natural beauty, somewhere you will gasp in wonder at, and for that reason alone, you should dedicate a full, relaxing day here.
Getting to Amoudi Bay is a bit of a trek, but once you're there, you'll be glad you made the effort. The bay is hidden away, but simply asking a local how to get there will yield results.
There are steep steps to reach it, so not the best for anyone who struggles with such things, but other than that, you should definitely make this your number one visit spot. There are also some fantastic seafood restaurants, albeit small ones, around here, with freshly caught fare to enjoy.
Day 3: Visit a real volcano and jump into hot springs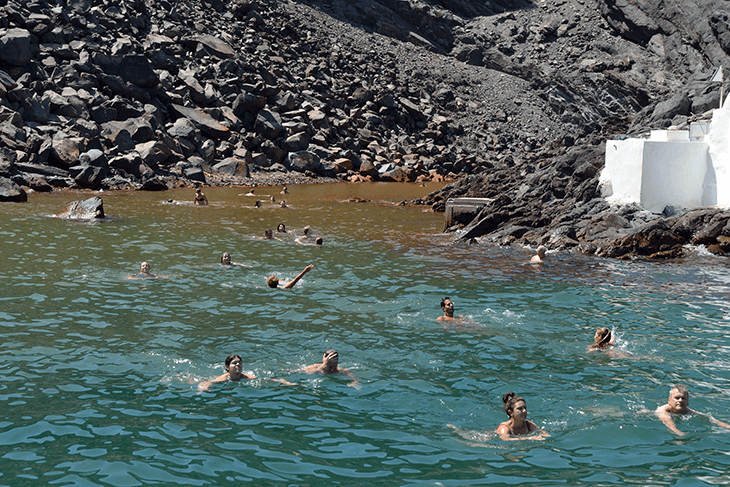 Santorini is actually a volcanic island, hence the black sand beaches dotted around. One of the most iconic activities to enjoy on the island is to hike around the volcano (yes, it's active), by visiting the island of Nea Kameni, just a stone's throw away, and then via boat, jump into the hot springs and enjoy the calming, therapeutic effects.
Boat trips leave Old Fira port daily during the summer months, and for a great price too. Again, this is a full day out, and you'll probably be exhausted at the end of it!
3 Days in Santorini Itinerary
These 3 days in Santorini will be actioned packed and a little exhausting, because the sun is certainly draining! Having said that, you will see the beauty of the island in abundance, before probably moving onto your next destination. If you spend too long on any island, or indeed any destination, you run the risk of becoming tired of it, and that would undermine the wonder of Santorini.
There is a reason why this island is so iconic the world over, and once you get your first glimpse you will understand completely. Remember to take everything slow, just like the pace of life and the locals do, and you will be living the true Santorini life.
On top of this, try and speak a few words of Greek, even if it is just 'hello', 'thank you', 'please', and 'goodbye', because the locals will be thrilled, and you'll get so much out of your short visit as a result.
Countless cruises and ferries visit Santorini every single day during the summer months, so getting to and from this amazing example of natural beauty is not at all difficult. The most difficult part of it all will probably be leaving!
The great advantage about visiting Santorini for a few days, perhaps as part of an island hopping experience, is that it is a 'try before you buy' kind of deal, and you will almost certainly be back, full of memories of that bitesize trip to paradise.
So there you have it, everything that you need to know about lovely, unique Santorini. Now you should have a perfect idea of the area or areas of the island that suit you best, so all you need to do is book your trip, and have a wonderful stay!
See Also:
If you enjoy reading this article, let's Save this on Pinterest so it can reach out more people.