Wondering Where to stay in Shibuya? In this post, I will help you to find the best areas to stay in in Shibuya for your visit and the best hotels to stay in each neighborhood.
Shibuya along with Shinjuku is often known as one of the best areas to stay in Tokyo for first-time visitors due to their central location and well-connected to public transportation.
While Shinjuku has a better nightlife scene home to the bustling Kabukicho red light district, Golden Gai, and Omoideyokocho; Shibuya has a better shopping scene because it is the shopping paradise of Tokyo.
Shinjuku is known for the Shibuya Station, one of the main transport hubs of the city. It is where you can find the iconic Shibuya Crossing, Hachiko statue, and numerous shopping areas and department stores such as Shibuya 109, Center Gai, Omotesando, and Harajuku.
Where to stay in Shibuya?
The best areas to stay in Shibuya are the area around Shibuya Station, Miyashita Park, Dogenzaka, Yoyogi Park, Daikanyama and Ebisu. These are the most popular areas in Shibuya that offer plenty of things to do and see for visitors.
As one of the most popular places to stay in Tokyo, Shibuya offers a wide range of accommodation options, ranging from budget backpacker hostels, to luxury brand hotels.
Overviews of best areas to stay in Shibuya for tourists
Here is an overview of recommend areas and neighborhoods to stay in Shibuya:
| Best areas in Shibuya for tourists | Why should you stay in this area? |
| --- | --- |
| Around Shibuya Station | Is a bustling area with a wide range of accommodations and is perfect for travelers who want to be at the heart of the action, right next to the train station. |
| Miyashita Park | Located near Shibuya Station, Miyashita is a newly developed entertainment complex with a rooftop park, shopping, dining, and various activities. It's a suitable choice for travelers who want modern amenities, convenient access to transportation, and a mix of entertainment options. |
| Dogenzaka | Located near Shibuya Station, known for its vibrant nightlife, entertainment venues, and numerous restaurants and bars. It's an excellent choice for young travelers, night owls, and those looking to immerse themselves in Shibuya's vibrant street culture. |
| Yoyogi Park | Situated near Harajuku, Yoyogi Park offers a refreshing escape from the city with its spacious green areas and tranquil surroundings. It's ideal for nature lovers, joggers, and those who appreciate a peaceful environment while still being close to the bustling Shibuya area. |
| Daikanyama and Ebisu | A trendy and upscale neighborhood, known for its stylish boutiques, cafes, and art galleries. It's a great option for fashion-forward travelers, design enthusiasts, and those seeking a more relaxed and sophisticated atmosphere. |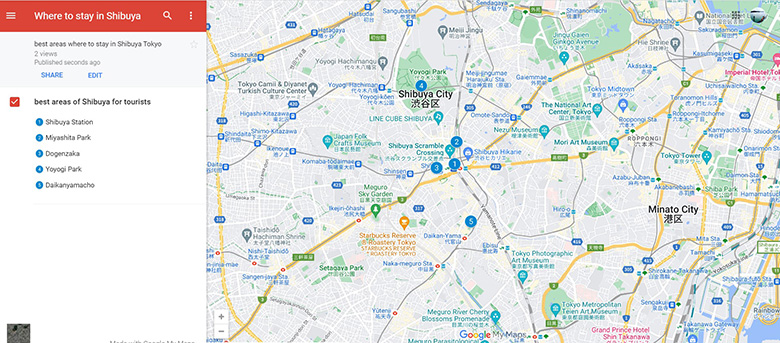 Map of the best areas and neighborhoods in Shibuya: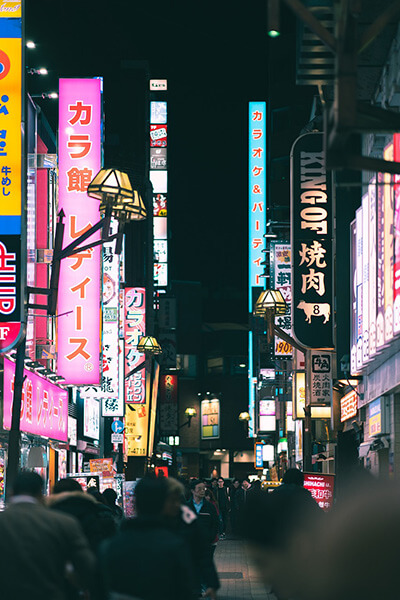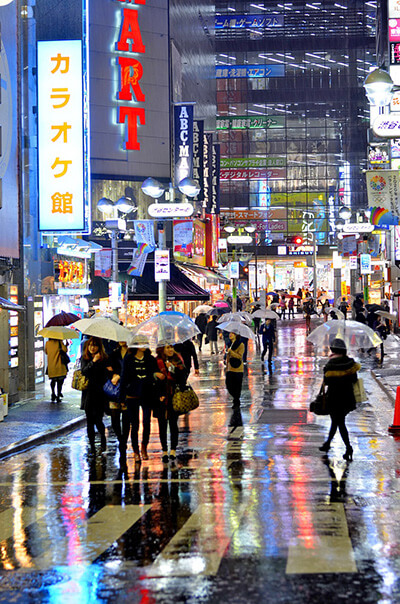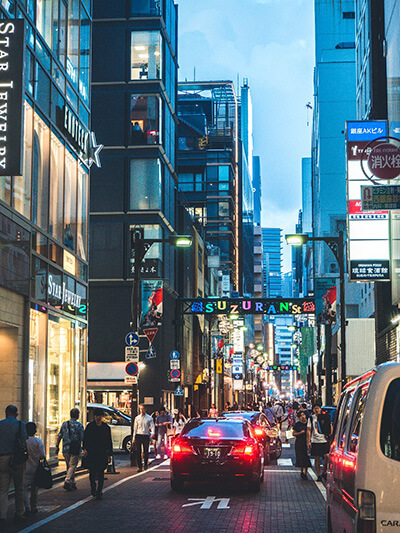 5 Best areas to stay in Shibuya for tourists are:
1. Around Shibuya Station
Shibuya Station is one of the busiest and most well-connected transportation hubs in Tokyo. It provides access to multiple train lines, including the JR Yamanote Line, which loops around the city and connects to major tourist spots.
Staying close to Shibuya Station allows you to easily navigate and explore other parts of Tokyo and beyond by public transportation.
You'll find the famous Shibuya Crossing, often referred to as the Scramble Crossing. It's one of the busiest pedestrian intersections globally, and staying nearby allows you to witness the organized chaos and bustling activity firsthand.
Shibuya Sky can be found on the rooftop of the Shibuya Scramble Square building, which is directly connected to Shibuya Station. The observation deck offers breathtaking vistas of Tokyo's skyline, including iconic Tokyo Tower, Tokyo Skytree, and Mount Fuji on clear days.
Outside Shibuya Station's Hachiko Exit, you'll find the iconic bronze statue of Hachiko, a loyal Akita dog that became a symbol of loyalty. The statue is a popular meeting point and a symbol of Shibuya.
Right next to the crossing is the Shibuya Center-Gai, a lively pedestrian street, lined with numerous shops, boutiques, cafes, and restaurants catering to a younger crowd. It's a popular spot for shopping, people-watching, and trying out various Japanese street foods.
Shibuya is known for its trendy fashion, shopping. You can shop at many nearby shopping streets and department stores including the Shibuya 109, Shibuya Hikarie, Shibuya Parco, Shibuya Mark City, Tokyu Hands, Loft, Don Quijote, and Shibuya Stream.
As Shibuya is a prime location in Tokyo, accommodation prices in the area tend to be higher compared to other areas. Hotels, especially those near the station, can be relatively expensive.
Best places to stay near Shibuya Station:
BEST HOTELS IN NEAR SHIBUYA STATION
2. Miyashita Park
Miyashita Park is a public park, situated between the Shibuya and Harajuku neighborhoods and serves as a recreational space for residents and visitors in the area.
One of the main highlights of the park is the elevated walkway that stretches across the entire park. It offers panoramic views of Shibuya and its surroundings. The walkway is also lined with seating areas and observation points, providing a place to relax and enjoy the scenery.
Miyashita Park has a skateboard park, basketball courts, a climbing wall, and a rooftop soccer field. These facilities attract athletes, sports enthusiasts, and locals who enjoy an active lifestyle.
In addition to the recreational areas, the park includes a variety of shops, cafes, and restaurants. Visitors can explore the commercial spaces within the park, offering a mix of local and international brands, as well as food and beverage options.
Miyashita Park has become a vibrant gathering place in the heart of Tokyo, attracting people of all ages and interests. Whether you're looking to relax, engage in sports, or explore the local scene, Miyashita Park offers a unique experience in the bustling city.
Best places to stay in Shibuya in Miyashita:
BEST HOTELS IN MIYASHITA
3. Dogenzaka
Dogenzaka is a vibrant and bustling neighborhood situated just a short distance away from the Shibuya Crossing. The area offers a mix of entertainment, shopping, dining, and nightlife options.
Dogenzaka has a concentration of love hotels. This area is known as "Love Hotel Hill" and is frequented by couples looking for short-term accommodations or a unique experience.
One of the notable features of Dogenzaka is its numerous entertainment establishments and nightlife venues. The area is known for its many izakayas, bars, clubs, and karaoke bars, making it a popular destination for vibrant nightlife.
Dogenzaka is also home to a variety of shops, department stores, and trendy fashion boutiques catering to different tastes. Shibuya 109 is a great women's shopping mall nearby.
In addition to its entertainment and shopping offerings, Dogenzaka is dotted with numerous restaurants and cafes serving a wide range of cuisines, including Japanese, Western, Asian fusion, and international dishes.
Best places to stay in Shibuya in Dogenzaka:
BEST HOTELS IN DOGENZAKA
4. Yoyogi Park
Just a short walk from Shibuya Station, Yoyogi Park is a spacious and popular park known for its beautiful cherry blossoms in spring and vibrant autumn foliage. It's a great place for picnics, jogging, or relaxing.
Yoyogi Park is adjacent to Harajuku Station and Meiji Shrine, a Shinto shrine dedicated to Emperor Meiji and Empress Shoken. Its central location and serene atmosphere make it a popular choice for both locals and tourists.
Staying near Yoyogi Park offers several advantages. Firstly, you'll have easy access to the park itself, which provides a refreshing escape from the bustling city.
Secondly, Yoyogi Park is within walking distance of popular neighborhoods such as Harajuku and Omotesando. Both areas offer a wide range of dining options and entertainment venues.
Harajuku is known for its vibrant fashion and youth culture with its pedestrian Takeshita shopping street, while Omotesando features high-end shopping, trendy cafes, and stylish architecture.
Additionally, Yoyogi Park is well-connected to public transportation, with Yoyogi-Koen Station and Harajuku Station nearby. This allows for easy exploration of other parts of Tokyo, including Shibuya, Shinjuku, and other major tourist attractions.
Best places to stay in Shibuya in Yoyogi:
BEST HOTELS IN YOYOGI
5. Daikanyama and Ebisu
Daikanyama and Ebisu are trendy neighborhoods located south of the Shibuya Station. They are known for their fashionable atmosphere, upscale boutiques, and stylish cafes. They have a more sophisticated and relaxed alternative to the bustling and crowded Shibuya district.
In Daikanyama, you can find the Daikanyama T-Site, a renowned bookstore and cultural complex. In Ebisu, you'll find the Museum of Yebisu Beer, which showcases the history and brewing process of this famous Japanese beer.
Daikanyama has a distinct European vibe, with narrow and winding streets, charming cafes, and beautiful architecture. It's a popular destination for fashion-forward locals and tourists alike.
Both neighborhoods are known for their greenery. Daikanyama has several parks and tree-lined streets, including the picturesque Kyu Asakura House Garden. Ebisu is home to the beautiful Ebisu Garden Place, which features a central square, a garden, and seasonal events.
Best places to stay in Shibuya in Daikanyama:
BEST HOTELS IN DAIKANYAMA
See more:
In conclusion, Shibuya Station, Miyashita Park, Dogenzaka, Yoyogi Park, Daikanyama and Ebisu are the best places to stay Shibuya for tourists. Shibuya Station is ideal for convenience and accessibility. Dogenzaka caters to the nightlife enthusiasts.
Daikanyama and Ebisu offers a trendy and upscale atmosphere. Yoyogi Park suits family and nature lovers. Miyashita Park is perfect for shoppers. Choose the area that aligns with your preferences to make the most of your stay in Shibuya.