Where to stay in Lima first time? In this blog post, we will help you to decide the best areas to stay in Lima for tourists (include map and video), the best hotels in Lima for all budgets, and the safest places to stay in Lima.
Settled in January 1535, Lima is the capital and largest city in Peru, as well as the second-largest city anywhere in the Americas, behind only Sao Paulo. A diverse and expansive city, featuring both modern and historical attractions, as well as a collection of glorious beaches, Lima is one of the most popular tourist destinations in South America.
Where to stay in Lima first time?
The best areas to stay in Lima for first-timers and tourists are Miraflores, Lima Historic Center, Barranco, San Isidro, Chorrillos, Callao, Pueblo Libre, San Miguel, Punta Hermosa, and Ancon. These are popular neighborhoods that offer a wide variety of attractions and amenities.
Miraflores, San Isidro and Barranco are the safest areas to stay in Lima for tourists. While these neighborhoods are often considered safer, it's crucial to remain vigilant and take precautions such as avoiding poorly lit streets at night and not displaying valuable items openly.
In general, Miraflores is the best area to stay in Lima for first-time visitors because it is the most popular tourist destination in the city, that offers plenty of things to do and see for tourists. If you stay here, you will be located in the middle of the action.
Overviews of the best areas to stay in Lima for tourists
Here is an overview of recommended areas in Lima for tourists:
| Best areas in Lima for tourists | Why should you stay in this area? |
| --- | --- |
| Miraflores | Miraflores is one of the most popular neighborhoods for tourists. It's known for its beautiful oceanfront parks, upscale shopping, excellent dining options, and a vibrant nightlife. It's a safe and walkable area, making it a top choice for many visitors. |
| Lima Historic Center | If you're interested in history and architecture, staying in the historic center of Lima is a great option. You'll be close to historic sites like Plaza de Armas, the Cathedral, and numerous museums. |
| Barranco | Barranco is known for its bohemian atmosphere, colorful streets, and artistic vibes. It has a lively nightlife and is located near the beach. This neighborhood is perfect for those who appreciate art, music, and a more relaxed pace. |
| San Isidro | San Isidro is a posh neighborhood with beautiful parks and gardens. It's also known for its upscale dining and shopping options. It's a quieter area compared to Miraflores but offers a luxurious experience. |
| Chorrillos | Chorrillos is a coastal district known for its beaches and seafood restaurants. It's a bit quieter and less touristy than Miraflores but offers a more authentic local experience. |
| Callao | Callao is the port district of Lima. While it has some historic sites and museums, it's not typically a top choice for tourists due to safety concerns in certain areas. |
| Pueblo Libre | Pueblo Libre is a residential neighborhood with a few museums and parks. It offers a more local experience and is often chosen by travelers looking for a quieter environment. |
| San Miguel | San Miguel is a middle-class neighborhood with easy access to the airport. It's not as touristy as Miraflores but offers a range of accommodation options. |
| Punta Hermosa | Punta Hermosa is a beach town located about an hour's drive south of Lima. It's a great choice if you're primarily interested in surfing or a beach getaway. |
| Ancon | Ancon is another beachside area, known for its scenic views and seafood restaurants. It's a quieter option compared to some of the more bustling neighborhoods in Lima. |
Map of best areas to stay in Lima:
Best Areas to stay in Lima for tourists and first-timers are:
1. Miraflores
Located to the south of the city center, Miraflores is undoubtedly one of the most popular locations in the city for first-time tourists, which is large because this is a destination that offers a little bit of everything.
Miraflores was one of the first districts settled by the Spanish after Lima was founded, also the site of the battle between Chile and Peru within the War of the Pacific. It was a sleepy beachfront resort town almost all the 19th century but later developed into one of the city's most crucial areas.
Known to cater to tourists first and foremost, it has developed a reputation as the safest district in the city. This is a huge positive no matter where you are going on your travels, but it is an especially big deal when traveling to South America, which, unfortunately, is known for issues with crime, particularly when it comes to things like pickpocketing.
Then there is what the district actually has to offer in terms of attractions and entertainment. Traditional tourist draws are abundant, such as bars, restaurants, shops, hotels, cinemas, theatres, and art galleries, with even a shopping mall and a flea market in the main square.
The Centro Cultural PUCP is a place to go if you to see a movie at its theater and art-house cinema. It is also home to the Centro Cultural Brasil-Perú and the Alianza Francesa with some occasional cultural events.
The area then balances things out with some more cultured offerings. The Huaca Pucllana, the ruins of an ancient Incan pyramid, the Iglesia Virgen Milagrosa church, and Parque Kennedy, also known as Cat Park, are all located here, making it a perfect spot for those interested in a diverse vacation.
All of that is before we even mention its perfect location. Situated on the coast, between the other two most popular districts in the city, Miraflores is ideal for anyone wanting to add a few days at the beach or an afternoon exploring the history of the city center to their trip.
Makaha Beach and Waikiki Beach are both great beaches for surfing, you can find several surfing schools with reasonable rates.
You can stroll along the 10 kilometers long Boardwalk, also known as Malecón, which offers amazing cliffside views overlooking the Pacific ocean. Along the walk, you will find the well-known Parque Del Amor (Park of Love), home to the El Beso statue, designed by Peruvian artist Victor Delfín.
The Antonio Raimondi Park on the Boardwalk is a great spot if you want to try paragliding or watch people jump off the cliffs.
If museums are your things, you can find the Ricardo Palma Museum in the writer's former house; and the Amano Pre-Columbian Textile Museum which has a private collection of Mr. Yoshitaro Amano.
The Place of Memory, Tolerance, and Social Inclusion to celebrate the agreement of Peruvians after the two decades of violence during the 1980s and 1990s between Mao-inspired Shining Path and the Peruvian national security forces, which left some 70,000 dead.
For some shopping experiences, the Larcomar shopping mall is the best place to shop in Miraflores. To grab some authentic souvenirs, the artisanal markets are good places to buy.
To try some Peruvian cuisine, make sure to visit fine ding restaurants like Maido and Central, two of the best restaurants in the world; and decent street food around Parque Kennedy.
Miraflores is such a popular destination with tourists, it has some of the most Lima's exclusive hotels. The hotels are tend to be expensive but you can also easily find chain hostels with all shapes and sizes. The accommodations facilities often come with free WiFi and breakfast.
Stay in Miraflores if you prefer traditional tourist destinations, you enjoy shopping, you like art galleries, you want to visit the beach, you are interested in history, you like a diverse range of things to do on your vacation, you want a good selection of bars and restaurants.
Best places to stay in Lima in Miraflores for first-timers:
🔍FIND BEST HOTELS IN MIRAFLORES
See more: Where to Stay in Cusco Peru
2. Lima Historic Center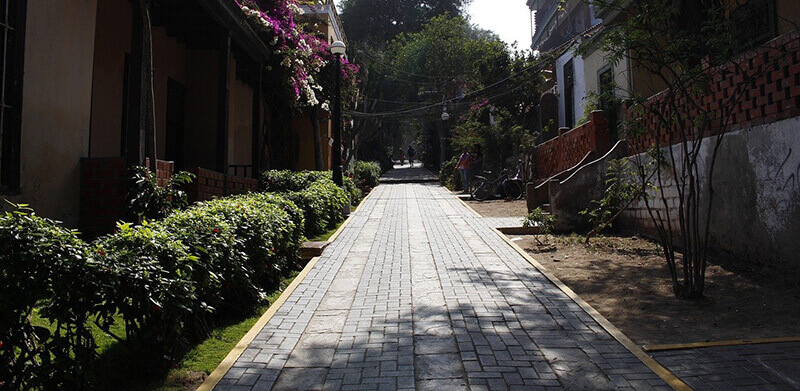 Lima Centre, also known as the Historical District lies at the heart of the city. This entire area is designated as a UNESCO World Heritage Site, so you probably won't be surprised to learn that the area is brimming with historic attractions to discover.
Lima's Historic Center was founded in 1535 by Francisco Pizarro, a Spanish conqueror, and became an important political and cultural hub for the Spanish colonization of South America in the mid 18th century.
Start your tour from the Plaza de Armas (Plaza Mayor), which is the oldest square in the city, home to the 17th-century colonial fountain, and is surrounded by impressive buildings like the Cathedral of Lima, Government Palace of Peru, Municipal Palace of Lima, Casa del Oidor, and Archbishop's Palace.
The 16-century Basilica and Convent of Santo Domingo, San Francisco De Asis Church, the Acho Bullring, and the legendary Senor De Los Milagros (Lord Of The Miracles) painting call all be found within the walls of the old city.
Other attractions are Basilica and Convent of Nuestra Senora de la Merced, Casa Aliaga, Casa de Osambela, Casa de la Riva, the Central Post Office, the Museum of the Inquisition, and Plaza San Martin.
Another place of interest is the San Francisco Monastery where you can find bone-lined catacombs which the bones of an estimated 75,000 bodies.
Due to its historical nature, the area is largely left as a pedestrian-only zone, with traffic diverted to other areas. This has allowed businesses surrounding the attractions, such as shops, bars, cafes, and restaurants, to thrive, with visitors constantly strolling around the streets outside.
This makes it a perfect destination for anyone who enjoys shopping and dining out, as the range on offer is guaranteed to have something to suit all tastes.
You combine that with its history and the fact that many of the surrounding districts are equally popular with tourists and you'll start to realize what a multifaceted destination this truly is.
Centro Historico has plenty of accommodation options, you can easily find budget-friendly hotels, but if you want to stay in a historic hotel, try El Gran Hotel Bolivar.
Stay in Lima Centre if you're looking for more budget accommodation options; you are interested in the history of the city, you enjoy shopping, you don't plan on hiring a car;
Best places to stay in Lima Centre for first-time visitors:
luxury ($$$): Sheraton Lima Hotel & Convention Center This 5-star hotel features a swimming pool, a fitness center, 2 hotel restaurants. It's 30 minutes drive from Jorge Chavez International Airport, and a short stroll from the Museum of Peruvian Art, Main Square, and San Martin Square.
mid-range ($$): Hotel Diamond Lima This hotel offers a bar, allergy-free rooms, free WiFi, room service, a children's playground, private parking, a business center, and a hot tub.
budget ($): Hotel Paris Lima This hotel offers rooms with a fan, cable TV, and a private bathroom. Close to the art museum, Plaza San Martin, the Miraflores district, Paseo de las Aguas Park, and Convento de San Francisco y las Catacumbas.
🔍FIND BEST HOTELS IN LIMA CENTER
3. Barranco
We move now to the last of Lima's "Big 3" destinations, to the Barranco district. This is an area best known for its Bohemian feel, with many artists, designers, musicians, and photographers living in picturesque old colonial and Republican-style casonas or mansions.
As you would perhaps expect from such a location, it is the prime destination for anyone wanting to experience the best nightlife in the city. Bars, clubs, sidewalk cafes, and restaurants of all kinds play music and feature live entertainment into the early hours of the morning, allowing you to dance and party your nights away.
Despite its popularity, many of the buildings are a little more run down compared to other areas in the city center. As opposed to being a negative though, this actually becomes a positive. Not only does it add to the charm of the area, but it also means prices are generally lower, particularly when it comes to accommodation, making it a perfect choice for anyone traveling on a budget.
Beyond the nightlife and price, there are also plenty of other reasons why Barranco is so popular with visitors. For example, anyone interested in water sports will find a yacht club, as well as some of the most popular surfing beaches in the world.
There are even some more traditional sights to be seen too, with the Puente de los Suspiros (Bridge of Sighs) and a Barranco's Main Square, Parque Municipal featuring monuments, memorials, fountains, and beautifully designed buildings, giving you plenty of things to stroll around and discover during the day.
Located along the Pacific Ocean, you Playa Barranco, one of the best beaches in Lima with wonderful sunset views over the water.
If you are interested in history and art, don't miss the Museum of Contemporary Art (MAC) with a large collection of modern Latin American art from the 1950s;
Meanwhile, the Museo Pedro de Osma has an extensive collection of colonial art; and the MATE Gallery, located in a restored 19th-century Republican townhouse with the work of Mario Testino, Peru's most famous photographer.
Barranco has a vibrant street art scene, many murals on the walls of Barranco's streets. Some of the best places for street art are Cajamarca Street, Avenida Pedro de Osma, and Jiron 2 de mayo.
Barranco has mid-range accommodation including apartments, some high-end lodges and limited hostels.
Stay in Barranco if Nightlife is a priority; You are into surfing or other water sports; You prefer an area with a Bohemian feel;
Best places to stay in Lima in Barranco for first-timers:
🔍FIND BEST HOTELS IN BARRANCO
4. San Isidro
The family-friendly area of San Isidro is located between Miraflores and Lima Centre. What you will find in this neighborhood is a very up-market, high-end, and safe destination. In recent years, it has become the financial center of not just Lima but of Peru as a whole.
This is the sort of location you would expect to find at the center of most modern cities. Expensive hotels, bars, restaurants, and shops line streets that are also home to the headquarters of many major businesses and a whopping 58 embassies and consulates.
San Isidro is home to the historic Lima Golf Club, luxury shopping on Avenida Conquistadores, the pristine Bosque el Olivar (Olive Grove Forest) with more than 1,600 olive trees, housing a library, an art gallery, a lagoon, and colonia mansions.
That said, there are still a number of museums, galleries, such as the Larco Museum which is the museum of pre-Columbian art; the National Museum of Archaeology, Anthropology and History of Peru (MNAAHP) which is Peru's oldest state museum.
Other must sights are the Huallamarca and Huaca Santa Cruz archaeological sites, and the Wak'a Wallamarka, a pre-Incan burial temple dating back to the 4th century.
San Isidro has great dining options, with famous restaurants such as Astrid y Gaston and Malabar among others.
If these sorts of attractions appeal to you, you prefer to live and dine in luxury and you have money to burn, then San Isidro is an ideal spot to enjoy a refined and exclusive getaway in the heart of Lima.
In terms of attractions to draw in tourists, it relies mainly on its lavish accommodation, which largely features expensive, 5-star hotels, with stunning grounds, architecture, and furnishings, to make even the pickiest visitors feel like they are treating themselves to a little luxury while they are away.
Stay in San Isidro if you want to stay in one of the safest neighborhoods in Lima; you aren't concerned about cost, you want to stay in high-end accommodation, you are working in the financial sector, you want to spend your evenings in fancy bars and restaurants, you are interested in museums and ancient artifacts.
Best places to stay in Lima in San Isidro for first-time visitors:
🔍FIND BEST HOTELS IN SAN ISIDRO
5. Chorrillos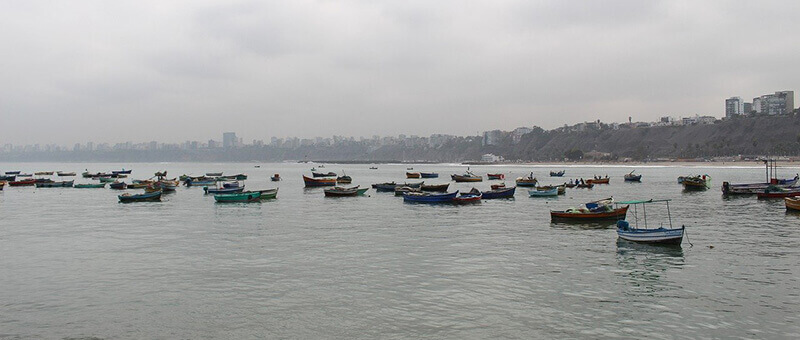 Chorrillos is located to the south of Barranco, just along the coast. While it is on the outskirts of the inner city, it is still close enough to make traveling in to see the attractions fairly quick and easy. That said, this isn't a location where the city life is the biggest selling point.
It was once a small fishing village developed into a beach resort in Colonial and Republican. Chorrillos was the scene was much destroyed during the Pacific War.
Chorrillos features some of the most popular beach resorts in the city, with choices like Playa Regatas Lima 2, Playa Pescadores, Playa Agua Dulce, Playa Las Sombrillas, and Playa Los Yuyos offering an incredible number of options for beach lovers.
These stunning resorts offer visitors a variety of locations to spend lazy days topping up their tans, with a vibrant collection of bars, shops, and restaurants that serve typical Peruvian coastal food in the surrounding area, providing everything you would expect from a traditional beach resort.
There is also the hill Morro Solar, where you can hike up and enjoy stunning views of the Pacific Ocean.
Their proximity to the center of the city also offers the opportunity to switch things up, allowing you to seamlessly blend sightseeing, swimming, and sunbathing into one magical vacation.
Stay in Chorrillos if Tourist focused beach resorts are your priority; you want easy access to the center of the city, without being caught up in the hustle and bustle; you want to be able to combine both relaxation and exploration on your trip.
🔍FIND BEST HOTELS IN CHORRILLOS
6. Callao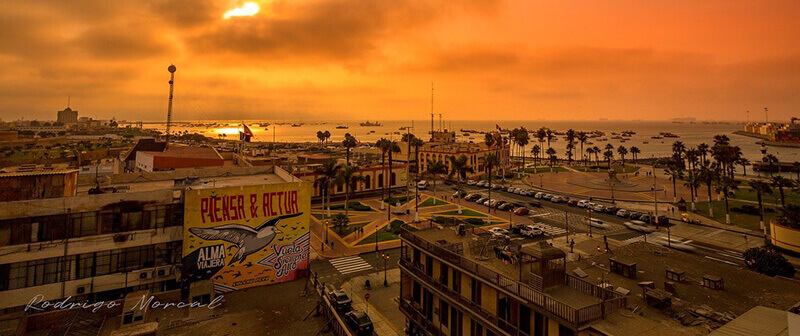 Surrounded on all sides by the city, Callao isn't officially considered a part of The City of Kings, instead of being recognized as the Constitutional Province Of Callao. That said, it is culturally, economically, and socially integrated with the city, as part of its metropolitan area.
Despite the integration, there are still a number of cultural differences, making this area a slight change of pace from the rest of the city and a destination that may be particularly attractive to regular visitors to the city, who want to experience something slightly different.
Callao Cathedral, also known as the Church of Saint Simon and Saint Judas of Callao, was built in 1833 and was the oldest structure in the port.
You will also find the Independent Plaza which is a great place to wander around; Real Felipe Fortress which is served as a line of defense during the battle of the 2nd May 1866.
You can take the boat trip to Palomino, Cavinzas, San Lorenzo and Frontòn islands where you can find South American Sea Lion.
Despite this, its main draws are actually its location, as it is where both the largest seaport in Lima and its main airport, Jorge Chavez International Airport, can be found. This makes it an ideal location for anyone who prefers to remain close to the airport while on vacation, allowing them to make the most of every last second of their trip, without having to waste time dragging their luggage around.
From Jorge Chavez International Airport to the city center, you can use one of its six licensed taxi firms, Uber, or Lima Airport Express Bus.
Its port is also the setting-off location for most of the cruises that depart from the city, so anyone looking to get out on the waves for a day or more, or even those simply looking to enjoy the city for a few days as an added bonus before they set sail, will find this location perfectly situated to allow them the best of both worlds.
There are numerous of accommodation options near the ariport, you can find brand name hotels, and budget hostels and B&B's.
Stay in Callao if you want to remain near the airport, you are planning to take a cruise, you want to experience a slightly different culture, you're only in town for a short stopover.
Best hotels near Lima airport:
🔍FIND BEST HOTELS IN CALLAO
7. Pueblo Libre
Pueblo Libre, formerly known as Old Magdalena, is located near the western coast of the city, roughly halfway between Lima Centre and San Isidro.
In large part, this is a district that is remarkably similar to Miraflores. It is incredibly safe, has a number of amenities designed specifically for tourists, is situated not too far from the beach, and is close enough to some of the other top districts in the city that commuting between them is quick and easy.
Where it differs though, is that this is an area that has recently started emerging as a popular place to visit. This brings with it positives, such as lower prices and substantially quieter streets, making it a more relaxed and affordable location.
That said, it also brings with it some negatives, the most notable of which is a much more limited choice of accommodation, meaning you need to plan your trip well in advance if you want to stay here.
Among the most popular attractions are The Cross Of The Traveller and The National Museum Of Archaeology, Anthropology And History Of Peru, which is located within the mansion of legendary Peruvian liberator Simon Bolivar.
There are also numerous other museums, galleries, and famous restaurants located within the district.
A final point worth noting about Puerto Libre is that, with it still being a largely residential area, you will be predominantly surrounded by the locals during your stay. This makes it ideal for anyone who wants to experience the traditional culture of the city.
Pueblo Libre accommodations are mid-range hotels, bed and breakfast, and low-cost homestays, hostels, and guest houses.
Stay in Pueblo Libre if you want a more traditional experience, you like a diverse range of things to do on your vacation, you want a quieter location, you want a safe destination, you enjoy museums.
Best places to stay in Lima in Pueblo Libre:
🔍FIND BEST HOTELS IN PUERTO LIBRE
8. San Miguel
Offering quite a different experience to much of the city, San Miguel is an area where hypermarkets and shopping malls are commonplace, making it ideal for those looking to partake in a little retail therapy.
You can shop at the Plaza San Miguel, and many commercial establishments can be found along the Avenida La Marina, Avenida Faucett, and Avenida Universitaria.
It also has a large number of parks compared to other districts, making it a nice place to relax in the slightly cooler temperatures that are found here.
Generally seen as a pleasant neighborhood, where people may come to get away from it all for a while, as opposed to going sightseeing, it does have one famous attraction, the Parque De Las Leyendas.
Lima's largest zoo, home to 215 species of birds, mammals, and reptiles, and located within the Archaeological Complex Of Maranga, this is an amazing destination, where you can see thousands of animals and historical architecture, all at the same time.
San Miguel is located close to numerous universities like Pontificia Universidad Catolica del Peru (PUCP), Universidad Nacional Mayor de San Marcos making it a big advantage for international students.
You can find apartment rentals, guest houses, B&B's, afforable logding in San Miguel.
Stay in San Miguel if you enjoy shopping, you like parks, you want a relaxing vacation, away from traditional tourist hotspots, you want to visit Lima's largest zoo.
Best places to stay in Lima in San Miguel:
🔍FIND BEST HOTELS IN SAN MIGUEL
9. Punta Hermosa
Our penultimate destination is one that will certainly appeal to a more niche group of people, as Punta Hermosa is one of Lima's most southern districts, located quite a distance from the center of the city.
Despite that fact, the draw to the area is that it is one of the most up-market and desirable beach resorts in the city. Featuring a smaller number of hotels, bars, restaurants and shops, all of which are of a generally more exclusive feel than most of the beach resorts in the city, it allows those looking for a beach vacation to achieve their goal in a stylish manner.
With a far smaller number of visitors than the other resorts, it also makes for a much quieter destination, making relaxing days spent lazing on the sand all the easier to achieve.
This is furthered by the fact that both Punta Negra and San Bartolo, two equally beautiful and similarly styled beaches, are located within close proximity.
If you want to mix it up while you're there and not spend the entire trip on the beach, there is also the village of Punta Hermosa to explore, full of traditional Peruvian culture and history.
This makes it a perfect destination for those looking for a relaxing vacation, combining culture and style with long days in the sand, sun and sea.
Stay in Punta Hermosa if you prefer more exclusive accommodation, you like quieter, more relaxed beaches, you want to experience local culture, you aren't worried about being away from the city centre.
Best places to stay in Lima in Punta Hermosa:
🔍FIND BEST HOTELS IN PUNTA HERMOSA
🎬 Check out my virtual tour about the best places to stay in Lima or continue reading:
10. Ancon
Our final destination brings us to the second largest and most northern district in the city, Ancon. While being located quite a distance from the heart of the city will put off some visitors, it may be a selling point to others, and also has quite a diverse range of attractions to draw people in.
The most obvious draw for traditional tourists will be its collection of beach resorts, with Playa Salitral, Playa Hermosa, Playa Carros Grandes, Playa Carros Chicos and Playa El Estanque all located within close proximity to one another.
This allows you to choose from a variety of options, to find the one which best suits your personal tastes, or even stroll between them all, ensuring no two days on your trip will be alike.
Continuing with the natural theme of the area, the Reserva Nacional Lomas De Ancon and Parque Ecologico Nacional Antonio Raimondi are both located in the surrounding area, offering visitors the opportunity to get out and experience the native plant life and explore the stunning landscapes.
The final draw to the area is its historical significance, being the location of a great number of archaeological discoveries, dating back to the pre-Inca period. Anyone looking to learn about how this part of the world looked and operated in centuries gone by will be thrilled with what there is on offer here.
Stay in Ancon if you want a range of beach resorts, you want to experience the natural side of the region, you are interested in Peruvian history, you aren't worried about being near the center of the city.
🔍FIND BEST HOTELS IN ANCON
Where should I stay in Lima for the first time?
Miraflores is the best area to stay in Lima for first-timers because it is the =perfect spot to explore Peru's bustling capital city while enjoying the comfort of a safe and friendly neighborhood.
What are the best areas to stay in Lima?
Miraflores, Lima Historic Center, Barranco, San Isidro, Chorrillos, Callao, Pueblo Libre, San Miguel, Punta Hermosa, and Ancon are some of the best areas to stay in Lima because they are the most popular neighborhoods for tourists.
What is the safest area to stay in Lima?
Lima is a wonderful city, but safety can be a concern. To minimize risks, it's recommended to stay in neighborhoods like Miraflores, San Isidro, and Barranco. These areas offer a vibrant atmosphere and plenty of attractions to explore.
How many days in Lima is enough?
Well, that really depends on what you want to do and see in Lima! But generally, I'd say spending 3-4 days there should give you enough time to explore the city and get a taste of its culture and cuisine.
See More:
In conclusion, Miraflores, Lima Historic Center, Barranco, San Isidro, Chorrillos, Callao, Pueblo Libre, San Miguel, Punta Hermosa, and Ancon are the best places to stay in Lima for tourists and first-time travelers.
In summary, Miraflores is often the top choice for tourists due to its convenience, safety, and entertainment options. However, the other neighborhoods have their own unique appeal, so your choice should align with your interests and preferences.