Where to stay in Cusco for tourists? before inca trail? In this guide, we will be looking at the best areas to stay in Cusco (include map and video), and best hotels in Cusco for all budgets.
Once the center of the ancient Inca civilization, Cusco lies nestled amongst the awe-inspiring Andes mountains. The city dates back more than a thousand years and was overrun in the 14th-century by the Spanish. Thus, travelers can expect to find a complex blend of ancient and colonial structures offering a peek into a bygone era of South American history.
Cusco is a UNESCO site and a magnet for avid travelers from across the globe. Many only stop by on their Inca pilgrimage but it is highly recommended to take a second glance at what this city has to offer.
Where to stay in Cusco?
The best areas to stay in Cusco for tourists are Cusco Historic Centre, San Cristobal, Plaza de Armas, San Blas, Lucrepata, Sacsayhuaman, and Cusco Airport. Each area has its own charm and advantages. The best area for you to stay in Cusco depends on your preferences and priorities.
Many visitors choose to stay in or near the Historic Centre or Plaza de Armas for easy access to the city's main attractions, dining, and shopping. San Blas is a popular choice for those seeking a more bohemian and artsy vibe.
If you're planning to hike the Inca Trail to Machu Picchu, it's essential to spend a few days in Cusco before starting the trek. This allows you to acclimatize to the high altitude and explore the city's attractions.
The best areas to stay in Cusco before embarking on the Inca Trail are Cusco Historic Center, San Blas, and Sacsayhuamán. If you'd rather stay closer to Machu Picchu the night before your trek, you can stay in Aguas Calientes, also known as Machu Picchu Pueblo. This is the gateway town to the Machu Picchu site, and there are various accommodation options here.
Remember that acclimatization to the high altitude is crucial, especially if you're hiking the Inca Trail, as it reaches even higher elevations. Spend a few days in Cusco before the trek, drink plenty of water, and avoid strenuous activities to minimize the risk of altitude sickness.
Additionally, make sure to book your Inca Trail tour well in advance, as permits are limited, and availability can be scarce during peak seasons. Your tour operator may also provide recommendations for where to stay before the trek.
Overviews of the best areas to stay in Cusco for tourists
Here is an overview of recommended areas in Cusco for tourists: 
Best areas in Cusco for tourists
Why should you stay in this area?
Historic Centre (Centro Histórico)
Pros: This is the heart of Cusco and home to many historic sites, including the Plaza de Armas, Cusco Cathedral, and the Coricancha Temple. You'll be surrounded by colonial architecture, restaurants, shops, and museums.
Cons: It can be crowded and noisy, especially during peak tourist seasons.
Plaza de Armas
Pros: Staying right on the Plaza de Armas means you're in the center of all the action. You'll have easy access to restaurants, shops, and the vibrant atmosphere of Cusco.
Cons: Accommodations in this area can be more expensive, and it can be noisy at night due to the bustling nightlife.
San Cristobal
Pros: San Cristobal offers great views of the city and is a quieter alternative to the Plaza de Armas area. It's still within walking distance of the main attractions.
Cons: The walk to the city center may involve uphill terrain, which can be tiring for some.
San Blas
Pros: San Blas is known for its bohemian atmosphere, with art galleries, cafes, and artisan shops. It's a charming and quieter area not far from the main square.
Cons: Some parts of San Blas involve steep, narrow streets, which can be challenging for those with mobility issues.
Lucrepata
Pros: Lucrepata offers a quieter and more residential experience compared to the city center. It can be a good choice for those looking for a peaceful environment.
Cons: You may need to take transportation or a longer walk to reach the city center and major attractions
Sacsayhuaman
Pros: Sacsayhuaman is farther from the city center but offers stunning views of the archaeological site. It's a peaceful area with fewer tourists.
Cons: It's not within walking distance of the city center, so you'll need transportation to get around.
Cusco Airport
Pros: Staying near the airport can be convenient if you have an early or late flight. Some hotels in this area offer airport shuttles.
Cons: It's quite far from the city center and not a typical choice for tourists who want to explore Cusco's historic attractions.
Map of the best areas and neighborhoods in Cusco:
7 Best Areas to stay in Cusco for tourists are:
1. Historic Centre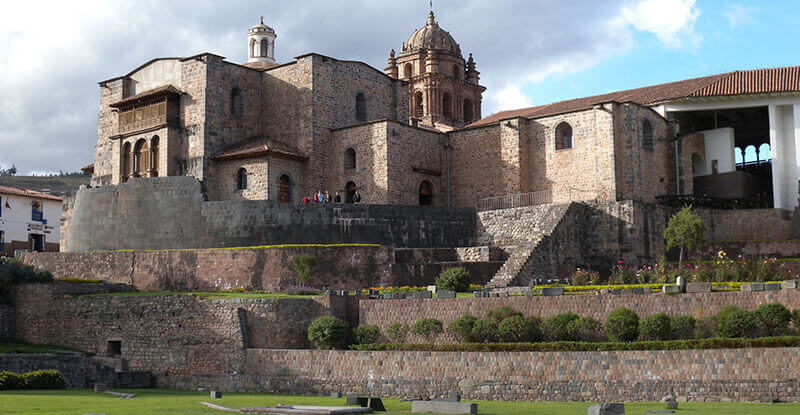 The city's historic center holds within it many of the most noticeable landmarks and neighborhoods. As the name suggests it is very much a historic sight and not a residential area. A tourist hotspot in every sense of the word.
3S is the main motorway that winds through the city from East to West. It also hugs the edges of the historical center so travelers have easy access to taxis to and from the airport.
This area is also served by Wanchaq Train Station at the southern end of the neighborhood, so it's well connected with other parts of the city.
Cusco was the capital of the Empire of the Incas and the main urban center of the Tahuantinsuyo Empire. The Historic Center of Cusco is incredible evidence of the overlapping of Inca and Hispanic architectures. There are plenty of temples, squares, and palaces from the Inca and colonial periods.
In the heart of the historic center, you will find the Plaza De Armas which was built on the remains of one of the Incas' most important gathering spots, Great Inca Square. It is surrounded by impressive Spanish colonial-style buildings, restaurants, and shops.
There are many must-see churches including:
the Cathedral of Cusco
The baroque-style Church of the Society of Jesus
The Church of San Blas
The Basilica menor of La Merced
The Qoricancha (Temple of the Sun in Cusco)
Convent of Santo Domingo
Another interesting place to visit is Hatun Rumiyoc where you can find original Inca walls, the Stone of Twelve Angles, Archbishop's Palace, and the Museum of Religious Art.
There's also a bunch of museums for you to learn more about histories such as the Inca Museum, the Quechua and the Regional Historical Museum of Cusco, Casa Concha Museum, the Museum of Sacred Plants, and the Museum of Pre-Columbian Art.
You can buy some Andean jewelry, alpaca wool items, and other souvenirs in its numerous markets such as the San Blas Market, Qosqo Handicraft Center Market, and San Pedro Market that date back to the Inca period, before the arrival of Spaniards at Cusco in 1534.
Historic hotels in this area give visitors the unique opportunity to get a peek into life from centuries gone by, all accompanied by modern amenities curated for comfort and style.
The charming Spanish architecture of these hotels and their surroundings is a constant reminder of the rich history surrounding you. These hotels will fit most pockets and offer some luxury experiences even for frugal travelers.
Stay in Centro Historico if you're first time visiting Cusco and want to stay in a central location; you are chasing after a bustling nightlife; you are eager to see most of the tourist attractions, fast; you don't mind spending a few extra dollars;
Best Places to Stay in Cusco Historic Centre:
Luxury: Palacio del Inka, a Luxury Collection Hotel by Marriott This five star hotel is located within walking distance to the central train station, it has daily Buffet breakfast. Rooms are stylish and modern with the choice of twin, or double, beds. There is also an on-site gym and an indoor swimming pool.
Mid-range: Antigua Casona San Blas is a traditional hotel, located just 750 yards from Cusco's main square and 100 yards from the San Blas Church. The rooms all feature a private bathroom, Wi-Fi, and a flat-screen TV, while a bar, restaurant, spa, and a beautiful patio with a fireplace are all available on-site to help you relax.
Mid-range: Sonesta Hotel Cusco is a beautiful, modern, 4-star hotel, with rooms boasting contemporary décor and featuring amenities like cable TV, Wi-Fi, a private bathroom, and either mountain or city views. The bar and restaurant serve a complimentary breakfast each morning as well as a fusion of Peruvian and international cuisine throughout the day.
Hostel: Nao Victoria Hostel is a wonderful, affordable option, providing guests with a choice of private rooms and shared dormitories. Located close to attractions such as Cusco Main Square, Santa Catalina Convent, Church of the Company, La Merced Church, and Religious Art Museum.
See Also:
2. San Cristobal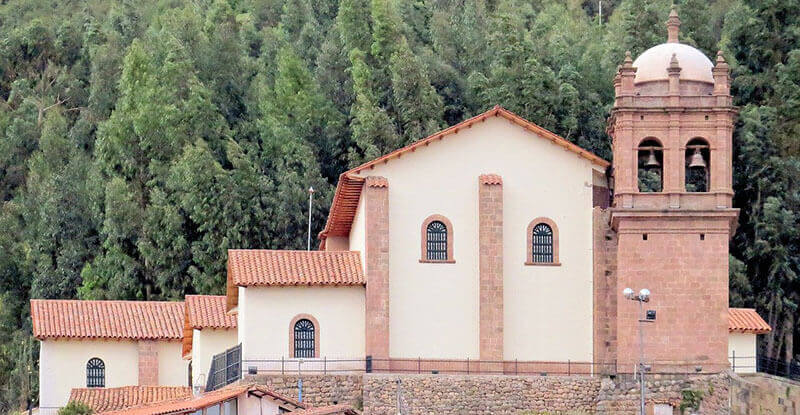 To the north of the Historic Center lies the church of San Cristobal. The near-vertical trek up the hill is rewarded with splendid views of the city sweeping over the valley.
The Church of San Cristobal is a spiritual haven upon the hill, intimately nestled amongst the historic residences.
If you visit Cusco before Machu Pichu this might be a good place to start warming up. The steep hills are not for the faint of heart. Your uphill journey will be met with peace and tranquility in this rustic neighborhood. There is less of a nightlife scene and only a couple of restaurant options.
Staying in San Cristobal, you will be close to attractions like the ancient site Sacsayhuaman, Christo Blanco, the San Cristobal church, and Qolqanpata Historical Park.
Like most areas in Cusco, there are options for backpackers, budget travelers, and luxury seekers alike. Best choose an accommodation option that offers you breakfast as the steep downhill climb might seem daunting on an empty stomach!
This tiny neighborhood is just far enough out of the city center for accommodation prices to drop attractively.
Stay in San Cristobal if you are looking for a more affordable option; you can appreciate spectacular views; you don't mind shaking in your boots at the site of steep hills; you want to stay near the most impressive of the Inca ruins sites – Sacsayhuaman.
Best places to stay In Cusco near San Cristobal:
3. Plaza de Armas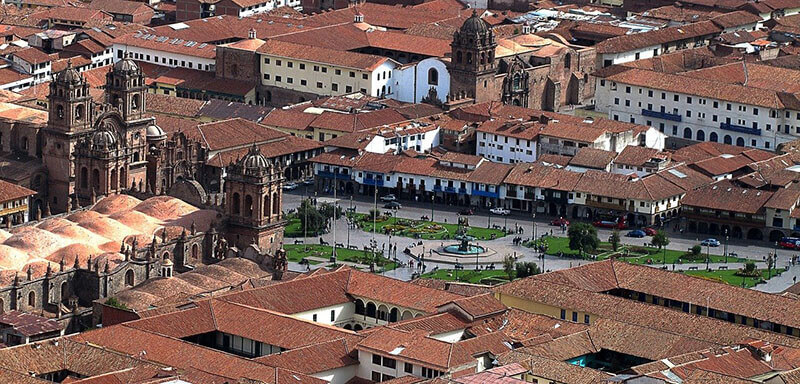 The middle of the middle, so to speak. Plaza de Armas is Cusco's main square in the heart of the Historical Center where you can find Cusco Cathedral and the Church La Compañía de Jesús.
Cusco's Plaza de Armas was once the Haukaypata, The Great Inca Square. Today, however, Spanish colonial buildings and long stone arcades dominate the architecture of the plaza, but many of the precisely carved Inca walls remain as foundations.
This square is the melting pot of all the hottest bars, restaurants, shops, and markets. It's all about location if you stay here, and that's what you are paying for too.
If you are looking for a nightlife atmosphere, then look into Plaza de Armas. It's filled with young backpackers before or after heading to Machu Picchu. Be sure to check out nightclubs around plazas such as Mama Africa, La Chupiteria, and Paddy's Irish Pub.
If you only have a short stay in the city this is where you want to be. You merely need to step out of your front door and the city will come to you. This plaza is rife with touristic opportunities, information centers, and historic sites.
You will be able to visit all the main sites of Cusco within a short amount of time and make a few stops along the way for tapas and coffee. If you need to have your finger on the pulse, this is the place for you.
Plaza de Armas hosts several events and festivals throughout the year including the religious festival of Corpus Christi, and Inti Raymi – the Inca Festival of the Sun.
Stay in Plaza de Armas if you want a vibrant nightlife; you want to be in the heart of the city; you enjoy an abundance of activities every way you turn; you want to spend a little more for top-class luxury;
Best Places to Stay in Cusco in Plaza de Armas:
Hotel Monasterio San Pedro is a stunning hotel, featuring traditional architecture reminiscent of a castle. Rooms are spacious and boast a more modern style, while luxuries like a bar, restaurant, Wi-Fi, and a daily breakfast ensure your surroundings always feel cultured as opposed to just old.
Ramada by Wyndham Costa Del Sol Cusco is a beautiful, 4-star hotel, set in a converted 17th-century mansion. With its colonial-style building wrapped around a traditional courtyard, staying here is like stepping back in time. That said, amenities like Wi-Fi, a bar and a restaurant serving a buffet breakfast and a blend of Peruvian and international cuisines ensure you never forget you are on vacation.
Casa Real Hoteles is a lovely, affordable hotel, featuring single, twin, and triple rooms. With simple yet stylish décor, Wi-Fi, flat-screen cable TV, and a private bathroom in each unit, this is a destination that allows you to enjoy a trip to remember, without having to break the bank to do so.
4. San Blas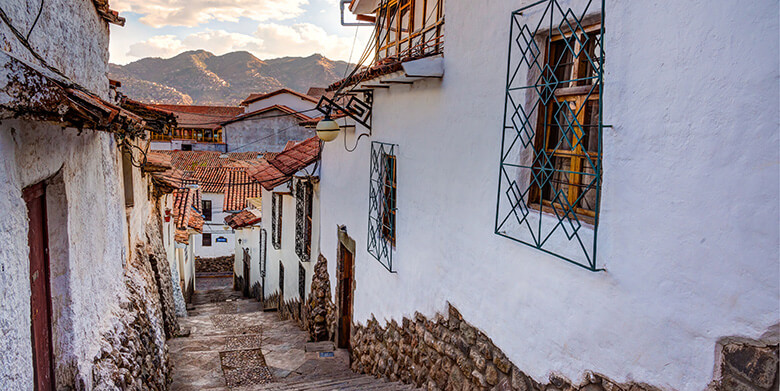 Each city has its bohemian district, and the charming barrio of San Blas is Cusco's very own Montmartre if you will. It is strictly a walking neighborhood so be sure to pack your climbing shoes to conquer another of the city's many vertical challenges.
San Blas was the original name T'oqokachi in the Inca Empire but later changed to San Blas in honor of a bishop of the third century. After the arrival of the Republic, the San Blas neighborhood become one of Cusco's main tourist attractions and home to famous artists like Mendivil, Olave, and Merida.
With its colorful doorways and cobblestone streets, San Blas is straight out of a storybook. This residential area is also centered around a plaza where a fair is held every Saturday.
Attractions near San Blas are the Temple of San Blas which was built on an Inca Huaca and restored in 1650 after an earthquake, Coca Museum, Casa Merida, the Andean markets, and try Peruvian coffee at Carmen Alto.
In the small square of Plazoleta de San Blas at the end of the San Blas slope, you can also find Hilario Mendivil & Family Gallery, named after Hilario Mendivil, one of the most important artists during the twentieth century in Cusco.
To have the most beautiful views of the city, head to the San Blas Observatory, where you can also enjoy the sunset.
This area is home to many ex-pats or tourists renting for longer periods. You are a mere 10 min walking distance from the heart of the city but you get to experience a more residential atmosphere.
There are more long-term rentals available in this area, along with the usual mix of hotels and hostels.
Stay in San Blas if you want to appreciate the bohemian culture; you need more options of vegan/vegetarian dining; an eclectic nightlife is what you are after; walking is not an issue. This is a no driving zone;
Best places to stay in Cusco near San Blas:
JW Marriott El Convento Cusco is a fabulous, 5-star destination, featuring traditional stone architecture, a colonial-style courtyard and a decorative fountain, located just 3 blocks from Cusco's cathedral and main square. With stunning rooms, 2 on-site restaurants, a bar, and a spa, this is a property that creates a perfect blend of culture and quality.
Golden Inca Hotel is a pleasant, affordable hotel, located just 650 yards from Cusco's historical center. Rooms feature wood furniture, a private bathroom, sofa, and minibar, while Wi-Fi, luggage storage, and laundry and taxi services are also provided. There's even a complimentary breakfast buffet served each morning.
Selina Plaza De Armas Cusco This 3-star hotel is a fabulous, pet-friendly, budget choice, featuring private rooms and shared dormitories. Located within walking distance from San Pedro Train Station, Central Market, Cathedral of Cuzco, Inka Museum, and Holy Family Church.
5. Lucrepata
Lucrepata is San Blas adjacent and offers an even more local experience. The narrow streets weave amongst houses occupied for centuries. You can enjoy all the amenities of the San Blas area while being roughly a 15-minute walk from the Plaza De Armas, and a five-minute walk from Wanchaq Station.
This area is relatively unknown to tourists and you will be able to experience true local lifestyles and hospitality here. This is not an ideal area for first-time travelers.
You will need to venture out of the area to find restaurants and points of interest. This tiny burro does not offer luxury accommodation. You will be met with local hospitality here and most of the hostel options are small with a homestay feel.
Stay in Lucrepata if you're traveling with families and want great public transportation; the truly local experience is what you are after; affordability is a big concern for you; you prefer a homestay over a hotel.
Best places to stay in Lucrepata:
6. Sacsayhuaman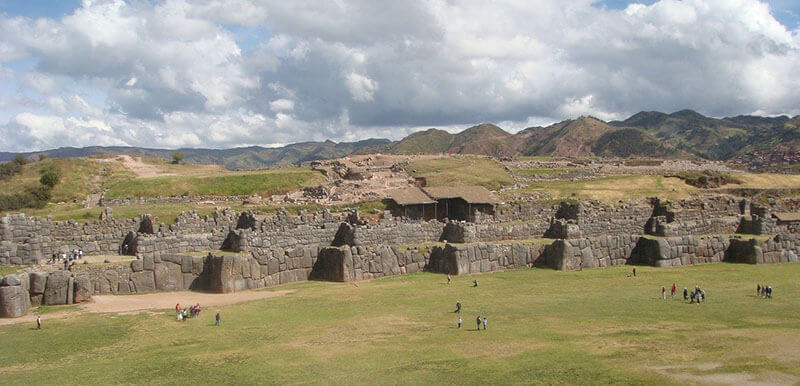 Sacsayhuaman is an ancient Inca complex to the north of Cusco. It lies on the outskirts of the city and does not offer many accommodation options. It borders San Cristobal and is famed for its well-preserved Inca walls.
The site is open until 5 pm daily but then tourists need to start making their way down the hill. If you decide to stay in the areas bordering this landmark you can enjoy terracotta-clad views of the city as it rolls through the valley.
You will find plenty of museums nearby such as the Museum of Sacred Plants, the B and O Art Museum, and the statue of Cristo Blanco.
Stay in Sacsayhuaman if you want to experience even more incredible views; you prefer fast access to an Inca site; the outskirts of a city appeal to you.
Best placecs to stay in Cusco near Sacsayhuaman:
Casa Cartagena Boutique Hotel & Spa is an exceptional, 5-star spa hotel, located in a historic building just 2 blocks from Plaza De Armas Square. This boutique hotel features elegantly decorated rooms all boast wooden balconies overlooking the lush pool and garden, making it a destination where you can completely relax in cultured surroundings for the duration of your stay.
Hotel Rumi Punku is a superb hotel, located within a traditional, country style building just 350 yards from Plaza De Armas Square. With comfortable rooms featuring traditional décor, an on-site hot tub and sauna, as well as a complimentary breakfast each morning, you can stay in a quality, cultured destination for a fraction of the price you would usually expect for such a place.
Atoq San Blas Hotel is a simple yet stylish hotel, located in the very centre of the city and surrounded by historic attractions. The spacious, comfortable, air-conditioned rooms all feature Wi-Fi, a desk, flat screen TV and private bathroom to let you enjoy a relaxing experience, while the hotel's terrace, 24-hour front desk, concierge service, currency exchange and choice of American and buffet breakfasts provide you with the highest levels of convenience.
7. Cusco Airport
Alejandro Velasco Astete International Airport also lies along the 3S highway. The Wanchaq neighborhood offers quick access to the airport but the area is largely residential. You would need to drive to most of the tourist hotspots but there is an array of restaurants in the area catering to an international market.
This largely residential area still offers a few worthwhile attractions. The Temple of San Sebastian dates back to the 17th century and displays many colonial-era architectural splendors.
The Wanchaq Market also offers a look into current local life. On weekends the Plaza Tupac Amaru transforms into a bustling market where you will be able to acquire everything from an Alpaca sweater to tasty desserts and ornamental plants.
The square also comes alive at night with dance troupes congregating around the statue of Tupac Amaru II upon his horse.

Even though Cusco isn't a very large city, some might prefer proximity to and from an airport on before travel days. You will be able to enjoy one last day of authentic Cusco before you embark on the rest of your journey.
Every adventurous foodie needs to visit Feria Gastronómica, a food court that only opens on weekends. Here you can find truly authentic foods like Chupe de Camarones (Peruvian shrimp soup) and the classic delicacy, Cuy (Guinee pig) prepared in various ways.

As it is a more residential area, AirBnBs are most popular here.
Stay Near Cusco Airport if airport proximity is of importance to you; the local markets and their delicacies appeal to you; you don't mind driving in and out of the city by car.
Best places to Stay near Cusco Airport:
Kantu Hospedaje is a simple yet stylish hotel, conveniently located just a few steps from the airport, so is ideal for anyone worried about missing their flight or dragging their luggage all over town. This isn't just for layovers though, as free Wi-Fi, parking a shared lounge and room service, as well as rooms boasting a flat-screen cable TV and private bathroom, ensure you will have a comfortable, convenient trip, no matter how long you stay.
San Francisco Cusco Hotel This 3 star hotel offers a paid airport shuttle service. it has a restaurant, free private parking, a shared lounge and a terrace. American breakfast is served daily.
Latinos House Cusco features spacious rooms, designed with a vibrant, modern style. All units boast a private kitchen and bathroom, as well as seating and dining areas, equipped with a hairdryer, sofa and flat-screen cable TV. Meanwhile, a sun terrace, shared lounge, BBQ facilities, daily continental breakfast and free parking and Wi-Fi make the rest of the property just as comfortable and convenient as your room.
You Might Want to See: Rainbow Mountains Peru
Check out the virtual tour about the best places to stay in Cusco in this video:
You can also visit Machu Picchu by flying into Cusco for one night, travel to the Sacred Valley the next, and enter Machu Picchu from there. After visiting the main archeological sites, you are free to return to Cusco and explore it at your leisure. 
In conclusion, the Historic Centre, San Cristobal, Plaza de Armas, San Blas, Lucrepata, Sacsayhuaman, and Cusco Airport are the best places to stay in Cusco for tourists and first-time travelers.
Most tourists prefer the Historic Centre or nearby neighborhoods like San Blas for easy access to Cusco's main attractions, restaurants, and shops.