7 Best Areas and Neighborhoods in Cusco – Where to Stay in Cusco Peru
Once the center of the ancient Inca civilization, Cusco lies nestled amongst the awe-inspiring Andes mountains. The city dates back more than a thousand years and was overrun in the 14th century by the Spanish. Thus, travelers can expect to find a complex blend of ancient and colonial structures offering a peek into a bygone era of South American history. But how do you decide where to stay in Cusco?
Cusco is a UNESCO site and a magnet for avid travelers from across the globe. Many only stop by on their Inca pilgrimage but it is highly recommended to take a second glance at what this city has to offer. Weary travelers can choose from an assortment of accommodation options ranging from 5-star hotels to homestays and hostels. In this city, you rarely have to forego your budget for comfort as Cusco offers incredible value for your money.
Where to stay in Cusco Peru – 7 Best Areas and Neighborhoods in Cusco
We have narrowed it down to the 7 most significant neighborhoods in Cusco. Unlike many backpacking cities, it is not wise to show up and hope for the best when it comes to accommodation around these parts. Each burrow offers its own unique opportunities despite their close proximity to each other. At 11,000ft up, you want to make smart choices to make your stay as comfortable as possible. Whether you are looking for a buzzing nightlife or splendid views over a cup of morning brew, here are the 7 best areas to stay in Cusco.
7 best areas to stay in Cusco
7 Best Places to Stay in Cusco Peru Map
1. Historic Centre – Best Place to Stay in Cusco for First Time Visitors
The city's historic center holds within it many of the most noticeable landmarks and neighborhoods. As the name suggests it is very much a historic sight and not a residential area. A tourist hotspot in every sense of the word.
3S is the main motorway that winds through the city from East to West. It also hugs the edges of the historical center so travelers have easy access to taxis to and from the airport. Once there, you are a mere stone throw away from the most significant tourist attractions in the area. The Plaza De Armas and Santo Domingo are two of the most recognizable beacons in the city.
There is a multitude of a quaint curio- and clothing shops selling Andean-jewelry, alpaca wool items, and other souvenirs. Historic hotels in this area give visitors the unique opportunity to get a peek into the life from centuries gone by, all accompanied by modern amenities curated for comfort and style. The charming Spanish architecture of these hotels and their surroundings is a constant reminder of the rich history surrounding you. These hotels will fit most pockets and offer some luxury experiences even for frugal travelers.
Stay here if :
you are chasing after a bustling nightlife.
you are eager to see most of the tourist attractions, fast.
don't mind spending a few extra dollars.
aren't too bothered with noisy neighborhood.
don't get overwhelmed by persistent hawkers easily.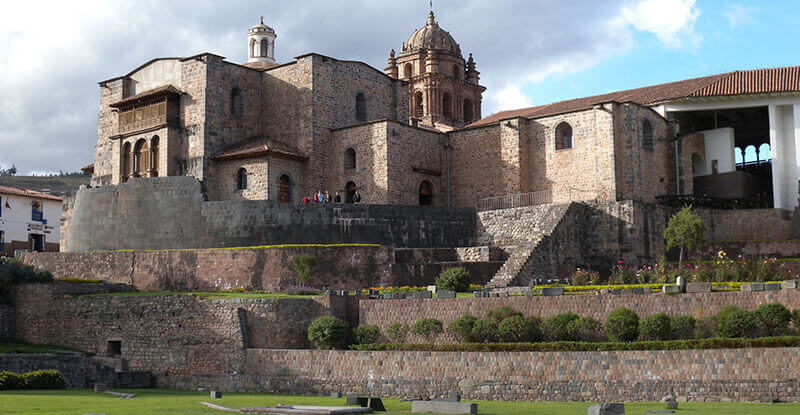 2. San Cristobal – Best Place to Stay in Cusco for Budget Travelers
To the north of the Historic Center lies the church of San Cristobal. The near-vertical trek up the hill is rewarded with splendid views of the city sweeping over the valley. The Church of San Cristobal is a spiritual haven upon the hill, intimately nestled amongst the historic residences.
If you visit Cusco before Machu Pichu this might be a good place to start warming up. The steeps hills are not for the faint of heart. Your uphill journey will be met with peace and tranquility in this rustic neighborhood. There is less of a nightlife scene and only a couple of restaurant options.
Like most areas in Cusco, there are options for backpackers, budget travelers, and luxury seekers alike. Best choose an accommodation option that offers you breakfast as the steep downhill climb might seem daunting on an empty stomach! This tiny neighborhood is just far enough out of the city center for accommodation prices to drop attractively.
Stay here if:
you are looking for a more affordable option.
you can appreciate spectacular views.
you don't mind shaking in your boots at the site of steep hills.
you aren't too bothered by having a wide selection of restaurants readily available.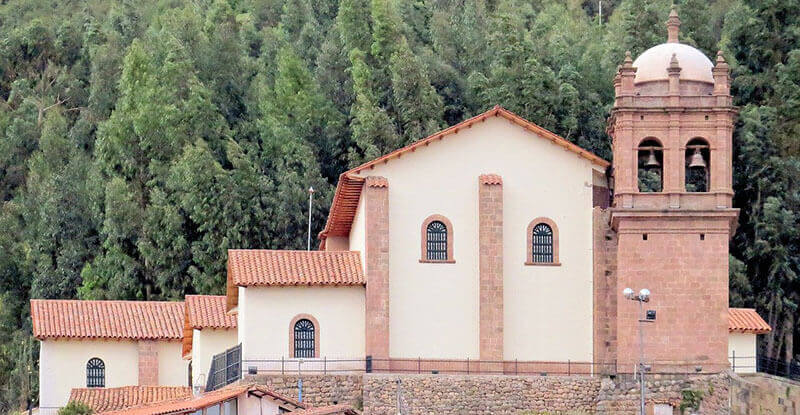 3. Plaza de Armas – Best Place to Stay in Cusco for NightLife
The middle of the middle, so to speak. Plaza de Armas is the heart of the Historical Center. This square is the melting pot of all the hottest bars, restaurants, shops, and markets. It's all about location if you stay here, and that's what you are paying for too.
If you only have a short stay in the city this is where you want to be. You merely need to step out of your front door and the city will come to you. This plaza is rife with touristic opportunities, information centers, and historic sites. You will be able to visit all the main sites of Cusco all within a short amount of time and make a few stops along the way for tapas and coffee. If you need to have your finger on the pulse, this is the place for you.
Stay here if:
you want to be in the heart of the city.
you enjoy an abundance of activities every way you turn.
want to spend a little more for top class luxury.
you know how to identify a tourist trap and can avoid it.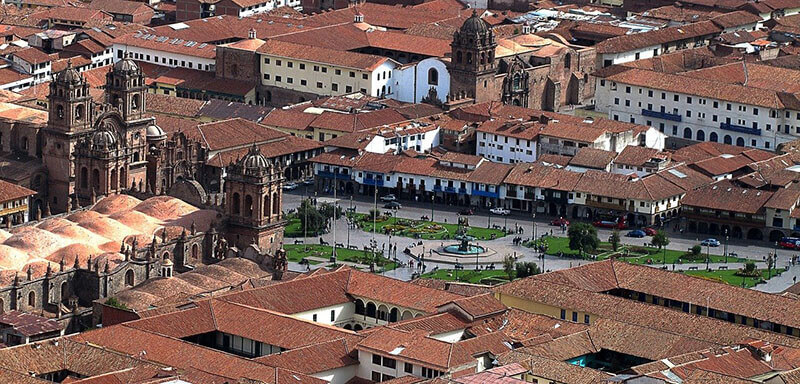 4. San Blas – Best Area to Stay in Cusco for Bohemian Culture
Each city has its bohemian district, and San Blas is Cusco's very own Montmartre if you will. It is strictly a walking neighborhood so be sure to pack your climbing shoes to conquer another of the city's many vertical challenges.
With its colorful doorways and cobblestone streets, San Blas is straight out of a storybook. San Blaz is also centered around a plaza where a fair is held every Saturday. This area is home to many ex-pats or tourists renting for longer periods. You are a mere 10 min walk from the heart of the city but you get to experience a more residential atmosphere. There are more long-term rentals available in this area, along with the usual mix of hotels and hostels.
Stay here if:
you want to appreciate the bohemian culture.
you need more options of vegan/vegetarian dining.
an eclectic nightlife is what you are after.
walking is not an issue. This is a no driving zone.
5. Lucrepata – Best Place to Stay in Cusco for a family
Lucrepata is San Blas adjacent and offers an even more local experience. The narrow streets weave amongst houses occupied for centuries. You can enjoy all the amenities of the San Blas area while being roughly a 15-minute walk from the Plaza De Armas.
This area is relatively unknown to tourists and you will be able to experience true local lifestyles and hospitality here. This is not an ideal area for first-time travelers. You will need to venture out of the area to find restaurants and points of interest. This tiny burro does not offer luxury accommodation. You will be met with local hospitality here and most of the hostel options are small with a homestay feel.
Stay here if:
truly local experience is what you are after.
affordability is a big concern for you.
you prefer a homestay over a hotel.
6. Sacsayhuaman – Best Area so Stay in Cusco for Sightseeing
Sacsayhuaman is an ancient Inca complex to the north of Cusco. It lies on the outskirts of the city and does not offer many accommodation options. It borders San Cristobal and is famed for its well-preserved Inca walls. The site is open until 5 pm daily but then tourists need to start making their way down the hill. If you decide to stay in the areas bordering this landmark you can enjoy terracotta clad views of the city as it rolls through the valley. 
Stay here if:
you want to experience even more incredible views.
you prefer fast access to an Inca site.
the outskirts of a city appeal to you.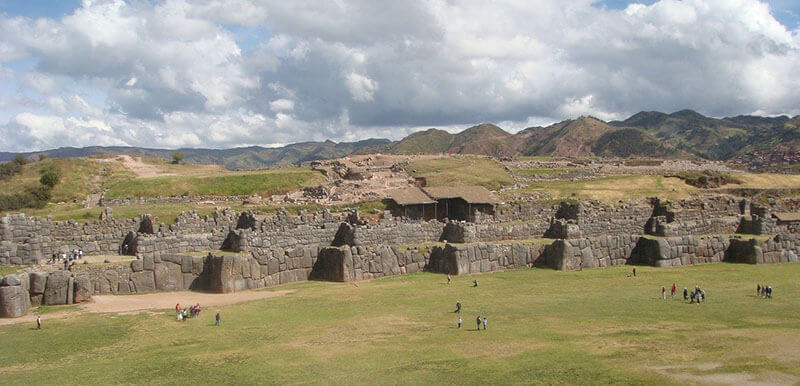 7. Near Cusco Airport
Alejandro Velasco Astete International Airport also lies along the 3S highway. The Wanchaq neighborhood offers quick access to the airport but the area is largely residential. You would need to drive to most of the tourist hotspots but there is an array of restaurants in the area catering to an international market.
This largely residential area still offers a few worthwhile attractions. The Temple of San Sebastian dates back to the 17th century and displays many colonial-era architectural splendors. The Wanchaq Market also offers a look into current local life. On weekends the Plaza Tupac Amaru transforms into a bustling market where you will be able to acquire everything from an Alpaca sweater to tasty desserts and ornamental plants. The square also comes alive at night with dance troupes congregating around the statue of Tupac Amaru II upon his horse.

Even though Cusco isn't a very large city, some might prefer proximity to and from an airport on before travel days. You will be able to enjoy one last day of authentic Cusco before you embark on the rest of your journey. Every adventurous foodie needs to visit Feria Gastronómica, a food court that only opens on weekends. Here you can find truly authentic foods like Chupe de Camarones (Peruvian shrimp soup) and the classic delicacy, Cuy (Guinee pig) prepared in various ways.

As it is a more residential area, AirBnBs are most popular here.
Stay here if :
airport proximity is of importance to you.
the local markets and their delicacies appeal to you.
you don't mind driving in and out of the city by car.
Tips for choosing Best Places to Stay in Cusco
When choosing your accommodation in this city there are a couple of things you need to consider.
How Much Are You Willing To Walk?
Some areas like San Cristobal and San Blas will leave you breathless in more ways than one. You get the bonus of spectacular views but it is a steep climb to lay your head to rest each night.
How Local Do You Want To Go?
The center of town is well suited for inexperienced travelers or those seeking comfort over adventure. Once you move into the more residential parts you will get a glimpse into the real Cusco.
How Long Are You Staying?
If you plan to commit a hit and run with this city it is best to stay central. You can do a walking tour and take in all the highlights in one fell swoop. But extending your stay by a couple of days allows you to take in more of the sights and sounds and stay in more budget-friendly areas.
You Might Want to See: Rainbow Moutains Peru
FAQs on Best Areas and Neighbourhoods in Cusco
How Long To Stay In Cusco Before Machu Picchu
The altitude adjustment to Cusco might be quite a shock to the system. At 11,000ft above sea level, it could feel like you are trying to walk on the moon at first. Machu Picchu is only at 7000ft and needs much less acclimating.
There are a couple of options people consider. The most popular one is to fly into Cusco for one night, travel to the Sacred Valley the next, and enter Machu Picchu from there. After visiting the main archeological sites, you are free to return to Cusco and explore it at your leisure.
Is Cusco Safe for Tourists?
South America has a reputation for being a hotbed for criminal activity. Cusco has a population of around 500 000 but nearly 2 million visitors yearly. This hive of tourist activities surely makes it attractive for all kinds of wrongdoings. Most recently there is higher police visibility and an awareness of the crimes in the area.
Most visitors claim to feel safe and are not affected first hand by crime. The usual rules apply:
Only make use of marked taxis (they have Uber now too)
Don't leave your valuables unattended
Wear your purse close to your person and zip it up
General awareness of your surroundings makes you less of a target for petty crimes that lie rampant amongst most tourist hotspots these days.
This city is not to be avoided in fear of imminent danger!
Stay in Cusco Or Sacred Valley?
Cusco and the Sacred Valley lie at two vastly different altitudes. Deciding where to stay will all depend on how much time you plan to spend in Peru. If you are going to Machu Picchu it is wise to spend the night before your trip to the Sacred Valley. This will allow you more time to visit the site as your ticket allows multiple entries in one day. It is unwise to travel to Machu Picchu in one day from Cusco.
How Many Days Should I Spend In Cusco?
Cusco offers the best in Peru. Ancient ruins, colonial architecture, mountainous terrains and not to mention scrumptious food. There is no shortage of things to do here. You can easily spend 4-5 days here without repeating yourself. It is easy to visit most of the top attractions in 1 or 2 days but a longer stay is advised to truly get in touch with the heartbeat of Cusco.
Cusco is easily overlooked as a destination in itself. But it offers more than just a starting point for the mighty Inca pilgrimage. Here travelers can soak in the culture and appreciate the centuries-old history that lays the foundation for modern civilization.
---
---