If you're looking to travel to Cusco, you might be thinking How Many Days in Cusco do I need to spend? I'm going to give you a guide in this article. Cusco, a city in the Peruvian Andes is a popular stopover for visitors to Machu Picchu, Rainbow Mountain, Sacred Valley, and those looking at hiking along the Inca Trail.
This article will run you through how many days you should spend in Cusco, as well as where to stay, how to get around, where to go and what to eat. Cusco is an unmissable ancient city with captivating and mystical architecture. Every corner of the city offers a piece of history and it is famously renowned as the historic capital of Peru.
3 days in Cusco to get the sense of the history of the city and explore the diverse range of ancient ruins dating back to the Inca Empire. 3 days will allow you to get a feel for Peruvian culture. The transcendence of the city will take you on an unforgettable journey in what is 1 of 12 UNESCO World Heritage Sites situated in Peru. 
Elevated at 3,400 meters, and the 7th most populous city in Peru, Cusco was once the capital of the Inca Empire and you can easily fill 3 days strolling around and spotting old carved wooden balconies, wall ruins, and Inca stonework. 
How many days in Cusco is enough?
It is generally recommended to spend at least three to four days in Cusco to fully experience the city and its surroundings. This allows for enough time to visit popular landmarks such as the Sacred Valley and Machu Picchu, as well as take part in cultural activities and explore local markets. However, the length of your stay ultimately depends on your personal interests and preferences.
Is three days in Cusco enough?
It is possible to see the highlights of Cusco in three days, and get the sense of the city and its culture. It is worth considering extending your trip to allow for a more leisurely and in-depth visit.
Is 5 days in Cusco enough?
Five days in Cusco may be sufficient if you only want to visit the city's main attractions and have a brief taste of its culture and history, but it may not be enough time to fully immerse yourself in the city's rich history and fully explore the surrounding area.
Where to stay in Cusco?
If you are planning to travel to Cusco very soon, you will want to settle with your accommodations first. You can take a look at some of the best hotels in Cusco Historic Center here:
JW Marriott El Convento Cusco The hotel boasts impressive interiors with antique exposed bricks, vaulted ceilings and sleek designer style furniture. Cusco's cathedral and main square are only 3 blocks away. it has has a charming Colonial courtyard with a sculpted stone arch with a decorative fountain in the center of the patio. On-site massage room and a souvenir gift shop are available.
Sonesta Hotel Cusco Just 8 minutes drive from the Velasco Astete Airport, the Sonesta Hotel Cusco is less than 1 km from the city centre. All rooms feature a mountain or city view. Free airport pick-up service is provided.
Tierra Viva Cusco Centro Located 300 m from the main square and 200 m from San Pedro market and train station, Tierra Viva Cusco Centro offers free Wi-Fi and buffet breakfast in Cusco. Tierra Viva Cusco Centro is 100 m from San Francisco square and a 15-minute drive from Alejandro Velazco Astete Airport.
Due to the popularity of Cusco, the city offers a wide range of hotels, hostels and bed & breakfasts. San Blas is just north of the main square (Plaza de Armas) and is still considered as part of the historic center of Cusco. The area is filled with ancient Inca architecture and is home to artifacts such as the twelve-angles stone.
Beautifully filled with traditional Peruvian restaurants and boutique shops selling arts and crafts, San Blas is a cute neighborhood with a range of hotels and hostels, and is very walkable from one end to the other in 20 minutes.
Alternatively, Sacsayhuaman is a beautiful area centered around an ancient fortress of the same name. Located just north-west of the city, Sacsayhuaman lays on the foothills of the Andes and has breath-taking views of the Sinqa mountain range.
This area is slightly less popular than San Blas, and is accessible by public transport or rental car. Sacsayhuaman boasts an amazing panoramic view of the city and has many nice hotels and hostels just south in San Cristobal.
San Blas and Sacsayhuaman are two of the prime neighbourhoods in Cusco and are both part of the historical centre of the city. I suggest you look for the best places to stay in Cusco before you go to this blog where to Stay in Cusco.
How To Get Around Cusco
By foot
Walking around and taking in the breathtaking ancient architecture is simply the best way to get around Cusco.
Due to the high altitude, visitors may be short of breath, so it is advised to walk slowly and stop and take in air whenever it feels necessary.
Walkable areas in Cusco include Coricancha, Sacsayhuaman, Qenqo, Pucapucara and Tambomachay.
Public transport
Roughly 1200 public busses circulate around Cusco, and this is a great way to get around if you want to give your legs a break.
The busses have a set price and will cost you roughly 0.25 US cents per person, regardless of the distance travelled.
Both Uber and Easy Taxi are accessible in Cusco, and booking a taxi for the day can be a great way to get around the city. Prices vary from $2 to $6 depending on the time and distance travelled, and most taxis have a visible 'taxi' sign.
See Also: Where to Stay in Lima
Best Things To See & Do In Cusco
Admire the architecture
Admiring the architecture in Cusco never gets old and is completely free. From the minute you step onto the street of Cusco, you'll be amazed by the atmospheric architecture and ambience of the city.
Visit the churches
Cusco has some amazing ancient churches and the center of the city is home to no less than 32 of them. It's not advised to visit them all, but the Cathedral de Cusco is especially impressive and should not be missed.
Due to the rich history of Cusco, visiting the museums is a must. Key museums that showcase the history of Cusco include the Museo de Arte Popular, Museo Historico Regional, Museo Municipal de Arte Contemporaneo, Museo de Sito de Korikancha, the Pachacuteq Monument and the Centro Qosqo de Arte Nativo.
Mosey on the market
There's no question that you simply have to visit the main market in Cusco – San Pedro Market. The market is a feast for the senses and you can find absolutely anything ranging from various cuts of meat, to tourist souvenirs.
Browsing the shops in Cusco is a load of fun. You can get hold of anything from a luxury alpaca sweater, to a locally made keyring, and shopping is truly an old tourist pastime in the city. This is the perfect place to pick up souvenirs to distribute amongst your family and friends.
Enjoy the local restaurants
From hole-in-the-wall joints to gourmet restaurants, Cusco is the perfect city for the ultimate foodie. There're many delicious options for vegetarians and vegans, and the city also caters to the carnivores out there.
Enjoy the sunset
The neighbourhood of San Blas is the best place to experience the breath-taking sunset on offer in Cusco. Small benches surround the area, so there's often enough space and comfort for all of the sunset seekers out there.
Best Places To Eat In Cusco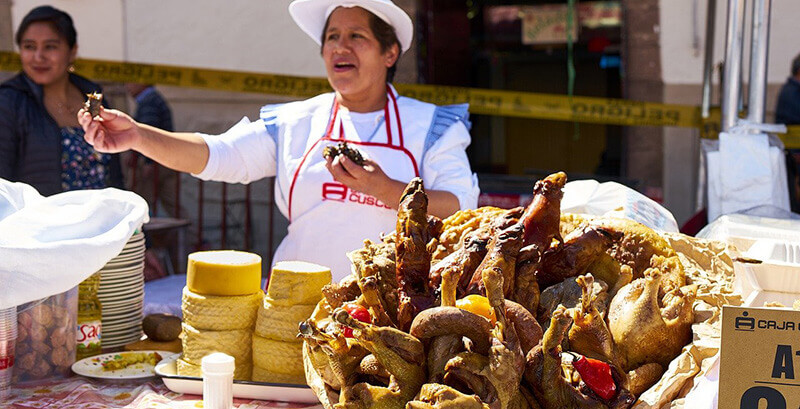 Cusco will take you on a culinary adventure. Whether you're looking for a quick bite, or looking to spend the evening dining in a restaurant, the city has a wide range of options on offer.
Pachapapa is a cute and rustic restaurant located in San Blas, they offer Peruvian classics such as oven fried trout, fresh ceviche and alpaca skewers. This cozy little joint is perfect to get a real taste of Peruvian culture.
Greens Organic offers great value for money and is on the main plaza. With a variant of different pastas, salads and cheeses, Greens Organic is perfect for the vegetarians out there. The restaurant does also offer meat in the form of succulent alpaca medallions.
If you're looking for a vegan feast, Avocado Toast & More is a great option for both breakfast and lunch. The food is fresh and delicious and the staff are incredibly friendly.
Day Trips From Cusco
Rainbow Mountain will blow you away. As a day trip, it can either be done independently in a 4×4 or with a tour and will leave in the early hours of the morning. A three hour hike to the entrance followed by a two hour hike to the summit will offer a good workout and a day full of stunning views.
I would advise seeing Machu Picchu spread over a few days, but the iconic UNESCO World Heritage Site can also be done with a day trip from Cusco. If you're tight for time then a day trip is ideal and you will still be able to take in the world famous site.
Moray is an ancient Incan ruin and can be done in half a day. The tour is often combined with Maras and can be done either independently or with a guide, and there's an entrance fee of 10 soles per person. Many tours run daily from the centre of Cusco.
3 Day Itinerary For Cusco
Three days is enough to see many things in Cusco. You can also have a trip to Rainbow Valley, Moray and Maras or Machu Picchu.
Day 1 Itinerary
Settle in and enjoy the ambience and culture of Cusco. Stroll around and scope out the local shops, restaurants and attractions and let yourself be amazed by the ancient architecture.
Regular stops to catch your breath are encouraged and don't forget to drop into some local cafes and restaurants for refreshments every now and then.
Drop by San Pedro Market for a bite to eat or pick up some local souvenirs and allow your senses to be heightened by the buzz. Keep an eye out for the towers of overflowing colorful fruit that look as if they could spill over at any point.
Day 2 Itinerary
Get hold of a tourist ticket. This includes entrance to all of the museums mentioned earlier, and is an easy way to make sure you don't miss out on the history and wonder of Cusco.
In total, the tourist ticket gives you access to 16 sites and museums and can be redeemed over a 10 day period. The ticket can be bought at Main office COSITUC: Tourist Galleries, Avenida Sol No. 103 and costs $47 (2020).
If your legs are aching from the day before, then you can take the local bus or taxi around the city from location to location.
Day 3 Itinerary
Book a day trip or independently plan to visit somewhere surrounding Cusco. Escape the city for the day and catch your breath at either Rainbow Valley, Moray and Maras or Machu Picchu.
Booking an all-included day tour will save the time of planning your route, but hiring a 4×4 will give you more independence and will feel more rewarding. Pricing of the two will be fairly similar, and it's down to personal preference whether you'd like to do it with a tour or independently.
If you're planning on heading to Lima or Machu Picchu from here, then I would recommend resting for a night in Cusco.
Suggestion if You have more Days in Cusco
If you have more days in Cusco then there's plenty you can do. You can pick up another day tour, and if you're brave enough include some quad biking and cycling in the tour.
You can easily spend another day strolling around the city whilst jumping in and out of cafes and admiring the old square.
Cusco also offers an array of classes and workshops, whether you want to learn how to cook some traditional Peruvian dishes, or spend a day getting to grips with the basics of the Spanish language, these classes and workshops can be found at local tour agencies.
How Many Days Do You Need In Cusco Before Machu Picchu?
If you're looking at doing the full Inca Trail trek to Machu Picchu then I would recommend staying at least two days in Cusco before embarking on your trip.
This will allow for you to prepare and pick up any last minute supplies needed for the trip, it's also important to acclimatize to the altitude. You shouldn't underestimate altitude sickness.
Be sure to take in the ruins and take a local guide if you're really squeezed for time. Guides in Peru typically work on a tips basis and are often incredibly friendly and very knowledgeable. Private guides are not too pricey and will show you all of the 'must-sees' within a day.
Whether you're just stopping over in Cusco, or looking to take in as much of the historical ruins as you can, it is highly recommended to spend an evening perched on a bench watching the sunset.
How Many Days In Cusco And Sacred Valley?
If you're combining Cusco and Sacred Valley, then I would advise allowing yourself 3 days to do this. The distance from Cusco to Sacred Valley is 25km's and the trip can either be done in a day or spread over 2 or 3 days.
You can spend a night in Sacred Valley or head back to Cusco the same day as arriving. Spending the night will allow you to get the full Sacred Valley experience, but I understand that this may not be possible if you're pushed for time.
If you're looking for high-end hotels then staying the night in Urubamba will suit you. Urubamba is a rustic and quaint town located in the valley, and is home to a couple of 4 and 5 star hotels.
If you're looking at spending the night in something a little less luxury, then Ollantaytambo offers a range of 3 star hotels. Ollantaytambo is a small village located in the Sacred Valley.
How Many Days In Cusco Before Inca Trail?
If you are planning a trip along the Inca Trail, I would advise arriving at least 2 days in Cusco before embarking on the trip. This gives you time to acclimatize to the altitude, enjoy the city without aching limbs, and pick up any last minute stuff for the trek.
A tour company can arrange your trip along the Inca Trail as well as the return trip from Machu Picchu to Cusco, and you can leave your luggage in Cusco if you book a night in a hotel upon returning from the trip. I advise doing this.
Regarding altitude, everyone's body reacts differently to changes, but like I said, it is strongly advised to arrive at least 2 days before leaving for the Inca Trail.
The Inca Trail from Cusco to Machu Picchu is incredibly beautiful. The trek is a moderate 26 miles and can be hiked over 4 days and 3 nights.
How Many Days In Cusco Before Rainbow Mountain?
Once again, I recommend arriving in Cusco 2 days before leaving for Rainbow Mountain in order to acclimatize seeing as you will be trekking at over 5000 meters.
2 days will allow you to pick up any last minute supplies for the trek, arrange any necessities if you're planning on doing the trip independently, and enjoy the city of Cusco for its beauty.
If you intend to rent a car for Rainbow Mountain then you can do this at Cusco. Cusco Rent a Car offers a car and insurance for a daily rate of around $40. The drive from Cusco to Rainbow mountain is about 3h15min along both asphalt and mountain dirt roads.
I advise leaving Cusco at 3am for Rainbow Mountain, meaning that you will arrive at around 6:30am. This allows enough time for the hike without the need to rush, and room for breaks if you're feeling the strain of acclimatization.
Check out my virtual tour about Cusco in this video:
How Many Days To Spend In Cusco And Lima?
In total I advise spending 5 days in Cusco and Lima. This can be split with 2 days in Lima and 2 or 3 days in Cusco. 2 days in Lima will allow you enough time to take in the coastal city, explore the historic center and get accustomed to the locals. And 2 or 3 days in Cusco will allow you to acclimatize and prepare for any trips you have planned into the Andes.
You can travel from Lima to Cusco by bus or plane. The Hop Bus route via Huacachina and Arequipa is recommended and easy to book once in Lima. If you take the bus then I would advise spending 2 days in Cusco.
If you're taking a plane from Lima to Cusco then I would advise spending 3 days in Cusco to acclimatize to the altitude. The flights can be somewhat unreliable due to weather, but if you book well in advance then you shouldn't have any issues. Check out where to stay in Lima to know more about the best areas to stay in Lima.
Whether you're looking at passing through Cusco on your way to Machu Picchu, Rainbow Mountain or Sacred Valley, or to escape the buzz of Lima, you can easily fill 3 days strolling around the cute streets, jumping in and out of shops and cafes and visiting a few of the many museums located in and around San Blas.
Now as you know how many days do you need in Cusco, all you need to do is to book your accommodations and ready to go!