Wondering Where to Stay in Crete without a car? In this article, we will look at the best areas to stay in Crete without a car (include map), how to get around without a car, and the best hotels in Crete without a car for all budget visitors.
Crete is a diverse island with options for both car-free and car-dependent travelers. If you plan to stay in one of the larger cities like Heraklion, Chania, Rethymno, or Agios Nikolaos, you can easily get around using bus, taxis, or walking.
Crete is accessible by air through its international airports in Heraklion and Chania. Ferries connect the island to the Greek mainland and other islands.
Crete is the largest and most populous of the Greek islands, located in the eastern Mediterranean Sea, at the crossroads of Europe, Asia, and Africa. It holds a rich history and cultural heritage, making it a popular tourist destination.
Crete has a long and storied history that dates back thousands of years. It was home to the ancient Minoan civilization, one of the earliest advanced civilizations in Europe, with its peak around 2000 BC.
The island has also been influenced by various other cultures, including the Romans, Byzantines, Venetians, and Ottomans, which have left their mark on its architecture, cuisine, and traditions.
Crete has a vibrant and distinct culture. Cretans are known for their hospitality and strong sense of regional identity. The island has a rich tradition of music, dance, and folklore. Traditional Cretan music often features the lyra, a bowed string instrument, and the laouto, a type of lute.
Cretan cuisine is renowned for its Mediterranean flavors and healthy ingredients. It includes staples like olive oil, fresh vegetables, herbs, cheese, and a variety of seafood.
Crete offers diverse landscapes, including beautiful beaches, rugged mountains, and fertile plains. The Samaria Gorge, located in the White Mountains, is one of Europe's longest gorges and a popular hiking destination. Crete is also home to the Ideon Cave, a legendary birthplace of the Greek god Zeus.
The island attracts visitors from around the world who come to enjoy its beaches, archaeological sites (such as Knossos), picturesque villages, and outdoor activities like hiking and water sports.
Heraklion (or Iraklion), Chania, Rethymno, and Agios Nikolaos are some of the major cities on the island, each with its unique charm and attractions.
Crete is a beautiful Greek island with a lot to offer, and it's possible to have a great vacation there without renting a car. To make the most of your stay in Crete without a car, it's important to choose your accommodation wisely and plan your activities accordingly.
Where to Stay in Crete without a car?
The best areas to stay in Crete without a car for tourists are Chania, Heraklion, Rethymno, and Agios Nikolaos. They are the most popular towns on the island that are walkable and well-connected to buses, making them great locations for a car-free holiday in Crete.
Remember to plan your itinerary based on the locations you want to visit and their accessibility by public transportation or organized tours. With careful planning, you can have a wonderful time exploring Crete without the need for a car.
Map of best areas and towns in Crete: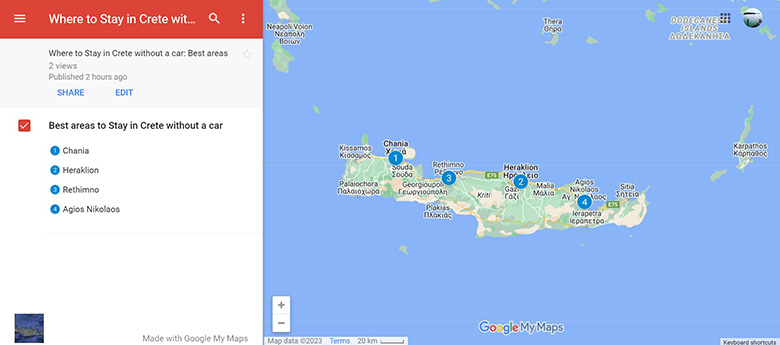 Overview of best areas to stay in Crete without a car
Here is an overview of recommended areas in Crete for visitors without a car and why you should stay in each area:
| Best areas in Crete without a car | Why should you stay in this area? |
| --- | --- |
| Chania | Is a picturesque coastal town on the western side of Crete that has its own international airport, a port, and is well-connected to other towns by bus. You can easily explore its charming Old Town with its narrow streets, Venetian harbor, and historic buildings on foot. |
| Heraklion | Is the capital city, home to the island's main international airport, a port, 2 bus stations, making it a great base to explore other parts of Crete. The city center is easily explored on foot, and you can easily visit popular attractions such as the Palace of Knossos, and Koules fortress. |
| Rethymno | located between Chania and Heraklion. It has a similar feel to Chania but less tourists. The Old Town is a pedestrian-friendly area, and you can explore its attractions on foot. It is well-connected by bus, making it easy to travel to other parts of the island. |
| Agios Nikolaos | A popular town located on the eastern side of Crete. It is known for its beautiful Lake Voulismeni, surrounded by cafes and restaurants, and its relaxed atmosphere. You can explore the nearby beaches, take a boat trip to Spinalonga, and visit other towns on the eastern coast by bus. |
How to get around Crete without a car as a tourist?
Crete, the largest Greek island, has a well-developed transportation system that includes buses, taxis, and ferries, making it relatively easy to get around without a car.
The most convenient way to reach Crete is by flying into one of its two international airports, Heraklion International Airport or Chania International Airport. Additionally, you can take a ferry from Athens (Piraeus port) or from other Greek islands to either Heraklion or Chania.
Upon arrival, you can use the bus to reach your destination. The buses can take you to major towns and cities on the island. Check the bus schedules and routes beforehand.
Once you're on the island, you can use the local bus network to get around. KTEL is the main bus company on Crete, operating routes between towns and cities. The buses are relatively affordable and reliable.
There are also taxi services, which is a more expensive option compared to public transportation, but it can be convenient for short distances or when traveling with luggage.
Depending on where you choose to stay in Crete, you might be able to explore the local area on foot or by bicycle. Some towns, especially those with compact city centers or near the coastline, can be easily navigated on foot or by renting a bicycle.
While having a car provides more flexibility to explore the island, there are still areas where you can have an enjoyable stay without a car. 
4 Best areas to Stay in Crete without a car are:
1. Chania
Chania is one of the best areas to stay in Crete without a car due to its popularity, excellent connections to public transportations, and its wide range of facilities for tourists.
Located on the northwest coast of Crete, it is the second-largest city on the island after Heraklion and is a great base to explore the southern and western parts of the island.
Chania is easily reachable by airplane and ferry. Chania international airport is located only 20 minutes from the city center by a taxi or local bus operated by KTEL Chania.
Meanwhile, Souda is the main port of Chania, which has ferry connection from Athens mainland Greece. The port is easily accessible by taxi or bus number 13.
There are several stunning beaches near Chania that you can reach without a car. The popular beaches of Nea Chora and Koum Kapi are within walking distance of the city center.
Additionally, you can take a bus to visit the beaches of Elafonisi, Falassarna, and Marmara, as well as stunning Samaria Gorge and Aradena Gorge.
Chania itself is a popular destination with many attractions and lively nightlife. Chania's Old Town is a pedestrian-friendly area that is easily explored on foot.
Chania has a rich history dating back thousands of years and has been influenced by various civilizations, including Minoan, Roman, Byzantine, Venetian, and Ottoman.
Chania's old town features narrow streets, Venetian and Ottoman-era architecture, and a picturesque harbor. The Venetian Harbor is one of the main attractions, lined with colorful waterfront buildings, a lighthouse, and a Venetian-era fortress.
There are several historical and cultural landmarks. The Chania Archaeological Museum showcases artifacts from the Minoan, Hellenistic, Roman, and Byzantine periods. The Maritime Museum of Crete provides insight into the island's naval history.
Additionally, The Firka Fortress, located at the entrance of the Venetian Harbor, houses the Historical Archives of Crete and offers panoramic views of the city.
Within the old town, visitors can explore the Municipal Market, a bustling marketplace selling local produce and traditional products.
There are plenty of bars, restaurants, and kafeneia in the Old Town and around the old port, where you can experience Cretan cuisine.
Chania offers a wide range of amenities and services that cater to tourists. You'll find plenty of accommodations, restaurants, shops, and entertainment options within the city, making it convenient for travelers without a car.
Best hotels to stay in Crete in Chania without a car:
BEST HOTELS IN CHANIA
2. Heraklion
Heraklion is the largest city and the capital of Crete. It is located on the northern coast of the island and serves as the main gateway for visitors arriving by air or sea.
Heraklion is home to the island's major international airport, with flights from Athens, Thessaloniki, as well as from many European countries. The airport is only 5 km away from the city center, and can be reached by KTEL local bus or taxi.
Additionally, the ferry port of Heraklion has connections with Piraeus port in Athens all year round. There are also ferry links to Santorini, Mykonos, Paros and Milos, as well as Rhodes, Karpathos, and Kassos.
Furthermore, Heraklion has 2 bus stations, making it a great base to explore other cities and attractions around the island.
The city itself has a rich history and offers numerous cultural attractions, including the famous Palace of Knossos, the Heraklion Archaeological Museum, and the Venetian Koules Fortress. You can explore these sites on foot or use public transportation.
Heraklion is a bustling city with a wide range of amenities, including hotels, restaurants, shops, and entertainment venues. It offers a vibrant atmosphere and a variety of options for dining and nightlife.
Overall, Heraklion is one of the best bases in Crete for travelers without a car due to its excellent transport connections, cultural attractions, and its wide range of tourist amenities.
Best hotels to stay in Crete in Heraklion without a car:
BEST HOTELS IN HERAKLION
3. Rethymno
Rethymno is the third-largest city on the island located on the north coast of Crete, between the two more popular Chania and Heraklion. If you arrive by air to Heraklion or Chania, you'll need to take a bus, taxi to get to Rethymno.
Rethymnon's bus station is well-connected to Heraklion and Chania, but the best way to reach from Heraklion or Chania airports to Heraklion or Chania is by taxi or private transfer as taking a bus can take more time.
Rethymno has a rich history and offers visitors a blend of Venetian, Ottoman, and Greek architectural influences. Similar to Chania, Rethymno has a well-preserved old town, which features narrow streets, colorful buildings, and a Venetian harbor.
The old town is known for its charming atmosphere and is a popular destination for tourists. Here, you can explore historical sites such as the Venetian fortress, Fortezza, which offers panoramic views of the city and the sea.
Rethymno also boasts a long sandy Rethymno Beach stretching along its coastline. The beach is well-organized with sunbeds, umbrellas, and water sports facilities. It is a great place to relax, soak up the sun, and enjoy the crystal-clear waters of the Mediterranean Sea.
The Rethymno Carnival is one of the largest and most famous carnivals in Greece. It takes place annually in February and includes parades, masquerade parties, music, dancing, and various cultural events.
Best hotels to stay in Crete in Rethymno without a car:
BEST HOTELS IN RETHYMNO
4. Agios Nikolaos
Agios Nikolaos is a coastal town, nestled around the scenic Mirabello Bay, on the eastern part of Crete. It is known for its picturesque setting, beautiful beaches, and laid-back atmosphere.
Agios Nikolaos can be easily explored on foot or by bus. It also has well-connected regional bus services to popular towns and beaches such as Elounda, Plaka, Lerapetra, or Malia. Agios Nikolaos's bus station is located 20 minutes walk from the old port.
The town is renowned for its stunning natural surroundings. The deep blue waters of Mirabello Bay, framed by rugged cliffs and rocky hillsides, create a captivating landscape.
Agios Nikolaos boasts several beautiful beaches where visitors can relax and enjoy the sun. Popular options include Almiros Beach, Ammos Beach, and Kitroplatia Beach, which is conveniently located near the town center.
The centerpiece of Agios Nikolaos is Voulismeni Lake, also known as Lake Agios Nikolaos. Surrounded by cafes, restaurants, and shops, this tranquil lake offers a delightful spot for a leisurely walk or a peaceful boat ride.
The area around Agios Nikolaos is rich in historical and archaeological sites. One notable attraction is the ancient city of Lato, which was a major Dorian city-state in ancient Crete. The ruins of Lato are located about 6 kilometers north of the town.
Agios Nikolaos serves as a convenient base for exploring the historic island of Spinalonga, the traditional village of Kritsa, and the palm forest of Vai.
The town has a wide choice of accommodation options, from budget travelers to luxury seekers. Many of these accommodations are centrally located, allowing you to easily access amenities and attractions on foot.
Best hotels to stay in Crete in Agios Nikolaos without a car:
BEST HOTELS IN AGIOS NIKOLAOS
See more:
In conclusion, Chania, Heraklion, Rethymno, and Agios Nikolaos are the best places to stay in Crete without a car. Each area is walkable and has excellent connections to public transportation, making it a best base for car-free travelers in Crete.
Personally, I had a wonderful 5-day stay in Chania without a car and I was able to explore many other beautiful cities and attractions around by buses, ferries, and taxis.