When you are deciding how many days in Crete, you need to remember that it is a very large island, the largest of the Greek Islands by some margin. While it is rarely wider than 40 miles north to south, it is 160 miles from east to west.
As a result it is worth planning a visit in advance, especially because there are so many historical and cultural highlights to enjoy.
How Many Days Do You Need In Crete?
Crete is a popular destination for a family's major annual holiday of up to two weeks, even more. I didn't have that option this time around but wanted more than a weekend. I settled on 3 days and did plenty of research so I would waste no time.
I studied history to an advanced level so my focus was far more than the lovely climate and the stunning coastline. While I did not want to hire a car for my whole time in Crete, I did rent one after the first day to allow me to get to distant places.
See Also: Where to Stay in Crete, Greece
What to Do & See in Crete in 3 Days?
One of the first decisions I had to make was whether I wanted a single base for my holiday, or was I going to move around with a night in three different parts of the Island. I decided to have a single base, the Capital, Heraklion, which is on the north coast, just east of the midpoint of Crete.
Day 1 in Crete Itinerary
Heraklion is home to one of Europe's oldest civilizations, the Minoans. The archeological sites and monuments of Heraklion are memorable.
After a lovely Cretan breakfast, it was time to see what Heraklion had to offer.
Koules Fortress with its Venetian walls defended the City from invasion. It has been a prison and warehouse in its time but now often hosts concerts and art exhibitions.
The archeological site of Knossos is just 3 miles from the City. The Minoan Civilization had its headquarters here between 1700BC and 1450BC.
Heraklion Archeological Museum covers 5,500 years of Crete's history and its huge number of exhibits are truly impressive.
Cretaquarium has more than 2,000 marine animals and provides an insight into the creatures that live below Crete's lovely waters.
Day 1 certainly covers history and culture but at the end of the day, it is time to sample Crete's lovely cuisine.
Day 2 in Crete Itinerary
For the remainder of my time in Crete, I rented a car initially with a view to driving west to Chania which is around 90 miles away, and took about 2.5 hours. Chania was the Capital of Crete until 1971 and is famous for its narrow streets, alleys, the medieval architecture and mansions.
As I was driving, I didn't sample its wine but enjoyed its famous olive oil at lunchtime. There are bus services for those of you not wanting to drive.
Among the places in the Old Town, I visited were:
The lovely Venetian Fountain in Fountain Square
Cathedral of Chania
The Cretan Folklore Museum
Kastelli District and its archeological site from 3650-3000 BC
Chania's symbol is the old lighthouse with the Venetian Harbor a great place to walk and watch local activity with a cooling drink or coffee. The Venetians were just one of the peoples who left their mark. The Ottomans and the Egyptians were here as well.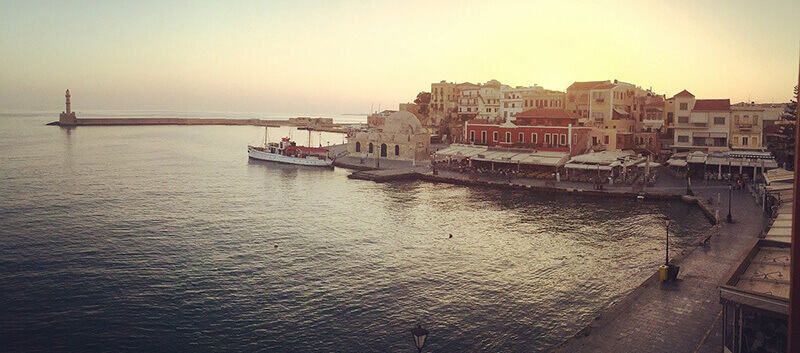 Highlights near the harbor include:
Yali Mosque, arabic in style, dates back to the mid 17th Century when the Turks conquered the City.
"Megalo Arsenali" is the Venetian-built arsenal constructed towards the end of the 16th Century.
Firkas Fortress was built in the early 17th Century also by the Venetians and I enjoyed seeing its ruins.
Five hours driving but it was well worth it.
Day 3 in Crete Itinerary
Rethymno was the main part of my third day in Crete. It is a town around an hour west of Heraklion.
The town's Venetian architecture is remarkable but there is more to the place than that. Its coastal location and clear blue waters provide a great setting. It's a pretty place with small restaurants and cafes.
I immediately felt that the pace of life in Rethymno was slower than Heraklion. I just walked around the Old Town where there were plenty of churches, orthodox and catholic as well as mosques.
After a coffee overlooking the harbor, I went up a small hill to Fortezzo, the largest fortress on Crete, built by the Venetians. Its huge walls are almost a mile long. There were few more impressive sights on my visit to Crete.
It was a shorter day today, but then a lovely Cretan meal at night ended a remarkable three days.
Suggestion If You Have More Time In Crete
I don't mind walking but I am not an experienced hiker. The Samaria Gorge within the National Park of the same name is a UNESCO Reserve. It is on the south west coast and this 10 miles trail is popular with visitors to Crete looking for an active holiday.
With just three days, there was little time to spend on the beach; Crete has hundreds of miles of coastline. There was also no time for cruising on the Mediterranean. Next time perhaps?
I had no time to head east to what is the quieter part of Crete. There are both natural and historical sites worth seeing I am told. Again, next time perhaps?
How to Get From Airport to City Center
Some travelers arrive on Crete by sea but I flew into Crete, arriving at Heraklion International Airport. That city was my holiday base. The Airport is just a few miles from the center of the City so the transfer is cheap and easy. I took a taxi but there is also a regular bus that goes into the City's bus terminal
Conclusion
Crete is a fascinating island. I felt when I left after three days I had a good grasp of its highlights even though I could not spend as much time at some sites that I would have wished. It is an island I must visit again.
Some travelers merely go to Crete for the sun and sea, with the fine Mediterranean cuisine an added attraction. I went for more than that and I think my objectives were satisfied.
---
---