When you are deciding how many days in Crete, you need to remember that it is a very large island, the largest of the Greek Islands by some margin. While it is rarely wider than 40 miles north to south, it is 160 miles from east to west. As a result, it is worth planning a visit in advance, especially because there are so many historical and cultural highlights to enjoy.
How Many Days Do You Need In Crete?
Crete is a popular destination for a family's major annual holiday of up to two weeks, even more. I didn't have that option this time around but wanted more than a weekend. I settled on 3 days and did plenty of research so I would waste no time.
I studied history to an advanced level so my focus was far more than the lovely climate and the stunning coastline. While I did not want to rent a car for my whole time in Crete, I did rent one after the first day to allow me to get to distant places.
Where to stay in Crete?
If you are planning to travel to Crete and looking for the best places to stay in Crete for first-time visitors, you can take a look at some of the best hotels to stay in Crete in Chania:
Casa Delfino Hotel & Spa This property is 9 minutes walk from the beach. Situated in the heart of Chania's charming old town, this authentic 17th-century Venetian mansion offers a personalised service along with a courtyard and rooftop terrace overlooking the town and the Venetian harbour.
Samaria Hotel This property is 11 minutes walk from the beach. Located in the heart of Chania, within 450 m from the Venetian harbour, the modern Samaria Hotel is ideally situated just above the main square, next to the central bus station. An outdoor swimming pool and a sun terrace are featured on site.
Royal Sun Featuring a restaurant and a pool with sun terrace amidst its palm-tree garden, Royal Sun lies within 3 km from the centre of Chania Town. It offers air-conditioned accommodation with free Wi-Fi and a private balcony overlooking the Cretan Sea and the town.
Check out more:
Things to do and see in Crete in 3 Days
Knossos
Located just a few kilometers south of Crete's modern capital, Heraklion, Knossos was the capital of Minoan Crete. The Archaeological Palace of Knossos is the most famous Minoan site on the island.
The Minoan Palace of Knossos was the political center for the Minoans, who created the first sophisticated civilization in Europe.
The palace was first built around 2000 BC. It was destroyed by an earthquake around 1700 BC. Shortly after a new building was built, which covered 20 thousand square meters of land.
In the mid-14th century BC, this palace was also destroyed by fire, caused by the catastrophic volcanic eruption of Santorini. It was excavated in the early 1900s by the archaeologist Arthur Evans.
Heraklion Archaeological Museum
The Heraklion Archaeological Museum is one of the oldest and most important museums in Greece. It displays more than 15,000 artifacts from the Neolithic period to Roman times.
It has a unique collection of Minoan art and culture including the masterpieces of Minoan art.
Elafonisi Beach
Located 76km west of Chania in the southwesternmost tip of Crete, Elafonisi Beach attracts thousands of visitors every year for its clear blue waters, pink sand, and wildflowers.
The wide, shallow lagoon is a shelter for endangered loggerhead sea turtles. If you are lucky, you will have a chance to spot them!
Samaria Gorge
Samaria Gorge is located in the National park of Samaria, a UNESCO Biosphere Reserve in the White Mountains in West Crete.
Samaria Gorge is open for the public from May to October 30th. The best time to hike Samaria Gorge is during late spring and summer.
Rethymno Old Town
Located in Crete's third-largest city, the old town of Rethymnon is one of the best-preserved Renaissance towns. It's mixed of the Turkish period with Renaissance-style Venetian architecture.
To explore the maze of alleyways in Rethymno Old Town, you can wander around the Venetian harbor of Rethymnon which is an ideal place to grab a fresh fish in a seaside taverna.
You can visit Venetian Fortezza, Venetian Loggia, Rimondi Fountain, Historical & Folk Museum of Rethymnon, and Neratzes Mosque.
On Ethnikis Antistaseos Street, you can see the Porta Guora and the Church of St Francis. If you head to Arkadiou Street, you will see the Venetian mansions of Rethymnon and Kara Musa Pasha Mosque.
Balos Lagoon
Located on the northwestern side of Chania in the Kissamos region, between the Cape Gramvousa and the small Cape Tigani, Balo Beach is famous for its beautiful turquoise water and white sand.
Chania's Venetian Harbour
The old Venetian harbor of Chania was built between 1320 and 1356 by the Venetians.
You will find many cafes, bars, eateries and shops, a restored Lighthouse, the Firka Fortress, and the fortifications.
You can stroll along the harbor, grab a meal or a drink along the way and enjoy the sunset on the island.
Arkadi Monastery
Located not far from Rethymnon, Arkadi Monastery is one of the must-see landmarks on Crete. It is home to the Venetian Church, one of the finest Venetian churches in Crete.
It is also where the tragic events that took place in 1866 made it a national symbol of Crete's heroic struggle for independence.
Falassarna Beach
Located on the West Coast, 59 kilometers from Chania, Falassarna Beach is one of the best beaches on Crete, part of the Natura 2000 network.
It attracts many tourists with its turquoise water, charming rocky coves, golden sand, and outstanding natural beauty. There are plenty of facilities small hotels, taverns, beach bars, coffee bars, and activities.
Phaistos Palace and Archaeological Site
Known as the second-largest Minoan palace on Crete after Knossos, the Palace of Phaistos is located on Messara Plain in Central Southern Crete, 55 kilometers south of Heraklion, close to the archaeological site of Agia Triada and Matala Beach.
Lake Voulismeni
Located in the center of Agios Nikolaos, the beautiful Lake Voulismeni is the most famous landmark of the city for visitors and locals.
This former sweetwater lake connects to the port after the construction of the channel in 1870.
According to legend, the goddess Athena swims here. On midnight Orthodox Christian Easter day, many people gather around the lake to celebrate with fireworks.
Malia's Minoan Palace
Located 3 km from Malia, With 7,500 square meters, Malia's Minoan Palace is the third largest of the Minoan palaces.
Holy Trinity Monastery
Located on the Akrotiri Peninsula, the 17th-century Holy Trinity Monastery is a UNESCO World Heritage Site.
It became a more popular tourist destination after scenes displayed James Bond movie For your eyes in 1981.
Lychnostatis Open Air Museum: a folk tradition and ethnology museum located in Hersonissos
Aquaworld Aquarium: Crete's first Aquarium was opened in Hersonissos in 1995.
3 Days in Crete Itinerary
One of the first decisions I had to make was whether I wanted a single base for my holiday, or was going to move around with a night on three different sides of the island. I decided to have a single base, the Capital, Heraklion, which is on the north coast, just east of the midpoint of Crete.
Day 1 in Crete Itinerary
Heraklion is home to one of Europe's oldest civilizations, the Minoans. The archeological sites and monuments of Heraklion are memorable.
After a lovely Cretan breakfast, it was time to see what Heraklion had to offer.
Koules Fortress with its Venetian walls defended the City from invasion. It has been a prison and warehouse in its time but now often hosts concerts and art exhibitions.
The archeological site of Knossos is just 3 miles from the City. The Minoan Civilization had its headquarters here between 1700BC and 1450BC.
Heraklion Archeological Museum covers 5,500 years of Crete's history and its huge number of exhibits are truly impressive.
Cretaquarium has more than 2,000 marine animals and provides an insight into the creatures that live below Crete's lovely waters.
Day 1 certainly covers history and culture but at the end of the day, it is time to sample Crete's lovely cuisine.
Day 2 in Crete Itinerary
For the remainder of my time in Crete, I rented a car initially with a view to driving west to Chania which is around 90 miles away and took about 2.5 hours. Chania was the Capital of Crete until 1971 and is famous for its narrow streets, alleys, medieval architecture, and mansions.
As I was driving, I didn't sample its wine but enjoyed its famous olive oil at lunchtime. There are bus services for those of you not wanting to drive.
Among the places in the Old Town, I visited were:
The lovely Venetian Fountain in Fountain Square
Cathedral of Chania
The Cretan Folklore Museum
Kastelli District and its archeological site from 3650-3000 BC
Chania's symbol is the old lighthouse with the Venetian Harbor a great place to walk and watch local activity with a cooling drink or coffee. The Venetians were just one of the people who left their mark. The Ottomans and the Egyptians were here as well.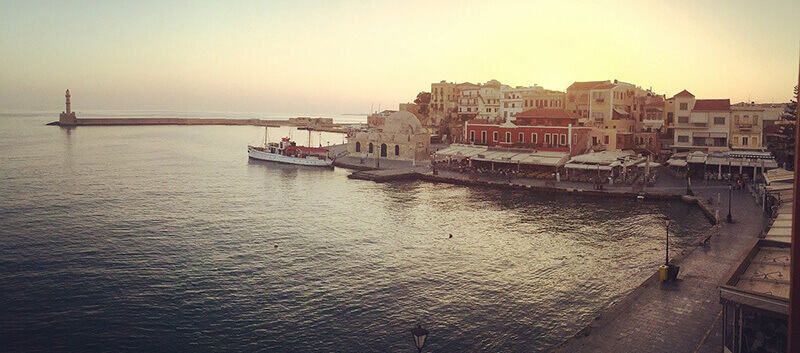 Highlights near the harbor include:
Yali Mosque, arabic in style, dates back to the mid 17th Century when the Turks conquered the City.
"Megalo Arsenali" is the Venetian-built arsenal constructed towards the end of the 16th Century.
Firkas Fortress was built in the early 17th Century also by the Venetians and I enjoyed seeing its ruins.
Five hours driving but it was well worth it.
Day 3 in Crete Itinerary
Rethymno was the main part of my third day in Crete. It is a town around an hour west of Heraklion. The town's Venetian architecture is remarkable but there is more to the place than that. Its coastal location and clear blue waters provide a great setting. It's a pretty place with small restaurants and cafes.
I immediately felt that the pace of life in Rethymno was slower than Heraklion. I just walked around the Old Town where there were plenty of churches, orthodox and catholic as well as mosques.
After a coffee overlooking the harbor, I went up a small hill to Fortezzo, the largest fortress on Crete, built by the Venetians. Its huge walls are almost a mile long. There were few more impressive sights on my trip to Crete.
It was a shorter day today, but then a lovely Cretan meal at night ended a remarkable three days.
Suggestion If You Have More Time In Crete
I don't mind walking but I am not an experienced hiker. The Samaria Gorge within the National Park of the same name is a UNESCO Reserve. It is on the southwest coast and this 10 miles trail is popular with visitors to Crete looking for an active holiday.
With just three days, there was little time to spend on the beach; Crete has hundreds of miles of coastline. There was also no time for cruising on the Mediterranean. Next time perhaps?
I had no time to head east to what is the quieter part of Crete. There are both natural and historical sites worth seeing I am told. Again, next time perhaps?
How to Get From Airport to City Center
Some travelers arrive on Crete by sea but I flew into Crete, arriving at Heraklion International Airport. That city was my holiday base. The Airport is just a few miles from the center of the City so the transfer is cheap and easy. I took a taxi but there is also a regular bus that goes into the City's bus terminal
Check out my virtual tour about the best places to stay in Crete in this video:
Is 3 days in Crete enough?
Three days in Crete is enough to explore in one location and nearby neighborhoods. You should choose to stay in one destination such as the capital Heraklion or Chania and explore the nearby town's attractions.
Is 5 days enough in Crete?
It depends on what you want to do and see while in Crete. If you only want to visit a few popular tourist destinations, 5 days may be sufficient. However, if you want to truly experience and explore the island, 5 days may not be enough as there is a lot to see and do in Crete. It may be worth considering spending more time on the island to fully appreciate all that it has to offer.
Is 7 days enough for Crete?
It is possible to visit Crete in 7 days, but it may not be enough time to fully experience all the island has to offer. Crete is the largest island in Greece and is home to a rich history, beautiful beaches, and many attractions and activities.
It is recommended to plan your trip carefully and prioritize the things you most want to see and do in order to make the most of your time on the island.
Conclusion
Crete is a fascinating island. I felt when I left after three days I had a good grasp of its highlights even though I could not spend as much time at some sites that I would have wished. It is an island I must visit again.
Some travelers merely go to Crete for the sun and sea, with the fine Mediterranean cuisine an added attraction. I went for more than that and I think my objectives were satisfied. I hope this blog post help you to decide how many days do you need in Crete?