In this post, I will help you to decide where to stay in Andorra for skiing, shopping, in summer and winter, for your vacation.
Andorra has a wide range of accommodations at reduced rates. For example, hotels in Andorra are about €30 a night. Like Andorra's products, hotels in Andorra are cheaper due to the taxation system.
Andorra is Europe's highest capital. Tens of millions of people visit Andorra each year for skiing in winter, hiking in summer, and go shopping all year round. Andorra's tax system makes alcohol, cosmetics, tobacco, food, and clothes discounted compared to other European countries.
Nestled in the high eastern Pyrenees mountains, Andorra is located between France and Spain. While Andorra is a small country, it is a huge destination for outdoor adventurers. Andorra has small towns and villages tucked into the mountain peaks and valleys.
Some towns date back to the Middle Ages, enriched with culture. Andorra is only a few short hours from Barcelona to the South and Toulouse to the north.
During the Middle Ages, Andorra was established as a buffer state. The French leader Charlemagne established the state to keep the Muslim Moors out of France. While there were many buffer states created for this purpose, only a few remain independent.
Spain and France would dispute ownership over the years. Their resolution to share Andorra would result in the small country remaining independent. Andorra is a small but enriched country with a long culture and unique history.
Where to stay in Andorra for skiing?
The best areas to stay in Andorra are Pal-Arinsal, La Massana, Ordino-Arcalis in Vallnord Region, as well as Pas de la Casa, Soldeu, El Tarter, Canillo, and Encamp in Grandvalira Region, and Andorra la Vella. These are all popular places to stay in Andorra for skiing, hiking, and shopping.
Vallnord and Grandvalira are the best ski areas in Andorra for skiing. Vallnord encompasses smaller resorts of La Massana, Ordino, and Arinsal, while Grandvalira region encompasses the resorts of Pas de la Casa, Soldeu, El Tarter, and Canillo.
There are lifts go to the top of the hill and free ski bus connects the resorts. Highest peaks of Grandvalira and Vallnord are up to 2,625m, which are ideal for winter sports.
Canillo resort, best beginner slopes for families.
Pas de la Casa resort, best for party lovers
Soldeu and El Tarter, best for relaxation.
Soldeu or Pal-Arinsal, best for snowboarding.
Pal-Arinsal, Vallnord, and Ordino-Arcalis resorts, best for tubing and snowshoeing.
Andorra is not only a popular winter destination with famous ski resorts, but also Andorra is also a spectacular summer destination when you can enjoy amazing hiking, mountain biking, adventure parks, shopping or relaxing in spas in charming town of Andorra de Vella.
The capital of Andorra, Andorra la Vella is the best place to stay in Andorra for shopping because it is shopper's paradise. Andorra la Vella is the birth of Andorra's political system and traditional Andorran architecture.
In addition, it is only around 10km away from ski resort in Pal-Arinsal (Vallnord) and Encamp (Grandvalira). Many hotels offer shuttles to the slopes and lifts – ski-in/ski-out Andorra so you don't need to worry if you dont plan to hire a car.
Map of areas and towns in Andorra:
The 9 Best Areas to Stay in Andorra for skiing are:
1. Pal-Arinsal (Vallnord Region)
Mountains at Vallnord Pal-Arinsal are perfect for beginner skiers. The ski resorts have expert ski instructors so you and your loved ones can learn the ropes. If you are an intermediate skier, the ski resort offers more difficult slopes to test your ability.
Arinsal and Pal are linked by a 50 person cable car. Parking is located close so you can easily travel from one place to another.
In Pal-Arinsal you can take a helicopter flight and navigate through the mountains. You can go snowshoeing, sledding, or ride a snowmobile down the mountain.
In the summertime, Pal-Arinsal offers quiet scenery. You can hike up to the highest mountain in Andorra, Pic de Coma Pedros.
Ordino-Arcalis is only a thirty-minute bus ride away. The ski resorts offer a free ski bus connecting Arinsal and Pal. You will not have to choose between one slope or the other. You are free to travel between both and will get to enjoy your ski trip to its fullest.
The snowshoeing trails are a great activity to do with the whole family. The local ski resort offers rentals, maps, and tour guides.
FIND BEST HOTELS IN PAL-ARINSAL
Read More:
2. La Massana (Vallnord Region)
La Massana is located on the western side of Andorra. The townspeople have houses on the highest peak in the whole country called the Alto de Comapedrosa. This peak is over 2900 meters high in altitude.
Because the town is at such a high altitude, the view is immaculate. Visitors can see amazing views over the Valls del Comapedrosa Communal Park.
La Massana has the best hotel accommodations and commercial establishments. While La Massana does not have as many attractions as the other Andorran parishes, it is known for its amazing retail and accommodations. Visitors can buy amazing and high-quality retail products at very cheap prices.
Some of the top attractions in La Massana include the town center of La Massana, the Iglesia de Sant Joan Church, Casa Rull Museum, and the areas of Sispony. The Iglesia de Sant Climent de Pal Church and Pal winter resorts pair with L'Aldos and Pal.
The most popular time to visit La Massana is during the wintertime because of the ski resort known as Vallnord. Vallnord receives thousands of visitors each year. The ski resort is extremely family-friendly.
During the summer, visitors can participate in a wide range of activities like horseback riding, hiking, canyoning, and mountain biking.
FIND BEST HOTELS IN LA MASSANA
🎬 check out this short video toget an overall idea of Andorra's neighborhoods:
3. Ordino-Arcalis and Ordino (Vallnord Region)
Ordino-Arcalis only a 30-minute bus ride from Pal-Arinsal and La Massana. The closeness of the regions means you can get to enjoy all three anywhere you decide to stay.
It is 14km from the resort's namesake Ordino. Located on the foot of the Casamanya Mountain, Ordino is a good base to explore more the Valira del Nord Valley, from old churches, stylish hotels, quiet streets, picturesque shops, the important historic structure Casa d'Areny-Plandolit, the Postal Museum (Museo postal de Andorra), and the Museum of Miniatures.
Location-wise, the Ordino Arcalis ski resort is only a thirty-minute ride to the resort base at the nation's capital. The closest village is El Serrat, one of the best places to stay.
The picturesque villages of El Serrat feature spectacular views over the lakes and ridges. Ordino is a mountainous village. The village is at the head of the El Serrat valley.
During the summer, the hiking trails are scenic, with hills, terrain, and thick patches of wildflowers. The cafes and restaurants have outstanding Andorran cuisine. You will notice a French and Spanish influence in Andorran food. The rich flavors from Spain combined with the delicacy from France make Andorran food unique and delicious.
El Serrat is a less than ten-minute drive to the ski resort. During the short drive, you will see the beautiful countryside.
There is not any accommodation at the ski resort to stay. Tourists will find accommodations in El Serrat when visiting the Ordino-Arcalis ski resort. El Serrat is close, quiet, and has multiple hotel and accommodation options.
FIND BEST HOTELS IN ORDINO
4. Pas de la Casa (Grandvalira Region)
Pas de la Casa is approximately 30km from the center of Andorra la Vella. It is the highest mountain pass in the Pyrenees. The local village is in Encamp and has one of the best shopping areas in Andorra. There are a variety of stores to peak anyone's interest.
Located towards the French side of Andorra, Pas de la Casa has a wide range of outdoor activities in the winter. You and your family can hit the slopes, snowshoe, or go cross-country skiing.
In the summertime, Pas de la Casa is known for its assortment of trails. You can explore each trail either on foot, horseback, bicycle, or by car. The trails are beautiful for the nature adventurer. You and your family will be able to discover the Pyrenean countryside and all it has to offer.
Hiking trails are mapped out by length and difficulty. If you are an experienced mountain biker or taking your family for a stroll, Pas de La Casa has a trail perfect for you.
Once you are back at your hotel, the local day spas and health centers are the perfect way to relax and enjoy after a long day. Health and wellness day spas offer facials, massages, and body wraps. You can spend your day hiking, shopping, and end your day relaxed listening to the soothing sounds while a massage therapist relaxes your muscle tension.
FIND BEST HOTELS IN PAS DE LA CASA
5. Soldeu (Grandvalira Region)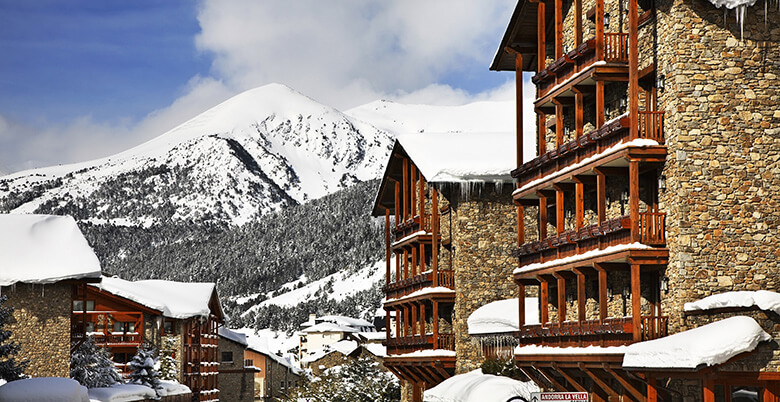 Soldeu is one of the top-ranked skiing resorts in all of Europe. Soldeu has the largest variety of ski slops out of all of the ski resorts making it a destination hot spot.
The ski resort El Tarter also has a ski school. This makes a great opportunity for more experienced skiers to hit the slopes while the newer ski goers can take a couple of lessons before going to the top of the mountain. This resort is perfect for all members of your travel group.
Soldeu is also the name of the village located in the parish of Canillo. You can travel between Encamp, Canillo, Pas de La Casa, Grau Roig, and Tarter on a bus. You will not need a car to get from village to village to explore, making it easy for you to travel and shop.
At night, Soldeu comes alive. There are bars with live music and entertainment. After a long day on the ski slopes, you can get changed at the hotel and head down to a bar like The Harp, Aspen Bar, and The Barcode. You will meet new people, enjoy the music and a cold beer.
FIND BEST HOTELS IN SOLDEU
See more:
6. El Tarter (Grandvalira Region)
El Tarter is linked to Soldeu located just over a kilometer up the road. First-time skiers and snowboarders love El Tarter because there is an amazing ski school to help you learn at your own pace.
Six linked ski areas make up Grandvalira: El Tarter, Grau Roig, Soldeu, Canillo, Encamp, and Pas de la Casa. These ski areas are close in proximity and offer a wide range of slopes to fit each skier and snowboarder's level of experience.
El Tarter is favored by beginners because of the ski school. They have trained skiers and snowboarders to help teach young to old. Skiing and snowboarding is an activity for the whole family.
There are a handful of restaurants and bars in El Tarter. A short distance away, Soldeu has a broader venue of bars and restaurants. The local restaurants and bars are closely located near the ski area, making it easy to grab lunch and hit the slopes.
If you have children, El Tarter has amazing snowparks in Andorra. There are freestyle camps and competitions held at these parks throughout the season. El Tarter is the perfect destination spot for the whole family.
FIND BEST HOTELS IN EL TARTER
7. Canillo (Grandvalira Region)
Canillo is the largest parish with various population centers. It is known for its proximity to the amazing ski resort, Grandvalira. As the summit of Andorra, Canillo is not only the largest parish but also one of the highest parishes in the principality.
Canillo is a tourist center. Canillo has beautiful landscapes and views. You can go snowmobiling, snowshoeing, skiing, snowboarding, and cross country skiing in the winter. In the summertime, there is a hiking, mountain climbing, and biking.
Due to the location, the weather in Canillo is typically colder and dryer than in other parishes. You will want to bundle up and pack accordingly.
For the history buff, Canillo dates back to the Middle Ages. There are ruins and historic buildings you and your family can explore. The 11th century Romanesque style, chapel of Sant Joan de Caselles (Església de Sant Joan de Caselles) is worth a visit.
During the Christmas season, Canillo locals display a nativity scene of more than 200 figures. These figures are realistic in size. You and your family can soak up the Christmas atmosphere when you are so far away from home.
FIND BEST HOTELS IN CANILLO
8. Encamp (Grandvalira Region)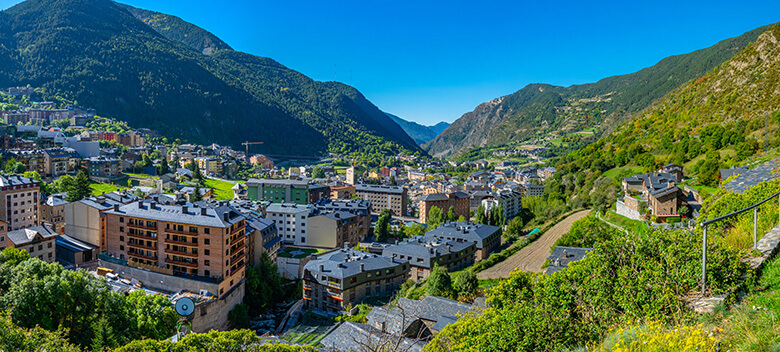 If you love to ski or snowboard, the best place to stay in Andorra is in the town of Encamp. Encamp is the base for the Pas de la Casa as well as the Grau Roig Ski Area. The ski area of Grandvalira is extremely popular. It is located between Andorra la Vella and Les Escaldes. It's a picturesque town with the Valira d'Orient river running through it.
National Automobile Museum is a big draw in Encamp that show a collection of vintage automobiles containing steam-powered motorcycle and cars.
There are many accommodation options in Encamp like the Grau Roig hotel which offers beautiful rooms and amazing cuisine. If you love water, various hotels are located along the beautiful river. Airbnbs are also a popular accommodation option. This gives visitors a more "homey" feeling.
Encamp provides ample amount of outdoor activities. You can climb or hike a mountain, explore the lakes of Illa, Montmalus, and Engolasters, or ski down the slopes of El Pas de la Casa and Grau Roig.
With just over thirteen-thousand locals, Encamp is a quaint and quiet place to escape. Encamp has Romanesque buildings. The traditional house of Casa Cristo and the church of Les Bons are popular destination spots.
Visitors can take a ride on one of Europe's longest cable cars at a whopping 6200 meters long on the Funitel. On this ride, you will get to see the scenic beautify of the lakes, rivers, and mountainside. Encamp features Parc del Prat Gran.
FIND BEST HOTELS IN ENCAMP
9. Andorra la Vella and Les Escaldes
Andorra La Vella is the capital and one of the main attractions. You can travel on foot through the bustling streets. The dining is exquisite and influenced by both the French and Spanish.
The medieval churches are untouched by time. You can walk through the beautiful architecture imagining what it was like to live during the Middle Ages. The churches are a huge attraction for sightseers such as the 12th-century Romanesque style church, Sant Esteve Church with ornate wooden decorations.
You can wander around its artery main street with local art, handicraft shops, galleries, restaurants and cafés, and a number of excellent hotels. The 16th-century historic building Casa de la Vall, the main square-Plaça del Poble, and the Parliament Building in the heart of the Old Town are also worth visiting.
In the heart of Andorra la Vella, you will find the magnificent glass pyramid tower, Caldea spa complex. This is a once-in-a-lifetime experience to visit this uniquely designed spa complex which is said to have Roman-style baths and healing properties with mineral-rich warm waters.
The tax is much lower in Andorra. The shops in Andorra la Vella are a huge destination spot for many travelers. They are inexpensive. Travelers will notice how cheap the alcohol, food, and products are in comparison to other European countries. This also means the hotels in Andorra de la Vella and Les Escaldes are also much cheaper than anywhere else in Europe.
Traveling between the capital Andora la Vella and Les Escalades is about a twenty-minute bus ride. If you want to explore Andora la Vella in the morning and go for lunch in Les Escalades, it is made easy with cheap public transportation. You will not need to worry about renting a car.
Andorra is the perfect destination spot for the entire family. There are tons of outdoor and indoor activities all year long. Whether you want to spend the day shopping or out on the ski slopes, you can find activities for the whole family.
The villages are rich with culture and history for the writer and have a nightlife for the bar hopper. You can take your family hiking, biking, snowshoeing, and skiing. At all times of the year, there is something for you.
FIND BEST HOTELS IN ANDORA LA VELLA
What are the best areas to stay in Andorra?
Pal-Arinsal, La Massana, Ordino-Arcalis, Pas de la Casa, Soldeu, El Tarter, Canillo, Encamp, and Andorra la Vella are some of the best areas to stay in Andorra because they are the most popular locations for tourists that offer a wide variety of amenities.
How many days in Andorra is enough?
Well, that depends on what you want to do and see! But generally, 2-3 days is enough to explore Andorra's beautiful landscapes, charming towns, and ski resorts.
Andorra is worth visiting again and again. You can take your time to fully enjoy and explore the large mountains and beautiful scenery. There are plenty of places to stay whether you want an Airbnb or a high-end hotel with a spa. Whatever your destination goals, Andorra has a wide range of activities to make your vacation memorable.