Where to Stay In Barcelona Spain: Best Areas and Hotels
If you're wondering where to stay in Barcelona Spain, or where is the best area to stay in Barcelona, you're in the right place. In this article, I will give an insight into the 9 best places to stay in Barcelona for first-time visitors, couples, families, backpackers, all budget travelers; read on as I show you the best of Barcelona.
Barcelona is a hugely popular tourist city. It is located on the northeast coast of Spain looking out onto the Mediterranean. It is very important to the Spanish economy and home to one of the world's most famous football teams.
As a former host of the Olympics and filled with cultural and historic landmarks, Barcelona is a city that visitors will love. Who knows, one day its most famous landmark, Gaudi's La Sagrada Familia (the Cathedral) might be finished? Work began in 1882 and estimates say it may be finished this decade.
Where to Stay in Barcelona: Tips & Info
Barcelona is a city with a population of over 1.5 million, and more than 5 million in the greater metropolitan area. Such cities need good transport infrastructure and Barcelona obliges. It means that getting around within the City is easy.
The international airport is less than 10 miles distant from the City Center. Connections into the center are good and regular. There is even a metro which adds to the ease of getting around Barcelona while the City Pass is a great benefit to tourists.
Tourists are well catered for. Free maps give first time visitors all the information anyone might need. Each of the major landmarks are accessible by buses which stop to allow visitors to get off and take a closer look.
The result is that visitors can be selective about where to book accommodation. Many like to be in the heart of a city they are visiting but that can mean higher hotel prices. Some may want to have a hotel right on the coast while others may want to be within walking distance of the best nightlife.
See Also: How Many Days in Barcelona is Enough? 3 Day in Barcelona Itinerary
Where to Stay in Barcelona, Spain – 9 Best Areas to Stay in Barcelona
So, Where is the best area to stay in Barcelona? In this section, we'll help you to explore the 9 best areas to stay in Barcelona are Barri Gòtic, El Born,El Raval, Montjuic, Eixample, Poble Sec, Gràcia, Barceloneta, Sant Antoni.
Barcelona is an ancient settlement which has expanded enormously over the centuries. The Old City is very popular with tourists but there are plenty of alternatives elsewhere. Read on and you will get a clearer idea of the options and perhaps settle for somewhere further out of the center?
Where to Stay in Barcelona, Spain – 9 Best Areas to Stay in Barcelona
Where to Stay in Barcelona Map
To see more where to stay in Barcelona map, go to Google Map;
1. Barri Gòtic, Where to Stay in Barcelona for Nightlife
The Gothic Quarter actually goes by the name ''Number One District.'' Old city walls still surround part of Barri Gotic and there are medieval buildings and even some remnants of Roman times. This is also home to Barcelona Cathedral, the Cathedral of the Holy Cross and Saint Eulalia, built in Gothic style with most of the construction done in the 14th Century.
Mixed among old buildings are souvenir shops and pubs, a place with plenty of evening entertainment. The marina, the lower part of Barri Gotic, is especially popular at night. Expect to find crowds in La Rambla and Plaça de Sant Jaume but this all adds to the atmosphere.
You can find budget accommodation in Barri Gotic. You can certainly also find luxury hotels in the oldest party of the City..
La Rambla is a pedestrian street forming the boundary of Barri Gotic and El Raval. It is around 0.75 miles long. La Boqueria, its covered market was built in the middle of the 19th Century. A market however was on this site for many centuries before then.
If you stay close to La Rambla, you can enjoy its street performers and other highlights:
Gran Teatre del Liceu, the opera house which opened in 1847.
Teatre Principal opened its doors in 1568 and has been rebuilt several times since.
the Centre d'Art Santa Mònica Museum of Contemporary Art
the Baroque Virreina Palace
YOU SHOULD STAY HERE IF:
You enjoy the atmosphere of an old city
You want to be in the heart of Barcelona
You love the lively nightlife
2. El Born, Where to Stay in Barcelona in Center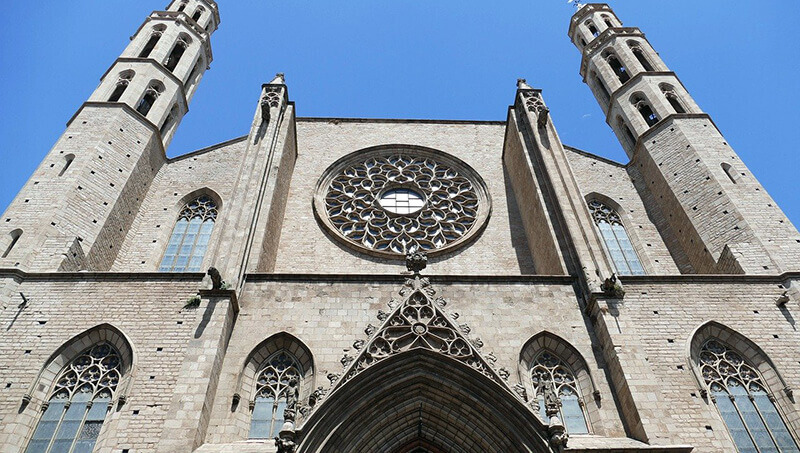 El Born gets its name from the word ''bornejar'' which means ''to joust'' in Catalan. Back during the Spanish Inquisition, this was the neighborhood where heretics were executed. Today, visitors will find plenty of trendy bars in its narrow streets. If you are looking for busy nightlife, El Born is a place to consider.
This district lies between Barri Gotic and Ciutadella Park where you will find Barcelona Zoo. It has good metro connections and is just a 10-minute walk from the heart of Barcelona. The beach is also 10 minutes' walk away so El Born is a great place for families and tourists in general to find accommodation.
It is noted for its narrow streets around the old Church of Santa Maria del Mar. You will find lovely coffee shops, small cafes and restaurants and plenty of quaint shops in these streets. Shoppers will find plenty of ideas for presents and mementos while small galleries abound as well.
Two of the cultural highlights of El Born are the Textile Museum and the Picasso Museum.
Some parts of El Born can be noisy into the early hours. If you do not see this as a problem, look closer. There is a good range of accommodation in El Born including 5-star luxury, boutique hotels, and good value for money guesthouses.
YOU SHOULD STAY HERE IF:
You want plenty of accommodation choices
You like exploring old narrow streets
You prefer to be central in Barcelona
3. El Raval, Where to Stay in Barcelona for Foodies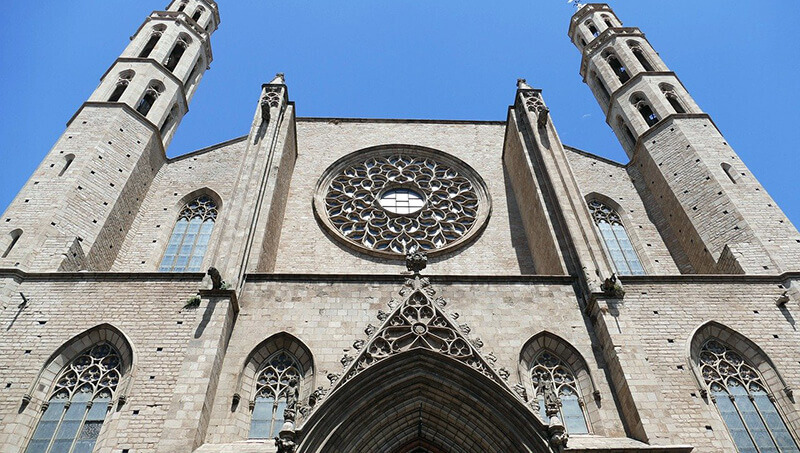 As already mentioned, El Raval borders Barri Gotic. The result is that it has a central location to appeal to tourists. Some parts of the neighborhood used to have a poor reputation but that has largely changed although some petty crime still exists.
Local street artists and skaters have chosen El Raval to hang out. The Barcelona Museum of Contemporary Art and the Centre of Contemporary Culture of Barcelona are obvious attractions for locals and tourists alike. Indeed, large street murals add to the artistic flavor of El Raval.
The cultural diversity of El Raval is further emphasized by some of the best Asian cuisines in Barcelona; Indian and Middle Eastern especially. There has been significant regeneration in Raval in recent years. It is still a highly populated district with some small industries, especially close to the dock area.
Some of the older buildings have been demolished in El Raval but others still remain. It is perhaps not the first place that you should look if you are going to stay in Barcelona and want to be central. By all means, explore it by day however.
YOU SHOULD STAY HERE IF:
You enjoy a broad cultural mix
Your taste in cuisine is broad
You prefer to be close to the middle of Barcelona
4. Montjuic, Best Quiet Area to Stay in Barcelona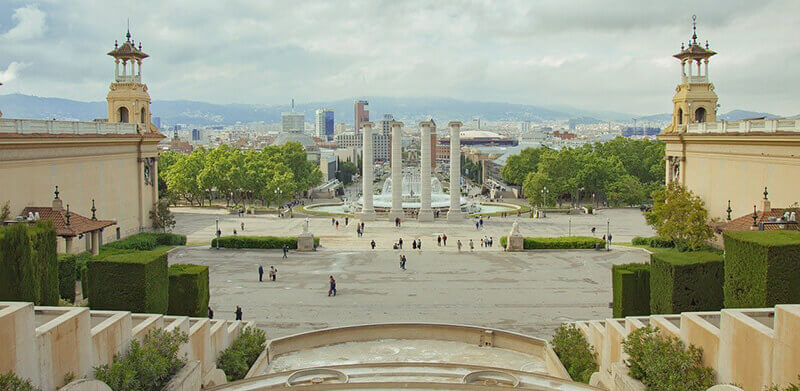 You will find Montjuic on the Mediterranean south of the heart of the City. It was once a separate administrative entity, centred on Sants. The district is more than a coastal location, including Zona Franca, the port and industrial region.
Barcelona loves its fairs and festivals and they are often centered around Montjuic. This hill was where the City held the 1992 Summer Olympics. As a result, there is plenty to see and do in the district.
The views over Barcelona from this elevated position are impressive but there is plenty more to appeal to visitors:
Magic Fountain (Font Magica) has been entertaining people for more than 80 years. There are music and light shows every weekend.
Montjuic Castle is a great observation point and you can take a cable car if you don't wish to walk there.
Poble Espanyol is an open-air museum where you can see many old Spanish replica buildings.
The Olympic Park
The National Museum of Catalan Visual Art
The Botanical Gardens with over 2,000 species
Montjuic is one of Barcelona's best ''open green spaces'' so there is limited accommodation for the tourist compared to other parts of Barcelona. You should definitely visit however.
YOU SHOULD STAY HERE IF:
You want open spaces within the City
You prefer a quieter part of the City away from the busy nightlife
You enjoy fine architecture and art
5. Eixample, Best Area to Stay in Varcelona Close to a Sagrada Familia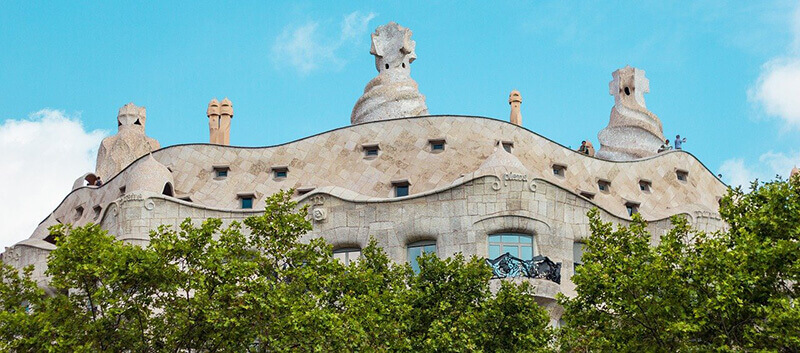 Locally known as the "Modernist Quarter", Eixample is famous for its Modernist buildings, best represented by the local district hall, the Casa Mila, and the Temple Expiatori (Sacred Heart of Jesus). Casa Mila was the last residence designed by Antoni Gaudi and was completed just before World War I.
There is a planned street grid with long wide avenues and square blocks. Part of Eixample is a wealthy residential area for those wanting to live close to the heart of Barcelona. There is also La Sagrada Familia within Eixample. The area surrounding Gaudi's masterpiece is one of those affluent areas.
Eixample has plenty of choices when it comes to accommodation. It includes good budget options, boutique hotels, and luxury. The district is a popular choice in Barcelona because of its central location.
More than 3 million visitors go to La Sagrada Familia each year. Other Gaudi buildings such as Casa Mila are famous Barcelona landmarks and booking accommodation nearby makes sense.
Poblenou, part of Eixample in most discussions on Barcelona, is an increasingly popular part of the City. The name means ''new village'' so perhaps it does merit separate attention? Recently, craft beer bars, galleries and stores have replaced old commercial premises.
The Olympic developments 30 years ago were the catalyst for change. With the beaches as one boundary and plenty of green spaces, entertainment, and shopping. El Poblenou offers plenty to visitors to Barcelona.
YOU SHOULD STAY HERE IF:
You want to be close to La Sagrada Familia
You prefer a central location in a city
You enjoy the vibrancy of good bars, clubs, and restaurants
6. Poble Sec, Where to Stay in Barcelona for Local Atmostphere
Poble-Sec is south of Barri Gotic on the way to Montjuic Hill. It is a compact area that has earned a reputation as an entertainment district close to the center of Barcelona. You will find craft beer and tapas bars as well as theaters and music halls.
The pleasant atmosphere is helped by its shaded squares and architecture that is mostly 19th Century. Tourists heading for Placa del Sortidor or Placa de las Navas will find locals relaxing in the cafes. You are welcome to join them.
Because Poble Sec is largely a residential area, it does not have as much hotel accommodation as some other parts of Barcelona. For much the same reason, prices tend to be lower because tourists are more likely to look elsewhere.
Poble Sec is still close to many of the landmarks you are likely to have on your list when visiting Barcelona.
YOU SHOULD STAY HERE IF:
You want plenty of entertainment close by
You enjoy the atmosphere created by fine architecture and squares
You regard meeting locals as important in understanding a city
7. Gràcia, Where to Stay in Barcelona for Vibrant Nightlife
Head north of Eixample and you will come to one of Barcelona's trendiest districts, Gracia. It was a separate city in the 17th Century, founded around the Our Lady of Grace Convent. Gracia joined with Barcelona in the 20th Century but it has retained its own distinct feel.
It is both family-friendly and bohemian at the same time. When you visit Gracia you will meet narrow streets and lovely plazas. There are play areas for children as well as plenty of cafes and tapas bars.
Gracia has also earned a good reputation for its international cuisine. That includes other Mediterranean food like Italian but also Japanese sushi and American pies. It doesn't end there.
Few parts of Barcelona are better for shopping, whether for souvenirs, bohemian fashion or old vinyl. The nightlife is good, including live music and there are plenty of bars with crowds, and some very exclusive. Gracia is certainly a place to consider getting a hotel.
You will find top quality hotels in Gracia but you can also get budget hotels as well. There is something for everyone.
YOU SHOULD STAY HERE IF:
You enjoy vibrant nights and live music
Fine dining is one of the reasons why you travel
You are traveling as a family
8. Barceloneta, Where to Stay in Barcelona for Best Beaches
Barceloneta was developed in the 18th century to house locals displaced by the building of the Ciutadella of Barcelona. It fronts on to the Mediterranean Sea, with Port Vell, and El Born making up the two other sides of this triangular neighborhood.
It even has its own flag and a stop on the metro line whose station is a good place to start to explore Barceloneta. Expect alleys and side streets and the impressive Columbus monument. An aerial tramway links Barceloneta with Montjuic incidentally and has done so since 1931.
Families whose children enjoy the beach may enjoy staying in Barceloneta. The city's most popular beach is here and it fills with locals, especially at the weekend. The infrastructure includes plenty of bars and the paella is regarded as the best available in the City. ''Bomba'', tapas made from potatoes and meat with a cold glass of beer is just as popular.
If you want to walk along the coast to La Rambla, it will take around 20 minutes. Transport is available of course. Hotel prices in Barceloneta tend to be in the mid-price range.
The Aquarium in Barceloneta is the largest in Europe with 20 large tanks. A highlight is to walk through the clear tunnel beneath the sharks. Another place to visit is Museu d'Història de Catalunya which is also on the quayside.
YOU SHOULD STAY HERE IF:
You want to be close to the Coast
You are with the family and a good beach is important
You want a choice of restaurants serving fresh seafood
9. Sant Antoni, Best Area in Barcelna to See Lovely Markets
Sant Antoni's heart is the Market of the same name that has been recently renovated. It is a classic example of Barcelona's wrought iron architecture with the octagonal dome making it a real landmark. The flash of color found on its many fresh food stalls is similar to that found in La Boqueria.
The renovations have been the spur to Sant Antoni's increased popularity. There are plenty of good bars and restaurants in this neighborhood whose borders are Poble Sec, El Raval, and Eixample. Michelin stars are precious to restaurants and their chefs and within Sant Antoni, you will find two such restaurants owned by Ferran and Albert Adria.
It remains a neighborhood where everyone knew everyone else yet visitors are also a feature because of the cuisine available. It is also the district where locals know they can find specialist imported foods in the stores.
There is good value in the accommodation available in Sant Antoni. Luxury is available but mid-range hotels are more common in this neighborhood.
YOU SHOULD STAY HERE IF:
You are looking for good value accommodation
You want an intimate neighborhood providing the chance of contact with locals
You enjoy good food and have heard about the lovely market
Where to Stay in Barcelona with a Family
The popular parts of Barcelona are busy, day and night. If you are traveling with young children, perhaps the best place to look for accommodation is close to the beaches. Youngsters always enjoy the sand.
There are two areas that can offer beaches including Poblenou which is still very close to the attractions of downtown, bars, restaurants, and shopping. There are green spaces as well as play areas so families can relax for a while also. In addition, Barcelona Zoo is fairly close.
The other area is Barceloneta, the City's most popular beach. It has the added advantage of the aquarium with its extensive number of species, including sharks.
Where to Stay in Barcelona on a Budget
You can spend a great deal of money if you stay a few days in Barcelona but you do not have to do so. There are guesthouses and hostels in Barcelona which means cheap accommodation which is a good start. You will be able to find such places very centrally.
That means districts like Barri Gotic and El Born. Those two are a good start to your plans to visit Barcelona.
Where to Stay in Barcelona for Nightlife
The heart of Barcelona is a vibrant day, and night. If you are looking for good nightlife, you will not have to look very far:
Barri Gotic is full of busy clubs, crowds of people, and live music of all kinds, everything from jazz and blues to Latin music and tango.
El Born is regarded as a trendy district. It has everything from cocktail bars to music bars with an air of sophistication.
Las Ramblas is a well-known pedestrian street. Street performers entertain crowds while there are bars and clubs happy to serve you. Perhaps keep an eye open for pickpockets however?
El Raval is close by and has its own unique atmosphere.
Gracia is a little more upmarket with some places having a dress code.
As a generality, Eixample is a little more exclusive but very lively.
Each of these districts has something to offer, and accommodation if you want to be in the heart of the action.
Where to Stay in Barcelona near the Beach
If you want to stay right on the beach, Barceloneta is the first place to look. Other than in mid-winter, you can expect to pay a little more for comparable accommodation than in other neighborhoods if you want a beach location with a view. One of the reasons for this is that hotels are competing for the location with other commercial enterprises.
One thing to look at is apartment accommodation as an alternative if you are spending more than a long weekend in Barcelona.
Where to Stay in Barcelona before a Cruise
Lots of tourists begin a cruise out of Barcelona. If they have flown into the airport, it is easy to get into the heart of the City. The World Trade Centre Terminal is just one of four terminals in Barcelona but that or the Port Vell Terminal are the likely departure points.
They are both just a short distance from the bottom of Las Ramblas so booking a central hotel makes sense. The distance is walkable but of course, you will have luggage. There are buses serving the terminals and taxis are an option for the short distance.
Where to Stay in Barcelona after a Cruise
Once you have finished your cruise, you no longer need to be close to the terminals if you do not want to be. You can suit yourself and select somewhere close to the places you now want to explore. Eixample is a good choice because you will find something to suit your tastes.
There are plenty of bars and restaurants to enjoy and everyone visiting Barcelona should head to La Sagrada Familia which is close by.
Where to Stay in Barcelona as a Tourist
The transport infrastructure in Barcelona is good but tourists, especially first-time visitors, may wish to be close to a city's main highlights. That means booking a central location with the quality of the hotel that suits the budget. The first places to look are Barri Gotic, La Rambla itself, and after that perhaps Poble Sec or Montjuic?
The metro and buses and plentiful free maps are a great help to anyone visiting Barcelona for the first time.
Where to Stay in Barcelona in December
There are always some advantages to visiting a popular tourist city in the middle of winter. To begin with, there will certainly be fewer crowds so you will avoid queues and have more time to enjoy a landmark.
It is likely that accommodation prices will be lower in December as long as you are not looking at the Christmas/New Year holiday itself. Barcelona's weather should be better than places with a more northerly latitude but do not expect swimming weather.
When it comes to where to actually stay, you have plenty of choices. Last-minute bookings are more realistic as well. The heart of the City is a good choice.
Where to Stay in Barcelona in February
Cities such as Barcelona have something to offer all year round, even in cold weather. In the case of Barcelona, it is unlikely that you will get any frost or snow with the sun shining regularly on most days.
There are several famous landmarks in Barcelona, and one of them is the Camp Nou, the home of Barcelona Football Club. You can book a tour of this iconic ground but also actually go to a game in winter. You do not need to stay close to the ground if that is your reason for visiting Barcelona; the metro will take you close.
February is Carnival so you may find hotels busier, so book in advance, and first of all, look for places in the heart of the City.
Where to Stay in Barcelona in March
Springtime sees the end of winter and Barcelona is a good choice for tourists looking for a short break after a long winter. The weather is starting to get better, although nights are still chilly. It is still not crowded and highlights in Barcelona include the annual marathon and beer festival.
Everything is open and it is unlikely you will have to queue. Likewise, there may be less need to book a busy restaurant. Stay in the heart of Barcelona, anything from Barri Gotic up to Garcia should suit you fine.
Where to Stay in Barcelona in January
If you have the opportunity to get away straight after Christmas and New Year, you will find Barcelona quite quiet. Certainly, there will be few crowds at the major landmarks. Accommodation will be as cheap as any time in the year.
There is the chance to go to see perennial La Ligue Champions, Barcelona. Its stadium takes almost 100,000 so you should be able to get a last minute ticket. There may be a bit of rain, and nights will be chilly but that is a minor inconvenience. All the major landmarks will be quite quiet and hotels in the center of Barcelona are likely to be as cheap as any time of the year.
Where to Stay in Barcelona in November
It is starting to get cooler in November but temperatures by day are still pleasant. You will get plenty of sunshine if you visit Barcelona in November. A light jacket or jumper is usually all you need for later in the day.
The crowds have largely gone and winter accommodation prices mean that your costs are less than autumntime. The main attractions of Barcelona are there for you without the need to queue. You won't need to book a table for dinner at all but the most exclusive of restaurants.
Stay in the heart of Barcelona and enjoy!
Where to Stay in Barcelona for One Night
If you have limited time in Barcelona, you need to stay in the heart of the City, somewhere like Barri Gotic. The Barcelona City Pass is a great aid because it will allow you to see the City's many highlights, remembering you have not got much time.
You won't have time to relax on the beach but going to a tapas bar or sitting with a coffee watching local activity is worth a little of your time. La Sagrada Familia is the City's most famous landmark and staying close by in Eixample might make sense.
If you are there for football, fear not because the metro will take you close to Camp Nou so accommodation in a central district still makes sense.
Where to Stay in Barcelona for Foodies
Michelin Stars are one important guide to quality food. Restaurants with Michelin Stars offer quality but at a price. Currently, there are 22 Michelin starred restaurants in Barcelona and if you want to dine at any of them, even in low season, enquire well in advance.
You do not need to eat at such a restaurant to get real quality. If you have been to La Boqueira, you will have seen the vast array of fresh food that restaurants and cafes have at their disposal. You have to try tapas while you are in Barcelona, and also the Catalan version of paella.
While you will find good food wherever you go, why not stay in Gracia, famed for Spanish as well as international cuisine?
Where to Stay in Barcelona for a Solo Traveller
Barcelona is certainly a place where solo travellers will meet similar people and also plenty of locals. The heart of Barcelona is filled with bars, restaurants and busy streets. Its many highlights are crowded for much of the year.
Solo travellers who are on a budget will be able to find budget accommodation, be it hostel or guest house in several districts in the City. Barri Gotic and Le Born are just two examples. If budget is not an issue, there are plenty of other choices throughout the City.
If you want to get a flavor of local life, Poblenou within Eixample and nearby Gracia are two districts to investigate.
Where to Stay in Barcelona for 4 Days
Barcelona, despite its population, is not a huge city. The transport infrastructure and the City Pass mean that it is an easy city to explore. With that in mind, choosing where to stay for a few days does not depend upon being close to the main attractions.
Every traveler has his or her interests and that may be a reason for selecting a particular district when looking for a hotel. Even though there are beaches, they are rarely a priority for other than families with young children. Good restaurants and bars are found throughout Barcelona so even that may not be an overriding reason to pick a district.
While it is a generality, visitors to cities that are new to them often select somewhere central. That seems to apply to Barcelona as well with a wide range of accommodation available in most districts. In the end, it is really up to you.
Where to Stay in Barcelona on Honeymoon
If you are considering Barcelona for a honeymoon, you cannot expect to find too many quiet places outside your hotel. Crowds do disappear in mid-winter but soon return in the springtime which is a popular time to get married.
You will find plenty of top quality hotels in Barcelona, fine dining, and lively bars and clubs. When it comes to deciding on where to base yourself on a honeymoon, a good place to start may be a beachside location? La Barceloneta fits the bill with a nice beach, water sports, and fine restaurants overlooking the sea.
Enjoy a drink looking out to the Mediterranean as the sun sets before sampling the freshest of seafood cooked Catalan style. By day, you can see the work of Gaudi, especially La Sagrada Familia, and the other city landmarks before heading back to your hotel. How memorable is that?
Conclusion
Barcelona has excellent air connections with most of Europe and beyond. Its population is proud and hospitable making the City a place that travelers should visit at least once. Whether you are looking for a rich history and culture, fine cuisine or top-quality sport, Barcelona has something to offer.
Depending on the time of year, you may find festivals both Catholic or strictly Catalan. Barcelona is a vibrant place at any time and getting around to see its highlights is a simple exercise. You'll love it.
---
---