The best areas to stay in Barcelona for both first time and returning tourists are the neighborhoods of Barrio Gotico, La Barceloneta, Eixample, Poble Sec, Poblenou, El Born, and El Raval. In this blog, I will help you to find where to stay in Barcelona for first-timers, safest districts for families, nightlife, sightseeing, budget, beaches, one night, four days, honeymoon, and foodies.
Founded as a Roman city in the Middle Ages, Barcelona, also known as the capital of Catalunya, has a rich cultural heritage and is today an important cultural center and a major tourist destination.
Barcelona is overall a safe city but like in all major cities, you should be aware of pickpocking, scams, and stick to the well-lit streets at night. You should use your common sense and practice some basic precautions around tourist spots such as parts of El Raval, Gothic Quarter, and El Born. The safest neighborhoods are L'Eixample and Gràcia.
>> CHECK BEST HOTEL DEALS IN BARCELONA <<
📌 12 Best Areas to Stay in Barcelona
1. Barri Gòtic, where to stay in Barcelona for first-time tourists
The city's oldest neighborhood, the Gothic Quarter (also known as Barrio Gotico in Spanish and Barri Gòtic in Catalan), is the center of the Old Town (Ciutat Vella). It was built on the site of an old Roman village. You'll find charming examples Roman and Medieval-era architectures.
The Gothic Quarter is located in the heart of the city, close to Ramblas, within walking distance to the most famous attractions, full of narrow, winding streets, charming plazas. It is the ideal place to stay for first-time tourists who want to do lots of sightseeing.
This largely pedestrianized area also has good shopping, and a vibrant nightlife with plenty of tapas bars, restaurants, small shops, and boutiques.
Gothic Quarter is also home to Barcelona Cathedral, the Cathedral of the Holy Cross, and Saint Eulalia (Catedral de Santa Eulalia), which is built in Gothic style with most of the construction done in the 14th century. Old city walls still surround part of Barri Gotic and there are medieval buildings and even some remnants of Roman times. 
Mixed among old buildings are souvenir shops and pubs, a place with plenty of evening entertainment. The marina, the lower part of Barri Gotic, is especially popular at night. Expect to find crowds in La Rambla and Plaça de Sant Jaume but this all adds to the atmosphere.
The famous avenue La Rambla is a 0.75 miles long pedestrian street forming the boundary of Barri Gotic and El Raval. It's home to La Boqueria Market, a covered market that was built in the middle of the 19th Century.
Another place to see is the Plaça del Rei, one of the most beautiful squares (plaças) in the Old Town. Here you will find the Royal Palace (Palau Reial Major), and the Casa Clariana Padellás which is home to the Barcelona History Museum MUHBA.
Barcelona History Museum MUHBA will show you more about the history of the city of Barcelona since Roman times.
The area around Plaça Reial is full of restaurants and bars all day and night, it also has a lively nightlife. Calle Ferran, Plaça Sant Jaume with its impressive government buildings are also good for bars and cafes.
Gothic Quarter also offers good shopping opportunities, especially around Calle Avinyo and the commercial area of Calle Portal de L'Angel.
Barri Gotic has a wide range of accommodations from budget to luxury. You will have plenty of choices for hostels, hotels, bed & breakfast, and rental apartments.
If you have limited time in Barcelona one night to four days, you need to stay in the heart of the City. Somewhere like Barri Gotic is the best area to stay for one night or four days. The Barcelona City Pass is a great aid because it will allow you to see the City's many highlights, remembering you have not got much time.
Stay in Barri Gòtic if you enjoy the atmosphere of an old city, you're visiting Barcelona for the first time and want to be in the heart of Barcelona, you love the lively nightlife, also lots of sightseeing.
Best Places to Stay in Barcelona in Barri Gòtic:
luxury: Ohla Barcelona This five-star boutique hotel is located in Barcelona's historic center, close to Palau de la Música Concert Hall, the Cathedral, and the Ramblas. You can reach the most tourists attractions nearby easily such as The Ohla Barcelona, Urquinaona Metro Station, Passeig de Gracia Avenue, and Gaudi's modernist buildings.
mid-range: H10 Cubik 4 Sup This 4-star hotel offers free wifi, a seasonal outdoor pool, and a bar. Close to Passeig de Gracia, Boqueria Market, Picasso Museum, and Casa Batllo.
budget: Hesperia Barcelona Barri Gòtic This 3-star hotel is located in Barcelona's Gothic Quarter, a short stroll from the port, Maremagnum Shopping Centre, Barcelona Aquarium, and Las Ramblas.
🔍FIND BEST HOTELS IN GOTIC
See Also: How Many Days in Barcelona is Enough?
2. Placa De Catalunya, main transport hub of the city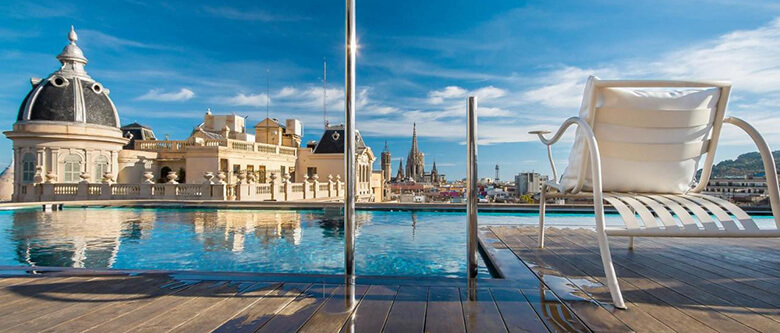 The lively square of Placa De Catalunya (also known as Plaza Catalunya) is the most central square and main transport hub of the city. It's home to one of the city's most important rail terminals makes it incredibly convenient to stay if you planning to do many day trips from Barcelona such as to Girona and Montserrat Monastery.
It's the junction between Ronda de Sant Pere, Portal de l'Àngel, Las Ramblas, and Passeig de Gracia and connects the Barri Gotic in the Old Town with the new town of Eixample. It's a popular meeting point for locals and visitors.
Covering 50,000 square meters, it features fountains, statues, and trees, surrounded by flocks of pigeons and many of Barcelona's most famous streets and attractions.
The artwork in the central square features a collection of Avant-Garde, Neo-Classicism, and Noucentisme pieces of sculptures, magic fountains, and surrounding monumental buildings, as well as beautiful mosaics adorning the walls of the underground sections.
Surrounded by large shopping malls, beautiful bars, cafes, and restaurants with outdoor seating, it is a fabulous place to sit and take in the beauty of the area. You will find huge department stores around the square like Habitat, El Corte Inglés, FNAC, and a popular Café Zurich.
This area is also the home of some of the most important events in Barcelona like festivals music concerts, outdoor markets, trade fairs, cultural events, sporting celebrations, and the world-renowned Setmana del Llibre en Català book fair in September.
Stay In Catalunya Plaza Barcelona If you are traveling by train, you are a fan of art, you want to be located at the heart of the city, surrounded by amenities and attractions, both new and old.
Best places to stay in Placa De Catalunya:
Luxury: Ohla Barcelona this boutique hotel is located in Barcelona's historic center, close to Palau de la Música Concert Hall, the Cathedral, and the Ramblas. It has modern rooms with contemporary décor large windows, a rooftop pool.
Mid-range: Sunotel Central This 4-star hotel is set in the heart of Barcelona, offers modern rooms with free high-speed WiFi, satellite TV, and a private bathroom.
Budget: Hotel Market This budget hotel is set beside Barcelona's San Antonio Market, 10 minutes walk from MACBA Gallery, and 2 minutes away from an airport shuttle bus stop. it offers modern rooms that have dark wood beams, white walls, and large windows. Alos close to the Plaza Espanya and Plaza Catalunya, and Sant Antoni Metro Statio.
FIND BEST HOTELS IN PLACA DE CATALUNYA
See more about Spain:
4. El Born, where to stay in Barcelona for nightlife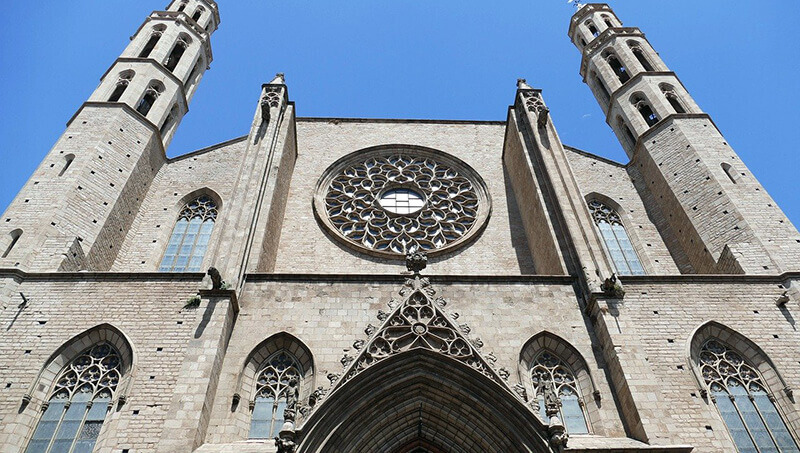 El Born (Barrio de La Ribera) is part of the Ciutat Vella (old city). It gets its name from the word bornejar which means to joust in Catalan. Back during the Spanish Inquisition in the 16th century, Passeig del Born was the site where heretics were executed.
Today, visitors will find plenty of trendy bars in its narrow streets. If you are looking for busy nightlife, the artistic and eclectic neighborhood of El Born is a place to consider.
This district lies between Barri Gotic and Ciutadella Park where you will find Barcelona Zoo. It has good metro connections and is just a 10-minute walk from the heart of Barcelona. Barceloneta's beach is also 10 minutes walk away so El Born is a great place for families and tourists in general to find accommodation. 
It is noted for its narrow streets around the old Church of Santa Maria del Mar (Cathedral of the Sea). You will find lovely coffee shops, small cafes and restaurants, and plenty of quaint shops in these streets. Shoppers will find plenty of ideas for presents and mementos while small galleries abound as well.   
Two of the cultural highlights of El Born are the Textile Museum and the Picasso Museum which display more than 3,500 of the artist's works.
Other historical and cultural landmarks are:
the Chocolate Museum,
the European Museum of Modern Art,
the Museum of World Cultures,
Palau de la Musica Catalana,
El Born Centre Cultural Barcelona.
The neoclassical building with a metallic roof of Santa Caterina Market is also worth a visit. It was the first covered market in the city, opened in 1848.
Some parts of El Born can be noisy into the early hours. If you do not see this as a problem, look closer. There is a good range of accommodation in El Born including 5-star luxury, boutique hotels, and good value for money guesthouses.
Stay in El Born if you want a great nightlife location; you want plenty of accommodation choices, you like exploring old narrow streets, you prefer to be central in Barcelona.
Best Places to Stay in Barcelona in El Born:
luxury: Grand Hotel Central This 5-star Grand Hotel Central offers a rooftop infinity pool with stunning views of the Gothic Quarter and Barcelona Cathedral. It has stylish modern rooms with air-conditioning, a modern design, a TV, a bathroom with a shower and luxury toiletries, and free wifi. It also provides an onsite restaurant that serves innovative Catalan food.
mid-range: K+K Hotel Picasso El Born The boutique hotel is situated in the Borne district, opposite Ciutadella Park, offers a rooftop swimming pool, a restaurant, and stylish rooms with free wifi.
budget: Hotel del Mar is set in a listed building close to the seafront and Barceloneta Metro Station. It's near the trendy Born neighborhood and Ciutadella Park.
🔍FIND BEST HOTELS IN EL BORN
5. Eixample, full of art nouveau and modernist buildings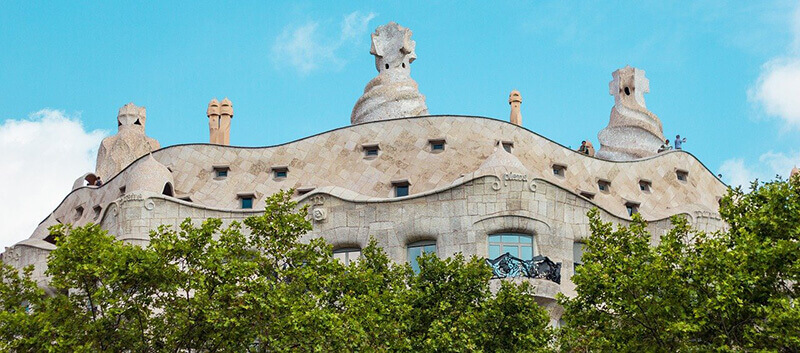 The upscale neighborhood of Eixample ("Extension" in Catalan) was designed as an extension of the old town in the late 19th and early 20th centuries. Locally known as the Modernist Quarter, Eixample is dominated by Catalan Art Nouveau and Modernist buildings.
You can find masterpieces of Antoni Gaudí, Lluis Domenech i Montaner, and Josep Puig i Cadafalch including:
Sagrada Familia: one of Gaudi's biggest masterpieces
Casa Batllo: one of Barcelona's most important landmarks
Casa Milà-La Pedrera: one of the most famous icons of Barcelona
Casa de les Punxes: a castle-looking building
La Sagrada Familia and Casa Milà are both UNESCO World Heritage Sites. Casa Mila was the last residence designed by Antoni Gaudi and was completed just before World War I. There are more than 3 million visitors go to La Sagrada Familia each year.
There is a planned street grid with long wide avenues and square blocks. Part of Eixample is a wealthy residential area for those wanting to live close to the heart of Barcelona.
Poblenou, part of Eixample in most discussions on Barcelona, is an increasingly popular part of the City. Recently, craft beer bars, galleries, and stores have replaced old commercial premises.
The Olympic developments 30 years ago were the catalyst for change. With the beaches as one boundary and plenty of green spaces, entertainment, and shopping. El Poblenou offers plenty to visitors to Barcelona.
You also can explore the largest and best-known flea market Mercat Els Encants, and one of the most beautiful monuments in the entire city Barcelona's own Arc de Triomf. Eixample is a great place for shopping, you will find shopping spots in Sant Antoni, Antiga Esquerra de l'Eixample, Passeig de Gràcia for high-end shopping.
Eixample also has a thriving café culture, vibrant nightlife, and rich dining scene with several Michelin-starred restaurants, trendy cocktail bars, and tapas bars.
Eixample has plenty of accommodation options. It includes good budget options, boutique hotels, and luxury. The district is a popular choice in Barcelona because of its central location.
Stay in Eixample if you like shopping; you want to be close to Barcelona's most popular tourist attractions such as La Sagrada Familia, La Pedrera; you prefer a central location in a city; you enjoy the vibrancy of good bars, clubs, and restaurants.
Best Places to stay in Eixample:
🔍FIND BEST HOTELS IN EIXAMPLE
5. Passeig De Gracia, where to stay in Barcelona for luxury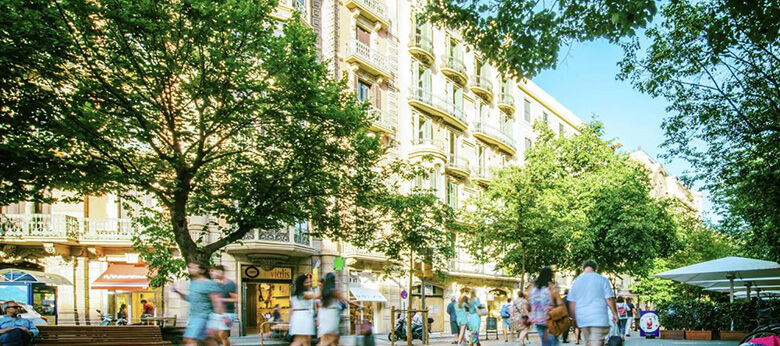 The Passeig De Gracia is a Parisian-style avenue stretching from Plaça Catalunya to Carrer Gran de Gràcia. Known as the most expensive street in all of Spain, it is an incredibly important area for both business and shopping.
Home to some of the most prominent pieces of architecture in the city, many of the shops and hotels are located in grand, historic buildings. This allows you to add an air of style and sophistication to every second of your trip.
This elegant avenue with lots of modernist buildings including:
Gaudí Casa Batlló
La Casa Milà (La Pedrera)
casa Amatller, created by Puig i Cadafalch
Casa Lleó Morera, created by Domènech i Muntaner
Meanwhile, Passeig De Gracia is well-connected public transportation. Numerous bus and train stations are located along the street. This is perfect for those traveling to the city by train, or anyone simply wanting a quick way to get around during their stay.
Stay In Passeig De Gracia If you want to experience the vibe of an upmarket neighborhood; you are traveling by train, you want to stay and shop in some of Barcelona's most historic buildings.
Best places to stay in Passeig De Gracia:
H10 Cubik 4* Sup This 4-star hotel offers a seasonal outdoor pool, a terrace, a bar; within walking distance from Urquinaona Metro Station, Catalunya Metro Station, Borras Theatre, Palau de la Musica Catalana, and Portal de l'Angel.
Ona Hotels Mosaic This budget hotel is in a historic building in the heart of Rambla Catalunya, close to Plaça Catalunya, Casa Batllo, La Pedrera, and the Fundació Antoni Tàpies. It offers air-conditioned rooms with a flat-screen TV and modern décor, terrace, or balcony, a private bathroom fitted with a shower.
🔍FIND BEST HOTELS IN PASSEIG DE GRACIA
6. El Raval, vibrant multi-cultural neighborhood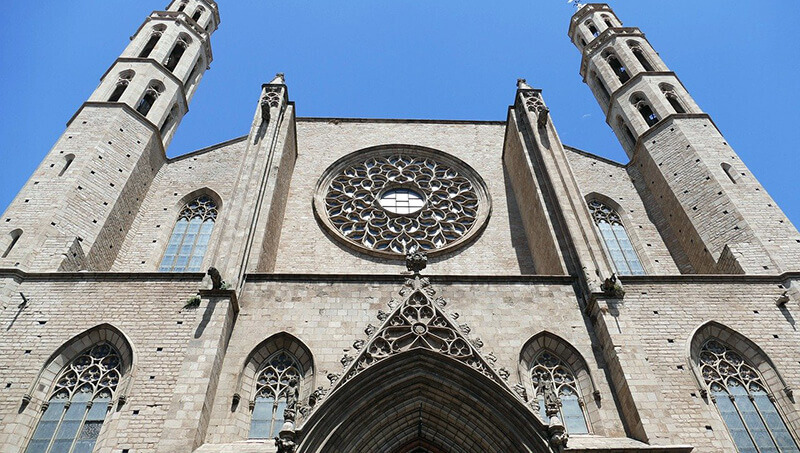 Surrounded by the barrios of Sant Antoni, the Gothic Quarter, and El Poble Sec, the former red-light district, El Raval, also known as the Chinese neighborhood by locals.
Some parts of the neighborhood used to have a poor reputation but that has largely changed although some petty crime still exists. It's slowly gentrifying with many hipster cafes, cool tapas bars, restaurants, independent boutiques, and shops.
Local street artists and skaters have chosen El Raval to hang out. Large street murals add to the artistic flavor of El Raval.
Art lovers will want to visit the Barcelona Museum of Contemporary Art (MACBA) has a collection of around 5,000 works dating from the 20th century and the Centre of Contemporary Culture of Barcelona.
El Raval is home to one of the most popular opera houses in Europe and one of Europe's leading opera houses, Gran Teatre del Liceu, which was built in 1847.
If you love history, you can find:
the Maritime Museum (Museu Marítim), located in the Drassanes,
the Royal Dockyards of Barcelona
the Hospital de la Santa Creu,
Sant Pau del Camp Monastery, and Palau Guell.
The multiculturalism, cultural diversity of El Raval, is further emphasized by some of the best Asian cuisines in Barcelona; India, and Middle Eastern especially.
There has been significant regeneration in Raval in recent years. It is still a highly populated district with some small industries, especially close to the dock area.
Some of the older buildings have been demolished in El Raval but others still remain. It is perhaps not the first place that you should look if you are going to stay in Barcelona and want to be central. By all means, explore it by day, however.
Stay in El Raval if you like hip and bohemian vibe; you enjoy a broad cultural mix, your taste in cuisine is broad, you prefer to be close to the middle of Barcelona.
Best Places to Stay in El Raval:
Barceló Raval Set in Barcelona's vibrant Raval district, this design hotel offers free Wi-Fi, a gym, and a rooftop terrace with a pool and panoramic views. Some rooms include a Nespresso coffee machine.
Andante Hotel With a small rooftop pool offering great views over Barcelona, Andante Hotel is centrally located 350 m from Drassanes Metro Station and La Rambla. It offers free Wi-Fi and a gym.
Hotel Barcelona Universal offers free WiFi, a gym and a rooftop pool with city ciews. Situated next to next to Parallel Metro Station, the hotel is just 600 m from Las Ramblas.
🔍FIND BEST HOTELS IN BARCELONA
7. Barceloneta, where to stay in Barcelona for beaches
Barceloneta Beach, or La Barceloneta, was developed in the 18th century to house locals displaced by the building of the Ciutadella of Barcelona. It fronts on to the Mediterranean Sea, with Port Vell, and El Born making up the two other sides of this triangular neighborhood.
This former fishing village contains four main beaches: 
Sant Sebastià near the W Barcelona Hotel,
Barceloneta beach, 
Sant Miquel, near L'Estel Ferit,
Somorrostro, next to the Port Olímpic.
It even has its own flag and a stop on the metro line whose station is a good place to start to explore Barceloneta beach. Expect alleys and side streets and the impressive Columbus monument. An aerial tramway links Barceloneta with Montjuic incidentally and has done so since 1931.
Families whose children enjoy the beach may enjoy staying in Barceloneta. The city's most popular beach is here and it fills with locals, especially at the weekend.
The infrastructure includes plenty of bars and the paella is regarded as the best available in the City. ''Bomba'', tapas made from potatoes and meat with a cold glass of beer is just as popular.
Barceloneta is home to the Aquarium, the largest in Europe with 20 large tanks. A highlight is to walk through the clear tunnel beneath the sharks. Another place to visit is Museu d'Història de Catalunya which is also on the quayside.
You can also do shopping at the Maremagnum shopping center, take a cable car to Miramar gardens viewpoint, and watch a movie at the IMAX Theatre.
If you want to walk along the coast to La Rambla, it will take around 20 minutes. Transport is available of course. Hotel prices in Barceloneta beach tend to be in the mid-price range.
Stay in Barceloneta if you are a family looking for a good beach holiday; you want to sunbathe and dine on fresh seafood tapas, you want a choice of restaurants serving fresh seafood.
Best places to stay near Barceloneta:
🔍FIND BEST HOTELS IN BARCELONETA
8. La Vila Olimpica, modern neighborhood with beach in Barcelona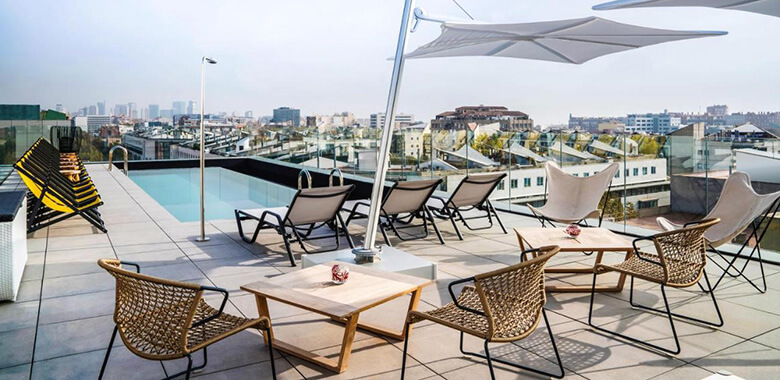 La Vila Olimpica, the Olympic Village of Poblenou, is one of Barcelona's more modern neighborhoods in the Sant Martí district.
A subdistrict of Poblenou, it was built in the late 1980s and early 1990s for the 1992 summer Olympic Games. Many of the buildings constructed for the games still remain, as does The Olympic Port, built for the sailing events.
Some of the most famous hotels and buildings in the city are also located here. The Torre Mapfre is the city's most famous skyscraper, designed by Iñigo Ortiz and Enrique de León, while the Hotel Arts and Casino Barcelona both provide options for guests to indulge during their stay.
Mapfre Tower and Hotel Arts are the two tallest buildings in the city, often called the twin towers of Barcelona. Below it, you can find a giant goldfish, La Dorada, sculpted by Frank O' Gehry.
The Universitat Pompeu Fabra is also located on the outskirts of the neighborhood. This makes it a great choice for anyone who is considering studying at the university, or those who are visiting someone that already is.
Apart from the Vila Olimpica Centre shopping complex, you can find a large type of bars with terraces and open-air restaurants, mainly specializing in Catalan cuisine, seafood, tapas.
You can enjoy the fantastic views of the sea while sipping on a coffee on the small terraces. But for something completely different, visit Ice Bar Barcelona.
Stay In La Vila Olimpica If you are visiting, a student of the Universitat Pompeu Fabra, you want to visit some of the city's most famous hotels and casinos, you are interested in the history of the Olympic Games.
Best places to stay in La Vila Olimpica: • ibis Styles Barcelona City Bogatell • Hotel SB Icaria Barcelona • Unite Hostel Barcelona
🔍FIND BEST HOTELS IN VILA OLIMPICA
9. Gràcia, where to stay in Barcelona for long term travelers
Head north of Eixample and you will come to one of Barcelona's trendiest districts, Gracia. This is a small village feel, and more suited with long-term travelers who plan to stay in Barcelona for weeks or months.
Gracia is an ideal base if you want to enjoy a bit more of local Barcelona without the tourists and overcrowding in La Rambla and the Gothic Quarter.
It was a separate city in the 17th century, founded around the Our Lady of Grace Convent. Gracia joined with Barcelona in the 20th century but it has retained its own distinct feel.
This quiet, safe, walkable neighborhood with many pedestrian-only streets, and its main attraction is of course more than 17 hectares of Park Guell, a UNESCO heritage site, located next to the Sierra de Collserola.
Park Güell was commissioned by Eusebi Güell, and designed by Antoni Gaudí in 1900. Here, you can visit the colorful mosaic Dragon at its entrance, L'escalinata del drac with the famous lizard, Hall of 100 pillars – Sala Hipóstila, Museu del Guarda, Jardins d'Àustria, Plaça de la Natura, and Pòrtic de la Bugadera.
Gracia is also home to one of Barcelona's first Art Nouveau buildings, La Casa Vicens. If you want to have look, head to Carrer Carolines, a five-minute walk from Fontana metro station.
This family-friendly and bohemian neighborhood has playground areas for children as well as plenty of cafes and tapas bars.
When you visit Gracia you will meet narrow streets and lovely plazas such as Plaça de la Vila de Gracia which is the original town square, Plaça de la Virreina which is home to Sant Joan church, and Plaça del Sol which is a lively nightlife venue.
Gracia has also earned a good reputation for its international cuisine. That includes other Mediterranean food like Italian but also Japanese sushi and American pies. It doesn't end there.
If you want to do some shopping, head to Carrer Verdi, the important pedestrian artery; and Carrer Torrijos for souvenirs, bohemian fashion, and old vinyl.
The nightlife is good, including live music and there are plenty of bars with crowds, and some very exclusive.
Gràcia is famous for its Festa Major de Gracia in mid-August and sees the locals competing in street decoration.
You will find top-quality hotels in Gracia but you can also get budget hotels as well. There is something for everyone. Gracia is certainly a place to consider getting a hotel.
Stay in Gràcia if You enjoy vibrant nights and live music, fine dining is one of the reasons why you travel, You are traveling as a family; you are long term travelers in Barcelona;
Best Places to Stay in Gràcia:
Hotel Barcelona 1882 This 4-star hotel offers air-conditioned rooms with a private bathroom and free WiFi. It's 400 m from Sagrada Familia, close to La Pedrera, Almeria Theatre, Atrium Theatre, and Teatreneu Theatre.
Casagrand Luxury Suites This modern and stylish apartment is set close to the fashionable Paseo de Gracia, Gaudi's La Pedrera, a large selection of restaurants, cafes and bars can be found in Rambla de Catalunya Boulevard, and Diagonal Metro Station.
Be Mate Paseo de Gracia This accommodation is located close to La Pedrera, Casa Batllo, Passeig de Gracia, Tivoli Theatre, and Plaça Catalunya. It offers airport transfers and a bicycle rental service.
🔍FIND BEST HOTELS IN GRACIA
10. Poblenou, quiet neighbourhood near the beach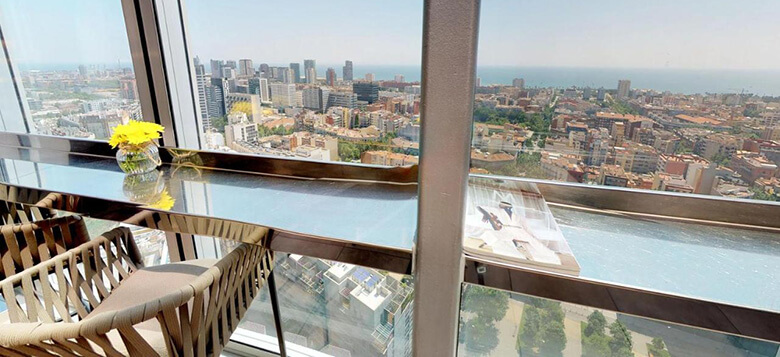 Located in the Sant Marti district in the northeast of Barcelona, Poblenou, also known as New City in English, is a large district located right on the Mediterranean Ocean.
The neighborhood features largely 19th-century buildings centered around a historic core, providing a beautiful demonstration of the city's evolution.
It is considered to be one of the best beachfront areas in Barcelona, making it the perfect choice for those who want a relaxing break topping up their tan, relaxing in the sand, and playing in the water.
The most comfortable beaches from Rambla del Poblenou are Bogatell Beach and Mar Bella Beach. Mar Bella Beach is LGBT and nudist-friendly beach and venue for the Circuit festival summer beach parties.
El Poblenou has a vibrant art scene. Fan of street art and lively graffiti can visit the northern area of ​​the Sant Martí district, visit the Parque del Centre del Poblenou, and Carrer del Peru for all sorts of murals.
If you love history, there are numerous museums including Museu del Disseny which is The Design Museum of Barcelona, Can Framis Museum with more than 300 works dating from the 1960s, and Espai Subirachs with the works of the Catalan artist Josep Maria Subirachs.
At the same time, a collection of shopping centers, bars, restaurants, and parks, in a slightly quieter location, allow you to enjoy all the perks of the city, without constantly being surrounded by mobs of tourists.
There are hundred-year-old shops, restaurants serving local food, and lots of top bars on the area's major pedestrian thoroughfare, La Rambla del Poblenou.
You also have attractions nearby such as Plaça de les Glòries Catalan, the Torre Agbar skyscraper, Parc Central del Poblenou, Poblenou Park, Ancient Poblenou Cemetery, and Mercat dels Encants.
Stay In Poblenou If you want to stay in a quieter neighborhood near the beach; you want to see both the new and old sides of Barcelona.
Best places to stay in Poblenou:
🔍FIND BEST HOTELS IN POBLENOU
11. Sants and Montjuïc, home to Barcelona's largest train station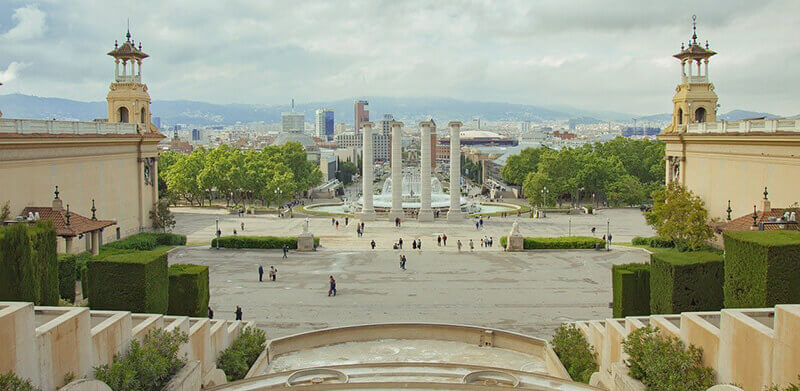 Sants is the south-westernmost area of Barcelona adjacent to Montjuic. This is a very quiet area with little tourism, and well-connected to the city center of Barcelona. it's an ideal location for families, couples, young people looking for a relaxed neighborhood in the city.
Sants is home to Barcelona Sants station (Sants Estación), the largest train station in Barcelona and an important transport hub of the Catalonia region. It provides rail services for the whole of Spain and many long-distance international routes.
In the residential district of Sants, you can also find the Parc de l'Espanya Industrial, a good spot to have a picnic and relax. it was built on the site of a former textile factory and was designed in 1985 by architects Luis Pena Ganchegui and Francesc Rius.
Barcelona loves its fairs and festivals and they are often centered around Montjuic. This hill was where the City held the Summer Olympics in 1992. As a result, there is plenty to see and do in the district.
There are not many attractions in Sants itself but you head to the Montjuïc area, you will find plenty of sights including:
Magic Fountain (Font Magica) has been entertaining people for more than 80 years. There are music and light shows every weekend.
Montjuic Castle is a great observation point and you can take a cable car if you don't wish to walk there.
Poble Espanyol is an open-air museum where you can see many old Spanish replica buildings.
The Olympic Park,
The National Museum of Catalan Visual Art,
The Botanical Gardens with over 2,000 species, and the town hall – Sants Ajuntament.
Montjuic is one of Barcelona's best ''open green spaces'' so there is limited accommodation for the tourist compared to other parts of Barcelona. You should definitely visit, however.
Stay in Sants/Montjuic if you want open spaces within the City, you prefer a quieter part of the City away from the busy nightlife, you enjoy fine architecture and art.
Best Places to Stay in Montjuic and Sants:
🔍FIND BEST HOTELS IN MONTJUIC
12. Poble Sec, where to stay in Barcelona on budget
Located between Avinguda del Paraŀlel and Montjuïc Hill, Poble-Sec, dry village in Catalan, is part of the Sants-Montjuïc district and one of the oldest neighborhoods in Barcelona.
This up-and-coming neighborhood is a compact area that has earned a reputation as an entertainment district close to the center of Barcelona. You will find craft beer and tapas bars as well as theaters and music halls.
Poble-Sec is well-connected transport and is served by three metro stations including Paraŀlel, Poble Sec, and Espanya.
You can take the Montjuic Cable Car to get to Montjuic Castle and enjoy the best views of the Barcelona harbor and city from this former fortress.
The pleasant atmosphere is helped by its shaded squares and architecture that is mostly the 19th Century. Tourists heading for Placa del Sortidor or Placa de las Navas will find locals relaxing in the cafes. You are welcome to join them.
Within Poble Sec you will find Caixa Forum which is one of Barcelona's most famous art galleries; Jardins de Mossen Costa i Lolbera, the Archaeology Museum of Catalonia, El Molino Theatre, and Theatre Grec Open Air.
The residential area of Poble Sec is an ideal location if you're looking for somewhere that's close to the city center, but not as noisy. Prices of accommodations tend to be lower, making it a good base for budget travelers and backpackers.
Stay in Poble Sec if you want to stay in a budget-friendly area with easy access to the city center; you want plenty of entertainment close by and vibrant nightlife; you regard meeting locals as important in understanding a city.
Best Places to Stay in Poble Sec:
🔍FIND BEST HOTELS IN POBLE SEC
Check out my virtual tour of the best places to stay in Barcelona in this video:
Located on the northeast coast of Spain looking out onto the Mediterranean, Barcelona attracted many renowned artists, poets, and writers like Antoni Gaudí, Pablo Picasso, Joan Miró, Salvador Dalí, and George Orwell. It is famous for its outstanding football team, and the magnificent architecture of Antoni Gaudi. It's also known for its Spanish Grand Prix, modern art museums, fabulous beaches, tranquil parks, Estrella Damm, flamenco, and amazing tapas.
With a population of over 1.6 million, Barcelona is the second-most densely populated city in Spain after Madrid. Such cities need good transport infrastructure and Barcelona obliges. It means that getting around within the City is easy.
The Barcelona International Airport El Prat is less than 10 miles distant from the City Center. Connections into the center are good and regular. There is even a metro which adds to the ease of getting around Barcelona while the City Pass is a great benefit to tourists.
Tourists are well catered for. Free maps give first-time visitors all the information anyone might need. Each of the major landmarks is accessible by buses which stop to allow visitors to get off and take a closer look.
The result is that visitors can be selective about where to book accommodation. Many like to be in the heart of a city they are visiting but that can mean higher hotel prices. Some may want to have a hotel right on the coast while others may want to be within walking distance of the best nightlife.
Depending on the time of year, you may find festivals both Catholic or strictly Catalan. Barcelona is a vibrant place at any time and getting around to see its highlights is a simple exercise. Now as you know the best areas to stay in Barcelona, all you need to do is to book your accommodations and ready to go!
If you're interested in where to stay in Bercelona, you might want to check out How to Spend 10 Days in Spain, Where to Stay in Madrid, Where to Stay in Formentera, Where To Stay In Lanzarote , Where to Stay in Fuerteventura , Where to Stay in Bilbao, Where to Stay in Ibiza, Where to Stay in Seville, Where to Stay in Marbella.