Toronto, Vancouver and Montreal, there are many cities in Canada but where are they on the map? Can you tell us where is Toronto? No? Read on to find out all you need to know about Canada's most populated city, where to eat and where to stay too!
Toronto is in the state of Ontario in Canada. Toronto can be found in the south Ontario and is perfectly placed on the shore of Lake Ontario, on the shore to the north west. This prosperous city is home to a very diverse population, the area is divided up into 140 different neighbourhoods but the community atmosphere in Toronto is very much apparent the moment you cross the city lines.
Where is Toronto located in the world?
Toronto is located in Ontario, Canada. It is situated on the northwest shore of Lake Ontario, which is one of the five Great Lakes in North America. Toronto is the largest city in Canada and the capital of Ontario.
It is known for its diverse culture, vibrant arts scene, and iconic landmarks such as the CN Tower and the Rogers Centre. Toronto is also home to many universities, museums, and other cultural institutions, making it an important hub of education and learning in the region.
Is Toronto in USA or Canada?
Toronto is a city located in Ontario, Canada. It is the capital city of Ontario and is the most populous city in Canada. Toronto is situated on the northwest shore of Lake Ontario and is known for its diverse population, cultural attractions, and vibrant city life.
Is Toronto French or British?
Toronto is a city located in Ontario, Canada. It has a diverse history and culture that reflects the various groups of people who have lived in and around the city.
While Toronto has a long history of French settlement and influence, it is not formally a French-speaking city. The majority of residents in Toronto speak English as their primary language, although there are also significant numbers of people who speak French, Spanish, Chinese, and many other languages.
Toronto has a long history of immigration and cultural exchange, and this diversity is reflected in the city's rich cultural mosaic.
What to do in Toronto?
Toronto is an exciting city to visit, its proximity to Lake Ontario balances the urban landscape with the natural. Be sure to visit the water front at sunset to capture the sky turn all shades of blue, pink, red and orange and slowly fade to black.
In terms of day time activities there is plenty to keep you occupied. The most iconic building of the Toronto skyline in the CN Tower and much like the KL Tower in Kuala Lumpur in Malaysia the CN Tower too houses a revolving restaurant. Tables must be booked in advance but if you are looking for a romantic dinner for two in an amazing setting be sure to get yourself a reservation at the 360 The Restaurant at the CN Tower.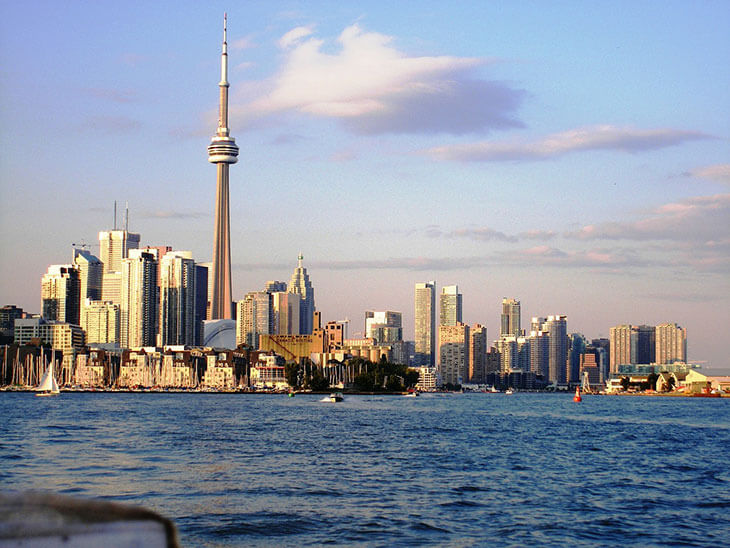 Other brilliant attraction in Toronto include the Royal Ontario Museum which features exhibits and displays of natural and cultural artefacts. Whether you're in town on a flying visit or a little longer a visit to the Royal Ontario Museum is a must.
If you are travelling with children or simply if you love marine life then you simply must take a day to visit the Ripley's Aquarium Canada. A leading attraction in Toronto that consistently gains first class reviews.
Where to Eat in Toronto?
If you are a vegan or just fancy some of the best food in town then Fresh on Spadina is the place for you. A popular spot with locals and visitors a like this vegan restaurant gets top marks all round in terms of food quailty, service, atmosphere and affordability. They open their doors at 11.30am daily so Fresh on Spadina makes a great place for a spot of lunch or perhaps a brunch if you are a late riser!
Fresh also has restaurants on Bloor, Crawford and Eglinton too. To find out more about Toronto's leading vegan chain click here.
If a more up-market diner is what you are looking for them you will be interested to hear about Canoe Restaurant and Bar. This luxurious space boasts outstanding views of the city for it is located high up on the 54th floor. Canoe Restaurant and Bar specialise in creative Canadian dishes. Although the menu's price tags aren't cheap the overall experience of dining at Canoe Restaurant and Bar is certainly worth forking out for. Only the best ingredients and innovative flavour combinations make very visit memorable!
Where to Stay in Toronto?
There are so very many accommodation options available in Toronto it is hard to know where to start! If you are visiting Toronto on a super shoestring budget then you really should consider couchsurfing. There are hundreds of Couchsurfing hosts in Toronto who are eager to meet new people and proudly show off their home and their city. If you are travelling solo this too is a great idea.
If you are on somewhat of a budget then there are ample hostels in the city centre that have a friendly and laid back backpacker vibe about them. No longer are hostel cheap and dirty places to stay when you have no money, hostel owners have invested a lot of time and effort in making their spaces a destination in their own right!
Airbnb is a big craze in Toronto right now and you can rent some amazing spaces for great prices. What is more, if you are staying in town for a while many rental hosts reduce their prices, anywhere from 10% to 25%. If you are staying in Toronto for two weeks or more then be sure to get yourself booked into a holiday rental. In doing so you will feel more at home and more autonomous in this new city.
If these options are a little too different for you rest assured that there are many hotels in the city centre and beyond that cater to your every need. From swanky, boutique hotels to the full five stars you are bound to find a hotel in Toronto that suits your needs and budget.
See Also: