Indonesia is the four largest population on the planet, home to 261.1 million people if you are looking to go to Indonesia to escape the world then you have got another thing coming. We've collected 10 tips for backpacking Indonesia to make sure you have the best experience possible.
Indonesia spans over three major islands although the nation of Indonesia itself is made up of over 17, 500 islands. The most frequently visited are the 'mainland' islands of Java, Sumatra, and Kalimantan, also referred to as Indonesian Borneo.
Indonesia has been a highly popular destination for backpackers for over two decades and it is very easy to see why. With lush green jungle and ample wildlife to spot, as well as hundreds of picture perfect beaches it is not hard to see why ​Balibackpackers flock to this island nation.
Sadly though, Indonesia is not all rosy. Being the third worst emitter of greenhouses gases in the world and responsible for the majority of the world's palm oil plantations Indonesia's natural beauty is fast disappearing. There are not only tips for backpacking Indonesia in our list but general rules to adhere to if you want Indonesia to be in a fit state for your grandchildren to visit in years to come. As a result of deforestation and pollution, some of Indonesia's best loved tourist spots are becoming fouled and unvisitable. Be a responsible traveler and help preserve Indonesia for those who visit after you; without further ado, here are our 10 tips for backpacking Indonesia.
#1. Get Your Visa Sorted
Although it it is possible to get a visa on arrival in Indonesia you need to check your port of entry before you land as some immigration controls in some areas of the country require you to pay a visa fee.
If you were to fly into Jakarta or Medan you will be granted a 30-day visa on arrival for free (if you are from one of the 90 nations for which the Indonesian government waived the visa fee). However, if you were to fly into Banda Aceh airport, regardless of your passport and 'free visa' status in the rest of the country you will be required to pay $35 USD on arrival. The immigration control here is much tighter than the rest of the country so just comply.
Should you wish to extend your visa in-country you can do so at any immigration office for $35 and this can take up to a week so ensure that you head to the immigration office with at least 10-days left on your existing visa and you must provide proof of onward travel arrangements.
#2. Indonesia is HUGE!
It is hard at first to get your head around how big Indonesia really is. Many backpackers head to Bali and think they have seen all of Indonesia but in reality, they have barely scratched the surface. Borneo alone is the 3rd biggest island on the planet.
If you want to skim the surface of Indonesia then you need a month; one week for Sumatra, one week for Java, one week for Papua/New Guinea and one week for Indonesian Borneo; even then you will be pushed for time and still skim the surface!
Backpacking in Indonesia is fun and easy, if your budget allows, give yourself as much time as possible to explore this interesting and exciting nation.
#3. Majority Muslim
Did you know that Indonesia is a majority Muslim country? With Christianity and Hinduism falling close behind. 87% of Indonesians are Muslim and this, in turn, makes Indonesia the world's largest population of Muslim people.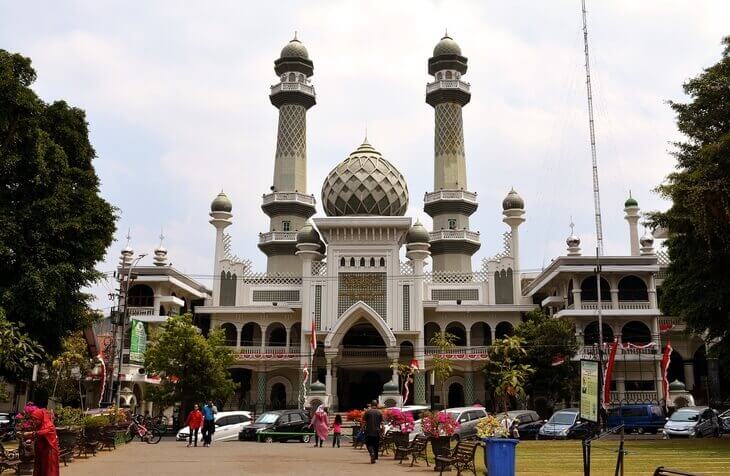 Majority Muslim in Indonesia
This said, as a backpacker you need to adhere to certain religious norms and embrace the Muslim culture. Travel during Ramadan can be tricky and finding food during the day time is near impossible but if you want to visit Indonesia without the hoards of tourists then Ramadan is the time to go! 

Women especially, but men too, should dress respectfully. When entering a mosque it is imperative you dress modestly and of you venture to a Muslim beach be sure to keep your clothes on.
In Bali, however, where the majority of the population are Hindu there is a little more flexibility on the dress code but still be as modest as you can be.
#4. Drink the Coffee
Did you know that Java coffee comes from Java in Indonesia? Indonesia is one of the world's biggest and best producers of coffee and without realizing it you will have been drinking the black stuff from the islands for years. 

Indonesians usually have their coffee black and very strong, with shovels of sugar and occasionally a drizzle of condensed milk.
5) Don't Use Your Left Hand
This backpacking tip applies to nearly all Asian nations. The left hand is used as the hand for wiping yourself after your bathroom ablutions so to eat your food or to shake someone's hand with your left will cause great offense.
Many people in Indonesia and across Asia will eat with their hands. This is tricky for left handed travelers. If you are left handed and can't get the mechanics right for eating with your right hand then just ask for a spoon!
#6. So Much More Than Bali
Firstly, Bali isn't all of Indonesia! As wonderful as it is this great nation has so much more on offer and you should go out and explore it. From Komodo Island to the Gili Islands, from Pulau Weh to Lake Toba and Tangkahan there is so much variety on offer for backpackers.
Gilli island
Did you know that there are over 70 volcanos and a few challenging mountains too. Many offer truly breathtaking views over the Indonesian landscape below. You will literally have your head in the clouds!
#7. Go Beneath the Sea
Some of the best snorkeling and diving spots in the world can be found off the coast of Indonesia. Despite being nearly obliterated by the Tsunami in 2003 Pulau Weh in the very north of Sumatra in the Banda Aceh region is a beautiful place to get introduced to the life under the sea. Clownfish (nemos!), octopus, turtles, and eels galore lie just below the surface of the crystal clear seas, not to mention the dozens of brightly coloured starfish too.
There are hundreds of reputable diving schools where you can complete your PADI course to become a fully certified diver, Thinking about hanging around longer? Why not do a visa-run and book onto a dive master course?
#8. You Can Live in Luxury for Little
One major boost for backpackers in Indonesia is that the country is very affordable to travel in. For as little as 100, 000 rupiah a night you can sleep in a clean, tidy and modern hostel. Out on the islands, you can spend as little as 30, 000 IDR and sleep right on the waterfront.
#9. Stay the Right Side of the Law
It goes without saying that you should always stay the right side of the law in any situation but in Indonesia in particular. There are scams galore and people on the lookout for unsuspecting tourists to get into trouble.
Don't do anything that will draw attention to yourself.
#10. No Trains!
Backpacking Indonesia