Where to Stay in Bali, Indonesia: Best Area & Hotel Travel Guide
If you're wondering where to stay in Bali & where is the best area to stay in Bali for the first time, families, couples, honeymoon, singles, nightlife, party, surfing, backpacking, you're in the right place. This guide will give you an insight into the best place to stay in Bali, Indonesia.
We understand that everyone has different needs, so we'll tell you all about each area and suggest what budgets, preferences, and type of traveler it suits best. That way deciding on your base from which to explore this fantastic destination couldn't be easier.
Where to Stay in Bali – 10 Best Area to Stay in Bali
Below I pick the 10 best areas to stay in Bali and tell you a little more about them so that you can choose the one (or more) that appeals to you most. This fantastic island has beaches and surfing, lush mountains and volcano lakes, diving and yoga, temples, and deep cultural heritage. You can be sure there's a place you will love in Bali, read on, and discover more.
Top 10 Best Area to Stay in Bali Map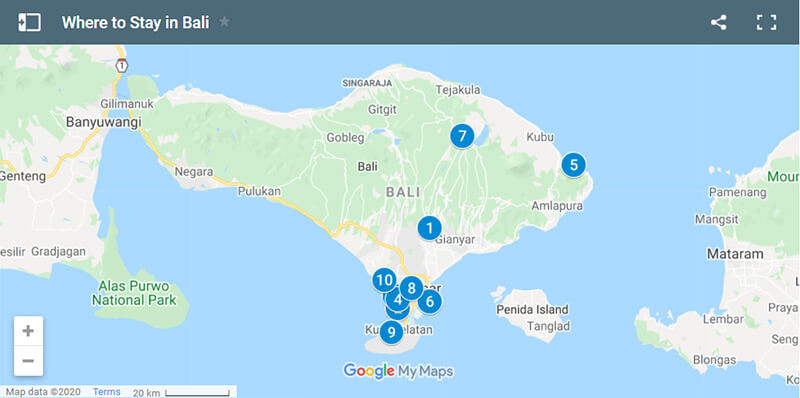 To see more detail of Where to Stay in Bali map, go to Google Map.
See Also: How Many Days in Bali is Enough
1. Ubud – Best Area to Stay in Bali for Balinese Culture

Busy Ubud is the starting point for most visitor's exploration of Bali's phenomenal central mountain region.
Ubud manages to pull off the tricky feat of being highly developed for tourism while retaining the local atmosphere and charm. So while it is developed, and you'll find all the facilities you'll need, you won't feel that it is overdeveloped.
Ubud is close to the famous Sacred Monkey Forest Sanctuary. There are also plenty of museums, and a trip through the countryside to explore the famous tiered paddy-fields and rustic villages is a must.
Ubud has some lovely boutique resorts and hostels that make great use of the stylish Balinese design. There are good options for all budgets, and adventure-minded travelers will love it here.
YOU SHOULD STAY IN UBUD IF
You love arts, crafts, and Balinese design
You want to explore Bali's beautiful mountain region
You want to visit museums and study Balinese culture
You want somewhere chic and cool
You want good small resorts for all budgets
2. Kuta – Best Area to Stay in Bali for Nightlife

These days you can barely discern the old sleepy fishing village that surfers began to visit that gradually developed into modern Kuta's tourist sprawl. If you want parties, action, and rowdy nightlife, then Kuta is for you. If not, maybe pick another destination.
It is a good choice for groups of younger backpackers and budget travelers, with a seemingly endless number of budgets, resorts, and hostels. If you are traveling solo, as a couple, or with family and children, then Bali has better options to offer you.
Kuta has shopping malls and countless bars, restaurants, and nightclubs. And the beach is still there, of course. Its rolling surf is great for surfing, and if you've never tried, then there are plenty of schools that will be happy to show you how.
YOU SHOULD STAY IN KUTA IF
You want a highly developed tourist spot
You want good budget and mid-range accommodation
You want a great night scene
You like shopping
You want to learn to surf
3. Seminyak – Best Area to Stay in Bali for Couples

Seminyak is a couple of beaches North and a couple of gears less full-on than Kuta. It is a village-y resort that has developed quickly but, thankfully, with good taste. The majority of the resorts aim at a mid to higher-end traveler, and there are some beautiful beach spots.
The laid-back feel of the place is well suited to couples and solo travelers who want a bit of peace beside a pretty beach. Some shops in Seminyak sell classy designer goods, and if you have the budget, you can dine at top-class international restaurants here.
You can dive from Seminyak, go horse riding or visit two nice Balinese temples nearby.
YOU SHOULD STAY IN SEMINYAK IF
You're traveling as a couple
You want a classy mid-to-upper-range resort
You like shopping for more expensive and designer items
You're looking for good Spas and Wellness Centers
You're looking for quality international restaurants
4. Legian – Best Area to Stay in Bali for Surfing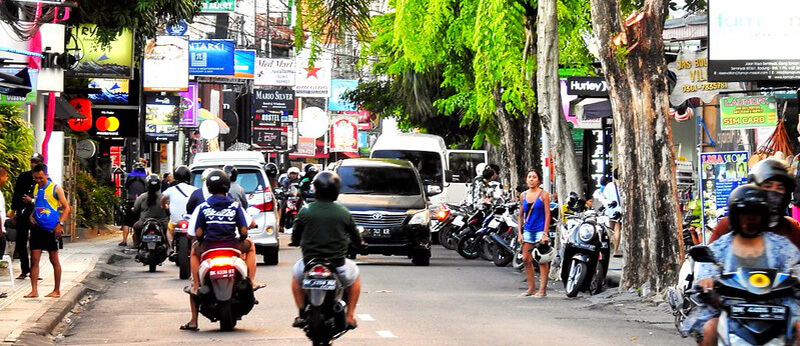 Legian is a beach resort in the South of Bali located between busy Kuta beach and more laid back and exclusive Seminyak. Legian's ambiance kind of splits the difference between these two resorts as well. It is less crazy than Kuta and a bit easier on the wallet than Seminyak.
Legian has a long, wide beach, and many of the resorts here are at the beachside. Since the beach is West-facing, you can watch the sunset from one of many chilled-out beach bars. For the more active visitor, there is good surfing here, particularly at the north end of the beach.
There are some great hostels and guesthouses in Legian that cater to budget travelers and backpackers. If you have a little more to spend, pick one of the mid-range hotels beside the beach.
YOU SHOULD STAY IN LEGIAN IF
You want lots of bars and restaurants
You want to learn to surf
You're on a budget
You want a great beach
5. Amed – Best Area to Stay in Bali for Snorkeling & Diving

Amed is over on the Eastern Coast of Bali and is the main destination for visitors to this side of Bali. It is a little more off the beaten path than the busier package holiday resorts of South Bali, and it is a perfect choice for the adventurous traveler or backpacker. For this reason, you can find some great budget and mid-range accommodation here.
The main attraction of Amed, apart from the beautiful scenery and rustic charm, is the diving and snorkeling. Amed is one of Bali's go-to destinations for divers since the best diving on the island is on nearby offshore reefs. There are lots of dive companies that will be happy to take experienced and novice divers to experience the undersea delights of Indonesia.
YOU SHOULD STAY IN AMED IF
You want a backpacker-friendly place
You want to explore a sleepy corner of the real Bali
You want to get away from it all
You want the best diving & snorkeling
You don't need beach sunsets
6. Sanur – Best Area to Stay in Bali Near Airport

Sanur is a well-developed resort beach on the Eastern sunrise coast of Bali. It is conveniently located for onward travel, being close to Bali's airport, and it is also near to the capital Denpasar.
Sanur is popular with family groups and an older holiday crowd, who enjoy its abundance of resorts, restaurants, and tourist facilities and appreciate its relaxed atmosphere. There is a long beach here, and if you're a cyclist, you can take advantage of an excellent 5km cycle path that runs beside the beachfront, offering great views from the saddle.
The majority of the accommodation in Sanur is pitched in the middle range of cost and facilities, so you can expect good value resorts that offer pretty good facilities without breaking the bank.
YOU SHOULD STAY IN SANUR IF
You want plenty of activities
You're a sunrise person, not a sunset person
You're traveling as a family
You want good dive shops and don't mind longer trips to sites
You want great restaurants and low-key nightlife
7. Kintamani – Best Area to Stay in Bali to Explore Nature

Kintamani is a small town in the Northeast of Bali. The main reason to visit this part of the island is to see Lake Batur, a stunning caldera, or volcanic crater lake. A trip to this stunning location is very rewarding, and it's simple to arrange tours or guides to take you there. The best time to visit Lake Batur is early in the morning since it often clouds over later in the day.
The area is one of the few parts of the island where you can see traditional Bali village life that hasn't changed much over the years. Prepare for much cooler temperatures here than on Bali's coast since Kintamani is over 1,500 meters above sea level. Pack warm clothes.
There are just a few places to stay in Kintamani, mostly simple and economical guesthouses. You will find several restaurants as well, but no bars at all.
YOU SHOULD STAY IN KINTAMANI IF
You're a keen explorer
You want to see traditional Balinese culture
You don't mind cooler temperatures
You're happy with simple budget guesthouses
8. Denpasar – Best Area to Stay in Bali for Local Urban Lifestyle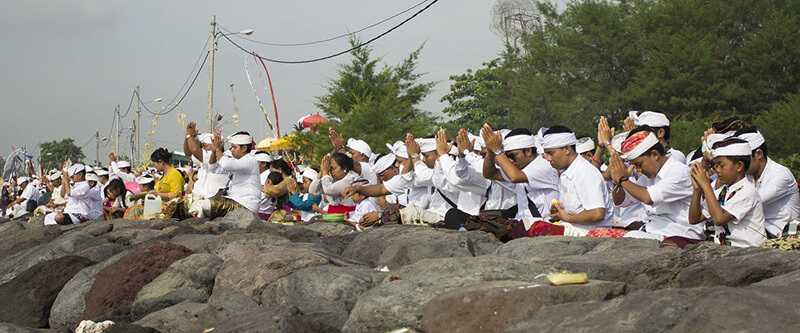 Denpasar is the capital city of Bali. It is a bustling place, and not many guides suggest it as a tourist destination, but it can be a very rewarding place to stay for independent-minded travelers.
In Denpasar, you can throw yourself into the whirl of Indonesian City life and sample all kinds of local foods, visit markets, and discover a lot about Balinese history. There are scores of ancient Temples here, including the imposing Palace of Satria and Royal Temples. Denpasar's Bali Museum is another fascinating place to learn more about the culture and history of the island.
There are some good hostels here catering to backpackers. If you are looking for more expensive accommodation, there are good mid-range and more expensive hotels that cater largely to business travelers.
YOU SHOULD STAY DENPASAR IF
You love busy cities
You want to sample the local urban lifestyle
You want to see somewhere most tourists don't go
You want to learn about Balinese culture and history
You're an independent traveler
9. Jimbaran – Best Area to Stay in Bali for Shopping

Jimbaran is a quieter resort with a sheltered beach that's a little less wavy and safer for swimmers than many of Bali's beaches. It is located to the South of busy Ubud, so it is conveniently close to the busier beaches but a world away from the chaos of Kuta. The beach is a wonderful sunset spot, and, if you can afford it, a sunset cocktail at one of the sophisticated five-star resort bars is a great way to end the day.
Jimbaran has developed as an upscale resort village, and you will find some high-class hillside villas to rent and some very smart beachfront resorts. The resort is popular with couples, families, and many travelers looking for a sophisticated and relaxed base for their Balinese experience.
YOU SHOULD STAY IN JIMBARAN IF
You love seafood
You want a pretty, sheltered beach
You want a 5-Star beach resort
You want exclusive shopping
10. Canggu – Best Area to Stay in Bali for World-Class Surfing

Canggu is one of the hippest and most up-and-coming places to stay in Bali. It is situated on Bali's southwest coast, the most developed part of the island. Canggu came late to the tourist party, though, and it is a world away in atmosphere from the thronged resorts of Kuta and Legian.
Here you will find yourself surrounded by hardcore surfers, long-term stayers and digital nomads. You can shop for unique craft items in boutique shops and art galleries. There are some great whole-food restaurants in Canggu and several places to practice or learn Yoga.
There are lots of hostels and traveler-friendly facilities, and the inclusive ambiance of Canggu means that it is a great choice of destination for solo travelers.
YOU SHOULD STAY IN CANGGU IF
You're looking for world-class surfing
You're a young or solo traveler
You plan to stay long-term, or you're a digital nomad
You want to stay in the hippest place in Bali
Tips for Choosing Best Area to Stay in Bali
Bali is a large and incredibly varied island. Broadly-speaking, your choice of places to stay here is between beach resorts like Kuta and Sanur and the pretty towns of the mountainous interior like Ubud.
There are beaches like Legian for budget visitors and those like Seminyak that cater to five-star travelers. You can dive from Amed or surf from Legian. If you are a family, you can enjoy the great facilities and comfortable atmosphere of Sanur. If you're with friends and want a no-holds-barred party experience, then look no further than Kuta.
For a brief stay, somewhere like Legian with good facilities and proximity to the airport is a perfect choice. And if you're a hip, long-stay digital nomad, then Canggu has a coworking space with your name on it.
A great tip, if you have the time, is to combine a shorter three or four-day stay in a mountain town like Ubud with a longer chill-out stay at the beach. This approach gives you the perfect opportunity to experience the many different sides of Bali during your visit.
Where is the Best Area To Stay In Bali For Families?
If you are visiting Bali with your family, then the best place for you to stay is in the attractive beach resort of Sanur. Sanur is a great family choice since there are many activities for kids and adults, and a long sandy beach, a great place to watch a tropical sunrise.
Kids will be impressed by the giant kites that you can see here, especially during the kite festival in the summer months. There are also museums to visit, a mangrove forest to explore, and a turtle conservation center.
Sanur is close to Bali Airport and a short drive from many other beaches and places of interest.
Where is the Best Area To Stay In Bali For Honeymoon?
You will remember your honeymoon forever, so why not push the boat out a little and stay at chic and sophisticated Seminyak Beach? This well-heeled resort is geared towards the less budget-conscious visitor, and you can find a host of excellent four and five-star resorts that will bring a smile to the face of your spouse.
A handy tip is to inform the resort that you are on a honeymoon holiday, and they will push the boat out in terms of service and customer care.
Seminyak is on the busy Southwest Coast of Bali, and it is close in distance to the much busier resorts of Kuta and Legian. So if you want busy places, they're on your doorstep but not in your face.
Where is the Best Area To Stay In Bali For Singles?
If you are a single traveler, then Bali's best beach destination is the go-to hipster hangout of Canggu. This is a friendly and laid-back resort favored by surfers and independent travelers. It has good hostels, some with women-only dorms, that are safe and friendly places to meet people.
Ubud is the mountain destination for single travelers who want to explore inland Bali. This busy mountaintop town is the central base that most visitors use to explore the temple strewn greenery of Bali's interior. There are many hostels and dorms and great guesthouses designed in the Balinese style that has become so popular worldwide.
Where Tis the Best Area o Stay In Bali For A Month?
Canggu is fast becoming the place that long-term travelers choose to stay. It is a beach resort that began as a popular surfers hangout and has since developed as a haven for digital nomads and other long-stay travelers.
Canggu has hostels and guesthouses that cater to long-term travel, and there are a host of co-working spaces where, if you choose, you can earn money while living in paradise. There are also plenty of things to do during a long visit to Canggu. You could learn to surf or, if that's too strenuous, take a yoga or meditation course, or go snorkeling and diving.
Where is the Best Area To Stay In Bali For Beaches?
The Southeast Coast of Bali is home to a concentration of busy and less-busy resorts that all enjoy long sandy beaches where the sun sets over the water in postcard-perfect tropical fashion.
Families will enjoy the sheltered beach and comfortable atmosphere of Jimbaran. If you want action, then visit Kuta, the epicenter of Bali nightlife. Nearby Legian is a bit more restrained and a good mid-range choice. Head north to well-heeled Seminyak if you want luxury resorts and are happy to pay for them. Or, if you're an independent traveler, then go further north along the coast to happening Canggu.
Where is the Best Area To Stay In Bali For First-Timers?
Legian is a great place for first-time visitors to Bali. It is a busy beach resort set beside a long sandy beach on Bali's sunset coast. It has all good accommodation at all price ranges, and there is plenty in the way of restaurants, bars, and nightlife, although it is less crazy than nearby Kuta.
Since Legian is a well-established tourist spot, many companies will be happy to arrange any activities you want to try. So, it is easy to arrange to dive, surf, or take a trip up into the mountains of central Bali to explore the iconic paddy fields and mysterious old temples.
Where is the Best Area To Stay In Bali For Parties?
Kuta is where it's at in Bali if you want to drink, dance, and club it until the small hours. Kuta has an international reputation as a hedonist's playground. Sophisticated it isn't and it certainly isn't a good choice for solo female travelers but there are scores of beach bars and nightclubs to choose from, and it is an ideal place to stay if you're traveling with a group of friends on a party holiday.
If that all sounds a bit much for you, there is a lively and slightly less feral night-scene in nearby Legian. There are plenty of bars and a few clubs here, where you can have some great nights out in a slightly calmer environment.
Where is the Best Area To Stay In Bali With Friends?
If you and your friends are young and keen to let your hair down, you should stay in Kuta, Bali's party capital. There are good-value hotels and hostels here all set up to cater to groups of young partygoers.
But if your group is more interested in exploring Bali and seeing the sights, then a stay in Ubud is a must. This busy town is crammed with cool guesthouses, hostels, cafes, bars, and restaurants. Ubud is the perfect base to explore Bali's fascinating interior. And if your group wants to spend some time at the beach as well, then maybe visit the Eastern tourist haven of Amed, home to the best of Bali's diving and snorkeling.
Where is the Best Area To Stay In Bali Near Airport?
Thankfully Ngurah Rai International Airport (also known as Denpasar International Airport) is located conveniently close to several of Bali's most popular tourist destinations. The airport is 13km south of Denpasar, the island's capital.
If you are looking for a place to stay convenient for the flight back out of Bali, then the resorts of Jimbaran, Kuta, Legian, and Seminyak on the West Coast are all a short drive from the airport. Similarly, Sanur on the East Coast is a short transfer away from your flight, so it's also a good choice.
Where To Stay In Bali Ubud Or Seminyak?
The simple answer to this question is, why not stay in both Ubud and Seminyak? Ubud is a lovely mountain town that is the gateway to the fascinating interior of Bali. What it lacks in sandy beaches, it amply bestows in sophistication, culture, and beautiful mountain scenery. If you don't want to stay at a beach resort, then Ubud might be enough for you.
But it is a great idea to combine Ubud with a stay at the classy beach resort of Seminyak. Here you can enjoy surfing, stay at beach resorts with great facilities, and unwind to the tropical sunset. If you are only interested in chilling on the sand, Seminyak might be enough for you since it has many restaurants and bars, some great nightlife, and lots to do.
Where To Stay In Bali In December?
In Bali, the tropical monsoon season typically occurs during the period from November to March. This means that if you plan to visit Bali in December, you can expect to experience some rain. It is a mistake, however, to assume that the monsoon months in Bali see constant rainfall. Sudden heavy showers are a more common occurrence, and if you visit Bali in December, then you can expect some nice sunny weather in between the rain showers.
The Southern Bukrit Peninsula of Bali is the driest part of the island, so if you want to avoid the worst of the monsoon rains, it is a great idea to stay here.
Where To Stay In Bali In January?
January falls during Bali's monsoon and is the month with the highest average rainfall. The heaviest rain on Bali occurs in the mountains, so if you are determined to avoid the downpours as much as possible, then avoid staying in the interior of the island at this time of year.
The Bukrit peninsula is the driest place in Bali. After this, the busy beach resorts around Denpasar have less rainfall than other parts of the island. You will probably experience some rain in January wherever you stay in Bali, but if you stay in the Southern region, you will avoid the monsoon as much as possible.
Where To Stay In Bali Kuta Or Seminyak
If you want to join the party crowd and you are happy with a resort highly developed for mass tourism, then you should stay in Kuta. Kuta is also the best option if you travel on a budget since it has a wealth of economical hostels and guesthouses. It's a good place for younger groups but not so great for solo travelers.
Seminyak is a much more prestigious and well-heeled destination. Here you will find some classy four and five-star resorts, and it is a great destination to choose if you want a quieter and more sophisticated holiday destination.
How To Stay In Bali Long Term?
The Indonesian government has made it quite possible for visitors to arrange to stay in Bali for an extended period. All visitors to Bali can obtain a 30-day visa-free stay on arrival. If you wish to stay for up to sixty days, buying a visa on arrival is a good idea. This visa gives visitors a 30-day stay that can be extended for another 30 days at a local immigration office (or by visa agents)

If you want to stay for longer, then your best option is to obtain a Social-Cultural Visa in nearby Singapore or Kuala Lumpur. This visa class allows visitors to stay for 60 days and then extend the visa for another 30 days on up to four occasions. You can also ask at your nearest Indonesian embassy or consulate to see if you can arrange this visa there.
Where Do Celebrities Stay In Bali?
If you are an avid star-spotter, then you have a decent chance of spotting a celebrity in Bali. The island is popular with the rich and famous, who often visit as tourists, staying at sleek and private luxury resorts or in stunning mountain top villas near resorts like Sanur or Seminyak.
Some of the rich and famous purchase these Balinese luxury villas and use them as holiday homes. But if you're a star, then you really don't want to be noticed during your holidays, do celebs keep a low profile when in Bali. So if you want to catch a glimpse of a celeb, then your best bet is probably in and around the sophisticated restaurants and boutique designer shops of Seminyak.
Where is the Best Area To Stay In Bali That Is Quiet?
Bali is a huge island that is full of out-of-the-way and quiet places to stay. All that you have to do is to get off the beaten tourist track, and you can enjoy the traditional Balinese rustic charm.
You could head East to the peaceful area around Amed, where there are lots of unspoiled beaches. Similarly, the Northern beaches of Lovina and Singaraja or Medewi Beach on the South Coast are all perfect places to get away from it all. In the mountains, all that you need to do is to visit some of the smaller towns outside of busy Ubud and before you know it, you are on your own.
Can I Stay In Bali For 3 Months & How To Stay In Bali For 3 Months?
Arranging a stay of up to six months in Bali is quite possible. You can do this by obtaining a Social-Cultural Visa from an Indonesian Embassy or Consulate before you travel.
Singapore, Bangkok, and Kuala Lumpur are local travel hubs where agents will be happy to organize this for you. Agents will make the whole process simpler for a reasonable fee. If you want to obtain this visa from your home country, then just find your nearest Indonesian Embassy and enquire with them.
The Social-Cultural Visa allows visitors to stay for 60 days and then extend the visa for another 30 days on up to four occasions.
Where Do Tourists Stay In Bali To Avoid?
So, you're a free spirit, and you want to boldly go to places in Bali where the tourist herd hasn't yet trampled. No problem! The good news is that Bali is a huge island and the bulk of the tourist development is concentrated in the southern part of the island at the beach resorts surrounding the capital, Denpasar.
You could travel east to the comparatively unspoiled diving haven of Amed or head to smaller village destinations in the mountains, like Kintamani. Singaraja and Lovina in North Bali have lovely unspoiled beaches and little in the way of package tourism.
One left-field choice to get away from the tourist crowds is to visit Denpasar itself. It's a busy capital and a fascinating Indonesian city that not many tourists actually visit.
Where Should Tourists Not Stay In Bali?
If you are accustomed to the comfort and convenience of package holiday tourism, then you should probably avoid the more remote locations in Bali. This busy area includes much of the coast of the island apart from the South. The Northern Shore and the East and West Coasts of Bali have a few beach resorts but they lack the convenience and facilities of the resorts around Denpasar.
If you want a comfortable visit to the island's interior, then look no further than Ubud. Avoid the smaller towns in the mountain region that are charming and out-of-the-way but lack the infrastructure and comfort tourists prefer.
What Is The Best Month To Go To Bali?
Bali has its best weather during the months from June to September. There is very little rainfall at this time of year, humidity is comparatively low, and skies are clear. There is still the occasional rain shower, particularly in the mountainous interior of Bali, but far less than during the monsoon months of November to March.
Bali experiences very little annual variation in temperature because it is so close to the equator. In the dry months from June to September average temperatures range between night-time "lows" of 23C to daily highs of a hot but not uncomfortable 32C. This is perfect weather!
What Is The Coldest Month In Bali?
Bali is never cold. A warm climate is one of the perks of enjoying a geographical location within the tropical zone. Bali has a negligible variation in temperatures, with annual variations in average temperatures of a meager 3 degrees.

The coldest months (or least hot months) in Bali are June, July, and August – all of which have average lows of 23C at night and highs of 31C in the daytime.
Is Bali Safe At Night?
Bali is a large and busy island, and you should take precautions to look after yourself. Ensure that you don't walk alone at night in quiet areas and if you're traveling alone, then always let people know where you are.
Also, keep your belongings safe and don't carry large amounts of cash. These obvious steps will protect you and your belongings.
Bali is an island with few good swimming beaches since it is typically quite wavy here. If you aren't a strong swimmer, always swim with great care and ask your accommodation to recommend safe spots.
And since you're in the tropics, always remember to pack sunscreen and to drink plenty of water, especially in the heat of the day.
Where is the Best Area to Stay in Bali for Couples?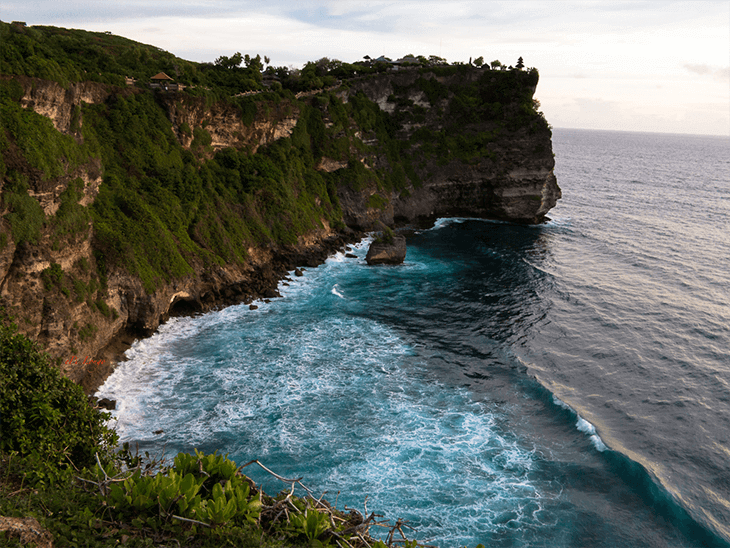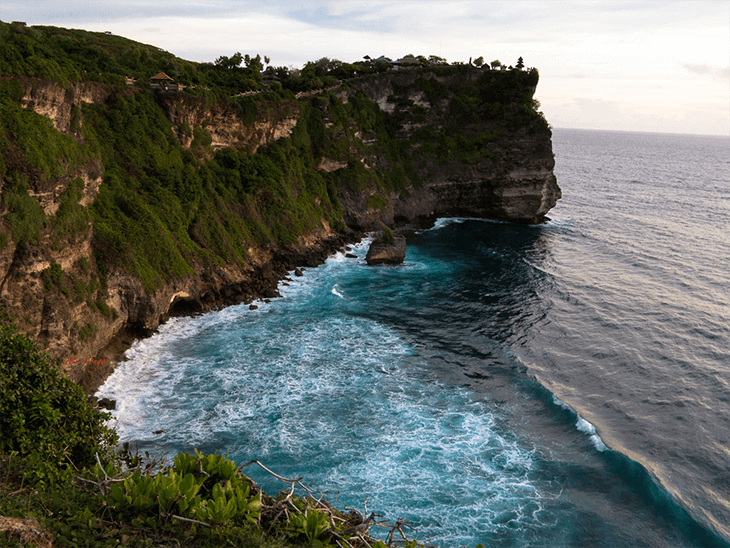 Bali is no doubt a romantic destination. Sanur is a great place to stay in Bali due to it's quiet nature. It is home to many honeymoon villas, such as the Sudamala Suites & Villas.
Uluwatu is a large and gorgeous peninsula in Bali. It is perfect for couples, boasting some of the best beaches in Bali. Curl up in the sand in Uluwatu and watch the sunset with your significant other.
Where is the Best Place to Stay in Bali on a Budget
Not everyone can afford the luxurious vacation that Bali is often recognized for. Sometimes it is even more enjoyable to visit a country on a small budget to get a feel for what the locals truly live like.
Renting a kost in Bali is probably your cheapest option! A kost is similar to an Air BNB in that you rent a single room or stay with a family. Air BNB is also a very cheap option, starting at about $12 a night. You can find a bed in a hostel for even less than this, but expect to share a room.
When figuring out where to stay in Bali on a budget, the more north you go, the cheaper the prices will get! So keep that in mind.
Where is the Best Area to Stay in Bali for Surfing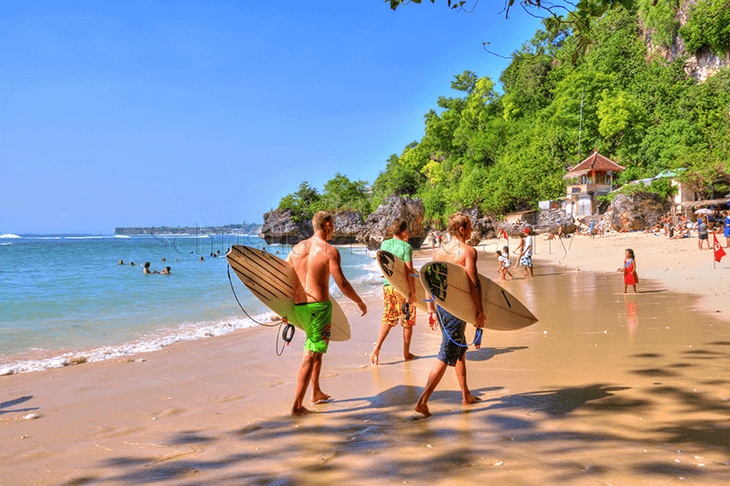 A great and easy way to go surfing while staying in Bali is to participate in a camp! Padang Padang Surf Camp is rated one of the highest. Located near Uluwatu, this camp offers lessons and activities for anyone with beginning to advanced skills.
Uluwatu is another great option when deciding where to stay for surfing. It's known for it's constantly good waves and gorgeous views! Uluwatu can get crowded, but because of the size of the surfing beach, you'll still be able to enjoy yourself.
Where is the best area to stay in Bali for a week
Spending one week in any new country or city can be a challenge. It can be hard finding ways to make the most of your time there. But an entire week means you have ample time to experience both the tourist attractions as well as local culture!
Ubud has so much to offer. You could happily stay here a full week and not run out of things to do! Here you have the option of renting a cheaper, yet still beautiful, villa or going more exclusive. The gorgeous Four Seasons at Sayan is located here and is worth the money. The best part about the Four Seasons at Sayan are the infinite amount of activities you can partake it to really explore and get to know Ubud!
You can spend your time in Ubud shopping the markets, visiting the Monkey Jungle, exploring the rice fields and so much more!
Where is the best place to stay in Bali as a backpacker
Southeast Asia is a backpacker's paradise. With cheap eats and accommodations as well as a constant flow of other solo travelers, it's a great way to explore on a budget! Bali is so exception.
Popies Lane is a famous backpacker's destination in Bali! Here you will find a small street lined with hostels and cheap guesthouses; perfect for the backpacker! Staying here ensures you will make new friends to explore Bali with and create new memories.
Renting motorbikes is very popular and cheap in Bali. As a backpacker, you will not be toting much luggage. Take advantage of this and bike along the country taking in the scenery! I suggest journeying around Seminyak and Kuta. Seminyak is also another great option when deciding where to stay in Bali as a backpacker. It is a nice mix of both tourists and locals, and with Kuta being a party area and a short distance away, it's a great area to post up for awhile!
Where is the best place to stay to live like a local in Bali
When traveling, many people prefer to cut out all tourist attractions and dive into the true culture of the place. In order to do that, one must do some research and prepare to befriend the residents! Getting to know the locals of a place is truly the best way to plunge into a new society!
The Nusa Islands are a great option if you want to stay in Bali but do not want to deal with large crowds of tourists. This group of three islands has yet to be infiltrated by the crowds yet. The islands are more isolated and only a short boat ride from Bali. Seeing as they are a bit harder to get to, you can understand why fewer tourists choose to stay here. Once there, you will have plenty to do and see!
If you are looking to splurge, stay at the Batu Karang Lemongan Resort and Day Spa. This gorgeous villa hotel is situated along the beach, has a pool and a spa, as well as three on-site restaurants. Two nights will cost you roughly $500-$600.
If you are staying on the islands and want something cheaper, you can find many small villas or huts for anywhere between $14 and $45 a night!
Regardless of why you are visiting Bali or what you are looking for, rest assured Bali will leave you with lasting memories. It is a gorgeous area full of adventures waiting to happen. Whether you prefer outdoor activities such as hiking and surfing, or meandering through markets and hunting for hidden restaurant treasures, Bali should be your next vacation destination!
So, that's my guide to the best places to stay in Bali. As you will know by now, this incredibly varied island has something to offer to visitors of all budgets and needs. Why not pick a location, choose your dates, and start making plans for your visit?
---
---