In this post, I will help you to find where to stay in Bali first time, the best areas to stay in Bali for first-timers (with a video and map), the best hotels in Bali for all budgets (including the hotel where I stayed) and safest places to stay in Bali.
Bali is a beautiful Indonesian island that offers a wide range of experiences for first-time visitors. Whether you're looking for stunning beaches, vibrant nightlife, cultural attractions, or tranquil retreats, Bali has it all.
Bali is generally a safe destination for travelers. It has been a popular tourist destination for many years, and the Balinese people are known for their warm hospitality and friendliness towards visitors. But, always use common sense and be aware of pickpocketing and scams.
🎬 You can watch this very short video (1 minute) about the best areas to stay in Bali, and continue reading. I will put the link to full video is at the end of this post:
Where to stay in Bali for the first time?
The best areas to stay in Bali for first-timers are Kuta, Ubud, Seminyak, Legian, Canggu, Jimbaran, Amed, Nusa Dua, Nusa Lembongan, and Sanur. These are popular and safe areas that provide a wide variety of tourist attractions and amenities for all budget travelers.
In general, Ubud is the best area for travelers who are interested in arts, yoga, and exploring Balinese culture. Seminyak is the best location for visitors seeking a beach holiday with a lively nightlife scene and luxury accommodations.
Kuta is the best place for budget-friendly beach holiday, with great surfing beaches and vibrant nightlife. Canggu is the best base for surfers and digital nomads. Nusa Dua is best for a relaxing beach vacation with access to water sports and high-end amenities.
Jimbaran is famous for its seafood restaurants and beautiful sunsets. Uluwatu is known for its stunning cliffside views and world-class surf breaks. Sanur offers a quieter and more family-friendly option. Amed is a tranquil destination away from the crowds.
To experience the many different sides of Bali, you can combine a shorter three or four-day stay in a mountain town like Ubud with a longer chill-out stay at the Kuta beach.
Where did I stay in Bali?
When I first visited Bali, I spent a week on the island. I base myself in Ubud and Kuta. I had a wonderful 4 days in Ubud at the beautiful Puri Saraswati Dijiwa Ubud. The hotel has a convenient location within walking distance of downtown Ubud, the palace, art market, and Puri Lukisan Art Museum.
In Kuta, I stayed for 3 nights at the Amnaya Resort Kuta. It was a good value for money hotel, located a short distance from Waterbom Bali, Discovery Shopping Mall, and Kuta Center. My room was clean and comfortable. Breakfast was lovely.
Overviews of best places to stay in Bali for tourists
Here is an overview of recommended areas in Bali for first-time visitors:
| Best areas in Balli for first-time tourists | Why should you stay in this area? |
| --- | --- |
| Kuta | Located near the Ngurah Rai International Airport, Kuta is a popular choice for its vibrant nightlife, surf-friendly beaches, a wide range of accommodations from budget hostels to luxury resorts.. |
| Seminyak | Best area to stay in Bali for couples because it is a trendy area that is known for its upscale resorts, boutique shops, top-notch restaurants, vibrant beach clubs, and romantic sunset views. |
| Ubud | the cultural heart of Bali, and is known for its yoga retreats, traditional markets, art galleries, spiritual attractions, temples, and traditional dance performances. |
| Nusa Dua | on the southern coast of Bali, known for its pristine beaches and luxury resorts. It's an excellent choice for travelers seeking a relaxed and upscale environment, with a focus on water activities, golf courses, and spa retreats. |
| Canggu | a popular destination for surfers and digital nomads with a laid-back and bohemian atmosphere, beachfront cafes, trendy bars, yoga studios, and hipster boutiques. |
| Jimbaran | beautiful bay, lined with seafood restaurants, quieter area compared to Kuta and Seminyak, making it ideal for families and couples seeking a tranquil beach getaway. |
| Sanur | offers relaxed and family-friendly atmosphere, with a wide range of accommodations, from luxury resorts to budget hotels |
| Lovina | on Bali's north coast and is known for its black sand beaches, waterfalls, hot springs, and dolphin-watching tours. It offers a quieter and more authentic experience compared to the busier southern areas of Bali. |
| Amed | a peaceful fishing village on Bali's east coast. It's famous for its volcanic black sand beaches, excellent snorkeling, and diving spots. |
| Legian | Located between Kuta and Seminyak, Legian provides a good balance of both worlds. It has a slightly more relaxed vibe than Kuta but offers a similar range of restaurants, nightlife, and shopping. |
Map of areas in Bali:
Best areas to stay in Bali for first-time tourists are:
1. Kuta

Kuta is one of the best areas to stay in Bali for first-timers travelers who enjoy vibrant nightlife and great surfing because it is one of the primary resort towns in Bali that offers great nightlife, shopping, and dining. If you want parties, action, and rowdy nightlife, then Kuta is for you. If not, maybe pick another destination.
These days you can barely discern the old sleepy fishing village that surfers began to visit that gradually developed into modern Kuta's tourist sprawl.
It is a good choice for groups of younger backpackers and budget travelers, especially Australians on Spring Break. If you are traveling solo, as a couple, or with family and children, then Bali has better options to offer you.
Kuta is about 15 minutes from the Ngurah Rai International Airport (DPS), depending on traffic. You can pre-book a transfer with your hotel or get a taxi from the official airport at airport when you arrive.
Kuta has countless bars, restaurants, and nightclubs, especially on the Poppies Lanes. There are fast food restaurants, Western restaurants, and many eateries offer delicious local Thai food.
Beaches around Kuta have gentle waves with soft sand that make this a popular spot to learn surfing. The beaches will be full of rented chairs and loungers. You will see vendors everywhere, trying to sell you anything from handmade crafts to even a massage.
There are plenty of schools that will be happy to show you how to surf. The best beaches around are Kuta Beach, Tuban Beach, Jerman Beach, Legian Beach, and Kelan Beach.
In addition to nightlife and beaches, Kuta also offers great shopping experiences. There are many air-conditioned shopping malls, stalls, and markets, remember to practice your bargain skill:
Lippo Mall Kuta.
the Beachwalk shopping mall.
Discovery Shopping Mall.
Kuta Art Market.
Bali Mall Galleria.
Park 23 Mall Kuta.
Kuta Square, lined with shops and restaurants.
Families and kids can spend a fun day at the Waterbom Park Kuta, the island's premier waterpark. You can take a look at the Ground Zero Monument Bali, a memorial to pay tribute to people who died in the bomb explosions in 2002 in Kuta.
Kuta has many temples like Vihara Dharmayana Buddhist Temple, Geger Temple, Petitenget Temple. Popular places to eat and drink are the Hard Rock Cafe, Potato Head Beach Club, Ku De Ta beachclub, and Samasta Lifestyle Village.
Other places of interest are the Serangan Turtle Island, Jalan Legian Kuta, DMZ 3D Art Museum, Dewa Ruci Roundabout, Benoa Harbour, Kuta Beach Sea Turtle Conservation Centre, and Kuta Theatre for a Balinese traditional dance.
Kuta has a wide range of accommodations from guesthouses, backpacker hostels, to affordable beachfront resorts in Kuta. Many villas and resorts offers massages and spa treatments.
If you book a hotel on Kuta's main streets such as Jalan Pantai Kuta, Jalan Kartika Plaza, and Jalan Raya Legian, you will be located within easy walk from the beach, restaurants, and shops. If you stay further from the main area, you will need a taxi, rent a scooter, or get a private driver to get around.
Advantages: easy access to beautiful beaches; lively nightlife scene; great shopping opportunities; many budget-friendly accommodation options; beginner-friendly surfing; close to Ngurah Rai International Airport;
Disadvantages: can be quite crowded and noisy, especially during peak tourist seasons; party atmosphere; limited authentic Balinese experience; traffic congestion is common;
Best suited for: nightlife enthusiasts, budget travelers, and surfing enthusiasts.
Best places to stay in Bali in Kuta for first-timers:
luxury ($$$): The Anvaya Beach Resort Bali, great 5-star beachfront hotel located on Jalan Kartika Plaza, easy distance from Discovery Shopping Mall and Tuban Beach. It has Excellent Breakfast and Outdoor swimming pool.
mid-range ($$): Amnaya Resort Kuta, popular 4-star accommodation located in central Kuta, great base for first-timers, easy access to the beach, malls, and cafes.
budget ($): Poppies Bali, 3-star hotel located on Jalan Legian, Poppies Lane, offering free airport shuttle service, 2 swimming pools, free parking, and wonderfull breakfast. Easy access to Hard Rock Cafe and Kuta Art Market.
🔍MORE HOTELS IN KUTA
See more: 46 Best things to do in Bali, Indonesia
2. Legian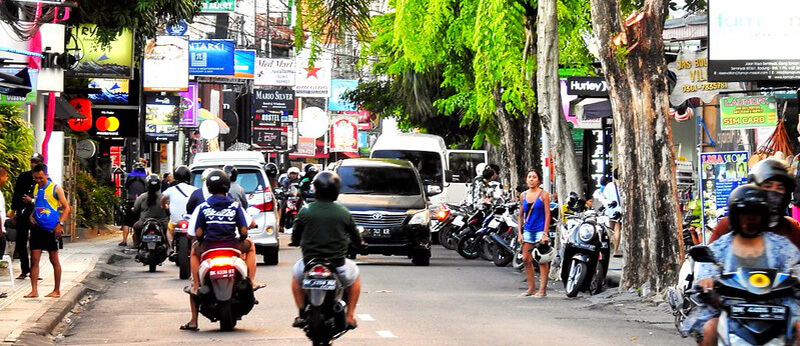 Legian is one of the most popular areas to stay in the South of Bali. It is conveniently located between busy Kuta beach and more laid back than exclusive Seminyak.
Legian's ambiance kind of splits the difference between these two resorts as well. It is less crazy than Kuta and a bit easier on the wallet than Seminyak.
Legian has a long, wide beach, and many of the hotels and resorts here are at the beachside. The beach is great place for walking, swimming, and surfing. There are deck chairs and sun loungers for rent.
Since Legian Beach is West-facing, you can watch the sunset from one of many chilled-out beach bars. For the more active visitor, there is good surfing here, particularly at the north end of the beach.
Jalan Raya Legian is the main road of Legian, lined with many restaurants, bars, nightclubs, hotels, and shops. It is running parrarel to Sunset Road and the beach, offering easy access to the beach and the rest of Bali. It is a shopping area during the day, and turn into a nightlife hub at night.
Legian has many shops to purchase fashions, accessories, and local handicrafts. Popular streets and martkets to do your shopping are the Garlic Lane shopping street, Legian Art Market, Jalan Legian, and Merta Nadi Art Market.
There are some great hostels and guesthouses in Legian that cater to budget travelers and backpackers. If you have a little more to spend, pick one of the mid-range hotels beside the beach.
Advantages: central location between Kuta and Seminyak; easy access to beautiful beaches; vibrant shopping, nightlife, and dining scene; more budget-friendly compared to Seminyak;
Disadvantages: can get crowded and noise; limited cultural experience compared to Ubud; limited luxury accommodations compared to neighboring Seminyak; can experience heavy traffic during peak hours.
Best suited for: Beach lovers, Shopaholics, Night owls, and Budget-conscious travelers.
Overall, Legian can be an excellent choice for first-timers who want a central location, easy beach access, budget-friendly area, and a vibrant atmosphere. However, it's essential to consider the potential downsides, such as the crowds and noise, before making a decision.
Best places to stay in Bali in Legian for first-time visitors:
🔍MORE HOTELS IN LEGIAN
3. Seminyak

Located just north of Kuta, Seminyak is more upmarket with better beaches, better restaurants, and a couple of gears less full-on than Kuta. It is a village-y resort that has developed quickly but, thankfully, with good taste. The majority of the resorts aim at mid to upmarket beach resorts, and there are some beautiful beach spots.
The laid-back feel of the place is well suited to couples and solo travelers who want a bit of peace beside a pretty beach. Some shops in Seminyak sell classy designer goods, and if you have the budget, you can dine at independent fine-dining restaurants and Bali's best restaurants in Eat Street and Jalan Raya.
You'll find an array of shops lining Jalan Kayu Aya, Jalan Raya Seminyak, and Jalan Petitenget, with a wide range of designer boutiques, branded shops, surf shops, swimwear, and jewelry stores. This is a great place to practice your bargain skills at the local stalls to negotiate the prices.
You can also shop in the shopping mall like:
the Seminyak Village.
The Seminyak Square Shopping Mall.
Art lovers can visit some of the interesting art galleries include the Bali Trick Art Gallery, located on the ground floor of Bajra Sandhi Museum; Nyaman Gallery, located in the heart of Seminyak; and the Theatre Art Gallery, has a collection of wayang (Indonesian puppets).
Seminyak has the highest concentration of beach clubs on the island, including the trendy Potato Head Beach Club, Ku De Ta Beach Club, Canggu Club, Cocoon, La Lucciola, Sarong, Métis, and Sardine. If you're looking for gay-friendly bars, check out Jalan Dhyana Pura or Camplung Tanduk streets.
The best way to get around Seminyak is walking, if you feel confident driving, rent a scooter, if not BlueBird taxi is a good taxi option for a fair price.
While in Seminyak, you can visit two nice Balinese temples nearby. Pura Petitenget, a sea temple, is one of six important sea temples in Bali, and Pura Masceti, an agricultural temple where farmers pray for safety of plants from diseases and pests.
The beaches nearby are beautiful with sandy beaches, and great for surfing, including Petitenget Beach, Batu Belig Beach, Seminyak Beach, Berawa Beach, Mano Beach House, and Double Six Beach. The beaches are great places for swimming, diving, and horse riding.
Seminyak is one of the best places to stay in Bali for couples because it is home to fanstatic beach clubs, trendy restaurants, chic nightlife, lively shopping streets, private villas, spas, and the romatic sunset. This all make Seminyak a romantic getaway!
Advantages: lively nightlife scene; upscale dining and shopping; stunning beaches; a plethora of luxury resorts, villas, and hotels;
Disadvantages: accommodations, dining, and shopping can be more expensive; traffic congestion; limited traditional Balinese culture;
Best suited for: couples looking for romantic holiday; nightlife enthusiasts; food and shopping lovers; beach lovers seeking a more upscale experience;
Overall, Seminyak offers a blend of beach, shopping, dining, and nightlife experiences, making it an attractive choice for first-timers. However, if you prefer a quieter, more secluded or culturally immersive experience, you may want to consider other areas in Bali.
Best places to stay in Bali in Seminyak for first-time visitors:
🔍MORE HOTELS IN SEMINYAK
If you family or couple traveling to Bali, you can read this article:
4. Canggu

Canggu is one of the hippest and most up-and-coming places to stay in Bali, located 10km north of Seminyak, on Bali's southwest coast. It is better to stay in Canggu than in Seminyak if you want laid-back vibe and you come Bali to surf.
Canggu came late to the tourist party, though, and it is a world away in the atmosphere from the thronged resorts of Kuta and Legian. It's more laidback with the rice fields, beaches, and many restaurants.
Here you will find yourself surrounded by hardcore surfers, long-term stayers, and digital nomads. You can shop for unique craft items in boutique shops and art galleries.
There are some great whole-food restaurants in Canggu and several places to practice or learn Yoga.
To get around Canggu, the best way is to walk, otherwise, you can hire a scooter, or hire a private car with a driver. Alternatively, use Go-Jek App for 'Go-Ride', or Grab Taxi. Uber is limited in many parts of Bali including Canggu.
You must see this popular tourist attractions, include:
the Tanah Lot Temple, one of Bali's most iconic landmarks. It is an ancient Hindu shrine and is a popular spot for sunset photography.
Batu Bolong Beach and Canggu Beach, home to many cool cafes, trendy restaurants, and beach bars.
Echo Beach, a more relaxed beach where you find the beautiful Batu Mejan Temple.
the Pantai Berawa Beach and Pererenan Beach 3km north of Canggu has a more local vibe.
For dining and shopping, check out Jl. Pantai Batu Bolong, ending at the popular Old Man's Bar and sunset area across Batu Bolong Beach. This area is filled with Australian-style eateries, old-style warungs, bars, cafés, and shopping stores.
Another shopping spot is Jl. Pantai Berawa. It's divided into 2 areas Jl. Canggu Permai II with local market and Jl. Pantai Berawa with additional cafes and restaurants.
Canggu is also filled with street art like Georgetown in Penang and Hosier Lane in Melbourne. Look out for Quint's art pieces along Batu Bolong Beach, Jalan Batu Belig, Pantai Batu Bolong, and Jalan Pantai Berawa.
There are plenty of local markets for shopping experience. The Love Anchor Canggu Market is a mixture of indoor shops and outdoor stalls, while the Samadi Bali Market where you can grab fresh local products; Old Men's Market, La Laguna Gypsy Market which is held each month for organic and eco-friendly products.
There are lots of hostels and traveler-friendly facilities, and the inclusive ambiance of Canggu means that it is a great choice of destination for solo travelers. You can also find a lot of accommodation options in Jalan Batu Mejan on the main street, Jalan Padan Linjong leading to Echo Beach.
Advantages: stunning beaches for surfing and beautiful sunsets; hip cafes and restaurants; vibrant and laid-back atmosphere; strong expat community; numerous yoga and wellness cetners;
Disadvantages: Traffic congestion; may lack the traditional Balinese cultural experiences; might be a bit far from popular tourist attractions like Ubud; nightlife limitations compared Seminyak or Kuta.
Best suited for: Surfers, digital nomads, food and coffee lovers, a young or solo, single traveler.
Overall, Canggu is an excellent choice for first-timers who seek a laid-back beach atmosphere, enjoy surfing, and want to experience a trendy and vibrant side of Bali. However, if you prioritize proximity to cultural attractions or seek a bustling nightlife, other areas in Bali might be more suitable.
Best places to stay in Bali in Canggu for first-timers:
🔍MORE HOTELS IN CANGGU
5. Jimbaran

Jimbaran is a quieter resort with a sheltered beach that's a little less wavy and safer for swimmers than many of Bali's beaches. It is located to the South of busy Ubud, so it is conveniently close to the busier beaches but a world away from the chaos of Kuta.
The beach is a wonderful sunset spot, and, if you can afford it, a sunset cocktail at one of the sophisticated five-star resort bars is a great way to end the day.
Jimbaran has developed as an upscale resort village, and you will find some high-class hillside villas to rent and some very smart beachfront resorts.
The resort is popular with couples, families, and many travelers looking for a sophisticated and relaxed base for their Balinese experience.
You have golden sand beaches Jimbaran Beach, Kelan Beach for swimming, surfing lessons, sunbathing and long walks.
Pondok Pemuda Beach, Kedonganan Beach, Dreamland Beach, Tegal Wangi Beach, Balangan Beach can also easily find in this area.
One of the must-see attractions in Bali is the Uluwatu Temple (Pura Luhur Uluwatu in Indonesian). It's a Balinese Hindu sea temple set at the edge of a cliff overlooking the Bukit peninsula and the Indian Ocean. It is great to visit at sunset.
Balinese Kecak and fire dance is held daily at an amphitheater nearby. There is also a monkey forest, you should take care of your belongings!
Jimbaran is well known for romantic beachfront seafood restaurants, don't miss out on Maya Beach, the main strip, with many seafood cafe restaurants with beautiful sunset views.
To soak in the local vibe, you must visit the Kedonganan Fish Market, the largest fresh seafood market in Bali. Art lovers will want to see the Jenggala Gallery, near the Jenggala Keramik, where you can view ceramic artwork of local and international artists.
Located only 15 minutes away from the Ngurah Rai International airport, Jimbaran has plenty of acommodation options for all budget travelers.
Advantages: stunning beaches, serene atmosphere, delicious seafood, home to several high-end resorts and villa, proximity to the airport;
Disadvantages: limited nightlife shopping, and dining options compared Kuta or Seminyak; Relatively far from other tourist spots may require longer travel times to explore attractions;
Best suited for: Couples and honeymooners, families, those seeking relaxation, and travelers with early or late flights.
Overall, if you prioritize a peaceful beach getaway, proximity to the airport, and seafood dining experiences, Jimbaran can be an excellent choice. However, if you're seeking lively nightlife or a broader range of shopping and entertainment options, you may consider other areas in Bali.
Best places to stay in Jimbaran Bali for first-time tourists:
🔍MORE HOTELS IN JIMBARAN
6. Ubud

Ubud is the best area to stay in Bali for first-timers to experience Balinese culture and local spirituality. Ubud is Bali's art and culture capital, known for yoga, healthy foods, boutique shops, rice terraces, waterfalls, forests, spas, tattoos, and art galleries.
Most of the Bali locations of the famous movie Eat, Pray Love were filmed in and around Ubud.
Busy Ubud is the starting point for most visitors' exploration of Bali's phenomenal central mountain region. It's a destination for all types of holidays from romantic, weddings, honeymoons to friends, family, couples, luxury holidays.
Ubud manages to pull off the tricky feat of being highly developed for tourism while retaining the local atmosphere and charm. So while it is developed, and you'll find all the facilities you'll need, you won't feel that it is overdeveloped.
Ubud is extremely popular among artists, you will find many interesting museums and art galleries here, such as the Agung Rai Museum of Art (ARMA), which displays countless paintings by Balinese painters. Also, they provide many workshops for wood carving and Balinese painting.
Ubud is close to the famous Sacred Monkey Forest Sanctuary, a natural forest reserve popular with both tourists and locals. Be sure to check the carved Dragon Bridge under a huge Banyon Tree and leads to The Holy Bathing Temple.
There are also plenty of museums, palaces, temples, art and craft markets, and a trip through the countryside to explore the famous tiered rice terraces and rustic villages is a must.
Tegallalang Rice Terrace is a popular spot for tourists to stop and take photos. Along with the ones in Campuhan and Pejeng villages, Tegallalang Rice Fields are the most charming terraced landscapes in the Ubud region.
Within walking distance or a short motorbike ride, you can visit:
Goa Gajah (Elephant Cave), a Hindu archaeological site, in Bedulu village
Puri Saren Agung (Ubud Royal Palace), the palace of the Ubud royal family.
Campuhan Ridge Walk, a scenic walking trail, along rice fields and palm trees.
Ubud Art Market, great place to buy handmade crafts and accessories.
Sukawati Art Market, to buy Balinese art items like sculpted wooden figures and paintings.
Tegenungan and Kanto Lampo waterfalls.
Tirta Empul temple, one of Indonesia's busiest water temples.
Kecak Fire & Trance Dance Performance.
If you stay in central Ubud, the best way to get around Ubud is by walking. Other ways to get around are renting a motorbike/scooter or hiring a car with a private driver is also a good option.
The area around Ubud is perfect for outdoor activities like hiking and mountain biking, and whitewater rafting along the Ayung River.
Foodies will love Ubud, most of the restaurants have vegetarian, vegan, and organic options. Be sure to check out typical Balinese cuisines such as Bebek Goreng – Crispy Duck, Mixed Grilled Balinese Satay, Bebek Betutu, and Bubur Injin.
Ubud has some lovely boutique resorts and hostels that make great use of the stylish Balinese design. There are good options for all budgets, and adventure-minded travelers will love it here.
Advantages: Cultural hub, natural beauty, a hub for yoga and wellness retreats, central location, great place to shop for unique souvenirs, and diverse culinary scene.
Disadvantages: no beach access, limited nightlife compared to beachside areas like Kuta or Seminyak, can get crowded, especially during peak tourist seasons.
Best suited for: Nature lovers, culture enthusiasts, yoga and wellness seekers, art and food lovers.
Overall, Ubud is an excellent choice for those seeking a cultural, nature-filled, and tranquil experience in Bali. However, if beach access and a lively nightlife scene are priorities, other areas might be more suitable.
Best places to stay in Bali in Ubud for the first time:
🔍MORE HOTELS IN UBUD
7. Nusa Dua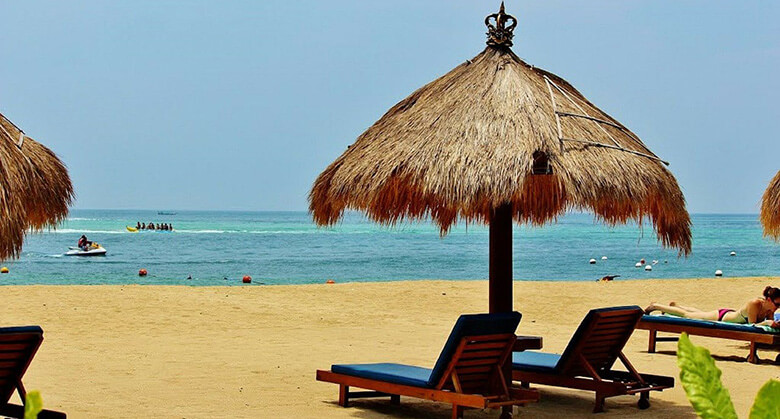 A Nusa Dua is a seaside resort located in Bali. Nusa Dua offers one of the most beautiful and luxurious holiday destinations in Indonesia, with its white sand beaches lined by palm trees.
Nusa Dua has something for everyone, with a variety of luxury resorts and private villas, to choose from as well as an array of restaurants that will suit any palate.
Nusa Dua's white sand beaches are a beautiful backdrop for swimming and sunbathing. Nusa Dua is also dotted with coral reefs that make excellent snorkeling spots in the sea. For a truly unforgettable experience, try diving to explore these underwater treasures!
These golden sandy beaches are popular for swimming, surfing, SUP boarding, flyboarding, and sea kayaking. The popular beaches in the Nusa Dua area are the:
Nusa Dua Beach (Jalan Pantai Mengiat), white sabd, crystal clear turquoise waters beach.
Samuh Beach, quiet beach with calm waters.
Club Med Bali Beach, a huge beach resort in Nusa Dua
Geger Beach (Pantai Geger), a hidden gem spot, ideal for for swimming with family and kids, great for a honeymoon.
Sawangan Beach, clean, quiet, and beautiful beach.
Pandawa Beach, a hidden paradise, located on the southern Bukit Peninsula.
In addition the the beach's activities, Nusa Dua also offer cultural attractions. You can watch popular Devdan Show at Bali Nusa Dua Theatre; visit Pura Geger Temple overlooking the namesake Geger Beach
Some of the must-visit places in Nusa Dua are the Pasifika Museum, Puja Mandala – Hill of Worship, Bebek Bengil Nusa Dua .
If you love shopping, you can check out the high end shopping complex called, Bali Collection Shopping Centre. It has many brands stores and a dining section with lots of restaurants.a
Nusa Dua is home to many international brand hotels and resorts such as The Westin Resort Nusa Dua, Awarta Nusa Dua Resort & Villas, Hilton Bali Resort.
Advantages: Beautiful beaches, high-end resorts and hotels, excellent facilities for water sports, wide range of dining options, quieter and more peaceful compared to other bustling areas;
Disadvantages: Limited options for budget accommodations, relatively isolated from other popular tourist areas, less vibrant nightlife compared to Seminyak or Kuta, and less authentic for those seeking a more local experience.
Best suited for: Couples or families seeking a luxurious and relaxing beach getaway; Travelers looking for a peaceful and serene environment away from the hustle and bustle.
Overall, Nusa Dua is ideal for first-time visitors who prioritize relaxation, luxury accommodations, and tranquil beach experiences. However, those seeking a more vibrant nightlife or who want to explore different parts of the island may find other areas in Bali more suitable.
Some of the best places to stay in Nusa Dua are:
🔍MORE HOTELS IN NUSA DUAL
8. Nusa Lembongan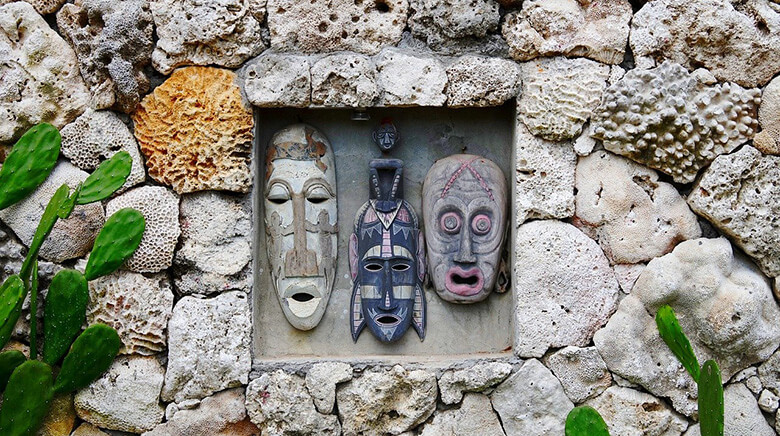 Located off coast Bali, Nusa Lembongan is a tiny island in Nusa Penida that can easily reach by boats and ferries from the Sanur ferry terminal.
Nusa Penida has a different vibe from the rest of the traditional Nusa Islands because it's more rugged and untouched with many rocky cliffs and caves to explore on foot or by snorkeling just off-shore.
The island is a perfect destination for backpackers, honeymooners, and families. The beaches are beautiful with crystal clear water and white sand. Popular beaches are:
Dream Beach, located on the southwest coast of Nusa Lembongan, surrounded by restaurants, cafes, and hotels.
Mushroom Bay, a nice place to swim.
Coconuts Beach, nestled between Jungut Batu and Tamraind Bay
Jungutbatu Beach, main bay in Nusa Lembongan. If you love surfing, you can find Playgrounds for beginners; Shipwrecks, or Lacerations for advanced surfers.
Tamarind Bay, best for swimming and snorkelling
With its crystal-clear waters and diverse reefs, Nusa Lembongan is a haven for snorkelers or divers. You can even spot Manta Rays and Mola-Mola. The Mangrove Point, The Wall, and Crystal Bay are great stops for snorkeling trips.
You can easily rent a motorbike, explore Lembongan and little island sister, Nusa Ceningan within 2 to 3 days. These two islands are connected by the famous Yellow Bridge, also known as the Bridge of Love which is stunning both day and night.
Another must-see in Lembongan is to visit the Nusa Lembongan's most famous natural wonders called Devil's Tear. it is at its best at sunset.
Nusa Lembongan has a wide range of accommodation choices from villas, resorts, hotels, and bungalows that suit all budgets.
Advantages: Beautiful beaches, tranquil and laid-back atmosphere, abundance of water activities, spectacular marine life, quaint villages with local charm and friendly people.
Disadvantages: Limited nightlife and entertainment options compared to Kuta or Seminyak; Limited public transportation options; renting a scooter or hiring a private driver may be necessary.
Best suited for: Nature lovers seeking a peaceful and scenic retreat; Beach enthusiasts and water sports enthusiasts; Couples and honeymooners seeking a romantic getaway; Families or individuals seeking a serene vacation away from the crowds.
Overall, if you prioritize a peaceful island setting, beautiful beaches, and a slower pace, Nusa Lembongan can be an excellent choice for your first time. But if you prefer a more lively nightlife, extensive amenities, and easy access to various parts of Bali, other areas like Seminyak or Ubud might be more suitable.
Best places to stay in Nusa Lembongan for first-timers:
🔍MORE HOTELS IN NUSA LEMBOGAN
9. Sanur

Sanur is a well-developed resort beach on the Eastern sunrise coast of Bali. It is conveniently located for onward travel, being close to Bali's airport, and it is also near to the capital Denpasar.
Sanur is popular with family groups and an older holiday crowd, who enjoy its abundance of resorts, restaurants, and tourist facilities and appreciate its relaxed atmosphere.
There is a long Sanur Beach here, and if you're a cyclist, you can take advantage of an excellent 5km cycle path that runs beside the beachfront, offering great views from the saddle.
You are also close to the white sand beaches of Semawang Beach, Mertasari Beach, Pengembak Beach, and Karang Beach.
The majority of the accommodation in Sanur is pitched in the middle range of cost and facilities, so you can expect good value resorts that offer pretty good facilities without breaking the bank.
Sanur also offers a good shopping experience with the central shopping zone at Jalan Tamblingan, Jalan Mertasari, and the Ngurah Rai bypass road.
Other things to do in Sanur include:
getting up early to catch the gorgeous Island Sunrise;
shopping and eating at Sanur's annual Sunday Market;
visiting the turtle conservation in Sanur (Serangan island);
visiting Le Majeur Museum;
eating at the Pasar Sindhu Night Market.
Advantages: calm and serene beaches, family-friendly atmosphere, a traditional Balinese village atmosphere, and various water sports activities.
Disadvantages: Limited nightlife and entertainment options compared to Kuta or Seminyak; less shopping and dining options compared to Seminyak or Kuta; distance from airport;
Best suited for: Relaxation seekers, families, older travelers who prefer a quieter setting.
Overall, Sanur is an excellent choice for first-timers in Bali who prioritize a peaceful and family-friendly atmosphere, local charm, and water sports activities. However, if you're looking for a vibrant nightlife or extensive shopping options, you may want to consider other areas of Bali.
Best places to stay in Bali in Sanur for first-time travelers:
🔍MORE HOTELS IN SANUR
10. Amed and Tulamben

The small traditional fishing village of Amed is over on the Eastern Coast of Bali and is the main destination for visitors to this side of Bali. It is a little more off the beaten path than the busier package holiday resorts of South Bali, and it is a perfect choice for the adventurous traveler or backpacker.
The main attraction of Amed, apart from the beautiful scenery and rustic charm, is diving and snorkeling. Amed is one of Bali's go-to destinations for divers since the best diving on the island is on nearby offshore reefs.
There are lots of dive companies that will be happy to take experienced and novice divers to experience the undersea delights of Indonesia.
Go Scuba Diving at a Shipwreck, the USS Liberty wreck at Tulamben – one of the most popular dive sites in Bali, choose a dive school in Amed such as Adventure Divers Bali. Snorkel at Lipah Beach, the Japanese wreck at Banyuning, and Jemeluk Bay/rocky beach with lots of corals and fish;
There are Lempuyang Temple, Tirta Gangga Water Palace, Selang Beach, Ibus Beach, Amed Beach, Jemeluk Beach, Lipah Beach for you to explore in Amed.
Other things to do in Amed include seeing the sunrise over sunset viewpoint – Mount Agung, Bukit Cinta/ Love Hill, sunset view at Jemeluk Viewpoint.
Amed offers accommodation to suit all budgets. You can find numerous homestays, guesthouses, and bungalows right in Amed village, and along the beach in the village of Jemeluk.
Overall, Amed is a great choice if you prefer a peaceful and secluded vacation, enjoy snorkeling or diving, and want to experience the authentic side of Bali. But of you're looking for a more bustling and tourist-friendly area with a wide range of amenities and attractions, you may consider other areas like Seminyak, Ubud, or Canggu.
Best Places to Stay in Bali in Amed for the first time:
🔍MORE HOTELS IN AMED
11. Lovina & Singaraja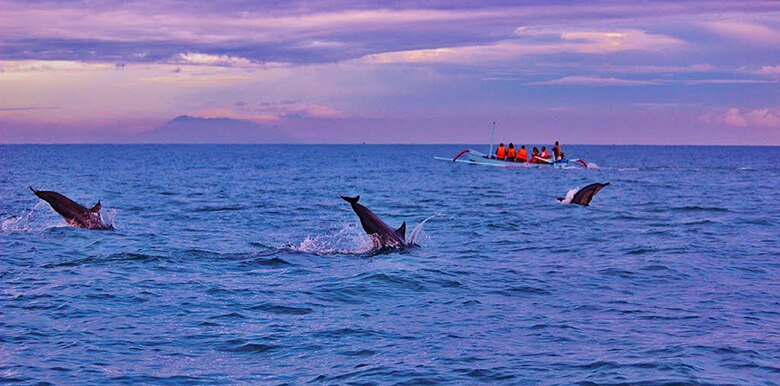 Located between the Bedugul mountain and the ocean, Loviná offers a lot of activities like diving, snorkelling, cycling, fishing, hiking, dolphin watching, waterfalls, hot spring.
The Lovina area encompasses the small villages of Pemaron, Tukad Mungga, Anturan, Banyualit, Kalibukbuk, Kaliasem and Temukus. Lovina is becoming more popular with tourists but still remains quieter than the south.
Dolphin watching tours at Lovina Beach is one of the most popular activities. Prices for the tours are around $50.
North Bali is well known for its waterfalls. You can find many waterfalls Gitgit Waterfall, Sekumpul Waterfall, Banyumala Waterfall, Aling Aling Waterfall, Ulun Danu Temple, and Twin Waterfalls at Aling Aling. Many of those waterfall allow swimming in the waters below.
Lovina area offers black sand beaches such as Lovina Beach, Ganesha Beach, Agung Beach, Happy Beach Tukad Mungga.
You can interact with local at daily local food markets in Lovina, Seririt, and Singaraja which is 15-minutes east of Lovina.
If you head west you will see the Bali's largest Buddhist monastery, Brahma Vihara Arama Buddhist temple in the hills of Banjar. It has many meditation rooms, libraries, and a mini replica of the world's largest archaeological site, Borobudur.
There is also the Banjar Hot Springs complex which was developed during WWII during the Japanese occupation of Indonesia. The hot water springs contains four pools, a restaurant, and the tropical gardens.
To the northwest of Lovina is Menjangan Island, which is surrounded by coral reefs, and popular with snorkelers and divers.
Lovina offers a great variety of hotel, homestay to suit every budget. Hotels offer rooms on a bed and continental style breakfast.
Best places to stay in Lovina Bali for first-timers:
Padmasari Resort Lovina This beachfront accommodation is located on Lovina Beach. it offers modern, Balinese-style décor rooms with air-conditioning, free wifi, a TV, and private bathrooms. The hotel can help arrange various trips, including dolphin tours. Close to Banjar Hot Springs and Gitgit Waterfall.
Hotel Shri Ganesh This guest house offers cozy and homey accommodation featuring an outdoor swimming pool, free WiFi. It takes only a 5-minute walk from the nearest beach and getting to Bali Denpasar International Airport will take around 3 hours by car.
🔍MORE HOTELS IN LOVINA
12. Denpasar – capital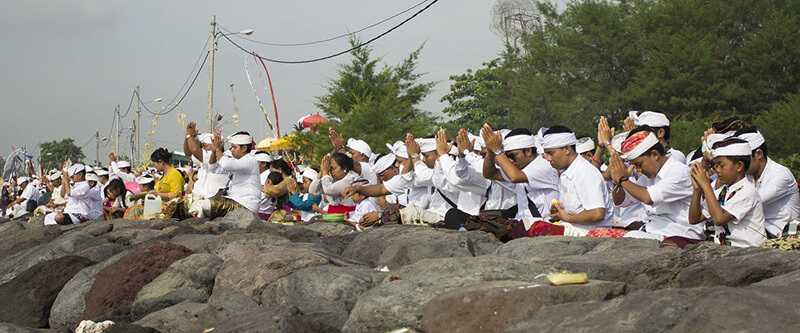 Denpasar is the capital city of Bali. It is a bustling place, and not many guides suggest it as a tourist destination, but it can be a very rewarding place to stay for independent-minded travelers.
In Denpasar, you can throw yourself into the whirl of Indonesian City life and sample all kinds of local foods, visit markets, and discover a lot about Balinese history.
There are scores of ancient Temples here, including the imposing Palace of Satria and Royal Temples. The Bali Museum and Neka Art Museum are other fascinating places to learn more about the culture and history of the island.
Other attractions and landmarks are the Bajra Sandhi Monument, Shark Island, Ngurah Rai Mangrove Forest, Pasar Badung Market, the Turtle Conservation and Education Center, and Jagatnatha Temple.
There are some good hostels catering to backpackers. If you are looking for more expensive accommodation, there are good mid-range and more expensive hotels that cater largely to business travelers.
Advantages: Central location, cultural experiences, more budget-friendly accommodation options compared to Seminyak or Ubud, and wide variety of local Balinese food.
Disadvantages: Limited beach access, an experience heavy traffic, Lack of tourist infrastructure, a limited nightlife scene compared to areas like Seminyak or Kuta.
Best suited for: Travelers on a budget looking for affordable accommodation options; local culture; Business travelers; Individuals who plan to explore other parts of Bali during their stay and value central location and convenience.
Overall, Denpasar can be a good base for first-timers for exploring the island's cultural aspects, but if you prioritize beaches, nightlife, or a more tourist-oriented experience, you may want to consider other areas like Seminyak, Ubud, or Nusa Dua.
Best places to stay in Denpasar Bali for the first time:
🔍MORE HOTELS IN DENPASAR
13. Gili Islands
The Gili Islands are three small islands (Gili Trawangan, Gili Meno and Gili Air) off the coast of Lombok. The Gili Islands offer a lot to do and see, from snorkeling and diving to surfing and hiking.
With 3.4 square kilometers, Gili Trawangan is the biggest and most popular island of Gili Islands with plenty to do for everyone. It attract lots of young people and backpackers for its vibran nightlife with many bars and nightclub.
Gili T has several beaches for swimming, snorkeling, including North East Beach, Sunset Beach, Malibu Beach, South or Good Heart Beach. For diving, head to Shark Point where you can spot reef sharks and stingrays.
The Gili T Sunset Swings offers great sunset views and photo opportunities. At night, you can visit the Gili T Night Market to grab a delicious local food from tasty barbeque to fresh seafood.
Gili T has wide range of accommodations from budget guesthouses to mid-range beachfront hotels, and luxury resorts. You can easily explore the island on foot and by bike as there is no no motor vehicles.
If you looking for stunning beaches and laid-back charm, stay at Gili Meno. It is the smallest and the most remote island of the Gili Islands. It has many untouched beaches perfect for relaxing! Gili Meno has a wide range of small hotels and beachside bungalows.
You will find scuba divers favorite spots at the Meno Wall, Sea Point Turtle, and Point Coral Blue. Besides, there is a seawater lake and a Bird Park that comes complete with homestay facilities.
Gili Meno Sunset Point is one of the most iconic places on Gili Trawangan and it's easy to see why. With a perfect view over Bali, this vantage point has been immortalized in many photos by tourists from all around the world.
If you looking for honeymoons, family trips, away from the party scenceof Gili Trawangan, head to Gili Air, the Hippy Island of the Gili Islands. This former fishing village has slower pace of life than the bustle Trawangan but there's plenty of things to do such as diving, snorkelling at the sculptures, and surfing.
Gili Air offers a wide range of accommodation to suit all taste and budget. You will find cheap local food, grilled fish. and international cuisine being at the many beachside restaurants.
Advantages: Beautiful beaches, Relaxed and laid-back atmosphere, No motorized vehicles are allowed, great water sports, and a Diverse range of accommodations.
Disadvantages: Limited amenities and infrastructure compared to mainland Bali; Can be crowded during peak tourist seasons; Limited nightlife options compared to Bali's popular areas.
best suited for: Nature enthusiasts and beach lovers; Divers and snorkelers; Couples or individuals looking for a romantic getaway or peaceful retreat;
Best places to stay in Gili islands:
🔍MORE HOTELS IN GILI ISLANDS
14. Kintamani

Kintamani is a small town in the Northeast of Bali. The main reason to visit this part of the island is to see Lake Batur, a stunning caldera, or volcanic crater lake.
A trip to this stunning location is very rewarding, and it's simple to arrange tours or guides to take you there. The best time to visit Lake Batur is early in the morning since it often clouds over later in the day.
The area is one of the few parts of the island where you can see traditional Bali village life that hasn't changed much over the years. Prepare for much cooler temperatures here than on Bali's coast since Kintamani is over 1,500 meters above sea level. Pack warm clothes.
Be sure to check out Trunyan Village, Pinggan Village, Abun Village; as well as popular temples like Ulun Danu Batur Temple, Penulisan Temple, Kehen Temple, Besakih Temple, Tampak Siring/Holy Spring Water Temple;
Hot springs like Toya Bungkah Hot Spring/Toya Devasya Hot Spring Waterpark for some relaxation with three swimming pools overlooking Lake Batur
There are just a few places to stay in Kintamani, mostly simple and economical guesthouses. You will find several restaurants as well, but no bars at all.
There are lots of activities to do nearby such as mountain cycling, kayaking, ATV trips, or helicopter rides; hike up to Mount Batur or Mount Abang to see breathtaking sunset.
Advantages: Scenic beauty, hiking and trekking, rich in Balinese culture and traditions, and natural hot springs.
Disadvantages: Limited entertainment options; remote Location in the central highlands of Bali, which may require longer travel times to reach other popular tourist destinations.
Best Suited for: Nature Lovers, peace seekers, and cultural enthusiasts.
Best places to stay in Kintamani for the first time:
🔍MORE HOTELS IN KINTAMANI
🎬 You can watch full video of the best areas to stay in Bali in my youtube channel.
Where should I stay in Bali for the first time?
Kuta, Ubud, Seminyak, Canggu, and Sanur are some of the best areas to stay in Bali for first-time travelers because they are the most popular and safe location on the island for tourists, offering a wide range of accommodation for all budgets.
Is it better to stay in Ubud or Seminyak?
It really depends on what kind of experience you're after. Ubud offers a more cultural and nature-focused atmosphere, while Seminyak is known for its beaches and nightlife. It's up to you to decide which suits you best!
Is Kuta or Seminyak better?
When it comes to choosing between Kuta and Seminyak, it really depends on your preferences. Kuta is more lively and touristy, while Seminyak offers a more upscale and relaxed atmosphere. Ultimately, it's up to you to decide which one suits you best.
Where do Aussies stay in Bali?
Looking for a place to stay in Bali as an Australian? There are plenty of options, from budget hostels to luxurious villas. Popular areas include Seminyak, Kuta, Canggu, and Ubud.
Is it better to stay in Seminyak or Canggu?
Choosing between Seminyak and Canggu depends on your preferences. Seminyak offers a vibrant atmosphere with luxurious accommodations, while Canggu has a more laid-back, surfer vibe with cheaper prices.
How many days in Bali is enough?
It ultimately depends on your preferences and itinerary. Typically, 7-10 days is enough to explore Bali's main attractions, but if you want to immerse yourself in the culture or relax, longer stays may be preferred.
See More
In conclusion, Kuta, Ubud, Seminyak, Legian, Canggu, Jimbaran, Amed, Nusa Dua, Nusa Lembongan, and Sanur are the best places to stay in Bali for tourists due to their popularity, safety, and wide range of accommodation options for all budget travelers.
Personally, I chose Ubud and Kuta as the the base for my first visit. These towns are easily reachable, and explored on foot and by public transportation.