Where to stay in Jakarta first time? for nightlife, shopping, families, budget, foodies, and sightseeing? In this guide, I will help you to decide the best areas to stay in Jakarta for tourists (include map and video), the advantages and disadvantages of each area, and best hotels in Jakarta for all budgets.
The capital and largest city in Indonesia, Jakarta, is located on the northwest coast of Java. With a population of 23 million people, the city is an economic and transport center. With its nickname The island with a Thousand and One Faces, Jakarta is a portal to incredible tourist attractions.
Jakarta is reasonably safe, but it is absolutely necessary to stay away from remote neighborhoods or places you do not know. Places to stay in this kind of area has many dangers. Avoid people who offer you unauthorized rooms for rent in their homes or elsewhere, even at modest prices. This poses many risks, and you may have problems with the police because it is illegal.
Where to stay in Jakarta first time?
The best areas to stay in Jarkata for tourists and first-timer are Menteng, Central Business District, Old Town (Kota Tua), Kemang, and Jalan Jaksa Street. These are popular neighborhoods for tourists that offer a wide variety of attractions and amenities.
If this is your first visit, I recommend spending 3-4 days in Jakarta to explore the city. 3-4 days is enough to see major sights, enjoy the food, and get the good sense of the city. If you have more days, you can enjoy the city in a slower pace.
Map of areas and neighborhoods in Jakarta:
Overviews of the best areas to stay in Jakarta for tourists
Here is an overview of recommended areas in Jakarta for first-time visitors:
| Best areas in Jakarta for tourists | Why should you stay in this area? |
| --- | --- |
| Menteng | an upscale residential area is known for its tree-lined streets, colonial architecture, and proximity to cultural attractions like the National Museum and Istiqlal Mosque. It is ideal for travelers who appreciate history, art, and a tranquil atmosphere. |
| Central Business District | Located in the heart of Jakarta, the CBD is a bustling area with modern skyscrapers, luxury hotels, shopping malls, and international dining options. It is best suited for business travelers or those looking for a vibrant urban experience with convenient access to commercial and entertainment facilities. |
| Old Town (Kota Tua) | As the historical heart of Jakarta, Kota Tua features well-preserved Dutch colonial buildings, museums, and a lively street market. It is perfect for history enthusiasts who wish to immerse themselves in the city's past and explore cultural landmarks like Fatahillah Square and the Jakarta History Museum. |
| Kemang | Known for its vibrant nightlife, Kemang is a trendy neighborhood with a diverse range of restaurants, cafes, bars, and boutique shops. It appeals to young travelers, expatriates, and those seeking a lively social scene with plenty of entertainment options. |
| Jalan Jaksa Street | Situated in the backpacker district, Jalan Jaksa Street offers budget accommodation, affordable eateries, and a relaxed atmosphere. It is a popular choice for backpackers, solo travelers, and those looking to meet fellow travelers and explore Jakarta on a shoestring budget. |
🎬 To get an overall idea of Jakarta, check out this video, or continue reading:
Best areas to stay in Jakarta for tourists are:
1. Menteng
Menteng is the best overall area to stay in Jakarta for first-timers because it is the central part of Jakarta and among the most popular places in the capital with many restaurants, shops, and hotels. Merdeka Square is the central hotspot of the area and a place for trade and shopping.
Accommodation options to stay varies from high-class hotels to budget hostels, and all kinds of travelers can find their place to stay in Menteng. The area has a well connected public transport, and you will have easy access to important locations.
Most landmarks, such as the National Museum of Indonesia, the National Monument, and the Pasar Baru shopping street, are located in Menteng.
Stay in Menteng if you are first-timers; you are looking for a place near tourist attractions, you prefer a communicative area near social spots, you want a wide choice of public transport, you don't mind the noise and the crowds.
Best Places to Stay in Jakarta in Menteng for first-timers:
🔍FIND BEST HOTELS IN MENTENG
2. Jalan Jaksa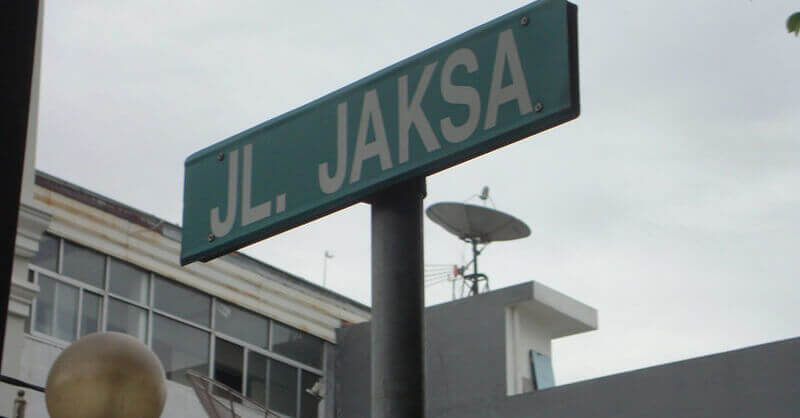 Jalan Jaksa is one of Jakarta's most renowned sites among budget travelers and backpackers. Hеre crowds of tourists are common because the area is popular among foreigners.
National Monument is located in Jalan Jaksa and connects the neighborhood with the central part. You can also visit and Alfamidi near the Gambir train station, which connects the area with the airport.
Jalan Jaksa is full of accommodation, mainly from the middle, and low-class hostels and rooms for rent. Some of the accommodation needs repairs, but you can also find good conditions for your stay.
Stay in Jalan Jaksa if If you are a backpacker; Looking for a budget place; You do not mind low accommodation conditions.
Best places to stay in Jakarta near Jalan Jaksa:
FIND BEST HOTELS IN JALAN JAKSA
Read Also: Where to Stay in Bali
3. Central Business District
One of the most popular places in Jakarta, attracting many business visitors from around the world. This area is home to some of the largest business centers in Asia.
This area never sleeps, and places for entertainment and places for shopping lurk everywhere. Here you can visit Plaza Semangi, a huge shopping complex that is a paradise for shopping maniacs.
Despite the most luxurious restaurants, CBD is a great scene for local and street food. Your choice of places to stay large ranges from luxury hotels with spa, gym, and pool to mid-range hotels at reasonable prices.
In CBD, you can also find apartments and studios if you want different types of accommodation. The public transport in the area will connect you with other important places.
Stay in The Central Business District if you want a place for nightlife, you prefer a place for shopping and social activities, you want a wide choice of public transport, you don't mind the noise from the big traffic, you do not mind the high prices of services.
Best Places to Stay in Jakarta CBD for first-time visitors:
🔍FIND BEST HOTELS IN JAKARTA CBD
Read Also: 10 Tips for Backpacking Indonesia
4. Glodok, Jakarta's Chinatown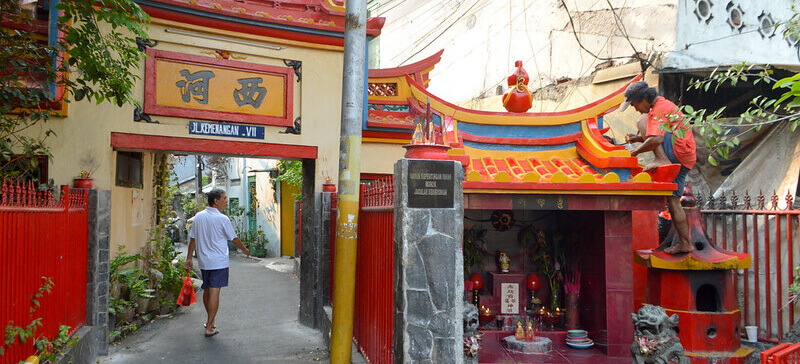 Glodok is Jakarta's Chinatown and is home to most of Indonesia's Chinese population. The area is rich in culture, attractions, and especially food.
You can walk on the narrow streets and see uniquely decorated oriental temples throughout the neighborhood. Chinatown is a perfect place to buy food products at super cheap prices.
The area offers some of the best restaurants in the capital with incredible cuisine. Accommodation in Glodok is at great prices, and the hotels are comfortable and clean, offering good quality.
Stay in Glodok if If you want to be close to a place with delicious food; Looking for a place at low prices and good service; You want a place with a rich culture; You don't mind the noisy places.
Best places to stay in Jakarta Glodok:
The Packer Lodge is a great hostel, ideal for those travelling on a budget, offering a choice of rooms and shared dormitories, all of which are air-conditioned. Facilities at the site include Wi-Fi, a restaurant, bar, shared lounge, prayer facilities and a gym. There is also a kitchen where guests can enjoy a welcome drink and snack, while laundry, lockers and massages are available for an extra fee.
Hotel Santika Premiere Hayam Wuruk Jakarta is a 4-star hotel in the heart of the city. The beautiful, stylish rooms offer guests clean, comfortable accommodation, with air-conditioning, Wi-Fi, mini bars and flat screen TVs in each unit. The hotel also features a fabulous restaurant serving Indonesian and international cuisines, as well as a dinner buffet in the lounge, providing you with plenty of options.
Novotel Jakarta Gajah Mada is a modern hotel, featuring elegant, air-conditioned rooms, just 10 minutes from the national monument. Two fabulous restaurants let you choose between Asian and international cuisine each night, as well as light snacks and cocktails. Other on-site facilities include an outdoor pool, gym, spa and children's play area, to keep your whole party entertained.
🔍FIND BEST HOTELS IN GLODOK
5. Tanah Abang
The area is located in the central part of Jakarta.
In Tanah Abang, you can visit the Textile Museum, MuseumTaman Prasati , and Stadium of Gelora Bung Karno.
Here are some of the best traditional restaurants in Indonesia where you can try amazing local cuisine. Tanah Abang is a famous and important business region but also a place with many hotels and places to stay. The hotels range from top-class to budget and are suitable for first-time visitors and sightseeing.
Stay in Tanah Abang if You prefer a place located in the central part; If you are on a street food tour; Looking for a place close to tourist attractions and shops; You want a place with a great choice of public transport; You don't mind car traffic and noise.
Best Places to Stay in jarkarta in Tanah Abang:
Ascott Jakarta offers a selection of luxurious, 5-star apartments, located within the city's Golden Triangle area. All units feature air-conditioning, Wi-Fi, big screen TV's, fully equipped kitchens and stunning views of the city. Aside from that, the property also boasts an outdoor pool, a spa, tennis courts, a kid's playground, free private parking and a restaurant serving breakfast, lunch and dinner.
Shangri-La Hotel Jakarta is a fabulous, luxury hotel and spa, with stylish rooms, surrounded by landscaped gardens, ideal for those looking for a relaxing getaway. A range of bars, restaurants and lounges offer guests a choice of gourmet, Asian cuisines, while the pool, gym, sauna, hot tub and tennis courts mean you'll never be bored. Free Wi-Fi and parking come as standard.
Hotel Indonesia Kempinski Jakarta is a superb, 5-star hotel, located at the heart of the city, beside the famous Bundaran HI. A range of 6 restaurants ensure you will always find something to match your taste, while a gym, spa and rooftop swimming pool will keep you entertained. Rooms feature luxurious interiors, views and facilities, while helicopter and BMW rentals are also offered.
🔍FIND BEST HOTELS IN TANAH ABANG
5. Jakarta Old Town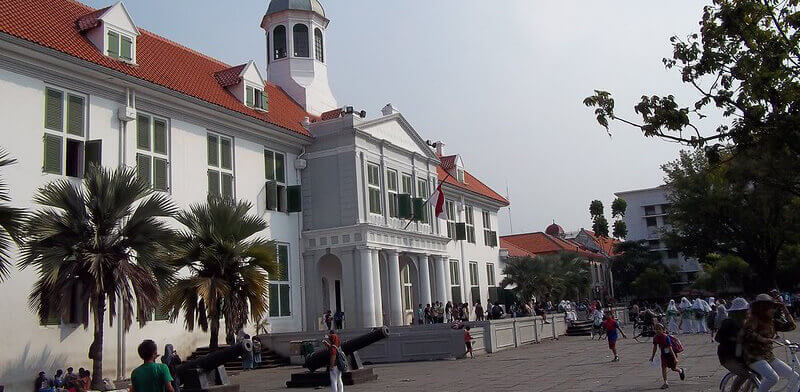 The old city of Jakarta, Kota Tua is the most visited neighborhood in the capital. It is located around Taman Fatahila Square in northern Jakarta.
This is the oldest part of the city, and here the modern are combined with the historical. This part of the city was created in the 16th century by Dutch colonialists.
In the Old City, you can see amazing sights from the colonial past of Jakarta. Keep in mind that this is the most famous and preferred place to stay, which makes hotel prices more expensive than other areas. But you can still find middle-class places to stay.
Stay in Jakarta Old Town if you prefer to stay close to historical sites, you want a place for photos and walks, you don't mind the high hotel prices, you don't mind the crowds of people.
Best places to stay in Jakarta Old Town for first-time tourists:
Mercure Jakarta Batavia is a historic, 4-star hotel, located within the "Kota" area. A strong Dutch influence is present in the architecture, as is the theme of the area, which is just a 20-minute drive from the airport. Facilities available at the site include 2 swimming pools, a bar, a restaurant, a gym and spa and wellness centre. Room service and facilities to assist disabled guests are also available.
Wonderloft Hostel is a pleasant, affordable option in Kota, featuring a range of rooms with En-suite bathrooms and shared dormitories. Guests can enjoy mingling in the shared kitchen and terrace, while games such as billiards are present to help you break the ice. There is Wi-Fi available throughout the property and a free tour bus is located nearby to take guests into the city centre.
🔍FIND BEST HOTELS IN JAKARTA OLD TOWN
6. Ancol
Ancol is the family paradise of Jakarta. The marina district offers great attractions for tourists with children. Ancol has a beautiful promenade known as Ancol Dreamland, but also a wide range of attractions for all ages like the aquaparks and art market.
Some of the most famous attractions and are Sea World, Ocean Dream Samudra, Dunia Fantasia, and Atlantis Water Adventure. The neighborhood has all kinds of public transport and accommodation is mainly family hotels and holiday villages.
Stay in Ancol if you are looking for a place suitable for children, you prefer a place with water attractions, you don't mind noisy places.
🔍FIND BEST HOTELS IN ANCOL
8. Mangga Dua
Mangga Dua is the most famous place for traders in Jakarta and in Southeast Asia in general. It is located near the airport and is well connected by public transport.Mangga Dua hosts all the big concerts of foreign stars. Here you can see many shopping malls, restaurants, and cafes.
The proximity to the airport makes the neighborhood preferred for backpackers and people traveling to other destinations but must wait a long time for a plane. Accommodation is affordable and budget-friendly, but most are modern hotels and large apartments.
Stay in Mangga Dua if you are looking for a place close to the airport; you are looking for a place for one night; you prefer a place with well-connected transport; you don't mind the noise of planes.
Best places to stay in jarkata in Mangga Dua for first-timers:
🔍FIND BEST HOTELS IN MANGGA DUA
9. Selamat Datang Monument Area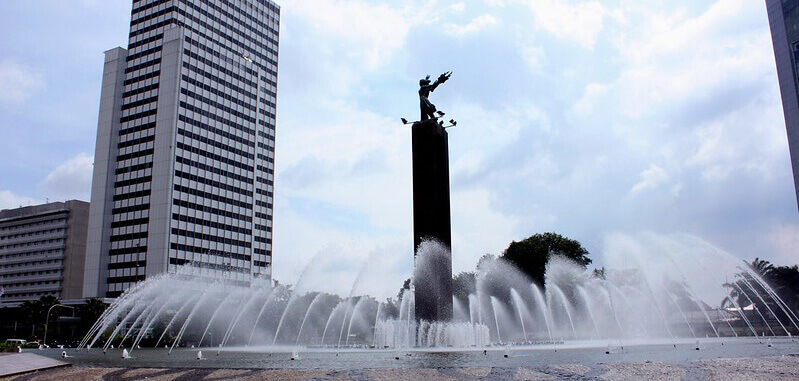 Welcome to Selamat Datang Monument Area! The area is named after the most famous landmark, the Selamat Datang Monument.
Selamat Datang Monument Area is home to some of the most famous and luxurious 5-star hotels. In this area, you can also visit the famous Sudirman Square and the poet Jalan Sudirman.
The transport connection with the rest of the city offers both buses and metro. Bundaran HI Metro Station connects the area with Jalan Jaksa. Places to stay and restaurants are mostly luxurious and high class. On the border with other neighborhoods, you can find nice hotels at good prices.
Stay in Selamat Datang Monument Area if you prefer a place close to historical landmarks and social spots, you are looking for a luxury place, you prefer a communicative place, you do not mind high prices.
The area offers a variety of accommodations to stay. You can find studios, apartments, or hostels and agree on good prices for long-term stays. Public transport can connect you to all the hotspots in Jakarta, and the sights and beautiful architecture are under your nose. Menteng has all the conditions that every tourist needs for a long stay in Jakarta.
10. Jakarta airport
Soekarno–Hatta International Airport also known as SHIA, Soetta Airport or Cengkareng Airport, is the main airport in Jakarta. It is named after the first President of Indonesia, Soekarno, and the first vice-president, Mohammad Hatta.
Soekarno Hatta Airport is 28km away from downtown area, between 40 minute to hour depend on traffic. Bus is cheapest way to travel from airport to city center, but it take two hours. The train is fastest way 50 minutes for $5 USD to the Main Train Station. There are also Uber, Grab and GoJek for you to choose from.
Best places to stay in Jakarta International Airport:
mid-range ($$): Anara Airport Hotel This 4-star hotel is located just a few steps from Jakarta Soekarno Hatta Airport. it has restaurant, a 24-hour front desk and room service, and free wifi. All guest rooms come with air-conditioning, a desk, an electric tea pot, a safety deposit box, a flat-screen TV and a private bathroom with a shower.
mid-range ($$): FM7 Resort Hotel – Jakarta Airport This 4-star hotel has indoor swimming pool, a fitness center and a free airport shuttle. The restaurant opens 24 hours and serves Asian and international cuisine. Guests can also visit Montezuma Rooftop Lounge to enjoy plane-spotting in the garden setting.
budget ($): Orchardz Hotel Bandara This 3-star hotel offers free WiFi and free airport transfer, Orchardz Hotel Bandara is an 8-minute drive from Soekarno-Hatta International Airport and about a 20-minute drive from the center of Tangerang.
🎬 Check out my virtual tour about the best places to stay in Jakarta:
Overall, Menteng is the best area to stay in Jakarta for first-timers because it is the most convenient location and it has a wide range of accommodation. If you stay here, you will be located within walking distance to tourist attractions, as well as many restaurants, bars, and shops.