The best areas to stay in Merida, Mexico are the neighborhoods of Zocalo, Mérida Centro, Santa Lucia, Santiago, Santa Anna, Paseo de Montejo. In this post, we will be looking at where to stay in Merida, the cultural capital of the Yucatan Peninsula, and best hotels in each neighborhood.
The Yucatan Peninsula is located in southeastern Mexico that separates the Gulf of Mexico and the Caribbean Sea. Yucatan is famous for its ancient Mayan culture with many Mayan archaeological sites like Chichen Itza and Uxmal. Yucatan is also home to Riviera Maya with Cancun, Playa del Carmmen, Cozumel, Tulum.
If you are looking for a somewhere more cultural experience to soak up some winter sun, Merida, with its year-round tropical climate, is a fantastic option. Bursting with gorgeous architecture, natural beauty, and modern shopping districts and eateries, Merida has everything you could want for an exotic city break.
In 2019 Merida ranked as the second safest city in North America, so this is an ideal destination for anyone who wants to visit Mexico but worries about the country's reputation for crime.
The White City is one of the most beautiful colonial cities in Mexico with tons of historical landmarks and cultural attractions to enjoy. Centro is the general suggestion for anyone who just wants to stay close to the city center but has no specific preferences or attractions they want to see. The district encompasses several popular neighborhoods at the heart of Merida and contains most of the city's top sights and museums.
If you are planning a shorter trip and want to fit as much in as possible, the area around Zocalo is the perfect place. It's the central point of Merida, both geographically and socially. The square frequently hosts local cultural events and performances and is surrounded by Merida's top attractions.
📌Where to Stay in Merida: 6 Best Areas to Stay in Mérida
1. Zocalo, where to stay in Merida for first time tourists
The Zocalo (also known as Plaza Grande or Historic Plaza Mayor) is a grand public plaza at the very heart of Merida's Centro Historico. If you are visiting Merida for the first time and want to stay somewhere surrounded by iconic attractions, within just a few moments of your hotel, then staying close to the Zocalo is ideal.
The leafy square is full of benches, where you can rest in the shade and escape the tropical heat. Overlooked by several grand, historical buildings and surrounded by a Dante bookstore, small cafes, and restaurants, the plaza is a popular meeting place for both locals and tourists.
Throughout the year, various events and performances such as the traditional dance of Yucatán and La Vaquería are hosted here, so staying nearby means you are likely to be treated to some delightful displays of the local arts and culture.
The historical buildings nearby the Plaza Grande are the Fernando García Ponce Museum, the San Ildefonso Cathedral, the Olimpo Cultural Center, the Government Palace, and Teatro Mérida.
On the west side of the square is the Merida Municipal Palace. The building is beautiful, with its vibrant pink façade of sweeping arches and the oldest clock tower in Merida.
The interior is decorated with various murals, depicting significant events in the city's history and development. Entry is free, so you should definitely take the time to have a look around.
Directly next to the Municipal Palace is the Olimpo Cultural Centre. Boasting a planetarium, a frequent roster of events, including film screenings and live performances, and various arts and cultural exhibits, it's well worth checking to see what's being displayed here during your visit.
Merida Cathedral looms over the east side of the plaza. The imposing 16th century stone structure was built with stone taken from ancient Mayan ruins, making this a fascinating blend of two of the region's major cultures.
Separated from the cathedral by the 'Passage of the Revolution', a glass-roofed tunnel often displaying various art installations, is the MACAY Museum of Contemporary Yucatan Art. Converted from a colonial-era palace, this is another beautiful building, filled with art exhibits in a range of mediums produced by Mexican artists.
Despite being right in the very center of the city and surrounded by major attractions, there are still plenty of affordable hotels and hostels in the immediate area. Merida is a city where you don't have to compromise your budget for quality accommodation in great locations and the Zocalo is no exception.
Stay in the Main Square if you want to stay as close to the center of the city as possible; you are visiting for a shorter trip; you love history and being surrounded by historical architecture appeals to you; you want to be surrounded by arts and cultural centers.
Best places to stay in Zocalo:
Best luxury hotel: Hotel Boutique La Mision De Fray Diego This 5-star hotel is only one block from the city's historic center and commercial zone. The hotel offers an on-site restaurant serving regional and Spanish cuisine, and an outdoor swimming pool. It has rooms with a LED satellite TV, an electronic safety deposit box, ironing facilities, air conditioning, and a work desk.
Best mid-range hotel: Hotel Caribe Merida Yucatan this 4-star hotel is located in the historic center of Merida, 3 minutes walk from the city's main square where you can enjoy an array of tourist attractions. It features rooms with a private bathroom, hairdryer, cable TV, and air conditioning.
Best budget hotel: Hotel Doralba Inn is set in a colonial mansion located in the historical district just within short walking distance. from the Plaza Mayor. In this central park, you will find the Cathedral, the Government Palace, the Olimpo Museum, and Casa de Montejo which belonged to the founder of the city.
2. Mérida Centro, where to stay in Merida for family
Mérida's Centro Histórico (El Centro by locals) encompasses many of the neighborhoods surrounding the heart of the city. It's where you will find the vast majority of tourist attractions and historical sites, museums, and art galleries.
This is the best general region to stay in, for anyone who just wants to stay near the city center but doesn't have any specific requirements.
Amongst the many museums in Centro is the Museo Casa Montejo. Set in a beautiful 16th-century mansion, with many of its original interior features preserved, the museum itself feels like taking a walk back through history.
There is a range of exhibits and frequent events showcasing the history and culture of the region, plus entry is free, so there's no reason to pass this by.
Alternatively, the Museum of the City of Merida is a more contemporary museum. You'll find a broad spectrum of fascinating exhibits on the culture and development of the city, with information displayed in both English and Spanish. You will be able to view relics dating from the modern day to as far back as the Mayan period.
To learn more about local Mayan culture and history, you can make a day trip to visit the Mayan World Museum, which is located on the northern outskirts of the city.
If you are traveling to Merida for the first time, staying in Centro will allow you to get a good feel for the atmosphere of the city and put you in the best position for visiting the various sights on your itinerary.
Likewise, this central location is ideal for anyone traveling with children, as you will only have to travel short distances between each attraction. There are also plenty of parks and public squares to rest and relax in.
For foodies or anyone with pickier appetites, Centro has the broadest range of dining options in Merida. Whether you are planning to sample as much of the local cuisine as possible, or prefer choosing from a variety of more familiar options, Centro has you covered. Again, this makes Centro ideal for families with children who may not have the most adventurous appetites.
If you love city breaks for their potential for shopping sprees, Merida's Centro district is definitely the area for you. The city center is packed with all kinds of independent and brand name stores, as well as multi-level shopping centers and department stores.
You can also find plenty of souvenir shops, craft stores, and artisan markets, so you'll have no trouble picking up gifts to take back home. Merida's main market, Lucas de Galvez Market Merida is a great place to visit to soak in the local life!
As far as accommodation, Centro has a broad range to choose from. From luxury hotels and boutique guesthouses to comfortable hostels, you will surely be able to find something to suit your preferences and budget.
Stay in Mérida Centro if it is your first time visiting Merida; You want a central location with plenty to do right on your doorstep; You want or need a wide variety of dining options; Shopping is an important aspect of your vacation; You are traveling with family and children.
Best places to stay in Mérida Centro:
Fiesta Americana Merida With a great location in Merida near the historical city center, this hotel offers Porfirian architecture combined with contemporary amenities and services just a short drive from the airport.
Ibis Merida provides accommodation with a restaurant, free private parking, a bar, and a shared lounge. Featuring a garden, the 3-star hotel has air-conditioned rooms with free WiFi, each with a private bathroom. The hotel features family rooms.
Hotel Doralba Inn is set in a colonial mansion located in the historical district just 300 m. from the Plaza Mayor. In this central park you will find the Cathedral, the Government Palace, the Olimpo Museum, and Casa de Montejo which belonged to the founder of the city.
Casona 61 by GuruHotel features air-conditioned rooms and free WiFi. Featuring an outdoor swimming pool, this property is situated a short distance from Main Square, Merida Bus Station, and Montejo Avenue.
3. Santa Lucia, best place to stay in Merida for nightlife
Santa Lucia is a small district directly north of the Zocalo. The neighborhood centers around the colorful Santa Lucia church, with its bold pink façade and the neighboring Parque Santa Lucia (Saint Lucia's Park).
Considering how close the area is to the city center, it retains a remarkably local, community vibe. If you are looking for a neighborhood that has a homey, residential atmosphere, whilst being just steps from the city's most iconic attractions, this is it.
Santa Lucia Park is the central hub of the area. The leafy public square is full of benches where locals rest in the shade of the towering palm trees and is surrounded by cafes with alfresco dining terraces spilling into the plaza.
Best of all is the weekly Yucatan Serenade. A community dance party with live music from local bands, it has been held every week since 1965 and is absolutely not to be missed. Every Saturday, it hosts a Noche Mexicana (Mexican Night) with song and dance performances.
For anyone who appreciates a particularly vibrant nightlife scene in their local area, Santa Lucia is the neighborhood for you. Popular with Merida's population of ex-pats, Santa Lucia not only boasts a particularly diverse variety of restaurants, offering cuisines from around the world but also the highest density of bars in the city.
You will have plenty of options to choose from, and if you manage to work your way through them all, there are smaller clusters in the neighboring districts.
This is also where you will find most of Merida's few nightclubs. If you plan to keep your nights out going into the early hours of the morning, Santa Lucia is where you want to go.
Hotels in this area mostly fall into the mid-range to affordable category. Not quite as cheap as you can find elsewhere in the city, but plenty of quality options at reasonable prices. If you are looking for luxury 5-star accommodation, then you're out of luck in this particular neighborhood.
Stay in Santa Lucia if You want a neighborhood with a community vibe whilst staying close to the city center; Staying close to the city's best nightlife is a priority; You aren't dead set on staying in a fancy hotel.
Best places to stay in Merida in Santa Lucia:
4. Santiago, the trendiest neighborhood in Merida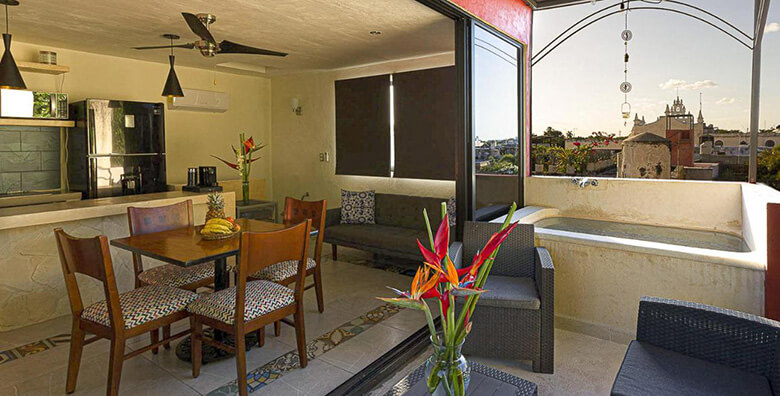 Sit directly west of the Zocalo, The Santiago Park and Church – Calle 72 y Calle 59 is of the oldest Colonias in Mérida.
Santiago church is a burial place of one of the first bishops of Yucatán, Fray Luis de Piña y Mazo. Santiago Park (Parque de Santiago) is a popular meeting point of local people, close to e central Plaza and Mercado Santiago market where you can buy fresh local products.
Currently one of Merida's up-and-coming neighborhoods, this former industrial area is still a great place to find low-cost accommodation, even as it grows increasingly hip.
You can find some great quality but very affordable hotels and hostels just a road or two away from the Zocalo plaza.
In recent years, many of the area's warehouses and packing plants have been converted into trendy bars, popular shopping areas, food markets, and niche museums.
The indie-hipster vibe is a fun contrast to the cultured historical atmosphere of much of the rest of central Merida. This is an ideal neighborhood for anyone who wants to stay somewhere a little more laid back.
At the westernmost edge of Santiago, you can find both Centenario Zoological Park and the Natural History Museum. Combined they make for a great family day out where you can learn about a wide variety of animals, both living and long extinct.
Stay in Santiago if you are looking for affordable accommodation; you want to stay in one of Merida's most up-and-coming, trendy neighborhoods; you prefer a more laid-back, indie atmosphere to the typical cultural and historical vibe of the city center.
Best places to stay in Merida in Santiago:
5. Santa Ana, where to stay in Merida on budget
Santa Ana is a small neighborhood just north of Santa Lucia. Like Santa Lucia, this community is centered around Santa Ana Park (Parque de Santa Ana). The attractive plaza features a fountain and monument to Andrés Quintana Roo, a 19th-century politician, and often hosts street vendors and food stalls.
The plaza is overlooked by the lovely 18th-century Santa Ana church. The cheerful yellow face and twin steepled towers provide charming scenery for anyone enjoying a break at one of the cafes surrounding the park.
The neighborhood is best known for its thriving arts scene, with a high number of independent art galleries in the area. With galleries and museums dedicated to a variety of mediums, Santa Ana is the ideal neighborhood for anyone who really wants to get familiar with the local arts and culture scene.
Santa Ana is located at one end of the Paseo de Montejo boulevard, connecting it to the city center. This is a budget-friendly location to stay in if exploring the paseo Montejo is high on your list of things to do, but you don't want to stay too far away from the heart of Merida.
Stay in Santa Ana if you love art and would enjoy spending your time browsing local galleries; you are interested in staying near the Paseo de Montejo but wish to avoid the higher rates for accommodation in that area.
Best places to stay in Merida in Santa Ana:
6. Paseo de Montejo, where in Merida for shopping and nightlife
Named for the founder of Merida, Paseo de Montejo (Montejo Walk) is the most important street running through the north of the city. It's named after the founder of Merida, Francisco de Montejo.
Once the preferred residential area for affluent Meridians, the leafy avenue is lined with grand historical mansions. Many of the mansions have been converted into museums, with guided tours offering visitors a glimpse back at how the wealthy of Merida once lived.
In between the beautiful houses, you will find a number of monuments and small museums, as well as chic boutiques and fashionable cafes. The area has retained much of its upmarket atmosphere and it's definitely worth taking a stroll around the tree-shaded boulevard to experience a different side of this diverse city.
Along the road, you will find Monumento a la Patria, the old Palacio Cantón (which is now Anthropology and History Museum), the 20th-century 'twin houses, or Casas Gemelas;
Paseo Montejo is lined with coffee shops, restaurants, shops, and bars. be sure to stop by Heladeria El Colón to grab an ice cream; Cafeteria Impala for a cup of coffee; and look for the famous Pox (local Mayan liquor).
Paseo Montejo is a great place to shop too, you can find almost everything here hip souvenirs with Mayan designs, ceramics, clothing, and home decoration.
The Paseo Montejo road itself is quite an upmarket area and the hotels reflect that. You can expect to pay higher rates for accommodation right on the avenue, with mostly luxury and boutique hotels on offer.
If you want to stay in this general area on a smaller budget, the greater neighborhood of Montejo, further from the iconic paseo, has some more affordable options.
Stay in Paseo Montejo if you are looking for the best area to stay in Merida for shopping, nightlife, and being well-connected to the city center.
Best places to stay in Merida in Paseo Montejo:
Check out my virtual tour about the best places to stay in Merida in this video:
See More:
Merida is a peaceful haven of culture and history, in a fantastic tropical location. Between the climate, the history, and the thriving modern culture, Merida boasts plenty of reasons to plan a visit.
I hope by now you appreciate exactly how rich and beautiful the city of Merida is. You should have a good idea of all the things you want to see and which neighborhood is best for you to look for accommodation. Now, all that's left to do is choose your hotel.