Where to stay in Guadalajara for tourists? for nightlife, sightseeing? In this post, we will be looking at the best areas to stay in Guadalajara (include map and video), the advantage and disadvantage of each area, safest area to stay in Guadalajara.
Settled in 1542, Mexico's second-largest metropolis, Guadalajara is the capital of the state of Jalisco. Guadalajara is the ideal base to explore Lake Chapala, Mexico's biggest freshwater lake and tequila-producing region with fields of blue agave plants, a Unesco World Heritage Site.
If you concern about your safety, stick into tourist area. Centro, Zapopan, Tlaquepaque, and the Financial District are some of the safest places to stay in Guadalajara. But as you travel to any city, you should use common sense and take some basic precautions at night.
Where to stay in Guadalajara Mexico?
The best areas to stay in Guadalajara for tourists are Guadalajara Centro, Zapopan, Tlaquepaque, Zona Expo, Financial District, and Chapalita. These are the most popular neighborhoods in the city that provide a wide variety of attractions and amenities.
Guadalajara Centro is the best area to stay in Guadalajara for first-timers because it has a super central location and it offers a wide range of tourist amenities. If you stay here, you will be surrouned by the most cultural and historical attractions, as well as restaurants, bars, and shops.
Guadalajara city center is very walkable, you can easily explore on foot or take a ride the Guadalajara metro. Many museums, Guadalajara Cathedral, art galleries, restaurants, and shops are within walking distance apart.
Overviews of best areas to stay in Guadalajara for tourists
Here is an overview of recommended areas in Guadalajara for first-time visitors: 
| Best areas in Guadalajara for tourists | Why should you stay in this area? |
| --- | --- |
| Guadalajara Centro | If you want to be in the heart of the city with easy access to historical sites, museums, and cultural attractions, staying in the Centro area is a great choice. You'll find a range of hotels, from budget to upscale, and be close to the city's main square, Plaza de Armas. |
| Zapopan | Zapopan is known for its more upscale and residential feel. It's a good option if you prefer a quieter atmosphere while still being close to Guadalajara's amenities. The Basilica of Our Lady of Zapopan is a major attraction here. |
| Tlaquepaque | Tlaquepaque is famous for its artisan markets, galleries, and traditional Mexican charm. If you're interested in arts and crafts, this neighborhood is an excellent choice. There are boutique hotels and charming bed-and-breakfast options available. |
| Zona Expo | This area is close to the Expo Guadalajara convention center and is ideal if you're attending an event or conference. It offers a range of hotels catering to business travelers. |
| Financial District | If you're visiting Guadalajara for business purposes, staying in the financial district can be convenient. You'll find a selection of modern, business-oriented hotels and easy access to corporate offices. |
| Chapalita | Chapalita is a stylish and trendy neighborhood with a mix of residential and commercial areas. It's known for its dining and nightlife options. You can find boutique hotels and Airbnb accommodations here. |
Map of areas and neighborhoods in Guadalajara:
6 Best areas to stay in Guadalajara for tourists are:
1. Guadalajara Centro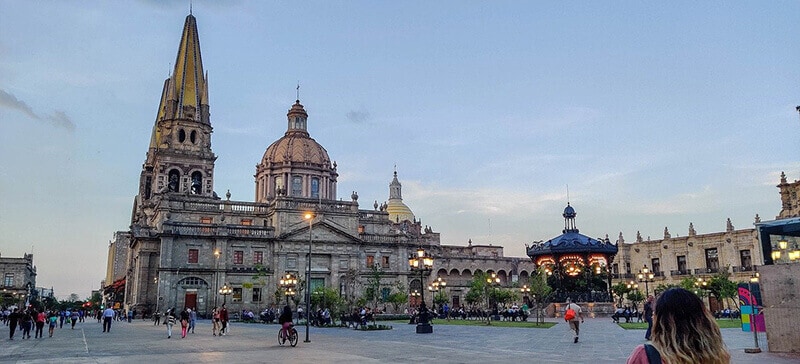 Centro is the best area to stay in Guadalajara for first-timers because it is the downtown area and the historic center of the city. The centro is home to the city's top tourist attractions, such as the Instituto Cultural Cabañas, Palacio del Gobierno, and Teatro Degollado, a World Heritage Site. It also has high concentration of tourist amenities such as hotels, restaurants, bars, and shops.
In the historical part of this Spanish colonial city, countless stunning locations still stand from the city's founding, allowing you the truly understand what the area was like when it was settled. Guadalajara centro features buildings of a variety of architectural styles, which include Art Nouveau, Baroque, Colonial, Neoclassical, and many others.
The center of the historic center is the Plaza Guadalajara, or Plaza Mayor by locals. You can sit on its benches, listen to Mariachi, traditional Mexican music, and enjoy the views of Guadalajara Cathedral, the Palacio Gobierno, and State of Jalisco Courthouse, just a few blocks away,
The beautiful Guadalajara Cathedral is perhaps the most stunning monument in the city, steeped in history and displaying exquisite Renaissance architecture.
To the east of Plaza de Armas, there is the important Government building, Palacio de Gobierno which is a two-story baroque-style building; and the neoclassical design of Palacio Municipal!
Around the Cathedral you will find the four main plaza squares including the art and history area of la Rotonda de los Jaliscienses Ilustres, the traditional park feel of Plaza de Armas, and the quieter Plaza de la Liberación.
Plaza de la Liberación is a large square that hosts many concerts and demonstrations. here, you can find the statue of Miguel Hidalgo, Hotel Frances, and the 1800's Neoclassic-style Teatro Degollado.
If you're a fan of murals, you must check out a world Heritage site of Instituto Cultural Cabañas, a beautiful old hospital complex of buildings. It was used as a hospital and orphanage with over 106 rooms and 20 patios.
The smaller Church Of San Jose offers a similar glimpse into the city's culture, albeit on a much smaller scale, while the Monument To Independence stands as a testament to the proud people of the country.
The Museum Of The City is the ideal spot to learn more about the area, while other beautiful locations like the French Hotel, Velasco Palace, and Government Palace give you plenty of options to explore. There is even the stunning University Square, for the times you just want to sit back and take it all in.
Centro also offers a wide range of shops, bars, hotels, and restaurants. Whether you want to shop in Calle Independencia, dine, drink or explore, there will always be an option available to you that suits your taste, intent, and budget. The largest indoor market in Latin America, Mercado Libertad (Mercado San Juan de Dios) is well worth a visit!
Guadalajara Centro has a wide range of accommodations that suits all budgets, from backpacker hostels to luxury hotels.
Stay in Guadalajara Centro if you are a first-time visitor; you are interested in the sightseeing and history of the city; you are into nightlife; you want a huge range of shops, bars, restaurants, and attractions;
Best places to stay in Guadalajara Centro:
Hotel Dali Plaza Ejecutivo This 4-star hotel is just a 3-minute walk from the Guadalajara Cathedral. It features an on-site lounge, free Wi-Fi, buffet breakfast, and air-conditioned rooms. The hotel is in downtown Guadalajara near many of the city's attractions. Guests are a 10-minute walk from shopping at Mercado de San Juan de Dios and 5 minutes from Teatro Degollado. The Guadalajara Zoo is a 30-minute drive away.
Hotel Real Maestranza is located in Guadalajara, 400 m from Guadalajara Cathedral, this hotel provides accommodation with a restaurant, free private parking, a fitness centre and a bar. The popular attractions nearby are Cabanas Cultural Institute, Expiatorio Temple, and Degollado Theater.
Hotel de Mendoza is located in the charming historic district of Guadalajara, Mexico, the Hotel de Mendoza offers guests a peaceful setting while exploring the attractions of this historic city. Historic colonial buildings surround Hotel de Mendoza. Guests can explore the Degollado Theatre, the Metropolitan Cathedral, and the Regional Museum within minutes of the hotel.
Hotel Portobelo is close to all the main tourist attractions. This hotel is also located in Avenida Vallarta Avenue. Here you will find numerous bars and restaurants. You can drive to Guadalajara International Airport or the Bus Station in approximately 30 minutes.
Hostel Hospedarte Centro is the best budget accommodation in Guadalajara, is just 3 minutes walk from the Cathedral and Plaza de Armas Square, in Guadalajara's historic center. The hostel organizes pub crawls, tequila nights and visits to watch the lucha libre wrestling at the nearby Coliseo Arena. There are also daily tours to Tequila town and Chapala Lake.
See Also: Best areas to Stay in Mexico City
2. Zapopan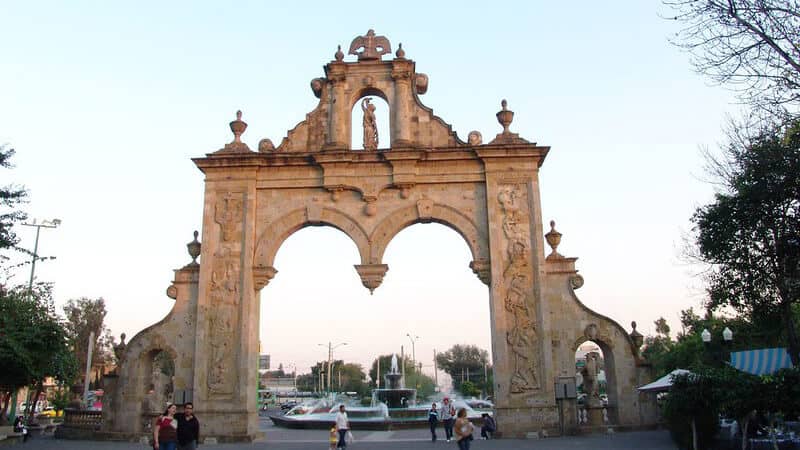 Zapopan along with Centro, Tlaquepaque, and the Financial District is one of the safest places to stay in Guadalajara. Located on the northwest of downtown GDL, Zapopan is technically a separate city, located within Guadalajara's metropolitan area, that is similar in size to Guadalajara itself. Its name is derived from an ancient Aztec language and means "among the sapote trees".
Originally founded just a few months before Guadalajara, the area has a similarly rich history to what you would find in Guadalajara Centro. Perhaps its most famous historical site is the stunning, 17th-century Basilica Of Our Lady Of Zapopan.
Its gorgeous Plateresque architecture is an incredible site to see, and it houses the legendary Virgin Of Zapopan, a 16th-century image of the Virgin Mary that has been credited with numerous miracles and has been visited by different Popes over the years.
While numerous other historic locations are dotted around, there is so much beyond that to appeal to visitors here, with many of the hallmarks you would expect from a major city center. Several universities can be found here such as University Cultural Center, making it a popular city with students studying a wide range of subjects.
There are also a number of galleries and museums such as Huichol Wixarika Museum, Zapopan Art Museum, and Arcos de Zapopan that display historic artifacts and artwork, giving you a true sense of the history and culture of the city.
Zapopan is a family-friendly area with many green spaces to relax such as Guadalajara Metropolitan Park. While the Zoológico Villa Fantasía and the Magic Top Museum are great to spend a fun day out with kids!
As with any city center, there is a great range of bars, restaurants, shops, and hotels available, which should provide guests a considerable amount of choice, no matter their individual styles or budgets.
However, unlike many city centers, its proximity to Guadalajara means it is a lot quieter than you may expect of such a location. This makes it an ideal choice for anyone who enjoys the conveniences of a city center but isn't a fan of crowds.
Stay in Zapopan if you travel with family; you want stay close to city center; you want a quieter neighborhood; you want safe area;
Best places to stay in Zapopan:
Hyatt Regency Andares Guadalajara This luxury hotel is conveniently situated in the Andares District, close to Landmark Guadalajara, Autonome University of Guadalajara, and Trompo Magico Museum. It offers an on-site restaurant serving contemporary cuisine, an indoor pool, and a fitness center.
Hotel Malibu This mid-range hotel is situated next to Gran Plaza Shopping Centre, and a short drive from Guadalajara Airport, Guadalajara Cathedral and Plaza Universidad Square. it offers a spa, sauna, gym, and outdoor pool surrounded by gardens.
FCH Hotel Providencia – Exclusive For Adults This 4-star hotel has a restaurant, seasonal outdoor swimming pool, a fitness center, and a bar. It features rooms with a desk, a flat-screen TV, a private bathroom, bed linen, and towels, air conditioning, and a safety deposit box.
3. Tlaquepaque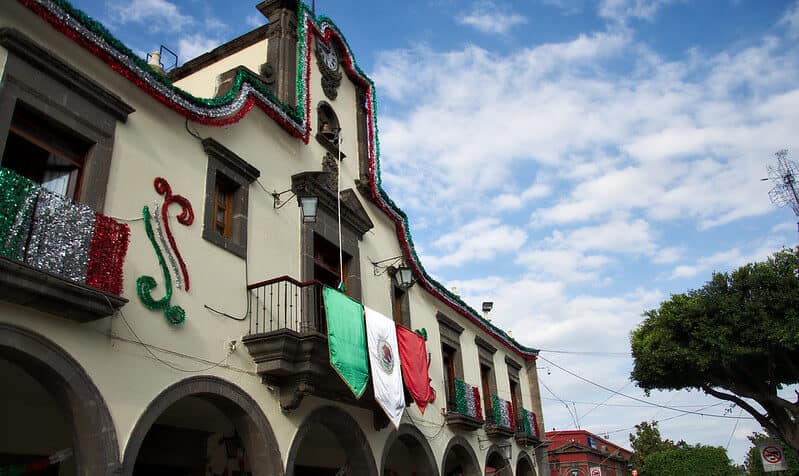 Located on the southeast of Guadalajara, Tlaquepaque is similar to Zapopan, in that it is another separate city located within the Guadalajara metropolitan area, although it pre-dates either of its neighbors by at least a decade.
Its name again translates from the ancient Aztecan language Nahuatl, this time meaning "place above clay land", which is fitting as it is an area that is famous for its pottery, as well as blown glass.
Much of the city's tourism revolves around its crafts industry, with stalls and street sellers filling the squares and streets of the city. Calle Independencia is the most popular pedestrian street for tourists which is lined with galleries, artisan shops, old houses, bars, and restaurants.
If you like to soak in local life, buy some souvenirs, head to the local market of Mercado Benito Juarez.
Casonas and buildings displaying architecture and stylings from across the last century surround the squares, while mariachi bands often play local and traditional music, allowing you to immerse yourself in the culture of your location.
The main destination in the city for tourists is El Parian, a large plaza featuring columned arcades, which is surrounded by shops, bars, and restaurants around the gazebo, ideal for those seeking a relaxing vacation.
You also have the city's main square, Plaza del Jardín Hidalgo, which is named after the man considered to be the father of Mexican independence and features a large statue of him that dominates the square.
At the square, you will find the Sanctuary of Our Lady of Solitude and the San Pedro Tlaquepaque Parish.
Outside of these locations, there are also numerous other sites that will enrich and entertain tourists during their visit. St Peters Church and the Parish Of San Pedro Tlaquepaque demonstrate the religious background of the city.
There is even a number of museums like the Regional Museum of Ceramics and Refugio Cultural Center to educate you on the history of the city, while a beautiful palace, garden and monument are available to give you places to stroll around and unwind while taking in the beautiful views.
Stay in Tlaquepaque if you want to learn about the history of the area; you want the city amenities without all the crowds; you are interested in pottery or the crafts industry.
Best places to stay in Tlaquepaque:
La Villa del Ensueno Boutique Hotel This boutique hotel is located in Tlaquepaque, just 20 minutes' drive from Guadalajara International Airport. The hotel is 4 blocks from the center of Tlaquepaque. Guests can visit the Museo Pantaleon Panduro Art Museum and the Metropolitan Cathedral.
Posada Margaritas features accommodation with an outdoor swimming pool, private parking, and a garden. Cabanas Cultural Institute is 7 km from the inn, while Expiatorio Temple is 8 km from the property. Guadalajara Cathedral is just 7km away.
Puerta San Pedro has located 8 km from Expiatorio Temple, 11 km from Jalisco Stadium and 12 km from Guadalajara Zoo, 7 km from Guadalajara Cathedral, and 7 km from Cabanas Cultural Institute. It offers guest rooms with a desk, a flat-screen TV, a private bathroom, bed linen, towels, and a wardrobe.
4. Zona Expo
Located in Colonia Valle Verde to the southeast of the city, Zona Expo is most famous for being the home of Guadalajara's largest fairground. Zona Expo is a great area to stay for business travelers and those who attend events event at the exhibition center.
In addition, it is also the home of an exhibition center, Expo Guadalajara Convention Center that plays host to more than half of the major trade fair events that take place in not just the city but all of Mexico. It is a combination of both these two facts that earned the district its name.
With exhibitions and shows catering to a wide range of interests, this is the ideal location to stay for anyone visiting the city to see a particular event during their stay.
It is also equally ideal for anyone who may be working on one of the exhibitions or festivals, as well as those who have to attend them for a wide range of business needs.
Outside of the fairgrounds and exhibition center, there isn't too much to draw in tourists in terms of attractions. However, one thing it does have going for it is an incredibly diverse selection of hotels and restaurants.
Knowing that visitors here will have a very specific reason for traveling to the area, the cuisine in the surrounding areas offers almost everything you could think of, to ensure they get the business of all the attendees, as they make it so there is simply no need to travel anywhere else.
This is a very similar situation to what you will find with hotels in the area as well. A great number of large chain hotels are located in the region, offering the usual combination of style and a reasonable price tag, to make sure no one has to travel any further away to get a great deal on accommodation.
Stay in Zona Expo if you're a business traveler; you are attending an event at the exhibition center; you want to visit the largest fairgrounds in the city and one of the largest in all of Mexico; you want a great range of hotels and restaurants.
Best places to stay in Guadalajara Zona Expo:
Riu Plaza Guadalajara This 5-star hotel is situated 1.5 km from Expo Guadalajara Exhibition Centre, a 15-minute drive from Guadalajara Cathedral and the historic city center, and 2km from Gran Plaza Shopping Centre. It has a free buffet breakfast, 2 on-site restaurants, a deli corner with a takeaway service, a lobby bar, and a poolside lounge bar.
Victoria Ejecutivo This 4-star hotel is a 15-minute drive from the center of Guadalajara and its old town. This hotel is close to Expo Guadalajara Convention Centre and Guadalajara International Airport is just 15-minutes driving away. It features simply decorated, air-conditioned rooms with free Wi-Fi, a cable TV, a coffee maker, and a desk.
Hotel Estancia Business Class This budget hotel is located in Zapopan, within walking distance from the popular Expo Guadalajara convention center, Plaza del Sol shopping center. It has air-conditioned rooms a cable TV, a private bathroom with a shower, toilet, and towels. You also find a 24-hour front desk, a garden, a terrace, and a tour desk.
5. Financial District
The Financial District of Guadalajara (Providencia Zone) is the most expensive, upper-class area of the city. It is ideal for those who like to travel in style and seek an air of exclusivity and sophistication while they are away.
The area is filled with high-priced hotels, all boasting luxurious interiors and high-end amenities, to cater to guests with a wide range of needs during their stay.
The restaurants and bars are similarly high-end, serving gourmet cuisine, cocktails, and every fancy delicacy you could imagine.
This is undoubtedly a place better avoided by those traveling on a budget and you will get no better example of this than by simply popping into any of the shops in the area.
Designer brand names fill the streets, drawing in those who only want the best and who are willing to pay a substantial price in order to get it.
There are also a large number of businesses that operate out of or have their headquarters here, including many companies such as banks. That makes it equally suitable for many people traveling on business, although admittedly it may only suit the ones whose companies are picking up the tab.
While certainly a more than pleasant part of the city, it is definitely a location that will appeal to a very select group of people.
Stay in Financial District if you aren't worried about money; you are working for, or have dealings with, a company located here; you enjoy high-end shops, bars, restaurants, and hotels.
Best places to stay in Financial District:
NH Collection Guadalajara Providencia This 5-star hotel is located next to Country Club Golf Course, in the heart of the commercial and financial district of Guadalajara. Close to Punto Sao Paulo Shopping Centre where you can find a range of bars, restaurants, and shops.
AC Hotel by Marriott Guadalajara Mexico offers accommodation in Guadalajara´s financial district. Guests can enjoy the on-site restaurant. Guadalajara Cathedral is 3.7 km from Ac Guadalajara, while Enrique Diaz de Leon University is 2.7 km from the property.
6. Chapalita
Located in the north-western part of the city, near the outskirts of Zapopan, Chapalita is a largely quiet, residential area.
Beautiful, traditional-style houses and streets make this a fabulous place to stay if you are looking to experience the more authentic, local side of the city, and see how its residents actually live.
Despite this more peaceful appearance, the region comes to life of a weekend. When many of the residents are done with their work for the week, they flood to the local bars and restaurants, as well as the number of small street parties held within the district. This creates a jubilant atmosphere for you to get caught up in and enjoy during your stay.
Speaking of restaurants, this is also one of the gastronomic hubs of the city. A fabulous range of establishments serve both local and international cuisine, ensuring there is something available for everyone, no matter their taste or budget.
The other selling point that Chapalita offers is that the hotels in the area provide great value for money. Options that are cheaper than the majority of other areas in the city, yet that still boast their own style and beauty, mean even visitors on a budget can afford to stay here, in a convenient location between the downtown areas of both Guadalajara and Zapopan, without sacrificing quality for affordability.
You should stay in Chapalita if you are traveling on a budget; you want a great range of fabulous restaurants; you want to experience an area with a more local, traditional feel; you prefer an area that is quiet most of the time.
Best places to stay in Guadalajara Chapalita:
Check out my virtual tour about the best places to stay in Guadalajara:
Where should I stay in Guadalajara for the first time?
Guadalajara Centro is the best area to stay in Guadalajara for first-timers due to its prime location. If you stay here, you will be located within easy access to tourist attractions and amenities.
What are the best areas to stay in Guadalajara?
Guadalajara Centro, Zapopan, Tlaquepaque, Zona Expo, Financial District, and Chapalita are some of the best areas to stay in Guadalajara fourists because they are the most popular areas for visitors.
How many days are enough in Guadalajara?
It is recommended to spend at least 3-4 days in Singapore to see its main attractions, while 2-3 days in Guadalajara would suffice for exploring the city's highlights.
See more:
In conclusion, Guadalajara Centro, Zapopan, Tlaquepaque, Zona Expo, Financial District, and Chapalita are the best places to stay in Guadalajara for tourists and first-time travelers.
Overall, Guadalajara Centro is the best area to stay in Guadalajara. It is the heart of the city and has widest range of tourist attractions and tourist amenities such as hotels, restaurants, bars, and shops. If you stay here, you will be located in the middle of action!