The best areas to stay in Penang for first-timers the George Town, Batu Ferringhi, Seberang Perai, Penang Hill, Balik Pulau, and Bayan Lepas. These are popular and safe neighborhoods for tourists that offer a wide variety of attractions and amenities. In this post, we will be looking at where to stay in Penang for the first time, as well as the best places to stay in Penang.
Located on the north-western coast of Malaysia, The island of Penang is known for its rich culture and history. It is a former British colony with more than 700,000 residents, making it the most densely populated state in the country. It is a multicultural island with its inhabitants being Chinese, Malays, and Indian.
George Town is the best place to stay in Penang for first-time travelers due to its close proximity to Penang's top attractions. If you stay here, you will be located in the middle of action, within walking to the top sights, as well as many restaurants, bars, and shops. It is a great place to learn the history and culture of the region because the capital city of George Town has a much greater range of attractions on offer than anywhere else.
Batu Ferringhi on the northern coast of the island, is also one of the Penang's biggest tourist hubs. There are sandy beaches, a selection of restaurants, nightlife, as well as Muka Head Lighthouse, and Teluk Bahang Pier, which is home to some good seafood restaurants.
There are even those who will be coming here looking for your traditional tourist style of vacation. If you prioritize high-end, exclusive resorts, with stunning views, then take a look at Penang Hill.
Whatever it is you're looking for; chances are you can find it in this food capital of Malaysia. The problem is, with the city covering such a large area, knowing where to look to find it can be an issue.
🎬 To get an overall idea of where to stay in Penang first time, check out this video:
6 Best Areas to Stay in Penang for tourists
1. George Town, where to stay in Penang for first-timers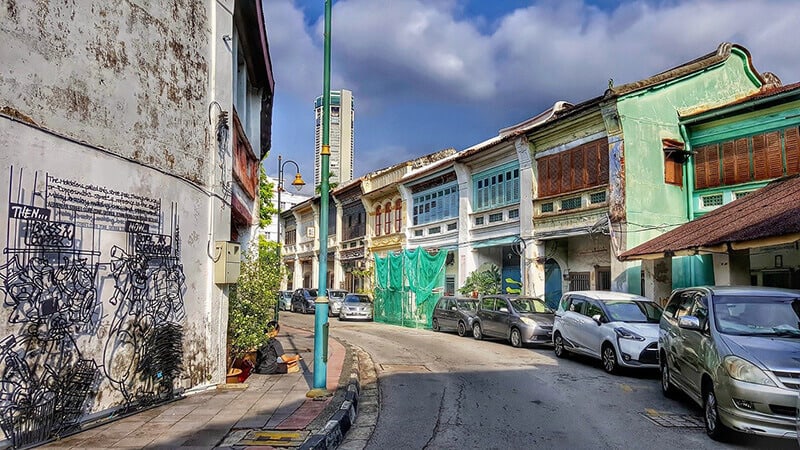 George Town is the best area to stay in Penang for first-timers due to its prime location. If you book a hotel here, you will be located in the middle of action, within walking distance to top tourist attractions such as Pinang Peranakan Mansion, Penang Street Art, Kek Lok Si Temple, Cheong Fatt Tze (Blue Mansion), Chew Jetty, and Khoo Kongsi. There are also a wide range of accommodations, restaurants, bars, and shops/
Named after the British King George III, The capital city of Penang, George Town is located in the northeast of Penang island. While its numerous suburbs offer a range of thrilling sights and activities for visitors, it is its historic center that is the main attraction.
Designated as a UNESCO world heritage site in 2008 for its multicultural heritage and architectural wonders, the 1.6 square mile area is bursting with historic attractions. It also features one of the largest collections of pre-war buildings anywhere in Asia.
You have Fort Cornwallis, an 18th-century British fort, built by the infamous East India Trading Company. There is the Penang State Museum, a museum and art gallery, built in the early 19th-century, which displays the history, art, and culture of the region.
Georgetown has more than12,000 old buildings including Chinese shophouses, churches, temples, mosques, jetties, and British colonial government offices and monuments.
There are building like the Cheong Fatt Tze Mansion, the Eastern & Oriental Hotel, Penang City Hall, and a number of others in the Central Business District.
There are even a number of buildings that display the diverse religious culture of the region. Temples such as the Goddess Of Mercy Temple and the iconic Wat Chaiyamangkalaram are surrounded by locations like St. George's Church and the Kapitan Keling Mosque.
If you love museums and want to learn more about the history of the region, you can visit Penang State Museum and Penang Interactive Museum.
Outside of history, George Town is also known as the food capital of Malaysia. Offering a wide range of cuisine, bars, coffee shops, high-end restaurants, street food, hawker stalls, night markets, which give visitors the chance to enjoy some of the traditional gastronomy of the region and Chinese-Malay culture.
Due to what's on offer here, institutions such as Forbes, Time, and Lonely Planet have heralded Georgetown as one of the best places to visit, not just in Asia but in the entire world.
George Town has an amazing street art scene. You will find some of the most famous murals worldwide and 3D artworks. it event has a tourism trail developed specifically for street art.
If you like nature, you can head to the Penang National Park (Taman Negara Pulau Pinang) which is 42 km from Georgetown. great spot for hiking.
This makes it by far the best place to stay for anyone history buffs, travel photographers, shopaholics, foodies, who prioritize history, culture, or food during their visit.
Stay in George Town if you're a first-time tourist; you want to experience some of the area's famous cuisine; you are interested in the history and culture of Penang.
Best places to stay in Penang – George Town:
Royale Chulan Penang is located within walking distance to Clan Jetties of Penang, Pinang Peranakan Museum, Wonderfood Museum, Little India, and Fort Cornwallis. The hotel provides an outdoor swimming pool, free wifi, and an in-house restaurant.
Hompton Hotel by the Beach This family-friendly hotel is a lovely 4-star hotel in George Town, with a bar, a restaurant, a fitness center, and free wifi. It's close to Tanjung Bungah Beach, Rainbow Skywalk at Komtar, and Avenue Penang.
JEN Penang Georgetown by Shangri-La is just a few steps from the KOMTAR building, 1st Avenue Shopping Mall and Prangin Mall. It's also close to Upside Down Museum and Dark Mansion – 3D Glow In The Dark Museum, and 5D Interactive World.
Rope Walk Guest House This budget accommodation is located within a short distance from Prangin Mall, the main bus station, and Komtar.
FIND BEST HOTELS IN GEORGE TOWN
2. Batu Ferringhi, where to stay in Penang for family
Located north of Penang Island, Batu Ferringhi is the sort of option you would expect to find in many popular vacation spots. A suburb on the outskirts of George Town, this is the premier beach location in Penang, equally popular with both locals and tourists alike. Batu Ferringhi is only a 20 minutes by taxi or bus from Georgetown.
Numerous stunning beaches, including its most popular option, Miami Beach, offer visitors a wide range of choices when it comes to which stretch of golden sand they want to spend their days on.
With many offering amenities like beach bars and activities, such as parasailing, they will have you covered, whether you want an all-action vacation or a relaxing getaway.
Around them, numerous high-rise hotel complexes have been constructed to cater to the increased demand, including the crown jewel of the area, the Hard Rock Hotel Penang. Offering luxurious options to people with a range of budgets, they make a beach vacation here a comfortable and easy option.
While other attractions in the area may be a little limited, the Entopia Butterfly Farm, wide selections of bars and restaurants, as well as the legendary Batu Ferringhi night market should still provide options to keep visitors entertained throughout.
That's all without mentioning that downtown George Town is located just a short distance away. This makes it a perfect choice for those who want access to the city center, without being stuck in it the whole time. This is particularly beneficial for groups such as families with small children.
Stay in Batu Ferringhi if you are traveling as a family; you are looking for a beach vacation; you want to be near to the big city but not located directly in it.
Best places to stay in Batu Ferringhi:
PARKROYAL Penang Resort offers rooms with sea or hill views and free wifi. It is close to Feringghi Night Walk Bazaar, and Batu Feringghi Waterfall. it features modern and contemporary style rooms with LED TV, in-room movies, tea & coffee making facilities, minibar, personal digital safe, and DVD player upon request.
DoubleTree Resort by Hilton Hotel Penang The 5-star luxury hotel is close to George Town, and Tanjung Bungah. It provides rooms with a sitting area, a private bathroom, a TV, a minibar, and a coffee/tea maker, and ironing facilities.
The Bayview Beach Resort is in Batu Ferringhi Beach in Penang provides rooms with private balconies that face the hills or the sea. It offers an outdoor swimming pool, an in-house restaurant, and a bar.
FIND BEST HOTELS IN PENANG
See more:
3. Seberang Perai, where to stay in Penang for shopping
Our second destination is the only one on this list, and in fact the only city in Penang, that isn't located on Penang Island. The second most populous city in Malaysia, Seberang Perai (Province Wellesley by the British) is instead located on the Malay Peninsula opposite.
Perhaps its most prominent feature is being home to the Port Of Penang, the state's largest seaport. This has helped to drive the city's economy and draw numerous businesses to the region.
On a tourism front, the city offers a diverse range of activities for the modern traveler. For starters, it is one of the premier shopping districts in Penang, featuring a number of malls and stores, selling an incredible range of products that will have all visitors covered, no matter what they're looking for.
In terms of more traditional attractions, the city thrives on activities that rely on nature and the great outdoors.
You have the Penang Bird House, which is home to more than 300 species of bird, as well as a wide range of other plant and animal life. With walk-in aviaries, gardens, and ponds, it is the largest of its kind anywhere in Malaysia.
Then there is the Bukit Mertajam, a tropical rainforest reserve, featuring countless hiking, cycling and even driving trails. This offers adventurers the chance to explore nature and see indigenous trees, some of which are more than 100 years old.
In the town of Butterworth, you can find the 400-meter-long street Butterworth Art Walk, Butterworth Temple of Nine Emperors (Tow Boo Kong Temple) which hosts the Penang festival.
There are some smaller towns and fishing villages including Bukit Mertajam, Seberang Jaya, Sungai Puyu, and Prai. These offer visitors the chance to experience the region's more traditional side, in a laid-back, natural environment.
A relatively unique city, Seberang Perai is likely the best option for anyone looking for a truly diverse city, that offers just as much in both the urban and rural departments. It is linked with Penang island by the Penang Bridge and the ferry.
Stay in Perai if you are interested in shopping; you want or need to visit Penang Port; you want to visit Penang Bird Park; you want to explore a rainforest reserve; you would like to visit a small fishing village.
Best places to stay in Penang – Perai:
Sunway Hotel Seberang Jaya This 4-star hotel is located in Perai, close to Sunway Carnival Mall, PECC Exhibition & Convention Centre, State Mosque, and Auto City.
The Light Hotel Penang offers modern and stylish mid-range accommodation with free WiFi, an outdoor pool, and a fitness center.
Ixora Hotel Penang is just a few steps from Megamall Pinang, with modern guest rooms with an outdoor pool, free WiFi. It is close to Butterworth Bus Terminal and Prai Industrial Parks.
Kinora Homestay is set close to Sunway Carnival Mall, PECC Exhibition & Convention Centre, State Mosque, and Auto City.
FIND BEST HOTELS IN PERAI
4. Penang Hill, where to stay in Penang for nature lovers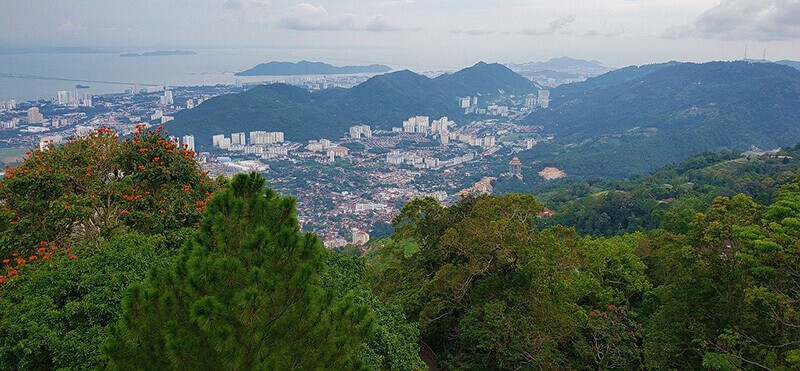 Located 6km from George Town in the suburb of Air Itam, Penang Hill (also known as Bukit Bendera or Flag Hil) is one of the most directly tourist-focused areas in Penang. Its stunning views and slightly cooler temperatures have made it a popular destination with visitors, particularly those from foreign countries.
This has led to a selection of accommodation such as bungalows being built throughout the region.
A somewhat rural area, many of its attractions are of the more natural kind. There are beautiful forests to stroll through, featuring a range of plants and wildlife, cascading waterfalls, and flowing rivers.
Speaking of which, these rivers have differing flows, offering rapids ideal for rafting in one area, while calm shallows, perfect for paddling and bathing, can be found elsewhere.
Whether you want to spend your days walking, picnicking, relaxing, or doing something that gets your blood pumping, this is a location that has you covered.
Penang Hill also has the unique feature of the Penang Hill Railway. A Swiss-designed funicular railway system that runs from the base to the top of the hill, it is the only one of its kind in Malaysia, making riding it a unique experience in its own right. it is one of the world's oldest funicular systems, built in 1923.
Stay in Penang Hill if you want to explore the more natural side of Penang; you want to ride on the funicular railway; you enjoy stunning hilltop views.
Best Places to Stay near Penang Hill:
FIND BEST HOTELS NEAR PENANG HILL
5. Balik Pulau, where to stay in Penang for local vibe
Next up is the town of Balik Pulau, a location in the southwest of Penang Island where the economy revolves heavily around agriculture. It contains the only large areas of untouched countryside, mangroves, and orchards in the region, as well as a number of fishing villages.
This has led to the town quietly developing a reputation as a tourist destination. Visitors who come to Penang to experience an authentic Malaysian culture are drawn in by the honest, rural lifestyle that is on display in the town.
In order to capitalize on this, accommodation in the area has increased and orchards and farms have begun offering tours and samples of their traditional crops, like cloves, durians, and nutmeg.
There are also a number of markets selling local produce and traditional products, such as nutmeg juice, where visitors can purchase larger quantities of their favorite items.
The fishing village nearby, Pulau Betong is famous for its seafood and there are plenty of seafood restaurants. You can buy it at the fish market and ask nearby restaurants to cook it.
While certainly a destination for a more specific type of traveler, it is nonetheless ideal for anyone wanting to experience a more "real" version of Penang.
Stay in Balik Pulau if you want to visit a more traditional destination; you are backpacking; you want to visit farms and orchards; you want to sample the local produce.
Best Places to Stay in Balik Pula:
MaliHom Private Estate is set in Balik Pulau, Southern Penang, close to Queensbay Mall, Snake Temple, and Penang Botanic Gardens. Rooms feature a private garden or deck with beautiful views of the natural landscape, an electric kettle, a minibar, en suite bathrooms with essential oil toiletries, and a hairdryer.
Happy Holiday home This holiday home is in Balik Pulau, 14 km from Queensbay Mall, Kek Lok Si, Penang Hill, and Penang Butterfly Farm. It has 4 bedrooms, 2 bathrooms, bed linen, towels, a flat-screen TV, a dining area, a fully equipped kitchen, and a balcony with mountain views.
KontenaStay Al Furqan Located around 15 km from Penang Hill, Kek Lok Si, Kontena, Tropical Spice Garden, Penang Butterfly Farm, Queensbay Mall, and Penang Botanic Gardens.
FIND BEST HOTELS IN BALIK PULAU
6. Bayan Lepas, where to stay in Penang for backpackers
Bayan Lepas is located southwest of Penang Island. Founded in the late 19th century, it is a largely residential neighborhood. it's well-connected transport to Georgetown via the Bayan Lepas Expressway, home to the island's international airport and the biggest shopping mall in penang.
Close to Penang International Airport makes it ideal if you are someone who likes to remain close, in order to avoid missing your flight or having to drag your baggage all over the place. This is an especially appealing trait in a destination as large as Penang.
Outside of the airport, there are also a number of other popular attractions located in the area. You have the Queensbay Mall, the largest shopping mall in Penang; the SPICE Arena, one of Penang's major sporting venues;
The Snake Temple, the only Chinese temple in the world inhabited by snakes; and the Penang War Museum, a converted fort, displaying military installations from the 1930s.
This set of popular attractions, combined with its location, make it an ideal destination for anyone who has these high up on their list of things to do and see
Stay in Bayan Lepas if you want to stay close to the airport; you want to go shopping; you are attending an event at the SPICE Arena; you want to visit The Snake Temple; you are interested in the military history of the area.
Best Hotels in Bayan Lepas:
Lexis Suites Penang is located in Bayan Lepas away from hustle and bustle city center. Close to Penang Bridge and Queensbay Mall. It has air-conditioned suites with a private pool overlooking panoramic views from the balcony, a seating area with a flat-screen TV, a safe, en suite bathroom with either a bathtub or shower facilities, free toiletries, and a hairdryer.
AC Hotel by Marriott Penang This mid-range hotel is located in a short drive from Penang bridge, and Georgetown, Penang International Airport. it features comfortably furnished, the spacious air-conditioned rooms feature warm lighting, satellite TV, and a modern marble bathroom.
FIND BEST HOTELS IN BAYAN LEPAS
Where should I stay in Penang for the first time?
George Town is the best area to stay in Penang for first-time travelers due to close proximity to the top tourist attractions. If you stay here, you will be located in the heart of action, within walking distance to the top sights, as well as many restaurants, bars, and shops.
Is it better to stay in Georgetown or Batu Ferringhi?
It is better to stay in Georgetown if you are visiting Penang for the first time because Georgetown is the cultural center of Penang. Batu Ferringhi is a beach town, northwest of George Town. You can head here for the beach after visiting Georgetown.
What are the best areas to stay in Penang?
George Town, Batu Ferringhi, Seberang Perai, Penang Hill, Balik Pulau, and Bayan Lepas are the best areas to stay in Penang for tourists because they are the most popular and safe neighborhoods that offer a wide range of attractions and amenities.
There are six areas to stay in Penang, but you can have look at Tanjung Bungah (Flower Cape) which is 6km from George Town. In Tanjung Bungah, you can enjoy the natural landscape of Mount Erskine, visit the Penang Toy Museum, Island Plaza, Straits Quay Mall, Tanjung Bungah Night Market, and Penang Water Sports Centre.
Penang is a beautiful place, albeit one that may appeal to a more select group of visitors than other places around the world. With a diverse range of destinations throughout, this article will hopefully have helped you find out where to stay in penang for first-time travelers. Now, all that's left to do is go and get things booked, so you can experience it all for yourself.