Where To Stay In Penang: Best Area & Hotel Travel Guide
If you're wondering where to stay in Penang, or where is the best area to stay in Penang, you're in the right place. In this article, I will give an insight into the best places to stay in Penang for first-time visitors, couples, families, backpackers, all budget travelers; read on as I show you the best of Penang.
Located on the north-western coast of Malaysia, Penang is the most densely populated state in the country. With a rich history and vibrant culture, there's plenty to do and see to make this a trip to remember.
However, covering more than 400 square miles, knowing the best place to stay, in order to get the most out of your trip, can be quite a challenge, especially for first time visitors.
So, if you have your heart set on a trip to Penang but haven't been able to narrow down which location best fits your own personal needs, I highly recommend reading on.
Where to Stay in Penang: Tips & Info
Before we get to the main article, I want to give you a few tips that should help make coming to your decision much easier.
For example, if you prefer to stay near the airport, then Bayan Lepas will be your ideal location. On the flip side, if you are backpacking and want to experience a more traditional trip, then Balik Pulau is probably much better suited.
If you want to delve into the history and culture of the region, then the capital city of George Town has a much greater range of attractions on offer than anywhere else. However, if you're visiting on business or need to visit the port for any other reason, then staying in Seberang Perai makes sense.
There's even those who will be coming here looking for your "traditional" tourist style of vacation. If you prioritise high-end, exclusive resorts, with stunning views, then take a look at Penang Hill. However, if you're after a relaxed beach vacation, then Batu Ferringhi is the place for you.
Whatever it is you're looking for; chances are you can find it in Penang. The problem is, with the city covering such a large area, knowing where to look to find it can be an issue.
If you take these, and other similar considerations, into account while reading, you'll make your job of finding the ideal location as quick and easy as possible.
Where To Stay In Penang – 6 Best Areas to Stay in Penang
Now that you know exactly what to look for, I will show you what I believe to be the 6 best areas to stay in Penang. I will explain what each place has to offer and who the location may be suitable for.
Where To Stay In Penang – 6 Best Areas to Stay in Penang
Where To Stay In Penang Map
To see more detail of where to stay in Penang map, go to google map;
1. George Town, Where to Stay in Penang for Foodie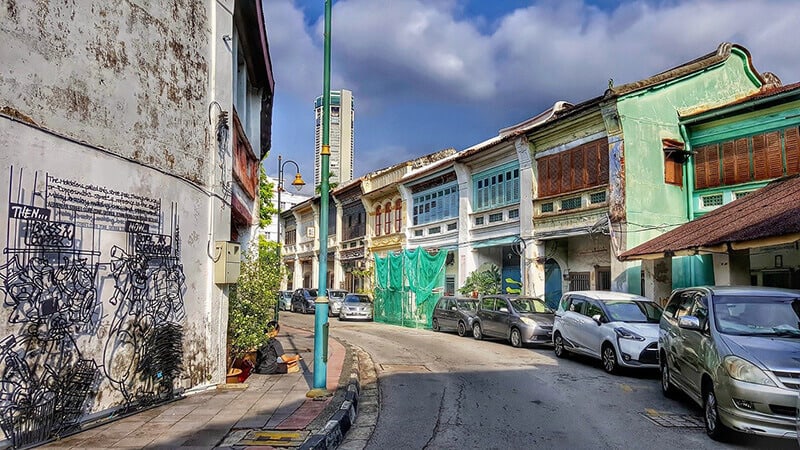 We begin our journey in the capital city of Penang, George Town. Located in the northeast of Penang island, it is the 3rd most populous city in Malaysia. While its numerous suburbs offer a range of thrilling sights and activities for visitors, it is its historic centre that is the main attraction.
Designated a UNESCO world heritage site in 2008, the 1.6 square mile area is bursting with historic attractions. It also features one of the largest collections of pre-war buildings anywhere in Asia.
You have Fort Cornwallis, an 18th century British fort, built by the infamous East India Trading Company. There is the Penang State Museum, a museum and art gallery, built in the early 19th century, which displays the history, art and culture of the region. Then there is the collection of famous buildings, like the Cheong Fatt Tze Mansion, the Eastern & Oriental Hotel, Penang City Hall and a number of others in the Central Business District.
There are even a number of buildings that display the diverse religious culture of the region. Temples such as the Goddess Of Mercy Temple and the iconic Wat Chaiyamangkalaram are surrounded by locations like St. George's Church and the Kapitan Keling Mosque.
Outside of the history, George Town is also known as the food capital of Malaysia. Offering a wide range of cuisine, bars, restaurants and street stalls, which give visitors the chance to enjoy some of the traditional gastronomy of the region while they're taking everything else in.
Due to what's on offer here, institutions such as Forbes, Time and Lonely Planet have heralded Georgetown as one of the best places to visit, not just in Asia but in the entire world. This makes it by far the best place to stay for anyone who prioritises history, culture or food during their visit.
YOU SHOULD STAY IN GEORGE TOWN IF:
You want to experience some of the area's famous cuisine
You are interested in the history and culture of Penang
Best Hotels in George Town
2. Seberang Perai, Where to Stay in Penang for Shopping
Our second destination is the only one on this list, and in fact the only city in Penang, that isn't located on Penang Island. The second most populous city in Malaysia, Seberang Perai is instead located on the Malay Peninsula opposite.
Perhaps its most prominent feature is being home to the Port Of Penang, the state's largest seaport. This has helped to drive the city's economy and draw numerous businesses to the region.
On a tourism front, the city offers a diverse range of activities for the modern traveller. For starters, it is one of the premier shopping districts in Penang, featuring a number of malls and stores, selling an incredible range of products that will have all visitors covered, no matter what they're looking for.
In terms of more traditional attractions, the city thrives on activities that rely on nature and the great outdoors.
You have the Penang Bird House, which is home to more than 300 species of bird, as well as a wide range of other plant and animal life. With walk in aviaries, gardens and ponds, it is the largest of its kind anywhere in Malaysia.
Then there is the Bukit Mertajam, a tropical rainforest reserve, featuring countless hiking, cycling and even driving trails. This offers adventurers the chance to explore nature and see indigenous trees, some of which are more than 100 years old.
There's even some small towns and fishing villages dotted around the outskirts. These offer visitors the chance to experience the region's more traditional side, in a laid back, natural environment.
A relatively unique city, Seberang Perai is likely the best option for anyone looking for a truly diverse city, that offers just as much in both the urban and rural departments.
YOU SHOULD STAY IN SEBERANG PERAI IF:
You are interested in shopping
You want or need to visit Penang Port
You want to visit Penang Bird Park
You want to explore a rainforest reserve
You would like to visit a small fishing village
Best Hotels in Perai
Sunway Hotel Seberang Jaya This 4 star hotel is located in Perai, within walking distance from  Sunway Carnival Mall, PECC Exhibition & Convention Centre. It provides accommodation with a fitness centre and free WiFi as well as free private parking for guests who drive. 
The Light Hotel Penang offers modern and stylish accommodation with free WiFi,an outdoor pool and fitness centre. Guests can enjoy a pampering massage at the spa or relax at the sauna facility.
Ixora Hotel Penang is et next to Megamall Pinang, and offers modern guest rooms with free WiFi. It boasts an outdoor pool, a fitness centre and well-equipped business facilities. Ixora Hotel Penang is 4.6 km from Butterworth Bus Terminal and 3.6 km from Prai Industrial Parks.
3. Penang Hill, Where to Stay in Penang for Exploring Nature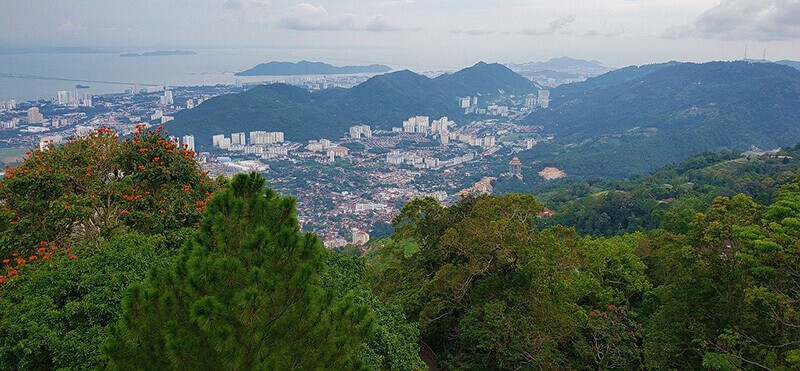 Our next destination of Penang Hill is one of the most directly tourist focused areas in Penang. Its stunning views and slightly cooler temperatures have mad in a popular destination with visitors, particularly those from foreign countries. This has led to a selection of accommodation such as bungalows being built throughout the region.
A somewhat rural area, many of its attractions are of the more natural kind. There are beautiful forests to stroll through, featuring a range of plant and wildlife, cascading waterfalls and flowing rivers. Speaking of which, these rivers have differing flows, offering rapids ideal for rafting in one area, while calm shallows, perfect for paddling and bathing, can be found elsewhere.
Whether you want to spend your days walking, picnicking and relaxing, or doing something that gets your blood pumping, this is a location that has you covered.
Penang Hill also has the unique feature of the Penang Hill Railway. A funicular railway system that runs from the base to the top of the hill, it is the only one of its kind in Malaysia, making riding it a unique experience in its own right.
YOU SHOULD STAY IN PENANG HILL IF:
You want to explore the more natural side of Penang
You want to ride on the funicular railway
You enjoy stunning hilltop views
4. Balik Pulau, Where to Stay in Penang for Backpackers
Next up is the town of Balik Pulau, a location in the south west of Penang Island where the economy revolves heavily around agriculture. It contains the only large areas of untouched countryside, mangroves and orchards in the region, as well as a number of fishing villages.
This has led to the town quietly developing a reputation as a tourist destination. Visitors who come to Penang to experience an authentic Malaysian culture are drawn in by the honest, rural lifestyle that is on display in the town.
In order to capitalise on this, accommodation in the area has increased and orchards and farms have begun offering tours and samples of their traditional crops, like cloves, durians and nutmeg. There are also a number of markets selling local produce and traditional products, such as nutmeg juice, where visitors can purchase larger quantities of their favourite items.
While certainly a destination for a more specific type of traveller, it is nonetheless ideal for anyone wanting to experience a more "real" version of Penang.
YOU SHOULD STAY IN BALIK PULAU IF:
You want to visit a more traditional destination
You are backpacking
You want to visit farms and orchards
You want to sample the local produce
5. Bayan Lepas, Where to Stay in Penang Close to Airport
Our penultimate destination of Bayan Lepas is located on the south-west of Penang Island. Founded in the late 19th century, it is a largely residential neighbourhood.
That said, there are a number of reasons that visitors often choose to stay here. For starters, it is the location of Penang International Airport. This is ideal if you are someone who likes to remain close, in order to avoid missing your flight or having to drag your baggage all over the place. This is an especially appealing trait in a destination as large as Penang.
Outside of the airport, there are also a number or other popular attractions located in the area. You have the Queensbay Mall, the largest shopping mall in Penang; the SPICE Arena, one of Penang's major sporting venues; The Snake Temple, the only Chinese temple in the world inhabited by snakes; and the Penang War Museum, a converted fort, displaying military instillations from the 1930's.
This set of popular attractions, combined with its location, make it an ideal destination for anyone who has these high up on their list of things to do and see
YOU SHOULD STAY IN BAYAN LEPAS IF:
You want to stay close to the airport
You want to go shopping
You are attending an event at the SPICE Arena
You want to visit The Snake Temple
You are interested in the military history of the area
Best Hotels in Bayan Lepas
Lexis Suites Penang is located away from the hustle and bustle of the city centre. The hotel offers accommodations in the scenic Bayan Lepas. It features an outdoor swimming pool and guests can enjoy meals at the in-house restaurant.
AC Hotel by Marriott Penang  is in a convenient location along Jalan Bukit Gambir, within 10 minutes' drive from Penang International Airport. It features an outdoor swimming pool and guests can enjoy meals at the in-house restaurant. It is just 5 minute driving to Penang bridge, 30 minutes drive to Georgetown.
6. Batu Ferringhi, Where to Stay in Penang for Family
Our final destination of Batu Ferringhi is the sort of option you would expect to find in many popular vacation spots. A suburb on the outskirts of George Town, this is the premier beach location in Penang, equally popular with both locals and tourists alike.
Numerous stunning beaches, including its most popular option, Miami Beach, offer visitors a wide range of choice when it comes to which stretch of golden sand they want to spend their days on. With many offering amenities like beach bars and activities, such as parasailing, they will have you covered, whether you want an all-action vacation or a relaxing getaway.
Around them, numerous high-rise hotel complexes have been constructed to cater to the increased demand, including the crown jewel of the area, the Hard Rock Hotel. Offering luxurious options to people with a range of budgets, they make a beach vacation here a comfortable and easy option.
While other attractions in the area may be a little limited, the Entopia Butterfly Farm, wide selections of bars and restaurants, as well as the legendary Batu Ferringhi night market should still provide options to keep visitors entertained throughout.
That's all without mentioning that downtown George Town is located just a short distance away. This makes it a perfect choice for those who want access to the city centre, without being stuck in it the whole time. This is particularly beneficial for groups such as families with small children.
YOU SHOULD STAY IN BATU FERRINGHI IF:
You are travelling as a family
You are looking for a beach vacation
You want to be near to the big city but not located directly in it
Best Hotels in Batu Ferringhi
PARKROYAL Penang Resort offers 4 dining options and an outdoor pool. Rooms feature sea or hill views, with free internet access and 24-hour room service. It is close to Feringghi Night Walk Bazaar, andBatu Feringghi Waterfall.
DoubleTree Resort by Hilton Hotel Penang offers scenic and comfortable accommodation in Penang. Guests can enjoy meals at the in-house restaurant. It is just 10km from George Town, and 3km from Tanjung Bungah.
The Bayview Beach Resort is situated along Batu Ferringhi Beach in Penang, Bayview Beach Resort offers rooms with private balconies that face the hills or the sea. It features an outdoor swimming pool and guests can enjoy meals at the in-house restaurant or have a drink at the bar.
With our list of options taken care of, I'm sure the vast majority of you will have now decided where you plan to stay. However, I am now going to answer some of the most frequently asked questions people have about Penang, to help those who are still undecided make up their minds as well.
Where To Stay In Penang For Backpackers?
When it comes to those looking to go backpacking in Penang, I would recommend staying in Balik Pulau. With most backpackers prioritising seeing their destinations in the most traditional way possible, there simply isn't a destination that can compete with it.
This rural town, dedicated to agriculture, will give visitors the opportunity to explore the region in a way that allows them to see how the locals truly live and work.
Accommodation in the area is limited, but the Woon Homestay still offers you a great option of a comfortable, stylish guesthouse, where you can rest up between long hard days of adventuring.
Where To Eat In Penang/ Where To Stay In Penang For Food?
When it comes to the topic of food in Penang there is really only one choice when looking at where to stay, that being the city of George Town. Known as the food capital of Malaysia, outlets such as CNN and Time have called it the best place for street food in Asia, while Lonely Planet went as far as to call it the world's top culinary destination.
The cuisine on offer blends everything from Malay, Chinese, Peranakan and Thai to Indian and European, offering a truly unique food experience.
While the incredible offerings are available throughout the city, some of the best places to make a stop during your visit are Chulia Street, one of the oldest roads in George Town, as well as Gurney Drive, a bustling promenade along the seafront. Both of these offer visitors a wide range of choices, to really give you a true flavour of what's on offer.
If you want the best place to start, perhaps a stop at the Kebaya Dining Room would be a good idea. Often considered one of the best and most popular restaurants in the city, there likely isn't a place that better represents what George Town has to offer on the culinary front.
Where To Stay In Penang George Town?
Following on from above, if you've decided that George Town is the place for you while visiting Penang, then I would highly recommend staying at The Prestige Hotel Penang. A stunning, 5-star, hotel, with a "superb" 9.2/10 rating, located near the sea front, at the heart of the city.
This luxurious hotel will ensure you are comfortable and relaxed throughout your entire stay. Its location also means you don't have to worry about travelling all over to see the best sights and attractions.
With historic locations, legendary food and out of this world quality, this is a destination that has all the ingredients to create an incredible vacation that you will never forget.
Where To Stay In Penang With Family?
When choosing where to stay with family, especially those with small children, you'll have a number of requirements. You will want a location that has plenty of amenities, is located near the attractions but isn't caught up in the hustle and bustle and has plenty of places to relax and let the kids play.
Batu Ferringhi is the ideal location for anyone looking for that sort of vacation in Penang. With its range of fun filled beaches, hotel resorts and proximity to the city, it ticks all of the boxes and more.
As I mentioned above, the Hard Rock Hotel Penang is the premier resort in the area. A 5-star hotel with a fabulous rating, it provides guests with luxury and quality, as well as confidence from staying in such a reputable hotel. Staying here is all but guaranteed to ensure you and your entire family have a wonderful stay while visiting Penang.
How Many Days To Stay In Penang?
With Penang being a state as opposed to just a city, there is a vast number of things to do and see, spread over an incredibly large area. While it doesn't offer as much as some of the worlds more famous and historic cities might, it still has plenty to keep visitors entertained.
That's why I would recommend around two weeks as the ideal amount of time to visit for. That gives you long enough to explore the cities and move from place to place, without feeling like you're having to rush. At the same time, it doesn't give you so long that you're left feeling like what you're seeing is just more of the same and visiting attractions you aren't really that interested in, purely to give you something to do.
When Is The Best Time To Visit Penang?
When it comes to picking the best time to visit Penang, it is a little different to most cities. Temperature is usually one of the first things to look at when travelling, but Penang is a destination that is hot at all times, with average temperatures remaining incredibly consistent year-round.
However, it is still the weather that is going to guide my recommendation. That's because it's a place known just as much for its rainfall as it is for its temperatures. So, with this in mind, I am going to recommend January and February as the ideal time to visit.
They feature, by a distance, the least rainy days and daily rainfall of any time during the year. This will allow you to enjoy the area, its warm climate and stunning attractions, without having to worry about getting soaked all the time.
Conclusion
Penang is a beautiful place, albeit one that may appeal to a more select group of visitors than other places around the world. With a diverse range of destinations throughout, this article will hopefully have helped you narrow down which town or city is best suited to your own personal needs.
Now, all that's left to do is go and get things booked, so you can experience it all for yourself.
---
---