Where to Stay in Istanbul: by Areas and Hotels
If you're wondering where to stay in Istanbul, or where is the best area to stay in Istanbul, you're in the right place. In this article, I will give an insight into the best places to stay in Istanbul for first-time visitors, couples, families, backpackers, all budget travelers; read on as I show you the best of Istanbul.
Istanbul is a huge city where east meets west. It is not Turkey's capital but it is comfortably the Country's largest and most important city. While it has grown enormously from its early history many centuries ago, it is still the smaller European side that is the major attraction. That applies both to the businessman and the tourist.
Cross the Bosphorus from Europe and you are entering Asia and the vast majority of the huge country of Turkey. Before you head elsewhere in Turkey, be sure to see the best of Istanbul and it surely has a huge number of things to see and do.
Where to Stay in Istanbul: Tips & Info
It is easy to forget that the iconic cities of the Ancient World were not on the scale of today's cities, not even remotely. Istanbul, formerly Constantinople and Byzantium at different times in its history, has been a major city for many centuries. When it was the heart of the Ottoman Empire, the City was concentrated in a small area on the European side of the Bosphorus.
It follows that the major landmarks are largely on that European side and that is the first place to look to make your base for your visit to Istanbul. Today's bustling city is huge and crowded. That is even more reason to stay on the European side in almost all cases. The exceptions are if you are flying in and out of Sabiha Gokcen Airport on the Asian side or if you are visiting for business on the Asian side.
The places suggested below are most on the European side, but not exclusively so. Istanbul has plenty of accommodation to suit everyone from a budget traveler to those who regularly stay in luxury hotels, often the world's major international brands.
Where to Stay in Istanbul Turkey – The 9 Best Areas to Stay in Istanbul
Istanbul can be overwhelming, especially to a first-time visitor. Its many landmarks make it essential to plan in advance, especially if you have limited time. The smaller European side is where everyone should look first when making those plans. Here is so helpful in learning more about the important areas of the City, including an Asian alternative.
The areas that are covered here are often just parts of a larger district. Fatih on the European side is a large area. If you asked for directions to Fatih, you may be told you are already in Fatih but you could be well away from the destination you seek. The better known smaller neighborhood names within Fatih are those that are discussed here.
So, Where is the best area to stay in Istanbul? In this section, We've selected eight districts that we think have the most to offer visitors, both new and returning. By summarising what makes each neighborhood special, we hope to help you select which area best suits you.
Where to Stay in Istanbul Map
To see more detail of where to stay in Istanbul map, go to Google map;
1. Sultanahmet, Where to Stay in Istanbul for the First Time, Family, Budget Travelers

Sultanahmet was the heart of the Ottoman Empire once Sultan Mehmet II took Constantinople in 1453. Some of the landmarks you must see had already been there for around eight centuries before Mehmet's arrival. They include Hagia Sophia which was built as a church but was soon to be a mosque after the conquest and the Justinian Cistern.
The Cistern was constructed in the time of Eastern Roman Emperor Justinian in the 6th Century to supply water for Constantinople. Hagia Sophia was built at a similar time with the Ottomans changing it to a mosque. The Blue Mosque just yards away is formally known as Sultan Ahmed Mosque and was not built until the early 17th Century.
Topkapi Palace was begun by Mehmet II six years after he took Constantinople and was added to over the years. Despite the Sultans moving to Dolmabahce Palace in the mid-19th Century, it is Topkapi that is recognized as the heart of the Ottoman Empire at its height.
These four attractions appear on every good Istanbul itinerary. Tourists with limited time have to leave out some things but few would omit these four. The fact that they are located so close together makes it easy to enjoy Sultanahmet without having to worry about the busy traffic in Istanbul.
Sultanahmet has plenty of accommodation between luxury and budget. In addition, there are bars and restaurants aplenty. One restaurant to go to is close to the Cistern and sells kofte(meatballs) with salad and bread, but no alcohol. Sultanahmet Koftecisi has been doing that since before the foundation of the Turkish Republic in 1923.
YOU SHOULD STAY HERE IF:
You want to have a wide choice of accommodation
You prefer to be close to the main landmarks in Istanbul
You are traveling independently and are happy walking around
2. Beyoglu, Where to Stay in Istanbul for Nightlife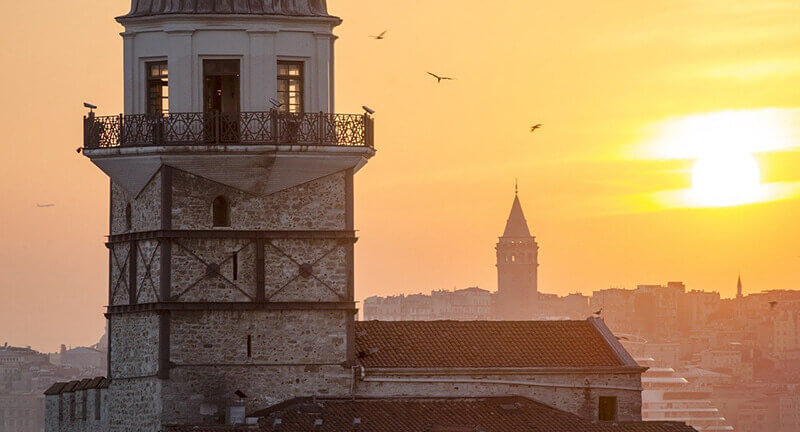 Beyoglu is on the European side across the Golden Horn from the Old City. It existed in Byzantine times and its rich history included periods when European merchants traded here. Both the Genoese and the Venetians made a contribution to what tourists can still see today.
At one time, the district was known as Galata and it was the Genoese who built the famous Galata Tower in the 14th Century. The Ottoman conquest ended their period of rule over the district although the Sultan allowed them to stay.
Beyoglu remained an important trading area for European merchants until the establishment of the Turkish Republic when contacts with Italy and Greece changed dramatically. Much of its grand architecture went into decline but things are much better now that Beyoglu revived.
It is known for its nightlife with plenty of cafes, restaurants, and bars. It is also regarded as an important art district. Among the highlights in Beyoglu is the Hotel Pera Palace which was the final eastern destination for Orient Express passengers in the late 19th Century. Agatha Christie's room in the hotel is preserved.
Beyoglu has a number of interesting museums as well including Dogancay and Pera. The largest synagogue and catholic churches in Turkey are found in Beyoglu.
Beyoglu's central location makes it a great base to explore the European side of Istanbul. Within this area, the smaller district of Karakoy is well worth exploring.
YOU SHOULD STAY HERE IF:
You enjoy a vibrant nightlife
You have a keen interest in art
Your interest in Istanbul goes beyond the Ottomans.
3. Beşiktaş, Where to Stay in Istanbul Close to Dolmabahce Palace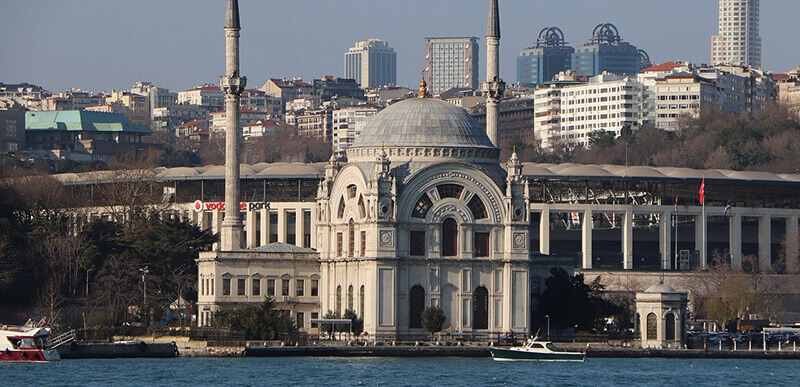 Besiktas is a very popular district on the European side of the City. It has a frontage on the Bosphorus and its major landmark in the ostentatious Dolmabahce Palace, home to the Ottoman Sultans from the midpoint in the 19th Century. It is furnished with the best that Europe had to offer at that time.
It is not a large neighborhood but is important for its commercial activity. There are numerous small cafes, bars, and shops. It has a great atmosphere and it is fun just to sit with a cay (tea) or coffee (Turkish is good and different) to watch the world go by.
The atmosphere from early morning in Besiktas when its team, nicknamed the ''Black Eagles'' is playing at home is electric. Everyone attending a soccer game needs an ID including a passport photograph but it is possible to get through the process and see a game if you are around for a few days.
The Naval Museum close to Dolmabahce is just one of a number of museums and galleries in Besiktas. It is regarded as the center of Istanbul education with several university campuses located there.
Besiktas' fish market is a popular place and visitors can expect to see an impressive range of fish on sale. All in all, it is recognized that the quality of life in Besiktas is a match for most areas of Istanbul.
YOU SHOULD STAY HERE IF:
You enjoy pedestrian areas and plenty of small cafes and bars
You want a central district on the European side
One of your priorities is to see Dolmabahce Palace
4. Taksim, Where to Stay in Istanbul for Nightlife & easy Connect to Airport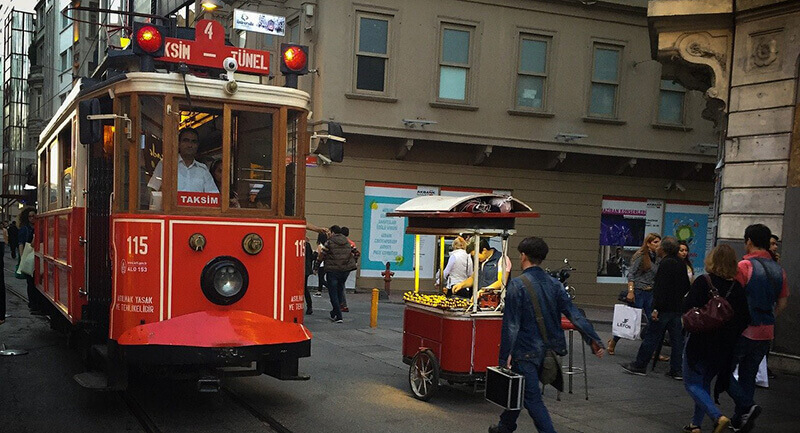 Despite being part of the larger area of Beyoglu, Taksim deserves a separate mention because it is regarded as the hub of the European side of Istanbul. It is located above the Bosphorus, directly up the steep hill from the Dolmabahce Palace and the Vodafone Stadium.
It is home to plenty of budgets and mid-range accommodation as well as top quality hotels that can offer stunning views over the Bosphorus.
Taksim Square is a meeting point into which coaches travel from both Istanbul airports. It was constructed in the 19th Century before the formation of the Turkish Republic. The Independence Monument in a circle at the south end was erected in 1928, honoring Kemal Ataturk. Gezi Park to the north was built on the site of former barracks and is a popular meeting place for locals.
Anyone who is unfamiliar with Istanbul and wants the comfort of knowing they can easily get on a bus direct to the airport, day and night, should think seriously about Taksim. They will have the security that staying in Taksim offers because they won't get lost or delayed.
There are bars, cafes, and restaurants aplenty with plenty of pedestrian-only areas in Taksim which is still very close to the main tourist highlights.
YOU SHOULD STAY HERE IF:
You want convenient connections to either airport
You enjoy nightlife
You are looking for budget accommodation
5. Eminonu – Best Area in Istanbul for Shopping, Close to Bosphorus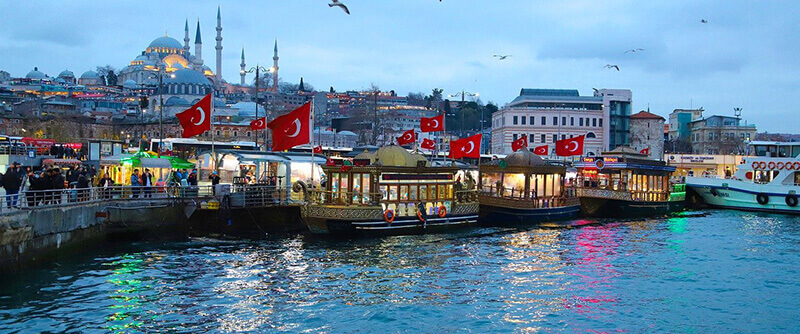 Eminonu was once an important administrative district within Istanbul. It covered what was once the city of Byzantium and therefore included Sultanahmet. While its administrative function has gone, it is still a very recognizable name to locals. Within Eminonu are the Grand Bazaar, the Spice Bazaar, and the waterfront district of Sirkeci which is the ferry terminal for boats crossing the Bosphorus.
The Galata Bridge links the Golden Horn and Eminonu with Karikoy on the Asian side. The port in Eminonu was the place where goods arrived during the Ottoman days and the industrial revolution and steam ships brought even more. The Orient Express ended here at Sirkeci Station.
While it lost its administrative status, Eminonu with its two bazaars, the square around Yeni Mosque, and the renovation of grand architecture lost nothing from a tourism point of view. It may be quiet at night and its population is small. However, by day the harbor activity, the shoppers, and major commercial presence has meant that it is a well-recognized district despite now being just a small part of the large Fatih District.
While the Blue Mosque and Haya Sophia get the most attention, the wonderful mosque down close to the Bosphorus, Suleymaniye named after Suleyman the Magnificent appears in many photographs of Istanbul.
YOU SHOULD STAY HERE IF:
You love shopping
You want a central location close to the Bosphorus
You are not too concerned about nightlife and are happy to travel to find it if you want a late night.
6. Sişli – Best Area for People Interested in Military History
East of Besiktas, Sisli is just two miles away from Taksim Square. It has no frontage onto the Bosphorus but the water is not far away. Sariyer on the Black Sea is just to the north.
Years ago, this district was countryside used for hunting and agriculture but in the later years of the Ottoman Empire, it became a middle class residential district. Its wide avenues are evidence of the impact that French culture made during its development.
It was an area that was important for traders and home to many foreign peoples including Greeks, Armenians and those from the Balkans. The Hilton set the trend by building its hotel in 1950 and other quality hotels have followed its lead.
Many of the splendid large buildings that were formerly home to the wealthy are now used for offices, banks, and cheaper accommodation after the wealthy moved further out from the City Center. There are plenty of shops, bars and restaurants, many in the narrow streets off the wide avenues.
Macka and Nisantasi are two of four neighborhoods within Sisli where you will find good accommodation.
One of the things that is missed on just a short break in Istanbul is the Military Museum, many centuries of history. There is a regular performance by the Ottoman Band within the museum. Sisli also has mosques, good shopping malls, a cathedral and other museums. If your base is Sisli, you may decide that a day of your holiday should be spent in your immediate vicinity.
YOU SHOULD STAY HERE IF:
You are interested in military history
You enjoy browsing shopping malls
You want a balance between the main city attractions and the outer parts of Istanbul out towards the Black Sea.
7. Eyup, Where to Stay in Istanbul for Islam's History Lovers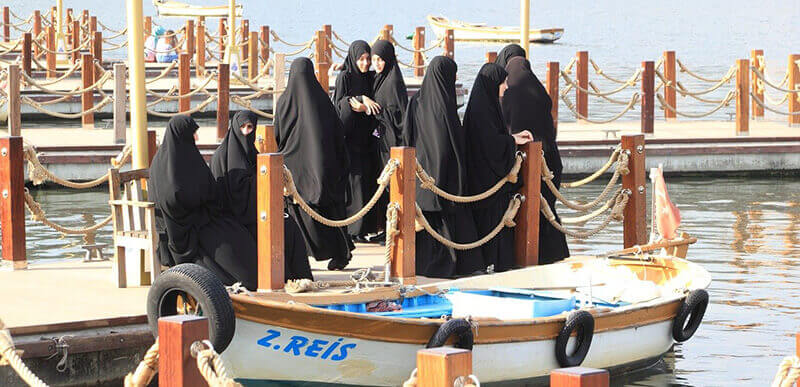 If you come from Yorkshire in England, ''eyup'' means ''how are you?'', it's a common greeting. In Istanbul, it is a prominent district on the European side. It stretches north from close to the Bosphorus to meet the Black Sea Coast north west of Sariyer. The new airport in Istanbul is in an area of Istanbul yet to develop but Eyup Sultan, it's official name, is close.
It is an important area for Muslims, historically and still today. It gets its name from the Ottoman, Abu Ayyub al-Ansari. Its 15th Century mosque attracts many pilgrims, both Turkish and from overseas. That has changed the atmosphere of a former industrial area to a thriving trading district.
There is gondola transport between the Golden Horn and the Black Sea coastline and it is well patronized. There is plenty of accommodation available in Eyup, mostly in the south of the area rather than on the Black Sea Coast.
Eyup does not receive as much attention as most other parts of Istanbul's European side but it may see the next neighborhood to grow quickly, albeit it is more conservative that today's popular tourist bases.
YOU SHOULD STAY HERE IF:
You are interested in Islam and its history
Your preference is to be away from the bustle of Istanbul
You want an authentic Turkish neighborhood close to the new airport.
8. Sariyer, Where to Stay in Istanbul Close to the Beach
Sariyer is the northernmost part of Istanbul's European side. It fronts onto the Black Sea and in years gone by, it was a forested area with small fishing villages. The wealthy of Istanbul lived here in the 19th Century or had a weekend retreat; that included the Ottoman Sultans and their entourage.
It is still an upmarket residential area with fine villas on the forested hillsides. The construction of a modern coastal road ensured that the heart of the City became very accessible. Remember though that even here the traffic is likely to be heavy. There is a high speed ferry boat service into the middle of Istanbul so staying out in a relatively quieter area is worth considering.
With a history of fishing, it is not surprising that there are a number of fine fish restaurants on the shores. Formerly, many of these restaurants were actually houseboats. Sariyer is a popular place for locals not only because of these restaurants but because of a number of lovely picnic areas and some beaches.
There are plenty of museums in Sariyer while the fortress built in the 15th Century, Rumelihisari, is now a popular concert venue.
YOU SHOULD STAY HERE IF:
You prefer a base out of the City Center.
You enjoy a location close to the sea
You love fresh fish and eating it looking across the waters where it was caught.
9. Kadikoy – Coolest Area in Istanbul

Visitors to the Asian side of Istanbul come either for business or for a sporting event at Fenerbahce, soccer but also basketball. ''Fener'' is one of Istanbul's iconic sports clubs and regular champions in both sports. The exception on the Asian side is Kadikoy whose popularity with tourists is distinctly on an upward curve.
The neighborhood of Moda within Kadikoy has been identified as one of the coolest neighborhoods anywhere. That is because of the increasing number of bars, cafes and restaurants that have opened in recent years. Fashion shopping is excellent and there is plenty of accommodation.
Kadikoy is a ferry ride across to the European side and the views across from waterfront cafes and restaurants to that famous Istanbul skyline are fabulous.
YOU SHOULD STAY HERE IF:
You want to try a new emerging area of Istanbul
You are happy crossing the Bosphorus to see the major landmarks
You enjoy wandering around an area with small shops, cafes and bars
Where to Stay in Istanbul with the Family
The main landmarks that most travelers put at the top of their list when visiting Istanbul are in Sultanahmet. If you are traveling as a family, the less you walk the better, especially if your children are young. It makes sense to stay in Sultanahmet if your aim is to see these highlights like Topkapi Palace and the Blue Mosque.
After that, it is likely that you will enjoy Besiktas with its many nice cafes and restaurants. Dolmabahce is in Besiktas on the Bosphorus and over the road from the Vodafone Stadium, home of one of Istanbul's soccer giants, Besiktas.
You will find good value hotels suitable for families in both these areas and across the European side in general:
Luxury:
Mid-range
Budget
Where to Stay in Istanbul Taksim or Sultanahmet
Taksim Square is the acknowledged center of Istanbul with plenty of activity, day and night. The advantage it holds over all other parts on the European side is that there are regular buses taking passengers out to the two airports serving Istanbul.
Sultanahmet is the heart of what was the Ottoman city. The main landmarks in the whole of Istanbul are in Sultanahmet and all within walking distance. If you have Topkapi Palace, the Blue Mosque, Hagia Sophia and the Justinian Cistern on your list of things to see, you can walk between them all. With a Sultanahmet hotel, you are literally on their doorstep.
Where to Stay in Istanbul on a Budget
It is very much the same when it comes to finding budget accommodation in Istanbul. Sultanahmet and Besiktas provide plenty of choice. There are two other districts worth mentioning as well. Taksim is a convenient location for getting to either airport and has plenty of cheap accommodation as well.
An up and coming district across the Bosphorus, but just a ferry ride away from most of Istanbul's highlights is Kadikoy. Certainly worth a look!
Where to Stay in Istanbul for Couples
It is as much the things that couples should do in Istanbul as where they should stay. The famous landmarks are on the European sides and the areas mentioned above all have accommodation to suit a couple wanting a memorable holiday.
What they should investigate is dinner on a nighttime cruise on the Bosphorus. When the City is lit up at night, it is spectacular. Another great idea is dining in a rooftop restaurant with views on high. There are many quality hotels that can offer that.
16Roof Swissotel Restaurant & Bar in Besiktas is worth looking at closely.
Where to Stay in Istanbul the First Time
Few people become familiar with Istanbul until they have visited a few times. Unless there is a specific reason to visit and a particular location that you have to find, you should stay on the European side, and specifically in Sultanahmet, Besiktas or Taksim.
It means you will be close to the main attractions of the city. You will have plenty of accommodation and restaurant choices in these three areas and good transport links to get elsewhere.
Where to Stay in Istanbul for Nightlife
Taksim is recognized as the most vibrant area in the City. There are plenty of bars, restaurants and clubs in this district. To be fair, there is activity aplenty in all the areas that welcome visitors to the City. Beyoglu is known far and wide for the quality of its nightlife.
You will not be disappointed if you are in Besiktas or over the Bosphorus in Kadikoy either.
Where to Stay in Istanbul on the Asian Side
Istanbul's expansion from its early days has been on the Asian side. It is commercial and residential with limited attractions for tourists. One area that is becoming increasingly popular on the Asian side is Kadikoy.
It is located on the Bosphorus with regular ferries back and forth to the European side. It is a lively area with plenty of bars and restaurants as well as trendy boutiques and good shopping in general. It is important to remember that you will find that along other sections on the Bosphorus on the Asian side, you may not find alcohol being served.
In Kadikoy are DoubleTree by Hilton or the Holiday Inn are quality options while for budget accommodation, try Moda Hostel.
Where to Stay in Istanbul for 3 Days
While there is time to travel around Istanbul in 3 days, you will not be able to travel very quickly. You can see the highlights of Sultanahmet in a single day, walking around. It means that you do not necessarily need to stay there.
It is a good base however, as is Besiktas and Taksim. Taksim is particularly good for transfer connections and has its own metro station. In all three of these districts, you will find plenty of choice of accommodation, be close to the Bosphorus with lots of good eating places, casual or more formal.
Where to Stay in Istanbul Sultanahmet
You will walk less than a mile to get from the Topkapi Palace via Hagia Sophia and the Justinian Cistern to the Blue Mosque. In Sultanahmet, you are in the heart of Istanbul's main highlights and the Grand Bazaar is less than a 15 minute walk away as well.
If you are looking for ideas of where to stay in Sultanahmet, here are some suggestions to start your search
Where to Stay in Istanbul for Shopping
In common with most of the world's great cities, Istanbul is a shoppers' paradise. You will find all the major fashion brands represented here, almost exclusively on the European side. There are many modern shopping malls as well throughout the City.
In addition, there are the atmospheric Bazaars, the Grand and the Spice. In a day, you will have no chance to cover more than a fraction of the Grand Bazaar's shops.
It makes sense if you are in Istanbul and want to shop you should stay in areas such as Taksim, Beyoglu, Sultanahmet, Besiktas or Sisli.
Where to Stay in Istanbul for Tourists
The main reason that tourists visit Istanbul is to see the iconic landmarks from Byzantium times through to the Ottomans. They are largely in Sultanahmet and districts close by. It certainly makes sense to stay in districts like Sultanahmet, Besiktas, Beyoglu and Taksim to have easy access to Istanbul's highlights.
Where to Stay in Istanbul for your Honeymoon
Istanbul may not seem like an obvious honeymoon destination but think on. You can enjoy some of the most iconic landmarks found anywhere. You can find hotels to suit your budget and romantic settings in the midst of a huge, frantic city.
You should stay on the European side. Best of all would be a room in a large hotel with views across the Bosphorus to Asia. If there is a rooftop restaurant with similar views, all the better.
Where to Stay in Istanbul for One Night
No time and so much to see! If you are just passing through Istanbul with an early flight to catch, you may have a dilemma. You will see nothing really by staying at either airport. Buses from Taksim run throughout the day and night out to both airports so if you put your alarm on, you should not miss your flight. Sultanahmet is the highlight of Istanbul so an early morning taxi to Taksim then the bus should get you to the airport on time. If you decide to stay in Taksim, get a taxi to Sultanahmet giving you a few hours to see the treasures of the area that the Ottomans made their home.
Where to Stay in Istanbul near an Airport
A new airport on the European side opened in April 2019. It is on the shores of the Black Sea, somewhat distant from the heart of the City. It is the headquarters of Turkish Airlines and has the majority of passenger traffic to and from Istanbul. It makes sense to stay closeby, especially to catch an early flight.
Sabiha Gokcen on the Asian side is the base for Pegasus, Turkey's ever growing second airline. Many other international airlines like Qatar and Emirates use it. If you have an early flight, perhaps you should stay closeby?
How to Get around Istanbul
There is a metro system in Istanbul but the vast majority of the routes are on the European side. The other options for getting around this busy city and the trams and buses, taxis, or in some cases the ferries on the Bosphorus depending on your journey.
Remember that traffic often moves very slowly in Istanbul, especially during the morning and evening rush hours. Consequently, leave plenty of time for your intended trip in order to arrive on time.
Even if you are a confident driver and regularly hire a car in foreign places, think twice before doing that in Istanbul. If you need a car for onward travel, it makes sense to get it as you leave the City, not to help you explore.
Best Things to Do and See in Istanbul
Istanbul has one of the most recognizable skylines in the world. One of the best ways to see it is on a ferry on the Bosphorus. One of the things you should do while in Istanbul is to sail and the Bosphorus and some of its most famous landmarks are part of the skyline you will see.
The European side is the place to head and how much you will see depends on the time you have available:
Sultanahmet
Topkapi Palace housed the Ottoman Sultans, their officials and administration as well as their harems. Tourists can enjoy the lovely gardens, set foot in the harem and see a range of wonderful exhibition rooms.
Justinian Cistern was built in the 6th Century by the Emperor Justinian to provide Constantinople with its water. It has been used several times in major films including ''From Russia with Love'', and more recently ''Inferno.''
Hagia Sophia began as a church and became a mosque when the Ottomans took Constantinople. Ataturk made it a museum but recently the Turkish Government has reverted it to a mosque. A wonderful building.
The Blue Mosque faces Hagia Sophia. It is a two minute walk and tourists are welcome other than at prayer times.
Besiktas
Dolmabahce Palace on the Bosphorus became the home of the Ottoman Sultans in the 19th Century. It was furnished in the best that Europe had to offer including a huge 8 ton chandelier. It was also the place where the father of the Turkish Republic, Ataturk died in 1938.
Eminonu
The Grand Bazaar has 61 covered streets and 4,000 shops. Anything up to 400,000 visitors walk through its doors on a daily basis. It first opened in the 15th Century and was completed in 1730.
The Spice Bazaar has been open for business since the mid-17th Century. It has 85 shops, many concentrating on spices, Turkish Delight, other sweets, fruit and nuts.
Beyoglu
Galata Tower is over 200 feet high and was finished in 1348. This medieval stone tower offers panoramic views of Istanbul and there are 2 elevators to get visitors to the viewing area.
There are street side cafes and restaurants throughout the City but you should head to Taksim for at least one evening. There are also many restaurants that look out onto the Bosphorus and selecting one of them for dinner is a great experience.
With limited time, your only visit across onto the Asian side may be to Kadikoy which has become increasingly popular in recent years. It has plenty of cafes and bars, and boutique shopping is good.
Best Time to Visit Istanbul?
Istanbul may have a southerly latitude relative to much of Europe but it does have poor winter weather. Rain and cold winds are regular, and snow does fall often. However, Istanbul is a city that is prepared for poor winters. It is also a city with major attractions and good shopping all twelve months of the year.
Spring and autumn are nice times to visit because temperatures will be comfortable and that is important if you intend to do much walking. Most tourists have that in mind, especially around Sultanahmet then perhaps to the Grand Bazaar that is 15 minutes away on foot.
Istanbul does have plenty of hot and sunny days in the summer and that is probably the season when most tourists visit. That means longer queues at the major landmarks. It is also a dettent to doing too much walking.
If you are traveling as a family, the summer may be your only choice but otherwise look to May and June or September and October. There will not be a huge difference between costs of accommodation, unless you are looking at mid-winter.
Conclusion
There are overwhelming reasons for staying on the European side of Istanbul, especially if you are a first-time visitor and especially a tourist.
Istanbul is a busy city and you should plan your itinerary to see it at its best. Remember that the traffic will make travel slower than in some other cities you have visited. There are hotels to suit every budget and you should look at some of the ideas suggested in this article.
Many people visit Istanbul time and again. They revisit some of its gems and also head for places they have yet to explore. Istanbul is an unforgettable city which you should visit at the first opportunity. If Istanbul is not on your bucket list, revise it.
---
---