Where to stay in Havana for tourists? The best areas to stay in Havana are Centro Havana, Old Havana, Miramar, Habana del Este, Habana Vieja, Chinatown, Vedado, Jaimanitas.
Old cars from the 50s that are still on the streets of the city, happy locals and beautiful Art Deco buildings will make you forget all your problems.
Choosing where to stay in Havana is a big challenge. The hotels are not the main type of accommodation, unlike villas, apartments, and rooms for overnight stays. You should know that Havana is a city that never sleeps. Here you must be prepared for the eternal party and noise of the street fiestas.
The places where you can stay are extremely colorful and range from low class to high luxury. In Havana, many locals offer rooms from their own homes to tourists. Most of these places are very affordable and close to social spots and attractions. This type of accommodation is most preferred by most tourists in Havana.
It is not advisable to choose places to stay in distant neighborhoods, away from the central areas of the city. These places are poor, there is almost nothing to see, and there the appearance of a foreigner becomes more of a peepshow for the locals.
8 Best Areas to Stay in Havana for tourists are:
1. Centro Havana
Centro Havana is the most representative part of Havana and is a social hotspot for all tourists. Located in the heart of the Cuban capital, you can see many landmarks, most of which are related to the Cuban Revolution.
The area is full of shops and stores, bars, street attractions, and many locals to talk to. This place is the liveliest in Havana, and here is the Gran Teatro de La Habana, the beautiful El Capitol building, the Museum of the Revolution, and the incredible Palacio de Los Matrimonios.
All these sights combined with the promenade become an awesome place for a walk. As Cuba is still developing as a tourist destination, the places to stay here are apartments, studios, and rooms for overnight stays. The area is suitable for families with kids, couples, tourists, shipping tourists, luxury travelers.
Stay in Centro Havana if you are looking for a place near historical landmarks; you are looking for a place for entertainment and shopping; you don't mind the noise and movement of many people; you want to stay close to El Vedado neighborhood.
Check out my virtual tour about the best places to stay in Havana in this video or continue reading:
2. Old Havana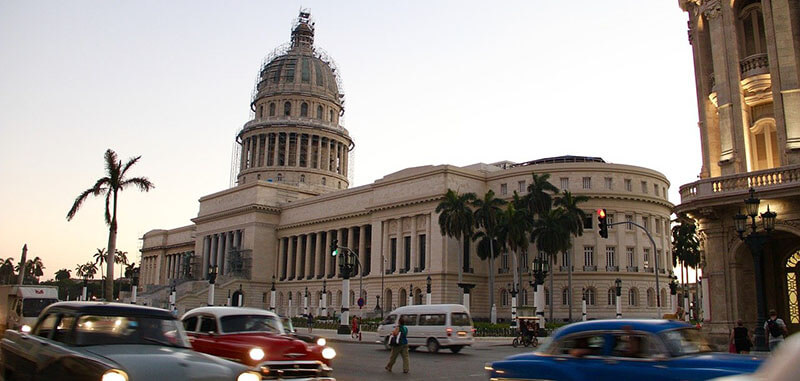 Old Havana is one of the most famous and visited places in Cuba. This place has an exceptional atmosphere with unique streets and buildings. After Cuba appeared on the tourist map, many of the buildings in Old Havana have been restored to their original appearance.
Here you can see: National Museum of Fine Arts, Catedral de San Cristóbal, Museo de la Ciudad, Castillo de la Real Fuerza. One of the tourist attractions in this area is a special tour of Havana. You can jump on a classic Cadillac from the '50s to take you around the city with a guide and driver.
The bars in Old Havana are ready to offer you the best Mojito or the famous Cuba Libre cocktail. The places where you can stay are rooms for overnight stays and small hotels. This location is suitable for all types of travelers.
Stay in Old Havana if you are looking for a place near historical landmarks.; you prefer a place close to other areas.; you don't mind the movement of many people and car traffic.
3. Miramar
Miramar is one of the richest and most modern neighborhoods in Havana. Also called Neighbrood of Foreigner and is located opposite Old Havana and Centro Havana. The area is home to many embassies, government buildings, palaces, institutions, and this makes the neighborhood safest in Havana.
Miramar hosts many economic and business centers from around the world. Here you can visit The National Aquarium and Museo Orgánico de Romerillo. If you are a shopping traveler, then Quinta Avenida is your place where you will find great boutiques.
Connie Island, located in the western part of the neighborhood, is full of attractions for young children at cheap prices. Although the area is suitable for luxury travelers, but you can find a lot of places to stay on a budget.
Miramar is suitable for families, shopping travelers, tourists, and luxury travelers.
Stay in Miramar if you are looking for a safe place.; you are looking for a place for shopping.; you don't mind the limited option to stay.
4. Habana del Este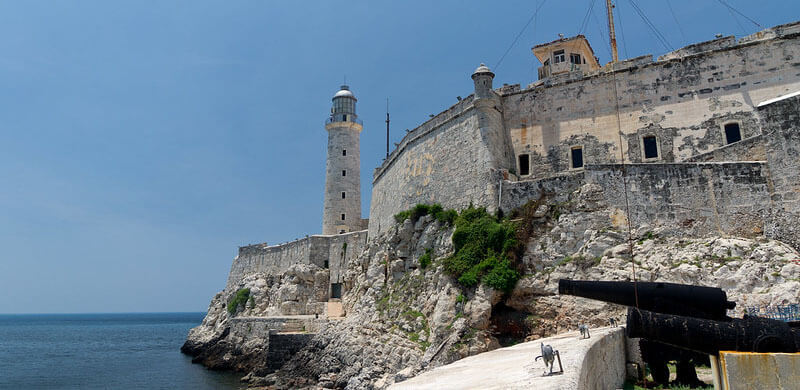 Habana del Este is located near the port of Havana and east of Centro Habana. In this area are the best beaches around the Cuban capital.
The main attraction in this place is Guanabo. This is a place for complete rest for many local and foreign visitors. The area is full of restaurants offering authentic Cuban cuisine. Some of the hotspots you can visit are Playas de las Hermanitas, Playa Bacuranao, Playa Tarara, Playa de El Rincón.
One of the most famous sights is the Castillo De Los Tres Reyes Del Morro. The Fortress was built in the middle of the 16th century and has withstood all eras and events in Cuba.
There are many opportunities where you can stay. You will find villas for rent, apartments, and small hotels on budget. Habana del Este is suitable for solo travelers, families, couples, tourists, and street food travelers.
Stay in Habana del Este if you are looking for a place close to the beach.; you are looking for a place for rest and entertainment.; you don't mind a large movement of people.
5. Habana Vieja
Habana del Vieja is an area which is part of the Old Havana neighborhood and is one of the symbols of the city associated with the colonial era of Cuba. Here you will find many landmarks, museums, and squares that will immerse you in the spirit of its time.
One of the biggest attractions in this area is the squares – Plaza de la Catedral, Plaza de San Francisco, Plaza Vieja, and Plaza de Armas. They were built in the 18th century and hold a lot of history and culture.
You can visit Ernest Hemingway's favorite place – La Bodeguita del Medio ", where the Mojito cocktail is mixed for the first time. The Suidad Museum was once the seat of the colonial government, and you can see many artifacts there.
This place is full of restaurants, nightclubs, and thousands of attractions. The locals will offer you a real fiesta on the streets, Cuban cigars, and many other entertainments.
There are many places to stay and the prices are suitable for all types of travelers. The area is suitable for shopping travelers, solo travelers, street food tourists, and budget travelers.
Stay in Habana Vieja if you are looking for a place with many attractions and nightlife.; you don't mind the noise and the large movement of people.
6. Chinatown
While Havana's Chinatown is one of the oldest in Latin America, there is only a small Chinese population in it. Many Chinese left for the USA when Castro took control. Since the 1990s, there has been significant development to El Barrio Chino in an attempt to attract tourism. It does provide a contrast to other parts of the city.
It is just a small neighbourhood with restaurants whose dishes tend to add a Caribbean flavour to traditional Cantonese cuisine. It is the use of local spices that is the noticeable difference. In some ways, with other cuisine available, it is more like an Asian, rather than specifically Chinese, district.
Its central location is the real advantage of staying here. It is private rentals rather than hotels and hostels that are on offer so you will need to do your research to find accommodation. If you succeed, your room will be inexpensive.
7. Vedado
Vedado means ''forbidden'' in Spanish, but do not let that put you off before you learn more. The name comes about because it was formerly a military zone but that is in the past. It is now a neighbourhood of two sections with distinct differences, the original area and one that was its expansion.
One is an area that developed with USA investment and contains lovely mansions, some homes of rich American gangsters. These places have other uses now, often government buildings. Accommodation prices here are high but Nuevo Vedado is cheaper, a residential district with housing built since Castro took over.
Families and long stay visitors should look here. The farmers' markets are good, and the area as a whole is known for its good restaurants and nightlife. You will find both hotels and homes for rent here with some of the hotels almost acting as museums demonstrating the pre-Castro history of Havana.
8. Jaimanitas
As an alternative to the hectic city districts, look at Jaimanitas, which is a sleep fishing village. The lovely ceramic tiles, the work of local artist, Jose Rodriquez Fuster, adorn the walls within the village. Just walking around is like being in a gallery.
Jaimanitas is found between Miramar and the marina. If you like seafood and want it at its best, Jaimanitas can stake a claim. It is even worth a trip out of the centre to try it here. The friendliness of Jaimanitas is another reason to search for accommodation here.
You may not find much nightlife, nor significant landmarks, but is this important to you? You will need to search to find a room here, but it is worth the effort. It will be inexpensive relative to many other parts of Havana. It is an ideal place for singles or couples who want to avoid the busy parts of Havana.
Read Also: How to Make the Most of 3 Days in Havana?
What Is The Best Area To Stay In Havana?
Habana del Vieja and Habana Centro are the best places to stay in Havana if you want to be in the heart of it all. You should know that areas are densely populated and tend to be noisy, which can be a problem if you want to sleep.
These two locations are especially suitable for visitors of museums, architecture, but also and for nightlife. In Habana del Vieja and Habana Centro, the places to stay abound, and are of all types.
It can be said that in these areas, there is something for everyone. The restaurants and nightclubs here are desired by all visitors and fans of adventures.
Is It Safe To Stay In Havana Cuba?
Compared to much of the world, Havana is a surprisingly safe city and will become more in future. As in any major city, street crime exists, but in Havana, it is kept to a minimum.
The police presence in the city is large and constantly patrols, which acts as a warning to all potential thieves. You should avoid remote neighborhoods or places that are not in sight of the police.
Also, be careful when taking pictures, оf course, do not hesitate to take photos of all the beautiful sights, but there are exceptions. Do not take photos of military personnel, military buildings, or even the police unless there is a change of guard or similar event. In such moments you can get into trouble.
What Is The Most Popular Neighborhood For Foreigners In Havana?
The most suitable place for foreigners in Havana is Miramar. Many foreigners choose this neighborhood when they come for business deals.
There are many foreign business centers, institutions, and embassies in Miramar, which is why it is called the Neighborhood of Foreigners. This luxury neighborhood is home to influential businessmen, diplomats, and politicians.
Foreign delegations visiting Cuba are also accommodated in Miramar. This makes the area the safest and most secure place in Havana and is preferred by foreigners coming to Cuba. Miramar offers holiday villages and many attractions for its external visitors.
How Many Days Should I Stay In Havana?
Havana is a big city and offers many opportunities for what to see, do, and where to stay. No matter how much time you have planned for your visit, it will never be enough for you to fully enjoy this city.
If you want to visit Havana and see the most sights, then 1 week is enough to see the main part of them. If you are on a street food tour, then it will take you at least a few days to experience the unique Cuban cuisine.
If you are coming for a weekend, it is advisable to stay in Old Havana to be close to all tourist attractions of the Cuban capital.
How Far Is Havana Airport From The City?
José Martí International Airport, sometimes known by its former name Rancho-Boyeros Airport, is located 15 km southwest of Havana. The airport is in the municipality of Boyeres and connects Havana with the rest of the Caribbean, North, Central, and South America.
There are several options for public transport to the airport. If you take a taxi from central Havana or Old Havana, the time you will be at the airport will average 20 minutes and will cost about $ 17 – $ 21.
You can also use Metrobus Habana, which operates a bus from Parque El Curita to Mazorra every 10 minutes. Tickets cost $ 1, and the journey takes 40 min.
Where To Stay In Havana For Nightlife?
Havana is one of the cities that never sleep and offers a great set of nightlife opportunities. The best place to stay for nightlife is Habana del Vieja, part of Old Havana. The area offers hundreds of nightclubs, street fiestas, carnivals, and great bars.
In this neighborhood, you can drink authentic Mojito or Cuba Libre and indulge in awesome adventures. There are many places to stay, most of which also offer breakfast. If you come to Cuba for nightlife, then Habana del Vieja is the place where you will spend an amazing.
Where To Stay Near Havana Airport?
The airport district offers many options for where to stay. The El Criollo area, a 3-minute drive from José Martí International Airport, offers very good facilities at affordable prices.
Accommodation is from small hotels, rooms in a private home, and apartments. Most travelers staying in this area choose rooms from a private home that are well priced and offer breakfast.
Near the airport is the National Park of Cuba and the Havana Zoo Park. There are all kinds of social spots in the area such as restaurants, shops, and pharmacies.
What should I avoid in Cuba?
There are a few basic things to avoid doing in Cuba. Despite the reforms, Cuba remains a communist country, and the government does not tolerate any criticism.
If you start a conversation about politics or government, you will create inconvenience to the people, and you may be reported to the police. The consequences are unpleasant, and you can be accused of subversive activity.
The most important thing is never to stay in the orange houses (casa particulares) they are only for Cubans. For tourists, these are the houses with a blue sign. If you stay in an orange house, it can cause you problems.
Most visitors have the right to spend only 60 consecutive days in Cuba if you have a tourist visa and are not allowed to carry out any activity. Otherwise, you will be invited for an interview with the police.
Should I tip in Cuba?
If you travel to Cuba, you will see that the level of service is high and the people who offer you the service are friendly. Although a communist country, the tip is accepted but has its peculiarities.
If you do not leave a tip, this may be accepted strangely and misunderstood by your attendant, and you may be considered tight. If you give a huge tip you will leave the impression that you are an unfaithful tourist who throws away too much.
The level of tips in Cuba varies depending on what exactly they have helped you with. Keep in mind that there are two currencies in Cuba – the US dollar and the Cuban Convertible Peso. The best option remains the classic 10-15%.
Havana is an amazing tourist destination that attracts millions of tourists every year. The magic of this city is boundless and will make you do not want to leave.