You might be wondering where to stay in Zurich. Is the city too big and intimidating? What are the best areas to stay in Zurich? Think again! Thanks to our quick guide, it's time for you to take a well-deserved vacation. We've done all the hard work so you don't have to! Read on below for helpful tips and tricks from a local traveler.
The city of Zurich is the largest in Switzerland and is also the capital of the Canton region. Due to its history as one of the most important business cities in the world, it is a hub for transport and features the busiest train station and Zurich airport in the country, the latter of which is even the busiest anywhere between Milan and Munich.
Despite its reputation, Zurich isn't just a city popular with high flying business men and women, it is also a destination becoming more and more popular with tourists.
From its rich history, world famous shopping and dining opportunities, as well as the culture and architecture creeping across from neighbouring Bavaria, it is a perfect option for anyone looking for a city break, in a slightly more upmarket location.
Considering all of that is before I even mention it is home to the stunning Lake Zurich, one of the most famous in the world, I'd highly recommend you read on, to find out just how fantastic a trip to Zurich could really be.
Tips for choosing the best areas to stay in Zurich
A city such as Zurich is one that can dramatically change throughout the year, so when you plan on going will play a large factor in deciding on your perfect place to stay.
For example, in the summer there are numerous festivals held within the city, so if you want to get involved with them, I would recommend staying in Aussersihl, as this is where the majority of them take place.
Maybe you are coming to spend most of your time exploring the beautiful Lake Zurich, where staying in either Riesbach or Kreis 2 would be beneficial, as they run along the shores of the lake, eliminating the need for travel.
Or perhaps you simply want to enjoy the hallmarks of a good city break, by taking in some of the history, while shopping and dining in the finest shops, bars and restaurants on offer. If that were the case, I would recommend, like most cities, staying right in the centre, which in Zurich would bring you to the Altstadt district.
For such a diverse city, really knowing exactly what you want to get out of your visit is essential to making it a successful one. If you combine these tips with the information I'm going to give you on the city's best areas to stay for tourists, it will hopefully make your search substantially easier than it otherwise would be.
Where to Stay in Zurich – 7 Best Areas to Stay in Zurich
The city of Zurich is divided into 12 fairly similarly sized districts, or Kreis as they're also known. While they all offer their own unique quirks and selling points, I'm going to help you begin narrowing your search, by telling you about what we believe to be the 7 best districts the city has to offer.
Best areas to Stay in Zurich Map
To see more detail of where to stay in Zurich map, go to google map;
1. Altstadt (Old Town), where to stay in Zurich for first time visitors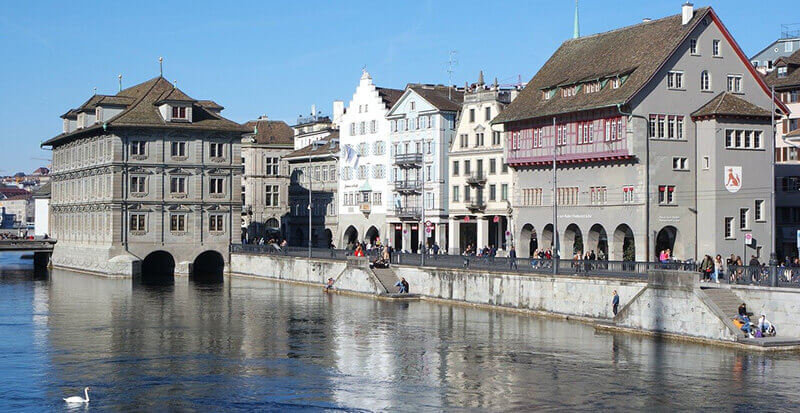 Located right at the heart of Zurich, Altstadt (or Kreis 1) is its most historic area, featuring the original city of Zurich, prior to it being incorporated into the region that currently makes up the city in 1893.
For anyone interested in the history and culture of the area, this is undoubtedly the place to be. With its origins dating back to pre-Roman times, attractions such as a Roman castle and hypocaust share the stage with the marginally more "modern" St Peter's Church, Kecinsturlin Gate and an Augustinian monastery, which were built in Medieval times.
The Rathaus, or Town Hall, quarter continues the historic theme of the area. Located on the other side of the Limmat river, it is the site of the historic building itself. Containing the Limmatquai, this is the perfect spot to enjoy a relaxing drink or spot of lunch, while taking in all the stunning, historical views.
Altstadt isn't all history and culture though, as it is the location of the world famous Bahnhofstrasse, a popular street full of high-end and exclusive shops, bars and restaurants. As the most expensive street to purchase retail property in Europe and 3rd most in the world, anyone who wants to treat themselves to some of the finer things in life while they're on vacation will be spoilt for choice.
The Paradeplatz, one of the most famous squares in Switzerland, is also located towards the southern end of the street, near Lake Zurich. Known primarily for its beautiful architecture, chocolate shop and Confiserie Sprungli café, it is also home to the headquarters of the two largest Swiss banks.
Altstadt is the best place to stay if:
You want to treat yourself in some high-end shops and restaurants
You love history and culture
You want to see boats on a historical quay
You want to stay near lake Zurich
2. Aussersihl (District 4), the best area to stay in Zurich for nightlife
Also known as Kreis 4, Aussersihl is located to the east of Altstadt, on lands that were traditionally fields and pastures, prior to it being developed during the 18th century. It was also the location of numerous pits used for the deposition of dead animals, earning the region the nickname of Chreis Cheib Cheib, a local colloquialism for an animal cadaver.
Despite its more rural history, this is an area that has developed a significantly different, more party orientated reputation in recent years, most specifically its famed Langstrasse quarter.
While becoming the home of the city's Red-Light District could have harmed its reputation, they instead embraced the situation, and managed to transition from a somewhat sleazy, adult only destination, to one of the most popular hot spots for nightlife in the city.
Lined with bars and clubs, which stay open till late into the night/early the next morning, depending on how you want to look at it, this is definitely the preferred place to stay for the party animals out there.
There are also a large number of festivals held throughout the year in this region, including carnivals and film and Latin festivals. This makes it ideal for partygoers in the daytime as well, provided you can make it when one of these is occurring.
Aussersihl is the best place to stay if:
You like to party
You want to experience some of the city's "adult" entertainment
You want to find out a little about the city's more rural history
You want to enjoy a festival or street carnival
3. Kreis 2 (District 2), one of the best areas to stay in Zurich for families
With its northern tip sandwiched between our previous two districts, in the heart of the city, while the bulk of it runs down the western shore of Lake Zurich, Kreis 2 is perhaps the most diverse region in all of Zurich.
The Edge region in its north is home to a number of popular attractions, such as The Prehistoric Pile Dwellings Around The Alps, which is a UNESCO World Heritage site, the Synagogue Zurich Lowenstrasse, the oldest synagogue in Zurich, as well as the Voliere Zurich aviary and a botanical garden.
As you go further south in the district, through its Wollishofen and Leimbach neighbourhoods, the district does become less densely populated and built up, but still features plenty to do and see.
Historical sites such as Wollishofen Church and Villa Belvoir, the former home of Swiss patron of the arts Lydia Escher, are interspersed with companies offering passenger ship cruises and the Rote Fabrik cultural centre, to create a locale with a diverse range of offerings for all comers.
There's even the Zurcher Theater Spektakel, one of the most important European festivals for performing arts, which is held annually every summer.
Kreis 2 is the best place to stay if:
You want a wide range of activities
You want to see a world-renowned arts festival
You enjoy beautiful lake views
You are interested in boat trips
You are interested in history
You are travelling as a family
4. Riesbach, the best area to stay in Zurich for fan of sculptures
On the opposite side of Lake Zurich to Kreis 2, on its eastern shore, lies the region of Riesbach (Kreis 8). Known primarily for Quaianlagen, as a series of quaysides along Lake Zurich, its stunning views and opportunities to take trips out onto the lake draw visitors from all over the world.
This was the location of the original bathhouse in the area, which was demolished when the quay was being built in the late 1800's. To replace it, two new bath houses, Strandbad Tiefenbrunnen and Seebad Utoquai, were constructed at separate locations.
While the former bath was rebuilt in the last decade, the latter remains, with its stilted "bathing palace" structures and original bathrooms still preserved, now featuring towering domes that were added at a later date.
As beautiful as it is, this is also a historically significant location, as it is the first place in the city where men and women were permitted to bathe together.
Beyond its watery heritage, attractions such as the Klausstud pillar, which originally stood in the lake, the Henry Moore "Sheep Piece" sculpture, the Heidi Weber Art Museum and the Chinese Garden Zurich complete an incredibly unique and varied selection of things to see in the area.
Riesbach is the best place to stay if:
You are interested in historical bathhouses
You like quays
You are a fan of sculptures
You enjoy museums and gardens
You enjoy lake views
You want a less built-up area
5. Kreis 11, staying in Zurich near the airport
The northern most district in Zurich, Kreis 11 is located just north of the Kaferberg and Waidberg mountain summits, between the Glatt Valley and Katzensee Lake.
Despite offering a more rural experience than many parts of the city, it's also a popular destination for those making shorter trips to the city, especially single night visits, due to it being the location of the Zurich airport.
Not only does it let those coming for a short stay maximise their time in the city, but it also gives people simply making a stop over on their way elsewhere the opportunity to take in a little bit of the city.
With Zurich having the busiest airport between Milan and Munich, this is a perfect chance for those who may never have even considered it as a destination to get a taste of what's on offer.
Don't think that the Zurich airport is the only draw to staying in this area though, as it also features some of the city's best parks, shopping centres and markets, making it a perfect choice for those looking to indulge in some retail therapy or enjoy some beautiful walks without having to leave the city.
There's even historical value to be found in this district as well, as it was first settled all the way back in the 940's by the Alemanni people.
Kreis 11 is the best area to stay if:
You want to be near the airport
You want to go to shopping centers and markets
You enjoy walks in parks
You are interested in the region's early history
6. Schwamendingen, the newest district in Zurich
Also known as Kreis 12, Schwamendingen is the newest district in Zurich, along with Kreis 11, which were both incorporated in 1934. Together, the pair are known locally as Zurich North.
Located in Zurich's north eastern corner, it lies in the Glatt Valley, a river valley on the outskirts of the city. While relatively well populated, it is still much less densely so than the districts located closer to the centre of the city.
Featuring more traditional, Bavarian style, architecture and plenty of fields, meadows and rivers, with the Glatt itself being a tributary of the Rhine, this is an ideal destination for anyone looking for a more remote, natural experience of the city.
What makes this even more appealing is that, due to the overall size of Zurich, despite being on the outskirts, it is a fairly quick and easy job getting back into the thick of things, either by car or using the fantastic network of trains, trams and buses, which connect directly to downtown.
Schwamendingen is a great area to stay if:
You like Bavarian architecture
You want a more natural experience
You don't mind having to use transport to get into the city
You aren't too worried about nightlife
You want to be near to the Zurich airport
7. Industriequartier, staying near Zurich city centre on budget and for shopping
Our final stop brings us to Industriequartier, or Kreis 5, and, if you're looking at the name and thinking it sounds like a translation of Industrial Quarter, you'd be right. However, don't let that put you off, as in recent years it has undergone a dramatic transformation, turning it into one of the most up and coming districts in the city.
Great efforts have been put in, to create a hub of shopping, dining and housing opportunities, transforming what was once purely a place of business into a hip, thriving community.
Not only has this meant it has become one of the most popular places for people to move to in Zurich, especially among first time buyers, it is also a huge draw with tourists on a budget too.
This is because the up and coming nature of the region means it still has a reasonable price tag on both accommodation and goods. This allows it to provide a level of value not found anywhere else this close to the centre of the city.
Its former life as a hub of business also means it is well served by public transport, meaning you have plenty of options for getting to the city, airport, other destinations etc, even if you don't have a car.
Industriequartier is a great area to stay if:
You want to be near to the heart of the city
You want to experience an up and coming neighbourhood
You are travelling on a budget
You enjoy shopping
Where to Stay in Zurich for One Night? 
When it comes to staying in a city for just one night, the priorities revolve around how easy it is to get to your accommodation and what there is to do in the area.
For this reason, I would suggest Kreis 11 as your destination. Located right by the airport, you will waste little time getting to and from your destination, and there are plenty of shops, bars, and restaurants in the vicinity, to keep you occupied for an evening.
Additionally, being just a short taxi ride from the city center means you can commute in if there are any particular attractions you are desperate to see.
The beautiful 4-star hotel The Radisson Hotel is located right by the airport, this is the perfect spot for you to quickly drop your bags off and get out into town, while providing luxurious surroundings to unwind in when you're done. It Also offers free WiFi and a 24-hour fitness room that can be accessed free of charge.
Where to Stay in Zurich for Tourists? 
When it comes to picking the best place for tourists to stay, the number one factor that needs to be considered is how much there is in the area to keep them entertained. In Zurich, like many cities, this means staying in the centre of the city.
Altstadt provides a fabulous combination of famous attractions, historical locations, shops, bars and restaurants, to keep everyone entertained, no matter what their interests.
The 5-star hotel The Storchen Zurich, one of the best hotels in Zurich, is located right on the edge of Lake Zurich, 10-minute walk from Zurich Main Station. It is within walking distance of all cultural attractions. The rooms and suites combine classic furnishings with warm colours and modern facilities and feature high-speed wired and wireless internet access and air conditioning.
Where to Stay in Zurich in March? 
March is one of the quieter months in Zurich, which makes it a good time to experience some of its attractions that may be more overcrowded during the peak seasons.
One such activity that goes perfectly with the spring season is exploring the famous Lake Zurich. While always beautiful, getting to witness it as the seasons are changing and when there are minimal tourists around makes for a vastly different experience.
Whether you want to take a boat trip out across the water or simply walk around its stunning shores, there probably isn't a better time to do so.
As for where to stay to achieve this goal, the lake's eastern shore in Riesbach provides some of the best options for both boat tours for exploring, as well as bars and restaurants to take in the views.
The beautiful, 4-star hotel Opera Hotel is located right on the water's edge, which makes fulfilling all your springtime dreams on the lake easy and enjoyable. It's within walking distance from the famous shopping area Bahnhofstrasse as well as financial institutions, sights and fine dining areas.
Where to Stay in Zurich for Two Nights?  
While the difference between one and two nights might seem minimal, it actually makes the ideal location significantly different. While for one night you may want somewhere near the airport, to minimise the time you spend getting in and out of town, a two day trip gives you the opportunity to see more, which means reducing the time spent travelling between attractions is much more important.
That means you'll want to head to Altstadt, the city center, so you have plenty to do and see, all within close proximity to one another, allowing you to squeeze as much as possible into your trip.
The Central Plaza hotel will allow you to take that "in the middle of things" feeling to the next level, as it is located right in central Zurich. With countless attractions in every direction, stunning views across the lake and a location close to the city's main train station, it will allow you to spend the most time possible enjoying everything the city has to offer.
Where to Stay in Zurich in December? 
When it comes to travelling in December, the holiday season, most specifically Christmas, is often one of the biggest factors at play. That's particularly true in a location such as this, as Switzerland is famed for stunning Christmas displays, markets and traditions.
That means many visitors coming to Zurich in December will want to take in as many of the festive attractions as they can. Thankfully, the people of Zurich have made that a pretty straightforward job, as the four main Christmas markets in the city are all located within close proximity to one another.
So, for anyone wanting to visit them all during their trip, staying in the heart of the city will make that as easy as possible.
The Boutique Hotel Herzkammer is not only located right in the middle of the four attractions, but it also has an "exceptional" rating on booking.com. Boutique Hotel Herzkammer is located just across the street from Zurich's famous singing Christmas tree. What better way to fill you trip with festive cheer than by spending a few nights here?
Where to Stay in Zurich City Center? 
For those wanting a city break, Zurich is a perfect option, as it is a beautiful city, brimming with history, culture and stunning views. When it comes to such a break, people usually want to be right in the centre of things, so they don't waste time travelling from place to place.
The city center is usually the perfect place to achieve this and in Zurich that is no different. While it offers plenty of fantastic places to stay, to keep you surrounded with things to do and see, perhaps none are as perfect as the Baur Au Lac.
An absolutely gorgeous, 5-star hotel, with a "superb" rating on booking.com, its lavish grounds and interiors are surrounded by the most famous attractions in the city, which are complimented by stunning views out across Lake Zurich. It simply has everything you could possibly dream of on a trip like this.
Where To Stay In Zurich With A Family?
When it comes to selecting the best place to stay with a family, you want to find a destination that allows you to see your desired attractions without having to do too much travelling, yet is far enough out of the centre of things so you can enjoy some quiet time if necessary. It may also need to include plenty of activities to keep younger members of your party entertained.
With that in mind, Kreis 2 is the perfect destination for your trip. With its northern point located in the centre of the city, then stretching out to the south, down the edge of Lake Zurich, it offers the perfect blend of fast paced entertainment and slower, carefree relaxation.
The Alden Suite Hotel perfectly matches the feel that you're going for with this destination. A 5-star hotel with an 8.4/10 rating on booking.com, located on the edge of Lake Zurich, it provides luxury and stunning views, while the larger, suite style, rooms are perfect when travelling as a family.
Where To Stay In Zurich On A Budget?
Those looking to make a trip on a tight budget are usually trying to find a place that is easy on the wallet, but don't necessarily want to just find the cheapest place going.
Oftentimes, finding an emerging neighbourhood provides you with low-cost accommodation, while still being able to offer a level of quality to make you feel like it's a treat to be there, which is usually what you want on a vacation.
They can do this as the area won't have a reputation that pushes the price up yet, giving those shopping on a budget the best value returns for their money.
As far as Zurich goes, the best place to demonstrate this is Industriequartier and, more specifically, The Henry hotel. A stunning hotel, with a "fabulous" rating on hotels.com, it is available for substantially less than would be expected for accommodation of this calibre, with the shops and restaurants surrounding it providing a similar level of value.
Where To Stay In Zurich Old Town?
For those seeking an authentic "Old Town" experience, the Savoy Baur En Ville is simply unbeatable.
A beautiful, historic hotel, located in Zurich's most famous square, Paradeplatz, on its most famous street, Bahnhofstrasse, surrounded by some of the city's most iconic churches and museums, it offers the complete package when it comes to immersing yourself in the history of the area.
Where To Stay In Zurich Near A Train Station?
For those who would prefer to travel by train than by plane, Zurich is certainly a fantastic choice to visit. Not only does it have incredible transport links throughout, but it also features the busiest railway hub in Europe and one of the busiest in the world in Zurich Hauptbahnhof. This makes getting in and out of the city a breeze.
Located in Kreis 1, near where it meets Kreis 4, 5 and 6, it is perfectly situated to serve most of the inner areas of Zurich. Speaking of perfect, the Hotel Schweizerhof is a 4-star hotel with a "superb" rating on bokking.com, located right next to the station itself, making it the perfect choice on everything from luxury to location.
Where To Stay In Zurich In May?
The month of May is a time of the year that can be hard to establish what people will want from a vacation. The winter months, perfect for activities such as skiing, have passed, but the warm, summer months aren't quite here yet, meaning cities have to rely on the events they hold to draw the visitors in.
Zurich is no different in that respect, so those planning a trip in May might be excited to learn that the popular Zurich Tanzt performance art festival is held during the month. Featuring performances at over 175 events, in both private and public locations, it annually draws 15,000 visitors to witness the spectacle.
With the festival being largely centred around Zurich's main train station, staying in close proximity to that will allow you to take in everything the festival has to offer, which makes the 4-star Hotel Schweizerhof, with its "superb" rating on booking.com, located just opposite the station, the perfect choice.
Where To Stay In Zurich In February?
When planning a trip to a city, you should never overlook the activities you can do outside the city while you're there. With Switzerland being one of the worlds premier skiing destinations, and many of its resorts being located in close proximity to Zurich, why not take the opportunity to get on the slopes while you can?
There is perhaps no better time to do so than February, as this is considered to be the month that provides the country's best conditions for skiing.
When it comes to where to stay to do this, the closest ski resort to the city is Sattel-Hochstuckli, located south of the city.
That makes Kreis 2 and, more specifically the Ibis Zurich Adliswil, a perfect location to stay, as it is less than a 35 minute drive to the resort from the hotel, allowing you to easily combine skiing with your city break.
See Also:
Conclusion
As I stated at the outset, Zurich is a fantastic city, full of beautiful sights, unique culture and historical attractions, which can be enjoyed by everyone, no matter their age, interests or background.
While there really isn't a bad place to stay in the city, as its amazing transport network makes getting around incredibly simple, that doesn't mean there aren't certain places that can maximise your experience, depending on what it is you're looking for.
Hopefully the details, tips and answers that I have provided today will make narrowing your search for the perfect location much easier. Now all that's left is to get booking and set the wheels in motion, so you can find out for yourself just how fantastic this city truly is.