The best areas to stay in Zurich for first-timer are the neighborhoods of Old Town, Langstrasse, Enge, Riesbach, Zurich West, Wiedikon/ Sihlfeld, and Zurich Airport. These are the most popular locations that offer wide range of tourist attractions and amenities,
In this post, I will give the outline of where to stay in Zurich for the first time tourist, family, nightlife, one night, 2 nights, as well as the best hotels near the airport, and the main train station.
Zurich is the largest city in Switzerland and is also the capital of the Canton region. Due to its history as one of the most important business cities in the world, it is a hub for transport and features the busiest train station and airport in the country, the latter of which is even the busiest anywhere between Milan and Munich.
Despite its reputation, Zurich isn't just a city popular with high flying businessmen, it is also a destination becoming more and more popular with tourists. With its rich history, serene Lake Zurich, high-end shopping, and fancy chocolates, as well as the culture and architecture creeping across from neighboring Bavaria, Zurich is definitely well worth a visit.
Zurich is also one of the most expensive cities to travel to. Accommodation is one of the largest travel costs with an average hotel room from CHF 110 per night. You can save money on transportation by using train to travel from Zurich Airport to city center. Zurich city center is very walkable, you can easily walk to all of the main attractions without using public transports or taxi.
Zürich's Old Town is the best area to stay in Zurich for first-timers due to its proximity to the city's most famous attractions and many choices in accommodations. Booking hotel in this area, you will be located in the heart of the city, within walking distance to the finest shops, bars and restaurants.
If this is your first visit, I recommend stay at least three days in Zurich, but 4-5 day is a good amount of time to explore the financial capital of Switzerland. Three days is enough to see beautiful sights Zurich has to offer, to enjoy the food and drink; to get the sense of the city. If you have more days, you can take a day trip to Lucerne, Mount Titlis, Swiss Alps or Basel.
9 Best areas to stay in Zurich for tourists
1. Altstadt / Old Town, where to stay in Zurich for first-timers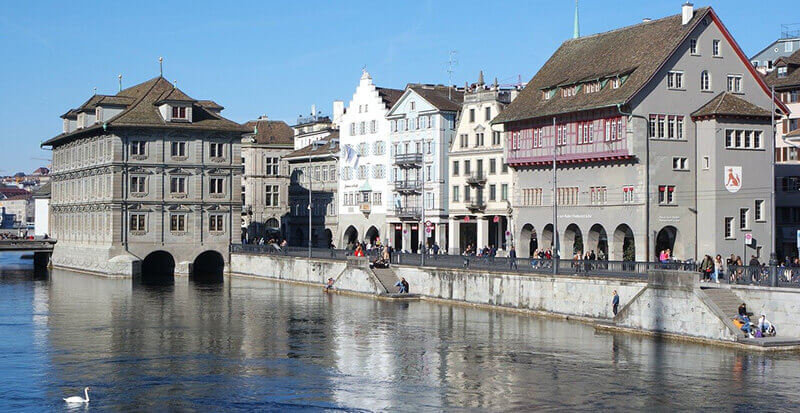 Altstadt in District 1 is the best place to stay in Zurich for first-timers because it is the most convenient location and it has a widest range of accommodation options that suit all budget travelers. Located on both sides of the Limmat river, Altstadt, aslo knonw as Old Town, is the historic area of Zurich, featuring the original city of Zurich, prior to it being incorporated into the region that currently makes up the city in 1893.
Zurich's Old Town is characteristic of its pedestrian-only cobblestone streets and lined with picturesque buildings, some of which date back from the Middle Ages. Take a stroll around, you'll find Switzerland's highest concentration of clubs, theatres, street performers, elegant shops on medieval streets.
For anyone interested in the history and culture of the area, this is undoubtedly the place to be. With its origins dating back to pre-Roman times, attractions such as a Roman castle and hypocaust share the stage with the marginally more modern St Peter's Church, Kecinsturlin Gate, and an Augustinian monastery, which were built in Medieval times.
The Romanesque-style Grossmünster cathedral and Predigerkirche Church are also well-known cathedrals worth visiting. Have look at the double towers of the Grossmünster which was built at the site of the graves of the city saints Felix and Regula.
The Rathaus (Town Hall) quarter continues the historic theme of the area. Located on the other side of the Limmat river, it is the site of the historic building itself. Containing the Limmatquai, this is the perfect spot to enjoy a relaxing drink or spot of lunch while taking in all the stunning, historical views.
Other popular points of interest in Altstadt including the Musée Visionnaire, Kulturhaus Helferei, Cabaret Voltaire Art Center, the main city library (the Zentralbibliothek Zürich), the Zunftstadt History Museum, the Helmhaus Art Museum.
Altstadt is also the home of the world-famous Bahnhofstrasse, a popular street full of high-end and exclusive shops, bars, and restaurants. As the most expensive street to purchase retail property in Europe and 3rd most in the world, anyone who wants to treat themselves to some of the finer things in life while they're on vacation will be spoilt for choice.
The Paradeplatz, one of the most famous squares in Switzerland, is also located towards the southern end of the street, near Lake Zurich. Known primarily for its beautiful architecture, chocolate shop, and Confiserie Sprungli café, it is also home to the headquarters of the two largest Swiss banks.
There are numerous attractions and landmarks in Bahnhofstrasse to explore include:
the Fraumünster Church, is the 9th-century church with the charming stained glass windows
Strauhof (Literature Museum), a fasinating museum that shows work of artists and writers
the Old Botanical Garden, an idyllic oasis at the heart of downtown Zuric
Zurich's toy museum, displays collections of toys from 18th to the 20th centuries
monumental fountain (Geiserbrunnen), Giacometti Murals, Centralhof Monument, and Museum Bärengasse.
Zurich is famous for its fancy chocolates. You can take a tour of the Lindt & Sprüngli Chocolate Factory to see the manufacturing process and history of Swiss chocolate. You can consider to take workshop and bring you own chocolate home.
The Old Town is located along Limmat river, you can have a chance to take a river cruise ride from April and October. This will allow to see zurich landmark from the water.
If you have a short time in Zurich, and looking for where to stay in Zurich for one night, or two nights, I would suggest staying in the Old Town. It's a central location, well-connected public transport, close to the attractions, and easy access to the airport. Zurich's main train station is nearby and Zurich Airport is only10km from the city center.
Altstadt offers a highest concentration of accommodations that suit all budgets from backpacker hostels to luxury boutique hotels. It's home to some of the best hotel in Switzerland. Many hotel have the views of of the Swiss Alps.
Stay in Altstadt if you are first time visitors; you love history and culture, you want to stay in the central area with well-connected public transportation; you want many choices in accommodation budget;
Best places to stay in Zurich Old Town:
luxury ($$$): Baur au Lac Located in the historic old town, this is a 5-star hotel overlooking the Alps and Lake Zurich, within walking distance from Bahnhofstrasse shopping street, Parade Square, and Lindenhof. It offers elegant and luxurious rooms and suites with free minibar use. It also has an award-winning restaurant, free WiFi, and a top-floor fitness center.
mid-range ($$): citizenM Zürich This 4-star hotel is located in the heart of Zurich Old Town, close proximity to major attractions in Zurich such as Fraumünster, Grossmünster, and Bellevueplatz. It features air-conditioned and equipped with free WiFi, a flat-screen TV, and a private bathroom.
budget ($): Motel One Zürich This 3-star budget-friendly hotel is in an excellent location in the heart of Zurich city. It provides rooms with a flat-screen TV with satellite channels, a private bathroom with a shower, and a hairdryer.
🔍FIND MORE HOTELS IN ALTSTADT
See more: 26 Best things to do in Zurich
2. Langstrasse /District 4, where to stay in Zurich for nightlife
Located next to Zurich's Old Town, close to Zurich Main Station, Langstrasse is in District 4, Aussersihl. This is an area that has developed a significantly different, more party-orientated reputation in recent years, most specifically its famed Langstrasse quarter.
While becoming the home of the city's Red-Light District could have harmed its reputation, they instead embraced the situation and managed to transition from a somewhat sleazy, adult-only destination, to one of the most popular hot spots for nightlife in the city.
Lined with bars and clubs, which stay open till late into the night/early the next morning, never sleeps, depending on how you want to look at it, this is definitely the preferred place to stay for the party animals out there.
There some restaurants and cafes to check out are the Schwarzes Schaf – Bistrolino & Bar, Gamper, Caduff's Wine Loft, Gonzo Nightclub
District 4 hosts a large number of festivals held throughout the year in this region, including carnivals and film and Latin festivals. This makes it ideal for partygoers in the daytime as well, provided you can make it when one of these is occurring.
Apart from nightlife, place of interest nearby include Kasernenareal park, Bäckeranlage, Jeansmuseum, Swiss National Museum, Swiss Exchange, Zurich Christmas Market, and Urania Observatory.
Accommodation in this area are wide range, but more cheaper than in the Old Town. Plus booking hotel here, you will be located very close to both the train station and the city center.
Stay in Langstrasse if you like to party, you want to experience some of the city's adult entertainment; you want to enjoy a festival or street carnival.
Best places to stay in Zurich in Langstrasse:
🔍FIND MORE HOTELS IN AUSSERSIHL
3. Enge /District 2, where to stay in Zurich for families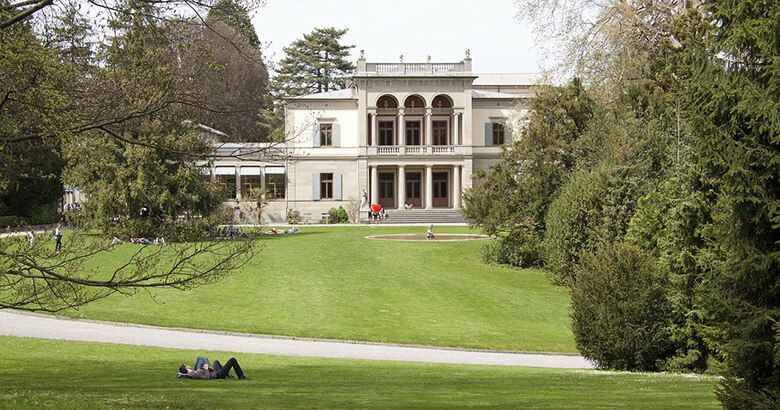 Located south of the Old Town and stretches along the western shore of Lake Zurich, district 2 is perhaps the most diverse region in all of Zurich. The district contains the quarters Wollishofen, Leimbach and Enge.
District 2 is famous for its abundance of green space for families to relax includes the beautiful Rieter Park, Belvoir Park, Klopstockwiese Park, and Klopstockwiese Park.
Rieter Park, is Zurich's largest landscaped garden, located on a hilltop overlooking Lake Zurich and the Glarner Alps. Nearby, you can visit the Villa Schönberg and the Rietberg Museum.
The Enge is home to a number of popular attractions, such as The Prehistoric Pile Dwellings Around The Alps, which is a UNESCO World Heritage site, the Synagogue Zurich Lowenstrasse, the oldest synagogue in Zurich, as well as the Voliere Zurich aviary and a botanical garden.
You can also find the Enge Train Station built out of Ticino granite, FIFA World Football Museum, the Seebad Enge lido, and the Rote Fabrik that has a Mediterranean feel.
As you go further south in the district, through its Wollishofen and Leimbach neighborhoods, the district does become less densely populated and built up, but still features plenty to do and see.
Historical sites such as Wollishofen Church and Villa Belvoir, the former home of Swiss patron of the arts Lydia Escher, are interspersed with companies offering passenger ship cruises and the Rote Fabrik cultural center, to create a locale with a diverse range of offerings for all comers.
There's even the Zurcher Theater Spektakel, one of the most important European festivals for performing arts, which is held annually every summer.
Enge is a mostly modern district with numerous luxury hotels in the area bordering the city center.
Stay in Enge – Kreis 2 if you are traveling as a family; you want a wide range of activities, you want to see a world-renowned arts festival, you enjoy beautiful lake views, you are interested in boat trips;
Best places to stay in Zurich in Enge – District 2:
🔍FIND MORE HOTELS IN ENGE
4. Niederdorf, main pedestrian promenade in Zurich's Old Town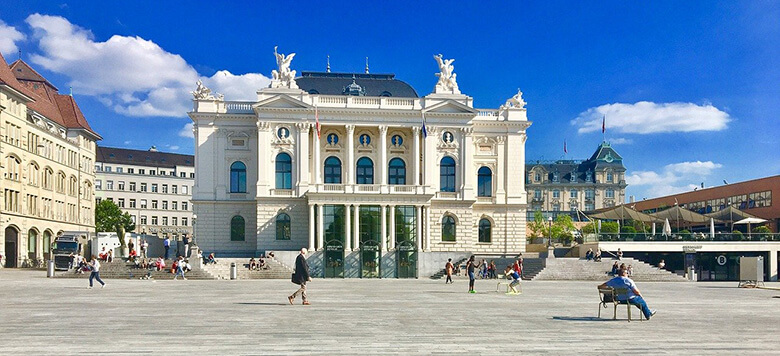 Niederdorf, also known as Dörfli by local, is the part of Zurich's old town, on the east bank of the Limat river. It is the area between Bellevue Square and Central Square. It is mostly pedestrianized and hence very popular with visitors.
Niederdorf runs parallel to Limmatquai and the river Limmat. Winding streets, car-free alleys, and small squares are a feature of Niederdorf where you will find plenty of high-end shops and restaurants in old buildings.
After dark, Niederdorf is transformed into nightlife district, with many bars, discos, clubs, and street artists. However, by day, Niederdorf is very family-friendly, you can stroll along and stop by some of its coffee shops, boutique stores, and bookstores.
This area hosts the annual celebration called the Dörflifäscht every August. If you have a chance to take part in this event, you will enjoy food, live performances and famous artists.
Its central location is certainly an advantage, especially if you are prepared to walk each day. None of Zurich's highlights are too distant. Its hotels are both modern and in renovated old buildings. You will need to book well in advance to be certain of getting the place you want.
Stay in Niederdorf if You prefer to be close to the center of Zurich; A pedestrianized district appeals to you;
Best places to stay in Niederdorf:
🔍FIND MORE HOTELS IN NIEDERDORF
5. Riesbach – Seefeld, where to stay in Zurich for local vibe
Riesbach (district 8) is located on the opposite side of Lake Zurich to District 2, on its eastern shore. If you are looking to soak up the local atmosphere, Riesbach is a great area to stay in Zurich.
Known primarily for Quaianlagen, as a series of quaysides along Lake Zurich, its stunning views and opportunities to take trips out onto the lake draw visitors from all over the world.
This was the location of the original bathhouse in the area, which was demolished when the quay was being built in the late 1800s. To replace it, two new bathhouses, Strandbad Tiefenbrunnen and Seebad Utoquai, were constructed at separate locations.
While the former bath was rebuilt in the last decade, the latter remains, with its stilted "bathing palace" structures and original bathrooms still preserved, now featuring towering domes that were added at a later date. As beautiful as it is, this is also a historically significant location, as it is the first place in the city where men and women were permitted to bathe together.
Beyond its watery heritage, attractions such as the Klausstud pillar, which originally stood in the lake, the Henry Moore Sheep Piece sculpture, the Heidi Weber Art Museum, and the Chinese Garden Zurich complete an incredibly unique and varied selection of things to see in the area.
If you head to the waterfront, you will be in the peaceful lake side district of Seefeld. Locals and visitors walk along the promenade on a daily basis and simply sitting and watching them go by is interesting.
The promenade is lined with shops and restaurants. There are no real landmarks elsewhere in Seefeld. The result is that it is rarely crowded and makes a good base in Zurich for families.
The Zurich Opera House, built at the end of the 19th Century, is in Seefeld and there are daily performances if you are an opera fan. The Museum of Design in the neighborhood is also well worth a visit.
You also have the Zurichorn park, Pavillon Le Corbusier, the Mühlebach quarter, Heimatschutzzentrum, and Villa Patumbah.
Accommodation in Seefeld comes in the form of mid-range hotels and apartments as well as AirBnBs for all kind of travelers.
Stay in Riesbach and Seefeld if you like to stay in the local area; you are interested in historical bathhouses, you like quays, you are a fan of sculptures, you enjoy museums and gardens, you enjoy lake views, you want a less built-up area.
Best places to stay Zurich in Riesbach:
🔍FIND MORE HOTELS IN RIESBACH
6 Zurich airport, where to stay in Zurich to catch early flight
Zurich Airport (ZRH), also known as Kloten Airport, is Switzerland's main and largest international airport. It is 10km from Zurich Airport to Zurich Main Station (Hauptbahnhof). Not only does it let those coming for a short stay maximize their time in the city, but it also gives people simply making a stopover on their way elsewhere the opportunity to take in a little bit of the city.
With Zurich having the busiest airport between Milan and Munich, this is a perfect chance for those who may never have even considered it as a destination to get a taste of what's on offer.
Don't think that the Zurich airport is the only draw to staying in this area though, as it also features some of the city's best parks, shopping centers, and markets, making it a perfect choice for those looking to indulge in some retail therapy or enjoy some beautiful walks without having to leave the city.
To get to the city center, you can take a taxi which is located in front of arrival 1 and arrival 2. There is also Swiss Federal Railways, regional bus and tram services depart from the airport bus station.
Trains run every 10 minutes from 5am to midnight every day, it take about 15 minutes from Zurich Airport to Zurich Main Station. If you have a Swiss Travel Pass or a Zurich Card, the Zurich Airport train ride is free.
The airport is located in the northernmost district in Zurich, Kreis 11, just north of the Kaferberg and Waidberg mountain summits, between the Glatt Valley and Katzensee Lake. The district contains the quarters Affoltern, Oerlikon and Seebach.
District 11 is home to the Hallenstadion indoor stadium where sports and music events are held, and the MFO-Park are the highlights of Zurich's northernmost district, which also offers plenty of space for public works of art. There's even historical value to be found in this district as well, as it was first settled all the way back in the 940s by the Alemanni people.
Stay near Zurich aiport if you want to catch early flights; or you arrive very late at night;
Best places to stay near Zurich airport:
🔍FIND MORE HOTELS NEAR AIRPORT
7. Schwamendingen (District 12), the newest district in Zurich
Also known as Kreis 12, Schwamendingen is the newest district in Zurich, along with district 11, which were both incorporated in 1934. Together, the pair are known locally as Zurich North.
Located in Zurich's northeastern corner, it lies in the Glatt Valley, a river valley on the outskirts of the city. While relatively well-populated, it is still much less densely so than the districts located closer to the center of the city.
Featuring more traditional, Bavarian style, architecture, and plenty of fields, meadows, and rivers, with the Glatt itself being a tributary of the Rhine, this is an ideal destination for anyone looking for a more remote, natural experience of the city.
What makes this even more appealing is that, due to the overall size of Zurich, despite being on the outskirts, it is a fairly quick and easy job getting back into the thick of things, either by car or using the fantastic network of trains, trams, and buses, which connect directly to downtown.
Stay in Schwamendingen if you like Bavarian architecture, you want a more natural experience, you don't mind having to use transport to get into the city, you aren't too worried about nightlife, you want to be near to the Zurich airport.
Best places to stay in Schwamendingen:
🔍FIND MORE HOTELS IN ZURICH
8. Zurich West, one of the best area to stay in Zurich near train station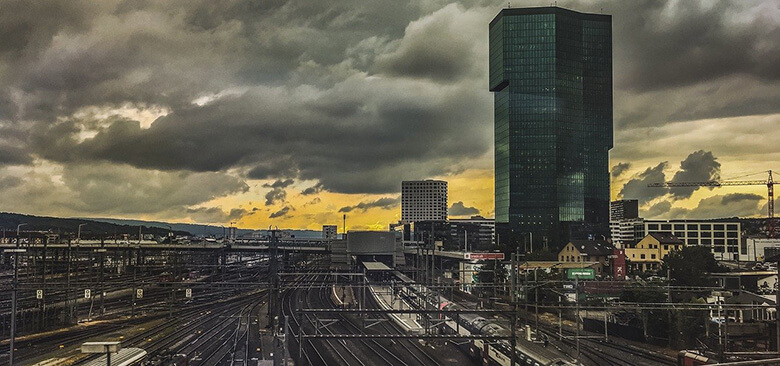 Zurich West along with the Old Town, and Langstrasse, is best place to stay in Zurich near the train station. Zurich West is located north of Aussersihl, on the other side of Zurich Hauptbahnhof, Zurich's main train station. Zurich West's official name is District 5 and is also known as the Industriequartier.
The Zurich Main Train Station is one of world's busiest train stations, providing access to Spain, France, Italy, Austria, Germany. In addition, it's also one of the city's largest shopping malls, offers you lots of shopping opportunities.
If you're looking at the name and thinking it sounds like a translation of Industrial Quarter, you'd be right. However, don't let that put you off, as in recent years this former warehouse district has undergone a dramatic transformation, turning it into one of the trendiest and hippest spots in Zurich.
Great efforts have been put in, to create a hub of shopping, dining, and housing opportunities, transforming what was once purely a place of business into a hip, thriving community.
There are numerous of things to do in district 5. If you love art, you can visit the Löwenbräu brewery. It was built in 1897 and transfromed into a contemporary art centre in 2012. Löwenbräu-Areal complex is home to Migros Museum of Contemporary Art and the Kunsthalle Zurich.
You can aslo catch a theatre performance at Schiffbau building which is sandstone-coloured brick building, formerly a shipbuilding factory. There is 750 seat theatre, as well as the Moods Jazz Club and LaSalle Restaurant.
There is the food market, Markthalle at Im Viadukt where locals sells their products. Other landmark if the 26m-tall building, Freitag Tower, four-level eye-catching flagship store building that you can shop many things from here.
Not only has this meant it has become one of the most popular places for people to move to in Zurich, especially among first-time buyers, it is also a huge draw with tourists on a budget too.This is because the up-and-coming nature of the region means it still has a reasonable price tag on both accommodation and goods.
Its former life as a hub of business also means it is well served by public transport, meaning you have plenty of options for getting to the city, airport, other destinations etc, even if you don't have a car.
Attractions to check out in Zurich West like Prime Tower, Museum of Digital Art, and some good bars and restaurants such as Im Viadukt, Les Halles, Frau Gerolds Garten, Clouds, Schiffbau, LaSalle, and Gerold Chuchi.
Stay in Zurich West if you want to be near to the heart of the city; you want to stay close to the train station; you are traveling on a budget, you enjoy shopping.
Best places to stay in Zurich in Zurich West:
🔍FIND MORE HOTELS IN ZURICH
9. Sihlfeld and Wiedikon, residential district in Zurich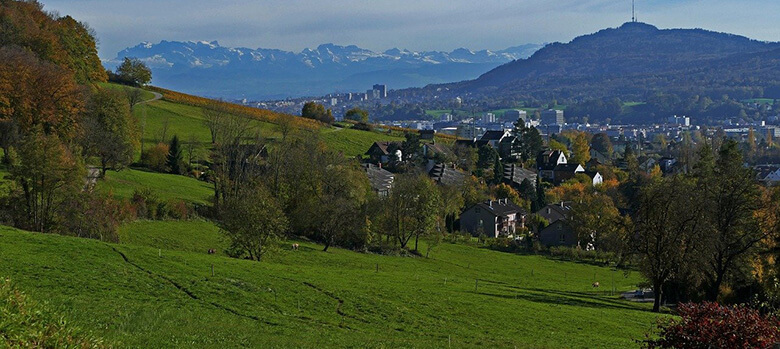 Despite Wiedikon being a largely residential district, there are still plenty of things to attract visitors, whether cultural or simply entertainment venues. Zurich is split into twelve districts and Wiedikon corresponds to District 3 and encompasses the neighborhoods of Alt-Wiedikon, Sihlfeld, and Friedenberg.
The small area of Sihlfeld is within Wiedikon and that is where the Sihl River flows. Uetliberg Mountain at almost 10,000 feet towers over Wiedikon and plenty of walking trails start out of the district.
District 3 is home to Bahnhof Wiedikon train station with the S-Bahn link to Lake Zurich, the Flumserberg ski resort, and Zurich airport. There are also attractions like Ortsmuseum (Area Museum) with its City Quarter Club, as well as the trendy square of Brupbacherplatz.
This is an ideal place for families with children of all ages. You can join others walking along the river, while cyclists pass you and others on benches watching the world go by. Shopping is good with Sihlcity a mall with plenty of shops, several restaurants, and even a fitness center and nightclub.
You have a choice of apartments, hostels, and hotels in Wiedikon where the bars and restaurants are sufficient to satisfy all tourists.
Stay in Wiedikon if You are looking for outdoor activities, Local amenities are important to you without being in the city center, You want a good base for a family holiday.
Best places to stay Zurich in Wiedikon:
🔍FIND MORE HOTELS IN WIEDIKON
Check out my virtual tour about the best places to stay in Zurich in this video:
Where should I stay in Zurich for the first time?
Old Town is the best area to stay in Zurich for first-timers due to its super central location. If you stay here, you will be located in the heart of action, within walking to many tourist attractions, as well as many restaurants, bars, and shops.
What are the best areas to stay in Zurich?
Old Town, Langstrasse, Enge, Riesbach, Zurich West, Wiedikon/ Sihlfeld, and Zurich Airport are some of the best areas to stay in Zurich because they are the most popular tourist neighborhoods in the city.
How long should I stay in Zurich?
If you are first-timers, I recommend spend at least 3 days in Zurich to explore the city. Three days is enough to see major landmarks, try some food, and get the sense of the local culture and history. If you have more days, consider day trip to Lucerne, Swiss Alps or Basel.
See more:
Zurich is a fantastic city, full of beautiful sights, unique culture and historical attractions, which can be enjoyed by everyone, no matter their age, interests or background. While there really isn't a bad place to stay in the city, as its amazing transport network makes getting around incredibly simple, that doesn't mean there aren't certain places that can maximise your experience, depending on what it is you're looking for.
Overall, Old Town is the best place to stay in Zurich for the first time because it has a super central location. If you stay here, you will be located in the middle of action, within walking distance to many famous attractions, as well as shopping, dining, and nightlife. It offers the widest range of accommodation options and home to some of the best hotel in the city.
Once you picked neighborhood to book hotel, you need to decide how many days in Zurich is enough? Well, if this is your first time, I recommend to spend at least 3-5 days in Zurich, this time will allow you explore the most famous attractions, enjoy food and drinks, and get the sense of the local history and culture. You can always come back next time and discover more!