In this post, we will be looking at where to stay in Toluca, best areas to stay in Toluca (include map), the advantage and disadvantage of each area, and best hotels in Toluca for all budget travelers.
The state capital of Mexico, Toluca is a colonial city in central Mexico, just 60 miles west of Mexico City. Considerably smaller than the neighboring capital, Toluca is ideal for anyone looking for a more relaxing city break.
Full of historic streets and beautiful architecture, and surrounded by stunning national parks, a vacation in Toluca offers visitors the best of both urban comfort and convenience, as well as natural beauty and adventure.
Whether you prefer browsing museums, hopping between clubs, or exploring the outdoors, Toluca can offer anyone their perfect city vacation.
Highlight attractions in Toluca are Nevado de Toluca National Park, La Marquesa National Park, Teotenango Archaeological Zone, the Centro Ceremonial Otomí de Temoaya, and Cosmovitral Botanical Garden.
Toluca is a relatively safe city, particularly compared to many other big cities in Mexico. There are no current travel warnings in place for the area. Like any city, you should keep alert and be aware of potential pickpockets and scam artists, but as long as you practice basic personal safety measures there is no need to be overly wary of travelling to Toluca.
Toluca has its own Adolfo Lopez Mateos International Airport, serving many private jets, some U.S. airlines, and Mexican airlines.
Where to stay in Toluca Mexico?
The best areas to stay in Toluca are Toluca City Centre and Metepec. Toluca City Centre is the overall best place to stay in Toluca because it is the heart of the city and has a higest concentration of attractions, hotels, restaurants, bars, and shops.
Map of areas and neighborhoods in Toluca:
Best Areas to Stay in Toluca for tourists are:
1. Toluca City Centre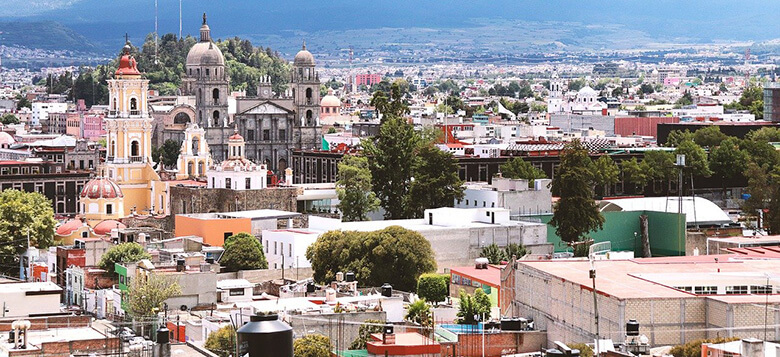 Toluca City Centre is the best place to stay in Toluca because it is the thriving heart of Toluca, condensing the majority of the city's tourist sites, shopping districts, and hospitality into a compact, walkable area.
If it is your first time visiting Toluca, or you are visiting for a shorter trip and don't want to waste valuable time traveling between your hotel and the attractions, then the city center is ideal.
There are baroque, neoclassical, modernist 19th-century buildings in the city such as the Catedral de San José. The grand Toluca Cathedral is an absolute must-visit for any trip to Toluca. Dating back to 1867, the cathedral is an architectural marvel of columns, domes, and towers.
The Catedral de San José stands near the Plaza de los Mártires, Plaza Ángel María Garibay, Palacio de Gobierno, Nishizawa Workshop Museum, Museo del Paisaje José María Velasco, Teatro Morelos, Museo de La Inquisición, the Cosmovitral, and La Vaquita Negra del Portal which is a great place to grab chorizo.
Cosmovitral Jardín Botánico is a unique art nouveau-style building, which was a market turned into a lovely botanical garden.
For more history, head to one of the city's many museums. If you only have time to visit one, the Centro Cultural Mexiquense is really a three-in-one collection, with sections dedicated to the arts, culture, and anthropological history of the region.
If you love history, you must visit the Museum of Anthropology, the Museum of Modern Art, the Museum of Popular Culture, and the Central Library to learn more about the history of the region.
If you want to mix your historical and cultural exploration of the city with a spot of shopping, then head to Los Portales. This series of traditional arches, known to be the longest in all of Mexico, surrounds a shopping center full of independent stores, where you can pick up a variety of traditional local goods, foods, and crafts.
Of course, if you would rather dive into a more contemporary shopping experience, you will be spoilt for choice by the array of shopping centers and streets lined with independent stores and boutiques.
If you're still raring to go after sundown, the city center has a vibrant nightlife to be enjoyed by both locals and tourists. The Universidad district, in particular, is full of bars and clubs where you can party the night away.
Stay in Toluca City Centre if You want to stay close to the major tourist sights and attractions; A thriving nightlife is important to you; You enjoy spending your vacation browsing the local shopping districts.
Best places to stay in Toluca City center:
mid-range ($$): Fiesta Inn Toluca Centro This 4-star hotel is located 450 m from Toluca's cathedral and the Industry and Science Museum. It is 10 minute drive by car from Toluca's business district and 20 minutes from Toluca Airport. The hotel has a fitness centre, air-conditioned rooms, and on-sire restaurant serves traditional Mexican food, as well as a lobby bar.
mid-range ($$): Hotel San Francisco This 4-star hotel is located in downtown Toluca. It offers rooms with a working desk, telephone line, a cable TV, and bathrooms come with a shower and free toiletries. There are also luggage storage, laundry, and dry cleaning.
budget ($): Hotel Don Simon This 3-star hotel is located 700 m from the Toluca Main Square and 5 minutes' walk from Los Portales Historic Building. It is 10 minutes' drive from the Cosmovitral Botanical Garden. It has a private car parking, modern décor rooms, and free WiFi.
2. Metepec
Metepec is a neighborhood about a mile outside of the city center. Despite the distance, the neighborhood is directly connected to Centro by the Avenue Lic.
Benito Juarez Garcia, a long straight road leading right into the heart of the city. You'll be able to stay in the relative peace of a more suburban area whilst having convenient access to the sites and attractions of the city center.
Metepec is particularly ideal for anyone who enjoys having access to lots of green space. Families with young children may appreciate the large local parks in this area where kids can run off some energy.
Parque Ambiental Bicentenario (the Bicentennial Park) is a sprawling recreational park. Boasting a large lake with boat visitors can take onto the water, a museum, a café, and lush gardens, this park is ideal for a relaxed day out with the whole family.
Alternatively, the Toluca Municipal Park is a tree-covered hill featuring winding paths leading to a small church at the summit. From the peak, you can enjoy beautiful panoramic views over Toluca that are well worth the walk up.
You can also visit places like the mermaid La Tlachana monument and the mud museum.
Another thing to consider is that Toluca is infamous for having terrible traffic congestion. This is particularly true of the city center, so if you are traveling to Toluca by car, staying in an area outside of Centro, like Metepec, may be a wise choice.
Stay in Metepec if you are visiting with young family and children, you appreciate having access to wide open space, you don't mind being a little removed from the city center, you prefer a quieter neighborhood, you are traveling to Toluca by car.
Best places to stay in Toluca in Metepec :
mid-range ($$): Quinta del Rey Hotel This 4-star hotel is located in Metepec, 30 minute drive from Nevado de Toluca National Park, and 40km away from Mexico city. There is an indoor swimming pool, a spa with hot tub, a games room, and spacious guest rooms. You can enjoy local and international cuisine, as well as in Viennese desserts at Carruaje Restaurant.
mid-range ($$): Crowne Plaza Toluca – Lancaster, an IHG Hotel This 4-star hotel is located within 10 minutes drive by car from Toluca's centre, Toluca Cathedral. It has a spa, a restaurant, and air-conditioned rooms. It offers easy access to the 15 Motorway, and Mexico City and its airport can be reached in less than an hour by car.
budget ($): Holiday Inn Express Toluca Galerias Metepec, an IHG Hotel This 3-star hotel is located next to Galerías Metepec Shopping Centre, Toluca's business district. Each room has a coffee maker, a safe, a work desk, as well as a private bathroom includes toiletries and a hairdryer.
Check out my virtual tour about the best places to stay in Toluca:
See More:
Overall, Toluca City Centre is the best area to stay in Toluca due to its prime location. If you book a hotel here, you will be located in the middle of action, within walking distance to tourist attractions, as well as shopping, dining, nightlife venues.
Toluca is a unique and vibrant city, unfairly overshadowed by its better-known neighbour. Between the splendour of its historical architecture and development, and the natural beauty of the landscape surrounding it, Toluca is a city with plenty to offer travellers in its own right.