The best areas to stay in the Dominican Republic for both first time and returning tourist are the neighborhoods of Punta Cana, Santo Domingo, Las Terrenas, Las Galeras, Cabarete. This blog post will discuss where to stay in the Dominican Republic, based on your interests.
Full of rich cultures, magnificent resorts, and tropical goodness, staying in the Dominican Republic is definitely an ambition to cross off of the bucket list. So, it's time to pack your clothes, toiletries, and tanning lotions as we're about to let you in on some of the best tips around on finding the best places in the Dominican Republic.
📌Where to Stay in the Dominican Republic: 11 Best Areas
1. Punta Cana, where to stay in Dominican Republic for the first time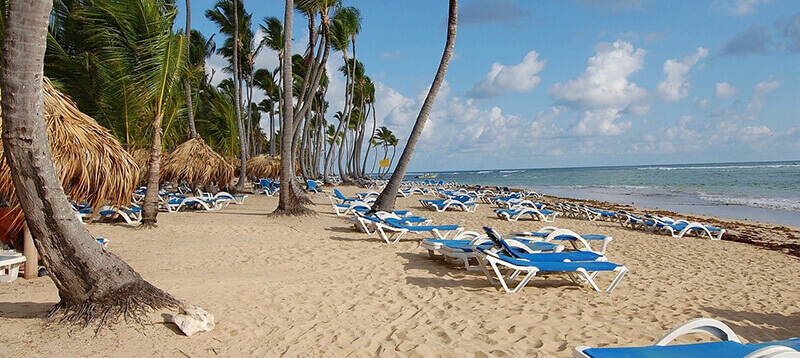 A luxurious escape packed full of pristine beaches and family-orientated activities; there's a reason why Punta Cana has been ranked number one on the list.
You Should Stay Here if:
You are planning a trip with your family as Punta Cana provides a great range of kid-friendly and family-orientated activities such as Manati Park or Dolphin Discovery.
You're a golfer because Punta Cana has flourished Punta Espada or La Cana golf courses that are well-renowned globally to which are not too far away from a beach.
You're a party animal looking for the electr ic nightlife.
Best Things to Do and See in Punta Cana Area:
For those who love to get their tan game on or just simply enjoy a day at the beach with white, sands, palm trees, blue waters, various beaches like the Macao Beach, or, more famously, the Bavaro Beach are attractions you can't afford to miss.
For a renowned famous family activity, locals would recommend Canopy Adventure Zip Line Tours to kickstart any holiday off with a bang. With over 20,000 4-star reviews, it's surely a great one for all family members to enjoy from.
As a popular souvenir shop that many people visit, the Don Lucas Cigar shop is a local favorite, as smoking cigars is known to be an item to have when passing time with family and friends. Smoking cigars is quite revealed amongst the elderly communities too.
As an all-time favorite way to end the night, eating from the La Yola Restaurant is guaranteed to make the end of the day end on a high note. From sublime flavorsome cuisines to mellowing-out drinks, it's hard not to be reeled into the magnetic atmosphere of this great food place.
You can have a day trip to a 16th-century Italian village, Altos de Chavón, about 45 miles southwest of Punta Cana; and another day trip to Saona Island where you can find more turquoise water and white sand beaches.
Another interesting place to visit is a natural theme park in Cap Cana, Scape Park, where you can find the cenote of Hoyo Azul, the unique natural pool at the foot of a cliff.
Best places to stay in Punta Cana:
Best luxury hotel: Majestic Mirage Punta Cana, All Suites – All-Inclusive Featuring free WiFi and a seasonal outdoor pool, Majestic Mirage Punta Cana offers accommodation in Punta Cana, 26 km from freshwater lagoons. The resort has a private beach area and water sports facilities, and guests can enjoy a meal at the restaurant or a drink at the bar.
Best mid-range hotel: Vista Sol Punta Cana Beach Resort & Spa – All Inclusive This all-inclusive resort is located on Cortecito Beach in Bavaro, Punta Cana, and offers 3 outdoor pools, 6 restaurants, and tropical gardens.
Best budget hotel: Bavaro Green Only an 8-minute drive from Cabeza de Toro Beach, the Bavaro Green apartments offers an outdoor pool, free WiFi, a gym, a laundry area and private parking. The property is located in Pueblo Bavaro, just 1.5 km from Veron.
🔍FIND BEST HOTELS IN PUNTA CANA
2. Puerto Plata, where to stay in Dominican Republic for families

Best known for its all-inclusive beaches throughout the Dominican Republic, Puerto Plata is a province that boasts beauty. You can find historic Fort San Felipe, museums, excellent golf, and a water park.
You Should Stay Here if:
You love to gawk at nature's beauty
You're a huge fan of traversing forests, rivers, and caves
You're a photographer. Puerto Plata's scenery of landscapes and locals are impeccable, giving you the greatest chance to take a photograph that won't be long forgotten.
You're a lover of the water. Puerto Plata's beaches and water attractions are readily available for your amusement.
Best Things to Do and See in Puerto Plata Area:
Starting off with the Ocean World Adventure Park, not only is this for all families alike to enjoy water parks but is also inclusive of those who are looking to get closer to marine wildlife as aquariums are available for viewing.
Beyond the realms of having a great drink at a pub, Puerto Plata offers one of its most historic attractions of a museum dedicated to Rum. From learning about its evolutions to enriching rum tasting experiences, it would be erroneous to pass up on this tourist attraction if you're one to love beverages.
Surprisingly, Puerto Plata contains a monumental museum that holds the largest collection of amber in the world: the Dominican Amber Museum. Being two stories tall, this museum offers a walk-through time that quickly makes you captivated in knowing how old such specimens are preserved. Definitely, one for the kids if you need a quick outing.
Another landmark in Puerto Plata is the Fort San Felipe (Fuerte San Felipe). It was built as a defensive fort against colonists from other European countries but mostly used as a prison. It is a great spot to watch the sunset.
Puerto Plata is home to Playa Dorada, a golden-sand beach with a high concentration of all-inclusive resorts. take a stroll along three-kilometer Malecón, and enjoy the ocean views.
You can also take a cable car to the top of Mount Isabel de Torres where you can find the statue of Christ the Redeemer, and enjoy breathtaking views from its summit.
One of the best adventure tourism sites in the Dominican Republic is 27 Waterfalls of Damajagua (27 Charcos), which are in the rolling hills of the Northern Corridor mountain range. it's a collection of 27 Waterfalls of Rio Damajagua.
Best places to stay in Puerto Plata:
🔍FIND BEST HOTELS IN PUERTO PLATA
3. Samana Peninsula, where to stay for whale watching
A peninsula with a fusion of old and new traditions and societies, you'll come to appreciate the best of both worlds that the Dominican Republic has to offer.
You will have a chance to see humpback whales migrate to Samaná Bay in winter from December through March. The whale watching boats depart from the city of Samaná.
You Should Stay Here if:
You're absolutely keen for an adventure. Samana Peninsula showcases some of the most breathtaking forests, rivers, and bungalows for those who are avid to explore.
You love exploring the ocean as the Samana Peninsula gives the opportunity to ocean dive and explore its luscious waters.
You're a couple looking to go on a honeymoon because the Samana Peninsula offers some of its romantic settings along the beach sides and coastal sceneries.
Best Thing to Do and See in Samana Peninsula Area:
The Cascada Lulu – one of Samana Peninsula's most attention-stealing waterfalls – takes anyone on a journey to reconnect with nature. Truly a hidden gem to be appreciated by environmental lovers alike.
18 El Dieciocho, a Caribbean favorite restaurant, cooks up mouth-watering dishes of fresh and local Caribbean and Mediterranean Seafood. It's truly a culinary experience.
Being on the coastal regions of the Caribbean, Playa Bonita has been reputed to be one of the Dominican Republic's most pristine beaches. Attracting neighboring tourists and locals, it's impossible not to be pulled into the uproarious fun.
Samana Peninsula has instituted a diving center within its curriculum of attractions: the Sosua Diving Centre. Ranging from near-shore snorkeling to ocean diving, it's an activity to view the most alluring aquatic wildlife swimming near coral reefs.
There are so many more things to explore in surrounding areas, you can visit the El Limón Waterfall, Parque Nacional Los Haitises, Las Galeras, and Las Terrenas.
Best places to stay in Samana Peninsula:
🔍FIND BEST HOTELS IN SAMANA
4. Cabarete and Sosua, where to stay in Dominican Republic for water sports
Two coastal locations enchanted with heavenly coral reefs and bodies of water, they're here to please the people most infatuated in water activities.
Cabarete is the Caribbean's hub for windsurfing, kiteboarding, and sailing, Playa Cabarete (Kite Beach) is a great place to practice wind water sports.
You Should Stay Here if:
You're a beach enthusiast, want to stay at beach town as Cabarete and Sosua are mainly revolved around the beach scene.
You're an adult looking to relax by beach tanning, swimming in the beach and beach drinking.
You're a senior looking to wash away any adversities as this is the perfect place for it.
You're travelling with your romantic partner to sip the classic pineapple cocktail on the beach.
Best Things to Do and See in these Areas:
Las Cuevas de Cabarete is a tourist favorite. Within this cave/cavern, anyone is able to admire the elegant geologic formations.
Cabarete's Equestrian Centre at Sea Horse Ranch offers to everyone a chance to experience horse riding, dressing, and jumping. A perfect opportunity for any family to seize so that their kids can experience "the country life".
The Castillo Mundo King is an art museum that displays unique architecture; as a result, this attraction has been ennobled as the Traveller's Choice 2020 by TripAdvisor.
As a beloved global sport, Sosua's International Tennis Centre has been opened to the public to use as a pastime hobby and or social function. Whether you're wanting to be coached or wanting to play with friends and family, either or this popular tennis center offers it all.
For any religious followers, Sosua is also inclusive of various followings including Jewish and Christian religions so that any tourists and or locals can use these services/facilities at their own leisurely will for any practices.
You can find guesthouses and hotels that stand along the beach with modern rental condos.
Best Hotels in Cabarete and Sosua:
Best luxury hotel: Ultravioleta Boutique Residences Located right on Cabarete Beach, Ultravioleta Boutique Residences offers a private beach area with sun loungers and an infinity-edge swimming pool facing the ocean. Free WiFi is available throughout.
Best mid-range hotel: Velero Beach Resort Offering an outdoor pool and a restaurant, Velero Beach Resort offers self-catering accommodation right on the beach. All rooms at this property boast excellent ocean views. You will find a private beach area, while other facilities like an ironing service and laundry facilities are offered.
Best budget hotel: Ocean Dream Set in Cabarete, 50 m from Cabarete Beach and 2.7 km from Cabarete, Ocean Dream offers accommodation with free WiFi, air conditioning and access to a garden with an outdoor swimming pool.
🔍FIND BEST HOTELS IN CABARETE
5. Santo Domingo, best place for sightseeing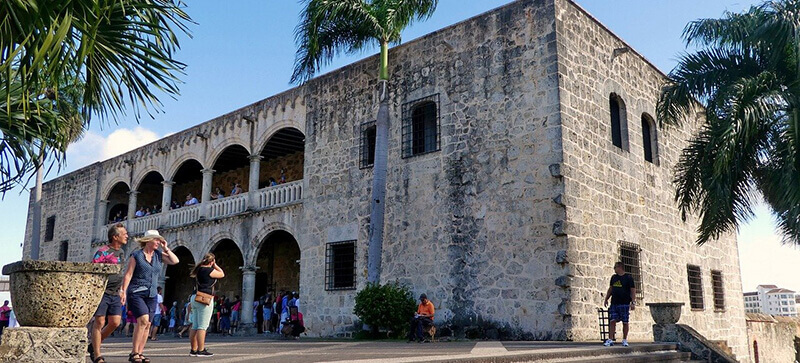 An incredible city teeming with a life of social functions and cuisines. Santo Domingo is a city that offers some of the finest foods and beverages around the Dominican Republic and was listed as a World Heritage Site by UNESCO.
The Dominican Republic's capital city was founded in 1496 by Bartolomé Columbus. Santo Domingo was the first headquarters of the Colonial Spanish government in the New World.
This historic area is a pedestrian-friendly maze of narrow streets full of 16th to early 20th-century architectural buildings. Calle El Conde is the main thoroughfare and a popular street for shopping.
Take a ride on Trenecito Colonial (Chu Chu Colonial), a tour of 45 minutes all along the Ciudad Colonial to explore the neighborhood. You will find Monasterio de San Francisco, and Catedral Primada de América (First Cathedral in the Americas)
You can learn more about its history at the Dominican Man Museum, National Museum of History and Geography, Hall of Pre-hispanic Art, and Los Tres Ojos.
Santo Domingo is the best place to stay if:
You love the busy company of other tourists, locals, or people in general as the Santo Domingo teems with populace.
You're a history buff or enthralled with cultures.
Best Things to Do and See in Santo Domingo Province:
If you have an addiction to pizza, then visiting Santo Domingo's Pizzarelli could just be the highlight of your trip. This Italian cuisine is home to many locals' hearts as its reputation for tasteful pizzas make it for an absolute attraction.
As a monument to the Columbus landing in the Americas, the Columbus Lighthouse had been constructed as a museum and displayed proudly as a landmark to behold. Truly a blast to the past.
The Museum of the Dominican Man proves to be another museum landmark as it recounts the history of the Caribbean island before it was influenced by the Spanish; it exhibits the Tamno natives that had inhabited the island.
Museo Casa Duarte is yet another museum that recounts an imperative historic moment within the Dominican Republic's history. This museum exhibits the house where Juan Pablo Duarte was born, which also contains his personal items and belongings well-preserved there.
For a nature break, you can visit the National Botanical Garden, the largest in the Caribbean, or stroll down the Malecón to watch the sunset.
Best places to stay in Santo Domingo:
🔍FIND BEST HOTELS IN SANTA DOMINGO
6. La Romana and Bayahibe
Two locations packed full of rich history and culture with momentous buildings. They're cities that scream the essence in a getaway as you're taken back to a time of old Mediterranean life.
La Romana was once the largest sugar cane mill in the Americas but developed into tourism by opening the luxurious Casa de Campo Resort in 1974, with award-winning Pete Dye golf courses, an outdoor Grecian amphitheater, and 16th-century Altos de Chavón.
You Should Stay Here if:
You enjoy the antiquities that life has to offer: La Romana and Bayahibe has phenomenal momentous buildings.
You're travelling with family or a romantic partner because La Romana and Bayahibe is best experienced with the people you love.
You're active or a sports person as you'll be exploring all of what these places has to offer.
Best Things to Do and See in This Area:
Recommended as a one-stop trip for all honeymooners is Catalina Island. With over 4000+ positive reviews, it too has been certified as the 2020 Travellors' Choice from TripAdvisor. And it makes sense why: glorious beaches, clear blue waters, and exotic cruises.
Altos de Chavon has been deemed as a local "Architectural wonder". Exhibiting a replica of a 16th-century Mediterranean village, opportunities to photograph an older civilization to hang up on your wall is one of many tourists' favorite activities.
Any seafood lover's dream is to be surrounded by the ranges of delicious fish and crab, which is what Las Palmas makes into a reality. This 5-star restaurant is noteworthy throughout the Bayahibe for its succulent seafood and barbeques.
By taking Cueva Padre Nuestro's guide tour down into underground caves and caverns, you're met with mesmerizing stalactites and bewildering cave formations.
Best places to stay in La Romana:
🔍FIND BEST HOTELS IN LA ROMONA
7. Las Terrenas, where to stay in Dominican Republic for couples

Located on the Samana Peninsula, this renowned city owes its notability toward its mastery in its combination of French and Italian styles of foods, social functions, and art within the Dominican Republic scene.
You Should Stay Here if:
You're a worshipper of the culinary cuisines as Las Terrenas contains a mix of cultural foods: Italian and French.
You're a lover of cocktails; Las Terrenas brews tropical wonders for anyone to give their pallets a party.
Best Things to Do and See in las Terrenas Areas:
The Pueblo de Los Pescadores is a frequently visited neighborhood by all travelers and locals due to its diverse range of bars, restaurants, and souvenir shops. This is truly the place to get any loved ones back a gift from the Dominican Republic.
The French favourite El Lugar fills the local air with some of the finest freshly baked bread, cooked barbeques, and French foods. With serene outdoor dining that showcases the scintillating Dominican skies, any couple or family is in for a treat.
Contrary to El Lugar, a hot contender of exquisite cuisine comes from none other than the Italian L'Industrie Pizzeria LT. From premium customer service to premium straight the oven pizzas, travelers from all over the world have always made an effort, to dine in at this fine pizzeria.
Best places to stay in Las Terrenas:
🔍FIND BEST HOTELS IN LAS TERRENAS
8. San Felipe De Puerto Plata
The capital city of Puerto Plata is considered by many as the most beautiful city that the Dominican Republic has to offer.
You Should Stay Here if:
You love a combination of the city scene with the beach scene, as San Felipe De Puerto Plata combines both masterfully
You're a photographer because San Felipe De Puerto Plata presents many incredible photogenic attractions and sceneries.
Best Things to Do and See in San Felipe De Puerto Plata:
Another attraction for history buffs and photographers is the Fortress of San Felipe De Puerto Plata. As a bastion that protected natives in the 16th century against pirates and corsairs, this monument serves to teach everyone who travels to it the importance it had in San Felipe's history.
Ride a cable car or hike your way up the mountain to Mount Isabel De Torres to catch an overview San Felipe's majestic forests and landscapes. Upon arriving at the mountain, you'll be greeted by a giant statue of Christ.
The Amber Cove is a terminal for cruises that travel around the Puerto Plata Province. Within the terminal resides a public pool and many retail and gift shops for travelers and locals to use at their leisurely will.
Best places to stay in San Felipe De Puerto Plata:
🔍FIND BEST HOTELS IN SAN FELIPE
9. Constanza
Known for its mountain ranges and cold temperatures, this destination evokes our sense of adventure by offering the highest elevation point known throughout the Dominican Republic.
You Should Stay Here if:
You're an active individual, and especially if you're enthralled by hiking.
You love the wilderness.
You get a thrill from heights, as Constanza has the highest elevation point in the Dominican Republic.
Best Things to Do and See in Constanza Area:
One of the Caribbean's most majestic waterfalls is the Salto Aguas Blancas Waterfall. It's highly recommended to take any loved ones to this waterfall as the picturesque backdrop aims to give you an incredible memory.
If you're looking for a more on-wheels type of adventure, MotoCaribe Motorcycle Adventure Tours has you covered. You'll be able to soar the roads of Constanza either going solo or with friends and family and take in the breathtaking views Constanza has to offer.
An absolute must place to visit to take the edge off of stress is the Akasha Spa. Services like facial and body treatments are all designed to relax not only your state of body but a state of mind.
Best places to stay in Constanza:
🔍FIND BEST HOTELS IN CONSTANZA
10. Las Galeras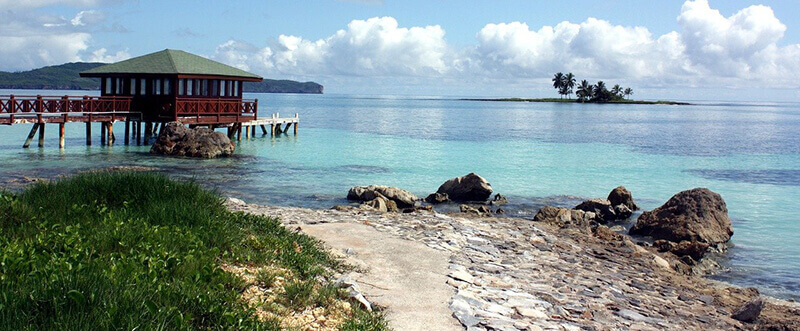 Located on tip of the Samaná Peninsula, a place of serenity and peace to be enjoyed by all locals and tourists. Las Galeras provides some of the most tranquil bungalows and gorgeous nights.
You Should Stay Here if:
You're an active individual looking to make the most out of your holiday by doing activities.
You're looking to take your family on a tropical trip.
Best Things to Do and See in Las Galeras:
The Runners Adventures offers action-packed excursions throughout the landscapes of the Dominican Republic where you'll witness close-up encounters with natural wildlife as well as idyllic scenery.
Horseback riding is quite pervasive throughout the Caribbean to which now travelers can take advantage of. Rudy's Rancho delivers to tourists a rare opportunity to ride horses along the beaches and plains of Las Galeras.
Boat tours and cruises are also of service to the public as Las Galeras encourages travelers to bear witness to the beauty Las Galeras has to display. Joel and Ludi Excursions provides just this opportunity for anyone willing to be endeavored by the Caribbean's clear and magnificent waters.
Playa Rincon, La Playita, Playa Fronton are some of the best beaches in the area.
Best places to stay in Las Galeras:
🔍FIND BEST HOTELS IN LAS GELERAS
11. Santa Cruz de Barahona
The main city – within the province of Barahona – presents many ecotourism attractions and is one of the busiest ports known throughout.
You Should Stay Here if:
You enjoy scenic tours within ecosystems: forests, plains, beaches, coral reefs, etc.
You love what nature has to offer when it comes to wildlife and animals.
You are in a romantic relationship.
You are a family person.
Best Things to Do and See in Santa Cruz de Barahona:
By taking advantage of Barahona's mountain ranges, you can watch the most heavenly birds that inhabit the mountains. Bird watching is a local pastime hobby to which Ecotour Barahona offers for everyone to enjoy.
The Cathedral of Our Lady of the Rosary not only offers religious solace to Christians but amusement to anyone who enjoys wondrous architecture and history. Explore its colorful garden and historic monuments that are within the cathedral to be immersed in a world of antiquity.
For anyone wanting to take a load off and simply observe the surrounding locals and life of Barahona, the Central Barahona Park can give you just that. Whether you're eating food or wanting to take in the local air, this park is filled with tranquillity for you to fully be indulged in.
Best places to stay in Santa Cruz de Barahona:
🔍FIND BEST HOTELS IN SANTA CRUX DE BARAHONA
💁Where to Stay in the Dominican Republic: Tips & Info
For any Dominican Republic lover, choosing its resorts and best hotels to stay at usually entails an arduous chore. From varying prices, attractions and scenery, tailoring a trip to your specific liking couldn't be any harder. That's why with our hot tips on choosing the best places to stay, this task will seem like a chore turned into a fun activity:
Research the Place's Safety
By understanding how safe a Dominican Republic place is, the better your chances will be in choosing the best places for your holiday. Generally, tourists traveling throughout the Dominican Republic are safe, whether that be travelling through beaches, mountains and or cities.
However, this doesn't mean that all places are complete safe havens. It's been cautioned that tourists remain vigilant when travelling to the Dominican Republic as scams, illegal hustles and muggings still do occur.
Which Scenery You Prefer
The age-old question: beach, city or mountains? For you see, the Dominican Republic offers a range of vibrant environments for you to explore:
If you're looking for a more relaxing, sip-on-a-beverage location, looking for areas with paradisical beaches is a must, such as Cabarete or Sosua.
If you're looking to embrace the Dominican Republic's nature and forests, you can never go wrong with exploring Constanza or San Felipe De Puerto Plata in the mountains.
If you're looking to socialize amongst natives and shop until your heart is content, then living it out within the places of Santa Cruz De Barahona or the Santo Domingo Province may just be the peace of mind you desire.
Sorting Your Finances
Of course, with anything pertaining to travel, how much money you have ultimately decides which places you can travel to (and stay at). Knowing your finances (the totality of how much you have vs how much you should spend) is crucial to not only enjoying a holiday but saving a reasonable amount for when you return home.
It was found that the average tourist in the Dominican Republic spends $6207 RD (Dominican Peso) per day, which roughly translates to ~$100 USD being inclusive of meals, transportation, hotel and attractions. Planning your finances thoroughly on a trip to the Caribbean will increase your chances in finding the best places suitable to your vacation.
FAQs on best areas to Stay in the Dominican Republic
Best Places to Stay in the Dominican Republic for Young Adults?
From the strict age requirement of being 18+, the BlueBay Vilas Doradas has made a resort that's an absolute haven for adults alike to enjoy company without the disturbance of children.
Having bars that range in a plethora of cocktails and beverages, drinking with friends or enjoying mellow solitude is easily a fantastic way to spice up the night. With pools, fitness centres and gyms and bicycle rentals, keeping fit and healthy is also a perk that young adults can get involved in.
Where to Stay in the Dominican Republic All-Inclusive?
Within Punta Cana, there is one, amongst many, all-inclusive resorts where it's completely all-inclusive, eliminating any chance of exclusion based on race, wealth, and identity: Secret Royal Beach Punta Cana.
Built alongside the resplendent Playa Bavaro beach (Dominican Republic's eastern coastline), the Secret Royal hotel showcases its radiant forests and attractions for any person of any background to cherish. All-inclusive activities are also provided for such as beach volleyball, water aerobics, tennis, and so much more.
Best Places to Stay in the Dominican Republic for Singles?
The Ultravioleta Boutique Residences is an all-new, top-quality condominium that charms any of its residents, especially anyone who is able to indulge in a boutique without the disturbance of others. For solo travellers, staying at this residence is a sure way to meet any of the locals or even other tourists, making staying here an excellent way to meet new people.
For those who aren't interested in such, fret not as enjoying your own peace is still on the list, meaning you can go out to enjoy the special attractions and delicacies that the Dominican Republic has to offer in your own time.
From alluring beaches, mountains and bungalows to delicious foods and fun attractions, the Dominican Republic is by far one of the superior choices when visiting any tropical country.
By using this travel guide, you will not have only learn the amazing rich cultures and history behind the Dominican Republic but majestic places to stay at too. Whether you're planning to travel solo or with friends and family, either way, you're guaranteed to create unforgettable memories.