The best areas to stay in Split, Croatia for the first time tourists are the neighborhoods of Old Town, Bacvice, Veli Varos, Poljud, Znjan, and Stobrec. In today's article, I'll be looking at where to stay in Split for nightlife, family, couples, young adults, beaches.
Along with Zagreb, Hvar, Dubronik, Split is one of the famous tourist destinations in Croatia. It is the largest city on the Dalmatian Coast and the second-largest in Croatia after Zagreb, Croatia's capital. With diverse influences from Romans, Byzantines, Croats, Venetians, and Austrians, there are plenty of historical landmarks of the Old Town.
The historic old town is the best area for first-timers. It is home to the legendary sites like Diocletian's Palace. The palace walls house countless attractions that are ideal for tourists looking to immerse themselves in the history and culture of Split.
Similarly, there will be those that like the sound of everything Old Town has to offer but who would prefer to stay in a boutique hotel outside of the tourist areas. In that case, Veli Varos would be the best place to stay in Split for couples with a quieter and more relaxed destination
You might even be wondering where to stay in Split for the beach vacation. While that often isn't the main selling point of a city, Bacvice is the best place to stay in Split for a beach vacation as it features one of the best beaches in the entire region. Bacvice is the best place for nightlife, especially during the summer with many trendy bars and clubs.
Much like above, Znjan would be the best area for families to spend a lot of time at the beach, as it features the largest beach in Split. However, it is also the perfect choice for those who prefer pebbles to sand, as well as anyone looking for something extremely specific from their accommodation, as Znjan offers perhaps the most options in all of Split.
There are Split plenty of accommodation options include B&Bs, boutique hotels, and many hostels that offer private rooms and bathrooms.
🔍 FIND BEST HOTELS IN SPLIT
Where To Stay In Split: 6 Best Areas to Stay in Split
1. Old Town, best area to stay in Split for first time tourists
If you are visiting Split for the first time, you will want to stay in the heart of the city, the Old Town Split (also known as Grad). It is a car-free area with a maze of streets and narrow cobbled alleyways, packed with tops attractions, restaurants, bars, cafes, tourists shops.
This pedestrian-only zone is filled with historical and cultural attractions such as a UNESCO World Heritage Site, Diocletian's Palace, the Cathedral of St. Domnius with its Bell Tower, Riva Harbour, the City Museum of Split, and the Ethnographic Museum Split.
Originally built in the 4th century AD for the Roman Emperor Diocletian, Diocletian's Palace resembles a fortress more than it does a traditional palace. Its exposed stone walls cover around half of Old Town Split and contain many other popular businesses, attractions, and city sights.
The main sites inside the palace are the Cathedral of St. Domnius; the central square Peristyle; the Temple of Jupiter, the Cardo, the Vestibule, the cellar (the filming site of Game of Thrones), the ruins of Diocletian's Baths, and four palace gates which are named after four metals: gold, silver, iron, and bronze.
The St. Domnius Cathedral (Sveti Duje) was built in 305 AD, around the same time as the Old Town itself was settled, it is considered to be the oldest cathedral in the world to have remained in constant use in its original structure.
Formed from a Roman Mausoleum and featuring the stunning bell tower that was added later, it is dedicated to the Virgin Mary and is a core reason why Old Town is visited by tourists from all over the world each year. If you climb to the top of the bell tower, you will have spectacular views of the city. it is a unique experience you must try!
Other attractions located within the walls include the City Museum of Split, and Vocni Trg (Fruit Square). These help to make Old Town the must-visit location for anyone who wants to know more about the origins of the city.
Fruit Square is famous for its monuments, shops, and numerous pubs and entertainment venues. In the square, you will see the statue of Marko Marulić, the 15th-century Venetian tower, and the impressive Palace of the Milesi family.
The Old Town Split doesn't revolve solely around Diocletian's Palace though. For starters, you have Republic Square. Located west of the stone walls of Diocletian's Palace, on the outskirts of Old Town, it features beautiful architecture and numerous cafes and restaurants, ideal for a relaxing day out during your stay in Split.
Also, within a short walk from Diocletian's Palace stands the People's Square (Narodni Trg / Pjaca), where you can find many cafes and restaurants, shops, and the old town clock. Dating from the 15th century, People's Square is surrounded by many fascinating Renaissance, Venetian, and Gothic buildings built by the nobility such as the Cambi Palace, the Town Hall, and the Ethnographic Museum of Split.
You also have the main strip of Split, Riva Promenade (Obala Hrvatskog Narodnog Preporoda by Croatian), which is conveniently located on the coast, in the south of Old Town, just a short walk from both the square and Diocletian's Palace.
It is a luxury shopping street, filled with exclusive stores, cafes, and restaurants. Stroll along the palm-lined promenade with colorful buildings, grab a Croatian coffee, beer, or wine, and enjoy beautiful views of the Adriatic Sea and the harbor with the boats and yachts.
The Marjan Forest Park is a green oasis in Split that extends from Marmont Street to the west of the old town on Marjan Peninsula. It's a great place for walking, hiking, swimming, and enjoying the magnificent view from its lookout points Prva Vidilica Na Marjanu, and the Vrh Marjana-Telegrin.
The well-known Split market, the Pazar, is the most popular market on the east side of the palace. The local fish market, Peškarija in a 120-year-old building, is also worth visiting.
Another point of interest in Old Town is the Meštrović Gallery and Kaštelet, an art museum that dedicated to the work of the 20th-century sculptor Ivan Meštrović;
The Old Town offers great nightlife with a wide range of trendy wine bars, traditional bars, cafes, local and international restaurants, cinemas, the casino; with lots of live cultural and music entertainment on open-air.
Surrounded by some of the best luxury hotels in all of Split, it makes Old Town a great place to stay in Split for anyone seeking a relaxing break filled with shopping, dining, historic attractions, and stunning views of the Dalmatian Coast. You can easily find accommodation from budget hostels to mid-range apartments, villas, and high-end hotels. Most of the accommodations have soundproof windows to avoid noise at night.
Stay in Old Town if you're traveling to Split for the first time, you want to explore the many businesses located within the exposed stone walls of Diocletian's Palace, you want numerous cafes and restaurants within walking distance of one another, you want to stay in the car-free area.
Best Places to stay in Split Old Town:
Luxury: Hotel Luxe Split This stylish 5-star hotel is located within a short walk from Diocletian's Palace, Split Bus Station, and the Split Port. Other top attractions nearby include Gregory of Nin, Green Market – Pazar, Emanuel VIdovic Gallery, Ethnographic Museum Split, and The Peristyle Square. It offers spacious rooms with satellite TVs, air-conditioning, free wifi, private parking, and rich buffet breakfast.
Mid-range: Divota Apartment Hotel Centrally located near popular tourist attractions such as the Riva seaside Promenade, Diocletian's Palace, Zvončac Beach, the Ferry Port, the Main Bus, and Train Station. You can also reach Marjan Mountain for hiking and cycling easily while staying in this 4-star hotel. It provides air-conditioned studios and rooms with a coffee maker, a private bathroom, and free wifi.
Budget: Ćiri Biri Bela boutique hostel This hostel is set in the Split City Centre district, within a short stroll from Diocletian's Palace, People's Square – Pjaca, Gregory of Nin, Church and Monastery of St. Francis, Jaman Art Centre, Live Museum Split, and Republic Square – Prokurative. It's also a short ride from Salona Archeological Park, Kasjuni Beach, Bene Beach, and Kastelet Beach.
🔍 FIND BEST HOTELS IN SPLIT OLD TOWN
You might want to read:
2. Bacvice, where to stay in Split for nightlife and beach
Bacvice is located within 15 minutes walk from Old Town, on the southern coast of Split. Despite being located near the heart of the city, it is an area that is primarily known for its beach, coastal attractions, and nightlife.
For starters, the blue flag Bacvice Beach is considered by many to be one of the best beaches in the entire Split, Croatia region. Beautiful golden sands meet turquoise waters, creating a scene straight off of a postcard. Whether you want to relax, top up your tan, or take full advantage of the beach bars and water sports, Bacvice Beach is sure to please you.
Bacvice Beach is also a popular spot to see locals playing Picigin. Bacvice is a place of birth of the Picigin game, a part of UNESCO non-material heritage. the Picigin World Cup is held every year in Split and the winner is usually the Croatian team.
You can book a stay in a beach hotel if you plan to spend your entire trip on the sand, while some of the best hotels in Split are also located within walking distance. Whether you want a budget hotel, boutique hotel, or luxury hotel, there will be something here to complete your dream Split vacation.
The other main waterfront attraction to be found in Bacvice is the Ferry Port Of Spit, Croatia. This is the main passenger ferry port in all of Croatia, with people arriving and leaving on a regular basis. You also have Aqua Park Bacvice Split to check out.
This makes Bacvice a superb location in Split, Croatia for anyone planning day trips and to take a cruise along the Croatian coast, or even across the ocean to another country entirely.
Bacvice is one of the best places when it comes to nightlife in Split, especially during the summer. It is a gathering place for young locals and tourists, enjoy walking on the promenade along the sea, and drinking on the beach. The best trendy bars and clubs are the Tropic Club, La Playa Beach Bar & Club, and the Caffe-Club Bačvice
For a fun day with your kids, head to the Aqua Park Bacvice Split where you can find floating trampolines and slides for the young children.
Stay in Bacvice if you want to stay near the beach; you wat great nightlife; you are planning to take a cruise or docking while already on one, you want to be near to the Old Town but not directly in it.
Best places to stay in Split in Bacvice:
🔍 FIND BEST HOTELS IN BACVICE
3. Veli Varos, where to stay in Split for couples, families, all ages
Veli Varos is located to the west of Split Old Town, with many parts within walking distance of the attractions we have just looked at. It's one of Split's oldest neighborhoods, along with Manus, Dobri, and Lučac. As the westernmost part of the city, on the southern slope of Marjan Hill and northwest of Diocletian's Palace, it features some beautiful views out across the water.
Most of the built-up section of Veli Varos features old traditional buildings with stone walls, much like what you would find in Old Town. This makes it a great place to stay for anyone who wants to take in the history and culture in a slightly quieter environment.
Along winding cobblestone streets, you will find famous churches like the Church of St. Mikula, Church of St Cross, Franciscan Monastery and Church of St Frances, the church of Our Lady of Soca.
The 11th century Church of St. Mikula is a small Romanesque church, built by Rako and his wife Elisabeth and dedicated to the abbey of St. Stephen on Sustipan.
The Church of St Cross is a Croatian Pre-Romanesque Catholic church, built in 1681, with a bulb-like cupola on top of the baroque bell tower.
Perhaps the most popular feature of Veli Varos is Park Suma Marjan. Centered around the towering Marjan hill, it is the best place in Split for anyone who loves the great outdoors.
Hiking trails lead up through dense pine forests, filled with wildlife and the sounds of nature. From its Marjan Hill Telegrin Peak and the Prva Vidilica (First Peak), you can enjoy breathtaking views of Split Old Town, Diocletian's Palace, and the Dalmatian Coast.
Around the area of Marjan hill, you will find the summerhouse for the Capogrosso family, Meštrović Kaštelet; Mestrovic Gallery, the Museum of Croatian Archaeological Monuments, Old Jewish Cemetery, St. Nicholas Church, St. Jeronimus, Church of St. Benedict, Church of St. George, and the Church of the Madonna of Bethlehem.
In its southeast corner, you will even find the only beach in this part of Split worth visiting, Kasjuni Beach. A beautiful, clean beach, with crystal clear waters and amenities like toilets and a beach bar, it features plenty of luxuries without suffering from overcrowding, as is often the case with beaches near the city center.
Accommodation in the area is on a slightly smaller scale than in central Split, however, that doesn't mean you won't still find some of the best hotels Split has to offer here. Veli Varos boasts a combination of small luxury hotels, small boutique hotels, and Split apartments.
This selection is some of the most diverse Split accommodation available, making Velia Varos a fabulous place to stay in Split, no matter what your personal taste may be.
Stay in Veli Varos if you're traveling as a couple; you want a quieter, more relaxed destination, that still has plenty of historical sites; you are a fan of hiking; you want easy access to Old Town and Marjan Forest Park; you plan to visit one of the best beaches in the area; you want a choice of the full range of Split accommodation.
Best places to stay in Split in the Veli Varos area:
🔍 FIND BEST HOTELS NEAR VELI VAROS
4. Poljud, a modern neighborhood in the north of Old Town
Poljud and nearby Spinut are located to the north of Old Town and west of the city center, near the northern coast of the peninsula. Unlike our previous destinations, Poljud isn't an area that revolves around history or nature. Instead, the main draw here is considerably more modern.
That's because a large percentage of the visitors here are coming to visit Stadion Poljud (Stadium Poljud). Capable of holding more than 34,000 people, the stadium was opened in 1979 and is home to Hajduk Split.
Hajduk Split is the second most successful professional football team in Croatian history. They perform at the top level of the football pyramid and are one of only 4 Croatian teams to have never been relegated.
Skywalk Poljud is a special 90+ minute rooftop walk via Ferrata, which doesn't require any special skills or experience. This is a good experience for a thrill seeker.
Poljud is also homes to the beautiful Park Mladosti, with the popular Ultra Europe festival. The Ultra festival is a huge Croatian dance music festival and the European edition of the global event brand, held each summer in Split.
This makes Poljud a great place to stay in Split if you are coming to watch a game, no matter whether you're coming from Croatia or another country.
As is often the case in the area surrounding a stadium, it also has other features designed to cater to the heavy footfall that other visitors to Split, Croatia can take advantage of.
For starters, there is a public bus to Split Airport. Considering it is located around 40 minutes outside the city, this makes Poljud a great place to stay in Split for anyone who doesn't want to waste time worrying about connections or paying for expensive taxis.
You also have a great range of split hotels to choose from. While you won't find many luxury hotels here, there are still plenty of options for those seeking a comfortable and affordable stay in Split.
There are even a number of other attractions that can keep visitors occupied as well, either while waiting for the game or for those simply enjoying the convenience of the area.
Perhaps the most unique is the number of marinas located in the area. While many house private vessels, there are also places offering boats for vacation rentals as well. A vacation rental is a perfect way to pass the time, get out on the waves, and take in the beauty of the coastline around Split, Croatia.
Stay in Poljud if you aren't worried about staying in luxury hotels, you are attending a match or event at Stadion Poljud, you want a convenient link to the airport, you plan to rent a boat and want a number of marina's walking distance apart, you are looking for a great deal on a Split hotel.
Best places to stay in Split in Poljud:
🔍 FIND BEST HOTELS IN POLJUD
5. Znjan, where to stay in Split for families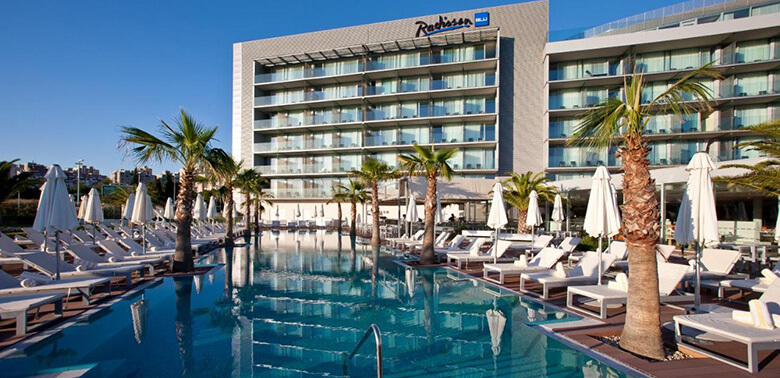 Our penultimate destination of Znjan is found quite a way east along the coast of Bacvice. It is the first option we're looking at that isn't located near Old Town, instead of being found on the outskirts of the city.
Its location often means it gets overlooked when people are deciding where to stay in Split, Croatia. That is a real shame, as it actually has quite a lot to offer for the right visitor.
For starters, it is a great choice for anyone looking at where to stay in Split for a beach vacation. Znjan Beach is the longest beach in the city, which is then connected to the smaller Trstenik Beach by a promenade. The Znjan beach is ideal for all ages from families with young children, singles, couples, older people, and younger people.
These beautiful, clean pebble beaches provide plenty of space and options, so you will always be able to relax, no matter how busy it starts to get. With beach bars and beach clubs spread out along both, you will also never run out of things to eat and drink or activities to keep you occupied during your days here.
Then there is the choice of shopping. With a collection ranging from souvenir shops to designer stores, you will comfortably be able to spend your days wandering up and down, shopping till you drop while enjoying the stunning coastal views on offer.
The final reason to stay in Znjan, and perhaps the most popular one, is the incredible volume of accommodation options on offer here.
Visitors have choices including luxury hotels, beach hotels, and boutique hotels. Then there are options like private guesthouses and self-catering apartments, for those who prefer to be a little freer during their trip.
It isn't just the style that varies either. With options ranging from extremely affordable to exclusive and high-end, you will be able to find somewhere that suits you, no matter what your budget is.
When you combine the range of hotels with the abundance of stores, bars, and beaches, it makes Znjan the ideal location to stay in Split for anyone who simply wants to enjoy a laid-back, relaxing vacation by the sea.
Stay in Znjan if you travel with kids; you want a great range of hotels to choose from, you want to visit the largest beach in Split, you are a fan of beach bars and beach clubs, you don't mind pebbly beaches, you don't mind being a fair distance from the city center, you want to go shopping during your stay.
Best Places to stay in Znjan:
🔍 FIND BEST HOTELS IN ZNJAN
6. Stobrec, ideal coastal resort for sightseeing and beach
For our final destination, we move even further east along the coast of Split, Croatia. When looking at accommodations in Split, most people will expect to find a destination inside the boundaries of the city. However, with Stobrec we have something a little different.
Located immediately to the east of Split, Stobrec is a historic village that perhaps even predates the Old Town of Split, with a history going as far back as the ancient Greek empire when it was known as Epetium.
Some of its most popular attractions relate to the construction of Diocletian's Palace. Many of the workers that built the fortress, as well as the materials used, would have come from Stobrec.
In terms of its own historical artifacts, Stobrec was also where the Sarcophagus of Lucius Artorius Castus was found. A Roman prefect, he is thought to be the inspiration for a number of the legends pertaining to King Arthur.
Other historic points of interest also include a selection of old churches, including the Parish Church Of St. Lawrence (Basilica of St Laurentius), Our Lady Of Mount Carmel, Church of St. Michael (built in the 14th century), Church of St. Maria (built in the 15th century).
Be sure to check out the Krka National Park with Krka River, the cascades at Roški Slap, and Visovac Island with its 15th-century monastery.This allows you to enjoy a truly cultured vacation with a much more local, authentic feel than you would experience if you chose to stay in Split itself.
Stobrec doesn't have to be a destination that revolves solely around history either. For starters, you have Plaza Stobrec Jug and Stobrec Beach. Two of the finest beaches in the area, they are a great place to take a swim, top up your tan or simply let loose and have fun, without having to worry about the crowds on the beaches closer to the Old Town.
It is also a popular area for those who enjoy camping as well. Beach Stobrec Camp and Camping Stobrec Split are located just a short distance apart. They provide plenty of options for those who like to stay outdoors, with both beach camping and caravans available.
For those who really want to go wild, there is the Dupichini Aquapark. With beautiful pools featuring inflatable slides and attractions, it makes a great day trip for anyone who wants to enjoy a little childish fun during their stay.
You even have a number of beautiful seafront bars and restaurants, offering you that small-town charm. What better way to relax and watch the sunset over the sea in the evening?
You combine all of this together and it makes Stobrec a destination that will give you plenty to think about when deciding where to stay in Split.
Stay in Stobrec if you are a fan of camping, you are interested in history that predates even the Old Town section of Split, you want to visit a waterpark, you love beautiful beaches and old churches.
Best places to stay in Stobrec:
🔍 FIND BEST HOTELS IN STOBEC
Check out the virtual tour about the best places to stay in Split in my video or continue reading:
More About Europe Traveling:
Other Split neighborhoods:
Dobri, Manus, and Lucac: These are the oldest suburbs in Split along with Veli Varoš, you can find one of the oldest streets in Split – Radunica street in Lucac neighborhood, these are the best places to stay in Split on budget.
Meje is an exclusive residential in Split, it has attractions such as beaches Jezinac beach, Kastelet beach, and Kasjuni beach; museums Mestrovic Gallery and Museum of Croatian Archaeological Monuments; green spaces of Zvoncac Park and Marjan hill. Meje is a good neighborhood in Split for a family.
You can also stay in neighborhoods like Firule, Trstenik along the coast, east of Bacvice beach; Spinut and Gripe are also good options to look at.
Where to Stay in Split Old Town?
The best luxury hotel is Hotel Luxe Split, the best mid-range hotel is Divota Apartment Hotel, the budget hotel is Ćiri Biri Bela boutique hostel
Where to Stay in Split for nightlife?
The best area to stay in Split for nightlife is Bacvice, located to the south of Old Town. You can choose to stay in one of the best hotels in Bacvice such as Hotel Park Split.
Split, Croatia is a truly amazing city. While Old Town is undoubtedly one of the best areas to stay in Split, each of the places we have looked at will have something to offer, whether that be a luxury hotel, a clear view of the stone walls of the palace, or simply convenient access to the airport.
Hopefully, this article will have given you all the information you need to decide where to stay in Split to complete your dream vacation. All that's left is to go and start getting things booked, so you can experience everything Split, Croatia has to offer for yourself, as soon as possible.