The best areas to stay in Singapore for first-timer are the neighborhoods of Marina Bay, Singapore River, Orchard Road, Chinatown, Little India, Kampong Glam/Arab Street, Bugis, Sentosa, and Changi Airport. These are popular and safe districts for tourists that offer a wide variety of attractions and amenities.
In this post, we will help you to decide where to stay in Singapore for the first time tourist, with families, for shopping, nightlife, budget, and foodies.
Singapore is a small and densely populated island. The majority of the most interesting things to see and do are in the center of Singapore's central city on the south coast of the island, and it makes sense to look for somewhere close to here to stay to make the most of your visit.
Marina Bay is the best area to stay in Singapore for first timers due to its proximity to Singapore's top tourist attractions such as Merlion Statue and Marina Bay Sands, as well as many choices in accommodations.
If you book a hotel here, you will be located within walking distance to shops, bars, and restaurants. With its excellent public transportation system: the MRT network and bus service, you can easily explore other parts of Singapore.
Singapore is an exciting mixture of the old colonial trading post and a super-modern international city. If you want to make the most of the modern, then you will love to explore the Marina Bay or the Riverside areas of the city. But there's plenty of old-world charm to be found, too, in places like Little India and Chinatown.
🎬 To get an overall idea of where to stay in Singapore first time, check out this video:
11 Best areas to stay in Singapore for tourists
1. Marina Bay, where to stay in Singapore for first timers

Marina Bay is the best place to stay in Singapore for first-time tourists because it is located in close proximity to famous tourist attractions such as Merlion statue, Marina Bay Sands, and Gardens by the Bay. If you stay here, you will located within walking distance to Singapore's most iconic sights, as well as many shopping, dining, and nightlife venues.
The stunningly modern Marina Bay is a photographer's dream, and these days, when you see photos of Singapore, they are almost always taken here. Marina Bay is an area of Singapore at the Singapore river's mouth, where the marina barrage has created a large bay.
The most imposing feature here is the vast Marina Bay Sands complex which houses a casino and a top-class Marina Bay Sands Hotel with an infinity pool on its boat-shaped rooftop. This development has to be the most striking in Singapore, with its trio of mirrored tower blocks capped by a structure that looks like a boat running across the top of all three, featuring a swimming pool with amazing views.
The Marina Bay area has been recently developed, and its whole feel is modern and vibrant. There are some excellent shopping areas and great restaurants and bars, all in a stunning waterfront location.
Marina Bay is next to Singapore's Central Business District, Civic District, and is well-connected to the rest of Singapore by the MRT network and good bus service. Marina Bay is the first choice for those who searching for where to stay in Singapore for 2 nights.
Things to do and see around Marina Bay:
Gardens By The Bay: The over 101 hectares of Gardens By The Bay was first opened in 2012, is a beautiful development of lush tropical gardens that you can walk through via a treetop walkway formed in the shape of giant artificial trees. It's a beautiful and fascinating thing to do, and it looks particularly pretty when lit up at night.
Esplanade – Theatres on the Bay: Theatres on the Bay is the center of performing arts in Singapore where you can find a concert hall, theatre, and outdoor performance area.
Singapore Merlion Statue: The Merlion is an iconic 8.6-meter statue of Singapore, located in the 2,500 acres Merlion Park at the bottom of Esplanade Bridge. It's a great place to take photos!
Singapore Flyer: This Asia's Largest Giant Observation Wheel is located in the downtown area. It has 165m tall with 28 fully air-conditioned glass capsules, providing a panoramic view of the city.
Watch a Marina Bay Light Show: The light shows are the OCBC Garden Rhapsody at Gardens by the Bay, Spectra at Marina Bay Sands, and the Crane Dance at Sentosa.
Walk The Helix Bridge: The world's first double helix bridge (also known as the Double Helix Bridge) connects the Marina Centre with the Marina South. It is a 280-meter-long pedestrian bridge opened in 2010.
Stay in Marina Bay If you are first time tourist who want great shopping, quality restaurants, good nightlife, love the theater and the stunning gardens by the bay; you want to looking for a family-friendly area to stay in; you like to gamble,
Best Places to Stay in Singapore in Marina Bay:
2. Clarke Quay & Singapore River, where to stay in Singapore for nightlife

The Riverside area is Singapore at its sleek and modern best. This part of the city is where the Singapore River snakes through the center of the central business district. The Riverside area is divided into several Quays like Robertson Quay and Clarke Quay, and here you'll find the best nightlife in the city.
The waterfront areas are lined with restaurants, shopping developments, and interesting things to see and do. There are parks around here that provide some relief from the concrete, steel, and glass of the CBD.
The riverside area is packed with bars and pubs like Harry's Bar, The Hideout, and Long Bar, which claims to be the home of the famous Singapore Sling.
The atmosphere here is smart and quite upmarket, and if you're planning to make a long night of it, just be aware that it can put a big dent in your wallet. Having said that, you get what you pay for, and this is a great place to party and have fun.
The Riverfront district also has plenty to do by day. You can find several museums here, including the Asian Civilizations Museum, The National Gallery of Singapore, and The Peranakan Museum.
A notable local site is The Raffles Statue, a likeness of Singapore's founder, situated where he supposedly first set foot on the island. You also have Hong San See Temple, G-Max Reverse Bungy, Boat Quay, Lockdown Singapore, The Arts House Screening Room, Raffles Place, and Central Fire Station & Civil Defence Heritage Gallery.
This part of Singapore has some excellent hotels with a particular focus on business travelers since you're in the heart of the central business district. The hotels in the riverside area come in at a mid-to-high-end price, and this isn't the part of town to stay if you're a budget traveler.
Stay in Riverside if you are looking for the best area for nightlife, you want top-quality restaurants, you want to visit museums and galleries, you are looking for where to stay in Singapore for 1 night with a great hotel in the city's most central location.
Best Places to Stay in Riverside:
See more: 35 Best things to do in Singapore
3. Orchard Road, best area to stay in Singapore for shopping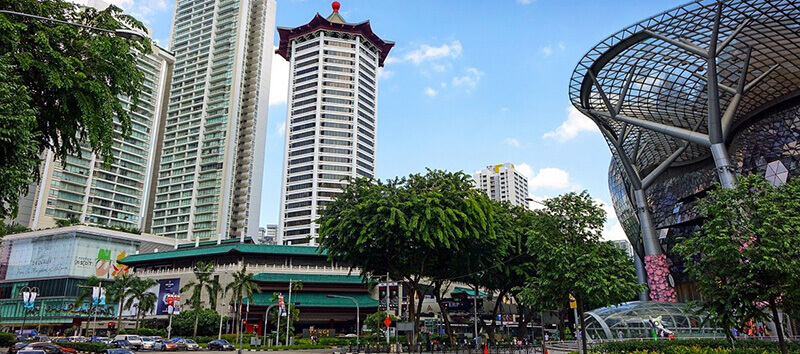 Singapore's famous 2.2 km long boulevard of Orchard Road is a shopper's dream. The whole length of this road is lined with world-famous shopping malls packed with designer stores selling top-quality designer goods, electronics, jewelry, and pretty much anything else that you can think of.
Orchard Road is probably the largest and most comprehensive shopping area in Asia, and it rivals pretty much anywhere else in the world.
But what if you're not a shopper? Can you find something to do here as well? Sure, you can; The side roads leading off from Orchard Road have a profusion of quality restaurants and bars, so it's a great place to eat and drink.
You can check Béni, a small, elegant Michelin-starred restaurant that severs find authentic French cuisine with a Japanese touch.
You can enjoy foods from all over the world in the excellently priced food courts within the shopping malls. These places have some of the best value food in the whole of Singapore. The shopping malls also contain entertainment such as multiplex cinemas, bowling alleys, and gyms.
Weekdays are the best times to visit Orchard Road since the area can get packed during the weekend when Singaporeans do their weekend shopping.
If you are looking for where to stay in Singapore for 3 nights in a short time, Orchard Road is the best part of Singapore to stay in. It's very well connected to the rest of the city so you will have no trouble jumping on the MRT to visit all of the main attractions quickly and conveniently.
There's plenty of accommodation around Orchard Road, and some of the city's very best hotels are here like Holiday Inn, Pac Pacific, Hilton, and Marriott, an ideal place to stay for luxury travelers.
There are good mid-range hotel options too, but there's not much in the way of apartment rentals, or budget accommodation in this part of the city
Things to do and see in Orchard Road:
ION Orchard Mall: Located in the heart of Orchard Road, right above Orchard MRT station, where you can find luxury brands, high street fashion, and entertainment stores. You can visit ION Sky, an observation deck on the 56th floor, offering sweeping views of the city.
Fort Canning Park: The iconic 18-hectare park is steeped in history. In the 14th century, it was ruled by Malay royalty with the name Forbidden Hill. Later during World War II, the British decided to surrender to the Japanese in the Battle Box at Fort Canning Hill.
Singapore Botanic Gardens: The 60 acres of land, was established in 1859 and the country's first UNESCO Heritage Site. Here you will find the National Orchid Garden, home to more than 60,000 plants and orchid plants. History and art lovers will want to visit SBG Heritage Museum and CDL Green Gallery, while kids will have a fun day out at Jacob Ballas Children's Garden.
Visit museums, art galleries, and cinemas : Apart from shopping, Orchard Road has some historical and cultural attractions including the National Museum of Singapore, Singapore Art Museum, Pop Fine Art with a lot of modern artwork, and Opera Gallery Singapore.
Emerald Hill: This historical neighborhood is famous for its Chinese Baroque. Here you can find colorful, restored shophouses that date back to the 1900s and have been transformed into quaint watering holes like Acid Bar, Alley Bar, No.5 Emerald Hill, and Que Pasa.
Stay in Orchard Road if you want some of the best shopping in the world, a great choice of upscale hotels, and spend a lot of time in shopping malls;
Best Places to Stay in Orchard Road:
4. Colonial/ Civic District, central location, great for sighseeing
If you want to stay close to everything and in the heart of the city, the Colonial district is a great base for your Singapore trip.
Civic District is the birthplace of modern Singapore. The Civic and Cultural District was formed in 1822 by Sir Stamford Raffles, the founder of Singapore. It was urban planning at its best.
Here you will find important historical and cultural landmarks such as:
the former Supreme Court and City Hall (now the National Gallery),
Old Parliament House,
the Asian Civilisations Museum,
Victoria Theatre and Concert Hall,
National Museum of Singapore,
the Peranakan Museum
Raffles Singapore,
St Andrew's Cathedral
National Library
Fort Canning Park
Best places to stay in Colonical District:
5. Chinatown, where to stay in Singapore for foodies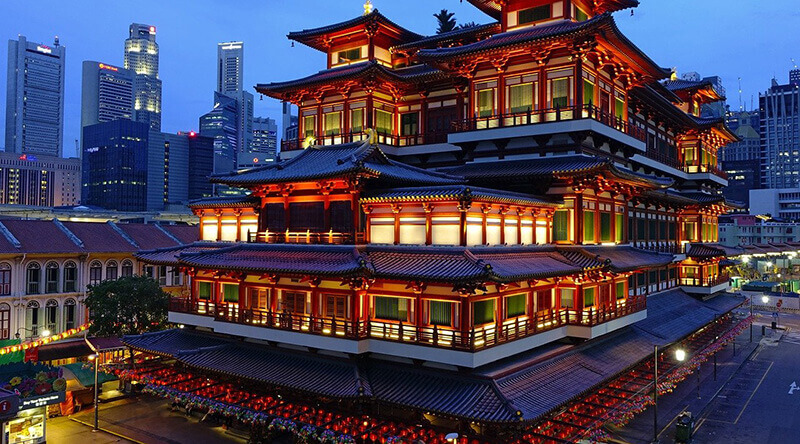 Chinatown is an area of central Singapore that was first settled by Chinese immigrants. This ethnic enclave is located in located within the Outram district. It has a unique charm, with its jumble of tower blocks and well-preserved shop-houses.
Chinatown is full of stores, supermarkets, and Chinese restaurants, all decorated with the distinctive red and gold characteristics of Chinese communities the world over.
The Chinese Buddhist temples here have beautiful architecture, with all kinds of mythical creatures bedecking their roofs.
One of the best things to do in this area is just to stroll around soaking up the atmosphere. There are interesting sights, including the Buddha Tooth Relic Temple, containing the titular relic. There's a Chinatown Heritage Center with interesting displays on how the area developed over history.
Other temples are Sri Mariamman Temple, Thian Hock Keng Temple which is the oldest Chinese temple in Singapore.
Another interesting thing to see is the Singapore City Gallery, which relates the story of Singapore's planning, design, and development. In such a modern city, this is fascinating to see, and it's a great place to discover things to see and do while you're here.
The dining highlight of Chinatown is, of course, Chinese food, but there are all kinds of other food here too. You can eat exceptionally well and cheaply from the vast number of street stores and little shophouse restaurants.
Don't miss out on Chinatown Street Market, Maxwell Road Hawker Centre, Chinese Night Market.
Stay in Chinatown if you love food; you are backpackers looking for budget-friendly accommodations with hostels and good value guesthouses.
Best Places to Stay in Chinatown:
6. Bugis, good area for shoppers and foodies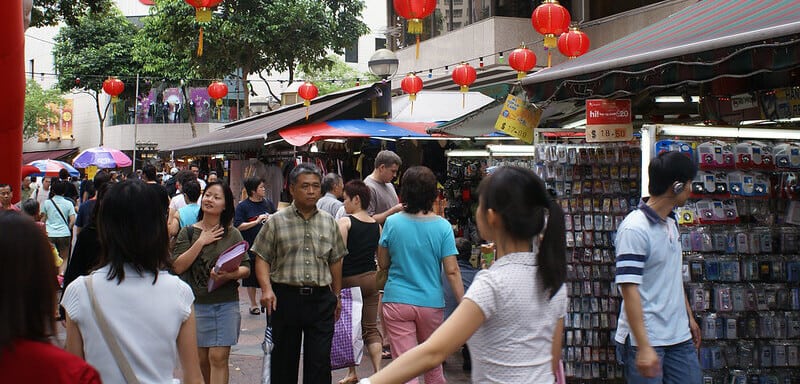 Located near Kampong Glam, Bugis is a district of Singapore with more than its share of history. This part of the city has been, over the years, home to Singapore's original inhabitants before colonial rule, the island's Japanese community, and the Hainanese community.
Bugis then served time as a red-light district, but it was dramatically redeveloped in the late 20th century and is now a far more salubrious part of town.
Bugis Street Market is one of the biggest and cheapest shopping streets in Singapore. Bugis Junction is also a great place for shoppers!
Bugis has good communications, and you can access the MRT network via the Bugis and Lavender stations. The area is relatively low rise without too many tower blocks, and it's an exciting place to explore on foot, particularly since several streets are pedestrianized.
The redevelopment of Bugis included the restoration of some of the old shophouses. This gives the area an old-world charm that adds to its appeal. Although it's a busy shopping center, Bugis still feels like something of an oasis of calm amid the modern city.
Interesting places to visit around Bugis include Sultan Mosque, Haji Lane, Bugis Junction, Kwan Im Thong Hood Cho Temple, Sri Krishnan Temple, Malay Heritage Centre, Arab Street, Bras Basah, CHIJMES, and Albert Hawker Centre.
Stay in Bugis if you want budget-friendly area; you want good shopping that is less corporate and commercialized than orchard road, want excellent Street food and food courts, and stay in good mid-range boutique hotels.
Best Places to Stay in Singapore in Bugis:
7. Little India, where to stay in Singapore on a budget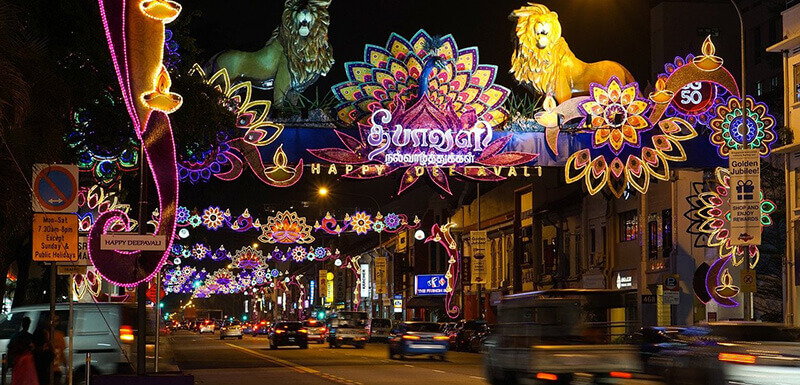 Another great option for foodies and budget travelers is Little India, located east of the Singapore River. This Indian Community is another district of Singapore characterized by the ethnicity of its original settlers.
This area is a tight-packed cluster of streets in the center of Singapore just to the west of the ultra-modern Marina Bay, but a million miles away in atmosphere.
Out of all Singapore's communities, the Little India area is the most redolent of its mother country. This is a fascinating part of the city to stroll around, looking at the ornate Indian fabric shops, bustling street stores, and of course, fabulous Indian restaurants and cafes. Along with Chinatown, Little India is a great area for foodies.
Little India is perhaps the area of Singapore that is most inviting to backpackers and budget travelers. This area has the widest selection of hostels, guest houses, and budget accommodations. You can stay somewhere near the action around the City Square Mall, and the Sim Lim Square.
The central location and useful links with the MRT system make Little India an excellent base for exploring the rest of Singapore. You can jump on the MRT subway at Little India and Rochor stations.
Attractions in Little India are Sri Veeramakaliamman Temple, Sri Srinivasa Perumal Temple, The House of Tan Teng Niah on Kerbau Road, Mustafa Centre, Temple of 1,000 Lights, Abdul Gafoor Mosque, Leong San See Temple, Indian Heritage Centre, Our Lady of Lourdes, Tan Teng Niah.
Stay in Little India if you are looking for budget-friendly accommodations; you love Indian cuisine, want a bustling and exciting area, and don't need great nightlife; this is also a good place to stay for Indian tourists.
Best Places to Stay in Singapore in Little India:
8. Sentosa Island, best place to stay in Singapore with family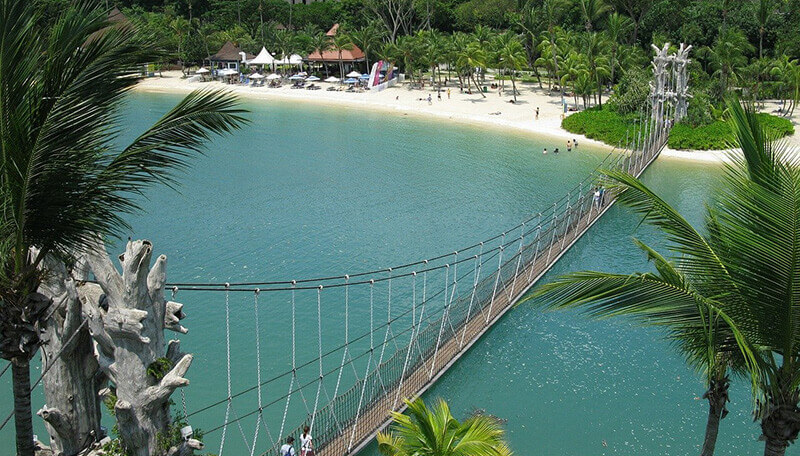 Sentosa is a small island just to the south of Singapore's main island. It's a destination that has been expertly developed for beach and holiday tourists, with families in mind, and it is unquestionably the best place in Singapore if you're traveling with a family with kids.
Kids will love a visit to the new and enormous Resorts World, a vast complex that features a casino and the Universal Studios theme park. Sentosa has beaches too, and the fact that they're man-made doesn't detract from their attractiveness.
Nature lovers will love to visit Sentosa Nature Discovery, while the S.E.A. Aquarium is one of the largest oceanariums in the world. The world-famous Madame Tussauds Singapore is also worth visiting!
You can also find attractions like Tiger Sky Tower, the Singapore Butterfly & Insect Kingdom, and Sentosa Golf Club.
There are several ways to get over to Sentosa. A fun way to get there is on the Sentosa Express monorail line on a service that connects with the MRT Harborfront station and runs every few minutes.
Alternatively, there is a road bridge so that you can get there by taxi. But much more fun is the Singapore Cable Car service where you jump in a cabin and travel across to Sentosa suspended over the sea.
Accommodation in Sentosa is in the form of well-equipped resort hotels. These are almost exclusively four and five-star establishments, and they have prices to match.
So Sentosa isn't the cheapest place to stay, but it's a great experience. If you don't want to splash the cash on an expensive resort, then all you have to do is visit on a day trip.
Stay in Sentosa if you're family with kids; want to stay near Universal Studios theme park; you're a keen gambler.
Best places to Stay In Sentosa Island:
Check out the virtual tour about the best places to stay in Singapore in this video:
9. Kampong Glam, known as Arab Street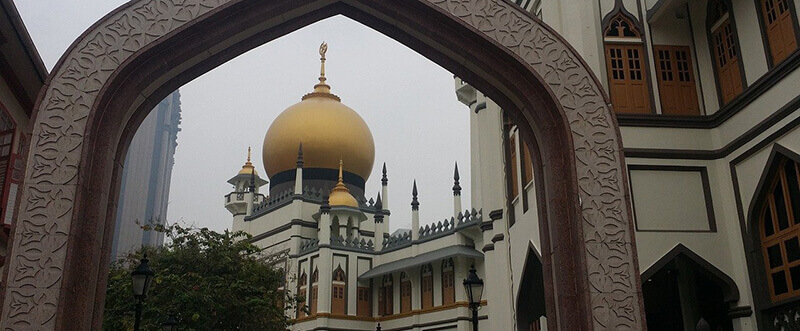 Within walking distance from Little India, Kampong Glam is an area of Singapore that is also commonly known as Arab Street. This part of the city was an enclave that was first settled and developed by Muslim traders.
This influence carries on into the modern-day, and you will find some beautiful mosques here and a distinctly Middle Eastern feel.
Arab Street is a great dining area, and you can sample foods from an impressive number of Muslim nations. If you head down to the famous Bussorah Street and Sultan Mosque, you are almost spoiled for choice by the bright and lively restaurants that line the road on both sides.
An excellent choice is Alaturka Restaurant, an extremely popular Turkish restaurant serving delicious traditional Turkish cuisine.
While some of the more modern Singapore districts can feel a little sterile, Kampong Glam retains its old-world charm, featuring original architecture and pretty shophouses.
If the designer shops and international chains of Orchard Road don't do much for you, you might be very interested in visiting some of the markets and little stores in Kampong Glam.
You can find army surplus stores, antique stores, and art galleries, or visit the pleasingly named Sungei Road Thieves Market, a ramshackle but intriguing flea market.
Stay in Kampong Glam if you love Muslim and Middle Eastern food, you want an area that's quiet by day but lively at night, you want good boutique hotels and guesthouses at a low to mid-range price.
Best Places to Stay in Kampong Glam:
10. Jurong, for local vibe
Jurong is a suburb located on the Northwestern side of Singapore. It is a suburban district that offers a more local feel than the busy city center.
The most notable attractions here are the beautiful 20.2 hectares Jurong Bird Park with more than 5,000 birds from 400 species. If you're a keen ornithologist or just interested in wildlife, you will be delighted by the enormous diversity of bird species in this park.
Here you can also find the 35m high Waterfall Aviary home of one of the world's tallest man-made, indoor waterfalls.
Nearby are the Chinese and Japanese Gardens, lovely landscaped gardens that offer a breath of fresh air from the urban sprawl.
The Singapore Science Center is another exciting place to visit in Jurong. This is a great place to take the family since it has many exhibits explicitly designed to interest kids in the sciences.
Stay in Jurong if you want some good apartment rental options, you want to stay a little way out of town, you want to busy the Jerome bird park gardens.
11. East Coast – Changi Airport, staying near airport
Heading out of Singapore city to the east, you travel towards Changi airport. This long stretch of coast isn't particularly popular with visitors, but it's hard to see why not since much of the coastline comprises a long attractive sandy beach.
I guess most people don't come to Singapore looking for a beach holiday, and the majority of the people that you'll see down by the beach here are local Singaporeans.
This East coast area is mainly residential, and you will find some excellent accommodation in the form of apartment rentals that offer a lot of facilities at a budget price.
Despite being out of town, this area has excellent connections to the city center because of the bus and rail services between the airport and the city.
The East Coast is well known as one of the best places to enjoy traditional Singaporean cuisine. You can find lots of little restaurants here that serve delicious steaming and spicy bowls of laksa noodle soup and fresh and delicious chili crab.
If you visit the east coast, you should make a point of going to the pretty East Coast Park. This is Singapore's largest public park, and its beachfront location has footpaths popular with rollerbladers, walkers, and joggers. There are some nice restaurants here too.
Stay in Changi Airport if you want to stay near the airport; you're looking for a beach; you want to stay out of the city center, you want to avoid the tourist crowds.
Best Places to Stay in Singapore Airport:
Where should I stay in Singapore for the first time?
Marina Bay is the best place for tourists, especially first-timers. Booking hotel in this area, you will be within walking distance to the Singapore most famous attractions: Merlion Statue and Marina Bay Sands. It also offers plenty of things to do and see nearby.
Where to stay in Singapore with family?
Sentosa island is the best place to stay in Singapore for families. There are plenty of kid-friendly attractions and activities for the whole family to enjoy such as the Universal Studios theme park, Resorts World, Sentosa Nature Discovery, and the S.E.A. Aquarium.
How many days do you need in Singapore?
If you're planning a trip to Singapore, you should spend at least 3-4 days to experience the unique culture, try local delicacies, and visit top attractions like Marina Bay Sands, Gardens by the Bay, and Sentosa Island.
Is 3 days enough to visit Singapore?
Yes, 3 days is enough to explore the main attractions of Singapore, including Marina Bay Sands, Gardens by the Bay, Sentosa Island, and the bustling city streets.
See more:
Singapore has one of the best public transport systems in the world, with an excellent MRT Subway and rail network and a comprehensive bus service too. If you plan to travel around a lot, then consider getting the Singapore Tourist Pass. This ticket gives you unlimited transport or one, two, or three days at a bargain price. It's a perfect way to make getting around Singapore easy.
Singapore is home to the world's first night zoo, 35-hectare Singapore's Night Safari was opened in 1994, with more than 1,000 animals. This city-state is located just off the tip of the Malay Peninsula, encompasses one main island with several smaller islets and islands. Established in 1819 as a trading post of the British Empire, Singapore has more than 65.6 million passengers passing through Changi Airport every year.
Singapore is one of the more expensive countries in southeast Asia, and you should take this into account when planning where to stay. Hotel prices here can be pretty steep, so if you're looking for budget area, you should head for Chinatown, Little India, or Kampong Glam.
Wow, so there you have it the 10 best areas to stay in Singapore for first visit. Singapore really does have a lot to see and do, doesn't it? And now that I've told you all about it and described the most exciting and appealing districts, you have all the information you need to book your trip. So why not go ahead and make a reservation? I know that you're going to have a marvelous visit to this spectacular world destination.