The best areas to stay in Seoul for first-timers are the neighborhoods of Insadong, Myeongdong, Hongdae, Gangnam, Itaewon, Jamsil, and Bukchon Hanok Village. These districts are very popular with tourists, and they offer a wide variety of tourist attractions and amenities.
In this post, I will help you to decide where to stay in Seoul for family, couples, singles, as well as unique places and the safest place to stay in Seoul.
Seoul is located on the Han River, 40 km from Yellow Sea and 60 km from the Korean Demilitarized Zone (DMZ). Seoul is not only the capital, but also the cultural, economic, and political center of South Korea. It is also home to some of the top companies of the world including Samsung, LG, and Hyundai-kia.
Seoul is a safe city day and by night, even for solo female travelers. Most places in Seoul are safe. But as you travel to any tourist area, you should practice common sense and avoid walking alone in poorly-lit street areas and dark alleyways at night.
Seoul is a big city, it has 25 districts, or "gus" in Korean. Each gu encompasses smaller neighborhoods called "dongs". The city is divided into 2 sections, Gangbuk and Gangnam, by the Han River (Hangang River):
Gangbuk, a more historical and traditional side of Seoul, in the North of Han river.
Gangnam, a more modern area of Seoul, in the South of Han river.
Seoul offers all kinds of accommodation options, ranging from budget backpacker hostels to luxury 5-star hotels. There are also love motels, which are charged hourly, or local brand hotels such as Lotte and Shilla. You can also choose to stay in traditional houses, called Hanok, in Bukchon Hanok Village for a unique experience.
Insadong is the best area to stay in Seoul for first-timers because it is the traditional and cultural center of Seoul and it is the most convenient location to see famous tourist attractions. If you stay here, you will be located in the middle of action, within walking distance to many sights, as well as restaurants, bars, and shops.
In addition to Insadong, another area to consider to book hotels for first-timers is Myeongdong. Myeongdong has a super central location, easily accessible by public transport, and lots of shopping  opportunities. 
Hongdae is another popular neighborhood that is packed with shops, restaurants and cafes similar to Myeongdong, but it has a more lively nightlife with lots of pubs, clubs, bars, and students. Myeongdong has some nightlife but it is less vibrant than Hongdae and Itaewon.
To book a hotel, you need to decide how many days you need to see Seoul. I recommend spending between 3 – 7 days in Seoul if you are first-time travelers. Three days is enough to see Seoul's highlights, enjoy local foods, and get the sense of the city. If you have more days, you can take a day trip to a nearby area as well as enjoy Seoul at a slower pace.
🎬 To get an overall idea of where to stay in Seoul first time, check out this video:
Where to stay in Seoul? 8 Best areas to stay in Seoul for tourist
1. Insadong, where to stay in Seoul for first-timers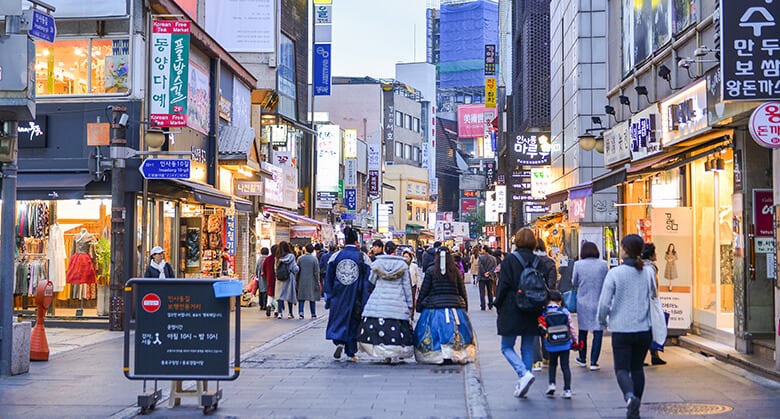 Insadong is the best area to stay in Seoul for first-timers because it is the historical and cultural heart of Seoul. Located in the north of Han river, Insadong is packed with hanok houses, palaces, buddhist temples, tea rooms, as well as hotels, restaurants, cafes, and antique stores.
The beating heart of Insadong is its main street, Insadong-gil, or Insadong Traditional Culture Street. Located close to Anguk Station, it is a 700m street start from Tapgol Park to Anguk-dong Rotary.
Insadong-gil is a busy strip that has a lively vibe and eclectic shops. It is a pedestrianized street on saturday and sunday. There are many street artist performances, as well as food and music festivals.
Insadong-gil is the starting point of many cobbled streets and alleyways. Each alley is filled with galleries, souvenir shops, traditional tea houses, cafes, and family run restaurants.
Insadong is a great place to buy Korean antiques or traditional materials such as calligraphy materials, folk crafts, Korean ceramics, and hanji (traditional paper).
When visiting the Insadong neighborhood, you cannot miss the Ssamzie-gil, which is a four-story shopping complex with an open-air design. It is a great place to do some shopping, buy souvenirs, grab Korean fried chicken, and take a pottery class. Other interesting markets are Gwangjang Market and Tongin Market.
Located 100 meters from Ssamziegil Market on the way to Jogyesa Temple is the Insadong Information Center. You can get tourist information and rent a hanbok and take photos with it.
If you want to take a break from sightseeing and shopping, you can relax at Tapgol Park, formerly Pagoda Park; or Huwon Secret Garden which is easily reachable via UNESCO World Heritage Site, Changdeokgung Palace.
From Insadong, you can also visit numerous royal palaces by foot including Gyeongbokgung Palace, Deoksugung Palace, Changdeokgung Palace, and Changgyeonggung Palace.
Gyeongbokgung is the most beautiful of all five palaces. It was the main royal palace of the Joseon Dynasty. It is home to Gwanghwamun Gate, Heungnyemun Gate, National Folk Museum, and National Palace Museum.
You can stroll along the 11km waterway Cheonggyecheon Stream. It starts from Cheonggye Plaza, just off Sejong-ro Avenue. There are also 22 different bridges along the way.
If you are interested in history, visit the Kimchi Museum to learn about South Korea's most famous food, kimchi. Other well-worth museums are the Color Pool Museum, Kyung-in Museum Of Fine Art, and Alive Museum!
Art lovers can visit Hakgojae Gallery, Knife Gallery, and Gana Art Center which is a contemporary art gallery, displays paintings and sculptures from over the world.
You can also visit nearby Jogyesa Buddhist Temple, with it white pine tree near the entrance. The temple offers templestay, which is a unique way to experience the local culture. You can learn Korean Buddhism, enjoy vegetarian meals, and spend time with the monks. There is a Lotus Lantern Parade in May.
Insadong is famous for its tea houses, you can take a good rest at the Shin Old Tea House, Tteuran, or O'sulloc Tea House. Enjoy plum, ginger tea with rice cakes and puffed rice. You can also try bingsu, a Korean sweet at Sulbing, a dessert cafe chain.
Insadong is one of the neighborhoods in Jongno Gu district along with Bukchon, Gwanghwamun, Ikseon dong. Gwanghwamun Square is an area of protests, and also home to the statues of King Sejong and Admiral Yi Sun Shin.
Bukchon Hanok Village is a very well-preserved village, where you can find traditional houses, criss-crossed alleyways, and quaint small shops and cafes.
Insadong is well-connected to public transport, it is easily reachable from Anguk Station. There are also Seoul Sightseeing Tour Bus and private charter service.
Due to its close proximity to Seoul's top attractions, Insadong is not only the best place for first-timers but also for those visiting for a shorter time such as 2 days or 3 days. Meanwhile, with its little nightlife and relaxed vibe after dark, Insadong is also a good base for families.
There are a wide range of accommodations in Insadong but If you want a unique experience of Korean historical and cultural life, you can book a stay in traditional homes, hanok.
Stay in Insadong if you are first-timers; you love history and culture; you want a central location within walking distance to Seoul's top attractions; you want to stay in traditional homes;
Best places to stay in Insadong for first-time visitors:
🔍MORE HOTELS IN INSADONG
2. Myeongdong, where to stay in Seoul for shopping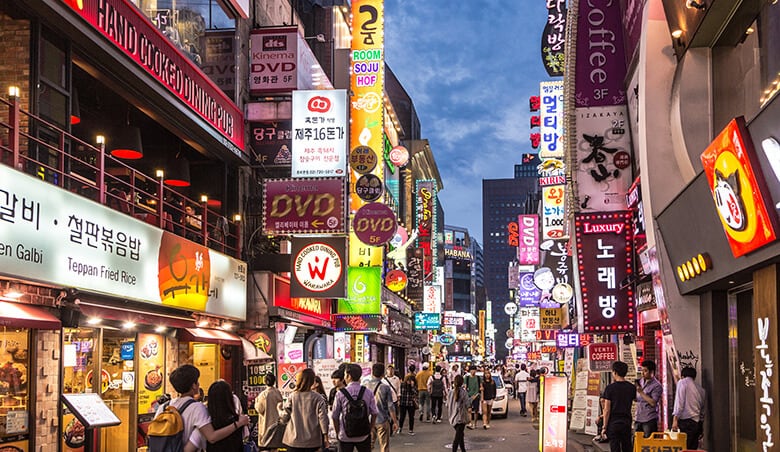 Myeongdong along with Insadong is the best places to stay in Seoul for first-timers due to its close proximity to top tourist attractions. Myeongdong is livelier than Insadong and quieter than Hongdae in terms of nightlife. If you want a super central location, budget-friendly hotels, and lots of shopping, Myeongdong is the best neighborhood to book a stay.
Myeongdong is centrally located between Insadong and Namsan Mountain. If you book a hotel here, you will be located within walking distance or easy access from the majority of tourist sights like Namsan Tower and Seoul's Palaces.
Myeongdong has a well connected public transport system. Being located super close to Seoul Station, it is easily reachable from Incheon International Airport. There is a T-Money card for the subway and a Korea Rail Pass to save money on the subway.
Myeongdong along with Dongdaemun is a part of Jung-gu district which is very central. Myeongdong is an old district and has become a popular young district from the 70's.
Myeongdong Shopping Street is the shopping haven for tourists, packed with department stores and retailers. There are all kinds of products: beauty, shoes, street food:
Shinsegae Department Store, home to luxury brands, an art gallery, and Trinity Garden.
Noon Square, where you can find brands like Steve Madden, Mango, Zara, and H&M.
Lotte Department Store, is also well worth a visit!
You can experience local life at the traditional Namdaemun Market. The market is a wholesale and retail market, you can feel the local daily life and people watching. Buy a unique souvenir, love lock and pen here before heading to Namsan Tower.
Not only clothes and fashion, here you can find skincare and makeup products at A-Land, Stylenanda 3CE Pink Hotel, and Aritaum. There are also many places that are dedicated to Korean pop music or K-pop stars such as SMTOWN.
Myeongdong is a true foodie destination. There are bunggeo-pang, tteokbokki, bibimbap, mandu, hotteok, traditional Korean BBQ, and Korean fried chicken. Famous restaurants here are Myeongdong Dongaseu, Myeongdong Kyoja, Hadongkwan, and Eulji Myeonok.
Another thing that you can consider is the Nanta Cooking Show, the longest-running performance in Korea. It is a drama in the kitchen.
Cat themed cafes are also popular in Korea. You can hop over to the Cat Cafe in Myeongdong Street to visit furry friends. You can also learn some Korean dishes at Myeongdong Kimchi School.
Apart from the shopping and dining, Myeongdong is home to numerous cultural and historical attractions. You can find a beautiful Gothic style church, Myeongdong Cathedral, Korea's first Catholic Church.
If you love history, take a look at the Bank of Korea Museum, Grevin Waxwork Museum, Korea Postage Stamp Museum, and 3D Black Art Museum. Other places of interest are Seoul Global Culture Center.
With a subway stop away, you can visit Namsangol Hanok Village. It has 5 hanoks, a traditional Korean music theater, garden, and Seoul Millennium Time Capsule Square.
You cannot miss taking a Namsan Cable Car to the top of N. Seoul Tower, formerly Namsan Tower. Head to its top in the evening to see its best views. There are love locks, a food court, cafe, Hello Kitty Island, and an observatory on the 5th floor.
After a long day sightseeing, you can relax at the Myeongdong Mud Sauna with several treatments for your skin with natural mud from Boryeong, South West of Korea.
Myeongdong has a wide range of accommodations, lots of luxury branch hotels, and plenty of budget friendly 3 star hotels and guesthouses.
Best places to stay in Seoul in Myeongdong for first-timers:
🔍MORE HOTELS IN MYEONGDONG
3. Hongdae, where to stay in Seoul for nightlife
Hongdae is quite similar to Myeongdong because they are both filled with shops, restaurants and cafes. Hongdae has a better nightlife, so if you come to Seoul to party, I recommend staying in Hongdae. A journey by train from Hongdae to Myeongdong is only 30 minutes.
Hongdae is named after the nearby Hongik University, or Hongik Daehangno, one of the best fine arts schools in South Korea. It is considered the modern hub of the city. Hongdae is famous for its youthful and romantic atmosphere, self-expression, indie music, and underground culture.
Hongdae has amazing nightlife with plenty of clubs, hofs, bars, and restaurants. The neighborhood attracts many party lovers, students, and young tourists.
Hongdae is also famous for its art scene with lots of art galleries and street art, especially on Hongdae Mural Street. Also known as Picasso's street, you can admire many art works here.
There are also live music performances, dances on a small stage here.
Hongik University Tourist Information Center located outside Hongik University Station is a great place to get maps, guidebooks, and Discovery passes.
One of the liveliest places in Hongdae is Hongdae Walking Street, or Hongik University Street. It is packed with unique cafés, restaurants, and bars.
Similar to Myeongdong, Hongdae offers amazing shopping experiences. There are lots of trendy clothes, socks, and beauty products around Hongdae business district (near Exit 9), Hongdae Street Shopping, and Hongdae Free Market which is a great place to grab odd souvenirs, artworks, and gift items.
Apart from shopping and nightlife, this neighborhood also offers excellent street foods with student-friendly cost. You can try spicy rice cake, fried fritters, blood sausages, and egg bun.
If you love museums, there are several museums to visit, such as:
Trick Eye Museum Seoul, an interactive museum and a popular tourist spot in Hongdae.
Trickeye Love Museum for adults only.
Ice Museum, a winter wonderland all year round.
Hongdae's Art Museums.
You can also book a ticket for the Korean non-verbal musical performance at Hongdae NANTA Theater.
Hongdae also offers unique themed cafes. Some of the famous animal cafes are One Piece, Hello Kitty, Meerkat café, and Kakao Friends Animal Cafe.
You can also take a stroll along the eco-park, Noeul Park, formerly site of the Korea-Japan World Cup 2002. Noeul Park encompasses 5 smaller parks including Pyeonghwa Park, Haneul Park, Noeul Park, Nanjicheon Park, and Hangang Riverside Park.
Hongdae is served by Hongik University Station (line 2), Hapjeong Station (line 2 & 6), Sangsu Station (line 6), Mangwon Station, and Sinchon Station.
Hongdae along with Sinchon and Edae is located in Mapo-gu district. Sinchon is an area located right outside Yonsei University, home to Hyundai Department Store and U-Plex Plaza. Edae is home to Ewha Women's University.
Best places to stay in Seoul in Hongdae for first-time tourists:
🔍MORE HOTELS IN HONGDAE
See more: Where to stay in Busan first time
4. Gangnam, luxury area to stay in Seoul
Known as the Beverly Hills of South Korea, Gangnam gained even more recognition from the popular Gangnam Style song in 2012 of South Korean singer Psy. The district is home to many Korean celebrities, wealthy people, KPop agencies, and tech companies. It is also packed with luxury shops, fine dining, and lively nightlife.
Gangnam is one of the best places to go for nightlife in Seoul but it has a reputation for being upmarket when compared to Hongdae and Itaewon. Hongdae area is more for college students and younger 20-something, while Gangnam district is home to lots of high-end clubs, extravagant lounges and cocktail bars. You can spot K-celebrities around Apgujeong and Cheongdam-dong, Sinsa, and Nonhyeon neighborhoods.
Gangnam refers generally to all areas of the south Han River. Gangnam-gu is a specific district, which is one of the districts south of the river along with Seocho-gu and Songpa-gu.
Gangnam offers a good shopping experience as it is home to many department stores, underground shopping centers, high streets, and malls.
The COEX Underground Shopping Center is one of the biggest underground shopping centers in South Korea. Located underneath the Korea World Trade Center, it has a food court, Megabox movie theater, the country's largest aquarium, a cinema, Kimchi Museum, Convention Center, intercontinental hotels, casino, and City Airport Terminal.
If you head to Sinsa Station Exit 8, you will find Garosu-gil, or the Tree Lined Street, home to Korea's only Apple Store. There are lots of dessert cafes, restaurants, bars, and fashion shops to explore.
You can also shop at Hallyu K Star Road at Apgujeong Rodeo Station Exit 2. The street is where you can find Galleria Department Store and the famou shopping and nightlife area of Apgujeong Rodeo. You will have a chance to spot a celebrity in this area.
Gangnam neighborhood has plenty of markets and restaurants. Seoul Bamdokkaebi Night Market opens every Friday and Saturday. There are food trucks, live music, and handmade products.
Gangnam Station is the busiest subway station in Seoul. It has underground shopping, cafés, as well as the giant Kakao Friends Flagship Store.
You Can visit Bongeunsa Buddhist Temple in the center of Gangnam. The temple has a long history of over 1,200 years old. Consider a temple stay to experience Korean Buddhism and culture, meditation and mindfulness.
There are numerous green spaces and parks in Gangnam. Samneung Park is a Unesco World Heritage site. It is a royal mausoleum for King Seongjong, Queen Jeonghyeon, and King Jungjong.
Seoul Olympic Park was built on the site of Mongchontoseong Fortress and manmade lake Mongchon Raheja. It has several zones including sports park, art park, eco-park, and History Experience Park. You can explore the park by taking the Road Train from Peace Square.
Gangnam is also home to Seokchon Lake and Park, and Banpo Han River Park. Banpo Han River Park is located on the southern side of the Banpo Bridge. Here you will find Hangang River light show on Banpo Bridge Rainbow Fountain. You can take a 70 minutes Hangang River Cruise to view Banpo Bridge and Rainbow Fountain from the water.
Gangnam is a modern part of Seoul with lots of skyscrapers including the Korea World Trade Center and Lotte World Tower. With 123 stories and 555 meters high, Lotte World Tower is the tallest building in South Korea. The Seoul Sky Observatory offers a 360-degree panoramic view of the city's beautiful skyline.
Technology and entertainment play a big part in the thriving Gangnam district which is home to some of the headquarters of the largest Korean technology and entertainment companies. Samsung has their Samsung D'light exhibition space that displays their latest technology.
Gangnam is the business hub of Seoul, transportation here is good. You can reach Gangnam station, Cheongdam Station, Samseong station, Sinsa or Apgujeong Station. Subway Line 9 has an Express train that takes you straight to Gimpo Airport and changes to the AREX to go to Incheon Airport. The metro system will take you to Seoul's popular sights in 45 minutes.
Accommodations in Gangnam tend to be higher than other districts because it is the most expensive area in Seoul. You can still find budget friendly 3 star hotels here.
Stay in Gangnam if you want to stay in one of the richest areas of Seoul; you want to spot idols; you want good nightlife and shopping.
Best places to stay in Seoul in Gangnam for first-timers:
🔍MORE HOTELS IN GANGNAM
5. Itaewon, multicultural neighborhoods in Seoul
Itaewon is basically a foreigner district as it is home to lots of international soldiers, foreign diplomats, English teachers, and migrant workers from Southeast and South Asia.
Itaewon is one the best places to go in Seoul for nightlife but it seems to cater more for foreigners and older people, while Hongdae is for youngsters and students. Packed with rooftop bars, foreigner-friendly clubs, pubs, wine bars, hip-hop clubs, salsa clubs, and cafes, Itaewon tends to be more expensive than Hongdae and Simchon.
Here you can find a Hooker Hill, once was a seedy are but has been transformed into the center of the Korean gay community.
Itaewon is located in Yongsan-gu district just south of Myeongdong and north of the Han River.
Before WWII, this area was occupied by Japanese but After the war, it was replaced by American soldiers with the base nearby. Itaewon is more popular worldwide after the Seoul Asian Games in 1986 and the Seoul Olympic Games in 1988.
Itaewon is home to Seoul Central Mosque, several halal food stores, and the Yongsan Garrison, the headquarters to the U.S. Military.
There are also several museums here, such as:
The Leeum Samsung Museum of Art of the Samsung Foundation of Culture for both traditional and modern Korean art. Traditional Korean art displays pottery, calligraphy, traditional paintings and jewelry. The contemporary art displays both Korean and international artists. 
The War Memorial museum, if you are interested in Korean history!
Due to its diverse nationalities and cultures, Itaewon has diverse restaurants, shopping and nightlife. Restaurants featuring international cuisines like Indian, Thai, American, Middle Eastern, and African. There is a high concentration of international restaurants behind the Hamilton Hotel near exit two of Itaewon Station.
Many clothing stores here cater for foreigners with imported clothing in sizes. You can easily find good leather goods and antique furniture in this neighborhood.
Itaewon Antique Street is the place to go if you are looking for a unique shopping experience. There are second-hand U.S. Army, Asian and European antiques.
Another thing to do is check out Hamilton Hotel Rooftop Swimming Pool which is a good place for partying and sunbathing in summer months.
Itaewon hosts various events and festivals. The famous festival, Itaewon Global Village Festival, is held every October
Stay in Itaewon if you want vibrant nightlife, you want to stay in a hub of multiculturalism and diversity; you want to try international cuisine;
Best places to stay in Seoul in Itaewon for first-time visitors:
🔍MORE HOTELS IN ITAEWON
6. Jamsil, where to stay in Seoul for family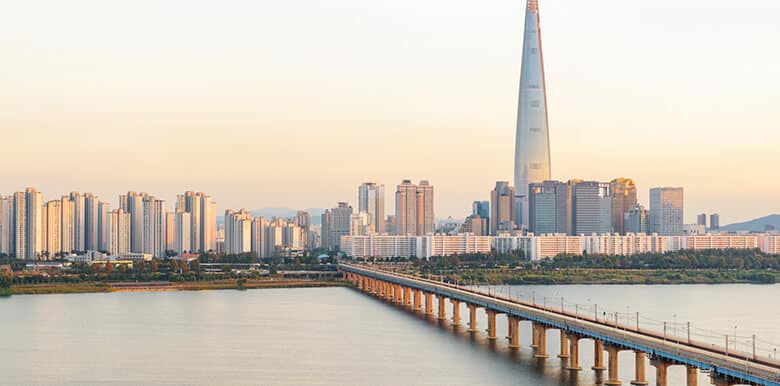 Jamsil-dong is a neighborhood of Songpa-gu district on the South of Han river. Jamsil is a popular neighborhood for families because it is home to Lotte World with lots of attractions and activities for kids.
Lotte World has both an indoor area, Lotte World Adventure, and outdoor area, Magic Island. Magic Island is home to big Atlantis roller coasters and pendulum rides. Lotte World Adventure is one of the world's biggest indoor theme parks that has a roller coaster, and Conquistador, a Viking ship ride.
In addition to Lotte World's amenities are a shopping mall, folk museum, ice rink, and a hotel. Lotte World Garden Stage has themed musicals for each season and Lotte World Star Avenue is to experience Korean stars and the entertainment world.
Lotte World held several events such as Halloween from September to November, Zombie Show, and the Christmas Show in December.
Seokchon Lake Park, also known as Songpa Naru Park, is also one of the popular places in Jamsil. It is lined with cherry trees. The Lake is at its best when cherry blossoms and spring flowers from April to May, and autumn foliage in October. Seokchon Lake Cherry Blossom Festival is held here in April each year.
Songpa Naru Park is also home to Seoul Nori Madang, an outdoor stage. There are free traditional Korean folk performances from April to October, as well as more performances during Chuseok or Seollal holidays.
Jamsil is more of a residential area of the city, there are lots of local food stalls and craft markets with hand-made goodies, and family restaurants, making Jamsil a relaxing place for local vibe.
There are tons of cafes and restaurants around the Lake as well as the Jamsil station. You can enjoy a meal, drink beer, and watch the Baseball game.
Jamsil is home to Seoul Sports Complex which is surrounded by Jamsil Apartment Complex, Hangang River, and Tancheon Stream. The complex is home to a baseball stadium, swimming centers, an indoor sports facility.The large Jamsil Hangang Park often served as a venue for outdoor banquets and events. Olympic Park is 4km away.
Stay in Jamsil if you are travel as a family; this is not your first time traveling to Seoul;
Best places to stay in Seoul Jamsil for first-timers:
🔍MORE HOTELS IN JAMSIL
7. Dongdaemun, ultimate shopping center of Korea
Dongdaemun is one of the best places to go in Seoul for shopping, apart from Myeongdong, Insadong, Gangnam, and Hongdae. Dongdaemun is home to lots of traditional markets as well as high-rise shopping malls. If you want to get your shopping done in Seoul, this retail shopping capital of Seoul is the place to be.
Dongdaemun is located in Jongno-gu district, the center of the city. Dongdaemun Market is easily reachable because it is located close to both Dongdaemun Station and Dongdaemun History & Culture Park Station.
Dongdaemun Market is a large commercial district with a mix of traditional markets and shopping centers. You can bargain the price here.
The street market, Gwangjang Market, is a good place to experience traditional Korean food and culture. There are covered arcades, side alleys, with lots of talls and cafes.
Dongdaemun is also home to Russia Town where traders from Mongolia or Uzbekistan. There are numerous Russian, Mongolians, and Central Asians restaurants.
Dongdaemun is a Special Tourism Zone, it is a popular spot for both tourists and locals. It is not only a paradise for shoppers but also it has lots of interesting historical and cultural attractions.
You can start with Dongdaemun History & Culture Park, formerly a baseball stadium, but it has been converted into a cultural area that is surrounded by big shopping malls like the Design Plaza, Doota, Migliore, and APM Plaza .
Dongdaemun History and Culture Park is one of the major five parts of Design Plaza including the Art Hall, Museum, Design Lab, Design Market.
The Dongdaemun Design Plaza, or DDP, is probably the most visited place for shopping in this neighborhood. Designed by Zaha Hadid, a world-famous architect, the Plaza has bookshops, clothing stores, cafés, as well as rooftop parks. DDP also hosts Seoul Fashion Week and Global startup events.
Dongdaemun was named after Dongdaemun Gate. Known as Heungingjimun gate, it was the main eastern gate to the Seoul Fortress. The Dongdaemun Gate is a beautiful place to pose for photos.
From Heungingjimun gate, you can hike up to Naksan Park to see Seoul Fortress Walls. It has beautiful city views from its top. You can also reach from Hyehwamun Gate and Daehangno Street.
You can also visit Ihwa Mural Village to see some beautiful artwork. The murals are the work of local Korean artists and college students. It is a good place for Instagrammers.
There is also Cheonggyecheon, a man-made stream near the Gwanghwamun station. If you are tired of shopping and sightseeing, you can relax at Sparex, enjoy a hot bath, a massage or a nap.
Best places to stay in Seoul in Dongdaemun:
🔍MORE HOTELS IN DONGDAEMUN
8. Hanok traditional house, unique place to stay in Seoul
Hanok is a traditional Korean style house with tile-roofed and thatch-roofed hanoks.Hanok houses are environmentally friendly. The materials of the house are all natural and chemicals-free including wood, rock, soil, and tree pulp.
The heating and cooling system is the special feature of hanok houses. It is embedded in the design of the flooring. The floor-based heating is called Ondol. This way of heating the home from the floor is one of the reasons why Koreans sleep, eat, or hang out on the floor.
Experience the traditional culture through the many hanok villages in Seoul including Bukchon Hanok Village, Namsangol Hanok village, Eunpyeong Hanok Village, and Ikseon-dong hanok village.
Bukchon Hanok Village is home to about 900 hanok houses that date back to the Joseon Dynasty. The village was the residence of Joseon dynasty and wealthy nobility. The village is located close to the main landmarks of northern Seoul, such as Cheonggyecheon Stream, Gyeongbokgung Palace, Changdeokgung Palace, and Jongmyo Shinto Shrine.
Namsangol Hanok village is located at the base of Namsan Hill. It has 5 hanok houses. It can be easily reachable from Chungmuro Subway Station.
If you want to experience a traditional Korean lifestyle, try to stay in a hanok for a night or two. The house offers a well-equipped room, shared toilets, simple meals, and lives a simple lifestyle like an ancient Korean.
Best traditional hanok houses in Seoul for first-timers:
Where should I stay in Seoul for the first time?
Insadong is the best area to stay in Seoul for first-timers due to its super central location. If you stay here, you will be located in the traditional and cultural heart of Seoul, within walking distance to the top tourist sights, as well as restaurants, bars, and shops.
What are the best areas to stay in Seoul?
Insadong, Myeongdong, Hongdae, Gangnam, Itaewon, Jamsil, and Bukchon Hanok Village are the best areas to stay in Seoul for tourists because they are the most popular neighborhoods that offer a wide range of attractions and amenities.
Is it better to stay in Hongdae or Myeongdong?
It depends on what you're looking for. Hongdae is great for nightlife and street art, while Myeongdong has shopping and food options. Consider your priorities and interests before deciding.
Is it better to stay in Insadong or Myeongdong?
It ultimately depends on personal preferences, as Insadong offers traditional culture and arts while Myeongdong is a bustling shopping district with international brands.
Is it better to stay in Insadong or Hongdae?
The answer depends on personal preferences. Insadong offers a more traditional atmosphere and cultural experiences, while Hongdae is known for its youthful and trendy vibe with nightlife and shopping options.
See more:
Overall, I recommend Insadong as the best area to stay in Seoul for first-timers because it has a super central location and it is the hub of traditional culture of Seoul. Insadong is home to many art galleries, handicraft shops, hanok-style tea houses, and Joseon Dynasty Palaces. If you stay here, you will be located within walking distance to Seoul's most famous sights including Bukchon Hanok Village and Jogyesa Buddhist temple.
If this is your first time visiting the capital of South Korea, I recommend spending between 3 – 7 days in Seoul. Three days is enough to see the most important attractions, enjoy local foods, and get the sense of the city. If you have more days, you can take a day trip to many nearby Nami Island, The DMZ, and Alpaca world.