Where to stay in Reykjavik first time? on a budget, for families, and for the northen lights? In this post, I will help you to find the best areas to stay in Reykjavik (include map and video) and the best hotels in Reykjavik for all budget travelers.
Reykjavik offers diverse and vibrant neighborhoods for first-time visitors. From the bustling city center with its cultural attractions to the charming coastal areas, there's something for everyone to enjoy in Iceland's capital.
Although there is an airport actually within Reykjavik it is mainly used as a domestic airport but does include flights to and from Greenland and the Faroe Islands. Iceland's main airport is Keflavík International Airport which is located 30 miles away from Reykjavik city center.
Reykjavik can be expensive to travel to due to high costs of accommodation, food, and transportation. However, with careful planning, budget accommodations, and exploring local eateries, you can manage your expenses and enjoy this beautiful Icelandic capital.
Where to stay in Reykjavik first time?
The best areas to stay in Reykjavik for tourists and first-timers are Midborg, Hlídar, Vesturbæ, Laugardalur, and Kópavogur. These are popular and safe areas for tourists that offer a wide variety of attractions and amenities.
It's worth noting that Reykjavik is relatively small and has an efficient public transportation system, so it's easy to explore different areas regardless of where you choose to stay. Ultimately, the best area for you depends on your preferences and interests.
Overviews of best areas to stay in Reykjavik for tourists
Here is an overview of recommended areas in Reykjavik for first-time visitors:
| Best areas in Reykjavik for tourists | Why should you stay in this area? |
| --- | --- |
| Midborg | best overall area for first-timers because it's the heart of Reykjavik and offers easy access to major attractions like Hallgrímskirkja (the iconic church), National Museum of Iceland, Harpa Concert Hall, and numerous restaurants, bars, and shops. It's a vibrant area with a lively atmosphere, making it a convenient base for exploring the city. |
| Hlídar | Located just east of Midborg, Hlídar is budget-friendly and peaceful residential area with beautiful houses and green spaces. While it's a bit quieter than the city center, it's still within walking distance of the main attractions. Hlídar offers a more local experience, with cozy cafes, local shops, and parks like Klambratún and Hljómskálagarður. |
| Vesturbæ | Situated west of Midborg, Vesturbær is a trendy neighborhood known for its bohemian vibe and charming houses. It's close to the seafront, where you can enjoy scenic walks along the coastline. Vesturbær also houses the popular geothermal swimming pool, Vesturbæjarlaug. This area is a great choice if you prefer a relaxed atmosphere with a touch of local flair. |
| Laugardalur | Located a little further east of Hlídar, Laugardalur is a good option if you enjoy outdoor activities and want to experience a quieter side of Reykjavik. It's home to Laugardalslaug, the largest geothermal swimming pool in Reykjavik, as well as beautiful parks like Laugardalur Park and Botanic Garden. |
| Kópavogur | While technically not part of Reykjavik, Kópavogur is a neighboring town located just south of the capital. It's a popular choice for travelers looking for more affordable accommodation options and a quieter environment. Kópavogur has its own attractions, and is well-connected to Reykjavik by public transportation. |
🎬 To get an overall idea of Reykjavik, check out this short video, or continue reading:
Map of areas and neighborhoods in Reykjavik:
The Best Areas to stay in Reykjavik for tourists are:
1. Miðborg
Miðborg, or the city center, is the best ovreall area to stay in Reykjavik for first-timers due to its central location. This district's postcode being 101 locals often refer to it as Reykjavik 101, and it is Reykjavik's center of culture with shops, nightlife and museums. There are plenty of options of hotels, restaurants, bars, and shops for all kind of travelers.
Borgartún is a street in this district that gained importance to both the city and the country during Iceland's economic crisis of 2008 as three of the country's main four banks have their HQs located there. This means the street and the district constitute the country's financial center as well as its cultural center.
Miðborg has always been prominent in Icelandic history as it was the site of the first settlement on the island. The first person to settle on the island was Ingólfur Arnarson. On first reaching the island's coast Arnarson threw two wooden poles he had brought from his homeland, Norway, into the sea and vowed to settle where ever they drifted ashore. He found the poles two days after landing ashore in what is now Miðborg and good to his word formed the first settlement there.
Throughout Iceland's history, the two poles have been prominent, featured on a variety of different stamps and coins and since 1957 are represented on Reykjavik's official Coat of Arms.
Although Miðborg is known for its vast array of shops, bars and museums one of its most popular features is Lake Tjörnin. The name Tjörnin derives from the word 'Pond' due to its shallow depth; however it is technically a lake.
Today no fishing is allowed in the lake but it still attracts many visitors both tourists and locals as it is an excellent place for Bird spotting with over 40 species known to frequent the lake. Among the different types of birds that frequent Lake Tjörnin are Whooper Swans, Arctic Terns, Mallard and Eider Ducks as well as Geese.
During the winter months the lake freezes over, affording the locals an extra activity, that of ice skating. Although the lake itself provides an assortment of activity it is perhaps its surroundings which make it such an important part of the capital.
On the southeast of the lake is Hljómskálagarður Park. In existence since 1908 in 1914 400 Birch trees were planted in it. In 2014, in collaboration with Reykjavik Art Museum, Perlufestin (The Pearl Necklace) was added to the park's features. Perlufestin is dedicated to and features sculptures by five female Icelandic sculptors. The park is popular among walkers and joggers throughout the year.
Although traditionally churches in Iceland have red roofs, standing on the banks of Lake Tjörnin Fríkirkjan í Reykjavík (The Free Church of Reykjavík) bucks tradition with a green roof which makes it an iconic landmark within the city.
On one side of the lake, in what was once a freezing plant is the National Gallery of Iceland. To the north of the lake is the Reykjavík City Hall. As well as having a visitor's center and a café the city hall also features a large 3D map of Iceland so visitors can better understand the geography of the island.
Other attractions in the Miðborg district include the Living Art Museum, Bíó Paradís, Harpa Concert Hall and Conference Center, Laugavegur and Old Reykjavik Harbor.
The Living Art Museum was founded in 1987 by 27 artists and still to this day is a non-profit venture run by artists and related associations.
Bíó Paradís is a venue for independent films which are featured in its four screen complex. The films featured are shorts, animation and documentaries by both international and local filmmakers.
Harpa Concert Hall and Conference Center is a building that stands out from others and in doing so won an award for its architecture when it opened in 2011. Today the building hosts many of Iceland's bigger concerts as well as being home to both the Icelandic Opera and Iceland's Symphony Orchestra.
Laugavegur is one of the oldest streets in the city and still serves as the main artery of central Reykjavik. As this is considered by many to be the capital's main street it is full of bars, shops and restaurants.
Old Reykjavik Harbor maintains its colorful character by transforming its wooden sheds and old boats into boutiques and cafes. The old harbor is also the departure point for many of the whale and puffin watching tours.
Miðborg is also known for its fine dining with 5 of the 9 Icelandic restaurants listed in the Michelin Guide being located in this district.
While some parts of Miðborg area can be pricier, there are still affordable accommodation options available, especially if you explore the side streets and look for guesthouses or smaller hotels.
MORE HOTEL DEALS IN MIÐBORG
See more:
2. Hlídar
Located east of downtown, Hlíðar is a residential area with affordable accommodations. It's a bit further from the city center but offers a quieter environment and often better rates.
Hlídar is a popular district for visitors to stay as although being quiet it is within easy walking distance of the noisier, busier Miðborg district. Although Haidar is still considered part of the city center it is more a residential area with many open green spaces.
This does not mean however that Hlidar does not have attractions of its own, just that they are not the noisier ones associated with nightclubs and bars. The nightclubs and bars are still within walking distance but the attractions actually located in the district include museums and more sedate activities.
The most distinctive landmark in Hlidar is "The Pearl" which can be seen from all over the capital and at night has a rotating light as guidance for aircraft using the nearby domestic airport. The Pearl is a dome which stands on top of six huge water tanks which provide hot water to the city. The water tanks themselves were built on top of Öskjuhlíð Hill to ensure water could reach all the residents of Reykjavík.
The area of Hlidar had always been an important transportation hub for the old city but it was only during the late 19th century that it started to become populated. In 1885 a bridge was built across a creek to connect it to the old city and incorporating it with it.
Öskjuhlíð Hill has long been an important part of Reykjavik and Iceland's only railway connected it to the harbor. The railroad was built in 1910 in order to move rocks from the hill for construction of Reykjavik's old harbor. Later, in 1939, the first of the six geothermal water tanks was placed on top of the hill. At a height of 61 meters (200ft) above sea level the tanks could provide adequate water pressure to the whole city.
As mentioned The Pearl (Perlan) is a dome which can be seen from anywhere in Hlidar but as well as being a prominent landmark it is also a popular attraction. One of its popular features is a rotating restaurant allowing diners to get a 360 degree view of the city whilst eating.
The Pearl is also home to an interactive nature exhibition. Using the advantages of high-tech visitors can use augmented reality to experience Látrabjarg Cliff a Puffin paradise. Other features at The Pearl are The Northern Lights Planetarium and an indoor ice cave.
Other places of interest to visitors in Hlidar are the Icelandic Phallological Museum, Nauthólsvík Geothermal Oasis, Hlemmur Square, Klambratún Park and Kjarvalsstaðir Art Museum.
Icelandic Phallological Museum – This unusual museum is perhaps the only one of its kind in the world not just in Iceland. Featuring almost 100 penile parts from different species of animal, although being unusual, the museum has played a major role in the study of phallology.
Nauthólsvík Geothermal Oasis – The oasis consists of a sand covered beach, swimming area and two hot tubs. Located at the bottom of Öskjuhlíð Hill the hot tubs are connected to the hot water tanks above and even the sea here is warmer than elsewhere in the North Atlantic and so is open all year round. Also for convenience there are showers and changing rooms on site as well as a playground, BBQ area and snack bar.
Hlemmur Square – Located next to the bus terminal Hlemmur Square has recently been transformed from a rundown part of town to a colorful bazaar which features food from all around the world including Vietnamese street food, L.A. style tacos and Italian cuisine.
Klambratún Park – Once farmland this park now attracts sun seekers and features a football field, volleyball court and is a popular BBQ area. The Kjarvalsstaðir Art Museum is also located in the park.
Kjarvalsstaðir Art Museum – As well as featuring works by Iceland's own painter Jóhannes S. Kjarval the museum also features other modern paintings and sculptors.
3. Vesturbær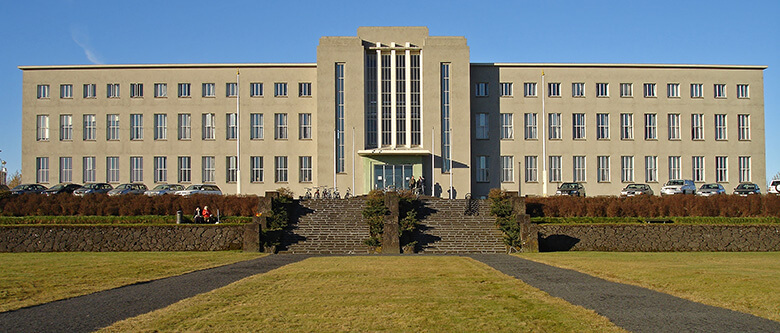 Vesturbær which is the Icelandic word for West Town is comprised of eight neighborhoods all located just to the west of Miðborg and so is also considered to be part of Reykjavik city center. After Miðborg this district is the oldest part of the city.
As the population of Miðborg grew in the 19th-century people started to live in the area now known as Vesturbær but no planned development was in place until 1927. Today the haphazard location of those first buildings makes the district stand out from the rest of the city.
Barracks were established in Vesturbær during WW11 but after the war these too became housing for Reykjavik residents. This prompted the first major road to be built in Reykjavik to link Vesturbær with Miðborg. The name of the road was Hringbraut and although the oldest part of Vesturbær was to the north of the road, city planners incorporated it into the district of Miðborg restricting Vesturbær to the south of the road.
Despite its muddled beginnings Vesturbær is now considered to be the most upmarket district in the capital. As Vesturbær is mainly a residential district it has an abundance of houses and schools which include four buildings that are part of the University of Iceland. Due to the proximity of the university buildings, the district provides a convenient residence for both students and teachers.
The full University of Iceland is spread over three districts but the four buildings in Vesturbær are:
Endurmenntun – This houses facilities for the computer science students and offices for the Continuing Education Institute.
Raunvísindastofnun – This is home to the University's Science Institute and consists of offices and research labs.
Neshagi – Along with more university offices this building also contains computer services.
Háskólabíó – With its modern architecture this university building stands out more than the others and comprises six halls of varying sizes for differing events or meetings. The smallest of the halls can seat 23 people whilst the largest can seat 970. Each hall has Wi-Fi and every seat has sockets for laptops to connect to. The building is also home to a cinema which is open to the public and the lobby is large enough to host exhibits and promotions.
Although Vesturbær is mainly a residential district its residents are still within a short walking distance of Miðborg and its city center attractions.
Vesturbær does however have two features that attract visitors to Iceland and residents from other districts in Reykjavik and these are Ægissíða and Vesturbæjarlaug.
Ægissíða is a footpath which runs adjacent to the coast. This is popular with joggers and walkers and passes several small beaches. This is also a popular venue in the evenings when people occupy the hammocks stretched along the coast to watch the sun sinking into the ocean.
Vesturbæjarlaug may not be the largest pool in Reykjavik but its location within walking distance of the city center makes it popular. As with most pools in Iceland Vesturbæjarlaug's pool is heated by geothermal energy. As well as having a 25m pool this site also contains three small hot tubs, one large hot tub, a separate pool for young children, a Jacuzzi with massage jets, a sauna, and a cool tub for the more hardy and daring.
One other place of interest in Vesturbær is its large church, Neskirkja. The church is located close to the university buildings and boasts its own choir who often performs concerts.
4. Laugardalu
Located slightly outside the city center, Laugardalur is a residential area known for its recreational facilities, including a large park, botanical gardens, and a swimming pool. You can find reasonably priced guesthouses and hotels in this area.
Laugardalur is also known as Hot Springs Valley as it was where, prior to the 1930s, women of Reykjavik would bring their washing to do at the hot springs located there. Although since then plumbing has been installed throughout the city the district is still known for its abundance of hot springs.
Today Laugardalur is best known for being the home to most of Reykjavik's industrial complexes as well as hosting Iceland's largest port. This does not mean however that there are no residents in the district or that the district has no attractions. Although most of the residential buildings in the district comprised small houses and apartments, Laugardalur also boasts some of Reykjavik's tallest buildings.
As well as being well-known for its industries Laugardalur is also known for being the location of Reykjavik's largest outdoor thermal pool. Known as Laugardalslaug this swimming pool is open all year round and as well as featuring a 50m pool that includes a children's pool, two slides, steam bath, numerous hot tubs plus a gym and spa. Adjacent to the swimming pool is Laugardalur Park the largest park in Iceland.
Laugardalur Park is home to the capital's main sporting arena. As well as hosting most of Iceland's popular sports such as football, handball, and basketball the arena also sometimes becomes the venue for large concerts.
As well as being home to the arena Laugardalur Park also features other popular attractions including a Family Park and Zoo, Botanical Garden, and the Ásmundarsafn Art Museum. The park also has a campsite which is open during the summer months. The park is not just large enough to host festivals including the country's biggest festival the Secret Solstice Music Festival but also large enough to allow walkers to hike for over an hour and still find new things to see.
Family Park and Zoo – Although the zoo is also popular with children often they are more interested in the Family Park as besides a play area it also contains some rides including a carousel, train and boats. Segways are also available to rent in this area.
The Zoo's inhabitants include mainly animals native to Iceland but also some which have more recently been introduced to the island. Animals native to the country include Icelandic goats and horses, seals and Artic Fox whilst more recent arrivals to the island include mink and reindeer. The zoo also features birds and although not native to the island, a reptile exhibition.
Botanical Garden – The Botanical Garden in Laugardalur Park is one of the most northerly of its kind in the world. Despite the park's botanic garden's location it still has an astounding array of specimens offering a wide diversity of colors.
Ásmundarsafn Art Museum – Although you may not have heard of Ásmundur Sveinsson whose works the museum showcases, it is worth a visit to just see the building's beautiful Icelandic Architecture.
5. Kópavogur
Although Kópavogur is a town in its own right with its own five separate districts because it is located within Reykjavik's capital region it is often referred to as a district of Reykjavik. Kópavogur connects to the south of Reykjavik's city center and although the town has attractions of its own it is still within easy reach of those in the capital's center.
The first written proof of Kópavogur's existence dates back to 1523 but many archaeologists suspect the area may have been inhabited since the 9th century. Today it is the second most populated town in Iceland.
The name Kópavogur means "Seal Pup Bay" which refers to the oldest part of the town where seals reside along the shoreline. A seal pup along with the Church of Kópavogur form part of the town's official seal.
Running through the center of Kópavogur is Kópavogsdalur Valley which was formed by what is now a brook named Kópavogslækur. Today the valley and brook are a pretty sight but that was not always the case as originally it was used for the disposal of sewage.
Another geographical feature of Kópavogur is Lake Elliðavatn which is home to all species of fresh water fish to be found in Iceland and includes Trout, Salmon and Arctic Char. Between the valley and the lake are several hills plus some miniature headlands such as Hnoðraholt and Rjúpnahæð.
The cultural heart of Kópavogur is known as Culture Hill where several cultural establishments and attractions are located. The cultural institutes include Gerðarsafn, the Kópavogur Natural History Museum, Salurinn Concert Hall and the Kópavogur Public Library.
Gerðarsafn – This is an art museum, the first to be dedicated to a female in Iceland. Dedicated to the memory of Gerður Helgadóttir (1928-1975) this museum of modern and contemporary art was opened in 1994. Gerður pioneered glass and three-dimensional art in Iceland and the museum houses some 1,400 examples of her work as well as works from other 20th century artists.
Kópavogur Natural History Museum – Occupying the ground floor of Culture House this museum consists of two parts, geological and zoological. The geological section concentrates on Iceland's formation and the minerals and rocks that can be found on it. The zoological section concentrates on invertebrates, birds, fish and mammals that either live or visit the island.
Salurinn Concert Hall – Opening in 1999 this was the first hall in Iceland designed specifically as a concert hall and since opening has featured on average two concerts per week. The hall itself can seat 300, 200 in the main hall and another 100 in the balcony. The music hall's foyer is also large enough to seat 300 people and so if often used as the venue for other events such as presentations.
Kópavogur Public Library – This library which is located above the Natural History Museum in Culture House offers visitors a quiet place to browse books. It also features free Wi-Fi and has several computers available for visitors to use.
Other attractions located at Kópavogur's Culture Hill include Kópavogur Pool and Kópavogskirkja Church.
Kópavogur Pool does in fact have several pools one of which is 50m making it one of Iceland's largest. There is also a pool of 25m and a third specifically for the three water slides. In addition to these outdoor pools it also has a 10m indoor pool and seven hot tubs, one of which is a Jacuzzi and another is for use only by children.
Kópavogskirkja Church is a modernist style church which was built between 1958 and 1963. It is located on top of Borgarholt Hill and so offers great views of both Reykjavik and the surrounding area.
Kópavogur is also home to one of Iceland's largest shopping malls. Smáralind is a mall that including shops, restaurants and services has over 90 outlets that are open six days a week from 11am – 7pm and 12 – 5pm on Sundays.
All the above five districts are in easy reach of each other and so you can stay in any of them and still easily enjoy the facilities offered by the others.
However, if it is nightlife that you are particularly interested in, staying in Miðborg could save you trouble and valuable vacation time. If you are concerned about get a good night's sleep after a hectic day's activity then you may prefer to stay in Vesturbær which is quiet and peaceful yet still in reach of Reykajik's nightlife.
If you are a culture buff you may want to consider staying in either Kópavogur where you will be near to its Culture House or Hlídar and be close to The Pearl.
If you are keen on sports and like the outdoors, staying in Laugardalur will afford you easier access to the park and all its amenities.
Where to stay in Reykjavik for northen lights?
The best areas to stay in Reykjavik for Northern Lights viewing are outskirts like Grotta Lighthouse, Grandi Area & Old Harbour, Sun Voyager Sculpture, Perlan & Öskjuhlid Hill, where light pollution is minimal. Consider joining guided Northern Lights tours that venture out from Reykjavik to prime viewing locations..
Remember, the Northern Lights are a natural phenomenon, and their appearance cannot be guaranteed. To maximize your chances of seeing them, it's advisable to monitor weather, aurora forecasts, and seek areas with minimal light pollution.
Where should I stay in Reykjavik for the first time?
Miðborg is the best place to stay in Reykjavik for first-time travelers due to close proximity the top tourist attractions such as Church of Hallgrimur, the Reykjavik Art Museum, and the Harpa Concert Hall. Staying here allows you to be located in the heart of action, within walking distance to the top sights, restaurants, bars, and shops.
What are the best areas to stay in Reykjavik?
Midborg, Hlídar, Vesturbæ, Laugardalur, and Kópavogur are the best areas to stay in Reykjavik for tourists because they are the most popular and safe neighborhoods that offer a wide range of attractions and amenities.
A tips: As there are no longer any trains operating in Iceland your alternatives for getting from the airport are bus services but they offer several choices:
Grey Line – At $22 one way this is the cheapest and offers a 24 hour scheduled service. As there are frequent stops however it takes longer than other buses to reach the center of the city.
The Flybus – During peak arrival times this shuttle runs every 15 minutes. At $30 one way this is quicker than Grey line but that is because it goes directly from the airport to the BSÍ Bus Terminal near the city center.
Flybus+: This is a service that can be booked at the airport or online and for an additional $10 will drop you at your hotel.
In conclusion, Midborg, Hlídar, Vesturbæ, Laugardalur, and Kópavogur are the best places to stay in Reykjavik for tourists and first-time travelers. As a capital Reykjavik is smaller than most and so whichever district you do stay in you will not be too far from any of the city's attractions.
Choosing the right district to stay in for your personal preferences will however save you time and trouble during your stay in Iceland.