Where to Stay in Prague by Best Areas and Hotels
If you're wondering where to stay in Prague, or where is the best area to stay in Prague, you're in the right place. In this article, I will give an insight into the best places to stay in Prague for first time visitors, couples, families, backpackers, all budget travelers; read on as I show you the best of Prague.
Being the capital and largest city in the Czech Republic, as well as the historical capital of Bohemia, Prague is a city brimming with history and culture, which attracts almost 8 million visitors per year.
With such a wide array of attractions on offer, spread across a city covering more than 100 square miles, you could spend weeks here, exploring and learning just what makes this city so amazing.
For most of us though, we don't have endless amounts of free time to travel, so we need to cram as much as possible into our trips, to make us feel we are getting everything we possibly can out of them.
So, if you are considering a trip to Prague, but aren't sure where to stay, I strongly suggest reading on, as I will show you what I believe to be the 7 best areas in Prague and what they offer that might make them the ideal place for the trip you are personally planning.
Where to Stay in Prague: Tips & Info
A city as large and historic as Prague is capable of providing a huge range of activities, which will appeal to visitors with a wide variety of tastes. When selecting the perfect destination for your visit, you need to get your priorities in order before booking, to make sure where you stay adds the maximum value it possibly can to your stay.
For example, many visitors come to Prague to experience its history and culture, but what side of that are you really interested in? If it's the buildings and settling of the city that piques your interest, then the old town of Mala Strana would be ideal. However, if you are more interested in the multicultural background of Prague, then Stare Mesto may be a better bet.
If you are travelling with children, staying in an area like Holesovice, with its child friendly attractions, might be your best bet. Whereas a single adult may prefer the edgier, livelier environment of Zizkov.
At a glance, these areas being so close together may make it seem like they are all as suitable as one another, however, as you probably now realise, it can actually make a massive difference.
Where to Stay in Prague – The 7 Best Areas to Stay in Prague
The city of Prague is spread over 192 square miles and broken up into 22 separate districts. With such a vast range of options, it can be quite daunting to select the perfect location for your trip to the city.
That's why I'm going to give you a few suggestions to help refine your search, to ensure you can find a destination that's perfect for you.
I will begin by narrowing the search to the central area of the city, covering 4 of those 22 districts, as this is where almost all of the most impressive attractions lie. I'm then going to take that even further, to give you the following list of the 7 best areas to stay in Prague, to ensure you have a trip to remember.
Where to Stay in Prague – The 7 Best Areas to Stay in Prague
Where to Stay in Prague Map
To see more detail of where to stay in Prague map, go to google map;
1. Stare Mesto – Where to Stay in Prague for History & Arts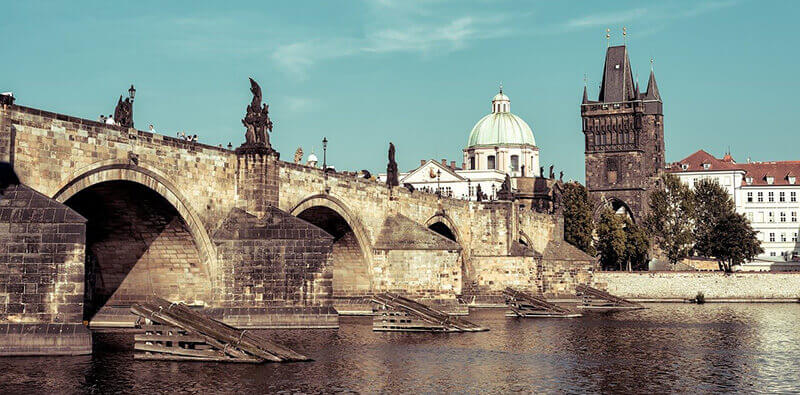 We begin in the city's most historical area, Stare Mesto, which is also known as the "Old Town". When you are talking about a city that was settled in the 7th century, you are guaranteed to attract visitors who are seeking to explore the history and culture that makes the area famous. When it comes to Prague, there is simply no where better to start than right here.
With a litany of sights and attractions, located within a relatively small area, you will be able to fill your days, going from place to place, without having to worry about wasting time travelling.
One of the first things that will strike you about this area is its diverse culture, featuring long histories with both the Christian and Jewish communities.
The iconic, absolutely stunning, gothic, Church Of Our Lady Before Tyn, with its 80 metre towers dominating the skyline, as well as the more traditionally beautiful Church Of St. Martin In The Wall, are offset against Europe's oldest active synagogue, the Old New Synagogue, one of its newest, in the Spanish Synagogue, as well as the Old Jewish Cemetery, which is one of the largest of its kind in Europe.
Don't worry if you aren't interested in the religious history of Prague though, as this part of the city is filled with beautiful and iconic locations.
The Old Town Square, with its Kinsky Palace and Stone Bell Tower, is one of the best places to stroll around, or sit and enjoy a drink or meal, while taking in its beauty. From here, locations such as the Old Town City Hall, with its Astronomical Clock, and the gothic Powder Tower, one of the original city gates, lie just minutes away.
For the art lovers, you even have the art nouveau Municipal House concert hall, the Prague Museum Of Decorative Arts, the Baroque style Clam-Gallas Palace and Colloredo-Mansfeld Palace, with its preserved dance hall, all waiting to be explored and admired.
Whatever your preference, if you're looking for some traditional Czech culture, there simply isn't a better place to start.
STAY IN STARE MESTO IF:
You are interested in the diverse religious history of the city
You are interested in Jewish architecture
You are a fan of the arts
You want to enjoy food and drink with a stunning view
2. Mala Strana – Best Area for Stunning Views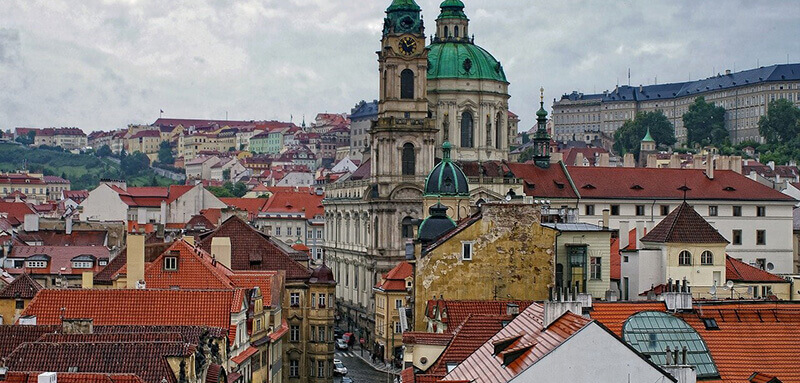 Our second destination is Mala Strana, a location which may deter some visitors due to its name, which roughly translates to "Lesser Town". Despite this unfortunate moniker, don't be fooled, as Mala Strana features some of the most stunning and historic locations in all the city.
You could start off with a visit to the city's most famous attraction, the 9th century Prague Castle, the largest ancient castle in the world. From there, attractions such as the 10th century Metropolitan Cathedral Of Saints Vitus, Wenceslaus And Adalbert, 17th century Wallenstein Palace and 18th century Saint Nicholas Church all lie within walking distance.
For those who are less worried about the cultural and historical significance of their surroundings and would prefer to simply enjoy the beauty of the city, there is plenty to enjoy here as well.
Take a walk across the Vltava River on the beautiful, medieval Charles Bridge, or visit Kampa Island, which lies within its waters. Stroll to the edges of the district and see the Pisek Gate, part of the fortifications of the original city. Maybe even climb to the top of the Petrin Lookout Tower and take in one of the most stunning views of the city.
There's even plenty for the less active people out there, as the Lennon Wall, Franz Kafka Museum, and Church Of Our Lady Victorious And Infant Jesus Of Prague statues provide a wide array of sites to keep you entertained throughout your trip.
STAY IN MALA STRANA IF:
You enjoy historical sites
You want to witness stunning views
You enjoy walks along the river
You are interested in museums
3. Nove Mesto – Best Area for Art Lovers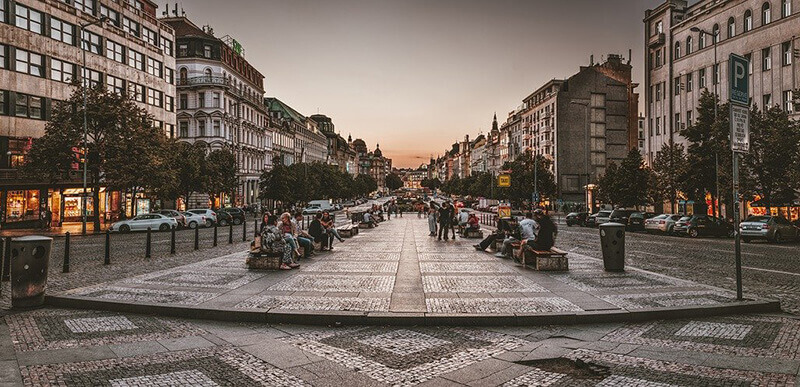 As we've already looked at Stare Mesto, the Old Town, you may be able to guess what's coming here, as Nove Mesto, perhaps unsurprisingly, is the New Town. However, much like "Lesser Town", the name doesn't give a clear view of what to expect in this part of the city.
This particular area is centred around Wenceslas Square, one of the most historic locations in the city, which is still used as the location for many important events today and has become a centre for the city's business.
It also features the National Museum at its head, the largest museum in all of the Czech Republic, allowing you to expand your knowledge or simply climb its stairs for an amazing view of the square.
Despite its importance, Wenceslas Square isn't the only one in the area though, as Charles Square is the largest medieval square in Europe and one of the largest squares in the world as a whole. While still retaining its stunning architecture, it has been adapted into a park, to allow visitors to take in its beauty in a more relaxed manner.
While, like much of the city, the area is home to a large number of historic churches, one of which features a museum in its crypt, as well as the largest synagogue in Prague, it is a location better known for its relationship with the arts.
The National Theatre, Deconstructivist Dance House and Mucha Museum are all beautiful buildings that fans of the arts will be able to enjoy, both inside and out.
If all of this isn't enough to keep you occupied, the fabulous collection of bars and restaurants in its squares and historic streets should provide ample opportunity to break up the exploration with a pleasant meal or drink.
STAY IN NOVE MESTO IF:
You love historic squares
You are interested in churches
You are a fan of the arts
You like fine food and drink
You enjoy parks
4. Zizkov – Best Budget Area to Stay for backpackers, students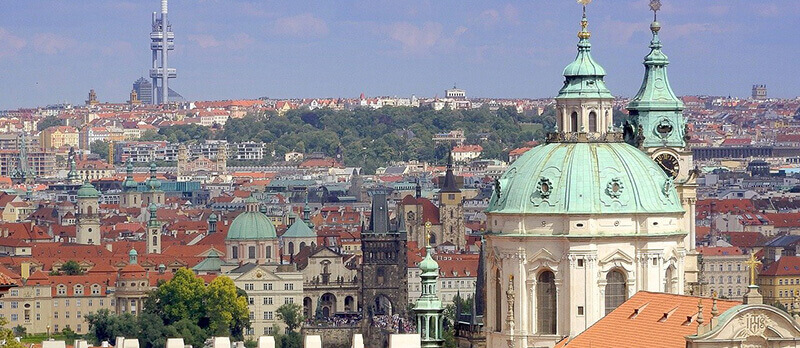 Our next stop takes us away from the very centre of the city, about 2 miles east of the river, to the district of Zizkov.
While our destinations so far have focused largely on historical areas, steeped in culture, Zizkov offers a slightly different experience of the city.
With a more Bohemian feel to the area, this is the place to come for those looking to experience the alternative side of Prague.
Popular with artists, musicians, students and backpackers, the area is filled with unique bars, cafes, restaurants, clubs and galleries. Take the opportunity to enjoy some of the city's underground art, have a fabulous meal or night of drinking, without breaking the bank to do it.
While the area is less polished than others in appearance, it also offers a greater range of affordable accommodation, so is a perfect opportunity for those on a budget to enjoy the city.
While travelling back into the city from Zizkov is a quick and easy feat to achieve, you also don't necessarily have to in order to see historic attractions either. That's because the National Monument, one of the most important buildings in the development of the Czech state, the New Jewish Cemetery, the location of Franz Kafka's grave, and the iconic Zizkov Television Tower are all located in the area.
This makes the area a unique destination, which allows you to experience a little bit of everything that Prague has to offer.
STAY IN ZIZKOV IF:
You are on a budget
You enjoy more edgy, Bohemian entertainment
You like a variety of bars and clubs
You want a less populated area
You are a backpacker or student
5. Vinohrady – Best Area to Sample Local Beer
While Prague is a city that is filled with incredible buildings throughout, perhaps no neighbourhood offers quite such a selection of beautiful architecture as that which you'll find in Vinohrady.
While Peace Square and its neo-gothic Church Of St Ludmila are the crown jewels of the area, its streets are filled with all manner of art nouveau, neo-gothic, neo-renaissance and pseudo-Baroque buildings, which will give fans of architecture from those periods hours of enjoyment to explore.
There is also the Havlickovy Sady park, the second largest in Prague, and Jiriho Z Podebrad Square, to add further optical delights to your trip if the buildings aren't enough on their own.
This is also the location of a number of other parks, orchards and beer gardens, making for a perfect opportunity to sample some of the region's local beers, while taking in beautiful views of the city.
STAY IN VINOHRADY IF:
You are interested in architecture
You want to sample some local beer
You want to explore one of the city's largest parks
6. Holesovice – Best Area for Authentic Local Experience
While many people will look to enjoy the history and culture of a place like Prague when they visit, others will prefer a more authentic experience, which represents the modern-day city. For anyone looking to do that, the Holesovice neighbourhood is the perfect destination.
Located on the northern edge of the city centre, just north of the river and surrounded by some of the most impressive parks in the city, it is an ideal location for anyone who enjoys the great outdoors, something that is often missed when taking a city break.
Described as offering a distinctively "Czech" feel, you will find some of the finest bars and restaurants dotted around the neighbourhood. This will allow you to dine, drink and relax in classy establishments, getting to know the locals and learning about their city and culture.
While it sounds like a neighbourhood best suited for unwinding, requiring trips further into the city to take in the sights, that doesn't necessarily have to be the case.
Attractions in the area also include the Vnitroblock gallery, one of the finest in the city, as well as the Industrial Palace, which contains a light fountain, funfair and aquarium.
This not only gives it a varied appeal, but it also makes it a perfect destination for those with children, as there are plenty of activities to keep them entertained.
STAY IN HOLESOVICE IF:
You enjoy high end food and drinks
You want a more authentic, local experience
You have children
You don't want to be in the city centre
You enjoy parks
7. Vysehrad – Best Area for Quiet Holiday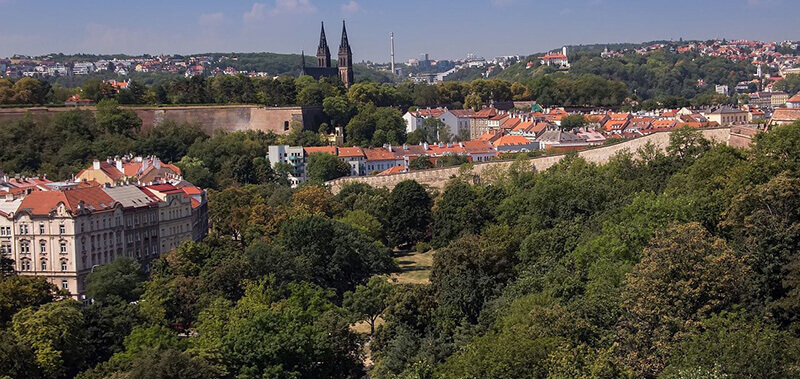 Our final stop brings us to Vysehrad, on the southern edge of the central part of the city. This is a perfect destination for those that want a slightly quieter experience, just removed enough from the heart of the action that they can still get back in at a moment's notice.
Sandwiched between the eastern bank of the Vltava river and the beautiful Park Folimanka, this also gives you the opportunity to enjoy some of the more natural elements of the city. Whether you want to stroll around either of these or take the 20-minute walk into the more built-up areas, Vysehrad gives you the flexibility to adjust your plans, as and when you want.
As far as attractions in the area go, most of them centre around the area's incredible, 10th century fortress, which features Vysehrad Castle, Vysehrad Cemetery, the Basilica Of St Peter and St Paul, as well as Prague's oldest rotunda, the Rotunda Of St Martin.
When you've had your fill of that, other options to keep you entertained in the area include visits to the Czech Police Museum, the Prague Congress Centre, or perhaps spending some time unwinding in the fabulous collection of bars and restaurants in the area.
STAY IN VYSEHRAD IF:
You want to stay by the river
You are interested in historic fortresses
You want to be slightly out of the city centre
You like parks
You enjoy walks
You want to learn about the history of the Czech police force
So, that's our seven best area's take care of. While it may have been enough to help many of you make your decisions already, for those still on the fence, allow me to answer some of the most frequently asked questions and further narrow down your search.
Where To Stay In Prague On A Budget?
Those looking to stay in Prague on a budget will want a location that provides cheaper accommodation, as well as shops, bars, restaurants etc that provide a similar level of value in the surrounding area. What it doesn't necessarily mean though, is that they will simply be the after the cheapest place available.
For those on a budget, I would recommend staying in Zizkov, the distinctly Bohemian area of the city, which is a little less upmarket, but still provides a fantastic location to enjoy your vacation.
It even offers the chance to stay at 4-star hotels, such as the Theatrino Hotel, which has a "fabulous" rating on booking.com, for a fraction of the price you would expect.
Where To Stay In Prague With A Family?
When it comes to selecting where to stay with a family, you have plenty to take into consideration. What attractions are there to keep the kids entertained? How far is it from the airport or city centre, so you don't have to worry about them getting irritable with lots of travelling? Is it a relaxed enough environment for you to have time to unwind when you need it?
When it comes to Prague, Holesovice is an area that ticks all of those boxes. Located on the outskirts of the city centre, between the centre of Prague and the airport, and featuring a funfair and aquarium, this should be the perfect location to set up your base.
The Expo Hotel is located just outside the palace and features an 8.4/10 rating on booking.com, making it the ideal place to stay on your trip.
Where To Stay In Prague For Couples?
While Prague overall is known as a romantic city, perfect for couples, there is one neighbourhood that still stands out as the best destination in this respect, which is Nove Mesto, i.e. New Town.
Whether you want to take a romantic stroll in its stunning parks, learn new and exciting information in its museums, enjoy being entertained at its art establishments or simply take in the stunning views while eating and drinking in its historic squares, this is certainly the destination for you.
There's also no better way to complete your romantic getaway than with a stay at the Grandium Hotel Prague. A 5-star hotel, with a "fabulous" rating on booking.com, located just off of the legendary Wenceslas Square, it is a destination that will ensure every waking second of your trip is perfectly designed for a couple in love.
Where To Stay In Prague Old Town?
When it comes to choosing the best place to stay in Stare Mesto, the Old Town, I simply have to recommend the Art Deco Imperial Hotel. A 5-star hotel, with a "superb" rating on booking.com, and available for just a fraction of what you would expect to pay for such a high-end establishment, this is the perfect opportunity to treat yourself to a little luxury while you're on vacation.
Its location near the heart of the district, just south of the river, also makes it perfectly situated to ensure all of your sightseeing needs are taken care of as effortlessly as possible.
Where To Stay In Prague For Nightlife?
When it comes to recommending the best place for nightlife, it depends a little on what you mean. If you are simply looking for plenty of bars and restaurants to enjoy after a long day of sightseeing, then Prague has plenty to offer throughout. If, however, you are talking about a livelier, more upbeat selection of bars and clubs, then your preferred place to stay will be a little more specific.
Unlike many cities, the best option for this type of entertainment isn't right in the city centre. It is instead a little further out, in the neighbourhood of Zizkov.
Known for its slightly edgier atmosphere, Zizkov is full of bars, clubs, galleries and venues offering live entertainment, which will keep you entertained late into the night.
Where To Stay In Prague For First Timers?
When it comes to a first-time trip to the city, two of the most important things for people tend to be seeing its most iconic, historic landmarks, and taking in the culture of the local people.
When it comes to Prague, that gives you two options on the best place for you to stay. Mala Strana, in the heart of the city, is the best option for the landmarks, while Holesovice is known for having one of the most authentic feeling districts.
As the two neighbourhoods actually border one another, perhaps staying close to where they meet will offer you the chance to get the best of both worlds?
Where To Stay In Prague City Centre?
People often stay in the city centre when they go on vacation, as this is traditionally where most of the attractions are. While that is also the case in Prague, its city centre is split into three neighbourhoods, so exactly where you should stay will depend on what you want to see the most.
If you want to explore the diverse religious history of the city, choose Stare Mesto. If you love the arts and relaxing with a drink or meal in a beautiful square, Nove Mesto is for you. While those looking for an incredible collection of historic landmarks and architecture will probably be best served staying in Mala Strana.
Where To Stay In Prague For New Years?
While you may think being in the centre of the city would be the best spot to take in the New Years festivities, staying slightly further out, in Vysehrad, could actually be your best bet.
With its incredible fortress being less crowded yet providing the most unobstructed views of the fireworks displays you'll find anywhere in the city, it offers you the perfect opportunity to enjoy every second of the entertainment, in a carefree and relaxed environment.
While accommodation here is much more limited than in many other neighbourhoods, Hermitage Hotel is a beautiful, 4-star hotel, with a "superb" rating on booking.com, located across the road from the fortress. This makes it ideal for your stay, but don't hang around as it books up fast.
Where To Stay In Prague For Tourists/Sightseeing?
When it comes to tourism or sightseeing, Prague is literally filled with incredible destinations from top to bottom. As long as you stay somewhere close to the centre of the city, you will never be short of things to do or see.
However, if you are looking to stay in the location that offers a greater number of these than any other, then I would say you simply have to stay in Mala Strana.
Whether you want historic attractions, beautiful architecture and artwork, or simply stunning natural views, this is a neighbourhood that will have plenty to offer you.
The area also features the Hotel Waldstein, a stunning 4-star hotel, with a "fabulous" rating on booking.com, which is available for substantially less than you would expect to pay for such a hotel. This makes it the ideal place to stay for the sightseeing extravaganza you are about to enjoy.
Where To Stay In Prague At Christmas?
Selecting the best place to stay in Prague at Christmas is a challenging decision, as there are just so many Christmas markets, displays and events throughout the city to choose from.
That said, if I had to choose the best place to stay during the festive season, it would be Stare Mesto.
Not only does it have one of the city's best Christmas markets in the Old Town Square, but it is also the location of the city's main Christmas tree, the beauty and magnitude of which is perfectly complimented by the choirs and musicians that perform around it.
There's simply no better way to ensure you stay in the Christmas spirit for your entire trip than staying here.
Where To Stay In Prague For Two Days/The Weekend?
When it comes to choosing a location for a two-day trip, your main objective is to ensure that you are in a location with a huge amount to do and see, so you don't waste the limited time you have travelling from one place to another.
That means you are going to want to stay in the heart of Prague, choosing between the Stare Mesto, Nove Mesto and Mala Strana neighbourhoods.
These all easily contain enough to keep you occupied for a weekend and are located close enough together that you can even jump between them without wasting too much time if you want.
Where To Stay In Prague With A Car?
When it comes to staying in the city with a car, you want to be far enough out that you don't get caught up in the worst of the traffic, but close enough that travelling to the best attractions doesn't become a chore.
For that reason, I would say Holesovice, Vysehrad and Zizkov are all equally well suited, as they surround the very centre of the city, where the majority of the major attractions lie, but are still relatively easy to get in and out of.
Should You Stay In Old Town Or New Town?
Deciding whether you would rather stay in Old Town or New Town largely comes down to what you are hoping to see on your visit.
If you are a fan of historic squares or the arts, then New Town would probably be better suited for you. However, if you are more interested in the city's diverse religious culture, and the array of Christian and Jewish architecture that goes along with it, then I would recommend staying in Old Town instead.
Where To Stay In Prague Near A Train Station?
Those who prioritise staying near a train station while in Prague are best suited to the Vinohrady neighbourhood, as this is the home to the largest station in the city. Being a neighbourhood right in the heart of the city, it makes sightseeing and getting to and from your train equally simple.
There is even a 4-star hotel, with a fabulous rating on booking.com, the Deminka Palace, located right around the corner from the station, to truly make your trip as convenient and enjoyable as possible.
Where To Stay In Prague In April?
While Christmas markets are famous around the world, Easter markets are a much less common occurrence, yet are something you will have the chance to experience if you visit Prague in April.
Both Stare Mesto and Nove Mesto fill their squares with these during the first two weeks of the month, so are an equally good choice when visiting at this time of year.
Where To Stay In Prague In Winter?
Choosing where to stay in Prague in the winter is an interesting one, but I would suggest Vinohrady for two reasons. Firstly, being near the city centre, you will get to enjoy all of the Christmas festivities that are available.
The second reason is perhaps a little more left field, but it is the opportunity to go skiing. While there are no slopes in the city itself, staying near the main train station allows you to get to the top resort in the region relatively quickly and easily.
Where To Stay In Prague Near The Airport?
For those wanting to stay near the airport in Prague, I would recommend staying in either Mala Strana or Holesovice. They are an equal distance away from the airport and are served by major roads, making it a simple task to get to both locations.
What makes these more desirable than some that are even closer to the airport though, is how close they are to the city centre. This makes them just as ideally situated for your daily exploration as they are for convenience at the beginning and end of your trip.
Conclusion
Prague is truly a fantastic city, filled with some of the most historically and culturally significant locations in all of Europe. The fact that it is slowly adapting some areas, to appeal to a younger, more modern brand of tourist, will only increase its appeal to visitors from all walks of life.
Whether you want to see buildings from centuries ago, explore the more natural features, such as the parks and river, or enjoy the wide variety of bars, clubs, restaurants and cafes, Prague will have plenty to offer.
While a range of attractions like that may make picking the perfect area to stay in on your trip a challenge, hopefully, this article will have given you everything you need to go out and get your own dream vacation booked today.
---
---