The best areas to stay in Prague for first-timers are Staré Mesto, Nove Mesto, Malá Strana, Zizkov, Vinohrady, Hradcany, Karlín, Josefov, and Prague Airport. These are popular and safe neighborhoods for tourists that offer a wide variety of attractions and amenities.
In this blog post, I will help you to decide where to stay in Prague for the first time, for family, couples, budget, nightlife, as well as the best places to stay near main train station.
Being the capital and largest city in the Czech Republic, as well as the historical capital of Bohemia, Prague, is a city brimming with history and culture, which attracts almost 8 million visitors per year. Prague is definitely worth visiting.
Prague is also known as The golden city of one thousand spires, because of its beautiful cathedral spires, church spires, Gothic spires, and Baroque spires. It is famous for its beer, the 14th-century Charles Bridge, and the UNESCO-listed Old Town, with many cultural attractions that survived the violence of World War II.
When visiting Prague, many people consider to stay in Old Town and New Town. Old Town is better to stay if you want to experience traditional Czech culture and stay close to the most famous attractions as much as possible. New Town is better to stay if you want to have better nightlife with more modern hotels, bars, restaurants, and closer to the main train station.
Prague Old Town is the best place to stay in Prague for first-timers due to its proximity to Prague's mot famous tourist attraction such as Astronomical Clock, Old Town Square, and Church of Our Lady before Týn. If you stay here, you will be located in the middle of action, within walking distance to Prague's top sights, as well as many restaurants, bars, and shops.
With its well-connected public transport, you can easily travel to other parts of the city. There are metro with three main lines, A (green), B (yellow) and C (red), as well as trams, buses, taxi, and Uber. Whether you choose to stay, Prague is relatively small and walkable, you can easy walk from the New Town to the Old Town or Lesser Town.
If this is your first visit Prague, I recommend spend at least 3 days in Prague but to really see the Golden City, it's best to spend 4 to 5 days. That will allow you to see Prague's top attractions, and get a sense of local culture without rushing.
11 Best areas to Stay in Prague for tourists
1. Staré Mesto (Old Town), where to stay in Prague for first-timers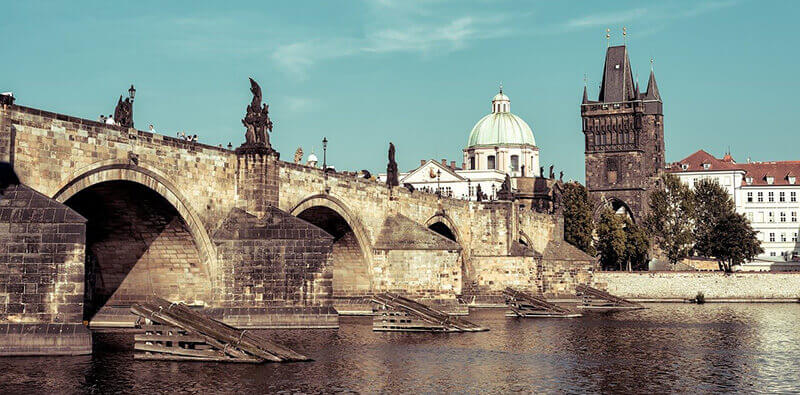 Stare Mesto, aslo known as Old Town, is the best area to stay in Prague for the first time because it is the most central location in Prague. If you stay here, you will be located within walking distance to Prague's top sights such as Astronomical Clock, Old Town Square, and Charles Bridge, as well as many restaurants, bars, and shops.
Stare Mesto along with Mala Strana is the oldest area in the city. When you are talking about a city that was settled in the 7th century, you are guaranteed to attract visitors who are seeking to explore the history and culture that makes the area famous.
The core of the historical center is Old Town Square, or Staromestske Namesti. The square with its Kinsky Palace and Stone Bell Tower, is one of the best places to stroll around, or sit and enjoy a drink or meal while taking in its beauty. It's busy when people come gathering in Easter holiday, Christmas Markets in December, and New Year's Eve.
The Old Town Square is surrounded with exquisite historical buildings. The Old Town City Hall, with its Astronomical Clock, and the gothic Powder Tower, one of the original city gates, as well as Jan Hus Monument, and the 1800s Baroque St. Nicholas Church lie just minutes away.
With a litany of important historical attractions and ancient cobbled streets, the Old Town is the best area for sightseeing. Old Town has diverse culture, featuring long histories with both the Christian and Jewish communities.
The iconic, absolutely stunning, gothic, Church Of Our Lady Before Tyn, with its 80-meter towers dominating the skyline, as well as the more traditionally beautiful Church Of St. Martin In The Wall, are offset against Europe's oldest active synagogue, the Old Synagogue, one of its newest, in the Spanish Synagogue, as well as the Old Jewish Cemetery, which is one of the largest of its kind in Europe.
Another place of interest is the medieval Charles Bridge, built in 1357. Crossing the Vltava River to connect Old Town and Lesser Town. Here, you will find 2 Gothic bridge towers and 30 Baroque statues.
The Old Town is located within east walking to distance to the nightlife area of New Town. The Wenceslas Square is only 5 minute from the southeast of Old Town Square. You will find the National Museum and a statue of Wenceslas riding a horse.
For the art lovers, you even have the art nouveau Municipal House concert hall, the Prague Museum Of Decorative Arts, the Baroque style Clam-Gallas Palace and Colloredo-Mansfeld Palace, with its preserved dance hall, all waiting to be explored and admired.
Apart from sightseeing, the Old Town has plenty of restaurants, bars, nightclubs, and shops. Central location, well-connected public transport offers easy access to other parts of the city with metro lines, trams.
The accommodations in Prague Old Town can be expensive, but budget backpacker and young travelers can still find many hostels. Whatever your preference, if you're looking for some traditional Czech culture, there simply isn't a better place to start.
Stay in Old Town if you are visiting Prague for the first time, or New year, Christmas; you love history,culture, nightlife; you want famous tourist attractions in doorstep; you don't mind crowded tourist area and noisy;
Best Places to stay in Prague Stare Mesto:
luxury ($$$): Hotel Paris Prague This 5-star hotel is located within easy walking distance from Prague's Old Town Square and the Namesti Republiky metro station. It offers elegant rooms and suites with Art Nouveau furniture. You can grab a drink at Tony's Café & Bar, and enoy French and Czech cusines at NOE by Karel Hynek restaurant.
mid-range ($$): Grand Majestic Hotel Prague This 4-star hotel is in easy walk from Palladium shopping center, Powder Gate and the Municipal House. Guest rooms are modern with air conditioning, mini-bar, safe, desk and a satellite TV. There are onsite Atrium Restaurant and Grand Lounge café to enjoy fine Czech dishes.
budget ($): Residence BENE This 3-star hotel is located in the heart of Prague, less than 100 m from Republic Square and Old Town Square. Guest rooms are spacious rooms with a modern bathroom with shower, hairdryer and free toiletries.
🔍MORE HOTEL DEALS IN STARE MESTO
2. Josefov, the old Prague Jewish Quarter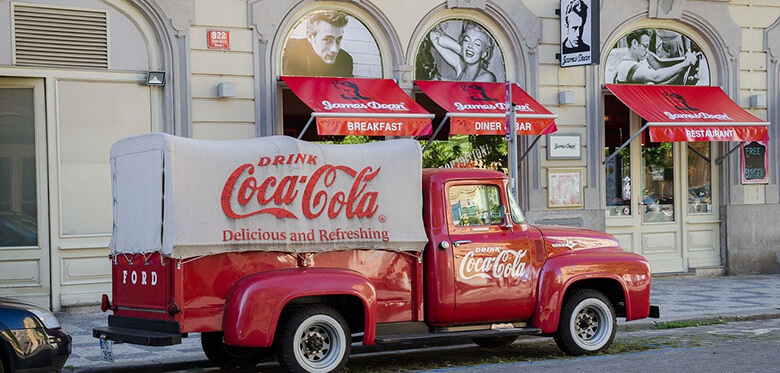 Josefov was the original Jewish Quarter of Prague, traditionally home to the city's large Jewish population. To this day, it still features a number of beautiful synagogues, as well as one of the largest Jewish cemeteries in Europe, the Old Jewish Cemetery.
The Jewish Museum was transformed from suvival building where the Jewish ghetto was demolished. Nazis destroyed Jewish property during World War II in many areas of Europe, but in Prague, they had the cruel idea to create a museum of an extinct race. There are Maisel Synagogue, Pinkas Synagogue, Klausen Synagogue, and the Spanish Synagogue, and The Jewish cemetery.
You can shop at Pařížská shopping street, which is home to luxury fashion brands such as Armani, Chanel, Hermès, Vuitton, as well as trendy cafes, bars and restaurants.
Located on the outskirts of Stare Mesto, on the banks of the Vltava River, it offers stunning views, as well as easy access to many of the city's most popular attractions. Despite this, you will find a much quieter, more residential location than you would experience just a few minutes away.
Filled with beautiful buildings, restaurants, bars, hotels, shops, and nightclubs, Josefov provides a location where you can experience the best of everything the city has to offer, without the hustle and bustle of the crowds that usually go with it.
Stay In Josefov If you are interested in Jewish history and culture; you want to be near the heart of the city but have a slightly quieter experience; you are first-timers;
Best places to stay in Prague in Josefov:
🔍MORE HOTEL DEALS IN JOSEFOV
See More: 8 Best Day Trips From Prague
3. New Town (Nove Mesto), modern center close to Old Town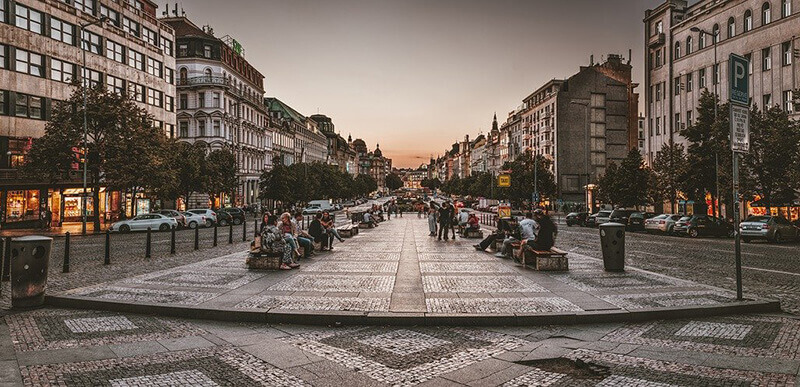 Located right next to the Old Town, New Town is also one of the best areas stay to stay in Prague for first-time travelers. New Town is better than Old Town if you prefer more nightlife with more modern tourist amenities. New Town is a best choice if you are staying in Prague for one night, you travel with a car, or you want to stay close to Central Railway Station.
Nove Mesto, also known as New Town was founded by Bohemian king and Holy Roman Emperor Charles IV in 1348. It has been around for more than 700 years old. Doesn't sound new at all but it's newer than Old Town.
This particular area is centered around Wenceslas Square, one of the most historic locations in the city, which is still used as the location for many important events today and has become a center for the city's business.
It also features the National Museum at its head, the largest museum in all of the Czech Republic, allowing you to expand your knowledge or simply climb its stairs for an amazing view of the square.
Despite its importance, Wenceslas Square isn't the only one in the area though, as Charles Square is the largest medieval square in Europe and one of the largest squares in the world as a whole. While still retaining its stunning architecture, it has been adapted into a park, to allow visitors to take in its beauty in a more relaxed manner.
While, like much of the city, the area is home to a large number of historic churches, one of which features a museum in its crypt, as well as the largest synagogue in Prague, it is a location better known for its relationship with the arts.
The National Theatre (Národní divadlo), Fred and Ginger (Dancing House), Franz Kafka Museum, the Museum of Communism, and Mucha Museum are all beautiful buildings that fans of the arts will be able to enjoy, both inside and out. Náplavka and David Cerny Statues are also worth visiting!
As far as attractions in the area go, most of them center around the area's incredible, 10th-century fortress, which features Vysehrad Castle, Vysehrad Cemetery, the Basilica Of St Peter and St Paul, and the Rotunda Of St Martin.
If all of this isn't enough to keep you occupied, the fabulous collection of bars and restaurants in its squares and historic streets should provide ample opportunity to break up the exploration with a pleasant meal or drink.
Nove Mesto is very well connected with trams and metro. The Central Train Station, Praha hlavni nadrazi is nearby. This will allow you to access directly from metro line C and Airport Express (AE) buses. You can also easily explore Czech countryside, Kutná Hora, and Karlštejn Castle by train.
Stay in Nove Mesto & Vyšehrad if you're couples, first-timers; you want a central location, within walking distance to the attractions, well-connected with metro and tram, close to Central Railway Station;
Best Places to Stay in Prague in New Town:
luxury ($$$): Michelangelo Grand Hotel This hotel is located in the heart of Prague, few steps from famous Wenceslas Square. There are connecting rooms if you travel with big family. The hotel serve both Continental and Buffet breakfast. Private parking available if you travel with a car.
mid-range ($$): Majestic Plaza Hotel Prague This 4-star hotel is is housed in 2 historical buildings with unique styles: Art Deco and Biedermeier. There are car parking in underground garage.
budget ($): U Medvidku-Brewery Hotel This hotel has a micro-brewery with a pub serving Czech cuisine and home-made beer. It is located within easy walking distance from Národní třída Metro Station, Czech National Theater, Old Town Square, and Charles Bridge.
🔍MORE HOTEL DEALS NEAR NOVE MESTO
4. Malá Strana (Lesser Town), where to stay in Prague for family and couple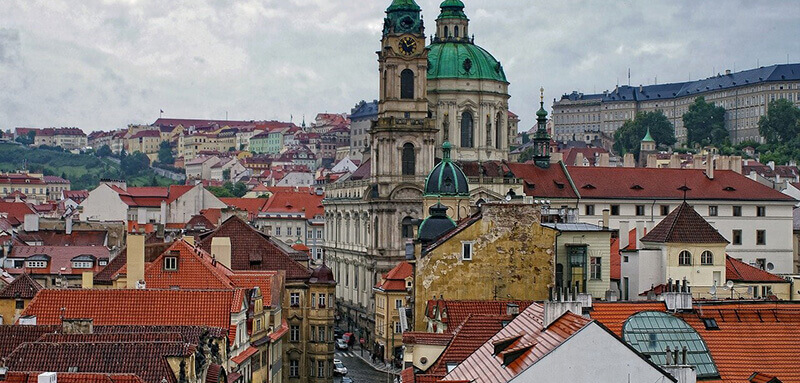 Malá Strana is one of the best places to stay in Prague for first-timers who want a romantic atmosphere, less crowded than Old Town, but still close to Prague top tourist attractions, as well as many choice in accommodations, shops, bars, and restaurants. This peaceful neighborhood is perfect for families, couples on a romantic holiday, and those who like peace, quiet, and tranquility.
The beautiful district of Malá Strana, or Lesser Town or Little Quarter is located across the Charles Bridge from Old Town. It was founded on the slopes below Castle hill in 1257. There are many famous attraction within walking distance from Lesser Town.
You could start off with the 9th-century Prague Castle, the largest ancient castle in the world. From there, attractions such as the 10th-century Metropolitan Cathedral Of Saints Vitus, Wenceslaus And Adalbert, 17th-century Wallenstein Palace, and 18th-century Saint Nicholas Church all lie within walking distance.
For those who are less worried about the cultural and historical significance of their surroundings and would prefer to simply enjoy the beauty of the city, there is plenty to enjoy here as well.
Take a walk across the Vltava River on the beautiful, medieval Charles Bridge, or visit Kampa Island, which lies within its waters. Stroll to the edges of the district and see the Pisek Gate, part of the fortifications of the original city. Maybe even climb to the top of the Petrin Lookout Tower and take in one of the most stunning views of the city.
There's even plenty for the less active people out there, as the Malostranské Square, John Lennon Wall, Franz Kafka Museum, and Church Of Our Lady Victorious And Infant Jesus Of Prague statues provide a wide array of sites to keep you entertained throughout your trip.
Mala Strana isn't the most accessible via public transportation, but there is several tram lines, the A metro line stops at Malostranska, and the tourist tram 22 run through this neighborhood. You can walk to Stare Mesto which is very well-connected public transportation.
Stay in Malá Strana if you are traveling with family and couples who searching for a tranquil atmosphere but still central location; you enjoy walks along the river; you are a first-time traveler;
Best Places to stay in Prague Mala Strana:
luxury ($$$): Mandarin Oriental, Prague Located in the Mala Strana quarter below Prague Castle, this hotel has a wide range of spa treatments, yoga classes and a beauty room. You can enjoy Asian cuisine at Spices Restaurant and Bar. There are family rooms and babysitting/child services with a fee.
mid-range ($$): Hotel Roma Prague Located in Lesser Town, below the Petřin lookout tower, and few steps from Charles Bridge. Rooms are furnished with air-conditioning and a satellite TV. There are family rooms if you travel with kids.
budget ($): Charles Bridge Hostel & Apartments This is a small boutique guest house right at Charles Bridge. There are Tourist Information Center and Luggage storage for guest staying at the hotel.
🔍MORE HOTEL DEALS IN MALA STRANA
5. Zizkov (Prague 3), where to stay in Prague for nightlife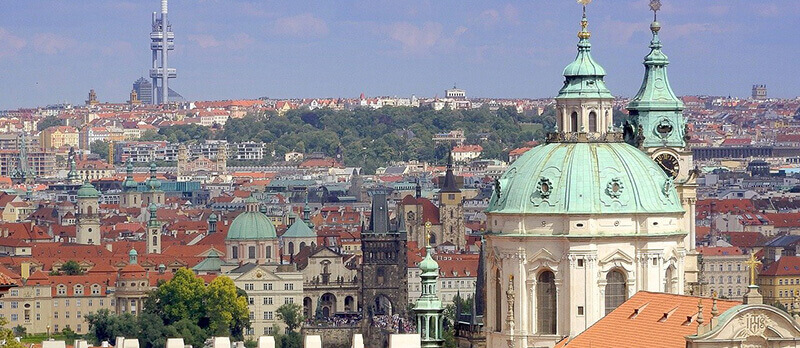 Located in Prague 3, Zizkov is ideal for first-time tourist who want a budget-friendly area with vibrant nightlife with plenty of beer gardens, bars, pubs, and nightclubs. With a more Bohemian feel to the area, this is a great place to come for those looking to experience the alternative side of Prague.
Popular with artists, musicians, students, and backpackers, the area is filled with unique bars, cafes, restaurants, clubs, and galleries. Take the opportunity to enjoy some of the city's underground art, have a fabulous meal or night of drinking, without breaking the bank to do it.
While the area is less polished than others in appearance, it also offers a greater range of affordable accommodation options, so is a perfect opportunity for those on a budget to enjoy the city.
Zizkov has several historic attractions including the National Monument, one of the most important buildings in the development of the Czech state, the New Jewish Cemetery, the location of Franz Kafka's grave, and the iconic Zizkov Television Tower.
Some of more attractions are the Church of the Most Sacred Heart of our Lord on Jiřího z Poděbrad Square, and the largest park in Žižkov – Riegrovy Sady which has the best beer gardens in Prague.
Zizkov is well-connected by public tranportation. It is served by Flora and JZP metro stations and many tram lines. The Hlavni Nadrazi, main train station, is just few stops away. Traveling back into the city from Zizkov is a quick and easy feat to achieve.
Stay in Zizkov if you are on a budget; you're looking for lively nightlife; you like a variety of bars and clubs; you want a less populated area; you are young traverler, backpacker or student; you are visiting Prague for the first time;
Best Places to stay in Prague Zizkov:
mid-range ($$): Theatrino Hotel This 4-star hotel is located in the quarter of Zizkov in central Prague, with its many fashionable restaurants, bars and the TV tower with an observation deck 93 m high. Famous Wenceslas Square is only 4 tram stops away.
mid-range ($$): Hotel White Lion This 4-star hotel is located in Prague's Zizkov district, 3 tram stops away from Wenceslas Square. Bike rental, a free internet corner and a reception desk with concierge services are available.
budget ($): Gregory House Located within a 18-minute walk of Historical Building of the National Museum of Prague and 1.4 km of Municipal House in Prague, Gregory House provides accommodations with free WiFi and flat-screen TV.
🔍MORE HOTEL DEALS IN ZIZKOV
6. Vinohrady (Prague 2), cool area to stay in Prague
Vinohrady means "vineyards". The Vinohrady area was covered in vineyards in the 14th century, but now become one of the coolest neighborhoods in Prague, home of the best restaurants, cafes, bars, and nightclubs in the city.
Vinohrady is packed full of beautiful architecture. While Peace Square (Náměstí Míru), and its 19th-century neo-gothic Church Of St Ludmila are the crown jewels of the area, its streets are filled with all manner of art nouveau, neo-gothic, neo-renaissance and pseudo-Baroque buildings, from 19th and 20th century. Peace Square holds a nice local market in Christmas and Easter.
There is also the Havlickovy Sady park, the second-largest in Prague, the training center of Hitler Youths in Nazi occupation; and Jiriho Z Podebrad Square, to add further optical delights to your trip if the buildings aren't enough on their own.
This is also the location of a number of other parks, orchards, and beer gardens, making for a perfect opportunity to sample some of the region's local beers while taking in beautiful views of the city.
Those who want to stay near the train station are best suited to the Vinohrady neighborhood, as this is the home to the largest station in the city: Náměstí Míru and Jiřího z Poděbrad. There are also the A (Green) and C (Red) metro run through this area.
Stay in Vinohrady if you are first-timers and returning visitor; interested in architecture; you want to stay in one of the safest neighborhood in Prgague; you want to sample some local beer; you want to explore one of the city's largest parks.
Best places to stay in Prague in Vinohrady:
🔍MORE HOTEL DEALS IN VINOHRADY
7. Hradcany, Prague's Castle District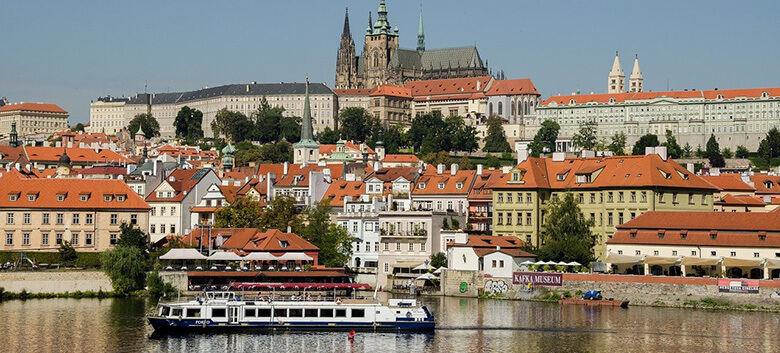 Hradcany, also known as the castle district, as it is the home of Prague Castle. Built in the 9th-century, it is one of the largest castle complexes in the world. Despite being a must-visit location for anyone visiting the city, the area is significantly quieter than the attractions in the city center.
Being a laid-back, largely residential neighborhood, it gives you the chance to take in the stunning views of Vitava River and the city, and explore the castle at your own pace, without being constantly surrounded by mobs of tourists.
Besides the famous Castle, you can visit the Royal Summer Palace, and the Royal Gardens, and the National Gallery of Bohemian Art. You are also close to Stare Mesto, Nove Mesto, and Malá Strana.
Other attractions are St Vitus Cathedral, the Basilica of Saint George, Dalibor Tower, Black Tower, the Old Royal Palace, Golden Lane, Strahov Monastery, Loreta, and Capuchin Monastery.
You can reach Castle district, the easiest way to take tram from No. 22 from Pohorelec Station. There are also two metro stations Malostranská and Hradčanská. You can aslo walk via Old Castle Stairs.
Accommodation in the area consists primarily of private apartments and the odd high-end hotel. Combined with upmarket restaurants, serving fabulous local Czech cuisine, it makes Hradcany an ideal spot to enjoy a stylish break filled with history, culture, and class.
Stay In Castle District If you prefer to stay in a quieter location; you are first-time travelers; you want to explore one of the largest castle complexes in the world; High-end hotels and private apartments are your preferred form of accommodation.
Best places to stay in Castle District:
🔍MORE HOTEL DEALS IN HRADCANY
8. Karlín (Prague 8), where to stay in Prague on a budget
Karlin is one of the newest and hippest neighborhoods in Prague, consisting of modern buildings built well after the industrial revolution. As an up-and-coming area, it hasn't yet garnered a reputation with tourists, meaning it is primarily residential.
This makes it a fabulous choice for anyone traveling on a budget, as it features some of the lowest prices in the city. Everything from hotels to shops and bars are designed for locals, so are all affordable.
Located on a hill covered in parks and green spaces, it is also a fabulous place to spend some time outdoors relaxing, while taking in the beautiful views of the city available from its peak.
Staying in this area, you can also easily explore attractions such as the City of Prague Museum, Vitkov Hill monument remembers the Battle of Vitkov Hill in the 15th century, the Old Jewish cemetery in Zizkov, the Zizkovsky tunnel, and a few lovely churches.
Don't worry if you want to explore the city center too though, as Karlin features excellent transport links, which can have you back in the thick of things in less than 15 minutes. The neighborhood offers affordable lodging but there aren't many choice in accommodations!
Stay in karlin if you are traveling on a budget; you don't mind being a little way outside the city center; you want a local experience in a modern, up-and-coming neighborhood; you are returning visitors;
Best places to stay in Karlín(Prague 8):
🔍MORE HOTEL DEALS IN KARLIN
9. Holesovice (Prague 7), quiet, residential area with local experience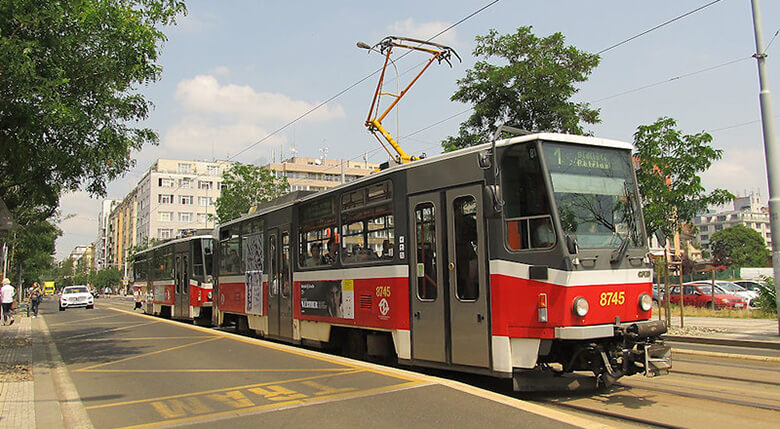 While many people will look to enjoy the history and culture of a place like Prague when they visit, others will prefer a more authentic experience, which represents the modern-day city. For anyone looking to do that, the Holesovice neighborhood is the perfect destination.
Located on the northern edge of the city center of Prague, just north of the river and surrounded by some of the most impressive parks in the city: Prague Stromovka Park and Letna Park. It is an ideal location for anyone who enjoys the great outdoors, something that is often missed when taking a city break.
The viewpoint in Letna Park offers the best view over the Vltava River and the bridges of Prague. Stromovka Park is the royal hunting grounds, one of the biggest Prague parks, with several playgrounds, restaurants, many miles of pathways and trails, lakes.
Described as offering a distinctively "Czech" feel, you will find some of the finest bars and restaurants dotted around the neighborhood. This will allow you to dine, drink and relax in classy establishments, getting to know the locals and learning about their city and culture.
While it sounds like a neighborhood best suited for unwinding, requiring trips further into the city to take in the sights, that doesn't necessarily have to be the case.
Tourist attractions in the area also include the Vnitroblock gallery, one of the finest in the city, as well as the Vystaviste Holesovice Industrial Palace, which was built for the Jubilee Exhibition in 189, and contains a light fountain, funfair, and aquarium.
The Dox Contemporary Arts Centre is one of the most prominent contemporary art museums, a former factory turned into an art gallery and multi-functional space. The Prague Market (the Holesovice Market) is a complex of late 19th century buildings close to the old port of Holesovice. Cross Club is a music venue and cultural center, near the street from Holesovice station also worth a visit.
This not only gives it a varied appeal, but it also makes it a perfect destination for families with children, as there are plenty of activities to keep them entertained.
Stay in Holesovice if you enjoy high-end food and drinks; you want a more authentic, local experience; you have children; you don't want to be in the city center; you enjoy parks; this is not your first time visiting Prague;
Best Places to Stay in Prague in Holesovice:
🔍MORE HOTEL DEALS IN HOLESOVICE
10. Smichov/Andel (Prague 5), convenient location, less expensive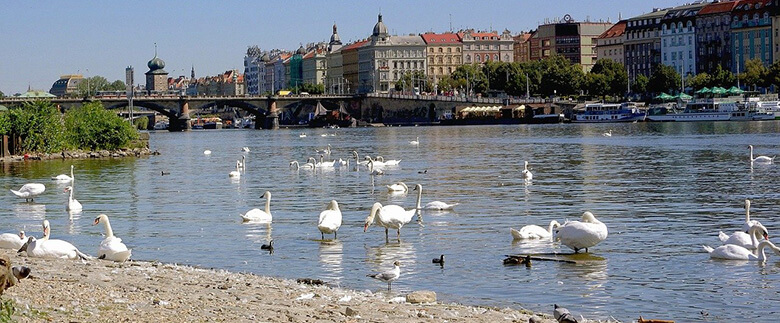 Smichov is a former industrial area, located in Prague's inner city. it's within walking distance of the Lesser Quarter, on the left bank of the Vltava, between the Palackého náměst and National Theatre. As a primarily residential area, you'll find little in the way of tourists or tourist attractions, providing you with a much more authentic experience.
While there are plenty of shops, bars, clubs, and restaurants, they are all geared towards the locals. This gives you the opportunity to sample traditional local foods and wares, helping you get a true sense of what life is really like for people living in the city.
Start with one of the most beautiful at the former Count Kinský Gardens, on the slope of Petřín Hill. And it's separated from other Petřín gardens by the Hunger Wall. It's an ideal place for families with children. Inside the garden, you will find the Catholic church of St. Michael, and two playgrounds, and the Kinsky Summer Palace with a National Museum ethnographic exhibition. Park Sacre Coeur is also worth a visit.
Around the Anděl metro station is filled with office buildings, shopping, and entertainment, the Zlaty Anděl (Golden Angel), and the Smíchov shopping center and multiplex.
Fan of history and culture will find the Bertramka, the museum of W. A. Mozart and the Dušek family, and Museum Portheimka which was built by the architect Kilian Ignaz Dientzenhofe in the 1720's, and the 19th-century Neo-Renaissance Basilica of St Wenceslas.
Visit the Staropramen Brewery, the largest in Prague and second largest in the Czech Republic, founded in 1869, to learn more about the history and taste that are best experienced in the brewery's visitor center.
Its convenient location and excellent public transport links mean you will never be too far from the most popular attractions in the city. Meanwhile, you can take advantage of the lower prices available on things like accommodation.
Stay In Smichov/Andel If you want to stay in a residential area with an authentic vibe; you want to be close to the center of the city; you don't like crowds; this is not your first time;
Best places to stay in Smichov/Andel (Prague 5):
🔍MORE HOTEL DEALS IN SMICHOV
11. Prague Airport, where to stay in Prague to catch flights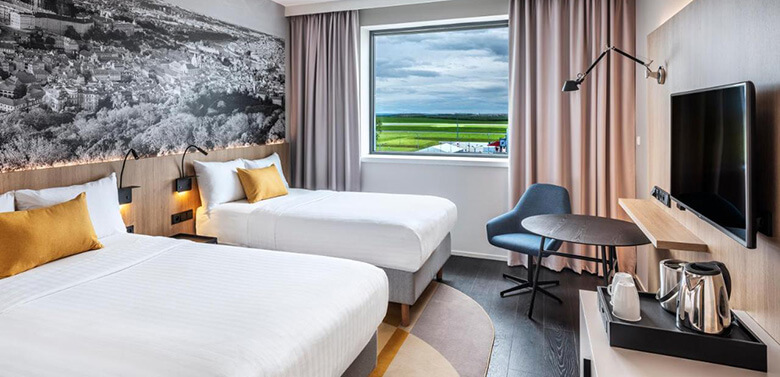 Václav Havel Prague Airport, was formerly known as the Prague-Ruzyně, is the busiest interantional airport of Czech Republic. Located 17 km north of Prague city center, you can reach the Wenceslas Square or Old Town Square within 25 minutes driving time with no traffic and 50 minutes on heavy traffic.
There are Airport taxi, Uber, Airport Express Coach, and airport shuttle but the cheapest way to get to Prague city center is by using regular public transport with bus, metro and tram. The bus station is right in front of Terminal 2. There are no train or metro station at Prague airport.
If you are traveling with light luggages, you can take buses at terminal 1 and terminal 2 airport. Route 119 stop at Nadrazi Veleslavin metro station Route 100 stops at Zlicin metro station, and Route 191 stops at Petriny metro station and Andel metro station. Meanwhile, night bus 910 stops at Na Beranku transit station.
If you're want to stay near Prague airport to catch early flights, this is some of the best places to stay in Prague airport:
luxury ($$$): Courtyard by Marriott Prague Airport Located right at the airport, only a 20-minute drive by car from Prague's city center. It offers ideal location and first-class amenities for all travelers coming to the Golden City.
mid-range ($$): Holiday Inn Prague Airport, an IHG Hotel This is a modern hotel which is set within a short distance from the arrivals and departures hall of the main terminal of Prague International Airport. The hotel offers soundproofed rooms free wifi, a on-site restaurant, and a lobby bar.
budget ($): Dolce Villa , this boutique hotel is situtated 2.5 mi from Praha-Ruzyně Airport. Rooms are modern with a mini-bar, a bathroom.
Where should I stay in Prague for the first time?
Old Town Prague is the best area to stay in Prague for first-timers because it is the most central location of Prague. If you stay here, you will be located in the middle of action, within walking distance to Prague's top attractions, as well as many restaurants, bars, and shops.
What are the best areas to stay in Prague?
Staré Mesto, Nove Mesto, Malá Strana, Zizkov, Vinohrady, Hradcany, Karlín, Josefov are the best areas to stay in Prague for tourists because they are the most popular and safe neighborhoods that offer a wide range of attractions and amenities.
Where not to stay in Prague?
Prague is a safe city with low crime rates, there are no real dangerous neighborhoods but as in any tourist city, you should always be aware of pickpockets, as well as keep your passport and money in a safe place.
See more: How Many Days in Prague is Enough?
Overall, Stare Mesto is the best area to stay in Prague for first-timers due to its super central location. If you book a hotel here, you will be located in the middle of the action.
Whether you want to see buildings from centuries ago, explore the more natural features, such as the parks and river, or enjoy the wide variety of bars, clubs, restaurants and cafes, Prague will have plenty to offer. While a range of attractions like that may make picking the perfect location to stay in on your trip a challenge, hopefully, this article will have given you everything you need to go out and get your own dream vacation booked today.