Where to stay in Positano? The best areas to stay in Positano are Lower Positano, Chiesa Nuova, Fornillo Beach, Montepertuso, and Nocelle. Positano's cliffside location means staying in any part of town, whether it's the upper or lower areas, you can still have stunning views.
But, which neighborhood is best for first time, on a budget, honeymooners, couples, and families, with a view? In this post, I will help you to decide the best area to stay in Positano for visitors and the best hotels to stay in this beautiful Italian coast town.
Positano is a picturesque cliffside village located on the Amalfi Coast in southern Italy. Originally a fishing port, it became a popular tourist destination in the 20th century, attracting artists and writers. Today, it is famous for its colorful houses, narrow streets, and beautiful beaches.
Positano is one of the most popular tourist towns on the Amalfi Coast along with Amalfi Town, Sorrento, Ravello, Praiano, Maiori, Minori, and Salerno. With its beautiful beaches, breathtaking views, stairways, colorful houses, vibrant nightlife, it attracts lots of celebrities and jet-set people.
There are no airports in Positano. You can take flights to Rome or Naples, then take a train to Naples, Sorrento, or Salerno. Positano is easily reachable by SITA bus, ferry, or private car transfers from Sorrento and Naples, and other towns on the coast.
Within the town, you can get around by public bus running along the main road that cost around 2 euros, as well as by ferry, rent a Vespa, or hire a private car with a driver.
With so many tiny and pedestrian streets, Positano is perfect for walking, but because it is built vertically, there will be lots of uphill walking via steep staircases. There are also local buses helping you to get around but it is often crowded.
Positano is one of the most expensive summer destinations in Europe, accommodations here can cost on average 300 euros-700 euros per night and it can have a higher rate on peak season.
Positano has more expensive food and drink than in other parts of Italy. The sun-loungers for rent can cost 20 euros a day. Car packing can be a nightmare, do research before you park.
To stay in Positano on a budget, you are able to find budget hotels out of the downtown areas, in Chiesa Nuova, Montepertuso, and Nocelle. There are some guest houses and B&B that cost around 150 euros.
Where is the best place to stay in Positano?
Lower Positano is the overall best place for first-time visitors because it offers easy access to the main beach and town center with many restaurants, bars, shops, and nightlife. The most important thing is that you still have stunning views without hiking up and down endless steep staircases.
There are plenty of boutique hotels, villas, beds & breakfasts for whole families and a group of friends. Most luxury hotels offer a balcony or private terrace with a stunning view. I recommend booking well in advance about 4-5 months to have the best room deals.
Map of areas and neighborhoods in Positano:
8 Best areas to stay in Positano for tourists are:
1. Lower Positano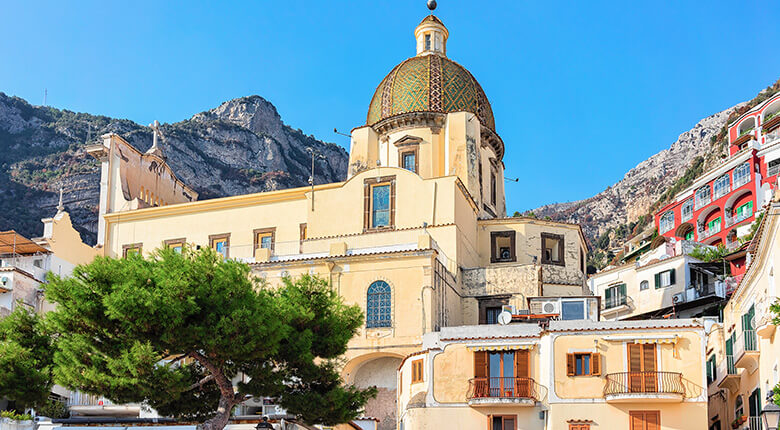 Lower Positano is the best area to stay in Positano for first-time travelers due to its prime location, offering stunning views, easy access beach, ferry port, tourist amenities, and nightlife without hiking up and down the hill with endless steep staircases.
Staying here allows you to be located within easy walk of the major attractions such as the Church of Santa Maria Assunta and Archeological Museum of Positan, as well as numerous of square and shopping streets like Piazza dei Mulini and Piazza Flavio Gioia.
The Church of Santa Maria Assunta (Mother Church), is known for its 12th century Byzantine icon, called Madonna di Positano. It has a Baroque style and a beautiful majolica tiles dome.
Within a few meters below the church, you can find the MAR Roman Archeological Museum of Positano. Built on the remains of an ancient, the museum displays beautiful wall paintings, artifacts, and old crypts during the excavations.
The town has plenty of shops that sell ceramics, lemon products such as limoncello, handmade leather sandals, clothing designs, and souvenirs. You can also buy paintings from local art galleries in town.
Positano is also known for its Moda Mare Positano, a Positano fashion style born in the late 1950s by a local dressmaker. You can find shops at Piazza Dei Mulini, Via dei Mulini, Viale Pasitea, and along many narrow streets.
In the 15-century, the lower slopes of the town were abandoned to flee from the pirate raids, and locals returned to Lower Positano when it's over and built attractive mansons in the 19th century.
The main beach of Positano, Positano Spiaggia, is located within a few steps from the church of Positano. This is a 400 m beach with a pier on the right side and bathhouse on the left side. There is a lane from the pier leading to Fornillo Beach.
The Spiaggia Beach has lounge chairs, sunbeds and umbrellas for rent, as well as playgrounds for kids, hanging cabins, showers, restaurants, and bars. This area offers vibrant nightlife, especially in summer. Music On the Rocks is a unique nightclub that is carved from the rocks of the cliffside, located right under Rada Restaurant.
With its colorful umbrellas and Positano houses on the hill, this is an ideal place for travel bloggers and Instagram influencers. The middle of the main beach, called Spiaggia Libera, means free beach. You can sunbathe and swim here for free.
Due to its prime location, there are plenty of hotel options, and some of the most expensive hotels in Positano are located here. Many of Hollywood's biggest celebrities stayed in this area.
Best places to stay in Lower Positano for first-time visitors:
Luxury ($$$): Le Sirenuse This 5-star hotel is one of Mediterranean's most iconic hotels, centrally located in Positano, within a short walk from the Sponda bus stop, the church, and beach. It is one of the best places to stay in Positano for a honeymoon. There is an oyster bar, a Michelin-starred restaurant with a sea view terrace, amd wellness center with a sauna and hammam.
Luxury ($$$): Hotel Villa Franca The 5-star hotel is located within a short free shuttle ride from the town center and Positano Spiaggia. Located on a hilltop, the hotel offers stunning views of the sea, and one of the top choices for honeymooners. There is a rooftop pool, an outdoor pool, and a spa.
Mid-range ($$): Hotel Poseidon This 4-star hotel is located in Via Pasitea, the main street of Posinato. It has Mediterranean style guest rooms, a sun terrace that offers stunning sea views, and a wellness area with a Turkish bath excavated in the rocks. You can enjoy traditional Neapolitan cuisine at its on-site restaurant. Porter service is free and available day and night.
Mid-range ($$): Hotel Palazzo Murat This 4-star hotel is set in an 18th-century building, in Positano's downtown, close to the beach and Sponda bus stop. The hotel offers free beach towels, and a boat for tours along the Amalfi Coast in summer.
Budget ($): Hotel Casa Albertina This 3-star hotel is located within a 10-minute walk from the Positano Spiaggia Beach. There is a sun terrace offering views of the sea and a bar. Guest rooms come with air-conditioning, free wifi, a TV, minibar, and private bathroom.
2. Chiesa Nuova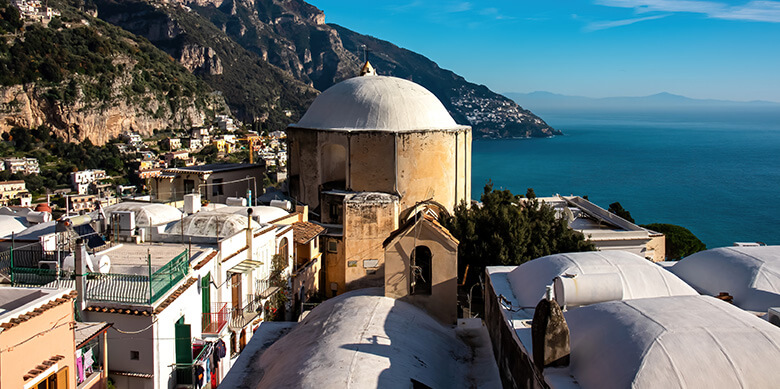 Staying in Upper Positano means you'll have stunning views of the sea and a quieter atmosphere because it is away from the nightlife of the town center. The downside is to reach the beach and town center, you'll have to travel by a long walk down through steep walkways or take a local bus.
Upper Positano ( the area around Chiesa Nuova) also offers more affordable accommodations compared to the lower part. So if you don't have any problem with walking, or you are looking for budget-friendly areas, Chiesa Nuova is the best place to book your stay in this vertical city.
Chiesa Nuova is the first bus stop in Positano of Blue Sita Bus if you are coming from Sorrento. It stops near Bar Internazionale in the upper town. Another bus stop is Sponda in the lower town near Hotel Le Sirenuse and the Marincanto.
Chiesa Nuova is named after the 18-century church, Positano's most ancient part. Locals preferred to stay in the upper part to avoid the risk of the sea. Chiesa Nuova area offers authentic local atmosphere, with its butcher, fish market, fruit, and vegetable shops.
Check out the Bar Internazionale, a popular bar located on Via Marconi where locals meet for good coffee and snacks. The bar is surrounded by ceramics tables and Positano's old photos.
Accommodations here are mostly budget-friendly villas, guest houses, and B&B, offering breathtaking views of the sea. Try to book a hotel close to the bus stop if you travel by bus, so you don't have to drag your luggage up and down many stairs.
Best places to stay in Positano in Chiesa Nuova:
3. Fornillo Beach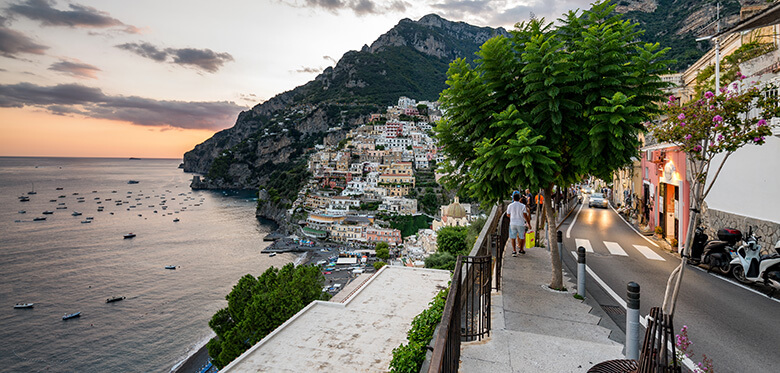 Fornillo Beach is one of the main beaches in Positano, located within a short distance from Spiaggia Grande di Positano. It can be reached by boat from the harbor, or a few minutes walk on a romantic Via Positanesi d'America toward west.
Fornillo Beach is much more quieter compared to the main beach, plus, it has cheaper accommodation, making it a great base for those seeking a relaxing budget-friendly beach holiday, and easy access to the central Positano for more amenities.
The beach is 300 m long and is a family-friendly beach with pebbles and rocks. Each end of the beach stands ancient towers, Torre del Fornillo and 16th century Torre Trasita.
Fornillo Beach has one free public beach and 3 private beaches. Public Beach here is nicer, quieter and relaxing, than the public Beach at Positano's downtown. There are also a wide range of restaurants in the neighborhood.
Fornillo beach hosts the annual Fish Festival every year in the summers. People dance and eat on the beach and all sun loungers and umbrellas are removed.
Best places to stay in Positano in Fornillo for first-timers:
4. Montepertuso
Montepertuso is located in Positano's upper part on the hill, offering the most amazing seaside view. It is also known as hole in the mountain because it has a hole right in the rock. Due to its paths connecting Montepertuso to the Lattari Mountains, it is a great place to hike.
This small and charming Montepertuso town was only accessible by a 1500 steps staircase from Lower Positano, but now as there is a road built, it can be easily reached by or bus car and local bus within a few minutes ride.
Montepertuso offers hotels with splendid views, as well as some good restaurants with panoramic terraces, a great place to grab a meal and enjoy the sunset.
A must-see historical and cultural attraction is the church of Santa Maria delle Grazie and Fontana Vecchia (Old Fountain) for a fresh cup of water. Santa Maria delle Grazie held a festival in July each year celebrating the legend of the Devil and the Virgin Mary with a fireworks display.
The village offers an authentic local atmosphere, away from the hustle and bustle of downtown Positano. There are several good family-owned restaurants, small grocery stores and shops that sell local cuisine and products in the town.
Positano has many restaurants that offer traditional cuisines, seafood speciality, local wine, cocktails. La Tagliato is one of the best restaurants in Positano on the Amalfi Coast, offering typical and handmade food in the mountains.
Montepertuso is best suited for travelers seeking budget accommodations, spectacular views, local atmosphere, and a quieter holiday, while still easy access to the central Positano. It is also a great base for nature lovers and those who love trekking.
Best places to stay in Positano in Montepertuso:
5. Nocelle
Nocelle is a rural village, located beneath the summit of Montepertuso, 461m high above Positano. The village offers spectacular views of the Amalfi Coast and Capri island, as well as cheaper accommodations and food compared to the central Positano.
Nocelle was a strategic location to monitor the coastal territory against pirate raids. It is also the starting point of many hiking trails throughout the Lattari Mountains including Path of the Gods trail, or Sentiero degli Dei, linking the hill top of Nocelle and Agerola.
Located away from the busy tourist town center, Nocelle is a great place for a quiet and relaxing vacation. Nocelle can be reached from Positano by a very windy bus ride or by foot through 1600 steep steps.
Nocelle is a great place for relaxing and experiencing authentic local life with some local restaurants, and shops. Accommodations are mostly 3-star to 4-star guest houses, apartments, and B&B. There is a 20-25 minute bus ride or a short taxi from Nocelle to Positano town center.
Best places to stay in Positano in Nocelle:
6. Liparlati
Liparlati is a lesser known, small neighborhood that sits on a hill in the upper Positano. It is one of the oldest districts of Positano. Its nickname, dead city, was given by Stefan Andres, due to emigrants searching for a new life in new lands leaving many houses empty of the neighborhood. Stefan Andres is a German writer who lived there for a long time with his family to escape from Nazi.
In the 19th-century, many beautiful and luxury villas were built due to its position. The 12th century Church of San Giacomo (St James) and its onion-shaped spire bell tower are also a must-see. It was founded by sailors trading with Spain.
Liparlati is located close to Positano town center, as well as the main church and its beach. There are restaurants, hotels, and shops in the district, and it is not dead anymore.
Best places to stay in Positano in Liparlati:
7. Arienzo
Arienzo beach is a small bay with a private and free beach. You can reach the beach by boat from Spiaggia di Positano Marina Grande in downtown Positano, or a private car, and walk down a long staircase. It is known as the 300 steps beach, because visitors have to walk a 300 steps stair to reach the beach.
You can check out the Arienzo Beach Club, one of the best beach clubs in Positano by many people. It offers a private beach for guests. You might see its famous orange umbrellas and chairs from Instagram.
Arienzo Beach club offers a towel, sunbed, umbrella,limoncello, and espresso. Bagni Arienzo Beach Club restaurants offer good food like seafood, pasta, and antipasti. Some of the villas and hotels nearby offer private access to Arienzo Beach.
Arienzo is another great base for a relaxing beach holiday in Positano. It is quieter compared to the central area while still offers easy access to the Cristoforo Colombo for shopping and Nocelle for a a walk on Path of the Gods.
Best places to stay in Positano in Arienzo:
8. Laurito Beach
Laurito Beach is small, wild, and is one of Positano's most hidden beaches. Located towards Praiano and Amalfi Town, foreign tourists hardly know about it. The beach can be reached by boat from the sea, or by a staircase near Hotel San Pietro.
The beach is a small crystal waters cove with pebbles and gravel in the west and flat rocks on the east. There are a few rows of sunbeds and umbrellas for rent.Water activities here are swimming, diving, snorkeling.
You can find Da Adolfo's restaurant terrace above the beach. Da Adolfo is a famous seafood restaurant. Grab a lunch here with freshly caught fish, mussels, and mozzarella grilled on a lemon leaf.
The Treville Beach Club is only a five minute boat ride from Positano harbor. There is a beautiful restaurant and rooms if you want to stay.
Best places to stay in Positano in Laurito:
Where should I stay in Positano for the first time?
Lower Positano is the best place to stay in Positano for first-timers due to its prime location, offering easy access to the beach, ferry port, and town center. Staying here allows you enjoy the beaches, shopping, dining, and nightlife within easy walk without having to deal with endless of steep staircases.
What are the best areas to stay in Positano?
Lower Positano, Chiesa Nuova, Fornillo Beach, Montepertuso, Nocelle, Liparlati, Arienzo, and Laurito Beach are the best areas to stay in Postano because they are the most popular neighborhoods in the city.
Where did the Kardashians stay in Positano?
The Kardashians stayed at the luxurious Le Sirenuse hotel in Positano. This 5-star hotel features breathtaking views of the Amalfi Coast and has been a popular destination for celebrities and high-profile individuals.
See more:
Summary – Where to stay in Positano?
In conclusion, Lower Positano, Chiesa Nuova, Fornillo Beach, Montepertuso, Nocelle are some of the best places to stay in Positano for tourists and first-time travelers. These areas provides plenty of accommodation options for all budgets.
Overall, I will choose Lower Positano as the best base to stay in Positano for first-timers because it is the most convenient location to enjoy beaches, nightlife, shopping, and dining without worrying too much about step staircases. This area also offers many choices in accommodations, restaurants, bars, and shops.