Where to stay in Phuket first time? for singles, for nightlife, couples, families, and budget backpackers? In this post, I will help you to find the best areas to stay in Phuket for first-timers and tourists (include map and video), and best hotels in Phuket for all budget travelers.
In 2019 Phuket was listed as the 14th most visited destination in the world! Nearly 10 million people a year can't be wrong, and you will find wonderful sights and great experiences on Thailand's most popular island, located on the Andaman sea.
Phuket is the biggest island in Thailand. Even though it is an island, it is linked to the mainland to its north by a road bridge. So Phuket is not by any means a remote location. Phuket is also linked to the rest of the world by an international airport situated in the island's Northwest.
From Phuket, you can easily take a boat trip to the island of Hae, Phi Phi Islands, Phang Nga Bay with James Bond Island where James Bond filmed, The Man with the Golden Gun, in 1974.
Where to stay in Phuket first time?
The best areas to stay in Phuket for first-timers are Phuket Town, Patong Beach, Karon Beach, Kata Beach, Kamala Beach, Mai Khao, Nai Thon, Bang Tao, Surin Beach, and Rawai Beach. These are safe areas that offer a wide range of hotels to suit different budgets and preferences.
The most popular tourist destinations are, as you'd expect, the beaches. And the best of Phuket's beaches run for over 40km down the island's West Coast. The quieter of the west coast beaches are found towards the north. Mai Khao Beach, Nai Thon Beach, and Surin Beach are good locations if you are looking to stay out of the most heavily developed areas.
If you're a couple and honeymooner looking for somewhere a bit special to be together, Nai Thon Beach, Surin Beach, and Kata Beach are the best bet. Kamala, Kata, and Karon beaches are busy places with lots of activities for families, young adults, a group of friends, and everyone else too.
But don't forget to check out fascinating Phuket Town over on the West Coast; it is one of the best areas to stay in Phuket for singles and solo travelers, long-term travelers stay for a month.
Map of areas and towns in Phuket:
Overviews of best areas to stay in Phuket for first-time tourists
Here is an overview of recommended areas in Phuket for first-time visitors:
| Best areas in Phuket for first-time tourists | Why should you stay in this area? |
| --- | --- |
| Phuket Town | best area to stay in Phuket for sightseeing, history and culture, because it is the cultural captal city of the island. |
| Patong | the over-the-top, love-it-or-hate-it center of party action of Phuket, making it the best area for nightlife, partygoers, shoppers, beach lovers. |
| Karon | Patong's Little Sister, quieter and more laid back location than Patong, with easy access to the nightlife hub of Patong. |
| Kamala Beach | located just a short distance from Patong, it is one of the best areas for families with beautiful sandy beaches, crystal clear shallow water, making it safe for children. |
| Kata Beach | a family-friendly town, livelier than Kata Beach but more relaxed than Patong. The beach is beautiful and well equipped with restaurants, bars, and shops. |
| Bang Tao | home to many luxury beach resort, quality bars and restaurants |
| Nai Thon Beach | known for its tranquil and secluded atmosphere, making it a popular choice for those seeking a more peaceful beach experience away from the crowds |
| Mai Khao Beach | Located on the northwest coast of Phuket, just south of Phuket International Airport, known for its tranquil and peaceful atmosphere |
🎬 check out this short video here, the full video is at the end of this post, or continue reading:
Best areas to stay in Phuket for first-time visitors are:
1. Phuket Town

Phuket Town is one of the best areas for first-timers because it is Phuket's most authentic traditional area with lots of historical and cultural attractions. It is a relaxed and pretty town with some impressive old colonial architecture and a uniquely laid-back charm.
There is some great accommodation from hostels all the way up to five-star. I recommend staying in Phuket Town for a day or two to see the museums and do some shopping before hitting the beaches.
Phuket has a long history with periods of Arab, Chinese, Indian, Portuguese, French, Dutch and British influence. Before tourism, Phuket was a famous tin-mining center, attracting many European traders and Chinese immigrants, bringing prosperity and wealth to the island.
In Phuket Town you can find historical landmarks such as Buddhist temples, Chinese shrines, a Sikh Gurdwara, a Mosque, Hindu shrine, and a Catholic church.
The delightful Phuket old town has beautiful colonial architecture and history. Thalang Road is most famous street in Old Town and the best place to see colorful Sino-Portuguese buildings. The road hosts the Phuket Sunday Walking Street Market, or Lard Yai Market by local, which is one the top things to do in Phuket Town.
In addition to the popular Thalang road, there are many other streets to explore:
Phang Nga road, many art galleries, street arts, murals, and lively paintings.
Yaowarat Road, best for street art and photos with eye-catching graffiti walls.
Dibuk Road, home to Phuket Indy Market, known as Lard Ploy Khong by locals; Lock Tien Food Court, and Raya Restaurant at the instersection with Thepkrasattri road.
Ranong Road, home toThai Airways heritage house and Phuket city market.
Soi Romance Alley, an Instagram-worthy street. It was used to be the red-light district of town, but today, it is filled with souvenir shops, cafés, and posh guesthouses.
The Old Town offers lovely photo opportunities with temples, shrines, quaint cafes, and pastel-colored well-preserved shophouses!
If you are interested in the local way of life, have look at the Phuket Town Central Market where you can find everything from dried herbs to fresh vegetables and meat.
There are many Chinese shrines tucked away in between all the beautiful Sino-Portuguese colonial buildings. Jui Tui Shrine is a popular Taoist shrine on Ranong Road and plays a vital role in the annual vegetarian festival, along with the Shrine of the Serene Light and Wat Mongkol Nimit.
One of the great examples of the Sino- Portuguese architecture style is the amazing 2-storey mansion of Chinapratcha House, built in 1903 by the Pratipak Chinapracha family. This architecture resembles the likes of Singapore, Kuala Lumpur, and Penang Island.
Next to it, lies the famous Blue Elephant restaurant, the old stately Chinese mansion that used to be the Governor's Mansion. Famous for its fine china Thai food, you can join its Thai cooking class too!
If you want to learn about the history of the island check out Thai Hua Museum, housed in a Sino-Portuguese building on Krabi Road, as well as Phuket Trickeye Museum, Thavorn Hotel Museum, Peranakan Phuket Museum, and Phuket Philatelic Museum.
If you are looking for a nice viewpoint, come to Monkey Hill Viewpoint, a free tourist attraction with the incredible opportunity to interact with wild monkeys and views. The top of Khao Rang hill also offers good surrounding views. Grab a meal at one of its good restaurants and enjoy the views.
Phuket town is a good place to stay close to the ferry because it is home to Rassada Pier, the departure point for ferries to Koh Phi Phi, Koh Lanta, and other destinations. If you are an independent traveler or backpacker island-hopping around Thailand's Andaman coast, you will leave Phuket from Rassada Pier in Phuket Town.
Apart from history and cultural attractions, Phuket Old Town has many restaurants and cafes providing authentic Thai taste. Tu Kab Khao Restaurant and One Chun restaurant are some of the best places to eat in the Old Town. Local street food can be easily found at night markets.
Phuket Old Town offers a chill nightlife with cocktail bars and live music but it is not as lively as the beach towns of Patong. The Library Phuket, Club No. 43, and Dibuk House are some of the most popular bars in the Old Town.
Phuket Old Town is easily explore on foot. The area can be reaches from popular Kata Beach and Patong Beach by taxi, tuk-tuk, Blue Songthaew, or motobike.
Phuket town is also a thriving Thai port town and there are lots of things to see and do. Phuket Town has some great places to stay that are ideal for meeting other travelers.
Phuket Town has plenty of accommodation options for all budget travelers. There are both luxury 5 star hotels and backpacker hostels to choose from.
Advantages: Authentic local experience, affordable accommodations and dining options, and convenient transportation hub.
Disadvantages: Distance from popular beaches, limited beachfront amenities, less vibrant nightlife compared to areas like Patong.
Stay in Phuket Town if you like towns want an authentic place with real charm; you are first-timers; you are a history lover and a foodie; are an independent or budget traveler, traveling alone; you don't mind a short commute to the beaches;
Best places to stay in Phuket Old Town for first-timers:
MORE HOTEL DEALS IN PHUKET TOWN
2. Patong Beach

Patong Beach is one of the best areas to stay in Phuket for first-timers who enjoy vibrant nightlife scene because it is the entertainment and nightlife capital, home to Phuket's party, nightlife, and red light scene.
Patong has the greatest concentration of tourist development on the whole island, so if that is what you're looking for, then here it is.
Patong is a beach resort town located on the west coast of Phuket Island. It started as a small fishing village but transformed into a tourist destination in the 1980s. Patong was devastated by the Indian Ocean tsunami in 2004, which caused widespread destruction in the area.
The town was rebuilt and tourism quickly returned to pre-tsunami levels. It is now known for its lively nightlife, shopping, and amazing beaches, attracting millions of tourists each year.
Patong Beach is a 3-km strip of beautiful golden sand beach. You can rent beach chairs and umbrellas, try watersport activities such as jet-skiing, snorkeling, scuba diving, and parasailing. If you want to learn to surf, the Surf House Patong Beach offers lessons all year around!
Beach massages are popular activities on the beach where you can relax. You can choose to massage your foot, leg, shoulder, or body. A 60-minute Thai massage is priced at around THB 300.
In addition to the main beach, there are also numerous beaches nearby:
Paradise Beach, only 5km away, where you can enjoy swimming and sunbathing;
Tri Trang Beach, a quieter beach that has soft white sand and clear blue waters, and is only 2km away from Patong center.
Freedom Beach can be visited during the high season by longtail boats. It is a soft white sand and turquoise water beach, great places to relax!
Patong town center is bright and loud and all-action. If you are in the mood to party, then Patong is unquestionably the place for you. In the evening, it's more lively with the neon lights and the music.
Bangla Walking Street is a party street with nightclubs, go-go bars, beer bars, beach clubs, rooftop bars, live performances, shopping malls. Make sure to check out the Simon Cabaret Show with beautiful performers!
You will also find great shopping, cinemas, malls, and hundreds of bars and restaurants. The air-conditioned Jungceylon Shopping Mall near the famous Bangla Walking Street has plenty of shops, fast-food venues like KFC and Burger King, and restaurants.
Another shopping mall is the Banana Walk Shopping Mall, located right next to Banana Disco. The building has three floors with brands such as The Coffee Club, Kentucky Fried Chicken, Wine Connection, as well as many fashion and sportswear stores.
There are also night markets, the most famous are Otop Market and Malin Plaza markets which are great to grab a Thai meal and buy souvenirs. Meanwhile, the Banzaan Fresh Market is a good chance to buy fresh local fruits and spices!
Another must-do in Patong is to catch a live Muay Thai match! You can learn Muay Thai at Patong Stadium Muay Thai Gym on Sai Namyen Road or at Bangla Boxing Stadium.
Patong Beach has plenty of accommodation options ranging from budget backpacker hostels to luxury hotels. If you don't mind the madness of the center of town, then you can find some respite at the resorts to the north and south ends of the town.
Advantages: lively nightlife scene, beautiful beach, wide range of shopping and dining options, central location, diverse range of accommodation options.
Disadvantages: can get overcrowded and noisy, especially during the high tourist season; Traffic congestion; Touts and tourist traps;
Staying at Patong beach if you want to party the night away; you like crowds and mass tourism; you are first-time travelers;
Best places to stay in Phuket in Patong beach for first-time visitors:
MORE HOTEL DEALS IN PATONG BEACH
See more:
3. Karon Beach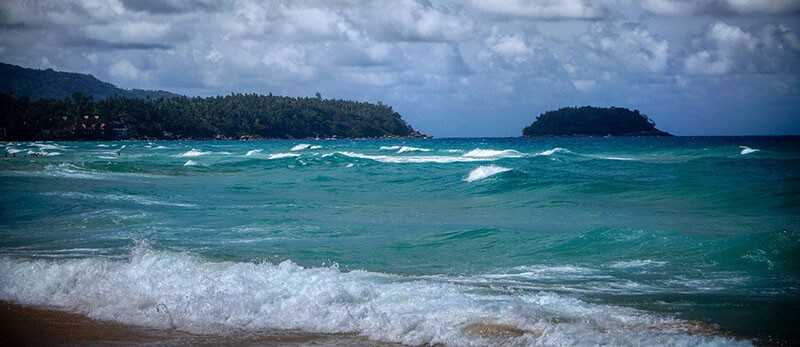 Karon Beach is a popular family choice and more laid back, located 10 km south of the island's party hub, Patong. Karon has many hotels and lots of infrastructure and things to do but hasn't yet succumbed to the sensory overload of Patong.
Karon is better than Patong if you prefer quieter and more laid back location with easy access to the nightlife, Patong is better than Karon if you prefer in stay in middle of the nightlife and shopping center.
Karon beach is a long sandy stretch, crystal clear blue water, regarded by many as one of Phuket's best, and, despite the development, you can always find a quiet spot. There are lots of watersports such as windsurfing, SUP paddle, kayaking, snorkeling, banana boat rides, and parasailing.
There are numerous green spaces along the beach:
Karon Park, surrounded by an artificial lake, with lots of gyming equipment and a running track around the lake. It hosts the annual Loy Krathong in November.
Khlong Bangla Park, a popular area for beach volleyball, and home to the beautiful golden naga statue.
If shopping is your thing, then Karon will be of particular appeal. The Karon Bazaar (Shopping Sale Karon Plaza) has many stalls where you can haggle away over the price of clothes, beach gear, and other tourist favorites.
The Karon Temple Market on Tuesday and Friday is a more traditional Thai-oriented market that is well worth checking out. Situated in the large premises of Wat Karon Temple, or Wat Suwan Khiri Khet, a calm and peaceful place to visit. When visiting the temple, remember the dress code, covering your legs and arms.
There are also some more exclusive and upmarket shops in the village. The Centre Point Village, next to Karon Princess Hotel also has many shops and restaurants. Whether or not you are with your family, Dino Park Mini Golf in Karon Village comes highly recommended.
The nightlife in Karon is around Bangla Plaza, a bar and pub street off Patak Road. You will find some popular nightclubs and bars like Coast Beach Club at Centara Grand Beach Resort, and Angus O' Tool's Irish Bar & Restaurant.
To have a good views of the city and the sea, head to the Karon View Point, located along the ring road, half-way between Nai Harn Beach and Kata Noi Beach. Also known as Three-Beach viewpoint, it is the most famous observation point of the 3 beaches, Kata Noi, Kata and Karon.
Karon Beach is also the best place to stay in Phuket for a first-time visitor who is looking for a lovely beach, a lively area, and a central location.
Sure, Karon Beach has a lot of tourist development, but there are some great places to stay, a lot to do, and a beautiful beach. Accommodations are budget-friendly hotels, backpacker hostels, inns, guest houses.
Advantages: Beautiful Beach, family-friendly location, a diverse range of accommodations, good amenities; centrally located on the west coast of Phuket, allowing easy access to popular attractions.
Disadvantages: Crowded during peak season, limited nightlife; distance from the Airport, which can be a drawback if you prefer a shorter transfer time.
Stay in Karon Beach if you are traveling on budget; you are traveling with family, want lots of activities, are a keen shopper; you are first-timers;
Best places to stay in Phuket in Karon beach for first-timers:
MORE HOTEL DEALS IN KARON BEACH
4. Kata Beach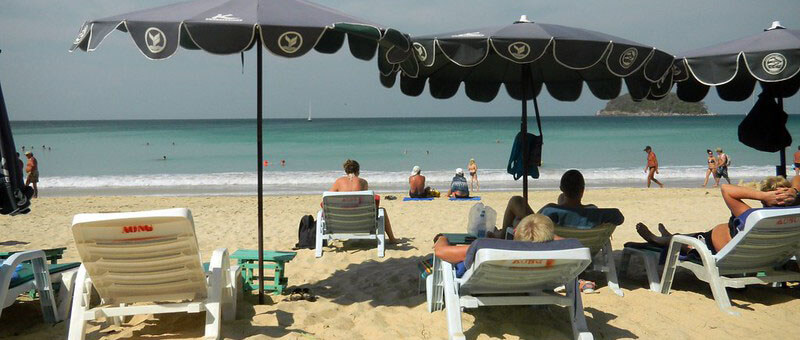 Kata Beach is one of the best place to stay in Phuket for first time visitors who travel as a family because it is one of the most visited beaches after Patong Beach and it has lots of family activities and amenities.
Kata Beach is a much more family-friendly location than Patong beach. If you want a relaxed atmosphere, Kata Beach is a better option. If you are after nightlife and partying, Patong is best to stay.
Located directly south of Karon Beach, Kata Beach is similar to Karon Beach in terms of the beaches, nightlife and attractions but it is smaller and more picturesque. They are both excellent destination for families and couples of all ages who want laid back and quiet vibe with easy access to the nightlife area of Patong beach.
Kata Beach is a 1.5km long golden sands, clear blue water beach that comprises two separate beaches, Kata Yai beach (big) and Kata Noi beach (meaning small Kata). Both are lovely beaches that are fronted by large beach resorts like the Club Med. The beaches are great places to swim, sunbathe, surf, snorkel, and chill out.
There is some good snorkeling off the rocks at the North end of the beach. In the low season, months of June to October, the sea gets a bit wavier, and you can learn to surf here. The Surf House is where you can surf under any water condition.
Kata Beach has facilities such as sun loungers, umbrellas, as well as toilets, shops, and restaurants. If you want to have beach massages, check out its massage parlours along the beach.
While in Kata or Karon, you can easily reach the Karon viewpoint, where you can view the Kata Noi, Kata Yai, and Karon Beaches. There is also Dino Park Mini Golf, a well-designed dinosaur-themed mini-golf for both children and adults.
One of the must-see landmarks in all of Phuket is Phuket Big Buddha at the top of the Nakkerd Hills. Big Buddha is the impressive 45 meter marble-crafted statue that offers 360 degree views of the ocean. When visiting the temple, you should cover the shoulders and knees.
The village behind the beach is full of restaurants, bars, shops, and entertainment. There are many resorts and hotels lined up along the long Kata beach road, you're sure to find the perfect hotel to stay in.
Advantages: Beautiful beach, good range of accommodation options, family-friendly atmosphere with activities for all ages, and popular for water sports.
Disadvantages: Can get crowded, especially during peak tourist seasons; Limited nightlife compared to other areas like Patong;
Stay in Kata Beach if you are family; you want to snorkel; want large beach resorts; want mid-to-high-end accommodation, want to learn to surf; this is your first visit;
Best places to stay in Phuket in Kata beach:
MORE HOTEL DEALS IN KATA BEACH
5. Kamala Beach

Kamala Beach has a different vibe with a quiet atmosphere and relaxed pace, located just a short distance from nightlife Patong Beach. Kamala beach is one of the main centers for family-based holidays in Phuket. The resorts and activities here are very family-friendly, and while plenty is going on, it isn't quite as full-on as Patong.
Kamala Beach is one of Phuket's best beaches. It is long and wide and shelves gently into the sea, so the water is shallow and good for kids to play (supervised, of course). There are also a couple of small beaches Rayee Beach and Hua Beach on the south and swimming and snorkeling at Laem Singh Beach on the north.
For a relaxing experience, you can try a body or foot massage with a very reasonable price. There are water activities like surfing, snorkeling, diving, and paddling in the sea.
You can experience the local daily life at Kamala Friday Market with lots of fresh local products. The Tsunami Memorial Park is a small park in the middle of Kamala Beach to remember Phuket's 2004 tsunami. Other places of interest are the 140-acre cultural theme park, Fantasea Park, Wat Baan Kamala, and Kamala Lawn Bowling Club.
Kamala transformed from a small fishing village, with the local with mainly Muslim population, into a popular area for retirees and long term tourists. Despite all of the tourism Kamala still has a local community feeling, and it is a good place to go if you want to find local Thai eating spots as well as places that cater exclusively to tourists.
Advantages: laid-back and less crowded ambiance, a more family-oriented environment with calmer waters, surrounded by picturesque hills, retains its local charm.
Disadvantages: Limited nightlife; Fewer dining and entertainment options; Public transportation options, such as taxis or tuk-tuks, might be less frequent compared to busier areas.
Stay in Kalama beach if are traveling with family; you are first-time visitors; you want a wide range of budget accommodation; you like a pretty beach with clear water, like central, but not too central, want a large resort with lots of facilities
Best places to stay in Phuket in Kalama Beach for first-time tourists:
MORE HOTEL DEALS IN KAMALA BEACH
6. Mai Khao Beach
Phuket's roads can get very busy indeed, especially in the peak season. So it can be a good idea to choose a hotel close to the airport the night before you fly. That way, you'll avoid any last-minute panic. Fortunately, there is a very nice beach called Mai Khao Beach, which is just a few minutes' drive away from Phuket International Airport.
Being located close to the airport, Mai Khao Beach is good place to watch the planes landing. You can have good photos when the airplane get close to the beach.
Located on the northwest coast of Phuket, Mai Khao is the longest beach in Phuket at 11km stretches from Sirinat National Park at the end of Nai Yang Beach to the north of Phuket at Sai Keow beach, near the Sarasin Bridge.
The main landmark at Mai Khao Beach is Sirinat National Park, which is famous for its white sandy beaches and popular place for locals camping and picnics. Mai Khao Beach is a great spot to see mole crabs and sea turtles laying eggs on the beach between November and February.
Families and kids will love to spend a fun day at a popular theme park, Splash Jungle Water Park. Another great activity for families is to visit the turtle sanctuary at Mai Khao Marine Turtle Foundation, which is a part of JW Marriott Resort.
For history buffs, take a look at the Baan Ar Jor House Museum, a stunning Chinese-Colonial mansion of tin mining business, now works as a museum, hotel, and restaurant.
Other points of interest are the Mai Khao Temple (Wat Mai Khao), IWP International Wake Park, Turtle Village which is a big shopping and dining complex near the Anantara Resort.
Keep in mind that Mai Khao beach is a bit away from popular Patong or Phuket town. You will need to pay more in taxi or transport to travel to these areas.
In fact, Mai Khao Beach is a decent choice for a longer stay if you prefer a bit more peace and calm than you will find at Phuket's more central and crowded beaches. It's also a great place for couples and honeymooners who want a romantic getaway.
You will find some good medium and upper-end hotels on the beach, and there are plenty of cheaper hotels not far away that cater specially to onward travelers.
Advantages: a peaceful and serene environment, beautiful beach, close to the Phuket International Airport.
Disadvantages: Remote location, limited entertainment options; may require longer travel times to reach popular attractions and activities located in other parts of Phuket.
Stay in Mai Khao beach if this is your first-time visiting Phuket; you want to be close to the airport, want a quieter beach, don't want to be close to the most touristy places, want a reasonable choice of restaurants, don't need buzzing nightlife.
Best places to stay in Mai Khao Beach for first-timers:
MORE HOTEL DEALS IN MAIKHAO BEACH
See more:
7. Nai Thon Beach
Nai Thon Beach lies on Phuket's West Coast between Banana Rock Beach and Nai Yang, located 10km from Phuket International Airport,. It is still something of a hidden gem when compared to the better-known beaches to the South. This is a beautiful and quiet beach, a great place to get away from the crowds.
The beach itself is stunning, and you can stroll on the sand without being impeded by flocks of deck chairs. The beach is very long and wide, well-shaded by tall pine trees and divided in two by a small rock formation.
You can just relaxing on the beach or do beach activities such as snorkelling, scuba diving. In the peak season, you can hire stand-up paddle boards and surf boards.
If you stay here, then you should also explore nearby Banana Beach, which is an even more remote and secluded sandy strand.
Nai Thon Beach has a decent selection of mainly mid-range places to stay, and there are quite a few dining and drinking options, even though it is by no means a place for partygoers. Nai Thon is the perfect choice for experienced travelers who are looking for a lovely spot that is away from the masses.
You can find cheaper hotels, guesthouses and villas in the southern part. Some of the luxury places to stay in northern of Nai Thon are Trisara Phuket, Naithonburi Beach Resort, and Andaman White Beach Resort.
Advantages: Serene and less crowded compared to other popular beaches; Offers a beautiful and peaceful setting, ideal for relaxation.
Disadvantages: Limited nightlife and entertainment options, fewer dining and shopping choices, may require transportation to explore other attractions in Phuket.
Stay in Nai Thon beach if you want some honeymoon privacy and romance; you want a lovely, uncrowded beach; you are nature lovers and those seeking a tranquil beach experience.
Best places to stay in Phuket in Nai Thon Beach:
MORE HOTEL DEALS IN NAITHON BEACH
8. Bang Tao Beach
Located halfway between Phuket airport and Patong Beach on Phuket's North West coast, Bang Tao Beach, also known as Bang Thao Beach, is one of Phuket's longest beaches. It is one of the best places to stay in Phuket for first-timers who enjoy luxury beach resorts.
It's home to a cluster of large luxury beach resorts and has developed a reputation as Phuket's high-end tourism center. There are some top-quality resorts here with superb facilities. It is a great place to stay with family for all of the activities for kids that a larger hotel can provide.
The Laguna Phuket complex dominates a large section of Bang Tao with an 18-hole Laguna Golf Phuket and five luxury hotels set around six scenic lagoons. It includes Banyan Tree Resort, Dusit Thani Laguna Phuket, Angsana Phuket Resort, and SAii Laguna Phuket Resort.
The infrastructure of this beach has developed in line with the people who come here, so you will find top-quality dining and entertainment. There is also great shopping if you aren't particularly constrained by budget.
There are many choices of restaurants, shopping, bars, and beach clubs like Bluesiam Beach Club, Catch Beach Club, Dream Beach Club, LUX Beach Club Phuket, XANA Beach Club Phuket.
Bang Tao beach also offers a wide range of water sports activities like paragliding, kitesurfing, banana boat rides, and jet skis. There are also surfing, windsurfing, Hobi cats, horseback riding, elephant rides along the beach for kids.
Another interesting place to visit is the Wat Cherngtalay, Cherngtalay Shrine a bright and colorful Thai temple, a great place for photographs! Bang Tao is also a popular residential area, and you will see some lovely private villas around the area.
Advantages: beautiful beach, upscale resorts and hotels, peaceful atmosphere, various water sports activities available.
Disadvantages: Limited nightlife, limited local dining options, might require transportation arrangements to get around outside the immediate area.
Stay in Bang Tao Beach if you want a luxury, high-end beach resort, are traveling as a family, want good shopping, are keen to try lots of quality bars and restaurants; you are first-timers;
Best places to stay in Phuket in Bang Tao Beach for first-time travelers:
MORE HOTEL DEALS IN BANGTAO BEACH
9. Surin Beach
Commonly known as Millionaires Row, Surin is another small but attractive beach that has, by and large, escaped the crowds. If you want to stay beside a picture-postcard beach but don't mind a slightly smaller choice of activities, it is a great base for your stay in Phuket.
Phuket is a popular place and it is so overwhelmingly tourist-oriented. So, you will probably find that even if you choose one of the island's "quieter" places to stay, such as Surin, you will be impressed with how much it is for you to eat, drink and do.
The beaches are white sand, turquoise waters, and a nice mix of activities great place to bathe, surf (May to November), and snorkel. Surin beach has good mid-range places to stay and also a few super-exclusive six-star resorts where, if you can afford them, you might spot a celebrity or two.
If you feel adventurous, you might even combine a few days here with some time in Phuket Town or one of the busier beaches as a nice contrast.
In this area, you can check out the Surin National Museum, Phanom Sawai Forest Park, and San Lak Muang shrine.
If you have two nights in Phuket, you should maybe choose to stay somewhere like Surin Beach. Surin Beach is the best location where to stay in Phuket for 2 nights. This beach is a little out of the busy center to the south, so onward travel to Phuket International Airport or the road bridge is straightforward.
Advantages: Beautiful beach with clear turquoise waters and white sand; Close proximity to other popular beaches like Kamala and Bang Tao; Relatively quieter and less crowded compared to other popular areas.
Disadvantages: Limited nightlife options compared to livelier areas like Patong; Limited public transportation, so renting a car or motorbike is advisable.
Stay in Surin Beach if you want something a little different, like central, but not too central, are looking for great value mid-range places, have the budget to stay in an exclusive high-end hotel.
Best places to stay in Phuket in Surin beach for first-time visitors:
MORE HOTEL DEALS IN SURIN BEACH
10. Rawai Beach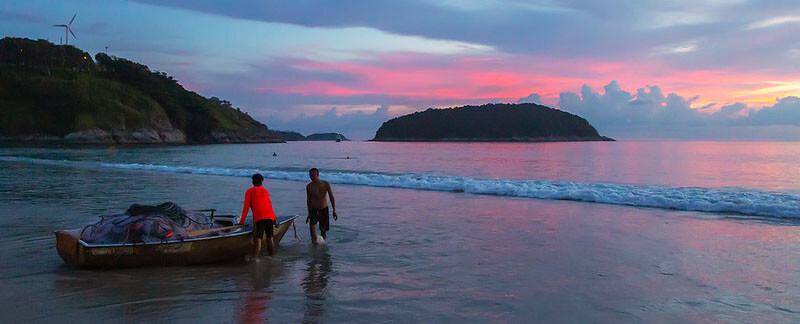 The Rawai Beach area of Phuket is, surprisingly, not really the best destination for beach lovers. The beach faces east into Phuket Bay, and the waters here are often muddy and less clear than on the west coast beaches.
It is still an interesting place, though, and a good choice of location for people who are interested in getting a little bit off the beaten tourist path and exploring the real Phuket.
There is some great seafood to be found here since this side of the island is where fishing boats unload their fresh catch. Local restaurateurs hover and vie with each other to get the best and freshest fish, and a seafood meal at Rawai is a highlight of a Phuket Trip.
Rawai is also a good place to take a day trip to explore some of the stunning islands that lie just offshore from Phuket.
Within the Rawai area, you can find the Nai Harn Beach which is one of the most beautiful beaches in Phuket, where you can enjoy watersports, cycling and running. Ya Nui Beach has calm water, ideal for kids to swim also a great spot for snorkeling.
From Rawai, you can take longtail boats to Koh Bon Island which is a great place for snorkeling, and Coral Island where you can find Banana Beach and Long Beach, and enjoy many of its watersports.
To have great views of the area, head to Promthep Cape Lookout. Meanwhile the Phuket Seashell Museum and Rawai Seafood Market are also worth visiting!
Advantages: Tranquil atmosphere, Proximity to islands, and fresh seafood restaurants.
Disadvantages: Limited nightlife; Distance from popular attractions, making it relatively far from popular Patong Beach and Old Phuket Town. This can result in longer travel times.
Stay in Rawai beach if you want to see the real Phuket, love seafood, looking for budget accommodation, and want to visit nearby islands.
Best places to stay in Phuket in Rawai Beach for first-timers:
MORE HOTEL DEALS IN RAWAI BEACH
See more: Frequently Asked Questions Best Places to Stay in Phuket
See More:
Summary – Where to stay in Phuket?
In conclusion, Phuket Town, Patong, Karon, Kata, Kamala, Mai Khao, Nai Thon, and Surin are some of the best places to stay in Phuket for first-timers and tourists. The best area depends on your preferences, whether you want a lively nightlife, a peaceful beach escape, or a mix of both.
Overall, in my oponion, if you want want lots of shopping, history and culture, Phuket Town is best choice. If you are after party and nightlife, head to Patong Beach, while Kamala Beach, Kata Beach, and Bang Tao Beach are ideal for families. If you are couples looking for a quiet holiday, head to Mai Khao Beach, Surin Beach, Nai Yang Beach, and Naithon Beach.