The best areas to stay in Philadelphia for first-timers are the neighborhoods of Old City, Center City and Midtown Village, Rittenhouse Square, University City, Fishtown/Northern Liberties, South Philadelphia. In this guide we weill be looking at where to stay in Philadelphia for families, nightlife, without a car, and safe places to stay in Philadelphia.
The eight best areas to stay in Philadelphia are all within walking distance to America's most historic and influential sites. You can walk through an exhibit examining Civil War and Reconstruction and then stop for lunch for Philadelphia's delicacy: the Philly cheesesteak sub.
Philadelphia is enriched with American history and art. You can take a walk through American history in what is known as "America's most historic square mile." Philadelphia is home to the UNESCO World Heritage Site, the National Constitution Center exhibit, and Independence Hall.
Old City/Society Hill is the best place to stay in Philly for first-timers due to its proximity to the city center with its attractions and many choices in accommodations. It's the best place to immerse yourself into the historic culture of Philadelphia.
Old City and the Center City is the area to stay in Philadelphia without a car because it has a super central location. It's walkable, you can explore on foot. There are also public transportation such as bicyle, buses, trolleys, subways of Southeastern Pennsylvania Transportation Authority (SEPTA).
If you want a fast-paced scene and bright night life, you should look into the Center City area. Center City's Midtown village has bars with live music. The benefit of staying in Philadelphia is, no matter where you choose to stay, you will have access to an amazing historic experience. Philadelphia is rich in American history.
Philadelphia is a safe city for tourists but as in any big city, you should use common sense and be aware of surrounding. If you are looking for the safest place to stay in Philadelphia, look into the Old City and Center City neighborhoods.
You can take a day trip to special monuments if you are staying in a nearby neighborhood. After venturing to see the Liberty Bell and where the founding fathers signed the Declaration of Independence, you can enjoy the nightlife.
In various neighborhoods, they have extraordinary events each year and specials on shopping. The best time to travel to Philadelphia is in late spring and early summertime. The temperatures start to warm without the suffocating summer heat. Many visitors love seeing the cherry blossom trees bloom in Fairmount Park.
Best areas to stay in Philadelphia for tourist
1. Old City – Society Hill, where to stay in Philadelphia for first time visitors
Old City and Society hill are the best places to stay in Philadelphia for first-time visitors because it has a prime location and it has a wide range of accommodation for all budget. Old City is also one of the safest area to stay in Philly that offers plenty of contemporary art galleries, museums, parks, great nightlife, and shopping.
The location is perfect, as it is near national historic sites like The Liberty Bell and Independence Hall. The neighboring cities with these historic sites are within walking distance or a short cab ride.
Both Old City and Society hill are located on the bank of the Delaware River and separated by Walnut Street. Society Hill stretches from Walnut Street on the north to Lombard Street to the south while Old City stretches from Vine Street on the north to Walnut Street on the south.
When you walk the cobblestone streets of Old City and Society Hill, you will notice the neighborhoods have been preserved.
Society Hill was home to a number of luminaries during the post-revolutionary era. Some notable figures in history include Samuel Powel, former first lady Dolley Todd Madison, and Thaddeus Kosciuszko. After the US declared independence, Samuel Powel was the first city mayor. Thaddeus Kosciuszko was a Revolutionary War hero.
The Organization of World Heritage Cities (OWHC) designated Philadelphia as the birthplace of the nation. When you walk through Society Hill, you will stroll through time.
You will find Washington Square, part of Independence National Historical Park. It was established by William Penn's original city plan as a key part of the city's civic architecture. He envisioned greenery to mimic London's beautiful parks.
There are plenty of monuments and attractions within walking distance to Washington Square historical, including the Independence Visitor Center, the Liberty Bell Center, Independence Hall, Congress Hall, the Benjamin Franklin Museum, and the National Constitution Center.
You can also find attractions like the Betsy Ross's house, the Headhouse Farmers Market, and the St. Augustine Church. Founded in 1796, St. Augustine Church has beautiful high ceilings and is rich with history. In 1999, producers filmed the Sixth Sense, 200 years after its construction.
The Headhouse Farmers market has grown extremely popular among visitors and locals. It is abundant in fresh fruits and vegetables. You can purchase homemade ciders, ale, and other locally prepared foods.
History buffs will find plenty of museums here such as the National Liberty Museum, the Independence Seaport Museum, and the National Museum of American Jewish History.
The National Liberty Museum displays a replica of Nelson Mandela's jail cell and hosts new cutting-edge exhibits. The new exhibits are often temporary, making every trip to the museum unique and interesting.
During the early 20th century and late 19th century, Society Hill declined economically. However, officials preserved the buildings. Today you can still see the famous architecture and historic buildings that remain intact.
City planners were careful to design more modern city-living while maintaining the historic presence. Edmond Bacon is one of Philadelphia's most famed architects. Bacon worked diligently to design the city, revive the economy, and help residents flourish.
Old City and Society Hill have streets lined with brick. There are oil candle-lit bars, while you have drinks with your friends. As you walk along the brick roads, you will see colonial-style houses lining the street. These refurbished streets date back to the old colonial days after the 1970s highway construction nearly destroyed them.
Founding fathers like, John Adams, Thomas Jefferson, George Washington, and Ben Franklin lived in this area. Philadelphia was one of the busiest cities in history as the most important people in American history lived there.
Old City is also home to Elfreth's Alley. Dating back to 1703, Elfreth's Alley is comprised of thirty-two historic houses along a small cobblestone path. Officials named the alley a National Historic Landmark. Two houses on Elfreth's Alley now serve as a gift shop and museum that displays artifacts from hundreds of years ago.
There are beautiful shopping boutiques and amazing candle-lit dining. You can immerse yourself in historic culture while enjoying the benefits of modern comfort.
Visitors can easily navigate Society Hill and Old City on foot. However, there are accommodations for travel such as the bus, train, and cabs. You can easily explore the city without hiring a car;
Best places to stay in Society Hill and Old City:
🔍FIND BEST HOTELS IN OLD CITY
See more:
2. Center City and Midtown Village, best areas for shopping and nightlife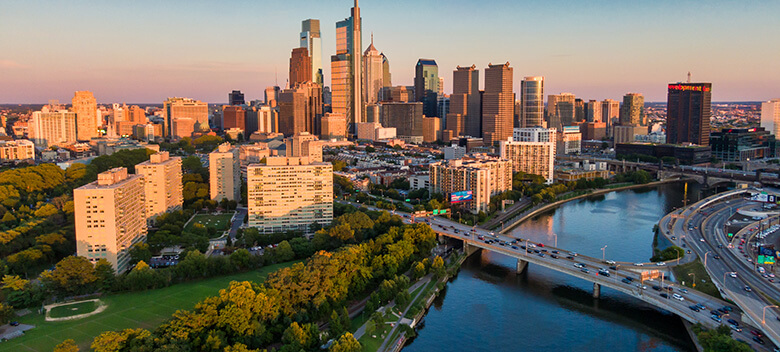 Center City along with Old Town is one of the safest neighborhoods in Philadelphia for tourist. Midtown Village is a neighborhood in City Center. The village neighbors Rittenhouse Row. It also is very closely located in Philadelphia's top tourist attractions like Independence Mall and Liberty Bell.
Center City's Midtown Village is thriving with restaurants, bars, and boutiques. The local retailers sell hand-made products like custom stationery, candles, and hand-poured soap. These local retailers carefully design each unique product that makes the perfect gift or keepsake for your Philadelphia trip.
Are you planning a wedding or special event for your visit to Center City's Midtown Village? There are custom invitation and stationery stores that will carefully design beautiful invitations and memorabilia for your special occasion.
Paper on Pine is a well-known stationery store that works with local Philadelphia printing companies. If you are having a special occasion in Philadelphia, why not have the keepsake Philadelphia crafted?
Midtown Village has various places to stay including hotels, motels, and Airbnbs. These accommodations are just a short walk to the beautiful scenery and restaurants. Midtown Village is also a short ride away from the historic neighborhoods, offering a more diverse trip to Philadelphia.
Chef Valerie Safran and Chef Marcie Turney own restaurants in Midtown Village along 13th Street. Some of the businesses they own include Lolita, Verde, Barbuzzo, and Open House.
Chef Michael Schulson is a local celebrity. He serves Asian dishes, coffee, and craft cocktails. His celebrity status makes the Double Knot and Sampan highly desired eateries. You and your family will be able to enjoy exquisite dining and drinks at either of his establishments.
Center City is unique. Visitors can find locally made gifts and amazing food in Center City's neighborhood Midtown Village. Midtown Village is family and adult-friendly. There are immaculate restaurants, bars, and shopping boutiques.
Locals consider Center City the heart of Philadelphia geographically speaking. It is located, as the name describes, in the center. Finding a place to stay is easy, and finding attractions is easier. There is never a dull moment. Center City is the best area to stay if you want easy access to the top tourist attractions.
Love Park also called JFK Plaza, is a top tourist attraction. You can snap a selfie with the Robert Indiana statute and then dip your feet into the water fountain directly behind it. Do you or your children love to skateboard or rollerblade? Love Park is a perfect place to skate and board.
Love Park is romantic for adults and fun for the whole family. You can see the Philadelphia Museum of Art while you and your children skate around the park.
If you enjoy the water, the Schuylkill River runs from Center City to Parker Ford, PA. Schuylkill River is beautiful and a perfect setting to get an amazing family picture.
You can also find attractions like the Reading Terminal Market, the Franklin Institute, the Mütter Museum, and Shops At Liberty Place.
City Center and Midtown Village is Philadelphia's tourist hotspot. If you are looking for a place where there are an adult and child-friendly activities, historic attractions, and luxurious hotels, Center City is the place to stay.
Best places to stay in City Center and Midtown Village:
🔍FIND BEST HOTELS IN PHILADELPHIA CITY CENTER
3. Parkway Museum District, where to stay in Philly fot history buffs
The Parkway Museum District describes the area is known for its outstanding museums. The Parkway Museum District is centered on the "Museum Mile". This terminology was coined due to the large number of museums located in this mile. It is also part of the Benjamin Franklin Parkway. It also is part of the Fairmount neighborhood.
The Benjamin Franklin Parkway stretches one mile. It goes to the Philadelphia Museum of Art to the edge of Fairmount Park. In this one-mile stretch, there are various family-friendly and history-goer attractions including museums and cultural institutions.
A French planner Philippe Cret and French designer Jacques Gréber designed The Benjamin Franklin Parkway. The intricate design reflects the Champs-Élysées of France.
The Philadelphia Museum of Art is in the Parkway Museum District. This museum has an enormous art collection. There are exhibits displaying Asian ceramics, Renaissance masters, and even contemporary artists.
The well-known Rocky Statue is at the base of the Philadelphia Museum of Art's steps. You and your family can take pictures with the statue and then run up the steps like in the popular movie.
The Franklin Institute is an amazing all-ages place to visit. The institute encourages children and families to explore and discover. You can challenge yourself in an escape room, learn the mechanics of energy and electricity and feel the forces of flight during takeoff. The Franklin Institute provides a fantastic opportunity for learning and fun for all ages.
If you decide to visit during Halloween, the Eastern State Penitentiary is rumored to be haunted. During Halloween they will decorate the former prison as a haunted house, frightening all who enter.
The Eastern State Penitentiary used to hold the famous Al Capone. During regular business hours, they offer you an audio-voiced tour so you and your family can explore at your own pace.
Shortly after Halloween, the parkway hosts a large Thanksgiving Day Parade which is great fun for the whole family. In the summertime, The Parkway Museum District is host to a large Fourth of July celebration and the Made in America Festival. Did you know that the Pope has even delivered mass on the parkway back in 2015?
The Parkway Museum District is fun for the whole family any time of year. If you are looking to attend a special event, you should prepare accordingly.
For example, if you want to see the Fourth of July celebration, you should make accommodations in advance. Hotels and Airbnbs reservations quickly become unavailable during this time. You can easily make reservations at a hotel or other accommodation online to save your spot.
Best places to stay in Parkway Museum District:
🔍FIND BEST HOTELS IN PARKWAY MUSEUM DISTRICT
4. Rittenhouse Square, an upscale neighborhood to stay in Philadelphia
Rittenhouse Square is one of the most beautiful neighborhoods in Philadelphia. It is one of the original five squares designed and established by the founder William Penn.
William Penn envisioned properties surrounded by greenery: trees, shrubs, flowers, and orchids. He wanted this greenery around public squares reflecting the parks in London.
He called this vision "Greene Country Towne." Rittenhouse Square encompasses his vision. The greenery and historic culture make Rittenhouse beautiful to this day.
Having held the founder's vision, Rittenhouse square is one of the most expensive and luxurious neighborhoods in Philadelphia. When you are making accommodations to stay in Philadelphia, you should be aware staying in or near Rittenhouse Square will be more expensive than in other neighborhoods. However, the fine dining and attractions are well worth the cost.
During separate times of the year, Rittenhouse Square hosts festivals, shows, and events. In the fall, there is a huge art show called "Circle the Square" during the Rittenhouse Square Fine Art Show.
May is an exciting time to visit Rittenhouse Square. During this month, Rittenhouse square hosts the Square Spring Festival. Tens of thousands of visitors visit Rittenhouse square for this festival. There is shopping, live entertainment, and plenty of food. You and your loved ones will have an experience of a lifetime.
In the summertime, Rittenhouse Square is bustling with artists and performers. You can enjoy a delicious lunch while admiring the greenery. During a stroll through the square, you will find amazing boutiques and artists selling their designs.
The holidays are also a fun time to visit Rittenhouse Square. Christmas time is extra special with Tree Lighting. Thousands of holiday decorations light up the square. Christmas songs will echo through the square as you and your family stroll through the square. Christmas time is a wonderful time of year to visit.
Rittenhouse Square is the perfect place to bring your children or have a romantic getaway for you and your loved one. The beautifully designed square is perfect for a photo-op with a mix of family and adult activities.
As discussed previously, Rittenhouse square is more expensive than other places to stay in Philadelphia. However, local accommodations like hotels have special packages that can save you money.
For example, booking with some hotels may get you free tickets or a "buy-one, get-one" special to events. Other hotels may include free off-road parking and other guest specials. A boutique hotel is also an extravagant option to those that want a quieter setting near the square.
Best places to stay in Rittenhouse Square:
🔍FIND BEST HOTELS IN RITTENHOUSE SQUARE
5. University City, where to stay in Philly on budget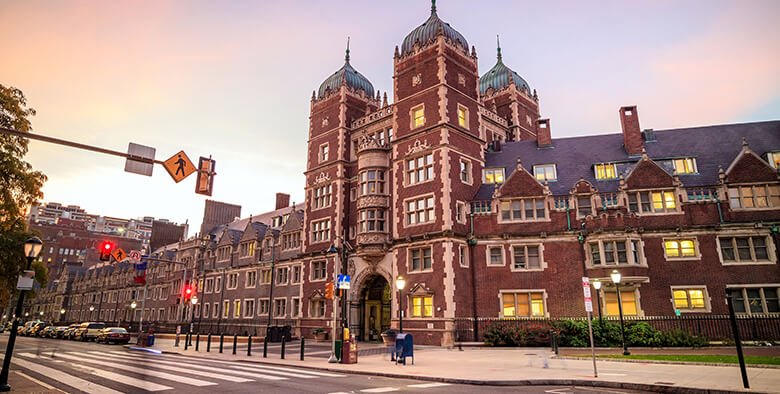 University City is in the center of West Philadelphia. The city is known as the academic epicenter because it is the location of two major institutions: Drexel University and the University of Pennsylvania.
The college town is youthful and filled with innovation. Students from all over the world live in University City for their college years. But what does college have to do with visiting? It sets the feel and scene.
The population of University City is young and vibrant while the town is historic. During the year, students' parents and families visit for the holidays and breaks. There are attractions for all ages.
West Fairmount Park is the main attraction. The whole family will find enjoyment in the green acres. Did you know that it is home to the nation's first zoo? The Zoo brings thousands of visitors all year. It is an interactive experience with petting zoos and fun exhibits.
University City is home to The Institute for Contemporary Art (ICA). This ICA has been the source of controversy throughout history. In 1965, Andy Warhol nearly caused a riot due to the exhibit displaying his latest art. This art that sparked debate and controversy later became a trend.
The ICA displays art pieces from Agnes Martin, Robert Indiana, Laurie Anderson, and Andy Warhol to name a few. You and your family can visit the institute and witness valuable pieces that established culture in art history.
Famous critics from the New York Times have commented on the innovative and controversial galleries from the ICA. The ICA is the main attraction for the art-goer in University City.
Another art attraction is Penn Campus. Artists from all over have art displayed through its soaring ceilings and galleries. The campus hosts various art and fashion shows. Some noteworthy past shows include Rudi Gernreich and Tony Conrad's displays.
When you are making plans to visit University City, you should check the calendar for the art and fashion shows. These displays are a wonderful experience for all ages and the fashionista.
University City is one of the best places in Philadelphia. The entire family can enjoy the young and fast scene or slow down for a stroll in the park. You can take your children to the Zoo one day and enjoy a romantic dinner with your significant other in the evening. University City is known as the academic center, but also as an art hub.
Best places to stay in Philly in University City:
🔍FIND BEST HOTELS IN UNIVERSITY CITY
6. Fishtown/Northern Liberties, cool places to stay in Philadelphia
Fishtown is a working-class neighborhood. Fishtown was nicknamed Fishtown due to it being the center for the commercial fishing industry. Fishtown is not as luxurious as Rittenhouse square but is a charming family town.
The neighborhood has narrow streets with row homes. Many small business owners are dependent on their neighbors and visitors to stay in business. Fishtown is composed of locally owned and locally made products.
Fishtown is located south of Lehigh, east of Front, west of the Delaware River and North of Girard. This area is home to longtime residents as well as a recent influx of new residents. The combination of the old and new makes Fishtown unique.
The narrow streets are bustling with life. Family-owned businesses such as restaurants, studios, galleries, and bars are the main source of attraction in Fishtown. You will get that hometown feel in a big city.
Northern Liberties is directly southeast of Fishtown. You can easily travel from one place to another with your vehicle or public transportation.
When you walk through Northern Liberties, you will see sanctioned projects by the Mural Arts Philadelphia. On buildings, local artists have designed and painted murals. For example, if you walk 2nd and Poplar Streets, you will see murals of eagles, a portrait of Benjamin Franklin, and a large painting of a bison. Murals do change and rotate so each experience is new.
Each August, Northern Liberties hosts a huge event called the Northern Liberties 2nd Street Festival. This festival is fun for the whole family. During the day there are kid-friendly activities and games. There is live music, amazing performers, craft sales, and food/drink vendors. As the evening wears on, the live entertainment does not stop. You can enjoy beer and cocktails while enjoying the live bands.
When you plan to visit Fishtown or Northern Liberties, there are a small bed and breakfast inns and Airbnbs. The best hotels to stay in are located just over half of a mile away in Center City. When you stay at one of these hotels, you will get the benefits of a large hotel and still be able to easily access the small-town feel of Fishtown and Northern Liberties.
🔍FIND BEST HOTELS IN NORTHERN LIBERTIES
7. South Philadelphia, where to stay in Philly for foodies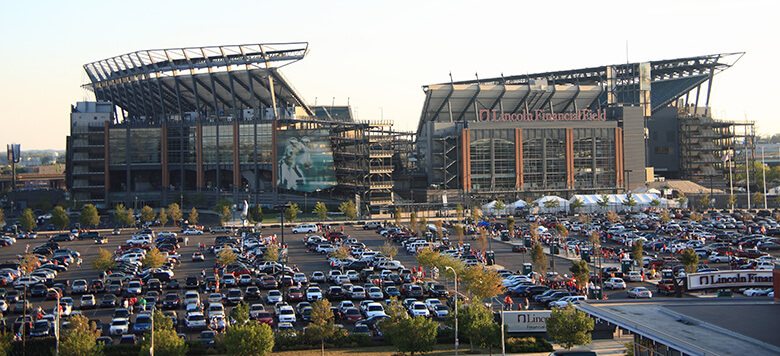 South Philadelphia is known for its residents' Italian Heritage. Throughout the years South Philadelphia has grown increasingly diverse attracting residents from all backgrounds and cultures.
With its diverse culture, South Philadelphia has multicultural food attractions. You can enjoy Asian cuisine for one meal and get a taste of Italy with your next.
Did you know various iconic films took place in South Philadelphia? The Sixth Sense and the Rocky franchise are two extremely popular films that are set in South Philadelphia.
The Lincoln Financial Field home to the Eagles is in Philadelphia. Are you a fan of the Eagles or a fan of a team about to play the Eagles? Thousands of visitors and tourists schedule their vacation around an Eagles game. Fans of all ages pack the stadium, while they enjoy a classic American sport.
Do you love shopping? King Prussia Mall has all the newest trends, styles, and products without the hassle of New York traffic. King Prussia Mall is the largest US retail space making it a tourist destination. There are over four hundred stores to shop displaying high-end name brands. In November and December alone, over five million people will shop at King Prussia Mall.
Magic Gardens is located on South Street in Philadelphia and displays work from Isaia Zagar. His mosaic tiles are both indoors and outdoors in a sculpture garden. It takes about 15 minutes to walk and spans about half of a block. Magic Gardens is a visionary art environment and a must-see when in Philadelphia.
There are many places to stay in South Philadelphia from motels to hotels to Airbnbs. If you are traveling on a budget, it is not a problem South Philadelphia has accommodations that span over a wide range of price ranges.
Best places to stay in South Philly:
🔍FIND BEST HOTELS IN SOUTH PHILADELPHIA
8. Around the Philadelphia International Airport
The Philadelphia Airport is extremely large. Whether you are stuck on a layover or want to explore nearby, there are tons of activities for the entire family around the airport.
Around the airport, there is a myriad of stores such as Pandora, Taxco Sterling, The Body Shop, Tech Interaction, Roster, Philadelphia America!, Lids, Tumi, Sunglass Hut, Gap, Finish line.
If you love to shop, the airport is a terrific location. The airport also offers transportation to local accommodations like hotels, motels, Airbnbs, and boutique hotels. A car service will assist you and your family to get to your destination safely with your belongings. There are also car rental services right at the airport so you can have a car during your stay in Philadelphia.
Are you stressed out after a long flight? The airport has a spa to help you relax. You could walk off your plane and right into a massage to start your vacation.
The airport also has an amazing culinary scene. You can choose from fast food to a fine dining experience. Your family will have a wide range of food choices, so everyone will be happy.
Best places to stay in Philly near the airport:
mid-range ($$): Philadelphia Airport Marriott This 4-star hotel is connected directly to the Philadelphia International Airport. it has a car park, a gym, a business center, as well as an on-site Aviation Grill that serve American cuisine.
budget ($): Residence Inn by Marriott Philadelphia Airport This is a 3-star hotel that offers free private car parking onsite, free wifi, and 24-hour front desk.
budget ($): Delta Hotels by Marriott Philadelphia Airport This hotel offers spacious rooms and suites a Smart TVs, free wifi, coffee makers and tea service. Guest can request airport shuttle service.
🔍FIND BEST HOTELS IN PHILADELPHIA AIRPORT
See more:
The best places to stay in Philadelphia have tons of tourist attractions, amazing dining, and access to transportation. The best hotels come with extra amenities like free parking and exceptional deals on tickets to local attractions. Whether you want to stay in a luxurious hotel in Philadelphia or a cozy bed and breakfast, the city has accommodations made for you and your family.
Philadelphia is America's historic city. You can take a trip in history by visiting the Museum of Art, National Constitution Center, and Independence Hall. Another day you can explore the greenery of Rittenhouse Square or the Zoo in University City.
Travel is easily accessible with numerous forms of public transportation including buses, trains, and taxis. Visitors from all over the nation can easily get from one place to another. If you are interested in the best places to stay in Philadelphia, these top eight places are the hallmarks of what Philadelphia has to offer.