Where to Stay in Oahu First Time? for family, couple, honeymoon, nightlife, shopping, beaches, and surfing. In this guide, we will be looking at the best areas to stay in Oahu (include map and video), and the best hotels in Oahu for all budget travelers.
As the most visited island in Hawaii, it is filled with all the amenities you could want from a tourist destination. With pristine beaches, luxury hotels, stunning vistas, and incredible attractions, Oahu (also known as The Gathering Place) have all the ingredients for an idyllic island vacation. 
Where to Stay in Oahu First Time?
The best areas to stay in Oahu for first-timers are Waikiki/Honolulu, Ala Moana, Diamond Head, Kahala, Kailua, La'ie, North Shore, Pupukea, Ko Olina & Makaha, Kapolei. These neighborhoods are very popular and safe for tourists that offers a variety of attractions and amenities.
Waikiki/ Honolulu is the overall best area for first-time visitors. It is the capital and largest city in the state of Hawaii. With built-up tourist areas, beaches full of activities and amenities, and countless places to shop, drink, and eat, it is the perfect location for those who want everything within walking distance.
The Leeward Coast on the west side of the island is largely undeveloped, consisting primarily of small rural towns, although some larger developments are underway. This makes it a great choice for anyone looking to enjoy the natural beauty and a more authentic experience of the island. The Leeward Waianae include towns of Makaha, Ko Olina, and Kapolei.
The north shore of Oahu features some of the best breaks in the world and, as a result, hosts numerous important surf competitions. This makes it the best choice for surf fans, whether you want to get out on the waves or simply watch others showing off their skills. The North Shore is the area from Haleiwa To Turtle Bay.
Oahu's East Shore (also known as Windward Coast) is made up of residential areas, separated by stretches of untouched beauty, offering stunning views. This makes it ideal for people who prefer a less built-up area, but who don't want to be completely cut off. Windward Coast incluce towns of Kaneohe and Kailua.
Map of the best areas to stay in Oahu:
Best areas to stay in Oahu for first-time tourists are:
1. Waikiki/Honolulu
Waikiki in Honolulu is the best overall area to stay in Oahu for first-time travelers because it is the tourist hub of Hawaii and it has the widest range of accommodation options for all budget. Staying here allows you to be surrouded by beautiful beaches, romantic restaurants, bars, and shops.
Located on the south shore of the island, Waikiki is well known for its incredible collection of six gorgeous beaches, which includes Waikiki Beach, Fort DeRussy Beach, Gray's Beach, Kahanamoku Beach, Kúhió Beach Park, and Queen's Beach.
Waikiki Beach is the most well-known of the group. Backed by palm trees and some of the best luxury hotels on the entire island, it is one of the best Oahu resorts for those seeking a relaxed and refined experience during their vacation.
The golden sands are perfect for spending lazy days topping up your tan, while the facilities to its rear ensure all of your needs are catered to. A stunning statue of surf legend Duke Paoa Kahanamoku stands tall on the beach, paying homage to the area's surfing history.
Kuhio Beach Park is also extremely popular in its own right, both with locals and tourists alike. Its semi-protected waters make it a great choice for a family vacation with the children, while a collection of statues and works of art provides additional attractions to keep you occupied.
Many of the beaches in the area are well-known for their breaks, and so are popular among surfers, with professional and semi-pro competitions regularly being held here. This makes Waikiki a great choice for those looking to watch a contest, or perhaps even take part themselves.
Outside of the beaches, Waikiki is also known for its fabulous selection of shopping and dining options. This makes it a great choice for people looking to spend long days shopping, before relaxing with a meal, drink, or nap in a luxurious hotel or restaurant.
Kalakaua Avenue, at the rear of Waikiki Beach, features a great range of high-end, designer stores, interspersed with stylish hotels. There are even a number of surf wear brands present too, which helps reflect the true atmosphere of the area.
Located just slightly further inland, Waikiki's other main throughfare, Kuhio Avenue, is filled with cafes and restaurants, from relaxed beach joints to fine dining establishments. This ensures people of all tastes and budgets are catered too.
It also contains a collection of clubs, bars, and even a red-light district. This makes it the prime choice for those who prioritize nightlife during their stay, as there will always be somewhere for them to party into the early hours of the morning.
Other places of interest are Pearl Harbor, Iolani Palace, the Nuuanu Pali Lookout, Hanauma Bay Nature Preserve, Kapiʻolani Regional Park, Queen Kapiolani Gardens, USS Arizona Memorial, Atlantis Submarines, US Army Museum of Hawaii, Polynesian Cultural Center.
Many beaches are protected and safe for kids, so they don't worry about the waves. Families with kids will also love to spend a fun day out at Honolulu Zoo and the Waikiki Aquarium.
With beautiful beaches, luxury hotel, romantic seafront restautant, and good nightlife, Waikiki is also the best place to stay in Oahu for couples and honeymooners.
Stay In Waikiki/Honolulu – South Oahu If You want a great choice of stunning beaches; You want to stay in a luxury resort; Nightlife is a priority during your stay; You want a good range of shops, bars, cafes, and restaurants within walking distance; You are coming to watch or take part in a surfing competition.
Best places to stay in Oahu in Waikiki:
>> 🔍CHECK BEST HOTEL DEALS IN WAIKIKI <<
See more:
2. Ala Moana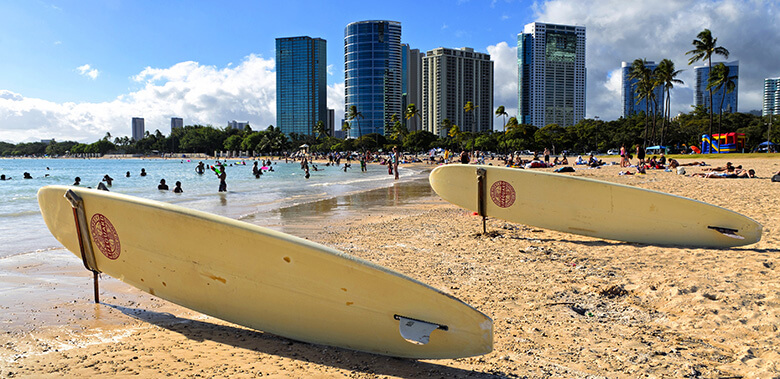 Ala Moana along with Waikiki is one of the most popular place to stay in Oahu. Ala Moana is a great central location, and most famous for being home to the world's largest outdoor market. The area originally came to prominence as it was bought by the company responsible for building many of the harbors on the island, including the famous Pearl Harbor.
Pearl Harbor is even located just a short distance away, making this a great place to stay for anyone planning to visit the Pearl Harbor National Memorial during their trip. However, despite its fame, it is far from the main reason people choose to stay in Ala Moana.
For starters, you have Ala Moana Beach, the most popular beach in all of Hawaii. Protected by coral reefs just offshore, it provides calm waters perfect for weaker swimmers, as well as plenty of places to explore for snorkellers and scuba divers.
Its beautiful golden sands are the ideal choice for those looking for a relaxing day in the sun, while the quieter west of the beach lets you pop into the ocean to cool off without worrying about mobs of tourists.
The beach is surrounded by beautiful grassy areas, filled with palm and banyan trees, making it ideal for a picnic, BBQ, or some outdoor fun away from the sand.
Then, you also have the Ala Moana Center, a beautiful shopping destination with distinctly Hawaiian architecture. The Ala Moana Center is the largest outdoor shopping mall in not just the Hawaiian islands but the entire world, as well as the most valuable in the entire United States.
With more than 350 different stores, restaurants, and services, the Ala Moana Shopping Center is an incredible destination for anyone looking to spend their vacation browsing through shops, breaking it up by stopping for food and drink in fabulous eateries and bars.
You also have Hawaii Convention Center, Foster Botanical Gardens, the Ala Moana Regional Park, Hawaii State Art Museum and Art Deco Aloha Tower, Magic Island, Ala Moana Beach Park, Iolani Palace, and Bishop Museum.
As a result of these attractions, Ala Moana has gained a reputation as one of the fastest-growing neighborhoods in Hawaii. This means you can enjoy some of the best hotels, beaches, and attractions, without the price tag that is usually associated with them.
Ala Moana is also conveniently located just next to the Daniel K. Inouye International Airport, the largest airport in Hawaii. This makes it a great place to stay for anyone worried about missing their flight or dragging their luggage all over town, as well as those stopping on a layover or wanting to remain near the airport for any other reason.
Stay In Ala Moana If you like shopping; you want to stay near the airport; you are traveling as a family; you want to stay in the best hotels, without spending a fortune; you want to go shopping at the Ala Moana Center; you plan to spend a lot of time at Ala Moana Beach.
Best places to stay in Oahu in Ala Moana:
>>🔍 CHECK BEST HOTEL DEALS IN ALA MOANA <<
3. Diamond Head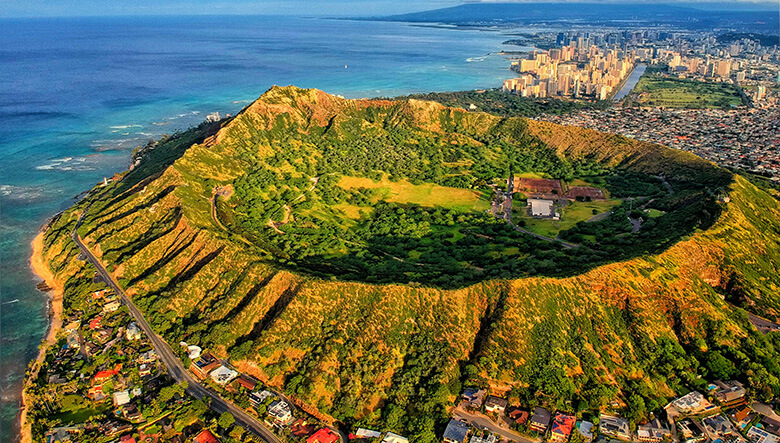 Diamond Head along with Waikiki is one of the best places to stay in Oahu for families because it all tourist amenities and is has protected beach for kids without worrying about the waves. Diamond Head has less crowded beaches and big parks with playground for kids.
Located immediately adjacent to Waikiki, to its southeast, Diamond Head is the southernmost point on the island of Oahu. Diamond Head is an iconic volcanic peak, named by 19th-century sailors who mistook calcite crystals for diamonds.
Diamond Head is considered one of the most recognizable locations on the island and has been designated a US National Natural Monument since 1968. Diamond Head was originally used for military installations, given its strategic position, high up on the coast of the island.
Even today, parts of the area are closed off and used for military antennas. It also features the Diamond Head Lighthouse, built at the base of the slopes in 1917. This is a fabulous spot for those looking to enjoy the most beautiful sunsets on the island.
However, Diamond Head is still an incredibly popular destination with tourists too. The Diamond Head Hiking Trail is the perfect place to get a feel for the natural landscape of the island, while a collection of slightly quieter beaches make it a good choice for those looking to relax, away from other people.
Nearby to the Diamond Head peak, you will also find the Kapi'olani Regional Park. The largest and second oldest public park in Hawaii, it is a fabulous destination for anyone who loves the great outdoors.
It features numerous basketball and tennis courts, baseball, lacrosse, rugby, and soccer fields, jogging paths, and even an archery range. Multiple international rugby and lacrosse tournaments are held here each year, while it also features the start and endpoints of the Honolulu Marathon.
It is even home to Honolulu Cricket Club, the only cricket club in the Hawaiian islands and the oldest sporting club of any kind anywhere in the pacific. This all makes it a great stop for anyone interested in playing or watching some sport during their stay.
Outside of sports, there is also a bandstand and the Waikiki Shell, a venue for concerts and large outdoor events. These provide numerous events and forms of entertainment throughout the year, so check the listing before you visit to see if there is something on that appeals to you.
Perhaps the most famous attraction in the park though is the Honolulu Zoo. The only zoo in the United States to be funded by grants from a sovereign monarch, it features a wonderful collection of animals in faithful recreations of their natural habitats, as well as works of art.
This makes it a great place to visit for those who want to learn more about the local wildlife, as well as a number of animals from slightly further afield. Diamond Head is also great are for couples, families, and budget travelers.
Other things to do nearby are visiting the Diamond Head National Monument, relaxing at the Leahi Beach Park or the Makalei Beach Park, the Battery Harlow, and The Shangri La Museum of Islamic Art, Culture, and Design.
Stay In Diamond Head– South Oahu If; you want to visit Honolulu Zoo or attend an event at the Waikiki Shell; you want to watch or take part in some sport during your stay; you prefer quieter beaches; you want to explore the largest public park in Hawaii or hike up the Diamond Head peak; you want to enjoy some of Hawaii's most stunning views.
Best places to stay in Oahu in Diamond Head:
>>🔍 CHECK BEST HOTELS NEAR DIAMOND HEAD <<
4. Kahala
Immediately to the east of Diamond Head is the final neighborhood of Honolulu we will look at, Kahala. Kahala is well known as one of the most expensive, exclusive areas in all of Hawaii. Beach villas and mansion-style houses are home to celebrities and moguls from around the globe.
While some older residents remain in more traditional housing, even homes considered to be run-down sell for around $1.5 million dollars, due to the land on which they sit. This means they are gradually being bought and demolished, to be turned into more modern, luxury accommodation.
This all makes Kahala a great choice for those seeking a truly refined and sophisticated experience during their stay in Oahu. The local hotels offer stylish afternoon tea and evening dinner services, which can be enjoyed while taking in stunning views of a bay that is home to bottlenose dolphins.
More energetic visitors can enjoy even more impressive views of the ocean from the top of the crater at the peak of the nearby Diamond Head Summit Trail. Speaking of which, Downtown Honolulu is also located just a short drive away for those who want to explore even further.
While many of the amenities in Kahala are high-end, boutique hotels, shops, and restaurants, you also have the Kahala Mall as well. With a collection of 100 outlets, featuring both stores and eateries of varying styles and prices, it is an inclusive destination with something for everyone.
This is furthered by the free morning exercise programs run there, as well as the communal gathering spots that are popular with students. It also houses a movie theatre, so is a great place to visit for anyone hoping to catch a film while they are in town.
Stay In Kahala If you aren't worried about money; you want to stay in an upper-class, more exclusive location; you want to enjoy stunning views of dolphins and the ocean; you want to go shopping or catch a movie; you are interested in free community exercise sessions.
Best places to stay in Kahala luxury ($$$): The Kahala Hotel and Resort
>> 🔍CHECK BEST HOTELS IN KAHALA <<
5. Kailua and Kaneohe
Located on the East Windward side of the island, around a 30-minute drive from Waikiki, Kailua is a beach town that is primarily residential in nature. Its name translates to "two seas" or "two currents" and relates to the currents that run through Kailua Bay.
Since 2008 it has been a vacation spot for former president Barrack Obama, who was born and raised on the island. This has gradually led to an increase in tourism, with those looking to escape the crowds of Honolulu discovering the fabulous beaches located here.
The eponymous Kailua Beach is perhaps the most popular, running for 2 and a half miles along the bay. The gently sloping sand and medium waves make it a great choice for water sports like surfing, with plenty of surf shops and places to get surf lessons dotted around, so everyone can get involved.
Steady winds lend themselves to activities like windsurfing and kitesurfing as well. Then, paddle boarding and kayaking to seabird sanctuaries on Flat Island and the tiny island of Na Mokulua, together known as "The Mokes", have become a popular way to combine nature and water sports.
If water sports aren't your thing, you also have Lanikai Beach, which regularly ranks among the best beaches in the world. While Lanikai Beach has very little in the way of amenities, it is surrounded by beautiful buildings and has a more cut-off feeling, although still gets busy in the high season.
Beautiful views of The Mokes and a phenomenon known as the moonrise make it a fabulous place to kick back and relax, both day and night. With parking around the beach almost non-existent, it is also especially suited to those who enjoy a stroll along the waterfront.
While beaches are certainly the main draw to Kailua for most, there are also a couple of other natural features that will appeal to adventurous visitors. First, you have the Kawainui Marsh, a stretch of wetland and a former fishpond.
Kawainui Marsh is the largest remaining wetland and ancient freshwater fishpond anywhere in Hawaii. Home to many Hawaiian birds, including 4 endangered species, as well as a regular stop for migratory birds, it is an ideal spot to visit for bird watchers, as well as wildlife fans in general.
Then you also have Maunawili Falls. Located in the Maunawili Valley, these stunning falls are a popular hiking destination, as they demonstrate the natural beauty of the landscape that Hawaii is known for.
The Maunawili Valley even contains a golf course and an agricultural research center. This makes Kailua the perfect choice if you want to learn more about the local landscape or play a round or two of golf during your stay.
Other things to do in Kailua include a visit to the weekly Farmer's Market, the Ho'omaluhia Botanical Garden Visitor Center, hiking at Pillbox Hike.
Kailua is a residential area, it has limited accommodations, if you stay here, you will find B&Bs and vacation home rentals.
Stay In Kailua (Winward East) If you want to learn to surf or paddleboard to a seabird sanctuary on Kailua Beach; you are interested in bird watching or wildlife in general; you want to learn more about the local landscape; you want to spend some time on a golf course; you want to relax or enjoy a moonrise on a completely undeveloped beach.
Best places to stay in Oahu in Kailua:
>> 🔍CHECK BEST HOTELS IN KAILUA <<
6. La'ie
Located on the northeastern side of Oahu, La'ie Staying anywhere along this stretch is a great choice if you plan to hire a rental car.
Take your time enjoying sights like lush valleys, country landscapes, and turquoise waters. These are then complemented by attractions like lighthouses and sea life parks, keeping you entertained, as well as in awe. There may not be anywhere better to really appreciate what Oahu is truly all about.
As for the town of La'ie itself, it is a laid-back destination that offers similarly beautiful features. For example, the La'ie Falls Trail cuts through the landscape and takes you to a scenic waterfall.
Then you have the La'ie Hawaii Temple. Its grand building sits on beautifully manicured grounds, allowing you to bask in the style and beauty of the island. It is even surrounded by food trucks, so you can sample the local cuisine to provide a truly local flavor as you explore.
You also have a choice of beaches that will appeal to different types of people. Hukilau Beach Park boasts calm waters for relaxed swimming, while La'ie Beach Park and Pounders Beach both feature powerful waves that draw surfers the whole year-round.
Perhaps the most popular attraction in La'ie though is the Polynesian Cultural Centre. A cultural theme park and living museum, it features simulated villages that demonstrate arts and crafts from throughout Polynesia.
This makes it a must-stop attraction for anyone wanting to learn more about the traditional Hawaiian way of life. In addition, they also host regular beach Luaus, which is an experience every visitor to Hawaii needs to have during their stay.
While there aren't a huge number of large chain hotels in the area, there are plenty of vacation rentals available. This only further adds to the authentic experience you will get by staying in La'ie.
Stay In La'ie If you want to explore the stunning views and landscapes of the Windward Coast; you prefer vacation rentals to large chain hotels; you want to learn more about the Polynesian people and their way of life; you want a good choice of beaches; you plan to rent a car.
Best places to stay in La'ie: Courtyard by Marriott Oahu North Shore
>>🔍 CHECK BEST HOTELS IN LAIE <<
7. Turtle Bay
Located on the north shore of Oahu, Turtle Bay gets its name from the Green Sea Turtles that were known to feed in the bay. This is also what led to the creation of the James Campbell National Wildlife refuge, located just along the north shore of Turtle Bay.
In addition to the turtles that Turtle Bay is named after, the refuge is also home to four endangered species of waterbirds and the endangered Hawaiian Monk Seal, as well as a number of species of migratory birds.
It provides a fabulous opportunity for nature lovers to explore the local landscapes and try and spot some rare and unique wildlife.
Turtle Bay is also home to some of the popular surf breaks the north shore is known for, such as Rainbows Break. The Bonzai Pipeline, considered by many to be the best break in the world, is also located just a little way along the north shore as well.
If you're visiting the north shore of O'ahu for surfing, you'll find the largest waves during the winter months (November through March).
There are, however, plenty of calmer sections of the ocean to be found around Turtle Bay too. For example, you will find one of the best spots for kayaking anywhere on the north shore here, which is a sport best performed on gentler waters.
There are even sporting opportunities to be had on land here as well. Two championship golf courses, the Arnold Palmer Course and the George Fazio Course give golfers an opportunity to play on some of the best courses around during their stay.
Outside of sports, there are also ruins and relics from the second world war for history buffs to explore. A concrete bunker and the Kahuku Army Airfield both give you the opportunity to explore the history of the conflict on the island where American involvement in the war truly began.
While the north shore isn't known for large hotels, its sole option is found in Turtle Bay. This is then surrounded by ocean villas and condos, making it the perfect option for those who want to combine surfing with a little style.
Stay In Turtle Bay If you are couples, families; you are a fan of surfing, kayaking, or golf, and want to watch or participate in any of them; you are a bird watcher or nature lover; you are interested in the history of the island during World War II.
Best place to stay inTurtle Bay: Turtle Bay Resort this is a beautiful resort for couples and solo travelers for relaxing getaway. It is located in North Shore, close to Haleiwa town, Polynesian Culture Center, and famed surf breaks – Banzai/Pipeline and Waimea Bay. Plenty of activies in the beach, plus helicopter tours, horseback rides, golf, spa, bike rentals, tennis courts, pickleball, and more are available on-site.
8. Pupukea
A short way west along the north shore from Turtle Bay is the small town of Pupukea. Pupukea literally translates to "white shell", due to the appearance of the waves on this stretch of the north shore.
Much like the rest of Oahu's north shore, Pupukea is an incredibly popular destination with surfers of all ability levels throughout the year. Massive waves allow them to test their skills, while some of the biggest surf competitions in the world are held in the area.
The two most popular surf beaches on the entire north shore can be found in Pupukea, Sunset Beach, and Waimea Bay at the far end of the town.
Sunset Beach stretches for two miles and is popular with both swimmers and surfers alike. It is considered only to be suitable for experienced surfers, due to extensive coral formations that lie just beneath the surface.
Waimea Bay has been considered the most prestigious big surf break in the world for decades, with waves up to 40ft seen multiple times per year. Despite that, it is still considered safer than Sunset Beach, due to not having the abundance of obscured reef that is present there.
While Pupukea and the north shore are inherently linked to surfing, there are other activities that can be enjoyed here as well. For example, Waimea Valley and the Kaunala Trail offer beautiful hiking spots, filled with stunning vistas and beautiful natural attractions like waterfalls.
Then you also have Pupukea Beach Park, which contains some of the best diving and snorkeling spots along the north shore. Areas known as Three Tables and Sharks Cove feature some of the best underwater locations in the region, just waiting to be explored.
Stay In Pupukea If you are an experienced surfer; you are interested in diving or snorkeling; you want to explore beautiful hiking trails boasting features like waterfalls.
Best places to stay in Oahu in Pupukea: Kalani Hawaii Private Lodging
>> 🔍CHECK BEST HOTELS IN PUPUKEA <<
9. Ko Olina & Makaha
Makaha is located quite centrally and is the most northern town on the Leeward Coast. Situated at the base of Mount Ka'ala, it represents everything the Leeward Coast Is known for. A rural, small-town with stunning views, it is perfect for those looking to enjoy the scenic side of the island.
Cut off from the built-up sections of the island, you can spend your days hiking the mountain ranges and forest reserves, or relaxing on much quieter, more isolated beaches. Then when evening rolls around, enjoy a meal or drink surrounded by locals, to get a really authentic taste of Hawaii.
Ko Olina, on the other hand, is a specifically designed resort at the south end of the Leeward Coast. Here you'll find high-end accommodation, designed to let people make the most of smaller crowds and more scenic views, without sacrificing the comforts of the big city.
With amenities like a golf course, marina, private beach, and all the shops, bars, and restaurants you could ask for, you'll always have options to keep you occupied. Then, when you're all worn out, you can kick back and relax in luxurious surroundings, making the most of the stunning views and peace and quiet.
You also have the Makaha Beach Park, Mt Ka'ala Trail, and Waikiki Surf Club to explore.
Stay In Ko Olina & Makaha If you want to stay in the most undeveloped part of the island; you love beautiful views and peace and quiet; you aren't a fan of other tourists; you want a great choice of different accommodation options.
Best places to stay in Ko Olina:
10. Kapolei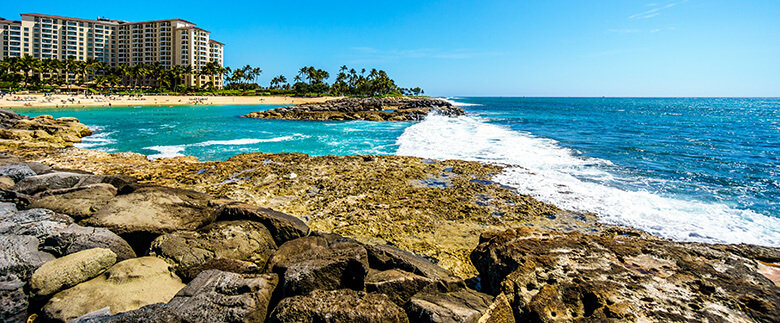 Continuing down the west side of the island, the family-friendly neighborhood of Kapolei is the southeasternmost point on the island of Oahu. Known as the "second city" of Oahu, it is one of the most up-and-coming areas on the entire island.
It offers a perfect blend of the island's authentic side, found throughout the Leeward Coast, with the attractions that can be found in the more built-up areas along the south shore.
With most of the amenities aimed at locals, as opposed to tourists, you will get to experience life as everyday Hawaiians would. Not only that, but you are less likely to fall victim to the price hikes that are common in heavily tourist areas, making it a great choice for those on a budget.
A perfect example of this is the Ka Makana Ali'I mall. Opened in 2016, it features more than 100 stores and eateries, spread over more than 1.4 million square feet. It is a perfect spot for anyone who loves a day spent shopping, drinking, and eating.
With less tourists, you will also be able to enjoy the beaches, parks, and golf courses in the area, without constantly having to deal with massive crowds. Kapolei isn't without its own attractions either, as massive tropical waterparks like Wet 'n' Wild Hawaii mean there is plenty of fun to be had.
Families with kids will also like to spend a fun day out at the Coral Crater Adventure Park, a 35-acre outdoor adventure center. Minimum age of 6 years old for ziplining and the aerial obstacle course.
Kapolei is also located on the west side of the bay that contains Pearl Harbour. This means you can get an incredible view of a historic location or travel just a short way to see it up close in all its glory.
Similarly, Daniel K. Inouye International Airport is also located just a short distance away. This again makes Kapolei incredibly convenient and is ideal for those who don't want any hassle or wasted time spoiling a single second of their stay.
You also have a wide range of beaches nearby such as Makaha Beach Park, Paradise Cove Beach, Kahe Point Beach Park, and other places to visit including the Naval Air Station Barbers Point Museum, the Ewa Villages Golf Course, and Barber's Point Golf Course for golf enthusiasts.
Stay In Kapolei If you want to be close to both Pearl Harbour and the Daniel K. Inouye International Airport; you want to stay in a more authentic location, with easy access to the big city; you enjoy quiet beaches, parks, and golf courses; you want to go shopping; you are traveling on a budget.
Best places to stay in Oahu in Kapolei:
>> 🔍CHECK BEST HOTELS IN KAPOLEI <<
Overall, Waikiki/Honolulu is the best place to stay in Oahu for first-time travelers because it is the capital of Hawaii and it has the widest range of accommodation options. If you stay here, you will be located within walking distance to tourist attractions, as well as shopping, dining, and nightlife.
Once you pick the best area to stay, all that's left is to decide how many days is enough for Oahu to book hotel. Well,is this is your first time, I recommend spend at least 5 days in Hawaii, this will allow you to enjoy the beaches, food, and drinks, as well as get the sense of the local culture and history.