Where to stay in Nice? The best areas to stay in Nice for tourists and first-time visitors are Old Town, Le Port, Promenade des Anglais, Jean Médecin, Cimiez, and Gambetta. These are popular and sanfe neighborhoods, offering a wide variety of tourist attractions and amenities.
This blog post will help you to decide the best areas to stay in Nice (include video and map),the best hotels in Nice for all budget travelers, and safest places.
Nice is the second largest city in the Alpes-Cote-d'Azur after Marseille and it is 5th largest city in France. It is best choice on the French Riviera because it is the cheaper than Cannes while still having all the things that attract tourists in the first place.
Nice has more authentic French city feels and excellent cultural sights than Cannes which is more of a beach resort with exclusive and luxury feel. Nice is bigger, busier, more lively, more nightlife than Cannes.
Where is the best area to stay in Nice?
Old Town (Vieux Nice) is the best area to stay in Nice for tourists, especially for first-timers. It is a safe central neighborhood in the historic heart of Nice, known for its narrow streets, colorful buildings, and bustling markets. It's also conveniently located near many of Nice's attractions.
In addition to Old Town, other most popular neighborhoods for visitors are Le Port, Promenade des Anglais, and Carre d'Or. They both near the beach, with plenty of things to do in its own neighborhood.
There is plenty to do for all, old and young. If you are looking for budget accommodation, you will not be disappointed while those looking for luxury hotels have plenty of choices. You can expect some amazing views from beachfront hotels out to the Mediterranean.
Nice's transport infrastructure can get you anywhere in the city or down the coastline easily. You have the choice of bus, tram or rail but taxis are expensive, so beware!
To book hotel, I recommend spending at least three day in Nice, which is enough to see famous attractions, experience beauty and charm of Nice. If time allow, you can also take a day trip to Cannes by train which only about a half hour from Nice-Ville Station. There are also many day trips to other towns in French Riviera or even hop over to Italy and Monaco.
Map of areas and neighborhoods in Nice:
🎬 To get an overall idea of Nice, check out this short video, or continue reading:
Best Areas to Stay in Nice for Tourists & first-time travelers:
1. Nice Old Town
The Old Town, or Le Vieux-Nice, is the best overall area to stay in Nice for first-timer travelers due to its central location. Staying here allows you to be located close to the city's top sights, churches, squares, and art galleries, as well as many shopping, dining, and nightlife venues.
Located below Castle Hill, historic Old Town is small and compact, you can easily explore by foot. The neighborhood is a maze of cobbled streets, pastel-colored buildings, little shops, and pretty squares create a unique atmosphere.
With Italian influence, you can find Italian style buildings and villas, as well as some amazing gelato shops. You can find famous ice cream shop Fenocchio at Place Rossetti. Other ice cream parlors are Azzurro, Oui, and jelato.
Every day, the Cours Saleya Flower Market adds a splash of additional color while the cafes and bars offer a chance for a drink. Just watching the world go by in Le Vieux Nice is fun.
If you walk up to the stair or use the free elevator to the Castle Hill, you will have stunning views of the marina and the Old Town. Castle Hill has a park, a military fortress, and several view points including Bellanda Tower and Cascade du Château, that offers stunning city views.
The oldest part of Nice is actually a century older but the baroque architecture you see today is largely 17th and 18th century. The 17th century Lascaris Palace, a Baroque style palace, is home to antique musical instruments, beautiful frescoed ceilings.
Nice Cathedral is one of the stand out landmarks in Old Town. Also known as Basilique-Cathédrale Sainte-Marie et Sainte-Réparate de Nice, this is Roman Catholic and was finished in 1685, English de Jesus, the Jesuit School, is from a similar time.
The Musee des Beaux-Arts was once a private mansion belonging to a Russian princess and opened as a museum in 1928. It exhibits four centuries of paintings by local artist Jules Cheret and other French painters.
Other points of interest are Place du Palais de Justice, Nice Opera House, the Museum of Photography Charles Nègre, Caserne Rusca, Tour Saint-Francois, Palais de la Prefecture, and Palais Rusca.
Stay in Le Vieux Nice if you're visiting Nice for the first time; you are interested in the history and culture of the city;
Best places to stay in Nice Old Town for first-timers:
luxury ($$$): Palais Saleya Boutique hôtel This 18th-century building is set in the Palais de Justice square at the entrance to the Old Town, within walking distance from Promenade des Anglais, Cours Saleya, Place Massena, the Coulée Verte with its playground and fountains, and variety of bars, restaurants and evening entertainment.
mid-range ($$): Les Suites Massena This bed and breakfast is set just 90 m away from Massena Square, close to MAMAC, Allianz Riviera Stadium, Nice Opéra, Nice Town Hall, Albert 1st Gardens, Verdure Theatre, and Nice Forum. it offers rooms with a private bathroom with free toiletries, a hairdryer, and free wifi.
budget ($): Hôtel Le G (ex Le Genève) This 3-star budget hotel is set in the heart of Nice, near the Port, the Acropolis Exhibition Centre, Garibaldi Tram Station, Nice Ville Train Station, and easily access Nice Côte-d'Azur Airport by tram.
🔍MORE HOTEL DEALS IN OLD TOWN
2. Promenade des Anglais
If you are looking for a place to relax near the beaches with sea views accommodation, look o further than Promenade des Anglais (Prom by locals or Walkway of the English). It was built by upper-class English tourists in the 19th century.
Promenade des Anglais is a 7 kilometers long iconic seafront, stretching from the city's airport in the west to the Quai des États-Unis (United States Quay) on the east. Its naming came about because of its popularity with 18th Century English aristocracy who wanted a better winter climate.
The promenade itself was paid for by members of the Holy Trinity Anglican Church in 1820 when there had been an influx of beggars into Nice in an especially bad winter. At the time, Nice was under the patronage of the Counts of Savoy and did not become a part of France until 1860, the year the locals gave it its current name.
The promenade is lined with interesting landmarks like Hôtel Negresco, the art-deco Palais de la Méditerranée, Hotel Le Méridien, Casino Ruhl, and Niçoise sculptor Sabine Géraudie's giant iron sculpture La Chaise de SAB.
Promenade des Anglais Beach is beautiful, clear blue water, no sand but some little rocks. It runs along Baie des Anges (Bay of Angels). There are several beach clubs, restaurants, sun loungers and parasols for rent in the private beach area if you want to do sunbathing.
The promade is popular with walkers, especially families on Sundays, as well as runners, roller skaters, cyclists, and skateboarders. On one side you have lovely architecture, grand homes that are now big hotels, luxury apartment blocks, casinos, and fabulous restaurants. On the other side is the Mediterranean.
Stay in Promenade des Anglais if you want stay right next to the beach; you want a hotel with sea views;
Best places to stay in Nice in Promenade des Anglais:
luxury ($$$): Hotel Negresco Beautiful beach front hotel with a daily buffet breakfast in La Rotonde restaurant, onsite British-style bar, and the Michelin star Le Chantecler restaurant. Michael Jackson has stayed here.
mid-range ($$): Hotel Suisse This Italian-style 4-star hotel has air-conditioned guest rooms include a flat-screen TV, minibar and telephone, and most have panoramic sea views.
budget ($): Arome Hotel All the guest rooms have a modern décor and are equipped with a flat-screen TV and safety deposit box. You can enjoy free breakfast with one croissant a hot drink.
🔍MORE HOTEL DEALS IN PROMENADE DES ANGLAIS
3. Gambetta
Gambetta is nice and lively district in the west of Nice which has a Mediterranean shoreline to the train station. Gambetta is easily reachable by public transport and it provides plenty of accommodation for all budgets. Its appeal is a result of the beach, plenty of things to do, good shopping and a range of restaurants.
Gambetta has some fine architecture to admire. There are modern buildings, art deco structures and remnants of the Belle Époque era. You can also find the Alsace-Lorraine gardens withits sculptures, and rare flowers.
Other places of interest are the art and history museum, Musee Massena, Basilique Notre-Dame de Nice, a famous nightspot L'Octopussy, and try the Italian cuisine at Le Terre Del Sud.
It is a backpacker favorite because of cheap accommodation, but not exclusively so. You will find good boutique hotels in the Gambetta neighborhood while the 20th-century Hotel Negresco matches most places in the city.
Stay in Gambetta if You want access to the beach, Your budget is such that you need relatively cheap accommodation, Access to the train station is useful.
Best places to stay in Nice in Gambetta for first-time visitors:
🔍MORE HOTEL DEALS IN GAMBETTA
4. Le Port
Located immediately east of Nice Old Town, Le Port is a trendy area. Its name is actually Port Lympia and it was the King of Sardinia, Charles Emmanuel III who began its construction in the middle of the 18th century. The history of the Port can be seen in the Terra Amata museum to the East of the area and by the Genoese architecture buildings on the Port front.
Le Port also sits below Castle Hill and within this district, you will find a house where Napoleon once lived from March to December 1794.
This area is a great place just to walk. You can get halfway along the breakwater towards the lighthouse on foot. As you walk, you will see plenty of activity with ferries coming and going from Corsica and Sardinia as well as the huge cruise ships which visit Nice and the exclusive St. Tropez.
Le Port has many trendy cafes, seafood restaurants, bars, antique shops and there is a flea market every day of the week except Monday nearby.
Notre Dame du Port sits in this neighborhood, a place of prayer for sailors since the middle of the 19th Century. The church is located on the Île de Beauté square on the northern bank of the port. The gay-friendly street of Rue Bonaparte is also nearby.
To reach the Old Port from Old Town, you can take T1 tram to Place Massena or nearby the train station.
Stay in le Port if You want a coastal location, The activity of a port appeals to you, You enjoy history and the chance of just walking around.
Best places to stay in Nice Port for the first time:
🔍MORE HOTEL DEALS IN NICE PORT
See more:
5. Jean Médecin (New Town)
Jean Médecin, or New Town, is best place to go in Nice for shopping. Home to Avenue Jean-Médecin and Place Massena, Jean Médecin offers plenty of shopping opportunities with many designers of French fashion, department stores, retail shops.
Avenue Jean Médecin is Nice's the main shopping street that is packed with chain stores, hotels, restaurants, super markets and cafes. It is also home to Galeries Lafayette department store. It's well-connected to tram on Line 1 and 2. Line 2 runs from the airport all the way to the port.
Meanwhile, Place Masséna is the main square of Nice. It is surrounded by lovely Albert I and Massena gardens. It also hosts numerous of urban events such as the Nice Carnival. In the square, you will find the Fountain of the Sun and the statues set on high poles.
Place Masséna lead to several big streets including Promenade des Anglais, Avenue Jean Médecin, and Paillon Promenade. Nearby, you can find statue of the Greek goddess Nike, an amphitheater, and the Albert I Garden.
The New Town has vibrant nightlife. You can begin with fine dining then head to any of several nightspots for dancing and live music. Jean Medecin offers you the best beaches locally while also having many hotels, restaurants, and high-quality shopping options. It provides the ideal seaside holiday that is a little upmarket without getting uncomfortable in huge crowds.
Jean Médecin is also home to Nicetoile shopping center, a 100 store shopping center with lots of dining, as well as several catwalk shows and exhibitions; for music and drinks, check out the iconic Hotel Le Meridien, Le Kosma, and Le Glam.
Stay in Jean Médecin (New Town) if You enjoy shopping in high-quality boutiques, you're looking for the best place to stay in Nice for nightlife, You want a base on the Mediterranean Coast.
Best places to stay in Jean Médecin for first-timers:
🔍MORE HOTEL DEALS IN JEAN MEDECIN
6. Cimiez
If you are visiting Nice on a family holiday, Cimiez, an old Roman city, is the first place to look. It is rich in history and was a favorite of the English Queen Victoria. Nobles and aristocrats from throughout France and beyond chose Cimiez for their holidays as a great place to relax. Queen Victoria stayed at Excelsior Regina Hotell in 1895.
Today, the residential area of Cimiez still offers the chance of peace and relaxation. It is a neighborhood of elegance at every turn, with lovely parks and impressive villas. It is an extremely safe part of the city with plenty of good restaurants.
Located in the north of Nice, Cimiez is centered around wide Boulevard de Cimiez. It is recommend to use public transport to visit Cimiez because it is located on a hill.
You can visit the Archaeological site of Cemenelum. Cemenelum was the capital of the ancient Roman province of Alpes Maritimes. Check out the archaeological museum, the ruins of the arenas, and Roman baths.
The largest collection of the work of the French painter Henri Matisse is in the Musee Matisse. Musee Marc Chagall contains the work of this other famous French painter.
Other places of interest are the Jardin des Arènes de Cimiez which is a beautiful public garden with lots of olive trees. There is also Monastère Notre-Dame de Cimiez, Seraphic Cross of Cimiez to visit.
Stay in Cimiez if You are on holiday with your family, History, especially that of the Romans, interests you, You want a quiet, relaxing base.
Best places to stay in Nice in Cimiez:
🔍MORE HOTEL DEALS IN CIMIEZ
7. Garibaldi
Garibaldi Square ((Place Garibaldi) is an important part of Nice's road network and one of the oldest in the city. Antonio Spinelli designed the square that is not fully pedestrianized. Indeed, there is a tramline running through it and Boulevard Jean Jaures, Avenue de la République, Rue Cassini and Rue Catherine Segurane running off it.
It means it is an ideal location for those wanting easy access to other parts of Nice. For example, Le Vieux Nice and Le Port are within walking distance so you don't actually need the tram or bus.
Beautiful baroque buildings line the square that gets its name because of the statue of Garibaldi. You will find the Cafe de Turin, the Chapel of the Holy Sepulcher, the National Theatre, the Museum of Modern and Contemporary Art, and the Muséum d'Histoire naturelle de Nice.
Giuseppe Garibaldi was an Italian soldier and the architecture has a real Italian feel. The Square is busy but it is worth sitting back with a drink just to watch the daily activity. You will hear street music and large TV screens in lively bars showing live sport regularly.
Head to the Museum of Modern Art and go to its rooftop terrace if you want 360-degree views of the whole area.
Stay in Garibaldi if You want a convenient base in Nice and are not concerned with crowds, Watching the world go by appeals to you, You don't need to be on the beach.
Best places to stay in Nice in Garibaldi:
🔍MORE HOTEL DEALS IN GARIBALDI
8. Carre d'Or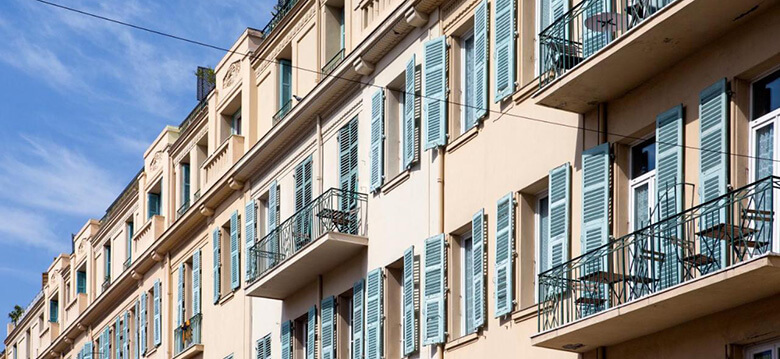 If you are looking for an exclusive district in Nice close to the beach, shopping, and the Old Town, you will find it in Carre d'Or. It is in the heart of the city and bordered with the Victor Hugo Boulevard to the north, the Promenade des Anglais south, Jean Medecin Avenue to the east, and Gambetta Boulevard to the west.
Real estate in Carre d'Or is expensive because this is a residential neighborhood as well as being an important commercial and tourist district.
The Victor Hugo neighborhood is where you will find impressive old buildings and beautiful gardens but another area is pedestrianized with cafes, shops, and restaurants. There are not many hotels, but each provides top quality. Marble Cross is a monument that dates back to the 16th Century.
Several of Nice's most famous streets and avenues are within Carre d'Or that you should certainly visit if you cannot afford it as a base.
Carre d'Or has well-connected public transportation, within walking distance to the tramway on Place Massena, and the main Nice-Ville train station and Old Town.
Stay in Carre d'Or if You enjoy exclusive areas away from crowds, Access to other popular areas in Nice is easy, A pedestrianized area appeals to you.
Best places to stay in Nice in Carre dOr:
🔍MORE HOTEL DEALS IN CARRE DOR
9. Libération
This area was renamed Liberation in 1944 to honor resistance fighters after World War II. Formerly called Saint-Lambert, its heart is Place du General de Gaulle but the locals call it "La Libé." The Liberation Market, an open-air market is popular, held near South Station, Gare du Sud whose design was inspired by the work of Gustave Eiffel.
This was an agricultural district a French nobleman, Thiole, built a lovely villa with gardens in the 19th Century which subsequently became a school. There was an immigrant labor force to help Saint Lambert's development and if you want a city center base, you could do worse than Liberation.
Liberation's architecture is a mix of old and new. Belle Epoque and Art Deco are common architectural styles in Liberation. The tree-lined streets have plenty of old villas and mansions.
Transport links are excellent whether bus, tramway or train. You don't need to go far for shopping, whether it is the market or the quality shops. Likewise, you have plenty of good restaurants to choose from.
Stay in Libération if You want to be in the city center, Quality shopping is important to you, Good transport links are a priority.
Best places to stay in Nice in Libération:
🔍MORE HOTEL DEALS IN LIBERATION
10. Mont Boron
Mont Boron is a hill district east of Nice from where you have great views down over Nice Le Port. The superstar Elton John owns one of the lovely villas in Mont Boron. At the very top of the hill stands the 16th Century Fort du Mont Alban. This hill was very important strategically in years gone by.
The whole area is great for picnics so it obviously attracts families wanting to enjoy a lovely setting including a park full of woods. The views are further east of the village of Villefranche-sur-Mer and the Cap-Ferrat Peninsula. Are equally stunning. You are 650 feet above sea level, more than enough to give you panoramas.
You can walk up the hill if you wish although it may not be practical for families with small children. You can take transport and there are several routes down including one into Villefranche.
Stay in Mont Boron if you like hiking; The idea of panoramic views each day is attractive, You can find a good option for families, You are not interested in being in the heart of Nice or the beach.
Best places to stay in Nice in Mont Boron:
🔍MORE HOTEL DEALS IN MONT BORON
What should I stay in Nice for the first time?
Old Town (Le Vieux-Nice) is the best overall area to stay in Nice for first-time travelers due to its central location, easy access to tourist attractions and amenities. Staying here allows you to be located within walking distance to the top sighs, many restaurants, bars, and shops.
What are the best areas to stay in Nice for tourists?
Old Town, Le Port, Carre d'Or, Promenade des Anglais, Jean Médecin, Garibaldi, Cimiez, Libération, Mont Boron, and Gambetta are the best places to stay in Nice for visitors because they are the city's most popular neighborhoods, offering a range of things to do and see for tourists.
How many nights should I stay in Nice?
If you are first-timer traveler, three days is enough to fully get a taste of the capital of Côte d'Azur. With 3 days, you can visit famous tourist attractions, enjoy food and wines, relax one the beach, or take a day trip to other parts of French Riviera.
See more:
Nice is a city of over 300,000. It is famous for its cuisine, traditional French cuisine with other Mediterranean, especially Italian, influences. With good wine on every menu, fine dining is available throughout the city.
Nice was popular with French nobility two centuries ago so there are reminders of days gone by alongside modern developments. These days, its airport brings visitors from other parts of France but also from the rest of Europe, the Middle East and North America.
Summary – Where to stay in Nice?
In conclusion, Old Town, Le Port, Promenade des Anglais, Jean Médecin, Cimiez, and Gambetta are some of the best places to stay in Nice for tourists and first-time travelers. They offer plenty of things to do and see for all travelers.
Overall, I recommend Old Town as the best area to stay in Nice for first visit due to its prime location. If you book a hotel here, you will be located in the heart of the city, within walking distance from many tourist attractions, as well as restaurants, bars, and shops.