The best areas to stay in Monterrey Mexico are the neighborhoods of Monterrey Centro, Apodaca, San Pedro Garza Garcia, Guadalupe, San Nicolás De Los Garza, and Santa Catarina. Today I will be looking at where to stay in Monterrey and best hotels in each district.
Monterrey is a city and metropolitan area that is both the second largest and second most productive in all of Mexico. Covering 4757 square miles and being home to more than 5 million people, the range of things do and see is immense, spread over an equally impressive area.
Located in the Santa Catarina Valley, Monterrey is surrounded by mountains such as Cerro de la Silla (Saddle Mountain) and Cerro de la Mitra (Mitra Mountain) make it a great place for adventure lovers.
Monterrey is general a safe city to visit, but it also has crime, you should be aware of surrounding, especially at night, and keep valuables in room safe. If you visit Monterrey, you should stay in well populated and well-policed tourist areas.
Centro De Monterrey is the best area to stay in Monterrey for tourist because it has a central location and it offers the greatest variety to offer in terms of both amenities and attractions. However, if you like the idea of convenience but aren't a fan of as much hustle and bustle, you may want to consider San Pedro Garza Garcia.
Where to stay in Monterrey? 6 Best Areas to Stay in Monterrey for tourists
1. Centro, where to stay in Monterrey for first-timers
Centro De Monterrey is the downtown area of Monterrey and offers everything you would expect of the central point in the city that is home to the largest population in the state.
Historical sections feature buildings and monuments giving you a history lesson on the city. Beautiful architecture paints a clear picture of how the city has evolved over more than 400 years, from when it was first founded in 1596 to how it appears today.
You can start exploring the city from Monterrey's main square, Macroplaza. Macroplaza is within walking distance of the top attractions like the MARCO and Palacio del Obispado.
The plaza is packed with colonial buildings and monuments, but the best-known landmark is the 230ft Lighthouse of Commerce (Faro del Comercio) and the Neptune Fountain (Fuente de la Vida).
You can also find Government Palace (Palacio de Gobierno), Esplanade of Heroes (Esplanada de los Héroes), a memorial to Diego de Montemayor, and the Metropolitan Cathedral of Our Lady of Monterrey.
If you like history, there are plenty of museums to explore such as the Mexican History Museum, the Palace Museum, Museo del Noreste, and the Museum of Contemporary Art of Monterrey (MARCO) on Gran Plaza, Pinacoteca de Nuevo León, and Metropolitan Museum of Monterrey.
To the east of Macroplaza, you will find Barrio Antiguo, the city's old Spanish Quarter. It's packed with 18th- and 19th-century colonial buildings, art galleries, shops, nightlife, and cafes. be sure to stop by Mercado Barrio Antiguo and grab some food.
If you stroll along the man-made area of Paseo Santa Lucía, you will reach the famous Fundidora Park (Parque Fundidora) where you can find Sesame Street Park (Parque Plaza Sesamo), a sports arena, a water park, as well as several museums.
Other green spaces in the city are Parque Zoologico La Pastora, Parque Loroventura, and Alameda Monterrey.
You can take a day trip to explore caves, waterfalls at the Grutas de Garcia, and Horse Tail Waterfall in the Cumbres de Monterrey National Park; mountain biking and hiking Chipinque Ecological Park.
A wide range of shops, bars, restaurants, and hotels fill the streets and squares, giving visitors the chance to purchase local wares and foods. You could try some traditional Mexican cuisine or tequila while sitting back, relaxing, and enjoying the stunning views of the city.
No matter your price range, souvenirs, both handmade and mass-produced are abundant, giving you plenty of choices to browse through to find a perfect memento of the city.
Available accommodation includes everything from low-cost guesthouses to 5-star hotels, ensuring you have something to perfectly match your wants and needs, regardless of your taste or budget.
It even has the benefit of being centrally located, so even if you want to visit the other areas surrounding it, you won't have too far to travel from here.
Like many city centers, Centro de Monterrey is an incredibly versatile, well-rounded destination. It offers a little bit of everything that most people long for on a trip abroad, including history, culture, luxury, and relaxation.
You should stay here if you are interested in the history of the city; you want a great range of shops, bars, hotels, and restaurants; you want to be centrally located.
2. Apodaca, where to stay in Monterrey for business travelers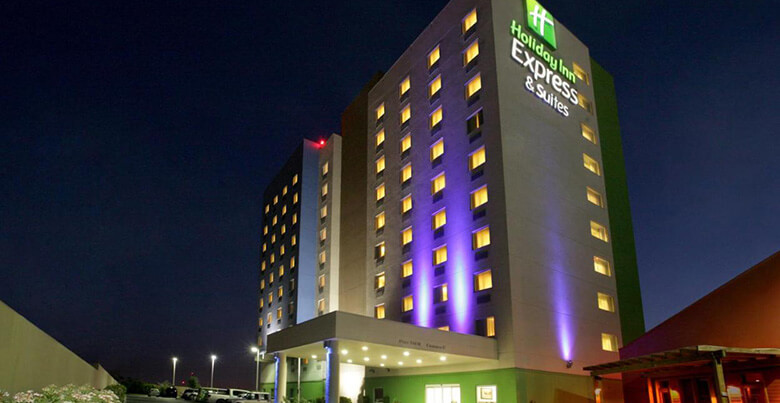 The city of Apodaca is located in the northeastern section of the metropolitan area and is named after an 18th-century bishop from the state, Dr Salvador Apodaca. It is the 4th-largest city in the state, (after Monterrey, Guadalupe, and San Nicolás de los Garza), but is also one of the fastest-growing.
The economy here relies heavily on the industrial sector, with manufacturing operations and services making up a huge percentage of the area's income. As such, it has become one of the most important industrial areas in the state of Nuevo Leon.
A huge number of American companies have set up large processing centers here, as have a number from other countries, including China, Denmark, Japan, and Korea. This makes it an ideal destination for anyone traveling to do business with any of these brands.
While primarily an industrial hub, there are other attractions here that may still be a draw to tourists. For example, the Las Cruces Golf & Country Club is a beautiful establishment with a lush, 18-hole golf course. This draws many visitors to the area who are looking for a high-end, sophisticated getaway.
It is also a hub for bands playing the Grupero style of music. That makes it ideal for anyone who is looking to enjoy evenings spent listening to local music while enjoying a drink or some traditional Mexican food in one of the many restaurants.
A choice of two International airports, General Mariano Escobedo International Airport and Del Norte International Airport (IATA: NTR), that serves the city makes it easily accessible, whether you are traveling for business, pleasure, or a combination of the two.
You should stay here if you are traveling to do business with one of the many companies located here; you want a relaxing trip to the Las Cruces Golf & Country Club; you are a fan of Grupero music.
3. San Pedro Garza Garcia, one of the best places to stay in Monterrey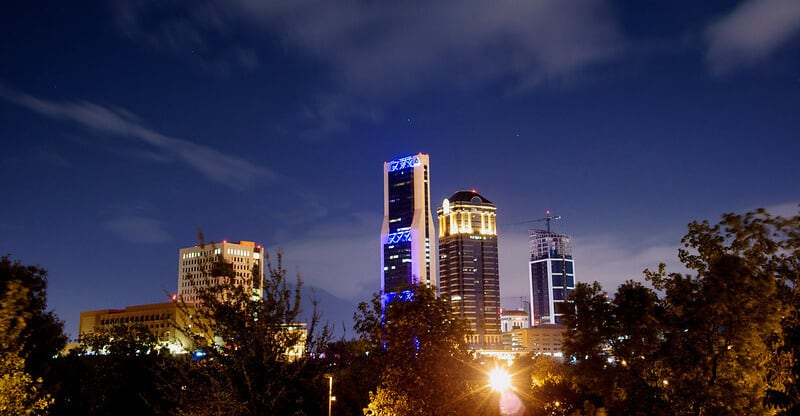 The city of San Pedro Garza Garcia is located directly to the southwest of Monterrey city center, in a valley surrounded by La Loma Larga and Sierra Madre Orienta mountains, covering nearly 27 square miles which is almost entirely urban.
It is considered a hub of learning, as it is home to a prestigious university, a technology institute, graduate schools of business, politics, and public administration, as well as almost 130 private and public schools.
Despite that though, its real claim to fame is for being considered one of the most cosmopolitan cities in Latin America, as well as offering the highest quality of life in all of Mexico.
A contemporary suburb of Monterrey itself, it offers visitors an incredible range of amenities and facilities to enjoy during their stay. This heightened quality of life makes it a fabulous choice for anyone who is more concerned with having a laid-back, relaxing experience than they are with exploring historical sites or natural locations.
San Pedro Garza Garcia is where you can find Cerro de Chipinque and Chipinque Ecological Park. Chipinque park is set on the base of the Sierra Madre.
San Pedro is a safe area, with a bustling nightlife scene. You can find many restaurants and nightclubs like The City, D-Club, Republica, Ness, Sr. Mostacho at El Centrito.
San Pedro offers great shopping opportunities with two of Mexico's largest shopping malls, the Calzada 401 and Paseo San Pedro shopping centers.
San Pedro is also home to the Planetario Alfa Science Museum, and skyscrapers such as The Avalanz Tower and The Comercial America Tower.
This does admittedly mean that many of the hotels are of a more expensive, exclusive calibre, but there are still plenty of choices available for those on a slightly tighter budget.
You should stay here if you want to stay in an area with the highest quality of life in Mexico; you have a little more money to spare; you are interested in having a laid-back, relaxing vacation; you are, or are visiting, a student at one of the educational establishments in the area.
4. Guadalupe, good area for outdoor lovers
Guadalupe is located to the east of central Monterrey and is the second-most populous city in the state. Originally settled in the early 18th century and known as Villa De Guadalupe, it has since developed into one of the most popular tourist destinations in the region, filled with exciting attractions and plentiful amenities.
The Cerro De La Silla is a mountain that serves as the icon of Monterrey, however, is actually located in Guadalupe. Recognized as a national monument by the Mexican government, it is equally popular with both recreational visitors as well as athletes who come to train on its steep climbs.
There are a number of fabulous parks for visitors to enjoy, including such options as La Pastora, Pipo and Tolteca parks. In addition to their beautiful wildlife and landscapes, they include a range of activities such as a zoo, aviary, herbarium, river and even a permanent water park that features boats, slides, soda fountains, grills and locations to purchase snacks.
This variety in choice makes it a fabulous destination for those wanting to get out in the country, regardless of how they plan to spend their time.
On a similar theme, there is also a magic forest, which is another outdoor venue, boasting a number of rides for the whole family to enjoy.
For those looking for a more urban experience in the city, there are locations such as the BBVA Stadium, which hosts large concerts and football matches.
You have the Guadalupe City Museum, designed to teach visitors about the history of the area. There is even the Guadalupe Expo, an annual livestock exhibition that also features mechanical games, performances by top artists and restaurants serving local and regional snacks and dishes.
You combine all of this with the fabulous range of bars, shops, restaurants and hotels in the area and you get a destination that is well versed for all kinds of visitors.
You should stay here if you want a great range of choices when it comes to shops, hotels, bars and restaurants; you want to climb Cerro De La Silla; you plan to visit any of the fabulous parks or forests; you are attending the Guadalupe Expo; you want to visit the Guadalupe City Museum.
5. San Nicolás De Los Garza
Founded in the late 16th century, San Nicolas De Los Garza is the 3rd most populous city in the state and the most densely populated overall. It is perhaps best known as the location of the Universidad Autonoma De Nuevo Leon, one of the most prestigious schools in not just Mexico but the entirety of Latin America.
Outside of the university, San Nicolas De Los Garza is primarily a residential city, where the majority of amenities are geared towards locals and there are very few tourist attractions to be found.
While this might not be the greatest choice for those who want to constantly be on the go and have new things to explore, it does produce a much more authentic feel.
Bars, restaurants and shops, from small vendors to large shopping malls, produce traditional and local goods and foods. This makes it a fabulous choice for anyone who wants to have a truer experience of the city, tasting the local cuisines, sampling their wares and getting to know the ways and cultures of the people who live here.
As an added bonus, this also means that everything from food and goods to accommodation will generally be cheaper, as you won't find the price hikes that are commonplace in popular tourist destinations.
This makes it ideal for anyone traveling on a budget, as well as those who simply want to save a little money where possible.
You should stay here if you are, or are visiting, a student at the university; you want a location with a more authentic feel; you are travelling on a budget or looking to save money.
6. Santa Catarina
Santa Catarina is the 6th most populous city in the state, located around 9 miles southwest of central Monterrey. The city was originally founded as a simple resting post in the late 16th century, known as Estancia De Santa Catarina or " the Shelter Of Santa Catarina".
It wasn't until the late 19th century that it was even classified as a village. However, since then it has seen exponential growth in both size and population. Including the small localities outside the city limits, it is a city that still manages to retain an authentic, small-town feel. It even still has the historic Church Of Santa Catarina standing as a testament to its origins.
However, perhaps the most popular attraction in the area is not city-based, instead of being the National Park Cumbres Of Monterrey. Filled with beautiful wildlife and stunning landscapes, it also contains a secondary park within it, La Huasteca.
A popular location with climbers, it features almost 300 bolted routes, split up across 12 areas, many of which are free to use. They include a huge range of different gradients, making it a fabulous choice for climbers of all abilities.
Combined with the fabulous camping locations on offer and the authentic feel of the city, Santa Catarina makes a great choice of destination for those who want to get out into nature for a while, but don't want to be completely cut off from all the conveniences of the city.
You should stay here if you are planning to go climbing or camping; you want to explore a national park; you want a more authentic feel to your destination.
Check out my virtual tour about the best places to stay in Monterrey in this video:
See More:
Monterrey is a wonderful, diverse city, albeit one that can be a little sketchy if you aren't careful. Choosing one of the many places available in its metropolitan area can be a real headache but this article will have hopefully helped you to decide on one that is just right for you.Now, all that's left to do is go and start getting things booked, so you can experience everything you have just read about for yourself.