Where to Stay in Mexico City: Best Areas and Hotels
If you want to decide where to stay in Mexico City for the first time, nightlife, near airport, foodies, budget & safety, you need to have some background knowledge of the City. We'll help you find the best areas to stay in Mexico City in this guide.
Mexico's capital with a population making it the largest city in North America is not without its problems of crime and poverty. The same can be said of many of the world's cities so this is not meant to be off-putting.
The oldest capital in the Americas, Mexico City has much to appeal to those interested in history and culture. It was home to the Aztecs and influenced markedly by the Spanish occupation. There are a huge number of galleries and museums, famous landmarks and great shopping.
Tips for Choosing Where to Stay in Mexico City
Like every large city, Mexico City has transport issues because of its sheer size. While there are plans to improve things, the traffic is stifling. You may decide as a result to stay close to the main things you want to see or do.
If it is history and culture that is the main reason for your visit then El Centro is a good place to start your research. It is also an area where you may find good budget accommodation.
Many tourists visit Mexico City for its fine shopping. Where that is the case, there are alternatives but Polanco is probably the best district for you. San Rafael is an area that is re-emerging and will certainly appeal to those interested in art, especially the younger generation which also tends to congregate in La Condesa.
Mexico City's reputation for crime and drug cartels is exaggerated and tourists are unlikely to encounter problems other than petty crime. That happens everywhere and normal caution is all that you need.
Where to Stay in Mexico City – 9 Best Areas to Stay in Mexico City
The question of where to make your base depends on your priorities. You may want to be near to fine dining options of which there are many, or have a choice of luxury hotels. Your sights may be lower and hopefully, you will know more after reading on.
Where to Stay in Mexico City – 9 Best Areas to Stay in Mexico City
Where to Stay in Mexico City Map
See more where to stay in Mexico city, go to Google Map;
1. Reforma – Best Area to Stay in Mexico City for Foodies & Art Lovers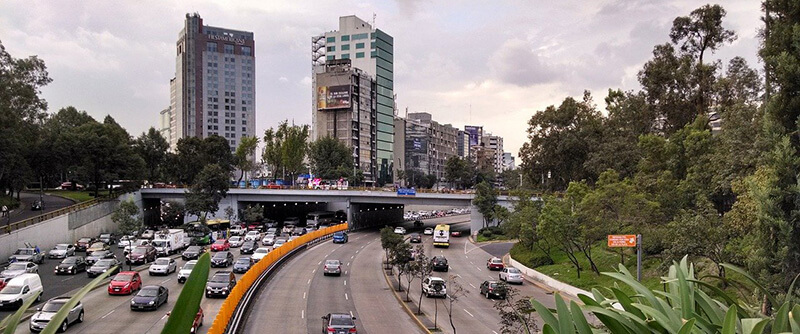 The Promenade of the Reform (Paseo de la Reforma) is modeled on the great boulevards of Europe, its origins being in the 1860s. It runs across the heart of the City and its current name remembers the War that created Mexico as it is known today.
It contains many of the Capital's tallest buildings and is the hub of tourist activity. That includes top quality hotels and restaurants as well as exhibitions of the finest art. It is also the place that activists select for both celebrations and protests.
Parades are a regular feature, sometimes between the Angel of Independence and Zocalo or on to Los Pintos. If the national soccer side has won, you can expect crowds around the Angel of Independence roundabout.
YOU SHOULD STAY IN REFORMA IF:
You are looking for a central location
You want a choice of hotels and restaurants nearby
You are interested in art
You don't mind crowded places
2. El Centro – Best Area to Stay in Mexico City for History & Culture
The historic heart of the City extends for several blocks outwards from the main plaza. Zocalo, which can hold 100,000 people, is the biggest square in Latin America. There are over 9,000 buildings within El Centro and over 1,500 of them are regarded as of historic significance.
They date back as far as the 16th Century in some cases, a place where the Spanish built on the former Aztec capital, Tenochtitlan. One section is the pre-Hispanic City and structures built until independence. The other buildings are from independence until the end of the 19th Century.
UNESCO has awarded World Heritage Site status to this area of Mexico City. Enjoy the many museums in a largely pedestrianized neighborhood. It has undergone restoration with tourism encouraged by double-decker bus tours, fine restaurants, and fashionable shopping.
YOU SHOULD STAY IN EL CENTRO IF:
You have a keen interest in history
You are happy to walk and explore
You love museums
You want good shopping and restaurants nearby
You don't intend to walk around in quiet areas after dark
3. Roma – Best Area to Stay in Mexico City for the First Time
Just west of El Centro, Colonia Roma is a neighborhood found on either side of Coahuila Street. It was planned as a high-class district a century ago. By 1940, it had very much a middle class feel with its decline continuing after the 1958 earthquake.
Recent years have seen its restoration into an important culinary district in the City. There are many bars as well as several attractions for tourists including galleries, churches, good shopping, and cultural centers. The Food Hall, Mercado Roma, is evidence of the fine products used in many of its quality restaurants.
It still has many residential buildings and other former residences built a century ago now house the ''New Roma.'' Its revival has resulted as it becoming known recently as ''Barrio Magico'' translated as ''magical neighborhood.'' Its appeal is further reinforced by the nice parks and squares in Roma.
YOU SHOULD STAY IN ROMA IF:
You are interested in fine dining
You enjoy green areas within cities
You want to be in the heart of the City's main tourist attractions
You are a keen shopper when on holiday
4. La Condesa – Best Area to Stay in Mexico City Close to the Central
La Condesa in the Cuauhtémoc Borough is almost 3 miles west of Zocalo and immediately west of Roma. It is known locally as part of "Barrio Mágico Turístico" translated as "Magic Neighborhood for Tourists". It is popular with the young, whether students or businessmen. Pet lovers also enjoy this district.
There are plenty of restaurants, bars, and clubs in La Condesa named after the Countess of Miravalle who formerly owned this land. This neighborhood began to develop in the early 20th Century.
Visitors will notice trolleybuses parked up. They were a gift from the Japanese Government in 2000 and there were great plans for their use initially, artistic and educational. Financial problems meant that did not happen but they are used today for theater projects.
Art does survive here and several galleries are found in La Condesa. The concert hall, El Plaza Condesa has a capacity of 1,900 for performances.
YOU SHOULD STAY IN LA CONDESA IF:
You are young and want a vibrant district
Your interests include arts and visiting galleries
You are looking for a fairly central location
5. Polanco – Best Area to Stay in Mexico City for Shopping
Polanco in the Miguel Hidalgo Borough is a relatively modern district of the City, upmarket and affluent. Avenida Presidente Masaryk is known for having some of the most expensive shopping in the whole of the Americas. ''The Beverly Hills of Mexico'' is one of its nicknames.
It is also a cultural center, the location for many embassies, the home of the City's rich, and where you will find the best selection of luxury hotels. Not surprisingly, real estate here is desirable and expensive.
Michelin stars are much coveted by chefs and Polanco is where you will find many restaurants with that award. It costs visitors nothing to walk in the City's best park, Chapultepec while the Park has many of the City's top museums including the National Museum of Anthropology and the Modern Art Museum.
YOU SHOULD STAY IN POLANCO IF:
You can afford the best of everything
Fine dining is a priority of yours
You enjoy parks and museums
You want good shopping facilities nearby
6. Coyoacán – Best Area to Stay in Mexico City for the First Time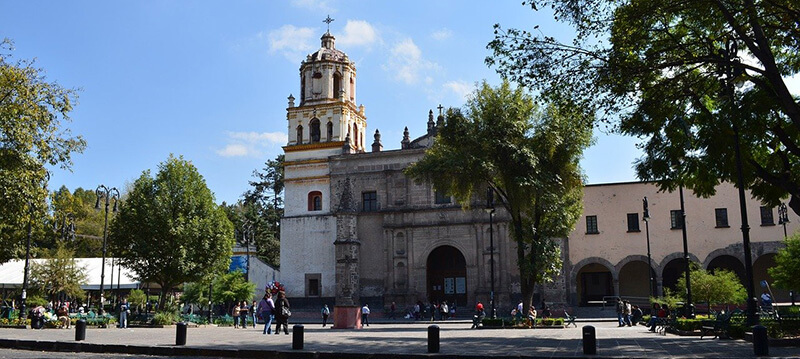 This was the heart of the Aztec settlement that predated the arrival of the Spanish. Hernan Cortes and the Spaniards arrived and made Coyoacan the Capital of New Spain. It was not until 1857 that Coyoacan finally became part of Mexico City.
Even then, it was not until the mid-20th Century that urban sprawl overwhelmed Coyoacan. The forests, farms, and lakes surrounding the small settlement were suddenly transformed into a developing area. However, tourists still have the chance to walk down its narrow streets and relax in its plazas.
Some of the conserved buildings date back to the 16th Century, especially those in the very heart of Coyoacan. It makes this district popular with locals on weekends, an escape from the bustle in other neighborhoods of Mexico City.
YOU SHOULD STAY IN COYOACAN IF:
You enjoy conservation and historic places
You are happy just walking around and exploring
You want a quiet district to make your base
You are not concerned about being close to the old center of the City
7. Santa Fe – Best Area to Stay in Mexico City for Shopping

Santa Fe in the west of Mexico City is one of the most important business areas in the Capital. It is accessed from the center of the City via Paseo de la Reforma Avenue and Constituyentes Avenue. It is a neighborhood of high-rise buildings and a big shopping mall, the largest in Latin America.
Many large companies have their headquarters in Santa Fe. You will also find residential buildings in Santa Fe as well as three university campuses.
There are plans to improve access between Santa Fe and the center of Mexico City because the two avenues are very congested during rush hours. Those plans include building a tunnel but to date, developments are still ongoing.
YOU SHOULD STAY IN SANTA FE IF:
You love shopping
You are visiting Mexico City for business
You enjoy a university environment
You don't mind transport problems to reach the City Center
8. San Rafael – Best Area to Stay in Mexico City for History & Art
Colonia San Rafael within Cuauhtémoc Borough is just to the west of El Centro. It was built in the late 19th Century to house the City's rich who built large mansions. The style was French and many of those mansions still survive today.
Almost 400 of its buildings are regarded as being of historic significance. The mix of styles, as the further building was done during the 20th Century is one of the features of San Rafael.
Theater and movies were the entertainment locally and 10 theaters still remain from the many that existed during the last century. San Rafael holds a Sunday art market that attracts visitors.
In some ways, this is a declining neighborhood with the affluent long gone. However, there is the hope of regeneration in the form of young artists and the galleries that have sprung up because it is less expensive than some other parts of the Capital.
YOU SHOULD STAY SAN RAFAEL IF:
You enjoy historical buildings
You want to visit art galleries
You prefer being close to the heart of Mexico City
You are looking for an inexpensive district in the Capital
9. Zona Rosa and Juarez – Best Area to Stay in Mexico City for Nightlife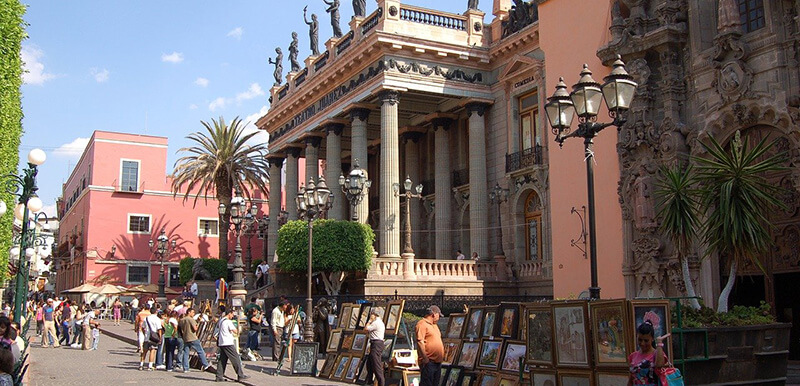 Again just west of El Centro, the ''Pink Zone'' and Juarez as a whole was originally developed for wealthy foreigners. Today, it is known as a shopping district with good nightlife. It is also where a gay community has developed.
Zona Rosa attracts tourists interested in art and intellectual activities. In addition, a Korean community. ''Little Seoul'' has emerged here so it is still home to foreign arrivals.
Mansions built in its developing years are no longer homes for other than squatters while businesses have taken over others. There have been problems with crime in Juarez as a whole and tourists are advised to be careful at night.
YOU SHOULD STAY HERE IF:
You enjoy nightlife
You want to stay within a gay community
You are looking for artistic activities
You understand the need to take care at night
Where Should I Stay in Mexico City?
Tourists unfamiliar with a new city are advised to stay in areas that come with several recommendations. That applies equally as well to solo budget travelers to those looking for 5-star accommodation.
La Condesa, Roma, especially the northern part and Coyoacan are three of the districts discussed above. Each is pedestrian-friendly with a range of accommodation to choose from.
Where to Stay in Mexico City for Safety?
The center of Mexico City is generally safe as long as you follow the basic rules you would apply in any city. At night, El Centro and Juarez, the top nightlife neighborhood, do experience the odd problem so if you base yourself there, get a taxi at night. Certainly don't walk around in poorly lit areas.
If you want an upmarket location, Polanco is probably the first place to look but do not assume petty crime is absent because of its relative affluence. The same nighttime rules apply.
How to Stay Safe in Mexico City?
All the central areas of Mexico are safe, especially by day. You should perhaps avoid El Centro at night if you are alone and in a poorly lit area. Similar advice applies to quiet areas after dark in most major cities in the world.
Tourist areas, and crowded areas in general, are prone to petty crime so you should take the usual precautions. Don't leave your drink unattended or call a taxi from the street are rules that apply in many places.
Cash is better than a credit card to protect your information while a modest dress with no show of wealth makes good sense.
How Many Days to Stay in Mexico City?
Weekend breaks are popular in many cities that have historical and cultural content with good accommodation and fine dining. Those aspects definitely apply to Mexico City. However, you will miss a great deal even if you take a guided tour bus if you just stay for a weekend.
The optimum time to spend in Mexico City, bearing in mind the huge numbers of galleries, museums and landmarks, is a minimum of 4 days and ideally a whole week.
Where to Stay in Mexico City the First Time?
First-time visitors to Mexico City should stay centrally in districts where it is easy to walk. Roma, Coyoacan, and La Condesa come to mind immediately. It is important to feel comfortable in strange cities and those areas do have the environment that creates that feeling.
Most of the most popular tourist attractions are in the heart of the City so fairly close by. Remember this Capital City dates back centuries and has expanded from a fairly small base out in all directions. You can always return and see more of the outlying neighborhoods later.
Where to Stay in Mexico City for Nightlife?
Juarez and Zona Rosa have gained a good reputation for the quality of its nightlife, especially its clubs. If you want live music and vibrant bars, this is certainly the place to go. If you are not staying in the immediate area, there are taxis to take you there and bring you back to your accommodation.
Where to Stay in Mexico City for the Day Of The Dead?
The Day of the Dead is a Catholic celebration, known elsewhere as All Saints' Day and All Souls' Day. It is a time to remember family and friends who have died, although it is more a celebration than mourning. It takes place at the end of October each year
It is a national holiday and in Mexico, its significance is that the locals regard it as something that remembers the time before the Spanish brought Catholicism. The neighborhood of Coyoacan sees most celebrations at this time. If you want to stay there, you should not expect to find any accommodation if you are booking at the last minute.
Where to Stay in Mexico City for Food?
Mexico City is full of fine restaurants serving every kind of international cuisine. Polanco is the district with many Michelin starred restaurants but you can expect that they will be expensive. If you love good food, but you do not want to pay high prices, there are several more choices for you to examine.
La Condesa and Reforma are central locations popular with tourists and each has fine dining at reasonable prices. Many serve classic Mexican cuisine but you can find Latin American variations as well.
Where to Stay in Mexico City near the Airport?
Airports close to Mexico Airport generally offer free transfers on arrival and for departure. Here are some ideas for you to look at:
Can I Stay Overnight in Mexico City Airport?
There is actually a hotel within the Airport itself if you want to avoid transfers.
It is the Izzleep Aeropuerto Terminal 1.
Each room has a TV as well as a private bathroom. Free transfers between terminals come with your booking.
Where Do Celebrities Stay in Mexico City?
Polanco is the area with the best hotels, the finest restaurants, and fashion shopping. Celebrities who visit Mexico City whether for a short break or for work stay in one of the many good hotels in Polanco.
Places like the Hyatt Regency or W Mexico City are large and luxurious. In contrast, Las Alcobas is an intimate boutique hotel providing real quality.
Conclusion
Mexico City has much to recommend it. It has direct flights from all over the world with frequent connections with its most important customer, the USA. It is a busy city and therefore at times it can be frustrating but it has many riches for tourists to enjoy.
Accommodation for tourists and businessmen is readily available in many parts of the City. It makes sense to book fairly close to the attractions that first persuaded you to visit. The history and culture of former centuries are centered in the heart of Mexico's Capital which grew from a small start.
Polanco is the place for those seeking real quality but the City has something for every budget, both in terms of accommodation and food. There are plenty of places where you can eat cheaply and not feel either hungry or deprived.
You can enjoy its many landmarks, galleries and museums on a budget and you will be all the richer for the experience.
---
---