In this article, I will give you an insight into Where to stay in Medellin for first-timers, the best areas to stay in Medellin (with a map), best hotels in Medellin for all budgets (including the hotel where I stayed), and the safest places to stay in Medellin.
Medellin is the second-largest city in Colombia and was once known as the world's most dangerous city. Far from its days as an absolute no-go area, the city has progressed in leaps and bounds over the recent decades, into a modern bohemian hotspot, attracting tourists from across the world.
Whilst many areas in Medellin are completely safe to visit, it still pays to be aware of which neighborhoods are best to stay in, and which are better avoided.
If you are looking for safest areas to stay in Medellin, look into Poblado, Laureles, Envigado and Sabaneta. It's important to exercise common-sense safety precautions regardless of where you stay in Medellin.
Where to stay in Medellin first time?
The best areas to stay in Medellin for tourists and first-timers are El Poblado, Laureles-Estadio, Belén, Envigado, and El Centro (La Candelaria). These are popular neighborhoods for tourists that offer a wide variety of attractions and amenities.
El Poblado is the overall best and safest area to stay in Medellin for first-time visitors. It is a vibrant and upscale neighborhood known for its trendy restaurants, bars, and nightlife. Parque Lleras, a central square, is a hub for nightlife and entertainment.
Other neighborhoods that are often perceived as relatively safe include Laureles, Envigado, and Sabaneta. These areas have a more residential feel and offer a good quality of life.
It's crucial to keep in mind that even in safer areas, it's important to take precautions to ensure your personal safety. It's always a good idea to stay informed about the current situation, follow local advice, and take common-sense measures like avoiding isolated areas at night, being cautious with your belongings, and using reputable transportation options.
Where did I stay in Medellin?
When I first visited Medellin, I stayed for 5 nights in El Poblado at the mid-range Leblón Suites Hotel. It was a good value for money hotel in a central quiet area. I had a pleasant stay in a self-catering suite with a fully-equipped kitchen. Breakfast was very good.
Map of areas and neighborhoods in Medellin: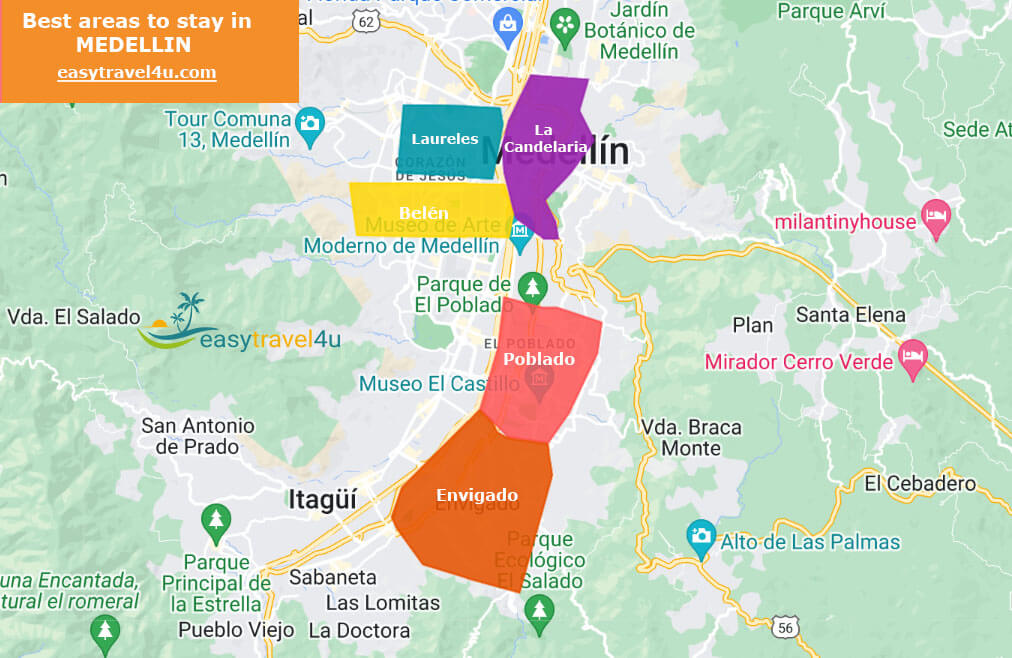 The Best areas to stay in Medellin for tourists are:
1. El Poblado
El Poblado is the overall best place to stay in Medellin for first-time travelers. It is a vibrant area with a safe environment, excellent dining and nightlife options, beautiful parks, and convenient access to popular tourist attractions, making it an ideal base for exploration.
You can find pretty much everything here, from shopping mall, coworking spaces, restaurants, cafes, nightclubs, and nightlife, to museums and city parks.
El Poblado is a vast region in the southeast quadrant of the city. Covering such a large area, El Poblado is divided into smaller sections including Central Poblado, Lower Poblado, and La Florida.
Largely populated by affluent ex-pats, El Poblado is the safest place to stay in Medellin. It has a strong police presence and is always populated by tourist. But as you travel to any city, you should always practice common sense, be aware of pickpocketing, prostitutes, and drug addicts.
The facilities are primarily catered towards the preferences of the foreigners who reside here, so you will find lots of familiar brand names amongst the shops and restaurant chains. It's also where you will find many of the most fashionable dining options and high-end boutiques.
The Central Poblado, surrounding Lleras Park and Parque de El Poblado, is known for being the city's premier nightlife district. By day, the area is bustling with open-air markets and trendy cafes. By night, the streets come alive, as locals and tourists flock to the many bars and nightclubs.
The Lower Poblado area is downhill from Central El Poblado encompassing Manila, Astorga, Northern Patio Bonito. It's conveniently located within walking distance to El Poblado metro station and the Exito supermarket.
La Florida is where you can find high-rises and shopping malls such as Oviedo Mall and Santafé Mall, Intermedica Tower, One Plaza and Fernando Plaza, President Park, and Dann Carlton Hotel.
There are several interesting museums in El Poblado, such as:
If you like shopping, you will find some of the best shopping in Medellín in the golden mile which stretches all the way from Parque la Presidenta to Centro Commercial Santafé.
With such high demand from tourists, El Poblado has the biggest variety of accommodation. There are plenty of high-end hotels and apartments, as well as affordable hotels, guesthouses, and hostels.
Stay in Medellin El Poblado if you are a first-time travelers want to stay in the city's tourist hub; you want vibrant nightlife and shopping; You want to stay in one of the safest parts of the city;
Best places to stay in Medellin in El Poblado for first-timers:
luxury ($$$): Celestino Boutique Hotel, popular 4-star hotel situated a short distance the popular Lleras Park, El Poblado Park, Linear Park President, and The Dancer's Park. Easy access to restaurants, bars, and parties.
mid-range ($$): Hotel Poblado Alejandria Express, great accommodation located in El Poblado, within an easy walk from Oviedo mall. The hotel has Wonderful Breakfast, 24-hour room service, free parking, and a currency exchange service. Short taxi ride from Olaya Herrera Airport.
budget ($): Ibis Medellin, popular 3-star hotel situated in Ciudad del Río, close to the financial district, Plaza Mayor Convention, and Exhibition Center. Great location between La Candeleria and Center Poblado.
🔍MORE HOTEL DEALS IN EL POBLADO
See more: 5 Safest areas to stay in Medellin for tourists
2. El Parque Lleras
A subsection of Poblado, El Parque Lleras is the nightlife capital of Medellín, popular with foreign tourists. If you come to Medellin for a party and looking for a great nightlife area, El Parque Lleras along with La Setenta, La 33, and Barrio Colombia are the best bet.
This 2-block stretch is an attraction in Medellin's Zona Rosa that has plenty of amenities, shops, cafes, restaurants, rumba, bars, and nightclubs. You can walk to many of the city's attractions.
By day, El Parque Lleras is a bustling neighborhood with busy cafes, but there is no pressure to move on. Sitting, enjoying the free Wi-Fi, and watching people go by is a popular activity. You will see street vendors sell artwork, jewelry, snacks, and trinkets from early morning onwards.
At nighttime, you may encounter a few drunks, but no problems. Parque Lleras is generall a safe area. There are lots of security, CCTV, regular patrolling.
Budget travelers will find comfortable hostels in El Parque Lleras, a sharp contrast to the luxury hotels that are also found here. Wherever you stay in El Parque Lleras, you will find it busy and noisy. As long as that is no problem, this may be the area for you to find your base.
Best places to stay in Medellin in El Parque Lleras:
🔍MORE HOTEL DEALS IN PARQUE LLERAS
3. Laureles
Laureles is a safe area to stay in Medellin. Right at the heart of the city, Laureles-Estadio barrio is made up of Laureles and Estadio. If you're looking for a location in the city center that will provide you with a taste of more authentic, laid-back, Medellinian life, Laureles is ideal.
Primarily populated with small, independent cafés and restaurants, especially on the main street of Carrera 70, or La Setenta, Laureles feels more refined than the bustlingly trendy neighborhood of El Poblado.
Neaby, you can find Calle 44 which is a major transportation thoroughfare; Avenida 33 which is a major center of nightlife in Medellin; Carrera 80 (ochenta), and Carrera 70 (setenta).
Located 15 minutes northwest of Poblado, Laureles is flatter than Poblado, you can easily walk around. It is also quieter, cheapers, and more authentic local vibe than in Poblado.
To the north of Laureles barrio, you can find sprawling Cerro El Volador Natural Park. This leafy, hillside park features winding pathways leading up to several viewpoints that provide beautiful, panoramic views across the city.
Laureles is also home to the headquarters of the UPB (Universidad Pontificia Bolivariana). Meanwhile, the Atanasio Girardot Stadium is the famous stadium in the district.
If luxury is what you are after, there are several 4 and 5-star hotels in the area to consider. Alternatively, if you are working on a budget and are dead set on staying in Laureles, there are a few hostels and more affordable hotels in the area.
Stay in Laureles if You want a more laid-back and local atmosphere; Staying central is a priority; you want to stay in a safe area; you are first-time visitors;
Best places to stay in Medellin in Laureles for first-time visitors:
🔍MORE HOTEL DEALS IN LAURELES
4. Envigado
Technically speaking, Envigado is a town in its own right, not a district of Medellin. However, it borders right up against El Poblado and is popular with tourists wishing to visit the city whilst avoiding the inner-city crowds.
In Envigado, you will find smaller barrios of El Dorado, Central Envigado, and the Northern Envigado with San Marcos and La Magnolia.
Further out from the city center, Envigado has a much more local and authentic atmosphere to it. The trendy bars and restaurants of El Poblado and upmarket fare of Laureles are traded for small, independent cafes and restaurants with genuine charm.
The main appeal of Envigado is the feeling of being closer to nature. There are far fewer high-rise buildings here, offering unobstructed views of the surrounding mountains.
There are points of interest like the Parque Envigado, Envigado Church, La Romera, Parque El Salado where you can hike, and Parque Recreativo which is a great place to spend a day out with your kids.
if you are interested in history and culture, you can visit Otraparte, the former home of philosopher Fernando González, which today is a museum devoted to his memory.
If you want to do some shopping, head to City Plaza, a major Centro Comercial in Envigado, and there are plenty of small shops around Parque Envigado.
If staying in the concrete jungle of the city makes you feel claustrophobic, Envigado offers a more open alternative, with easy access to the main attractions of the town.
Building restrictions designed to preserve the beauty of the natural landscape have restricted many hotels from being built in the area. Small guesthouses and b&bs make up the majority of the options available for accommodation, with just a few small hotels and hostels appearing in recent years. Whilst your choices may be limited, the options that are available are generally quite affordable, another perk of staying outside of the city center.
Stay in Envigado if you are traveling with family and want peace and quiet, and closer to nature; Experiencing more authentic Colombian life is a plus; you want safe neighborhood;
Best places to stay in Medellin in Envigado:
🔍MORE HOTEL DEALS IN MEDELLIN
5. El Centro (La Candelaria)
El Centro, also known as La Candelaria, or Downtown, is the central area of Medellin. The first on this list to fall a little on the shady side, Centro earns its spot as one of the best-connected areas of the city.
Full of popular attractions in its own right, and a short distance from various other fashionable neighborhoods and sights, Centro is ideal for anyone who prioritizes efficiency in traveling between sights.
With El Poblado to the south, Laureles to the west, and Aranjuez to the north, there is plenty to see and do nearby. That said, let's begin by discussing what's on offer in Centro itself. 
The Plaza Botero is one of the main spots. A manicured garden, featuring 23 statues by the local artist Fernando Botero, the plaza acts as a lovely meeting place for visitors to the surrounding museums.
Overlooking the plaza from the west, the Antioquia Museum (Museum of Antioquia) is an art exhibition center focusing on the works of native and local artists. Directly across the gardens are the visually stunning Palace of Culture (Palacio de Cultura), housing art galleries and museums dedicated to local arts and culture.
Just north is the Medellin Catedral Basílica Metropolitana, a beautiful brick cathedral at the end of leafy Bolivar Park.
Despite its central location, Centro's grittier reputation means that accommodation is much more affordable than in the fashionable districts. If you're on a budget and want the double whammy of saving on both accommodation and travel fares between attractions, Centro is one to consider.
Medellin Centro is safe by day but you should avoud going out at night. The centro has high rates of crime and homelessness. El Centro is also filled with business people during the day, but all commuters and polices go home at night, downtown is empty.
Stay in La Candelaria – Centro if You are on a budget; Convenient access to the whole city is a priority; You are staying for a shorter break; this is your first visit;
Best places to stay in Medellin in La Candelaria for first-timers:
🔍MORE HOTEL DEALS IN MEDELLIN
6. Belén
Located in the south of Laureles, this working-class community just west of the Medellín River is authentic Colombia. Its cool atmosphere has attracted the city's middle class, yet it has an edge to it. It cannot claim to be a really affluent area, but its industrial past has been left behind.
Belén is both a comuna (district) and a barrio (neighborhood), close to Calle 33, Rio Medellín, and the domestic airport.
One of the oldest districts in Medellin, Belen is now home to quite a mix of people and cultures. It is a safe district worth considering as your city base. You will not lack things to do and places to visit to enjoy a social life. What you will not find are any famous landmarks to attract traditional tourists.
You will find green spaces, trails for cycling and walking. If you go up to Cerro Nutibara, a small hill, you will find an interesting Pueblito Paisa, a mock Antioquian village at the summit.
If you after nightlife, go to Calle 33, and if you want shopping, the Los Molinos shopping center has lots of shops, restaurants, and even a movie theater. you can also shop at Unicentro, the large shopping center on Carrera 65, and Sante Fe and Oviedo in El Poblado.
You will not find luxury hotels in Belen, but you will find a good choice of mid-range hotels and budget hostels.
Best places to stay in Medellin in Belén:
🔍MORE HOTEL DEALS IN BELEN
7. Guayabal
Immediately west of El Poblado is the urban district of Guayabal. An unfairly underappreciated neighborhood, Guayabal has as much to offer as its more fashionable neighbors.
One of the major features of the area is Olaya Herrera Airport. This allows you to waste minimal time traveling between the airport and your accommodation, on both arrival and departure.
In the north of the district is the Parque de la Conservación, home to Medellin's zoo. Housing a variety of animal species, from birds to lizards, the park aims to educate visitors on how these animals live in their natural habitats.
At the opposite end of the region, nestled next to a golf course, the City Hall El Rodeo is one of Medellin's principal concert arenas. It's worth checking to see if there are any performances you would be interested in attending during your stay.
Being less popular with tourists, Guayabal has few hotels and guesthouses to pick from. There are several hostels, mainly around the airport, and a few small hotels further into the neighborhood.
Best places to stay in Medellin in Guayabal:
🔍MORE HOTEL DEALS IN MEDELLIN
8. Aranjuez
Just north of Centro is the vibrant, local district of Aranjuez. A working-class neighborhood, Aranjuez remains one of the slightly sketchier parts of the city, although it has seen a dramatic improvement in recent years.
Despite its reputation, Aranjuez makes this list for the number of popular sites and attractions in the area. Helpfully, most of them are found in the safer southern end of the district, near the University of Antioquia.
Even if you choose to stay elsewhere, Aranjuez is definitely worth visiting, especially if you have children who will benefit from the various educational and family-friendly facilities.
First up is the Medellin Botanical Garden. The sprawling park is home to a wide variety of plant species, and every year these are celebrated with the annual flower festival.
There is a butterfly house in the south-eastern corner and a number of educational facilities scattered across the park. There is even a restaurant at the very center of the park, with views of the surrounding gardens.
Immediately east of the botanical gardens is the Parque Explora Science Museum. The range of exhibitions and interactive activities make this a fun, educational day out for all ages. Right next door is the Medellin Aquarium, housing a variety of freshwater fish species.
Right across the road is the Parque Norte Theme Park. The family-friendly amusement park is set around a lake and offers a variety of entertainment, from rides to a cable car across the water.
Accommodation in this area is sparser than the more typical tourist hotspots. However, what is available is very affordable. If you are working on a budget, Aranjuez is worth a look, due to its combination of reasonable rates and convenient location.
🔍MORE HOTEL DEALS IN MEDELLIN
Where should I stay in Medellin for the first time?
El Poblado is the best place to stay in Medellin for first-timers. El Poblado is one of the safest neighborhoods to stay in Medellin with plenty of restaurants, cafes, bars, and shops.
What are the best areas to stay in Medellin?
El Poblado, El Parque Lleras, Laureles-Estadio, Envigado, and El Centro (La Candelaria) are the best areas to stay in Medellin because they are the most popular areas for tourists that offer many things to do and see.
Where is the safest place to stay in Medellin?
Generally speaking, the more affluent districts south of the city centre are the safest. The district of El Poblado is particularly popular with affluent foreigners and is the destination of choice for the majority of first-time tourists.
Where not to stay in Medellin?
You should avoid Comuna 13, Downtown Medellin, Bello, Itagui, especially at night because they have high crime rates. It is always a good idea to exercise caution and to be aware of your surroundings, regardless of where you are staying.
Where to stay in Medellin for nightlife?
El Poblado, particularly El Parque Lleras, is the best area to stay in Medellin for nightlife because it is a safe area with numerous bars, nightclubs, cafes, restaurants, and rumba.
How long to stay in Medellin?
The length of your stay will depend on your interests and how much time you have available. Three days is enough to see all the city's top tourist attractions and get the sense of the city. If you have more days, you can see the city in a slower and more relaxing pace.
See More:
In conclusion, El Poblado, Laureles-Estadio, Belén, Envigado, and El Centro are some of the best places to stay in Medellin for tourists and first-timers. These area all safe central locations that provide plenty of accommodation options for all budgets.
Overall, I recommend El Poblado as the best area to stay in Medellin for first-timers. It is the safest and the most central neighborhood that offers a wide range of tourist attractions and amenities such as hotels, restaurants, bars, and shops.