The best areas to stay in Mazatlán for both first time and returning tourists are the neighborhoods of Centro Historico, Playa Sur, Los Pinos, Playa Norte, Golden Zone, Sabalo Country, Marina Mazatlán & Nuevo Mazatlán, Cerritos. In today's article, I will be looking at where to stay in Mazatlán and best hotels in each area.
The colonial beach city of Mazatlán is situated in the state of Sinaloa, on the western coast of Mexico on the Pacific Ocean. If you are coming to the Pearl of the Pacific hoping to explore its most famous and historic attractions, you are undoubtedly going to want to stay in Centro Historico. Filled with many of its oldest, most iconic, and beautiful buildings, it is easily the best place to get a feel for how the city has changed over the years.
Playa Sur is located to the south of Centro Historico and is a largely residential district, where you can enjoy a local vibe and stunning views of the ocean from its hilly streets. Playa Norte is located to the north and features many of the same things as Playa Sur, just with a few more attractions, such as a baseball stadium and an aquarium.
The three neighborhoods of Los Pinos, Loma Linda, and Olas Atlas are located to the west of Centro Historico and again feature a fairly quiet, local feel. However, this time its beachfront location provides more of the things you would expect from a quiet seafront town.
For those who aren't too fussed about history, you have great choices further afield as well. Anyone seeking a tourist focussed resort area will definitely want to check out the Golden Zone. Made up of Zona Dorada and Sabalo Country, you will find plenty of high-end hotels, busy beaches, and bustling shops, bars, and restaurants. While Zona Dorada is a very loud, full-on destination, Sabalo Country offers most of the same conveniences in a slightly quieter location.
📌 Where to Stay In Mazatlán: 8 Best Areas to Stay in Mazatlán
1. Centro Historico, where to stay in Mazatlan for first time visitors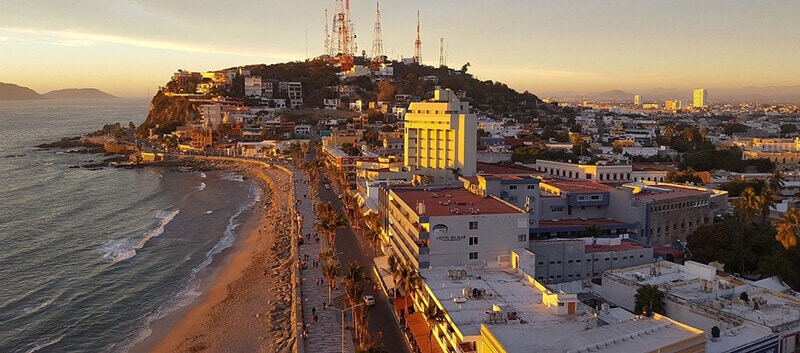 We begin in the very south of the city, in Centro Historico. While not centrally located, this is undoubtedly the true heart of the city, featuring its richest history and the majority of its most famous attractions.
The city's cathedral and the beautiful square that accompanies it are perhaps the main features of the district, but with the stunning Angela Peralta theatre, the glorious Plazuela Machado square, and numerous other historic buildings, including colonial mansions near narrow cobblestone streets that dating back as far as 500 years.
Many of these buildings now house hotels and guest houses, where rooms are available for an incredibly affordable price, meaning you can completely immerse yourself in your surroundings and live a piece of history, no matter your budget.
Those that don't contain hotels now feature coffee shops, craft and souvenir stores, museums, and restaurants, giving you options on what to do with your day. Surrounding them are beautiful parks where you can take a stroll to relax and fabulous markets where you can buy local food and wares.
If you love history, there are few museums in the Centro to explore such as Museo Que Viva Sinaloa, Pedro Infante Museum, Museo Arqueológico, and Museo de Arte / Art Museum, and Archaeological Museum of Mazatlán.
The Catedral Basílica de la Inmaculada Concepción is one of the most historic sites of Mazatlan. it has Gothic arches, a golden Baroque altar, and rounded Renaissance domes.
This isn't just a city that thrives during the day either, as there is plenty to do of an evening as well. The city's oldest craft brewery gives you some fabulous local beers to sample, while numerous other cocktail bars, high-end restaurants, and street food are all located in close proximity, surrounding the fabulous Plazuela Machado.
Stay in Centro Historico if you want vibrant nightlife; you are interested in the history of the city; you are traveling on a budget; you like local markets and shops; you want to stay where the highest density of attractions is located.
Best places to stay in Mazatlan Centro Historico:
Gamma Mazatlan The Inn At Centro Historico is located in Centro Historico, within walking distance to local restaurants and popular attractions. This 3-star hotel also offers a free shuttle bus to the beach, and air-conditioned rooms with a flat-screen TV.
Villa Serena Centro Historico is set in central Mazatlán and offers its guests facilities that include an outdoor pool, a hot tub, and a garden. Guests will be able to find several restaurants available within walking distance and can visit local markets like Mercado Pino Suarez 700 m from the complex. Super Hidalgo, a market offering general supplies is just 150 m away.
Hotel La Siesta is ideally located within walking distance to many of the area's top attractions. A variety of restaurants, shops, local markets, and historical sites can be found right outside the hotel's front doors.
See more: Where to Stay in Mexico City
2. Playa Sur, where to stay in Mazatlan for authentic experience
Located just to the south of Centro Historico, Playa Sur is a largely residential area, primarily comprised of locals and people who have relocated to make the area their home.
Only a short walk from Centro Historico, it makes an ideal choice for anyone who plans to spend a lot of their time exploring the sites but would also like to stay in a quieter location, away from the hustle and bustle.
Its proximity to Centro Historico isn't its only selling point though, as there are plenty of other reasons to select this as your destination. For starters, much like its neighbor, prices for accommodation in the area are incredibly reasonable, meaning you will be able to find somewhere to suit you, whatever your budget.
Then you have the Stone Island ferry port, where you can hop on a cruise and take a trip to Isla de la Piedra where you can take ATV rides, snorkeling, horseback riding, and banana boat tours.
Speaking of the views, the area is filled with hills that make a great place to take a stroll and enjoy the views from their peak. Mazatlán Lighthouse is one of the highest natural lighthouses in the world, sits atop Crestón Hill, with a splendid view of the Pacific Ocean.
Perhaps the greatest feature of the area though is the local people themselves. With bars, shops, and restaurants largely run by and aimed at the locals, it gives you the opportunity for a really authentic experience.
Try the local cuisine, buy some of their products, listen to the stories of the locals and get a real feel for what life in the city is truly like.
You will find a few seafood restaurants near the south of Playa Sur and some taco stands along Avenida Miguel Alemán.
Stay in Playa Sur if you want to stay near the attractions but out of the hustle and bustle; you want to stay in a local destination with an authentic feel; you plan to take a trip on the Stone Island ferry; you enjoy stunning ocean views; you are traveling on a budget.
Best places to stay in Mazatlan in Playa Sur:
Hill House Mazatlan is situated in Mazatlán, 400 m from Olas Altas Beach and 1.2 km from Plazuela Machado, Hill House Mazatlan features accommodation with free WiFi, air conditioning, and outdoor swimming pool, and a shared lounge.
Hotel Dwana This family-friendly hotel is situated in Mazatlán and features air-conditioned rooms. Among the facilities of this property are a restaurant, a 24-hour front desk, and room service, along with free WiFi throughout the property. The hotel has family rooms. It is just within walking distance to Olas Altas Beach, Plazuela Machado.
3. Los Pinos, Loma Linda & Olas Atlas, seafront area in Mazatlan
Located to the west of Centro Historico, you'll find three compact neighborhoods, Los Pinos, Loma Linda, and Olas Atlas, all joined together with the Malecon, a beautiful seafront walk. These three neighborhoods are usually grouped together due to their size and proximity to one another and offer a blend of the two previous areas we've looked at.
Featuring beautiful, traditional streets and stunning ocean views, it is an area that makes a perfect choice for anyone seeking a location straight out of a postcard.
Along the longest malecon in Mexico, 13-mile-long path Malecón de Mazatlán, you will find some monuments such as Monumento a la Mujer Mazatleca, Monumento Fernando Valadés, and Pedro Infante Monument.
The Malecon hosts several events such as International Motorcycle week, the Pacific Great Marathon, Fiesta Amigos, and the Mazatlan Biking Tour.
Loma Linda and Los Pinos are both largely residential areas, populated by both locals and those who have immigrated to the area. This makes it a fabulous option for anyone wanting to experience the local cultures and way of life, whilst still getting to experience the more picturesque side of the city.
While accommodation is somewhat limited, there are enough boutique hotels and guest houses to still give you options.
Olas Atlas is a slightly more built-up part of the neighborhood, where you will find plenty of cafes, restaurants, bars, and shops dotted along the seafront, offering you all the conveniences you could require while still encompassing the beauty of the area.
Hotels and other forms of accommodation are also more abundant in this part of the neighborhood, available across a range of prices that make it an attainable choice for all visitors, no matter their budget.
Combine this with its easy access to the attractions in Centro Historico and it makes it a fabulous option for anyone seeking to soak up the natural beauty and history of Mazatlán.
Stay in Los Pinos/Loma Linda/Olas Atlas if you want to be located near to the main attractions but in a slightly quieter location; you enjoy traditional streets and stunning ocean views; you want to stay in a more local, authentic part of town.
Best places to stay in Los Pinos/Loma Linda/Olas Atlas:
Best Western Hotel Posada Freeman Centro Historico is a nice, old-fashioned, well-appointed with a balcony and good roof garden and bar. Also, the beach over the road was great with lots of waves and quite safe to swim in. Only a five-minute walk into the lovely old town which was very lively in the evening.
Hotel La Siesta is situated in the historical center of Mazatlan, Mexico, and steps away from beautiful beaches, this hotel offers a variety of modern facilities and is surrounded by a beautiful natural environment.
Hotel Boutique Casa Lulu conveniently set in the Malecon of Mazatlan district of Mazatlán, This boutique hotel Casa Lulu is located 500 m from Olas Altas Beach, 1.4 km from Plazuela Machado and 3.1 km from Mazatlan Lighthouse. Featuring an outdoor swimming pool, the 5-star hotel has air-conditioned rooms with free WiFi, each with a private bathroom.
4. Playa Norte, where to stay in Mazatlan for shopping
Located immediately to the north of Centro Historico, Playa Norte is another large residential area, filled with bars, shops, and restaurants primarily owned by and catering to the local people.
However, unlike the previous two destinations we have looked at, this time there are a large number of attractions located within the district as well, which will appeal to a variety of tourists.
For starters, you have some beautiful beaches in the area. Lined with seafood restaurants and bars, it makes for a fabulous way to relax, soak up the sun, take a swim and enjoy some fresh, local cuisine.
While we're on the topic of outdoor options, there is also Parque Central, a fabulous place to take a stroll and enjoy some of the area's natural scenery.
For more specific attractions, you have the city's main aquarium, which is filled with numerous species of interesting fish and marine wildlife, as well as a baseball stadium where you can catch the local team in action.
There is even a large shopping mall –Grán Plaza, perfect if you want to buy some souvenirs or indulge in a little retail therapy during your stay.
Prices for accommodation in the area are incredibly reasonable, even for the beachfront properties, which makes it an obtainable choice no matter your budget.
While it is only a short distance to Centro Historico and many of the city's most famous attractions, the presence of a busy bus station make it almost as easy to visit other locations in the furthest reaches of the city.
Stay in Playa Norte if you are traveling on a budget or want to save some money; you want to visit an aquarium or watch a baseball game; you plan to spend some time at the beach; you are a fan of shopping; you enjoy fresh seafood; you want to be near to transport links; you want a local location, not too far removed from the most popular attractions.
5. Zona Dorada (Golden Zone), where to stay in Mazatlán for nightlife
Zona Dorada or "the golden zone" as it is also known is an area that is designed largely with tourists and settlers from other countries in mind. A great number of hotels line the beautiful golden beaches, while many more are currently under construction, as are a number of condominium complexes.
The best beaches are Las Gaviotas Beach and Camarón Beach with plenty of water sports to enjoy.
The area is filled with things to appeal to travelers, such as luxurious restaurants offering international cuisine and beaches surrounded by bars, as well as boasting tourist amenities such as cafes, souvenir shops, and beach vendors.
There is also the fabulous El Cid golf course, which is perfect for anyone wanting to play a few rounds during their vacation.
What sets Zona Dorada apart more than anything else though is the amount of evening entertainment available, as it is the undisputed king of Mazatlán's nightlife.
Bars of all manner fill the streets, offering a variety of deals to get you through their front door. With everything from cocktails to local beer and tequila, you can go as traditional or as touristic as you want, while you drink and party the night away.
Entertainment in the form of live music, DJ sets, and nightclubs ensures there is something to keep each night fresh and different from the last, guaranteeing you can enjoy a wild vacation, no matter how long or short your stay here is.
Stay in Zona Dorada (Golden Zone) if Nightlife is the number one priority on your trip, you want a great range of hotels to choose from, you like beautiful beaches, you prefer an area specifically designed for tourists, you love variety in the bars, shops, clubs, and restaurants on offer.
Best places to stay in Mazatlan in Zona Dorada:
6. Sabalo Country, where to stay in Mazatlan for families
Sabalo Country is located immediately to the north of Zona Dorada and is another part of the Golden Zone, with the two locations only separated by the El Cid golf course I mentioned earlier.
Much like the rest of the Golden Zone, Sabalo Country is another area that was specifically designed with tourism in mind. Beautiful beaches sprawl out along the coast, making for fabulous days spent lazily lying on the sand, soaking up the sun, and swimming in the crystal-clear waters.
The abundant shops, bars, and restaurants ensure you always have plenty of fabulous food and drink available, as well as places to stock up on supplies and souvenirs.
It even has a similar collection of accommodation options available, with everything from high-end, all-inclusive resorts to low-cost beach hotels and guest houses.
Despite all of that, there are two distinct differences between Sabalo Country and Zona Dorada. For starters, this area features a much greater number of residential sections than the former, where it is almost exclusively hotels.
This plays a large role in the second difference between the two, which is that Sabalo Country is a significantly quieter location than Zona Dorada.
When you take these things into consideration, it makes Sabalo Country a perfect choice for anyone who likes what Zona Dorada has to offer but would prefer things a little quieter with fewer crowds, or perhaps even wants to rent a private villa or condo as opposed to staying in a hotel.
Stay in Sabalo Country if: you're looking for the best area to stay for the family; you want to stay in a tourist-focused location but aren't a fan of the crowds that usually come with them; you want to stay in a high end, all-inclusive resort or private villa; you want a choice of beautiful beaches to stay at; you want plenty of bars, restaurants, and shops to choose from
Best places to stay in Sabalo Country:
7. Marina Mazatlán and Nuevo Mazatlán, upmarket neighborhoods
Our next destination of Marina Mazatlán is located just north of Sabalo Country and is one of the newest parts of the city. It is a destination filled with new developments and attractions that are either brand new or still in the process of being completed.
The Gallerias Mall and Liverpool Department Store are two of the most popular, recently completed establishments, while numerous other in development department stores, malls, fancy hotels, and gourmet restaurants will soon make this one of the main hot spots of the city.
As the name suggests, this is also the location of a beautiful marina, where yachts, sailboats, and many other types of vessels can be seen bobbing up and down in the water.
Sitting and enjoying a meal or drink while watching them float around is an incredible way to unwind throughout your stay.
Combine this with a three-mile stretch of white sand beach and a fabulous Marina Mazatlán Golf Course, and Marina Mazatlán becomes one of the most chilled out, relaxing, therapeutic destinations in the city.
here are a number of hotels already open to choose from, however, the most popular form of accommodation in the area at present is a collection of privately rented guest houses and apartments.
Despite all of that, the area is quite spread out, so it is definitely a location best suited to visitors traveling by car.
Stay in Marina Mazatlán if you want to stay in a peaceful area close to the City Center with cheaper accommodations, you want to play a round of golf, you find watching boats in the marina relaxing, you want to rent a boat or go on a cruise, you like to stay in a newer area.
Best places to stay in Marina Mazatlán:
8. Cerritos, where to stay in Mazatlan a honeymoon and romantic holiday
Our final neighborhood of Cerritos is located in the most northern part of the city. Far removed from the tourist attractions of Centro Historico and the Golden Zone, it is a location that is primarily known for its quiet, residential atmosphere.
While this will understandably put a lot of visitors off, it still provides a charm that will appeal to many, making it an incredibly unique destination. Its most popular feature is the stunning stretches of beach that are found here. Sprawling golden sands meet crystal clear waters, in sight of a picturesque, traditional location.
Amenities may not be as abundant on the beach in the way of bars, vendors or water sports as you'd find in other areas, but this also means you will find a much smaller number of visitors spending their days here.
That makes it ideal for anyone solely seeking to spend their days relaxing on the sand, topping up their tan, or swimming in the ocean on white-sand beaches such as Sabalo Beach and Cerritos Beach.
The bars, shops, and restaurants in the surrounding area are all relatively small and cater to the quiet local community, meaning choices may be limited, but what is available will give you a really authentic experience.
In a similar vein, accommodation options are also limited, mainly consisting of small guest houses and hotels.
Stay in Cerritos if you prefer a quieter beach for the romantic holiday; you want to stay in a quieter, more traditional location; you aren't fussed about being quiet away from the city's main attractions
Best Places to Stay in Mazatlan in Cerritos:
See More:
That concludes our list of the 8 best areas to stay in Mazatlán. While there are certainly plenty of different things on offer, spread out across the city, this will have hopefully helped you to settle on the location that is best for you, based on your own needs and wants. Now, all that's left to do is go and start getting things booked, so you can enjoy it all for yourself as soon as possible.