Where to stay in Marseille? Some of the best areas to stay in Marseille are Old Port, Cinq Avenues, Notre Dame du Mont, La Plage, La Corniche, and Le Panier. These are the most popular locations for tourist that offers a wide variety of tourist attractions and amenities.
But, which district is best for first-timers? In this guide, I will help you to find the best area to stay in Marseille, best hotels for all budget travelers, and the safest places to stay in Marseille.
Located in South France and on the shores of the Mediterranean Sea, Marseille is amazing city and definitely worth visiting. It is the capital city of the amazing Provence and the second largest city of France after Paris. It is also the oldest city on the French Riviera, home to the famous museum of fine arts, and plenty of museums.
Where is the best area to stay in Marseille?
The Old Port (Vieux Port) is the best overall area to stay in Marseille for first-time visitors due to its central location, easy access to transportation, and proximity to major attractions. Staying here puts you within walking distance to main sights, chic cafés, trendy restaurants, bars, and shops.
Marseille is generally safe to travel, like any urban area, you should be aware of petty theft and pickpocketing, avoiding poorly-lit or deserted areas at night. You should also avoid the northern districts including the 16th, 5th, 14th and 3rd arrondissements.
If you are searching for safest area to stay in Marseille, look into the tourist area such as Old Port, Le Panier, and Cinq Avenues. They offer a wide range of accommodation options for all budget travelers.
I recommend spending at least three days in Marseille to get the flavor of the Mediterranean port city and visit nearby Provençal countryside or coast. This time will allow you to see the main sights, enjoy delicious food, and get the sense of the local culture.
Map of areas and neighborhoods in Marseille:
🎬 To get an overall idea of Marseille, check out this short video, or continue reading:
6 Best areas to stay in Marseille for tourists are:
1. Old Port
The Old Port is the best area to stay in Marseille for first-timers due to its central location. It is the historic heart of Marseille, filled with bustling markets, restaurants, and cafes. Staying here gives you easy access to the iconic Vieux-Port itself, as well as attractions like the Fort Saint-Jean.
Located in 1st arrondissement, at the bottom of Marseille's main thoroughfare – La Canebière, the Old Port is dominated on one side by the Notre Dame de la Garde and on the other by Panier.
Founded in the 6th century BC Vieux Port is the beating heart of the city for centuries. It is surrounded by Romanesque, Renaissance, and art-deco architecture buildings.
You'll see find some of the oldest buildings from the 16th-century include the Maison Diamantée, Hôtel de Cabre, Fort Saint-Jean, and Fort Saint Nicolas.
Old Port has the U-shaped inckuding three parts: quai du Port, quai de Rive Neuve, and quai des Belges. Old Port is mostly open to pedestrians. The promenades are lined with cafés, bars, and seafood restaurants. You can grab drinks and meals and watch stunning sunset, enoy the sea views, picturesque boats, and yachts.
There is also a ferry boat service that crosses the harbor several times a day between the Bar de la Marine on the quai de Rive Neuve and the Town Hall on the quai du Port, you can take a ride!
Another place to visit is the daily fresh fish market, Quai De Belges Fish Market, to experience local daily life. Fish is caught from the Mediterranean Sea and sale here in the early hours of the morning, so it is very fresh.
There are numerous museums in the Old Port. Museum of Old Marseille is housed in Maison Diamantée. The Musee d'Histoire and Cantini is the hub of exceptional artworks giving a glimpse from the early 20th century.
There are also the Museum of European and Mediterranean Civilisations, Musée Regards de Provence, Musée Subaquatique de Marseille, and Le Musée Savon de Marseille.
If you head to the the north side of the Passe de la Joliett, you will see Sainte Marie lighthouse, which marks the northernmost point of Marseille's harbor. It was clue box destination on the fourth season of The Amazing Race.
To the eastern end of the Old Port, on Quai des Belges, stands the beautiful Roman Catholic church, Saint-Ferréol les Augustins. It has a bell tower with Italian-style and a facade with neo-baroque style. Other places of interest are the Saint Victor's Abbey, Palais du Pharo, Parc Émile Duclaux and Opéra de Marseille.
The Old Port also offers some of the best bars, cafes, and dining in the city. Visit the Le Vieux Port bar or try out Pastis, a famous aniseed liqueur of Marseille. Meanwhil, the Le Café des Epices, behind the town hall, offers authentic French bistro with a spectacular view.
Your trip will be incomplete without the excursion of Le Petits Trains de Marseille. Take a stroll here with your family in a special locomotive wagon and add stars to your trip, no wonder why it is so popular among the tourists.
You can aslo take a boat trip to island of Château d'If, which is only 20 minute ferry ride. The island was made famous from the classic novel, The Count of Monte Cristo, of Alexandre Dumas.
Old Port neighborhood has a wide range of accommodation ranging from luxury hotels to budget guest houses and B&B. Vieux Port is around 20 minutes away from Marseille Provence Airport by car.
Stay in Vieux Port if you're first-time tourists; you want at the heart of Marseille; you want to stay in a safe area;
Best places to stay in Marseille in Vieux Port:
🔍MORE HOTELS IN VIEUX PORT
See more:
2. Le Panier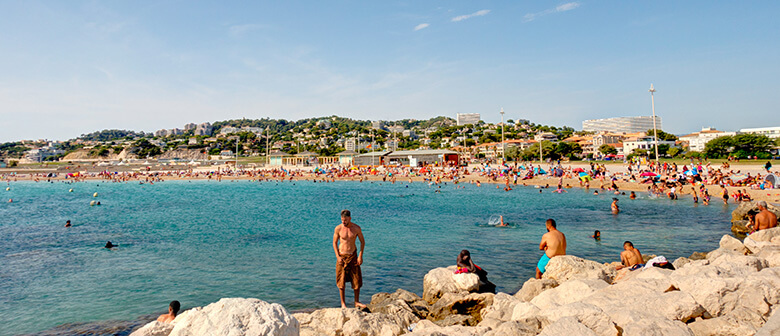 Located right next to the Old Port, Le Panier is the oldest neighborhood of Marseille. Known as open-air museum by locals, every street corner is a museum in itself. This is a bread basket neighborhood that has an arty atmostphere, packed with quaint squares, narrow streets, cultural sites, and handicraft stores.
Le Panier is popular area for tourist, and it is also one of the safest neighborhoods to stay in Marseille. It is ideal for those who want to stay in the city center, in a laidback and quiet area.
The districy has three typical squares. The famous Place de Lenche was named after Corsican family, the Linciu, who had a private mansion here. This square was used as a meeting place and market place. There are also a small Place de Lorette on rue de la République. An at the top of the hill stands the Place des Moulins (Mills square).
Stroll along its cobblestone streets and explore the neighborhoods. Look for Rue du Petit Puits and Rue du Panie. The streets of Le Panier slope steeply, so if you tired walking, there is Le Petit Train to get around the neighborhood.
La Panier offers plenty of choices for history lovers with the Museum of the Roman Docks, Museum of Civilizations of Europe, Musée Regards de Provence, and Musée d'Archéologie Méditerranéenne.
Head to the famous pink and yellow stone walls, Vieille Charité, which was built between 1671 and 1749 and designed by Pierre Paul Puget. Now, it home to a museum and a university of higher learning, EHESS.
If you head to Rue de la Priso, you can see the Maison Maison Diamantée, or Diamond House. It is one of the oldest houses in the city, was built by rich Spanish and Italian traders. The Museum of Old Marseille was housed here in the 20th century, but now it's a public monument.
La Panier is also home to the mid-18th century building, The Daviel Pavillon. It was built on the site of old Court House, by the Gerard brothers. Today, it is home to the Town Hall.
Other old buildings are the 16-century Cabre Hotel, and the 12th century Hôtel Dieu. Hotel Dieu was originally a hospital until the 1970s. After several years of restoration, it is today a 5-star hotel that offers amazing views of the Vieux Port and Le Panier.
La Panier has several churches. The Cathédrale de la Major towering over La Joliette wharves. The Church of Accoules was first built in the 11th century. Later on, it was rebuilt in the late 18th century, which aimed at keeping the floor centralized.
Art lovers can be considered Atelier, where domestic artists craft artifacts. While walking down the ancient lane, you'll admire the creative graffiti on the city walls painted by experts. The Vieux Port is always within walking distance.
After a day sightseeing, you can grab a Mediterranean meal at the Gérald Passédat's Le Petit Nice, Marseilles' finest restaurant. This three-Michelin-starred venue is located on a hotel's ground floor. You can enjoy the food and beautiful ocean views.
This Provençal village is also home to many the chic street-side cafés, boutiques, bistros, souvenir shops. You can grab a coffee at the local cafe, try a fesh seafood and wine, and relax.
Hotels here are less expensive than the Vieux Port. That means accommodation at La Panier is going to fit your pocket without compromising on the stay quality. In some of the hotels, you might hear the chiming sound of the bells from the nearby church.
Stay in La Panier if you're interested in history and culture; you want to stay in a safe neighborhood;
Best places to stay in Marseille in La Panier:
🔍MORE HOTELS IN LA PANIER
3. Cinq Avenues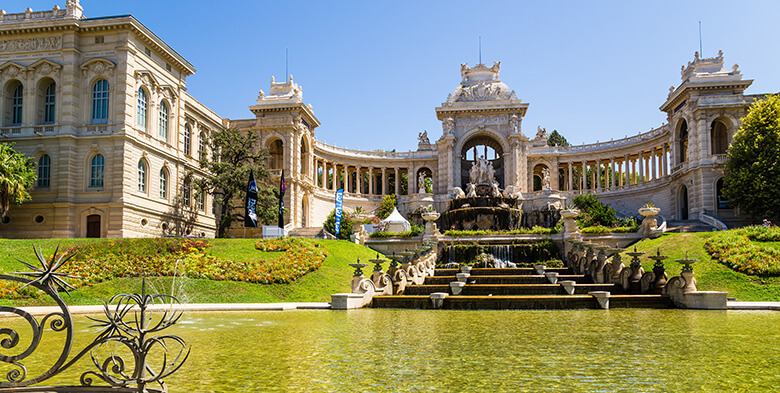 Cinq Avenues is one of the most elegant, upmarket and expensive parts of the city. Cinq Avenues is family-friendly neighborhood, and one of the safest area to stay in Marseille. This is a leafy residential, and known as the Museum Quarter because there are numerous museums and galleries in the neighborhoood.
Commence your trip by first visiting Longchamp Palace, a monument created in the 19th century to celebrate the construction of the local canal. This massive classical building will provide you with a splendid background for clicking pictures.
Longchamp Palace is home to Fine Arts Museum, Natural History Museum, Observatory De Marseille, and botanical gardens.
Parc Longchamp attracts lots of families and students hangout together on the park. The park has been named one of the Remarkable Gardens of France by the French Ministry of Culture. Here you can have a nice family picnic while cherishing the forever French Riviera weather.
Cinq Avenues is indeed a food paradise brimmed with local stores and cafes. Shopping is fun and easy with a high density of boutique stores exhibiting modern fashion.
If you like sweets, then you won't regret visiting La Chocolaterie Marseillaise. They make special handmade chocolates that will redefine your love for the same. If you're lucky enough, you can also participate in their occasional chocolate-making workshops.
For wine lovers, La Compagnie des Vignes will quench your thirst for high-quality French wine. The Provence Wine region is home to domestic wine yards. You can elongate the joy by taking a tour of the countryside. For having light snacks and regional beer, hop on La Canebiere.
Leading from the Old Port, the grand boulevard, La Canebière, or Marseille Champs Elysées, is one of the liveliest areas that has historic cafes, local department stores and boutiques. There historic hotels, such as the 19th century Hotel de Noailles. Nearby shopping streets are the Rue de Paradis, Rue St Ferréol, and Rue de Rome.
Cinq Avenues is served by the St. Charles Metro Station, traveling here is quite accessible, and as the local says "All roads lead to Cinq Avenues." You'll realize the same throughout your stay here. It is a busy junction where all vehicles overlap at a star-shaped intersection. Easy access to other parts of the city is easy with Longchamp train Station.
Stay in Cinq Avenues if You want to stay in an upmarket suburb; you want to stay in a safe neighborhood;
Best places to stay in Marseille in Cinq Avenues:
🔍MORE HOTELS IN CINQ AVENUES
4. Notre Dame du Mont
Notre Dame du Mont is unrivaled if you're looking for both tremendous nightlife and outstanding street art. Notre Dame du Mont is divied into two areas: Cours Julien and La Plaine. With lots of bars, pubs, restaurants, and music venues, the neighborhood attracts lots of young people, students, and artists.
Cours Julien is a trendy street with a graffiti-covered staircase and hip, lively restaurants. It is a favorite spot of the locals for nightlife, bars, interesting restaurants that serve international cuisine from Asian and African, as well as boutiques, galleries, and street arts.
If you like colorful farmer's markets, you can head to the Market at Noailles (Le Marché de Noailles or the Marché des Capucins) with a variety of shops and stalls.
La Plaine is almost similar to the former; however, it is a bit more peaceful than the former. La Plaine also has budget-friendly accommodations, a lively street art scene, graffiti, and is home to the nightlife hub, Place Jean Jaurès.
Here, you can visit the 19 century Notre Dame de La Garde Basilica. It is located on the remains of a 12th-century chapel and a 16th-century fort. You can hike to the top or get on the little touristic train to the top and enjoy the wonderful 360 degrees view all over the city.
For live music, Espace Julien offers immense pleasure. You'll find locals performing here, and you can also interact with the residents of Cours Julien. You can consider Jean Jaures for a splendid ambiance and terrific deals on burgers, fries, and falafel.
Major attractions in Notre Dame du Mont are Escaliers Cours Julien allowing you to capture lovely snapshots with phenomenal street arts at the backdrop. If you want to witness a glorious open-air art gallery from native artists, consider Une Galerie à Ciel Ouvert.
If you're fortunate enough, you'll behold stunning street performances from ingenious artists at Le M.U.R, located at the heart of Cours Julien. Not only for the remarkable landmark but this hipster tourist spot is also known for cheap meals.
La Plaine and Noailles hosts the popular Carnaval de la Plaine et de Noailles every year in march. Locals will dress up and do party.
Stay in Notre Dame du Mont if you're interested in nightlife with cheap eateries; you want to visit a historic district; you want to live among a diverse crowd of artists and musicians.
Best places to stay in Marseille in Vieux Port:
🔍MORE HOTELS IN NOTRE DAME DU MONT
5. La Plage
Located on the coastline, La Plage is a paradise of beaches in the southern part of Marseille. It is well-connected with the city center by public transport. if you have a car, you can easily take a trip to the Calanques national park.
La Plage has a lovely the seaside atmosphere and great place for sunbathing. There are numerous bars and restaurants to make your stay blissful and complete.
Here you can find Stade Nautique du Roucas Blanc, an waterpark that shows off stunning water-based sports activities. Les Plages du Prado is a lively and ecstatic beach showcasing various sunbathing areas along with bars.
Then you can head towards Stade du David, which is almost the replica of the sculpture of Michelangelo present in proximity to the beach. You can also participate in Marseille's best sailing courses at Voiles au Large Marseille. Rent a boat there and let the fun begin!
The Bowl of Marseille Center Skate Park is pretty well-known among skate lovers. It is situated right on the coast, making it an ideal place for your stay. For culture-driven sightseeing, consider Marseille's best National Ballet. It blatantly displays impressive regular performances.
Add amusement and entertainment to your nightlife by visiting Le Coco Bongo Bar, famous for exclusive deals on drinks and displays karaoke sessions. Dining and shopping are more fun here due to the refreshing atmosphere and friendly crowd.
Stay in La Plage if You want to remain close to the coast and enjoy water activities; You want to be well connected with the City Center; Notable nightlife and affordable drinks are your priority.
Best places to stay in Marseille in Vieux Port:
🔍MORE HOTELS IN LA PLAGE
6. La Corniche
La Corniche is the picturesque seaside roadway that meanders along the Mediterranean coast. It was renamed Corniche J. F. Kennedy in 1963 in honour the President of the United States. The 5km long seaside boulevard connects L'Anse des Catalans and Parc Balneaire du Prado. It is popular for both locals and tourists. This beautiful promade offers stunning views of the Frioul Islands and Château d'If.
La Corniche is a 25m wide road that is divided into two areas: one to The Pharo, and another one to L'Anse de la Fausse Monnaie. It was opened in the Second Empire to draw rich Marseille residents to build luxury villas here.
The Paragraph Building will be the first to grab your attention while outing. Built-in the late 19th century, this little building will give you a glimpse of precise measurement and dedication. To date, it stands boastful at the seashore attracting tourists from all over the world.
Don't miss out on La Corniche's Bench if you want to experience the most extended bench globally. It is a promising excursion associating Pont de La Fausse-Monnaie and Sofitel Palm Beach. For couples, it's like a fairytale coming true.
Next, visit the Villa Valmer, "Vague a La Mer," and get lost in the Renaissance-style architecture. This mid-19th century magnificent building is worth watching. Tropical plants encompassing the villa make it more picturesque.
Besides architectural craziness, be ready to encounter "art de Vivre" at Vallon des Auffes. Jaw-dropping La Bouillabaisse is the signature dish of this fish market. It is a simple family dish modified to a level where it has its own fan base.
As it is away from the hustle-bustle of the city, there are not many dining and shopping options. But what you'll get here is even more mouth-watering and worth buying. La Corniche prefers quality over quantity.
Best places to stay in La Corniche:
🔍MORE HOTELS IN LA CORNICHE
Where should I stay in Marseille for the first time?
Old Town is the best area to stay in Marseille for first-time travelers due to its close proximity to famous tourist attractions. If you stay here, you will be located in the heart of action, within walking distance to major sights, as well as many restaurants, bars, and shops.
What are the best areas to stay in Marseille?
Old Town, Le Panier, Cinq Avenues, Notre Dame du Mont, La Plage, and La Corniche are the best areas to stay in Marseille for tourists because they are the most popular and safe neighborhoods that offer a wide range of attractions and amenities.
See more:
Summary – Where to stay in Marseille?
In conclusion, Old Port, Cinq Avenues, Notre Dame du Mont, La Plage, La Corniche, and Le Panier are some of the best places to stay in Marseille for visitors. They are popular districts in the city, offering plenty of things to do and see.
Overall, I will choose Old Port as the best area to stay in Marseille for first-time tourist due to its close proxmity to tourist attractions. If you stay here, you will be located within easy access to top sights, trendy restaurants, bars, and shops. There are also a wide range of accommodation options that suit all budget travelers.
Marseille has a lot to offer, from its historic Old Port to the Calanques national park. I'd recommend staying at least 3-4 days to fully experience the city's unique culture and attractions.